Creating content for your website requires a ton of time, money & resources to do well. But when it doesn't generate visitors or sales – it's a huge waste.
There are a lot of reasons why a piece of content might not perform well, but you can dramatically increase your odds of success by prequalifying your content idea.
In the offline world, companies use focus groups or sampling to prequalify the market. They use resumes and cover letters to prequalify candidates before committing to an interview (or much less a hire).
And the incredible beauty of the Internet is that you can prequalify your content ideas as well with the right tools and a bit of research.
Here's how to use a range of tactics from keyword research to mining platforms to exploring past successes to find, inform & guide your content marketing ideas.
*Note – if you are interested in finding trending topics for social-optimized posts, also check out my Trending Topics guide here.
Keyword Research With A Twist
Keyword research is a foundation of SEO. You align your pages to target the keywords that people are searching for to provide the most relevant information & get traffic from those searches. Many sites use keywords to map their current pages, but never really use it to create additional or ongoing content ideas.
The key, though, is to look beyond just the actual keyword and think about the question & intent behind the keyword. That way you can build content that answers the question in a unique but relevant way.
Content that is built around keywords you know people are searching for prequalifies the idea. You know the demand is there – you just have to provide the content. Here are the tools I use to mine for content ideas.
Aside – you'll note that I deliberately left out Google's Keyword Planner. It's a tool that is essential for traditional keyword research but can be misleading when used for researching content ideas. Bring it in once you have identified solid ideas and want to prioritize based on volume.
Google Suggest
This tool is otherwise known as "go to Google, type – and don't hit enter." As you start typing different target keywords, Google will give you a list of the most common stems/variations.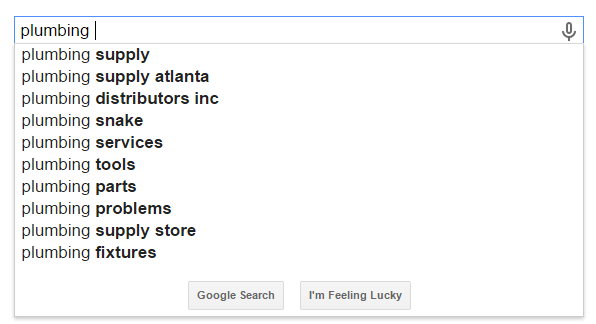 It can be tedious to manually sort through all the stems, so I'll cover another tool that will pull all the stems automatically. The best way to use Google Suggest directly in Google is to add question terms & wildcards and then look directly at the search results for opportunities.
Question Terms: Take your keyword and add different questions to it, such as forms of who, what, when, where, why & how. Then see what shows up.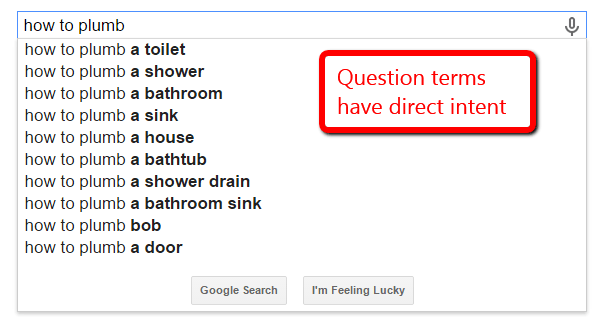 Wildcards: To find out commonly searched words in the middle of a keyword phrase, use * or _ within the phrase you are typing in. Google will again return the most commonly searched phrases for you.
Judging search results: Whenever you find a promising phrase, go ahead and hit enter to run the search. Quickly glance at the results. Are they useful & quality results? Put yourself in the shoes of someone searching for that keyword phrase – would you want to see a better result? If so, there's your winning content idea. Here are a few other ideas on judging keyword difficulty.
KeywordTool.io
KeywordTool.io is a program that pulls all the various Google Suggest queries at once. It's an essential tool for keyword research, but it can also be a great tool for finding content ideas for SEO.
*Note – these tools may or may not have to shut down any day now following Google's closing of the Autocomplete API. They are still working as of December 2015 and have claimed to have found a workaround.
Start by typing in not only your broad topical keyword but also various keyword phrases and questions. It pulls the same data that you would get from Google Suggest – just much faster since you don't have to manually type [keyword] A then [keyword] B then [keyword] C, etc to see all the different stems.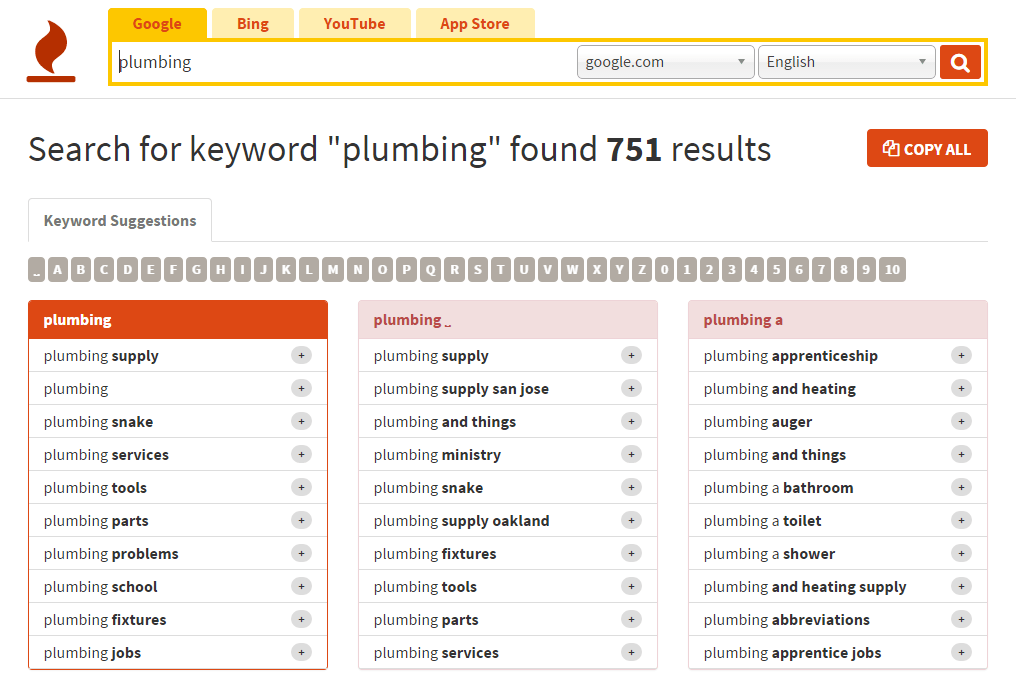 The key here though is to look at the keywords less as specific terms to target and more at patterns for questions and angles behind the keyword. For example, "plumbing job description", "plumbing hourly rate" and "plumbing qualifications" could be addressed individually with short, FAQ type pages.
However, in planning content ideas, I would see those as a theme of keywords indicating people looking for an authoritative guide to plumbing as a career.
You can also take your phrase ideas and search them on Google to see the type and quality of results to see if you can improve on what is already doing well.
Note 1 – KeywordTool.io also works with YouTube Search and App Store search.
Note 2 – Soovle is another similar tool that doesn't scrape as deep, but it does tap into multiple search engines at the same time. It looks at Yahoo!, Bing, Google, Amazon, YouTube, Wikipedia & Answers.com by default with the ability to add more by clicking on Engines.
Note 3 – Tools like Mangools and SEMrush and Ahrefs have possibly the best & most innovative paid tools to find keywords based on Google Suggest. Check out my guide to Ahrefs.
Answer The Public
Answer The Public is a tool that is very similar to KeywordTool.io – it's based on Google Autocomplete. However, it takes queries and converts them to questions and presents them in a visual format.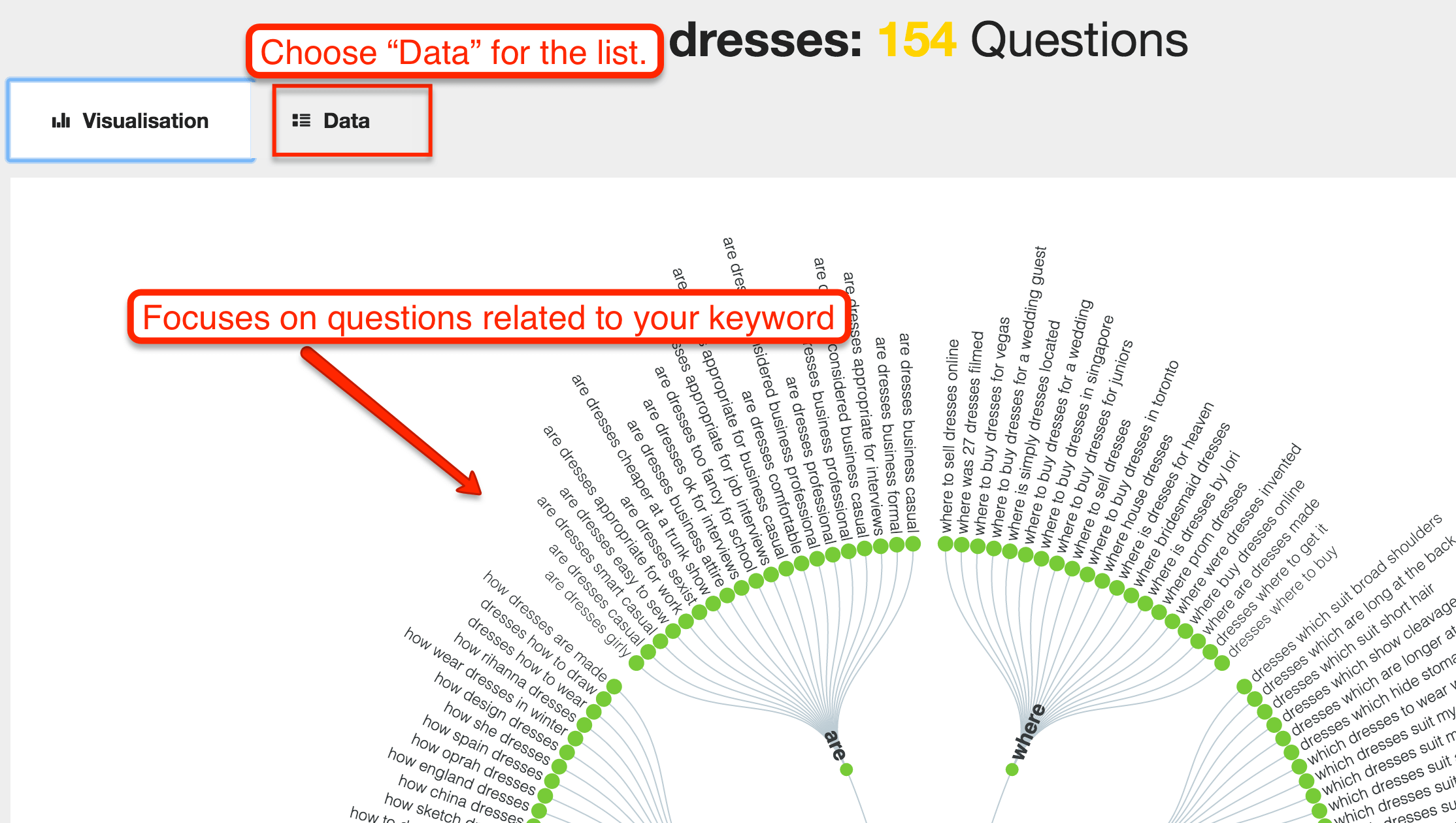 Be sure to select your correct location on the search page – the default is the United Kingdom. The results display on a visualization based on the type of question.
Instead of treating the questions like an FAQ opportunity, organize the questions by topic and create posts around that topic.
Google Trends
I've written about Google Trends before here. It's an amazing keyword research tool to gauge the volume & trends of different terms over time. It also has a bonus feature that is extremely useful for coming up with content ideas – the Rising section.
When you search for a high-volume keyword in Google Trends, look in the bottom box at both Top and Rising. The Rising tab will tell you related keywords that have rapidly rising search volume. Although they are from a low base, they can signal a new angle of interest into your keyword/topic.
Look at the keywords in the Rising section not so much to target that specific keyword but for the question or angle behind the keyword. Use that question or angle to come up with a content idea.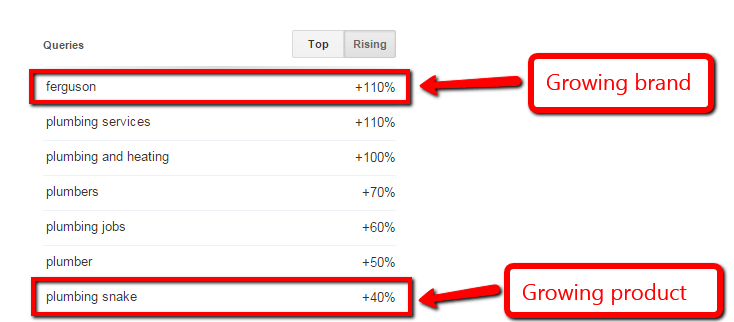 If you are specifically focused on Trending Topics, I wrote a full guide to Finding Trending Topics here.
Google Search Console
Before Google stopped providing keyword data, your own Analytics provided mountains of real content ideas from your audience. You could see what keywords they were typing in that led them to your site.
If you saw a pattern or a particularly valuable keyword, then you could build content around it that spoke to that question/search. Those days are gone. However, Google still provides aggregated keyword data in Google Search Console.
Many SEOs dismiss Search Console keyword data out of hand because the click data was notoriously inaccurate for a very long time. But what many forget is the gold mine of data that remains if you ignore the click volume and just look at the keywords as topics to optimize for & questions to answer.
In Google Search Console, go to Search Traffic then Search Analytics. By default, you'll be looking at Top Queries. You can browse these for ideas, but these are queries already driving traffic to your site.
You are looking for keywords that are driving traffic but are not particularly relevant to the page they are landing on. This data indicates that Google cannot find a more relevant page and that there is a gap in the content on the Internet. You have the opportunity to create new content that is more relevant than the page where the traffic is currently landing.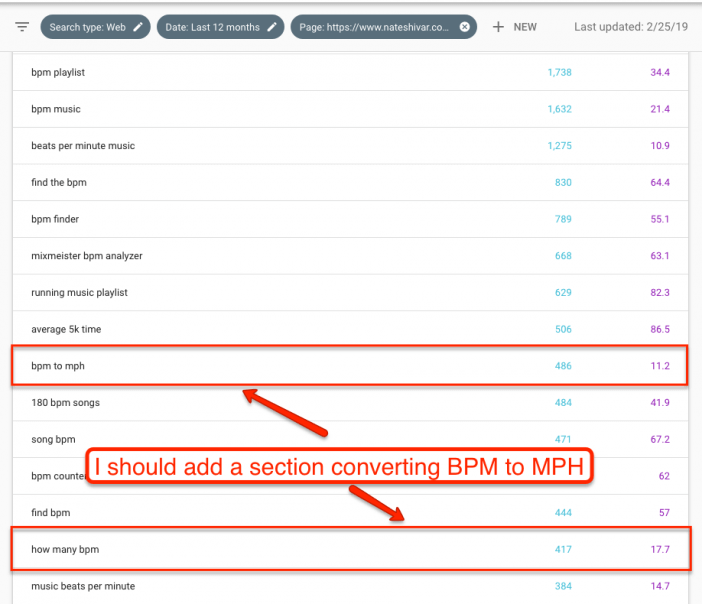 I wrote an in-depth guide to Google Search Console here and an in-depth guide to Search Console's Search Analytics tool here.
Google Images
Google Image's auto-suggest can be narrowed via category. And the categories are very interesting when it comes to content topics.

Sort via the categories – and then look at the top performing images and what pages they appear on.
Google People Also Ask (PAAs)
Google Search also has a new sub-search functionality that allows users to clarify their search query. The fact that these exist is proof that there is interest for that content.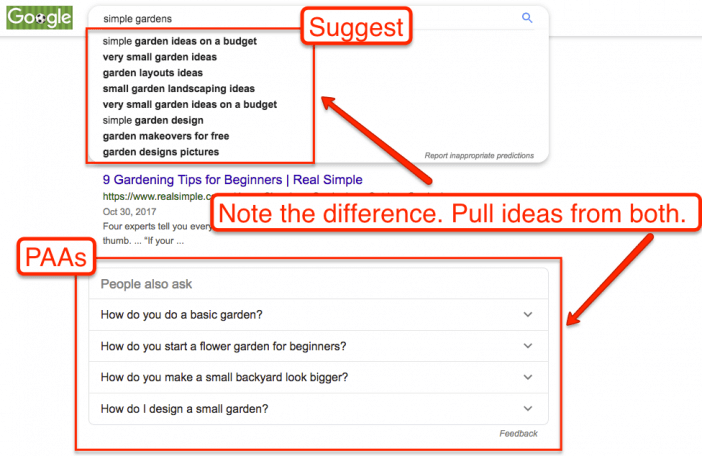 PAAs are so incredible because they provide the kind of lateral thinking that you'd usually have to think of on your own. Don't just create content around the PAAs – also use them to start completely new research threads.
SEMrush
SEMrush is a premium marketing suite of tools. But they will allow you to pull basic keyword research for a single website for free with a signup.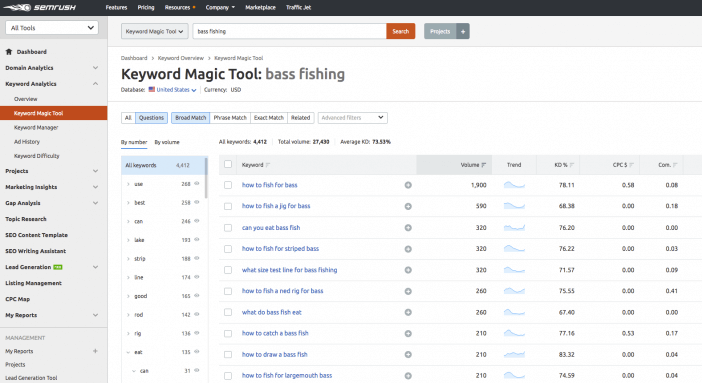 What they provide for free is often plenty of an initial keyword strategy. You can also use their free Chrome extension to gather more data on other content ideas.
Build On What's Working
Sometimes keyword research can give a narrow vision of content. Suppose you want to branch out but still prequalify your content. Go and look to see what types of content have already done well or poorly. You'll have a benchmark to gauge potential results in addition to having a starting point to create a new angle or fresh perspective. Here are my favorite tools to dig into what's working and/or has worked.
Huge Website & Publisher Successes
Publishers – whether they are general, niche, or industry – can provide a huge shortcut to finding content ideas for SEO that will be successful. Publishers live and die with their ability to create interesting content that drives traffic. They also have a dedicated staff to producing lots of content.
You can see what content has done well for them and use that data to generate, pre-qualify, and reverse-engineer your own content ideas. Entire sites have been built on this model, and there's no reason your website can't at least learn from the successes.
All you have to do is make a list of publishers in your niche or industry. Take those websites and plug them into a backlink checker tool like Ahrefs. It's a tool that will provide essential data for free and the rest on paid plans. I wrote an entire guide to Ahrefs here. LinkMiner by Mangools, SEM Rush and Buzzsumo (which gets its own section next) are also good alternatives.

You're looking for content that actually got links, shares & mentions. Look at the topic, headline, and actual content. Often the strength of non-publishers is taking a less-news oriented line. I love to see if there are topics given news or short treatment that can be expanded into reference pieces with a bit more research and investment.
Content Explorers
BuzzSumo and Ahrefs are tools that allow you to see not only what content has succeeded for specific domains but also for different topics. For BuzzSumo (which offers free features and paid upgrades) and Ahrefs' Content Explorer, you can see and sort exactly what content has done well on different social networks for different topics, keywords, or websites. It even breaks down the content by type (giveaway, infographic, etc).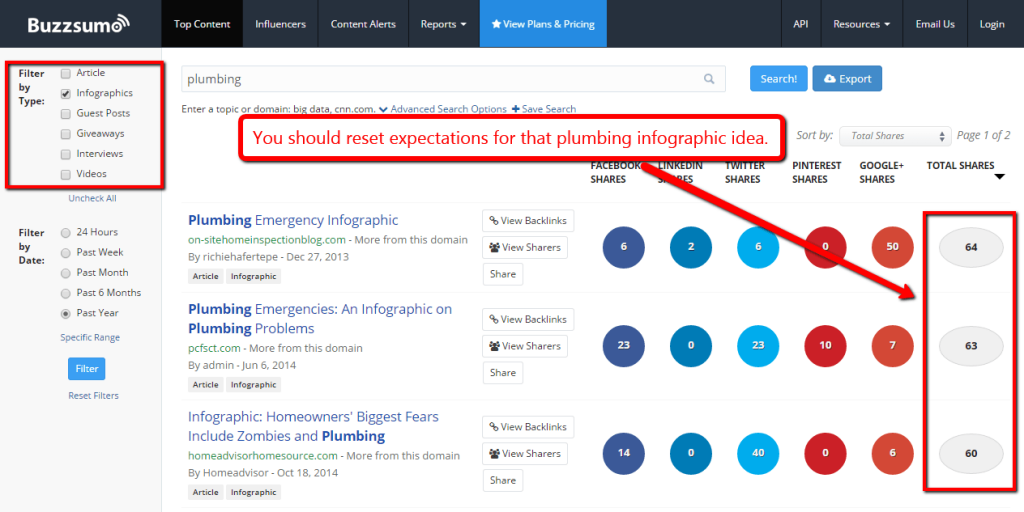 Note – you can also use both tools to find people to do manual outreach in addition to pre-qualifying the content idea. Learn more in my guide to Ahrefs here.
Outdated Content Finder
Over time even the best content becomes stale & obsolete. And chances are that if something did well a couple years ago and the topic is still relevant, then you can create an updated version and expect it to do quite well. In fact, you not only have pre-qualified content but also pre-qualified places to promote it to as well.
The trouble is finding the outdated content. That's where the Outdated Content Finder comes in.
Note – even if you already have a content idea that you're executing on, it still pays to check on any outdated content to find pre-qualified places to promote it to.
Mine Platforms for Ideas
Google isn't the only place people ask questions. In fact, sometimes they turn to other platforms because they can't find what they need on Google. There's a lot of large platforms to mine for ideas. What's great about this approach is that you not only get ideas & questions but you also get context. And as a bonus, you know a platform and a specific persona to target and speak to with your content. Here are a few of my favorites to mine.
FAQ Fox
FAQ Fox is a tool that will quickly scrape any platform for questions based on your target keyword. You just type in a keyword, and enter your choice of platforms such as Reddit, Quora, Yahoo! Answers, etc and hit enter. If you are unsure of what platform to choose, then you can just click a category.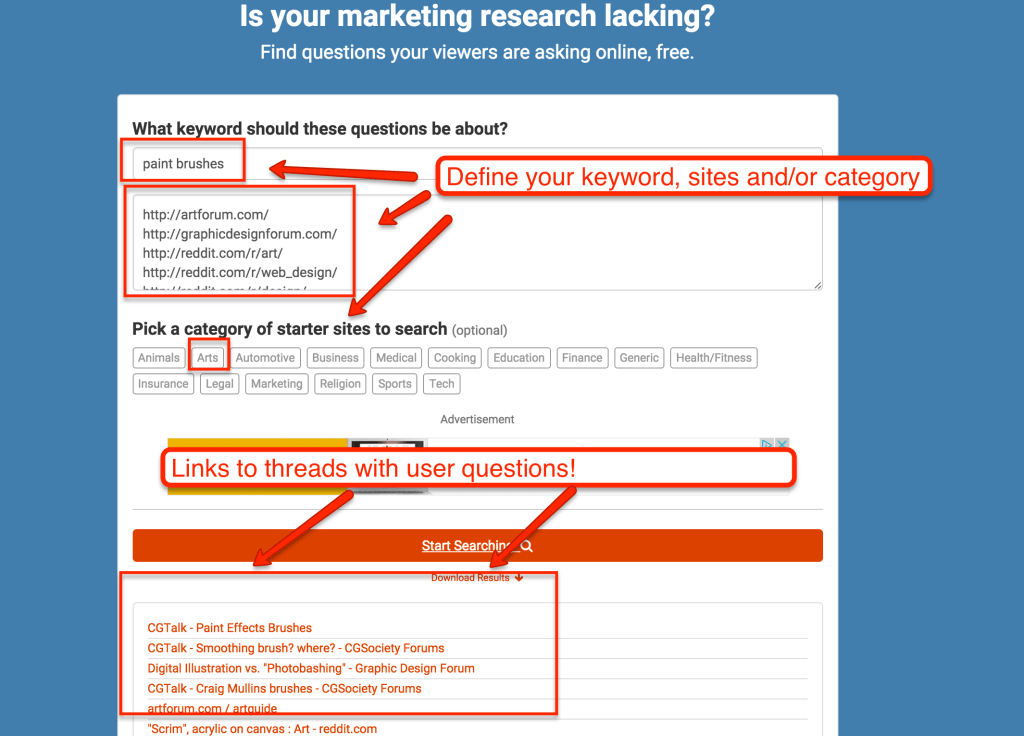 Then you'll just click through the threads to find questions people are asking. Not only does this tool "scale" research, but mining all the platforms also lets you find common topical threads. The common threads indicate not only interest but also point to a lack of clear, consistent answers elsewhere on the web.
Question Analyzer
Question Analyzer is a tool built by the team at BuzzSumo. It's very similar to FAQ Fox, but it combines BuzzSumo's semantic and social datasets to pull cleaner, more accurate data. It's in beta as of 2019, but worth a look.

You just enter in a topic and it'll mine various platforms to pull discussion threads that are rich in questions.
Wikipedia Topics
I've written an entire post on using Wikipedia for content marketing & SEO because it really is that big of a gold mine (particularly for boring industries).
In addition to mining Wikipedia for broken & needed citations, I recommend using it to find related & complementary topics. And on every topic, you can check out traffic numbers via Wikipedia article traffic statistics for the article to see if that content idea would be worth your while.
For example, suppose you are creating content for a plumbing company but you don't have any opportunities for grabbing citations or broken links (which can be found via WikiGrabber). Here's what I'd check:
1. Start with the main plumbing article on Wikipedia and look for terms and topics that might have questions around them – I'll try water softening.

2. Check the Water Softening page – it looks very basic with some citations needed and incomplete information. Looks interesting. But does it generate traffic?
3. Put the article title into Wikipedia Traffic Statistics – 15,000 visits in November 2014. Yes – 15,000 visits to a rough draft Wikipedia page about water softening.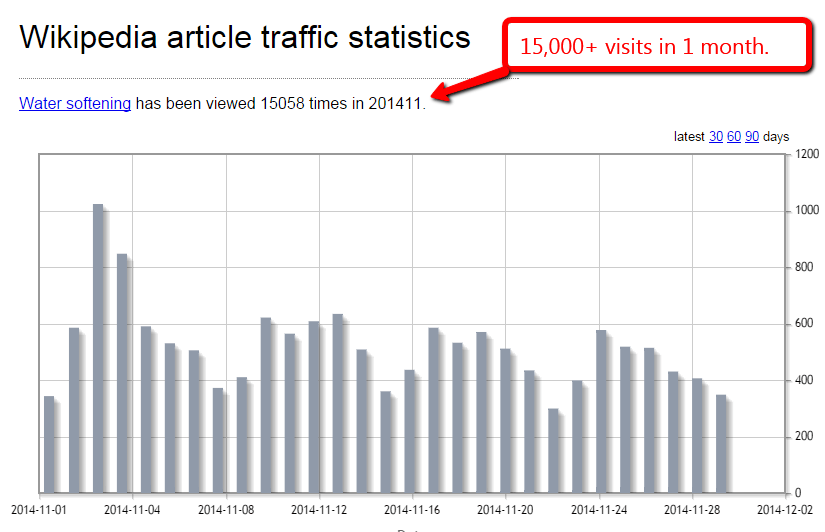 It's definitely something to research further depending on goals and strategy. You won't get the traffic that Wikipedia does, but it's a way to at least benchmark and prequalify topics.
Reddit Search
Reddit is a goldmine for content marketing & SEO ideas. In fact, I wrote an entire post about content marketing & SEO on Reddit here.
It is (with no hyperbole) the Front Page of the Internet. It also has thousands upon thousands of small niche communities called subreddits discussing everything imaginable and asking all sorts of questions.
My two favorite tactics are using Reddit search for questions & conversations and looking at top content on a niche subreddit.
The first one is straightforward. Go to Reddit.com and search for a keyword. Then click on Advanced Search and add in question-type words (ie, how or why) or different type of keyword phrases to see what comes up.
You can also use Reddit lingo to sort results. For example, LPT stands for "Life Pro Tip" so if you are looking for quick tips around your product/service then search for "lpt [keyword]". Others, such as AMA stands for Ask Me Anything to find relevant interviews or ELI5 is Explain Like I'm Five to find basic breakdowns of complex topics.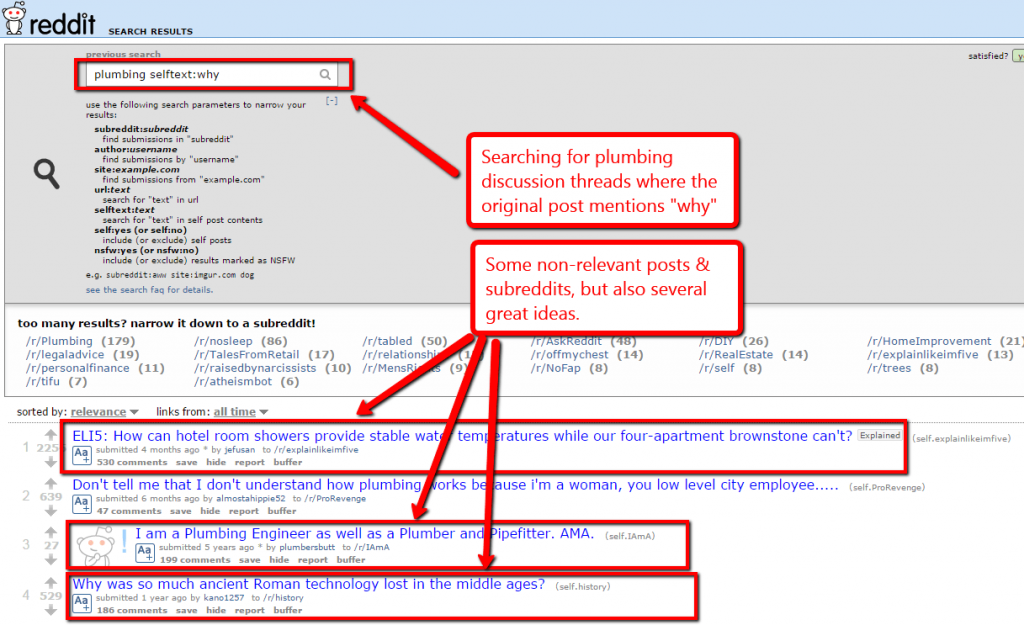 The second is to dig on Reddit to find a specific niche subreddit. You'll usually stumble on it while searching – something like /r/plumbing. Now, in the top menu, click on Top and then sort the date range.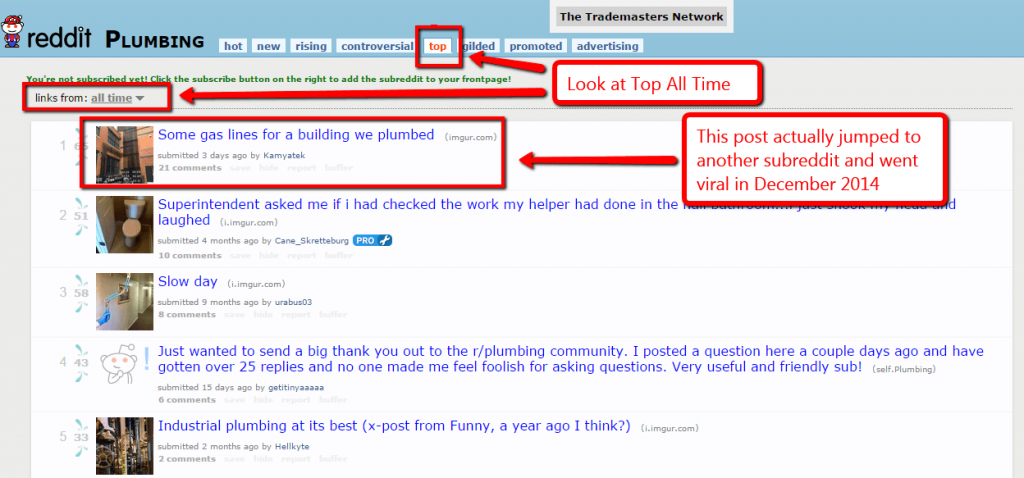 You'll see the most popular content for that audience in that date range. You won't necessarily want to copy it, but you can certainly use the information to get informed of a pre-qualified content idea.
You can also use Keyworddit or QuestionDB to explore Reddit quickly.
Yahoo! Answers
Yahoo! Answers gets made fun of – a lot in tech & marketing circles. And yes, it is very bizarre at times – but people use it. And most importantly, they use it to ask questions. And they usually ask questions that they cannot find the answer to with Google.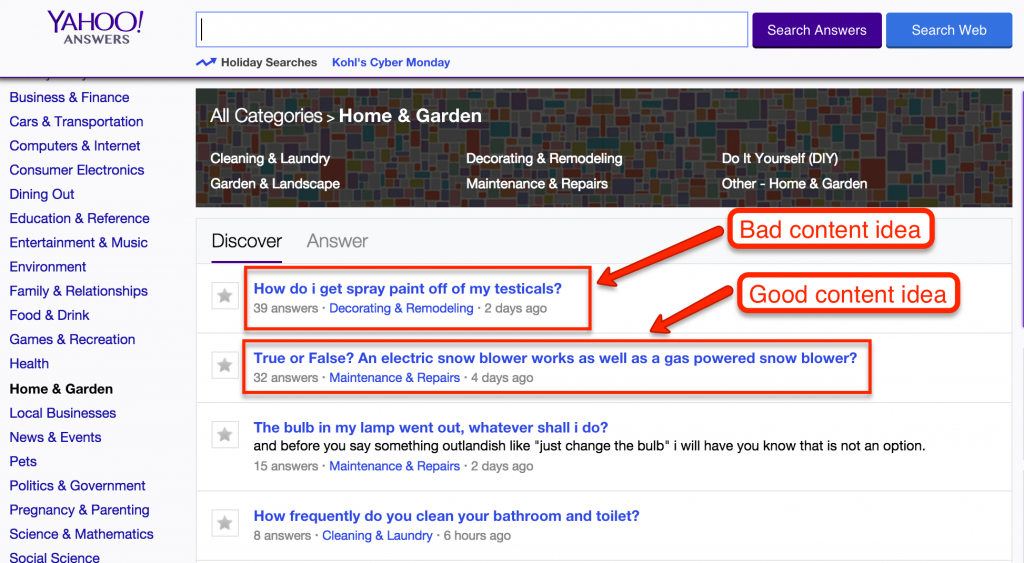 So I see it as an incredible resource to find content ideas – especially for SEO. I don't have a more sophisticated process than finding your category and sifting it by dates. You can also search by keyword. Observe the questions & comments.
Quora Search
Quora is basically an upgraded and less weird Yahoo! Answers. If you are in software or technology, then this is where you need to be looking for content ideas.
The same process – search by keyword or topic and see what is being asked.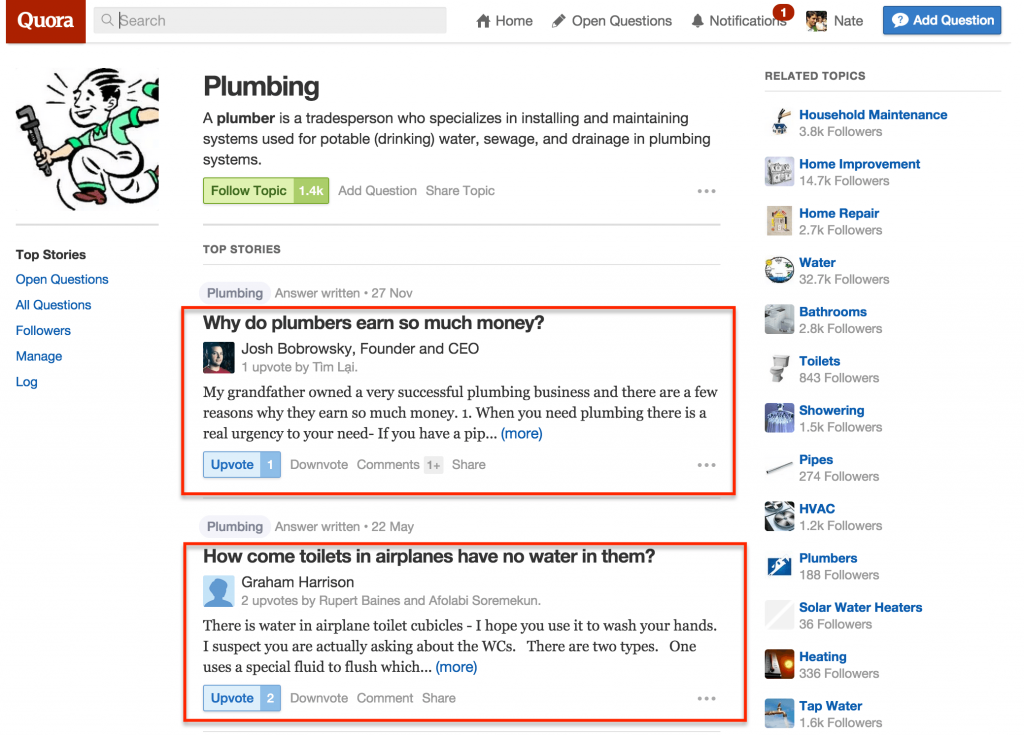 The beauty of Quora is that, again, it allows you to see topics that have interest and are usually broader and more nuanced than what you can decipher looking at keywords. I wrote a whole guide to using Quora.
Amazon.com
Amazon is e-commerce online. It sells more stuff than all the top 12 combined. That's insane – but it's also a huge opportunity because that means a lot of people are hanging out on one website and asking questions and talking.
You can mine Amazon customer reviews with Google Search by searching for [keyword] site:amazon.com inurl:product-reviews or by sorting top products manually within categories in Amazon.
You can sift through Amazon Questions & Answers with Google Search by searching for [keyword] site:amazon.com intitle:"questions and answers" inurl:forum or again by identifying top product and sifting manually through Q&As.
And if your store or website is in a specific category, you should be clicking through and reading the reviews and questions. It's content idea gold – especially because it is directly related to the sale.
Example – I was in the market for a lapel mic and headphones a couple weeks ago. My lapel mic did not pick up from my phone or Macbook. I ended up finding out about the TRSS specification through a random Amazon review after several frustrating Google searches because no one had really covered the topic well.
Also, don't forget that you can mine Amazon Search as mentioned above in "Keyword Research with a Twist" and use it for content marketing in general.
Twitter Advanced Search
Twitter might seem like a deluge of immediate information. Monitoring it for trending topics can be useful.
But did you know that Twitter archives all of its tweets and, like Google, you can use advanced searches to dig up content ideas?
Buffer has a full guide to Twitter advanced search here – but the core concept is to use several of Twitter's advanced search operators in combination to dig up content ideas that you know will work.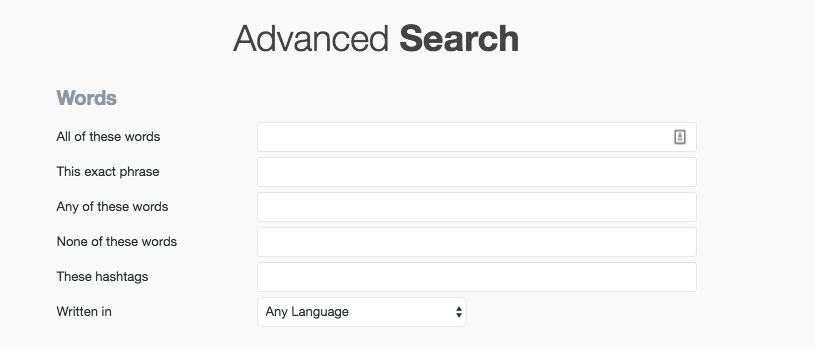 iTunes / Podcasts
I love mining podcasts because the content is usually different and not correlated to existing online content. It's a format that lends itself to long, nuanced conversational topics.
That means that there is plenty of opportunities to find out what topics listeners like on popular podcasts – and then drill down to the most popular episodes. You know for sure that your potential audience is interested. Your challenge will be to turn the podcast topic into something interesting on your website.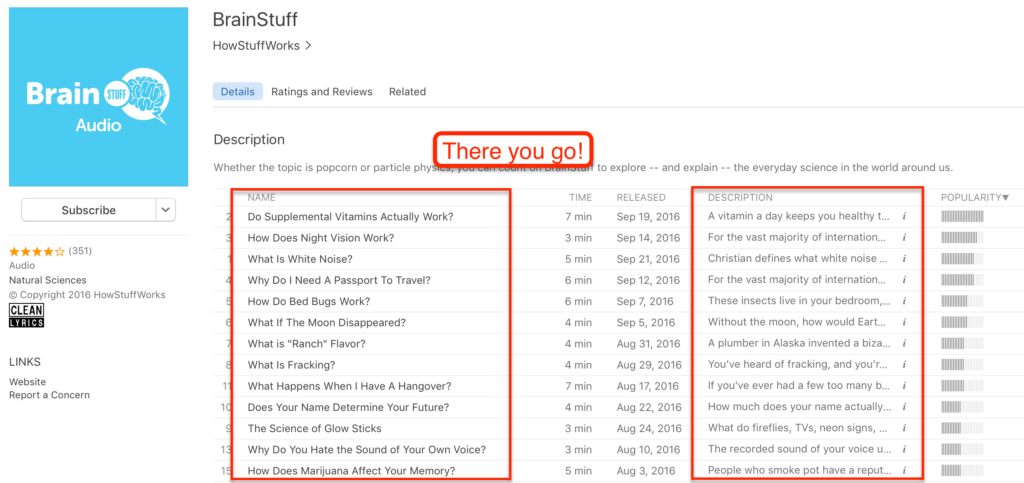 Look at each popular episode. Look at its description, title and even listen to it. What are the core components? What can you do for the same topic within your website content?
YouTube
There are tons of ways to use YouTube for your website's content & marketing, but there are a couple areas to look for (& mine).
YouTube Search
Use the same "suggest" techniques as mentioned above. You can also use KeywordTool.io or Ahrefs to automate some of the process.
YouTube Video Descriptions
Take a few high visibility videos. You can find them via search or by sorting popular channels by "Most Popular" videos.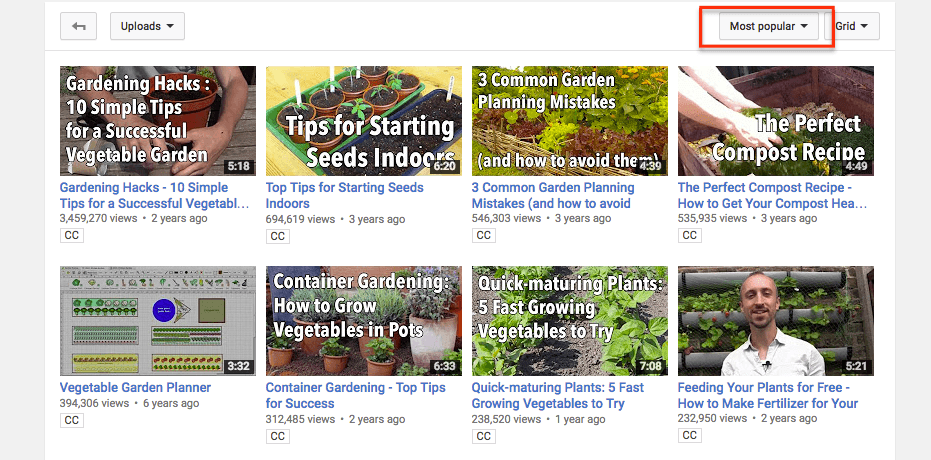 Scroll down and look at the video description.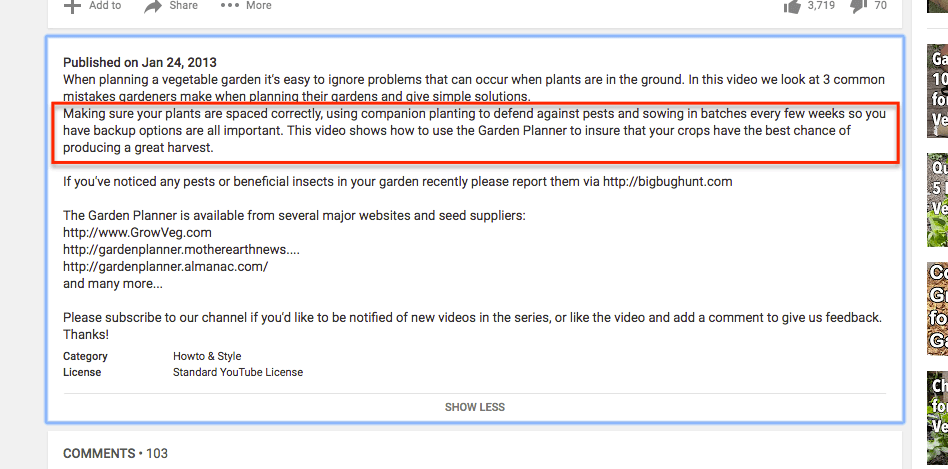 YouTube Comments
Ahh – infamous YouTube comments. They may have a bad reputation – but if you find a high-quality video channel in your industry, the comments can be a gold mine.
Take a popular video from a popular (but high quality) channel and look through the comments for unanswered questions & keywords.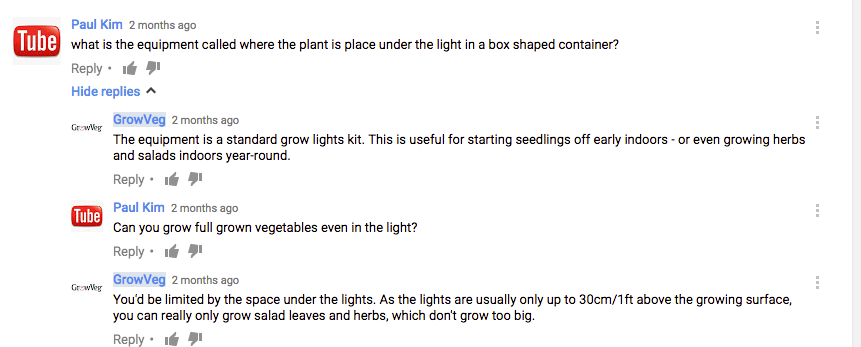 Note – CoreDNA also has a great outline of these techniques.
Facebook & LinkedIn Groups
Like Reddit & Quora – these are particularly interesting since the questions asked are usually questions that Google is not answering for them.
The trick is to find relevant & active groups/forums. Once you join, sort by questions. LinkedIn also has plenty of other content marketing options.
Pinterest
Pinterest is incredible for market research. In fact, I wrote an entire post on using Pinterest for Content & SEO.
There's too much to write here – other than that you can (and should) use it. Read my post.
Next Steps
Before you create your next editorial calendar or brainstorm content ideas, use 1 or a couple of these tactics to guide & pre-qualify content ideas for what will have the best shot at generating visitors.
If you are into researching content strategy, you will also like my in-depth guide to Ahrefs and my guide to finding trending topics.
If you are looking for an affordable keyword research tool, be sure to check out KWfinder by Mangools – and get a deep discount here.
Explore In-Depth Guides To Content Ideas