The odds are that if you've been scouring the web for a deal, you've come across Groupon. In recent years, Groupon has become a touchstone for people who are looking for great deals on quality services, products, and more. And advertising your business on Groupon can put you in touch with the millions of people who use the platform each day.
Honestly, Groupon is one of the least utilized advertising platforms around. Using this eCommerce platform means that you won't have to compete as much with competitors for advertising real estate. And utilizing it efficiently can help attract repeat customers, increase brand recognition, and make more profit along the way.
So, save some paper and embrace the era of digital couponing we're all living in right now. Here's how you can advertise your business or brand on Groupon.
What is Groupon?
Before you go about running ads and deals on Groupon, you need to understand what it is. Foremost, Groupon is an American and worldwide eCommerce marketplace that connects subscribers with local merchants. By offering money-saving deals on specific activities, services, and goods, Groupon can help businesses push traffic and branding efforts.
Started in November 2008, the Chicago-based business is now available in 200 cities in North America, in addition to 300-plus more cities in Europe, South America, and Asia. Because those who use the platform have access to deals around the world, Groupon introduces many customers to new brands, international, local, or otherwise.
On top of that, Groupon's user-base is only growing year after year. The platform has more than 50 million active users, as of this article's writing. Recently, studies have shown that strong growth figures and profits will likely grow in Groupon's future.
Who uses Groupon?
Groupon is one of the most diverse platforms to advertise on for businesses. Unlike other millennial-focus brands like Snapchat, Facebook, and more, Groupon has shown to have almost universal appeal. People of all age groups regularly use the platform to find money-saving deals.
While it's users span all ages, the audience "sweet spot" seems to be consumers between 18- and 44-years-old. Men and women appear to use the platform in similar numbers, meaning that businesses can expect advertisement and deals that are inclusive to all genders perform the best.
Using Groupon couldn't be easier: both merchants and customers create profiles geared toward their interests or businesses and can choose to shop or advertise throughout the eCommerce platform. The ease of use and access to Groupon has only helped the eCommerce company not only grow in popularity but made it a viable place for other business to market their products, services, etc.
By leveraging Groupon's broad demographic appeal, you can establish a strong presence on the platform that directly affects your bottom lines.
How does Groupon Work?
Think of Groupon like the middleman between your business and your customers. Each day, the marketing minds at Groupon mail out specific curated newsletters for their millions of subscribers to browse. Depending on what that emailed user has shown as "interests", the email for that day will showcase specific products and local deals that might pertain to you. Because of the local-specific nature of Groupon, their emails to users are relevant to whichever location they resided in at the time of creating their accounts.
But Groupons aren't like more traditional coupons. In fact, more than 98 percent of coupons never see the light of day. That makes them an insufficient way to market your business, and it wastes your money – Not to mention the terrible environmental impact of printing thousands of waste paper coupons!
However, with Groupon, the customer has to pay upfront to use and redeem them. This direct route to cost-savings not only allows customers to access deals immediately, but it doesn't waste your time and money. Mother Nature and your business bank account will thank you for using Groupons digital coupon system.
One of the biggest draws to users is that Groupon usually offers substantial savings. If you plan on advertising on Groupon and only want to provide 5 percent or 10 percent savings, I have some simple advice for you: Don't.
Traditionally, the vast majority of Groupon's offer 50 percent or more in savings from their original retail prices. Some businesses even offer discounts of up to 90 percent on certain goods and services.
However, unlike the coupons most people are used to seeing and using, Groupons don't always expire after a specific time. Generally, Groupons (once purchased) expire a week after their purchase date. But some services and getaway Groupons don't expire for up to six months…and in some cases, even a year. Before purchasing a Groupon, customers are encouraged to read the "feature fine print" written in all Groupons.
How does Groupon Make Your Business Money?
Like with many middlemen, Groupon takes a certain percentage from each sale you make on the platform. The exact "cut rates" vary between purchase to purchase, but it generally seems to float around between 40 and 50 percent. That can look like a significant cut (and it is), but the traffic to your business and the number of Groupons sold can make up for that lost profit.
Also, since Groupons are similar to expirable gift cards, you still make money regardless of whether or not it's redeemed. Because the customer pays for the service, product, etc. upfront first, you don't have to worry about losing a sale. According to market analysis site Yipit, up to 20 percent of all Groupons go to waste.
How to Sign Up for Groupon as a Customer
Signing up for Groupon as a consumer is very similar to how you would sing up for other online services or product subscriptions. While you don't necessarily need to establish a customer account as a Groupon Merchant, I'd highly recommend doing so. By signing up as a customer, this will give you insight into how others are seeing your ads.
Your customer account will also give you insights into how the Groupon interface may be changing for consumers. And this account will also give you access to look at any competition to see how your deals, prices, etc. compare to others.
After visiting www.groupon.com/login, a login page will pop up that will request the following criteria:
Your legal first and last name
Your business or personal email address
Your desired Password
Choose whether or not you want to receive email newsletters from Groupon
Choose whether or not you want the device you're on to remember your inputs
After signing up, you'll have the ability to do deep dives in local, national, or international markets. It's worth noting that more than 70 percent of all Groupon sales remain bought by locals seeking deals on products and services in their neighborhoods.
How to Become a Groupon Merchant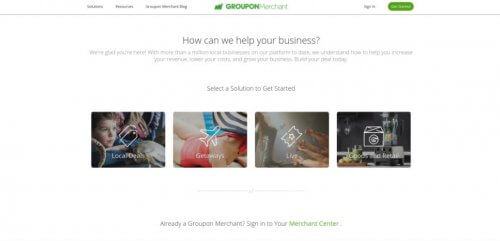 Before you can start listing your products, services, and other goods, you have to become a Groupon Merchant. Unlike becoming a Groupon user, becoming a Groupon Merchant requires more in-depth criteria to be met.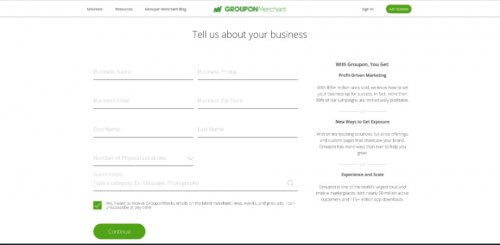 First, I'd recommend visiting www.groupon.com/merchant – this will take you to the "Groupon Merchant" page of Groupon. Think of this as your one-stop-shop for doing business on the platform.
Below you'll find the four "solutions" Groupon that you can select from to start:
Local Deals
Live
Getaways
Goods and Retail
Each of these will require the following criteria to proceed:
Your business's name
Your business telephone number
Your Business's zip code
Your business Email
Your legal first and last name
Depending on the type of business you have, you may also have to answer the following:
Kind of category your service falls into
For example, photography, massage, etc.
How many vacation properties your have
For example, if you're advertising a hotel or hotels
How many entertainment venues you have
For instance, if you're promoting concerts or live shows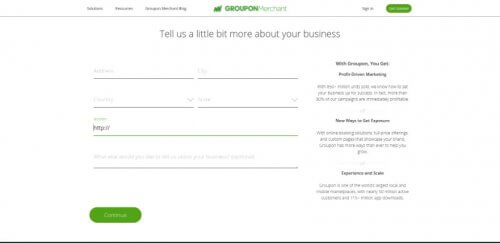 Of the four available to select from, the only one that deviates from the rest is Goods and Retail. By clicking "Goods and Retails," you'll immediately see the "Groupon Goods Marketplace." Here, you can sell goods directly on the site and get immediate payments for products you sell. The Groupon Goods Marketplace functions much like eBay, just without the bidding aspect.
To start selling your products and other goods through the Groupon Goods Market Place, you must complete the following:
Complete the reading of your "Profile."
Submit all the needed information for your "Account."
Submit all the needed information for your "Payments."
Supply the physical address of your retail location under "Fulfillment."

If you're an eCommerce brand, you can opt out form filling this out, but you can't offer "In-store Pickup" option on your product

Choose whether or not you want your goods to be taxed by completing your "Taxes."
Should you choose to have your goods taxed, you'll need to decide which state those taxes need to comply
Fill out your business phone and email address under "Customer Service"
Supply needed business addresses and contact information under "Business Info"
Agree and sign Groupon Goods Marketplace "Merchant Agreement"
Once you've completed all the information above, your account will then become verified by Groupon. The process generally takes only a day or two. Once your account is confirmed, you can begin selling your goods through the platform, and keep track of current orders, payments, and more.
How to Advertise with Groupon for Food and Drink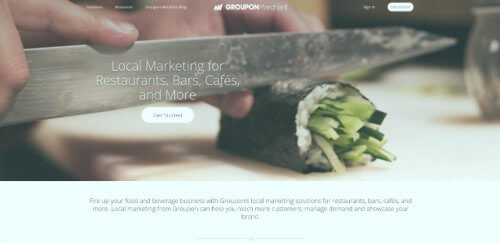 Groupon is an incredibly popular platform for gastronomes and restaurant-goers. The Groupon Merchant Blog (which we'll get into later) has many accounts of restaurants experiencing more traffic from using Groupon. From offering one-time deals on certain dishes to revolving discounted specials, Groupon can help grow your business traffic.
One of the more exciting perks of your restaurant being a Groupon Merchant is that you can offer Loyalty Rewards programs. Much like in other iterations, these loyalty programs can help attract long-time customers and bring attention to your eatery.
There needs to be a reason for your customers to want a loyalty program through Groupon. Consider offering deals and incentives to customers to sign up for loyalty rewards to receive. Recently, The National Restaurant News found that people who have a Loyalty Program to a specific restaurant will spend almost 40 percent more (on average) when they're closer to receiving an award.
Even if you don't choose to start a Loyalty Program for your restaurant, you can continue to offer deals. Research shows that people are many times more likely to spend more on a more expensive meal if they believe they're getting it cheaper than usual.
Advertising on Groupon for your restaurant is a win-win: Your bottom lines and customer traffic grow, and your eaters leave having saved on a good meal.
How to Advertise on Groupon for Health and Beauty
Nail and hair salons, spas, massage companies, and more health and beauty businesses can all benefit by leveraging Groupon to expand their outreach. Research shows that even during times of recession, Americans tend to continue to spend the same on health and beauty products and services. But Groupon can do more than help you get more clients.
Groupon allows Groupon Merchants to streamline appointments by simplifying the booking process. Using "Groupon Appointments," you can allow customers to request appointments after they purchase a ticket, voucher, or digital reservation card for your business. Your "Groupon Calendar" will immediately be updated to accommodate the customer, and that specific time will be unable to be booked that day. This streamlined process also eliminates the risk of double-booking.
Also, you can help boost traffic for our other online health and beauty services by cross-linking to your "Groupon Page." You'll have the option to link to your main business website through both your Groupon Page and the advertisement itself. By creating easy access to your main website, you can introduce new and old customers to your available services that aren't on Groupon.
How to Advertise with Groupon for Cultural Institutions, Activities, and Events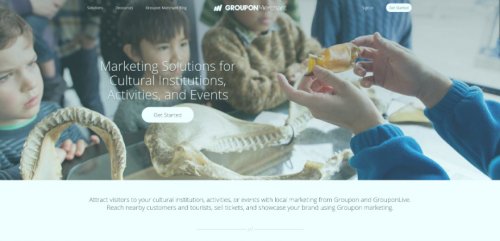 Groupons offer a great way to help grow and promote community institutions like museums, galleries, and more. Advertising on Groupon is also beneficial to those who are throwing events.
By running deals through Groupon, art galleries, museums, and even zoos can bring attention to specific exhibits or installations. Also, advertising on Groupon can allow business to help with ticket sales during slow periods of the week. Generally speaking, ticket sales to cultural institutions are slower during the week than they are during the weekend. By running deals through Groupon, you can help drive traffic to quieter days.
Also, using Groupons for your business is a great way to advertise certain local and regional happenings. Like I said before, Groupon emails local-specific roundups of deals, services, and events to users each day. By featuring your event using a Groupon Deal, you can capitalize on those eyeballs viewing those newsletters.
It's best not to run your Groupon deal for your event or activity too early or too late. Most Groupons are used after a week of purchase. Offering Groupons that can only be redeemed months after their investment can be off-putting to buyers. And the same can be said to Groupon's pushed for an event that's the same night of it being available for purchase.
Using groups in timely and strategic ways can help push and drive new attendees to your cultural center, photo gallery, etc. Who doesn't want to spend an afternoon or evening at the museum at a discounted price?
How to Use Groupons to Advertise for Home and Auto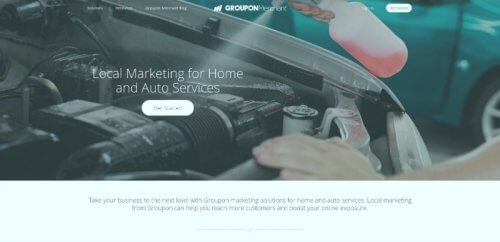 You might think that Groupon isn't for pushing home and automotive businesses, but you'd be wrong. In fact, the Home and Auto section of Groupon is one of the fastest growing segments of the eCommerce platform. And because most home and automotive services need regular services, you can attract long-term customers by offering deals through Groupon.
For automotive business and mechanic shops, I'd recommend pushing groups that offer specific discounts on shared services. Discounts on oil changes, transmission fluid changes, and other regular services can bring regular clientele to you. Offering those discounts on those services might be the difference between a customer doing years of business with you vs. your competition. Detail shops can offer similar discounts on regular washes, waxes, and details to help increase traffic and profit as well.
For home improvement business, offering deals on repair and maintenance services through Groupon can help grow your customer base. During the winter months, I'd recommend running seasonal deals through Groupon. These deal can be like chimney and fireplace cleaning, insulation repair, heater repair, etc. if you live in colder climates. Those who have the home improvement business in hotter climates can capitalize on running seasonal deals during the Summer months. Pushing Groupons that pertain to A/C services, insulation repair, electric repair, etc. can help drive up profit and attract new customers.
Landscapers, commercial gardeners, and pool maintenance companies can also take advantage of Groupons. Grass and other landscape need regular tending to keep them looking vibrant and fresh. And the same can be said about a pool: Keeping a pool clean and chemically balanced is crucial to helping it stay blue and swimmable.
By offering a Loyalty Program Groupon, you can build a healthy, engaging customer base while helping to increase across-the-board profits. I'd also recommend offering Groupons for other less frequent needs like mulching, tree clipping, and tilling.
Using Groupon to help push your home or auto business can have lasting benefits to your profit margins and bottom lines. They can also help keep your clientele engaged and up-to-date on your business happenings.
How to Use Groupons to Advertise for Getaways and Travel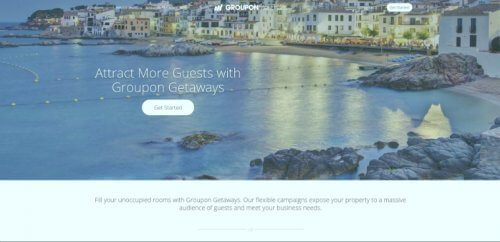 Even though Groupon tends to attract local business, Groupon aggressively promotes deals that involve travel and other getaways. These can include packages to individual resorts, all-inclusive travel deals, guided tours of favorite vacation and tourist spots, and more. Cruises regularly advertise deals through Groupon that push astronomically cheap vacation packages for a seat that would otherwise be left empty.
Using Groupon for travel agencies and other travel-minded businesses can help ease the booking process as well. Groupon also offers easy booking tools which can be utilized by agents and business owners to help streamline bookings.
Using Groupon can also help you capitalize on last-minute travelers. In fact, Groupon themselves say that 93 percent of Getaway Packages were influenced by seeing hotel properties on their site. They also say that Groupon users who regularly use the platform are very likely to book spontaneous tickets to events, tours, or other activities while traveling. By having your travel agency offer deals on local happenings through Groupon, you can capitalize on that market.
How to Advertise on Groupon for Goods and Products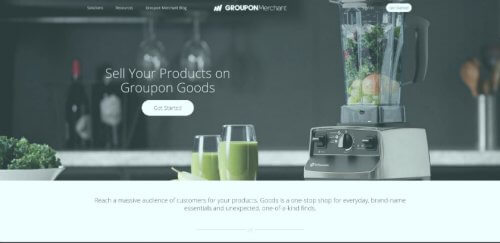 While I already talked about how Groupon Goods Marketplace, businesses who sell products can also benefit from regularly offering deals through Groupon. These deals can be in the form of at-purchase discounts on certain goods.
Also, that business that sells goods and products can also introduce loyalty programs that give customers incentive to keep buying goods from you. I'd also recommend introducing subscription to specific goods or products that need to be regularly purchased, like skincare products and kitchen items.
If your business is thinking about doing events, Groupon is a great place to sell tickets for those events. By hosting events, you can help market product, while also giving a face and real-life personality to your brand. And since Groupon sends those daily local-based newsletters, you can be sure those Groupon deals are getting attention.
How to Use Groupon+
Groupon, or Groupon Plus, is a new service that lets you create a campaign that offers customers cash-back for their purchases. Think of this new service like a cashback credit card: it gives you an incentive to spend more to get more reward.
Also, there is no cost to the business owner to run Groupon Plus. All you have to do is sign a downloadable document and send it to get approved for the rewards-based, voucher-less program. Seeing that your deals are part of the Groupon program gives customers even more of a reason to choose your compromise.
For more specifics on the Groupon program, read Groupon's blog post about the product.
The Next Steps
Once you've established a healthy customer base on Groupon, you'll want to make sure that you keep them for deals to come. Below are a few engagement strategies I'd recommend employing once you've started regularly advertising on Groupon:
Ask for feedback on the experiences customers are having with your company on and off Groupon
Start to send-out personal "thank yous" and one-off deals to customers that are frequently using your services, products, etc. through Groupon
Ask for reviews on Groupon, as well as Yelp, Facebook, etc.
Try to create new and fresh rewards for Groupon Loyalty Members
At this point in your Groupon wheeling and dealings, remember one thing: Brand communication and presence is critical. In the future, more and more brands, businesses, and retailers will be flooding the platform. It's imperative your brand stands above the rest. And creating a sense of character and emotion around your business is just the way to do that.
Consider working with a Groupon specialist.
While you can choose to do all your Groupon dealings yourself, the company does offer Groupon specialist for assistance. These highly qualified Groupon employees can not only give you market insights on the platform but help craft your image and presence on Groupon.
Working with them is free of charge, and consultations can be done either over the phone or through email.
2. Use Their Deal Builder
Groupon's new Deal Builder platform allows local business owners access to specific selling templates that Groupon has deemed to be accessible and useful. Each deal-built template offers guided step-by-step instructions. By following these easy to follow guides, the business can construct a more engaging promotion that makes the most sense for whatever they hope to sell or advertise.
As of now, Deal Builder is available for most local types of business. These include the following:
Health-minded companies, like massage shops, acupuncture clinics, etc.
Beauty-based businesses like salons, saunas, etc.
Service-oriented verticals for the home, auto, etc.
Activities-based events and business-like for museums, galleries, etc.
Food and drink services for restaurants, cafes, etc.
Once you're finished using the Deal Builder, and you've reviewed the final Groupon ad, you'll be instructed to e-sign a contract. After signing the document, your deal will go live and become accessible to those who wish to purchase it.
Once the deal has gone live, it's difficult to change it afterward. I highly recommend double- and triple-checking it for any typos or mistakes.
3. Consider Upselling at Some Point
While Groupon is primarily based on a money-saving model, that doesn't mean you can't offer more upscale products and services at reasonable prices. However, it's best to start your Groupon dealings with products and services that get the most bang for the buck. After you've established a good reputation, you can begin to adjust your deals to be more profitable.
As you think about selling on Groupon, you have to remember that value should remain at the center of your deals. The users who frequent the platform have saving money first and foremost in their minds. Upselling packages, deals, etc. that hint at just making a quick buck or "way too good to be true" won't do well. Creating these off-platform brands can also hurt your brand's reputation and public perception.
4. Regularly Read the "Merchant Blog"
Because Groupon is evolving so quickly, you'll want to make sure you're up-to-date with all it's new features and offers. For Groupon Merchants, you can check out the Merchant Blog. You can also find helpful, creative ways to craft new deals, as well as see how others are doing on the platform.
The blog also regularly highlights general market trends, news, and best practices. The Merchant Blog can be an invaluable tool to those who want their business to blossom on Groupon.
5. Stay Consistent with Your Deals
Regularly offering Groupon Deals will make sure you give a reason for your customers to check your Groupon Page regularly. If you have one great deal but don't provide another for weeks or months, it can make your business look neglectful.
Even just re-running the same deals is better than not having any at all. I'd recommend creating "revolving" Groupon deals, which you can do by either speaking to a Groupon Specialists or by using the Deal Builder product.
4. Downloading the Mobile App
Purchases on Mobile devices account for 50 percent of Groupon Deal sales. By downloading the Groupon App for either iOS or Android, you'll be able to see what your deal looks like on a mobile device. Downloading the mobile app will also give you easy access to your Groupon Page, as well the other various dashboards your account might have.
The Bottom Line
In an ever-growing digital world, eCommerce platforms like Groupon are becoming incredibly important. It's really like a sink-or-swim landscape now: Either you can embrace and take advantage of what these online platforms have to offer, or you can choose not too (and really handicap your business in the long-run).
Because of Groupon's broad demographic appeal, as well as the ability to support many types of business, using Groupon Deals can significantly help your business. You can rapidly grow your clientele, aggressively promote events and activities, and even help build brand identity by advertising on Groupon. Building cohesive, well-executed deals on Groupon can also help streamline your business and make it more efficient.
Groupon is already part of the bigger picture of how we'll shop in the future: online and through eCommerce platforms. You might as well get in the frame.
Read my post on how to advertise your website online for other ideas!