A common question I get about affiliate marketing is it a real business? Yes, it certainly is!
It's not only possible to earn decent money as a side hustle, but could even replace your full-time job. It's even possible to achieve the ultimate entrepreneurial success — to sell your business for a big windfall.
I should know, as I have some personal experience. I sold the website Investor Junkie for $6 million in 2018. Investor Junkie's income was based solely on affiliate marketing revenue.
After my sale, I was curious how many others have made money with a website via affiliate marketing only?
The number of blogs that sold for seven figures, or more, surprised me.
It turns out I'm not a unique snowflake. There have been many others. Some of these affiliate marketing website examples achieved a similar level of success or even greater.
So I created a list.
The first requirement to get on this list was to have a substantial amount (over 50%) of revenue from affiliate marketing. Obviously this is somewhat of a guess since I don't have direct access to their accounting records. Though it's pretty easy when a business is sold for seven figures, yet offers no products, or has no or little ad banners. Therefore, most of the revenue is coming from affiliate marketing.
The second requirement was I wanted only to include information that is publicly verified. For your reference, I cite the source. As a disclaimer, I have no insider information to any of these transactions. All of this information came from public records, including my own sale.
I used public records since it's reliable information and not hearsay.
This excludes obviously popular sites that haven't been sold like NerdWallet. They employ over 350 people and easily would make it on this list if it were ever sold.
I Don't Trust Blog Income Reports
Call me a skeptic, but the popular "how I make money from my blog" posts I don't trust.
On one hand, it's a great way to get a "voyeuristic" peek into how the sausage gets made with affiliate marketing. This makes them very popular to read, but they also unreliable for that very same reason.
Revenue numbers can easily be fudged.
The true test of what a company's worth is when it is sold anyways. You may deem your company to be worth seven figures, but it's only worth what someone else will pay for it. At least at the time of sale, it effectively locks in what is the value of the asset.
There's a classic 'New Yorker' cartoon that sums up what you see on the Internet blog reports perfectly.
It's hard to discern the fakers from the makers.
So take what you see online with a grain of salt. Just like many Instagram pics, it's only a slice of reality.
Though, even if half of the revenue numbers listed out on the Interwebs are true, it is still an impressive feat nonetheless. All attesting to affiliate marketing can not only be a full-time job but can make you wealthy as well.
Unfortunately, my list excludes the smaller frequent deals that don't get press coverage. For example, friends like Matt Giovanisci who sold his Amazon affiliate marketing site Roasty Coffee for $55k. While impressive, it isn't verifiable by a third-party, so, unfortunately, it is excluded from my list.
The List Isn't Comprehensive
This list is by no means the authority list of blogs sold.
Obviously my list of successful affiliate marketing websites is personal finance heavy. Mostly because of me and my knowledge of this affiliate marketing niche. I also know affiliate marketing in the personal finance space is very profitable. But they are certainly not the only ones.
Though, I'm not suggesting you enter personal finance affiliate marketing space. There are many other niches that are just as profitable.
If you do know of any press about affiliate marketing websites sold outside of personal finance, please let me know by commenting below. I would like to add more to this list.
The websites that have undisclosed sale amounts, I'm surmising they were sold for at least seven figures. This based upon my knowledge of the industry, the estimated traffic, staff size, the merchants they worked with and from discussing with fellow bloggers.
Sold Affiliate Marketing Websites
It should be noted, a few of the websites listed (Get Rich Slowly, Consumerism Commentary, Five Cent Nickel, and The Simple Dollar) have been sold multiple times.
For example, J.D. Roth sold his site Get Rich Slowly in 2009, only to buy it back in October 2017. Terms of the buyback weren't disclosed, but I suspect he acquired it at a substantial discount from what he sold it for in 2009.
The table above lists the first sale only.
Affiliate Marketing Examples
Let me break down some affiliate marketing examples and what I think made them successful.
---
Investor Junkie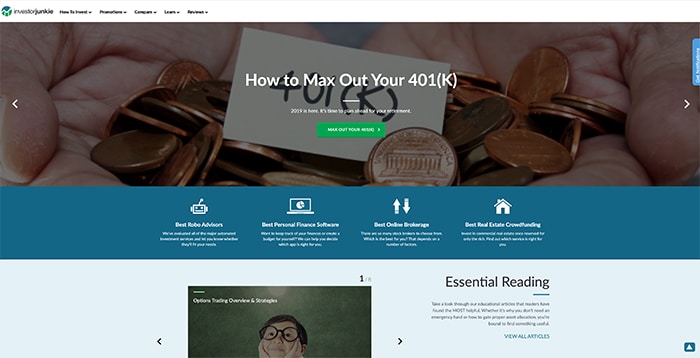 Sold For: $5.82 million
Acquired Date: July 2018
Acquired By: XL Media PLC./Webpals
Reasons for Success
I should know a lot about this website as it was my own. I started it in December 2009 and then sold in July 2018. I believe Investor Junkie was successful for a few reasons.
SEO Focused
Detailed reviews and comparisons
The content was constantly updated
Created more than just content to keep readers engaged
To highlight the last item I believe content (copy) is a commodity, especially with SEO. Meaning it's an arms race between competing websites for your niche. There are only so many ways you can discuss how to open a Roth IRA account. Content is easily replicated by others. If you create functionality like a calculator, a widget, etc, this makes it much harder to replicate. This can give you a competitive advantage.
---
Wirecutter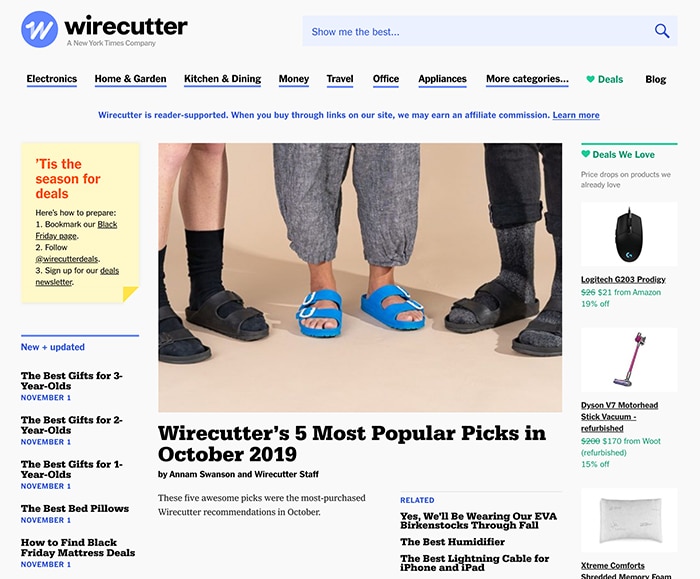 Sold For: $30 million
Acquired Date: October 2016
Acquired By: The New York Times Company
Reasons for Success
When I was growing up, Consumer Reports was the authority in consumer product reviews. But in the 2000s, Consumer Reports seemed to have lost their way. They didn't adapt to the online revolution very well. This opened opportunities for new entries into the market, plus with a mix of affiliate marketing to fuel this growth. Wirecutter is successful because of they:
Hired domain experts on the consumer products they've reviewed
Had detailed reviews and cited external sources
Focused on 'best of' review format and not so many individual reviews
A good portion of its affiliate revenue comes from the Amazon Associates program. This is speculation, but suspect they are the largest Amazon affiliate.
Wirecutter's reviews are some of the best out there. If you plan on writing any reviews in your niche, I suggest you look at their format and how can you improve upon it.
---
Student Loan Hero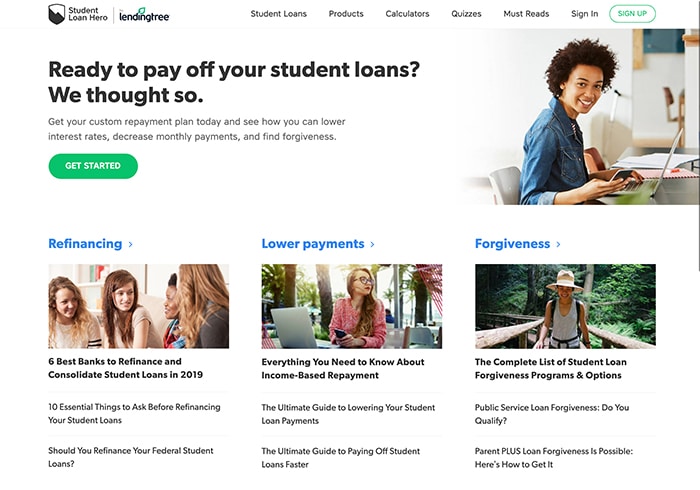 Sold For: $60 million
Acquired Date: July 2018
Acquired By: LendingTree, Inc.
Reasons for Success
Student Loan Hero solved a niche for every growing problem in the United States – student loan debt. It is estimated student loan debt is over $1 trillion. So Student Loan Hero helped students decrease their debt load. They were successful because of they:
Offered more than content with calculators
Had a comprehensive SEO strategy covering every aspect of student debt and ancillary topics
A free membership area to ensure repeat visitors
The lesson I've learned is debt pays much better than investing as a business. This is because of the very nature of society. We have many more people in debt, then can invest, unfortunately.
Summary
You may not want to strive for a 7-figure exit of your business. That's perfectly fine.
My point is with affiliate marketing is certainly possible to achieve what you deem as financial success. You might be satisfied with creating a part-time side hustle. I created this list as a means of inspiration and breakdown of some insights into why I think they were successful.
Nor does it mean an affiliate marketing blog outside of personal finance cannot achieve this level of success. I personally know many affiliate marketing bloggers that make a nice 6 and 7 figure annual income.
Some affiliate marketers prefer to "go under the radar" and not make it well known how profitable is their niche.
Affiliate marketing is a very possible business opportunity and not some hyped-up fantasy.