Ad banners are a horrible way to monetize your blog. In 2020, less than 0.1% of viewers clicked on an ad banner, and that statistic only worsens.
Roughly 25% of all visitors use an ad blocker, meaning fewer individuals see the ads on your blog.
That means less money in your pocket and not a great way to make money online.
Affiliate marketing is a much better way to make money as a blogger and is my favorite among the eight ways to make money with a blog.
3 Types of Product Review Blog Posts
Creating a product review blog is an effective way to use affiliate marketing. There are three types of blog posts a product review blogger can create:
Review — Detailed analysis of a product
Comparison — How does a product compare to other products in the marketplace?
How-To — How to use a product after purchasing
In this article, I'll mostly cover reviews and the format you should use for them.
I can tell you from experience that creating a product review blog works very well. All of the income from my site Investor Junkie came from affiliate marketing. I sold the blog in 2018.
Most of the websites that have sold for over seven figures were also product review blogs.
It turns out, as one of the final steps before buying a product, consumers seek out product reviews. What you used to find by picking up a copy of Consumer Reports magazine you can now find online with Google.
How to Create a Product Review Blog: A Step-by-Step Guide
With a product review blog, there are certain things you must do to ensure your success. This guide will get you started as a product reviewer and includes advice for which I usually charge a consulting fee.
1. Pick Your Niche
When creating a product review blog, choosing the right niche is critical. You should either have expertise in that industry or hire knowledgeable writers.
In my opinion, nothing is worse than reading a review of a product by a writer who either has no qualifications to review the product or didn't use the product.
Product review topics can be very diverse and fall into various niches. Topics include:
Beauty
Fitness
Consumer
Food
Health
Digital
Computers and technology
Software
…to name just a few.
How to pick your niche is a topic in itself. But you should choose wisely and determine your niche before you proceed to the next steps.
If I were picking a topic for product reviews today, I would pick a niche about which I had a decent amount of knowledge and could add more insight than the average writer.
For ideas on how to pick the best niche for you, I recommend reading Ryan Levesque's book Choose.
2. Start a Blog

Larry's Take
If you're starting out and looking for a low-cost, no-frills web hosting provider, Bluehost is your best option. They give you a free domain name for the first year and have a one-click WordPress install. You'll be up and running with your blog in no time.
After you've determined your niche, creating a blog is next. (If you're looking for detailed steps, check out my how-to start a blog article.)
Your blog is more than just a place for your content; it's your business platform. You'll need two things to power it: a Content Management System and a web hosting service.
WordPress is my choice for content management. It powers millions of websites worldwide, not just blogs. There are other options: Squarespace, Weebly, and Joomla, to name a few. But WordPress is the most versatile. It does it all.
You also need a web host for your blog. Again, there are many options. But I recommend Bluehost, as it's perfect for someone starting out with a product review blog.
The best part is that if you order Bluehost through me, I will install and set up WordPress for free. You'll get my recommended theme and plugins. You'll also get access to my first Ready, Set… Blog! course for FREE.
3. Use a Product Review Template
The success of your product review blog depends on the layout you use and the details you include in each review. I recommend you create a standardized format for each review (or at least all the reviews in the same category). This allows you to create a standard operating procedure that makes each review easier to write (and delegate to other reviewers).
Below is the product review template I recommend you use. It has taken me years of testing and looking at heat maps to perfect.
These are the recommended sections every review on your blog should contain: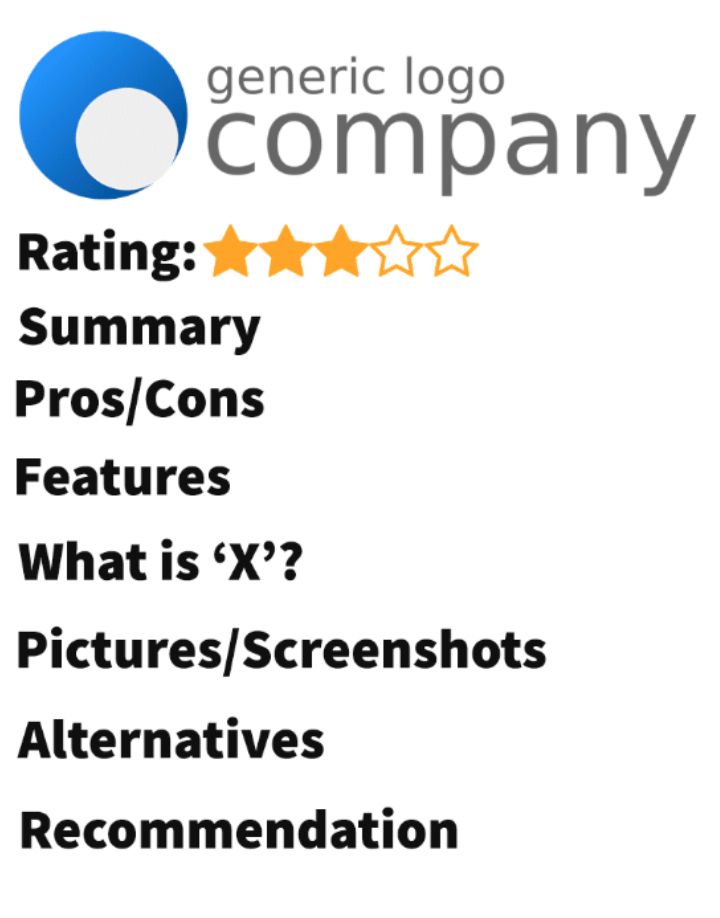 As with any template, use it as a guideline. Your audience may have different needs. If so, adjust your template accordingly.
The Psychology Behind Your Product Review Template
Psychology plays a critical part in the review template design. As a reviewer, you want your reviews to be the best-created articles on those products. You want the buyer to be sure they've made an informed decision on which product is right for them. To do this, you must get into the shoes of a prospective buyer.
A product may not be right for you personally. You can state that in a review, but realize that, for other buyers, the product might be perfect. Their decision-making process might be different than yours.
A well-designed review website helps three people in the transaction:
The buyer — You help them purchase the best product for them
The merchant — You send the best buyer to their product while directing other buyers to competing products that are more appropriate for their needs
You (the blogger) — You get a commission for each affiliate transaction
There are two types of visitors to product review blogs. I call them:
"Summary Susan" — Wants a quick summary and your recommendation
"Detailed Dave" — Will read everything you write and then read it again just to make sure
You want to satisfy both types of visitors, but their needs differ. On the web, most people skim content. So you want your review template to be easy to read and set up so the visitor can quickly gather the information they're looking for.
There are many "Summary Susans" who just want quick answers to their problems. "Don't make me think; just tell me the answer" is their thought process. You want to ensure you create a clear path to help them determine if the reviewed product is right for them. If the product you are reviewing isn't right for them, you must direct them to the alternatives.
The second type of visitor ("Detailed Dave") wants to be sure they are making the right decision. The purchase may be a huge financial commitment for them, or it may have other social implications. Their job could be on the line, or a spouse could criticize the purchase for years.
Both Summary Susan and Detailed Dave want you to be the expert in this niche.
The reader of your review wants to assure themselves they are making the right decision before they buy. Your review is the last step before they take the plunge.
This is one of the reasons why a good review format is so critical.
Not only does it help the reader, but — if you write a detailed review — they will purchase through the link given to them.
How to Write a Product Review
As mentioned, you should create a product review template that's standard across your site.
A product review should contain nine components:
Title/Brand Logo
Summary
Features
What Is X?
Pros and Cons
Screenshots
Pricing
Alternatives
Recommendation
Remember, this is a guideline, and the section order can vary.
As the reviewer, your subheadings should answer consumers' common questions about the product or service.
Some niches have other additional keyword searches. If so, you should add them to your product review template.
Let's break down each section in detail.
Title/Brand Logo
The first part of any review should make it clear to the reader that they're on the right page, and are reading the review for the brand or product they've searched for.
That means each review's headline should start with "Brandname Review" or some variant of this.
An optional subheading should highlight a key feature or aspect of the product. It can be a good or even a bad attribute.
If you can, also add a logo image of the brand to make it clear to the reader that they are looking at the right review.
Summary
The purpose of this section is to quickly capture the attention of your visitor to:
Help them decide if they want to read your review
Identify whom the product is for
Identify whom the product is NOT for
Potentially give a call to action
This section could display:
The brand logo
The name of the reviewer
The date the review was created
(Optional) The date the review was last updated
An opinion of whom the product is best for
An overall rating
A product description
Whether the product is recommended or not
(Optional) Supplemental ratings
(Optional) A call to action
Here's a sample of one: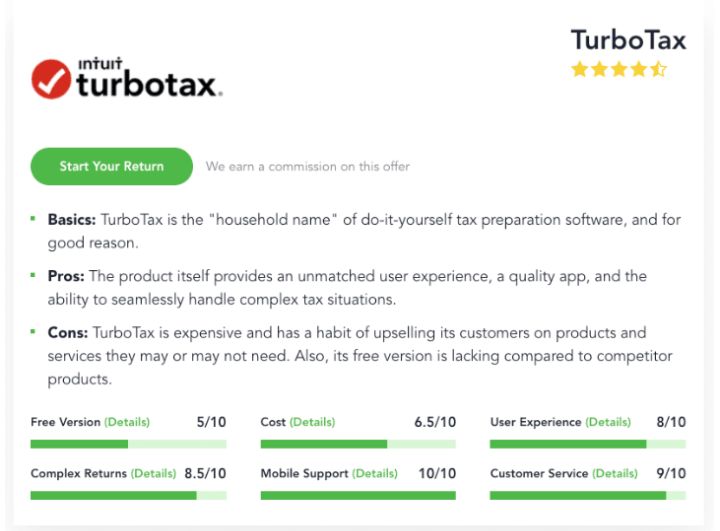 If you use the Amazon Associates program, you can generate a product summary, as I did above for the Ryan Levesque book.
I recommend the WordPress plugin AAWP.
Not only can AAWP set up your affiliate links automatically, but it can pull in a product image, description, and pricing information. All of this is automatically updated to show the latest information from Amazon. It makes using Amazon as an affiliate very easy to use.

Larry's Take
If you want to monetize via the Amazon Associates program, AAWP is the WordPress plugin you should use. It cannot only create links to Amazon products but can create summary boxes that automatically update with descriptions, images, and pricing. You can create product comparison pages quickly as well.
| | |
| --- | --- |
| Platform | WordPress |
| Price | $47 - $389 per year |
Learn More
Product Rating
People want a visual representation of how good (or bad) the product you've reviewed is. They like to see how the review in question compares to other reviews you've done. It makes it easy for the reader to assess your review and decide if it's worth reading further.
I highly recommend that you add a rating to each of your reviews.
This rating can also appear in a Google search (otherwise known as SERP).

You can do this manually via a schema markup known as JSON-LD. Google expects to see the markup in a specific format, and you can follow these guidelines and add it manually to your review. The JSON-LD schema is easy to create and is one of the best ways to help improve your SEO.
If you are using WordPress, you can add the schema via a plugin. There are many to choose from, but I recommend Schema Pro.

Larry's Take
If you are looking for a WordPress plugin to create schema, then Schema Pro is your go-to plugin. It supports 16 different schemas, including review & FAQ schema. It has the flexibility to work with Yoast SEO and can create schema to improve your SERP.
| | |
| --- | --- |
| Platform | WordPress |
| Price | $67 - $187 per year |
Learn More
Pros and Cons
The next important part of your product review is the pros and cons section. Readers want to learn about the product's good and bad features.
No product is perfect, so if your review only lists the positive aspects without discussing the negative…it's not a review. It's a puff piece, and your audience will realize that.
Your review will be more authentic and genuine if it includes the product's negative aspects.
I'll cite the Harvard Business Review:
Good reviews, as expected, increased sales across the board, with gains from 32% to 52%. For books by established authors, negative reviews caused a drop of about 15%, on average — also not surprising. But for books by relatively unknown authors, bad reviews caused sales to rise, by an average of 45%. This held even when the criticism was extreme: After one particularly scathing review, for instance ("the characters do not have personalities so much as particular niches in the stratosphere"), sales more than quadrupled.

Bad Review Can Boost Sales. Here's Why – Jonah Berger
Key Features
Visitors to your blog want a list of the reviewed product's features. Are there any aspects unique to the product?
I prefer bullet points or an HTML table listing attributes and benefits. Remember, you are writing a review to help your visitor decide whether they want to use the product or not.
What Is (XYZ Brand)?
Introduce the product under a "What Is" H2, and include the relevant brand name.
From my SEO research, I've found this to be one of the more common searches with a similar intent to the review itself. For example, I used the subheading "What Is ThriveCart?" in my review of ThriveCart.
People are searching for the product and want to find out more about the product. You should answer the question directly.
Ideally, if you are looking for a featured snippets position in Google search, you should limit your brand description to around 50-60 words.
A variant of this is "How Does XYZ Brand Work?" Which subhead to use depends upon your niche and should be researched.
Screenshots
Before individuals buy a product, they want to see what it looks like. If it's a physical product, prospects like to see what it looks like in use.
You're better off creating your own product shots than relying on the stock photos supplied by the manufacturer. However, if you don't have the budget or the time, start off with photos from the maker.
I prefer placing all of the screenshots in one area using a slider. I dislike showing images all throughout the review and prefer to have one place for the reader to see the various aspects of the product.
I recommend the WordPress plugin Soliloquy for this.

Larry's Take
A WordPress plugin that allows you to create image sliders on your blog. Normally I'm not a fan of sliders but for screenshots in reviews, this is the exception and the only use case I recommend using Soliloquy.
Pricing
You must include pricing information in your review. After all, price is an important factor in any purchase decision. "Pricing" is not only a common search term but including it in a subhead helps Google make sure you have the details on what the product you are reviewing costs.
Not every product sold has an easy-to-understand pricing structure. If the product has different price options or levels, be clear about what's included in each.
Does the vendor have a discount if you buy in bulk or long-term? Does the product come with any guarantees or warranties? Where can they buy the product? (Hint: via an affiliate link.)
Alternatives
People love to compare one product to the next. In fact, when they are already familiar with one product, it's natural and easy for them to associate it with another possible alternative.
For the sake of simplicity, I would not recommend listing more than three alternative products. More options typically lead to more confusion.
However, you can offer and present other key features of various products to help differentiate them. Here's an example: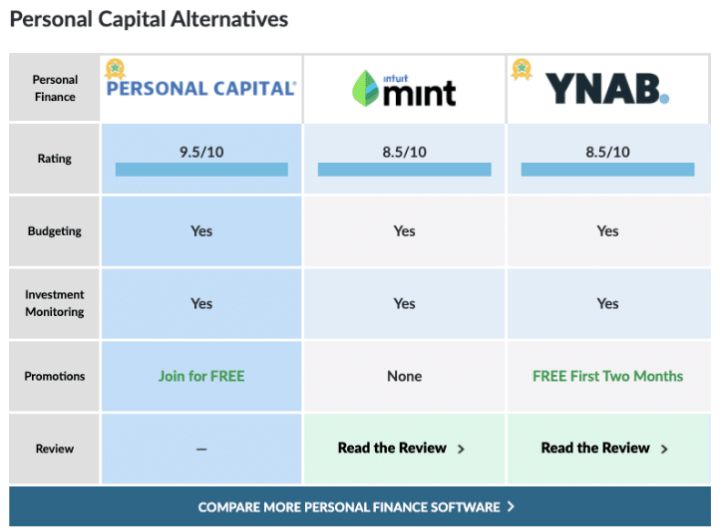 While people like to compare similar products on the market, they also want to be clear on their differences. What key features do the alternatives offer that the reviewed product does not? Are they competitive in price only?
You should be able to identify key distinctions in the alternative products. And it's probable those other products also have affiliate links available. So it would make sense to also offer a link to them.
The product review may be the entry point to your blog, but it doesn't have to end there. More often than not, a visitor will enter your blog via one review but wind up purchasing a competing product because of your detailed articles. They'll use your comparison to find out the alternative product is a much better fit.
As an influencer, your goal is to make everyone — the vendor, the visitor, and you — happy with the affiliate marketing transaction.
If you are using Amazon for your products, AAWP also has the ability to create nice-looking comparison tables similar to what was on my blog.
Mandatory Disclosures
Disclosure isn't included in the template I shared above, but it's critical that you include one in your product reviews. It should be the first section of your review.
Per FTC guidelines, you must disclose monetized links to an article if you are in the United States. According to the FTC, the disclosure must be "clear and conspicuous." It cannot be a hidden legal disclaimer that you must expand with a button click or live at the bottom of the page.
I'm not a lawyer — nor do I play one on TV — so please consult counsel on the matter. However, there are some good articles out there on the basics.
4. Grow Your Search Traffic
One of the challenges of monetizing your website via affiliate links is the need to acquire traffic for your product reviews.
The primary method for getting traffic to product reviews is via organic search, making SEO for bloggers critical.
Most product review blogs rely on SEO traffic because most merchants do not allow members of their affiliate marketing programs to bid on paid traffic for their brand.
So you must build your traffic organically. After all, if you are creating a review, it's the only way to rank for brand search terms like:
"XYZ Brand Review"
"XYZ Brand Alternatives"
"XYZ Brand Pricing"
"What Is XYZ Brand?"
These are all common search terms, and because of my recommendations, you have a better chance of ranking for these SEO terms.
For more tips, check out my SEO course:
5. Update Blog Post Reviews
Nothing is worse for someone searching for a review than finding articles that are months (or years) out of date.
You can create a better user experience if you keep your reviews current. Google will also reward you for it with a higher SERP.
On my previous blog, about 80% of our editorial calendar involved updating old articles and reviews. That's because products were constantly adding new features and functionalities.
Unfortunately, most merchants won't inform you of updates, and you must seek out product changes periodically. I suggest subscribing to the company's press releases and monitoring its various social media channels for product updates.
Summary
Creating a product review blog is a great way to monetize a blog. In my opinion, when you combine reviews with affiliate marketing, your site can become much more profitable than with ad banners.
FAQs