If you're new to affiliate marketing, you're probably overwhelmed by the number of things you need to do.
Don't worry. I was overwhelmed when I first started too.
Back in 2009, when I created the blog Investor Junkie, I was already an established business owner. I'd done affiliate marketing with my previous business but never deeply explored it.
There was a lot to learn!
Anyone can start a blog, but few understand how to monetize that blog with affiliate marketing effectively. Even some of the "super affiliates" miss out on techniques to better optimize their content.
Affiliate Marketing Isn't Just About The Money
Tip: Don't chase after the most lucrative affiliate programs.
Going after the highest-paying affiliate programs is a poor strategy and one that too many beginner bloggers (and some experts) make.
Instead, the first step to successful affiliate marketing is getting into programs aligned with your niche.
I'll often come across a mommy blogger writing about raising kids, couponing, and recipes but also posts about how you can create a side hustle by starting a blog with Bluehost.
Huh?!
Now, I'm not picking on mommy bloggers specifically. I've seen this phenomenon in many other verticals (niches).
And I get it: Bluehost is one of the highest-paying affiliates out there. But that doesn't mean it belongs on your site.
A more effective affiliate marketing strategy is to promote products you either use or have no problem recommending to your audience. Your goal should be to create a brand firmly rooted in your niche and to become an authority on related topics.
Avoid topics outside your wheelhouse. It's disingenuous and alienates your audience. Your readers will immediately see right through it.
I didn't write a list of the "9 Highest-Paying Affiliates for 2023." because it's the wrong model to follow, and I recommend you ignore any affiliate marketer that says otherwise.
TL;DR – What Are the Best Affiliate Marketing Programs for Beginners?
I've based my affiliate network recommendations on the following:
Ease of use
Ease to join
Amount of merchants
The variety of services and niches to promote
Timely payouts
Be aware not all affiliates are created equal. I've seen my fair share of crappy affiliate programs. I think there are several reasons for this, including the following:
The merchant doesn't understand affiliate marketing and how it differs from other forms of advertising and marketing.
The merchant only sends affiliate traffic to the home page (a sure sign they don't know what they are doing).
Affiliate marketing software used is poor at tracking clicks and conversions.
The merchant offers poor payment terms or delays payment on legitimate referrals.
To name a few.
Some of the affiliate programs I recommend are nowhere near the highest-paying affiliate programs (cough, Amazon). In a way, I consider Amazon the affiliate program of last resort.
But I'm also not a beginner and know how to maximize affiliate revenue.
Amazon Associates is the number one program on my list for anyone starting out.
Best Affiliate Marketing Programs for Beginners
My list of affiliate marketing programs is by no means comprehensive. There are thousands of affiliate programs to choose from, and not all of them are public, either.
I'm sure there are affiliate programs better suited to your specific niche. And you may find that some merchants require you to establish a direct relationship with them rather than using a network.
However, regardless of your niche, these are the best affiliate programs for any beginner. You can't go wrong with any of them, and I recommend that you join all nine.
Create Your Content First
Tip: Be very strategic when submitting your affiliate merchant applications.
"Create your content first before applying to any affiliate program."

Larry LudwigClick to Tweet
It's easy to get anxious when just starting with affiliate marketing. I get it: You want to start seeing results quickly.
But affiliate marketing is a long game; it could take at least six to 12 months before you start seeing any measurable results.
It's all too common for a blogger to work on a site for six months, get discouraged, and then quit.
Affiliate managers want to see professional-looking websites and actively curated content. Remember, they don't know you from a hole in the wall.
I recommend building up at least one to three months of content and actively working on your website before submitting your blog to any of the services mentioned below.
You may want to publish content that references some of the most competitive merchants before you even attempt to get accepted into their affiliate programs.
Otherwise, a highly desired merchant or affiliate network will likely turn you down. First-time rejection likely means you'll have a more challenging time getting accepted in the future.
For more tips, check out my article:
Let's take a closer look at what makes these affiliate programs great.
1. Amazon Associates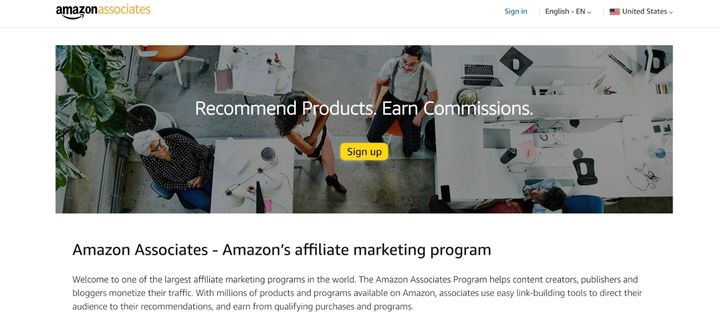 Amazon is the affiliate network of choice for many beginners.
Amazon Associates isn't perfect, but I'll deal with that in another article. However, the program is excellent for anyone just starting.
Amazon is one of the world's largest and most trusted e-commerce services. If you want to link to any products for sale, Amazon should be your go-to.
For example, the software product Quicken once had an affiliate program with Commission Junction, the second network on this list. I placed several affiliate links for Quicken on my blog, Investor Junkie, and they worked great.
However, Quicken's affiliate program unexpectedly shut down, so I quickly changed my affiliate links to use Amazon instead. That way, I could still monetize the web pages that referenced Quicken.
If you already have an Amazon account – and who doesn't? – you're already halfway there. Ideally, if you have an incorporated business, you should sign up for Amazon using your company's information.
The biggest issue with Amazon is that its affiliate programs are country-specific. If your traffic comes from one part of the world, you'll need to ensure your Amazon links work for that country.
Here are the 14 countries where Amazon offers its affiliate program and the corresponding links to join:
If you're looking for a better way to manage your Amazon affiliate links, I recommend the WordPress plugin AAWP. This plugin can create Amazon links that apply to each site visitor's country. AAWP can also display current Amazon prices and create product summary boxes that increase conversions on your site.

Larry's Take
If you want to monetize via the Amazon Associates program, AAWP is the WordPress plugin you should use. It cannot only create links to Amazon products but can create summary boxes that automatically update with descriptions, images, and pricing. You can create product comparison pages quickly as well.
| | |
| --- | --- |
| Platform | WordPress |
| Price | $47 - $389 per year |
Learn More
2. Commission Junction (CJ)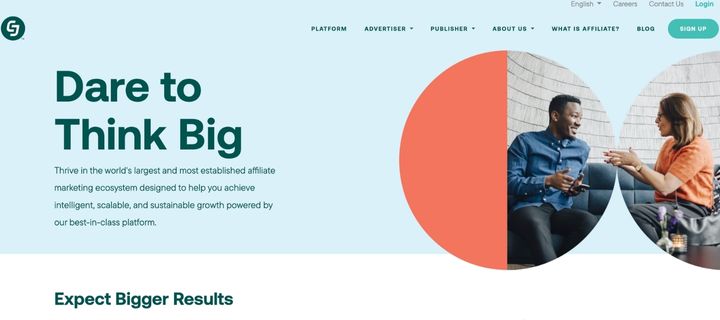 Next to Amazon, Commission Junction is perhaps the internet's second-oldest affiliate program. Most folks in the industry refer to the company as "CJ." Unlike Amazon, it's a network rather than an e-commerce store.
In other words, CJ connects its affiliates with merchants and manages most of those relationships. This can feel like a godsend for new affiliate marketers because it eliminates the need to deal with merchants directly.
At the time of writing, more than 3,300 merchants used CJ's service. These merchants are in a wide variety of niches, so I highly recommend that you join this network.
CJ's signup process isn't complicated. But once in, you'll need to apply with specific merchants. The application process varies per merchant. Some will grant you instant approval, others will take a few days, and a few will leave you in limbo forever with no response.
3. Impact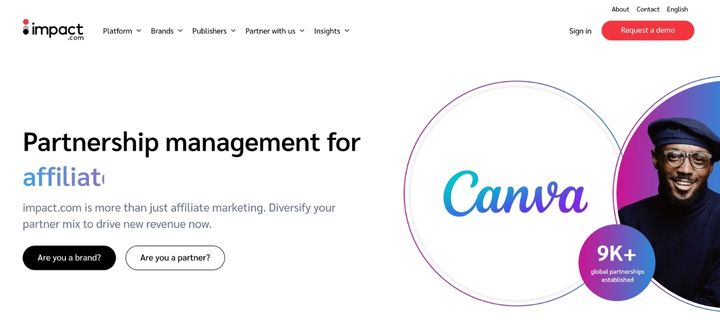 Impact is one of the younger affiliate networks on this list. The company was founded in 2008 by former employees of Commission Junction, Savings.com, and Leadpoint.
At the time of writing, there are more than 3,500 merchants in Impact's network. As with Commission Junction, the diverse array of merchants should fit most verticals.
The application process to join Impact can be a little more challenging than it is for CJ, but once in, I've found it easier to get accepted by the merchants.
Impact's reporting and postback options are much more flexible than other affiliate programs. If a merchant I want to partner with deals with multiple affiliate networks, including Impact, I'll use Impact.
4. Awin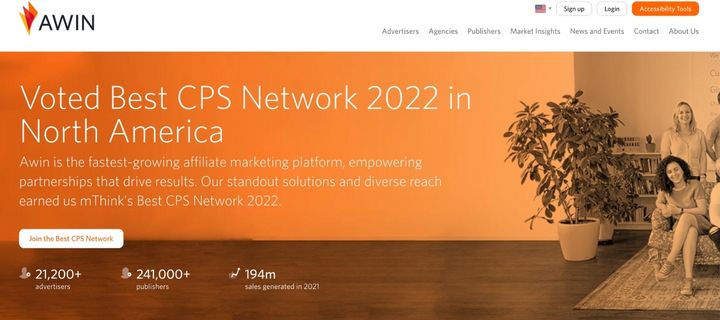 The next one on the list might be one you've never heard of. Awin is a relatively new player on the field. It's the result of a merger of two other affiliate networks, Zanox and Affilinet, in August 2017.
With more than 8,000 merchants on board, Awin is one of the better networks and is very easy to use. They offer affiliate programs in several countries, so I recommend it if you have international visitors to your website. However, remember that Awin's merchants seem to focus more on physical products than software or SaaS.
5. ShareASale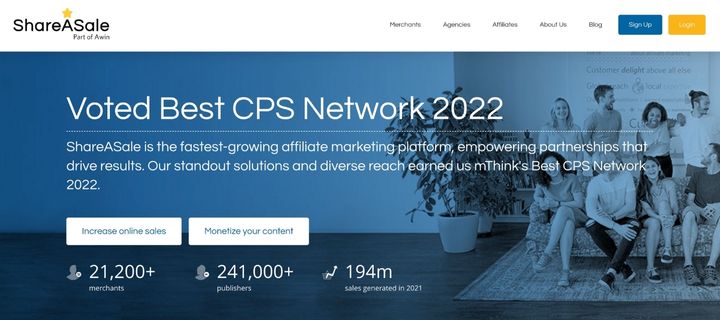 ShareASale is part of Awin and has some of the best merchant choices available. ShareASale currently works with over 1,000 merchants offering everything from physical products to software services. This makes it perfect for this site's focus on internet marketing.
The application process is relatively easy, and you can access data on conversions from existing affiliates. My only gripe is the limited number of links available from most merchants.
One of the nice things about the ShareASale service is it gives you insight into the effectiveness of the merchants you work with. ShareASale provides the average sale, conversion rate, EPC (earnings per click), and how they rank in the ShareASale platform.
6. FlexOffers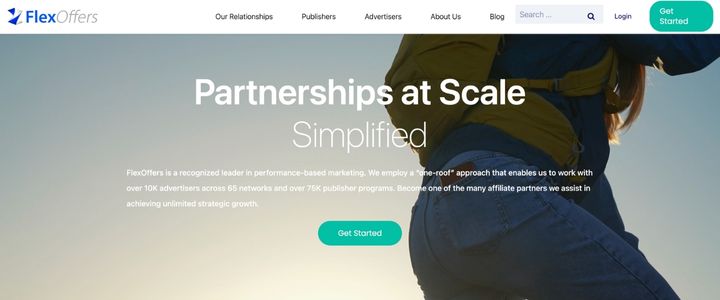 Next on the list is FlexOffers.
In many cases, FlexOffers offers the same affiliate programs as other networks, like CJ. FlexOffers has more than 12,000 merchants available in its system. It's perhaps one of the largest affiliate networks available.
FlexOffers works directly with many merchants but is also known as a "sub-affiliate" platform. This means FlexOffers joins a merchant's program as an affiliate and allows bloggers to use its affiliate links instead of applying directly to the merchant. You'll split the commission for each affiliate signup with FlexOffers.
If you have a tough time getting into a particular affiliate program because you've just started out, FlexOffers can act as your middleman.
Of course, the downside is that the payouts are often lower because FlexOffers needs its cut of each transaction.
The signup process to join FlexOffers can be a pain. Because it's a sub-affiliate, FlexOffers is partly responsible for the quality of conversions, which means it can be choosy regarding the affiliates it permits into its network.
However, if you're a beginner affiliate, FlexOffers is a great option worth applying for. Just make sure your website is ready and presentable.
7. Sovrn //Commerce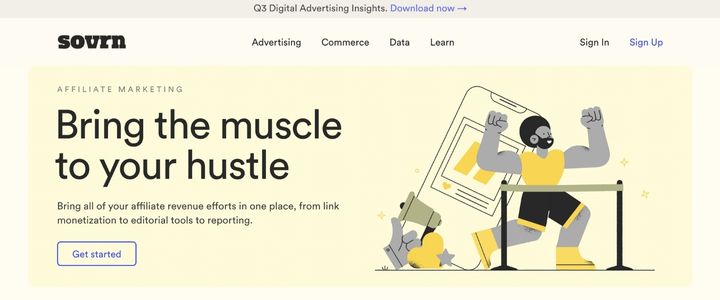 I'm not a huge fan of using automation to place merchant links on a blog, but some affiliate marketers would prefer to monetize with little effort. Sovrn //Commerce is a way to do this. Previously, this product was known as VigLink.
Sovrn //Commerce gives you the choice of CPC (cost-per-click) or CPA (cost-per-acquisition) merchants.
They will automatically insert affiliate links on your blog posts via a WordPress plugin or with Google Tag Manager. If you're looking for an effortless way to monetize with affiliate links, Sovrn //Commerce is the way to do it.
I use Sovrn //Commerce links directly in my content rather than the automated tool.
A more reasonable option is to use Svrn // Commerce on user-generated content like a forum on your site. The company also offers vBulletin and phpBB options to that end.
8. Skimlinks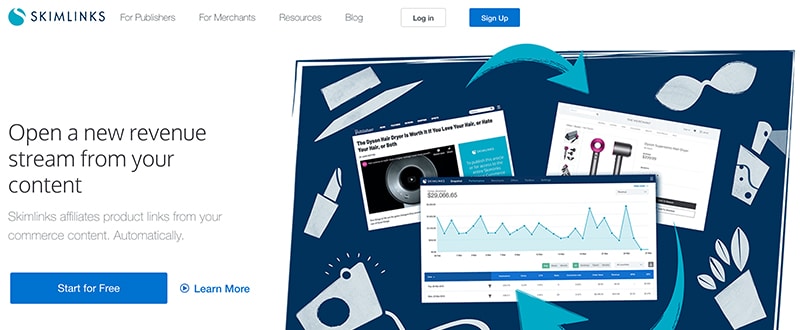 Similar to Sovrn //Commerce, Skimlinks will create affiliate links in your content automatically for you. This might be a good option for content created without your involvement (such as a forum).
You can also insert links manually. Skimlinks currently works with more than 24,000 merchants in a wide range of niche markets. I recommend you sign up for this one as well.
9. Fiverr

Last but not least isFiverr.
When you promote Fiverr to your audience, you're promoting various services a blogger, small business owner, or contractor may need for their own business. The freelancer marketplace has thousands of service providers to choose from – it's a great way to recommend solutions to your audience.
Here's the amazing thing about Fiverr – you can make up to $1,000 per referral!
But like I said, I don't recommend Fiverr because they have high-paying options. But if you own a website that recommends business services, Fiverr is a great marketplace to recommend to your audience.
Fiverr is available within CJ but I recommend going direct because of better terms and a more active relationship.
Fiver CPA Commissions are as follows:
| Service | CPA |
| --- | --- |
| Fiverr Pro | $150 |
| Industrial & Product Design, Data Science, Mobile Apps, E-Commerce Development | $50 |
| Website Builders & CMS, Lyric & Music Videos, Web Programming, Data Processing, Architecture & Interior Design, Game Development, Website Design | $40 |
| E-Commerce Product Videos, 3D Product Animation, Logo Maker, SEO, T-Shirts & Merchandise, Research & Summaries, Business Consulting, Proofreading & Editing, Financial Consulting, Producers & Composers | $30 |
| Illustration, Gaming, Articles & Blog Posts, Video Marketing, Social Media Marketing, Resume Writing, Voice Over, Short Video Ads | $25 |
| All Other Categories | $15 |
FAQs