eBay is one of the oldest and most well established online marketplaces. With millions of active users, it can be an important sales channel for your eCommerce business, regardless of the industry you're in.
While eBay has been thought of by many as a marketplace that connects individuals, akin to a sort of digital yard sale, the climate has certainly changed in recent years.
eBay has been able to successfully shake the connotation that it's a forum for used merchandise, collectibles, and heavily discounted new merchandise. In doing so, they've been able to diversify their customer and seller bases.
Today, many of the largest retailers and manufacturers in the country use eBay. For many businesses, it has become a particularly lucrative way to sell their products.
Not only has eBay become a powerful sales tool for these businesses, but it's also one of the cheapest marketplaces for sellers to move their products. Compared to other powerful marketplaces like Amazon, eBay fees are typically 25% less for sellers.
In 2017, eBay opened up a whole new world to their network of sellers: advertising. Their unique set of advertising tools has made it easier than ever for sellers to reach the customers who are prepared to make a purchase.
But, before you can use these advertising tools to maximize your sales, you'll need to learn how these tools work, and what makes them different from other advertising options you may have on different marketplaces.
Today, we'll cover the ins and outs of how to advertise on eBay to increase sales. Whether you're an individual looking to sell a few items quickly, or you're a brand or distributor looking to establish a presence on eBay, we'll cover everything you need to know.
The What and Why of eBay
eBay was founded over 20 years ago, in 1995, by computer programmer Pierre Omidyar in San Jose, California. As one of the first and most trusted eCommerce businesses, eBay managed to weather the dot-com bubble and continue to grow.
Much of eBay's early success was fueled by a rabid collector's market for Beanie Babies, which accounted for about 10% of all the product listings on eBay in 1997.
Since then, eBay has continued to grow steadily in the face of increased competition. Through a series of smart business acquisitions, such as PayPal, Skype, and StubHub, eBay's management has been able to continually re-invest in eBay, much to the delight of eBay users and shareholders alike.
Today, eBay operates in over 30 countries and serves over 171 million shoppers worldwide. While eBay has long been a powerful marketplace for both sellers and buyers, new advertising programs which began in 2017 have made eBay an even more compelling destination for selling merchandise.
What Kind of Advertising Does eBay Offer?
There are two options for advertising on eBay. The most popular option is their promoted listings program, which is performance-based advertising that promotes your products on eBay.
eBay also offers advertising solutions for larger brands that are designed to optimize the brand's positioning throughout the buying process while activating the brand on eBay.
This program combines display advertising, content marketing, and precise targeting to increase brand awareness within the targeted audience while providing them with the content they need to inform their buying decisions.
Who Should Use eBay's Ad Program?
In short, every seller can benefit from advertising their products on eBay. It stands to reason that the more people can see your listing, the more likely it is to sell. eBay's advertising services boost the visibility of your listing by 30%.
Most sellers find that new items with no sales history and seasonal items tend to benefit the most from eBay advertising. eBay advertising can also be a great way to increase the sales velocity of some of your best selling items as well.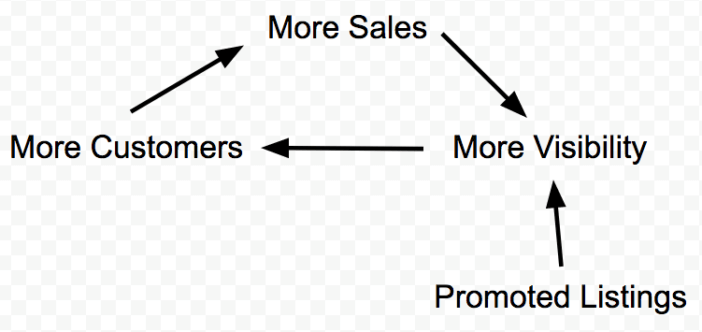 As with any other form of digital advertising, a strong product coupled with a compelling advertising campaign will ensure the best possible results. Fortunately, eBay makes it easy for you to test and tweak your campaigns until you've arrived at the ideal advertising mix for your particular product.
In addition to their performance-based advertising, which is popular with sellers of all sizes, eBay also has a program designed for major brands and manufacturers. This program provides your brand with key ad placements throughout the customer sales journey.
eBay's brand solutions combine precision targeting, display advertising, and meaningful content to create a comprehensive advertising solution across all platforms, including the eBay app, desktop, and mobile sites.
These tools are particularly helpful for large brands, especially those dealing in big-ticket merchandise. This interactive demo featuring Trifex drones is a good example of how these types of campaigns work.
What's Unique About eBay's Ads?
Two characteristics separate eBay's ad programs from other popular digital advertising methods. While most digital advertising is sold on a CPM or CPC basis, eBay uses a CPS model.
CPM (cost per mille) advertising provides the advertiser with a set number of ads over the course of their campaign. The advertiser is charged per thousand ads that are delivered. This form of advertising is useful for brands or stores who are looking to increase awareness of their products or services.
CPM advertising is the most affordable kind of digital advertising, but it's also the least effective at driving sales. Banner ads on websites are a good example of CPM advertising.
CPC (cost per click) advertising charges the advertiser each time a person clicks on their ad. Unlike CPM advertising, which has a set price per thousand impressions, CPC ads operate on an auction system, and your cost per click is dictated by the going market rate.
Depending on your industry, that cost can range from a few cents to $20 or more. This type of advertising is also a good way to drive awareness, and it's more effective at driving sales than CPM advertising. Google Adwords and Amazon Sponsored Products are good examples of CPC advertising.
CPS (cost per sale) advertising is the type of advertising that eBay uses. With CPS advertising, you're not charged for impressions or for clicks that don't result in a sale. The only time you're charged is when the click results in a sale for your store.
This type of advertising is usually the most expensive form of digital advertising, but it's also the most effective. If your primary goal is to drive sales for your store, CPS advertising may be a good fit for you.
The other characteristic that separates eBay's advertising is the way you pay for it. Unlike other ad programs, which charge your credit card for a set number of impressions or for each click you receive, eBay keeps everything in-house and deducts the cost of your advertising from the sale of each product you advertise.
This helps to keep things simple, and it also makes it much easier for small stores with limited capital to advertise their products and compete with larger sellers. Because of the way eBay's ad program is set up, it's also inherently easier for you to scale your advertising as you grow.
How to Advertise on eBay: For Brands
For large manufacturers who sell direct to consumers, eBay's brand activation programs are a compelling way to gain traction in the eBay marketplace while also increasing sales. Unlike promoted listings, which allow the seller to manage every aspect of their campaigns from their seller dashboard, eBay's brand solutions are a bit more detailed.
If you're a large brand wondering how to advertise on eBay, contact eBay's brand team so you can discuss a customized plan that's catered specifically to your industry. Keep in mind that these programs can get expensive, and they're geared specifically to major manufacturers and brands. For most sellers, eBay's promoted listings are a much better fit.
How to Advertise on eBay: Promoted Listings
eBay's promoted listings are the most popular way to advertise on the marketplace, and every seller can benefit from the increased exposure that these ads provide their products. Creating a campaign is easy.
When you create your ad campaign, eBay allows you to set a maximum percentage of the sale price that you're willing to allocate towards advertising. If someone purchases your item after clicking your ad, eBay will deduct your advertising expenses from the sale of your item.
Similar to CPC advertising, ad placement is done on an auction basis where the ad space is given to the highest bidder. For example, if you dedicate a maximum of 4% of the total sale price towards advertising, and one of your competitors has dedicated a maximum of 5% of the total sale, they'll receive the ad space instead of you.
In categories with limited competition, you'll be able to set aside a smaller percentage of the sale to cover your advertising. Categories with several competitors advertising may require a higher percentage of the sale for your ads to show.
eBay makes it easy for sellers to pinpoint the percentage of the sale they should dedicate to their advertising by providing a weekly report.
This report shows what the average seller is allocating towards their eBay advertising broken down by category. The average seller allocates somewhere between 5-10% of the sale to advertising, but that number creeps up towards 15-20% in the most competitive categories.
To create a promoted listing, you'll need to log into your seller account on eBay. Once you're logged in, eBay will redirect you to your seller dashboard. From there, hover over the marketing tab, then select promoted listings.
On the promoted listings page, you'll see information about any campaigns you currently have running. To create a new campaign, scroll down to the bottom of the page and click the button on the right.
Then, you'll have the option to choose between selecting individual products to advertise, or selecting listings in bulk. If you're looking to advertise thousands of products at once, all under the same campaign, the bulk tool will be the best fit for you.
Otherwise, selecting the individual listings you wish to advertise as part of this campaign is probably the best fit for you. When selecting products individually, you can still include up to 500 different SKUs as part of each campaign, which helps to save a significant amount of time.
Once you've selected the different products you want to include in the campaign, you'll set the ad rate you're willing to allocate towards the campaign. You can apply a uniform ad rate for every product in the campaign, or you can select individual ad rates for each product.
eBay makes this process easy for you by providing a trending rate for each product in the campaign. The trending rate is what other sellers in the ad program are allocating towards their advertising. You can control the ad rate percentage by clicking the +/- icons.
Once you've set the ad rate for each item in your campaign, all you need to do is name your campaign, select a start date, agree to the terms of service, and launch your campaign.
As you can see, creating an advertising campaign on eBay is a streamlined process that's much more user-friendly than creating ads on other platforms or marketplaces.
Tracking Your Campaign
eBay provides easy to understand tools to help you track the success of your campaign, so you can optimize your results and make any necessary changes.
The promoted listings dashboard lets you know how many campaigns you have, how many listings you're promoting, how many ad clicks you've received, how many units you've sold, the ad fees you'll be charged for the sales you've made, and your total sales.
You can adjust the dashboard to show you your results from the last 7, 14 or 31 days. You can also create a custom date range.
Scrolling down past the advertising dashboard will provide you with more information for each campaign you have running.
From the actions tab to the right, you can pause or end your campaigns, and download detailed reports about each campaign, which makes it much easier to track the success of your various campaigns.
Other Promotional Tools
Beyond eBay's popular advertising products, there are a few more promotional tools you may want to consider using.
eBay Promotions
Creating promotions is a great way to drive sales while increasing customer awareness for all of the different products you sell on eBay. Through the promotions manager, you can create custom promotions that will expose more of your inventory to customers who are ready to make purchases from your store right now. There are four different promotions you can choose from:
Order discount – This promotion incentivizes buyers to buy more from your store to receive a discount. For example, "save 20% when you buy two or more."
Shipping discount – This provides buyers with a shipping discount or free shipping. Free shipping at $49 would be an example of this type of discount.
Codeless coupon – This unique promotion allows you to create custom URLs with a built-in coupon for you to share on social media, or with friends and family.
Category Markdown – With this promotion, you can create a sale event on an entire category of products, like "25% off all laptops" or something similar.
To create a promotion, click the marketing tab from your seller dashboard and navigate to "promotions" on the left-hand side of the page. There, you'll find info about any promotions you're currently running and promotions you've run in the past. This is also where you'll create new promotions.
Click the blue "create a promotion" button on the right of the page. This will trigger a drop-down menu where you can choose between creating an order discount, shipping discount, codeless coupon or a sale event.
Create an Order Discount
Once you've selected "order discount" from the drop-down menu, the first step will be to define your promotion. You can offer a dollar amount discount or a percentage discount on the amount of money the customer spends or the number of products the customer buys. You can also offer an order discount with no minimums. The photo below shows the different options you have.
Depending on your goals for the promotion, one of these sale types may be better suited to you than the others. If your goal is to drive sales of an individual product, a no minimum purchase discount is typically best. If your goal is to liquidate inventory, a buy one/get one deal may be helpful. Or, if you're looking to increase customer awareness of the other products in your inventory, a quantity discount could be a good fit.
Once you've chosen the promotion you'd like to run, you can select the products or categories the promotion will apply to. eBay gives you the option of doing this for the specific products you choose, or you can create rules based on categories and filters, and eBay will automatically add any product that fits your rules to the promotion, including new products you add in the future that also fit the rules you've defined.
Once you've selected the products you'd like to include in the promotion, you'll set how long you'd like the promotion to run for, and provide some copy for the offer banner. eBay will display the offer banner throughout the shopping journey of your buyer. Once that's complete, hit the launch button, and your promotion will go live.
Create a Shipping Discount
To create this discount, select "shipping discount" from the drop-down menu. Your first step will be to define the parameters for your discount.
You can offer a shipping discount on a minimum dollar amount or a minimum order quantity. You can also offer a discount with no minimum at all. The most popular and effective promotion is free shipping, but you may wish to create a flat rate shipping discount instead.
For example, if you typically charge $12 to ship an order, you may want to consider offering $5 shipping on orders of $50 or more. You can also use this promotion to offer shipping upgrades, such as free or discounted two-day shipping when you buy three or more items from the store.
Once you've defined the type of shipping discount you'd like to create, you can select the products you'd like to exclude from the promotion. You can select SKUs individually, or create a rule to exclude certain SKUs.
Next, you'll enter a short description for your promotion. For example "FREE shipping on all Marc Jacobs handbags." This description will display underneath the promotion on your product pages.
Next, you'll schedule the start and end dates of your promotion. You can also set the promotion to begin immediately. Once scheduled, you can select a product image to display next to the promotion if you'd like, or you can leave that field blank, and eBay will automatically pull a relevant picture from your listing into this field.
The final step before your promotion is created is to prioritize the promotion. If you currently aren't running any promotions, you'll skip this step. But, if there's more than one available promotion for these products, you can choose which promotion displays first to prospective buyers.
Once you've completed all these steps, your promotion is ready to launch.
Create a Codeless Coupon
This type of promotion is especially useful if you're looking to create a discount for specific customers or your family and friends. To set one up, navigate to the promotions drop-down menu once again, and select "codeless coupon."
First, you'll define the terms of the discount. You can offer either a dollar discount or a percentage discount when a customer spends a specific dollar amount in your store, or when they offer a specific number of products.
Once you've defined the terms for your offer, you'll select the items in your store you'd like the offer to apply to. From there, you'll create a description of your campaign and schedule it.
Once you've completed the campaign, eBay will provide you with a special link that your customers will need to use to unlock this special discount. The deal will not be visible to any eBay shoppers that don't have access to the link.
You can include this special discount link in emails, on your website, or in other advertising your store engages in outside of eBay. This promotion is virtually identical to the order discount promotion we covered earlier, with the only difference being it will be available to the select group of shoppers who have a link to the promotion.
Create a Category Markdown
This type of promotion is useful if you're interested in discounting an entire category of products that you sell on eBay. To create a category markdown, navigate to the blue promotions button as we've done with each of the other available promotions, and select "sale event + markdown."
Next, you'll define the discount. You can either offer a percentage off, or a dollar amounts off of the total purchase price. With a percentage discount, you're able to set up to ten different discounts within a single campaign. Let's say you run a camera store; this promotion would be particularly useful if you'd like to offer 20% off the purchase of a camera and 50% off the purchase of camera accessories.
Bold Titles & Subtitles
When creating a new eBay listing (or when revising an existing one), there are a few small promotional options available to you. You can choose to have the title of your listing bolded, and you can also add a subtitle that will display below your title to describe your item more fully.
These are small steps you can take to improve the visibility of your listing beyond the advertising methods we've already discussed. But, you'll need to evaluate your listings on an individual basis to see if this makes sense for your products. At $6 for a bolded title, smaller ticket items don't make economic sense to promote in this way.

Optimizing Your Listings
In addition to the variety of advertising and promotional tools eBay makes available to its sellers, you can also optimize your listings to increase your item's exposure.
Much like Google, eBay has their own proprietary search engine that it uses to pull up relevant search results for buyers. These tips may be able to help your overall performance in eBay search, which will lead to an increase in views, which should translate to an increase in sales.
Don't Keyword Stuff
In the past, stuffing your title with as many keywords as possible was a good way to guarantee prime placement in the search results. These days, that's not the case. Write your titles with real buyers in mind, because you can no longer game eBay's search by stuffing keywords.
Include Tons of Photos
eBay's search engine puts a priority on listings with the maximum amount of photos included. Your item may not call for 8-12 different photos, but by including additional photos, you may receive a boost in the search results.
Fill Out Item Specifics Completely
Depending on the item you're selling, eBay will provide you with several different optional values you can select to. This has always been a good practice because it makes it easier for buyers to see your listings when they filter search results. eBay's search engine also prioritizes listings that have been filled out completely.
Offer a 30-Day Return Policy
Sellers aren't required to offer a return policy at all on eBay. But, having a favorable return policy is one way you can improve your position in eBay's search. Be sure to describe your items as thoroughly and accurately as possible to limit the number of returns you receive.
Use Markdown Manager to Accelerate Sales
eBay prioritizes listings from sellers that move tons of inventory on eBay. The logic that the search engine employs, in this case, is that sellers who make the most sales on eBay must be selling the best product. The search engine will provide these sellers with increased exposure in search results because the assumption is that you're selling lots of product on eBay because you offer good value and service.
Process Orders Quickly
For buyers, receiving your item a week or more after you ordered it is a bummer. eBay strives to provide buyers with the best possible experience when they use eBay, and sellers that ship quickly are rewarded with improved positioning in search.
If you're serious about providing a great experience, you probably already process all orders within one business day. If not, try to improve your processing time, at least on eBay, because it can help to improve your search position.
Even if you can't ship a particular order within one business day, you can still purchase your shipping for the order and provide a tracking number for the order. All eBay wants to see is a tracking number, so this trick can keep them happy even if you can't actually get the order in the mail within a day.
Offer Free Shipping
Not only do buyers prefer listings with free shipping, so does eBay search. Offering free shipping may be the single most effective way to optimize your listings and search positioning. Plus, just because you offer free shipping doesn't mean you're offering free shipping. You can always bake the cost of shipping into the price you're charging for the item.
Next Steps
More sellers than ever before are migrating to eBay to maximize their sales. As eBay continues to re-invest in the platform and re-invent itself as a powerful player in the world of eCommerce, it stands to reason that eBay will only grow in popularity in the coming years.
From a seller's perspective, eBay makes it exceptionally easy to set up your store and promote your items for sale. In addition to their promoted listings program and their advertising options for a large brand, they also have a bold suite of promotional tools that are exceptionally easy to use and understand.
If you're selling on eBay, you owe it to yourself to explore all of the tools eBay makes available. Using these tools properly can have a significant impact on your sales, and they can make it easier for you to grow and scale your business.
Read my post on how to advertise your website online for other ideas!