| | |
| --- | --- |
| Support | Help Desk, Chat, Phone, Knowledge Base & Social Media |
| Uptime | Adequate (99.74% past 6 months) |
| Guarantees | 30-Day |
| Free Migration | |
| Best For | Beginners & WordPress Bloggers |
| Strengths | Great value & easy-to-use |
| Weaknesses | Upsells & storage limits |
| Promotion | Starting At $2.95/mo |
What Is Bluehost?
Bluehost is one of the Internet's most well-known web hosting services. It was founded in 2003 by Matt Heaton and Danny Ashworth. In 2012, it was acquired by the conglomerate Endurance International (now called Newfold Digital).
Today, Bluehost hosts over 2 million websites and employs over 750 employees with offices in Orem, Utah.
In this Bluehost review, I'll cover their pricing and customer support and break down the following hosting services:
Domain name registration
Shared Hosting
WordPress Hosting
VPS Hosting
Website Builder
Bluehost Pricing
Bluehost offers a wide spectrum of hosting plans, perfect for the small business owner or a beginner blogger. Here's a summary of each.
Bluehost Web Hosting
Bluehost hosting plans (aka Bluehost shared hosting) are the bread and butter of the hosting world. A shared plan consists of individual accounts on a Linux server. Shared hosting packages are usually powerful enough to run most beginner to moderately visited websites.
They can run WordPress or any application on a LAMP Stack, a cost-effective and reliable way to run most websites. Bluehost has three main shared hosting plan options (learn more about shared hosting in this guide).
| Plan | Basic | Plus | Choice Plus | Pro |
| --- | --- | --- | --- | --- |
| Initial Price* | $2.95/mo. | $5.45/mo. | $5.45/mo. | $13.95/mo. |
| Renewal Price | $10.99/mo. | $14.99/mo. | $19.99/mo. | $28.99/mo. |
| Websites | 1 | unlimited | unlimited | unlimited |
| Storage | 10 GB | 20 GB | 40 GB | 100 GB |
| Bandwidth/month | unmetered | unmetered | unmetered | unmetered |
| Free Domain Name | 1 year | 1 year | 1 year | 1 year |
| Free SSL | | | | |
| CDN | | | | |
| Dedicated IP | | | | |
| Daily Backups | | | | |
* Pricing per month for a 12-month subscription
Key Features
Free domain (1 year)*
Free SSL certificate included
Free site migration
Free domain privacy for Choice Plus plan or higher
Live chat
24/7 customer support
* Free domain names are a core part of Bluehost's promotional offering.
If you are just starting out, their web hosting plans above should be more than adequate.
I suggest upgrading to Bluehost WordPress plans for a busy blog that gets over 50,000 visitors per month or if you need to install several WordPress plugins.
Bluehost Managed WordPress Hosting gives much more dedicated CPU power to your website. Daily backups of your WordPress blog are also another big reason to upgrade.
Bluehost WordPress Hosting
Even though WordPress can run on shared hosting, many hosting companies have WordPress hosting plans due to the hardware demands of WordPress. Though many hosting companies say they offer "WordPress hosting," it's *exactly* the same as their shared hosting plans. Bluehost's WordPress websites aren't set up this way.
This is why I consider Bluehost one of the best WordPress hosting services. If you are just starting out, it's hard to go wrong with Bluehost. Just keep in mind that as your website grows, your needs will change, and you may have to find a more advanced WordPress host.
WordPress.org has recommended Bluehost for WordPress since 2005 due to it's custom features, plans, and resources for running a large or fast-growing WordPress-powered website.
| Plan | Build | Grow | Scale |
| --- | --- | --- | --- |
| Initial Price* | $19.95/mo. | $29.95/mo. | $49.95/mo. |
| Renewal Price | $29.95/mo. | $40.99/mo. | $59.95/mo. |
| Websites | 1 | 1 | 1 |
| Storage | 20 GB | 40 GB | 80 GB |
| Visitors/month | 50,000 | 150,000 | 500,000 |
| Free Domain Name | | | |
| Free SSL | | | |
| CDN | | | |
| Dedicated IP | | | |
| Daily Backups | | | |
* Pricing per month for a 36-month subscription
Bluehost VPS Hosting
A virtual private server (VPS) is a great way to get a specific allocation of server resources without having to lease a dedicated server.
Even though your website lives on the same server as other sites, you have total control over a set amount of resources. Bluehost has several competitively priced VPS hosting plans that offer managed and unmanaged options. Learn more about VPS hosting in this guide.
Bluehost Dedicated Hosting
Many aren't aware that Bluehost offers dedicated website hosting, with no fewer than three dedicated hosting options. Pricing ranges from $79.99 – $119.99 per month for the first year. All dedicated plans come with WHM, so it's no different than their shared hosting plans.
Like their other services, you get a free domain name with every plan.
It's important to note that Bluehost's servers are unmanaged. This means you must take care of and maintain the software and security yourself or hire a firm to manage it on your behalf.
The disadvantage of any dedicated hosting service is the lack of redundancy should the hardware fail. Lastly, dedicated hosting isn't Bluehost's specialty, so I recommend that you consider other dedicated providers before making your decision.
Bluehost Alternatives
Bluehost is far from the only web hosting game in town. There are many other providers, and I've reviewed several of the most popular ones (links below). Find out how they compare to Bluehost and which ones I've ranked as the best.


InMotion Hosting Review
Rating

9.0/10

Uptime Guarantee

No

Free Migration

No

Promotion


HostGator Review
Rating

9.0/10

Uptime Guarantee

Yes

Free Migration

Yes

Promotion


Hostinger Review
Rating

8.0/10

Uptime Guarantee

Yes

Free Migration

Yes

Promotion
Pros of Bluehost
No hosting company is perfect. And like I said in the intro, I've always maintained that there is no "best hosting company" – it depends on your goals and preferences.
With that in mind, here's my list of Bluehost advantages.
The Power of a Big Brand
Bluehost is a very large web hosting company.
It's owned by Newfold Digital – the world's largest hosting corporation. And it's got more brand recognition outside GoDaddy, Wix, or Squarespace.
Being a big brand has its drawbacks, which I'll cover later, but there are also many advantages.
1. They can access resources that smaller hosting companies can't. Bluehost can hire the best network engineers, customer support team leaders, and the top executive teams in the industry.
2. They can prioritize growing market share (aka, keeping customers happy) versus short-term revenue. When Bluehost focuses on building its Net Promoter Score, the customer wins!
3. Big brands don't up and disappear overnight. It's important to know that your hosting company won't suddenly go out of business. Bluehost has the stability to ensure that will not happen.
They Have Great Pricing
As I've pointed out in other hosting reviews, pricing is important, but you have to consider the pricing in context.
Bluehost pricing is affordable and reasonable – especially for a small to mid-size website looking for a good hosting option.
They have a 4-tier pricing structure. Their lowest plan is particularly affordable, especially for starter websites, but with caps that I'll cover in the cons section.
Their mid-tier plan is also affordable, with many unmetered or unlimited features, but slightly more expensive at renewal than some direct competitors. It does include a free domain, free SSL certificate, unmetered bandwidth, and unlimited website installs.
I'll look at their feature caps and pricing structure in the cons section, but for now, if you are looking for an affordable host that you can just get started with – then Bluehost fits with a special discount.
International Pricing
*Additional pro on pricing – Bluehost's international options. They provide payment options in several currencies, including Euros, Pounds, Australian Dollars, and Indian Rupees. Compared to other hosts, this is a bonus for ex-US customers who can avoid foreign transaction fees & currency swings against the US dollar.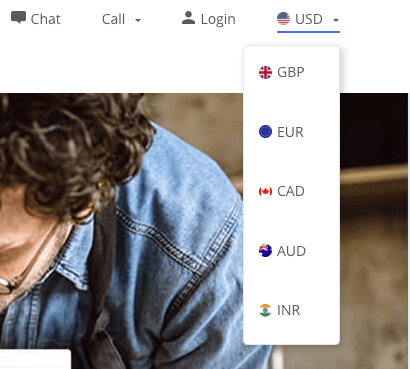 They Make it Easy To Create A Website
While setting up a website is easier than ever, it can still be a daunting process for anyone who has never set one up from scratch.
The process of moving a new customer through that process is called "onboarding."
Often, the onboarding experience is where a hosting provider can lose a new customer. If expectations are not met, features cannot be found, or new jargon is not well explained, then you'll lose customers, no matter how good your product is.
Bluehost has done a good job ensuring all the technical tools are available for customers who want them – while maintaining a clean user interface. Their onboarding process is straightforward for new customers who may not want to see the technical tools immediately.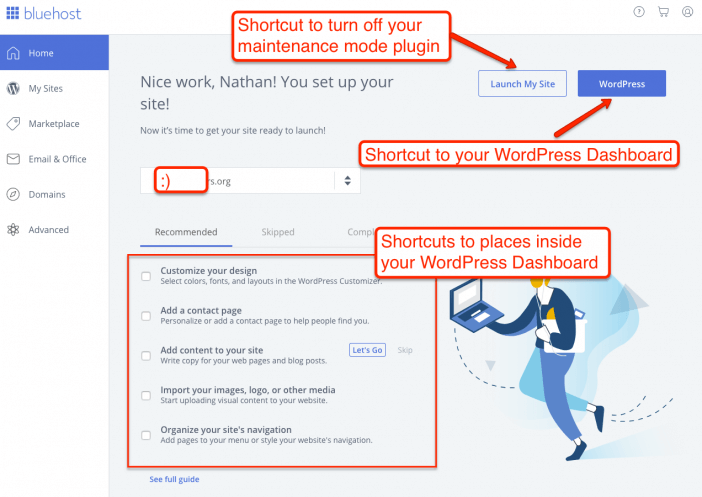 Bluehost uses industry-standard tools such as cPanel. This makes problems simpler to solve because there is much more documentation around the Internet to guide you. Here's a screenshot of the new, fresh Bluehost dashboard.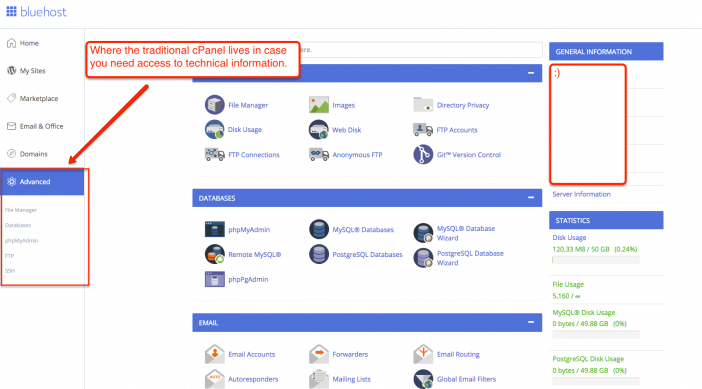 Bluehost has an excellent knowledge base and education center to help customers get started on the right foot.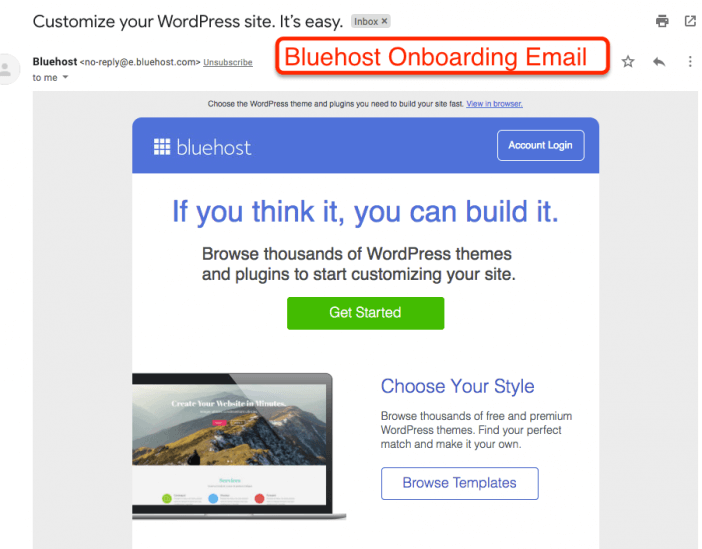 They Have Top-Notch Customer Support
Regardless of which website host you use, there will be a time when something goes wrong. And when it happens, having access to responsive customer support is critical.
Bluehost has 24/7 customer support via phone, live chat, and social media support. I've found Bluehost live chat to be the most responsive and best option for my needs.
It's not easy to gauge any company's service levels. Every negative and positive customer support anecdote you see or hear online is just that – an anecdote. You never know if you're dealing with the one true expert on the entire team or if you're dealing with a rookie who was simply having a really bad day.
So instead of saying that a company's customer support is good or bad, I like to judge it based on access and investment levels.
I have found both to be good indicators of whether or not a company views customer service as a cost, a sales opportunity, or an investment.
Bluehost does well on both marks.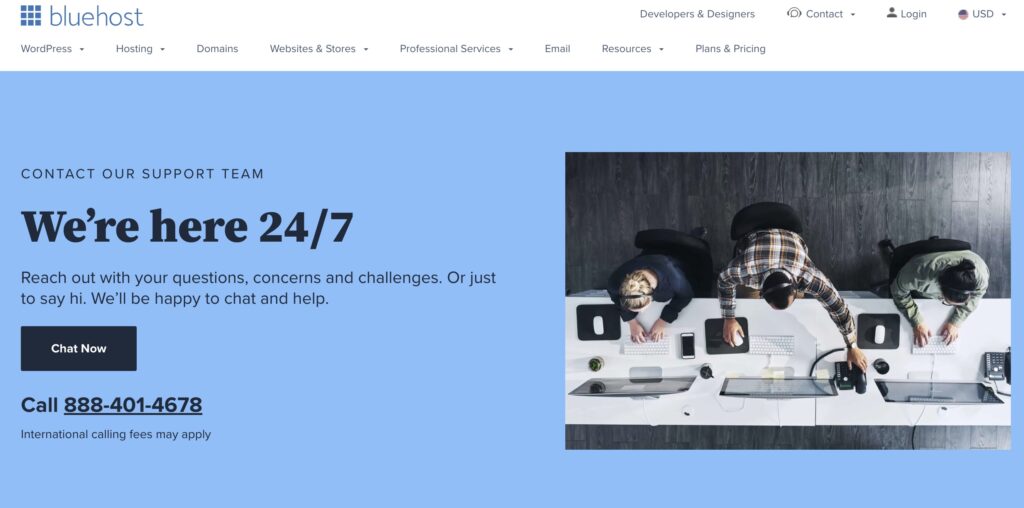 However, as I said in my HostGator vs. Bluehost comparison, they use the phone more as a triage solution than a "let's let everyone talk to an expert immediately".
That's not a good or bad thing, but I think it's good to know that you're still going to go through their phone tree and will still be put on hold.
Speaking to a live human being over the phone is preferable to working through chat or email tickets, which many other hosts rely on.
Additionally, as mentioned in the education section, Bluehost has invested significantly in its knowledge base and support options within product screens.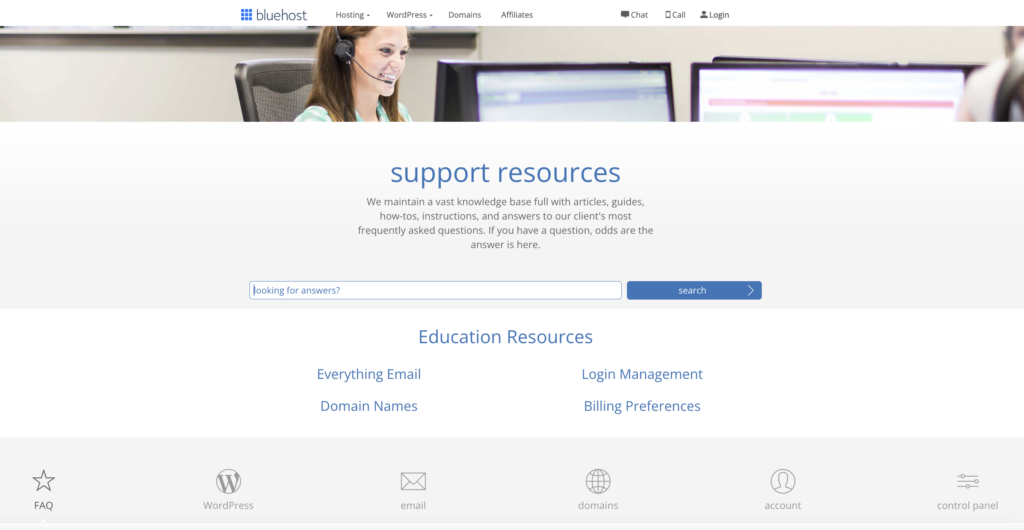 You can get answers to many of your questions without contacting a customer support representative.
They Have Multiple Hosting Add-ons
Bluehost provides plenty of extras with their products – from basic things like SSLs and Google Ad credits to advanced features like Cloudflare integration.
Now, I wouldn't suggest choosing Bluehost just for these add-ons or extras, but they bring them up to par and even push them up beyond many low-cost competitors.
Full Hosting Product Suite & Expertise
Bluehost's full product suite includes domain names, shared hosting, managed WordPress hosting, VPS hosting, and dedicated hosting.
Additionally, they provide customized hosting for website owners who run WordPress and WooCommerce together or who require help (like increasing speed or security on their WordPress website).
Cons of Bluehost
Here are the cons or complaints that I found working with Bluehost.
Big Brands Have Problems Too
The section headline sort of says it all.
Big companies come with their own set of real and perceived problems. Since they operate on a big scale, they will also have big problems, and Bluehost is no exception. There are six issues that I've seen repeatedly come up regarding Bluehost, mainly due to their size, scale and relationships.
1. They are still feeling the brand effects of their more-than-24-hour downtime for millions of accounts in August of 2013. They are still catching bad press for their network glitch back in the Winter of 2016.
2. Since they have millions of accounts, they also have lots of potential for security & downtime incidents. As I pointed out earlier, Bluehost has the expertise to solve these problems – but they are inherent to big companies.
3. Large-scale cost-cutting moves that impact service. Every big company is tempted to cut expenses at scale to directly impact the bottom line. In Bluehost's case, there will always be an incentive to run a few extra websites on each server to reduce capital costs.
Note: To my last point, it isn't something that I, Bluehost competitors, or anyone commenting online can confirm. But it is a fact that operating on that scale means that Bluehost network engineers have to optimize for the majority – and not the minority – who might need extra resources or specialized needs. This issue shows up regularly in Endurance International's Annual Investor Reports. They have several major outstanding infrastructure upgrades that regularly get delayed because of pressure to cut expenses.
5. Potential conflicts of interest. Bluehost and Newfold have a stake in Automattic, the parent company of WordPress.com, and the main contributor to the WordPress open source project. WordPress.org has done a good job clarifying and fixing potential conflicts of interest, but it's still something people will always bring up.
Slow Hosting Speed
Bluehost speed and performance are fine for a starter to a mid-size website – less so for sites that require higher performance (i.e., media-heavy sites).
The simplest way for non-network engineers to measure speed and performance has to look at the time to first byte or TTFB.
It's the time it takes a server to respond and deliver the first bite of information after receiving the first request for information. It's a turnaround time for website files.
TTFB is a very rough measurement.
It's best seen as a trend rather than a single snapshot. But over the years, my Bluehost snapshots have usually tended around average or below average…though my 2021 test ran very fast.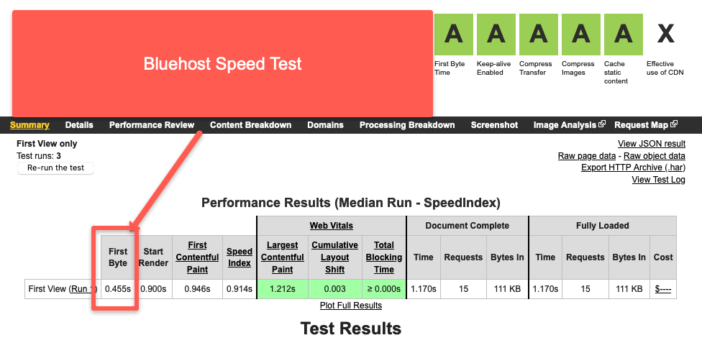 There are a ton of variables that go into website speed. Some you can control; some you cannot.
You can choose a web host that handles performance on the level that your site needs (based on how resource-intensive your site is and how many visitors you have).
Bluehost is fairly transparent about the hardware they use on their shared servers, which I appreciate. On their sales page, they give out the exact specifications.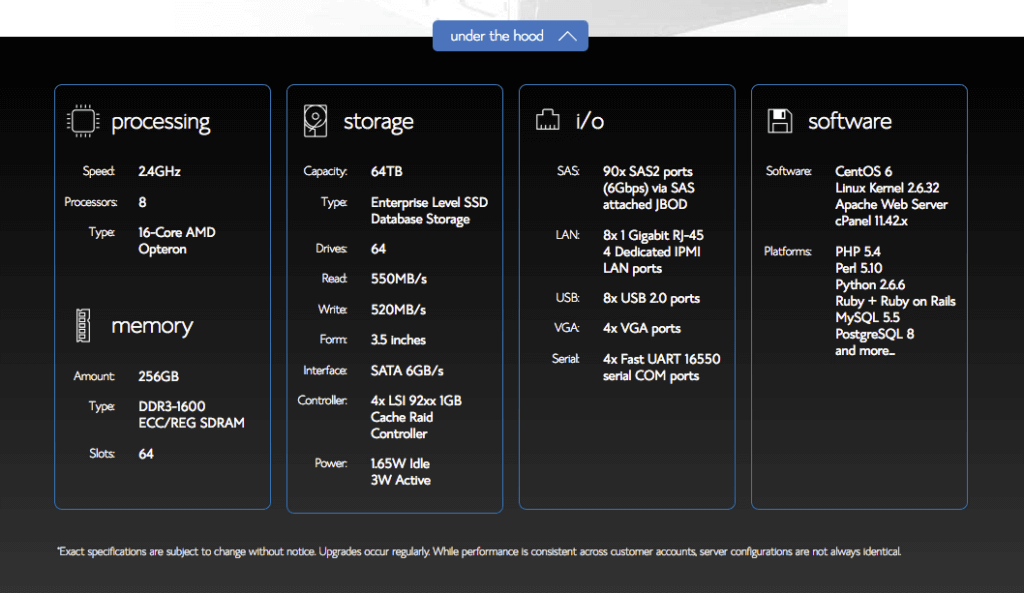 They also run up-to-date versions of PHP and MySQL. However, on Basic plans, they do also limit the default amount of allocated memory.
It's an easy fix, but it's still something to fix if you start to run plugins with heavy demand.
All in all, compared to other hosting companies focusing on speed and performance, Bluehost is average.
Frequent Marketing
For someone who cares about the details, Bluehost's hosting plan structure and pitches are vague and heavy on marketing jargon.
For example, I have no idea what a SpamExpert or CodeGuard Basic is. And without digging, I have no idea the actual difference between standard performance and high performance (is it an increase in default allocated memory?).
They have options for Managed WordPress hosting and WooCommerce + WordPress hosting options. And yet their shared hosting is also the easiest way to run WordPress…even though WordPress hosting is the same as shared hosting, plus they have WooCommerce hosting (which should need more resources) is cheaper than Managed WordPress hosting.
Confused yet?
I feel like I have a hard enough time comparing apples and oranges between hosting companies. With Bluehost, I struggle to compare apples to apples within their own plans.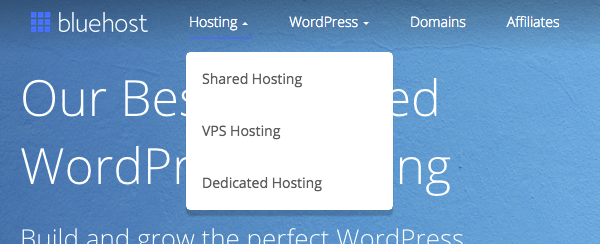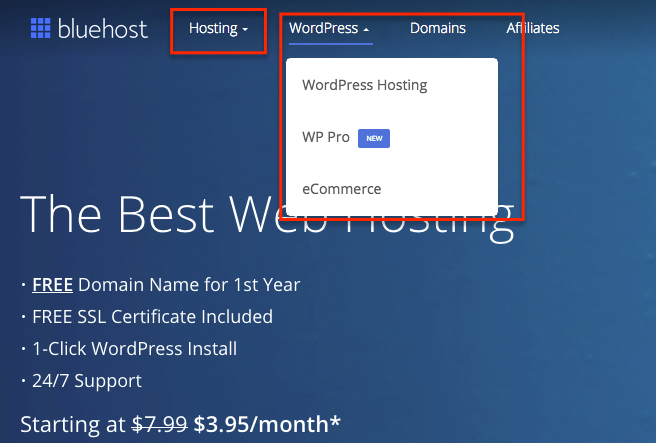 Buying hosting can be daunting & confusing – anything that makes it more so is a disadvantage in my book.
Annoying Upsells
As a Newfold Digital company, Bluehost will upsell other Newfold Digital and partner products, like OptinMonster.
For some customers, these cross-sells are very useful and handy, but for others like me, they are a little annoying…even though you can deactivate them quickly to get a clean install.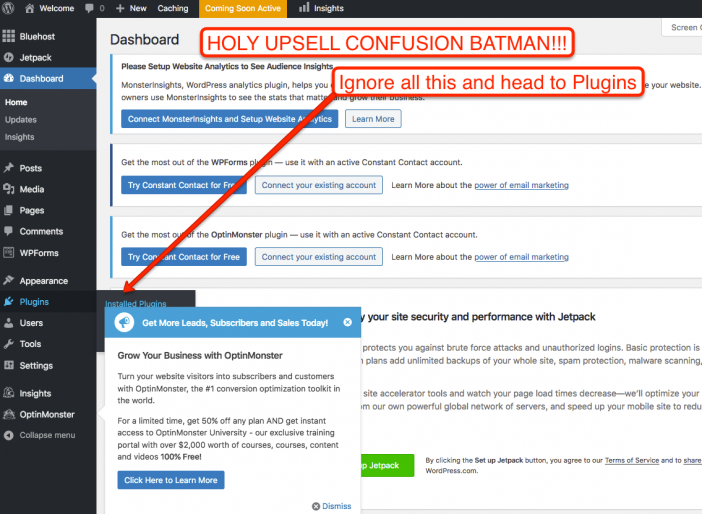 Bluehost doesn't automatically install as many plugins on your WordPress quick install as HostGator does, but even so, the upsells and cross-sells are annoying.
No Daily Backups or 90-Day Guarantee
Bluehost does a few other things okay but not as well as direct competitors.
For example, they do backups, which is great. But they don't do daily backups like some competitors. They have a 30-day money-back guarantee, which is great. But it's not as good as Dreamhost's or InMotion's 90-day money-back guarantee.
My Recommendation
Is Bluehost perfect? No, but from my testing, it's an excellent choice for most beginner to mid-level website owners. This is especially true if you are creating a WordPress blog.
Bluehost has more dedicated options available if you do outgrow their shared hosting plans.
If you are looking for better performance and an independently owned host (i.e., not Newfold Digital-owned), I'd recommend checking out InMotion Hosting.
If you want a host with the absolute cheapest plans (and allows monthly payment plans), check out my HostGator review. Check out HostGator's plans.
Not sure which to pick? Read up on all of the best web hosting companies.
FAQs