Choosing the best domain registrar is a challenging and often confusing process. Whether registering a new domain name or transferring an existing one, finding the right domain name registrar is tough.
The considerations for a domain registrar include the following:
Your budget
How easy is the checkout process
Your domain management needs
one-stop shop for web hosting services as well
How long do you plan on owning the domain?
WHOIS protection for free
Renewal rates
Based on my experience working with several brands, I've compiled a list of the ten best domain name registrars, all of which fit most of the above needs.
I'll outline their key strengths for each, the tradeoffs, and who they are the best fit for, and finish with an overview of what to consider before choosing a domain registrar.
Before we get to the list, let me address one registrar that didn't make the grade: Network Solutions. Though they are the oldest, Network offers nothing beneficial other than 100-year registration. Without question, there are much better domain registrars available.
While domain names are a commodity, the best domain registration doesn't equal the cheapest. There are inherent costs built into every domain registrar. Therefore, there is a floor in pricing unless someone prices a domain as a loss leader to get you in the door.
What Are The Best Registrars?
The list of domain registrars is ordered by ranking from my domain reviews.
Other Best Of Ratings
1. Namecheap
This isn't your father's Network Solutions. Namecheap is an independently owned & operated domain registrar founded in 2000. They are headquartered in Phoenix, AZ, USA.
Namecheap started its business as a domain name registrar focused on price (as in…"cheap names"). They hit a growth spurt in the early 2010s during several high-profile privacy & security scandals at large domain registrars and proposed surveillance bills in the United States Congress.
As a company, they have had a long-running relationship with Internet privacy and security organizations and a commitment to straightforward domain management and pricing.
In the past ten years, they've also expanded their product offering to include complementary products for everything from:
web hosting
email hosting
VPN
free logo generator
I've written a comparison of other registrars:
Namecheap Pricing
Best For
Namecheap is my pick for the best overall domain registrar over the long haul. They are the registrar where I have my personal domains registered.
Strengths
As the best overall domain registrar, Namecheap's primary strength is its consistency. As a company, they are positively ancient (over 20 years old) but have always stayed at the forefront of their industry with dependable customer service, competitive pricing, wide selection, and quality products. They are ICANN accredited and provide all essential domain services (WHOIS, forwarding, etc.) and solid complementary products.
Weaknesses
Namecheap's main weakness is that they aren't the best on any single domain metric. They don't always offer the cheapest domain registration. They don't do the deepest one-year discounts. They don't have the largest selection. And they don't have the absolute best usability and domain management. They don't have the best support.
Instead, they tend to be like #2 or #3 across many metrics rather than #1 for one metric and #10 for another.
2. GoDaddy
Ahh…GoDaddy. You've probably heard of them. They were the first domain registrar to go big and publicize domain name registration as a primary service. They run TV, banner, and Super Bowl ads – they are ubiquitous and possibly the most popular domain registrar.
GoDaddy is a publicly-traded company based in Tempe, AZ, USA. They started life as a domain name registrar.
Today, they are better described as a "web services platform" – they offer everything from bookkeeping to website builders to hosting and everything in between. GoDaddy is ICANN accredited.
Here are a couple of comparisons to other domain name registrars:
I've also reviewed GoDaddy's hosting and GoDaddy website builder.
GoDaddy Pricing
Best For
GoDaddy is the best domain registrar for buying domains in bulk, resell domains, or looking for an excellent short-term price.
Strengths
GoDaddy's main strength is its size and name recognition. They regularly have incredible short-term pricing sales and a large selection of domains. Due to their brand recognition and scale, they have one of the largest & most active secondary & premium domain marketplaces on the Internet. If you are bulk domain buying, you almost have to be a GoDaddy Domain Club member (which brings the best domain pricing on the Internet).
Weaknesses
GoDaddy's primary weaknesses are its business structure and corporate history. GoDaddy is a large, publicly-traded company in the investment sector looking for high growth. You'll find all the annoyances you'd expect from a large company (phone trees, upsells, cross-sells, price changes, etc.). Additionally, even though GoDaddy has a new CEO and new corporate strategy, they have quite a controversial history as a company.
3. Dynadot
Dynadot is an independent domain name registrar founded in 2002 and based in San Mateo, CA, USA.
They focus on new Top-Level Domains (TLDs) and aftermarket domain purchases & auctions.
Dynadot Pricing
Best For
Dynadot is the best domain registrar for anyone looking for a deal on a unique or popular TLD or a specific premium domain name.
Strengths
Dynadot has two main strengths. First, they do a lot of promotional pricing on TLDs. They are an excellent place to look if you are a domain investor or looking for a cheap, brandable TLD. Second, they have a good aftermarket domain business with lots of domains at auction and available for premium purchase.
Weaknesses
Dynadot has two main weaknesses. First, I found their administration panel pretty clunky and confusing compared to other registrars. Second, they don't have a lot of complementary products – they handle domain basics and not much more.
4. Porkbun
Porkbun is an independent, privately-owned domain name registrar based in Portland, OR, USA. Porkbun was founded in 2014 with a decidedly quirky, memorable brand.
Porkbun started its business as a domain name registrar focused on a quality product with good customer support and no hype. They've stuck with that mission over the years with a profitable and solid business.
Porkbun offers several well-priced complementary products but sticks to its core service (domain names) paired with obsessive, small-company customer service. Porkbun is also ICANN accredited.
Porkbun Pricing
Best For
Porkbun is best for anyone who likes doing business with a small, quirky company or those looking for a cheap domain registrar with phone support.
Strengths
Porkbun's main strength is its size and company focus. They are the online equivalent of your local coffee shop. They don't have the big chain's fancy drinks, specials, or brand recognition – but they have everyone's respect, and you probably know your barista…and even the owner.
Porkbun punches above its weight when it comes to TLD (top-level domain) selection (almost as many as GoDaddy or even Namecheap). They have extremely competitive short-term, long-term, and renewal pricing and great complementary features (even a free SSL certificate via LetsEncrypt). They do all this with solid customer support. Their size allows them to do all this and maintain their quality.
Weaknesses
Porkbun's weakness is its size and company focus. Just like your local coffee shop, they aren't going to have fancy drinks, specials, or brand recognition. Porkbun does their thing and is good with it. They don't have a lot of complementary products, etc. That said, they don't have many downsides.
5. Domain.com
Domain.com is a domain registrar brand owned by the Newfold Digital corporation. They have been around for a long time with an established and respected brand.
They focus on domain names, including premium purchases and a secondary marketplace. They are ICANN accredited.
Domain.com Pricing
Best For
Domain.com is a good choice for anyone looking for a sale on a specific TLD / domain extension or wants a simple, well-known company to purchase a cheap .com.
Strengths
Domain.com's main strength is that they are a solid, reliable, big brand with cheap .com and good pricing on specific TLDs. They have a good interface without too many big company annoyances of other brands.
Weaknesses
Domain.com's main weakness is related to its domain name…they don't have anything special about them either. They are like standard 'big company' fine – they don't have good onboarding or pricing. They aren't bad, but they also aren't that great either.
6. Hover
Hover is a subsidiary of Tucows Corporation, a publicly-traded company based in Toronto, Ontario, Canada, and was founded in 2008. They focus on domain registration and bundling value-adds (like free WHOIS domain privacy protection and SSL) to every new domain.
Hover has built their brand with innovative podcast advertising. You've probably heard them on shows like 99% Invisible and Hello Internet. They are also ICANN accredited.
Hover Pricing
Best For
Hover is great for anyone just looking to get a domain with no fuss, no upsells, great security, account protection, and good support when you need it.
Strengths
Hover excels with a great interface, great usability, and a commitment to data protection. They also have excellent support options.
Weaknesses
Hover's pricing for unique TLDs can be much more expensive than other domain registrars. And for all their talk about bundling things like WHOIS protection with every purchase, they don't offer some basic domain management options like email and domain forwarding.
7. iwantmyname
iwantmyname is a domain name registrar founded in 2008 in Wellington, New Zealand. They are quirky and exclusively focused on domain names. iwantmyname is an independent subsidiary of the publicly traded CentralNic Internet Services corporation.
iwantmyname is not ICANN accredited, they are a reseller of the domain registrar CentralNic.
iwantmyname Pricing
Best For
iwantmyname is best for anyone who wants a super-simple domain name registrar with no fuss and a bit of help integrating the domain with your hosting/builder/service.
Strengths
iwantmyname's main strength is its size and focus on domain names. They don't offer any complementary products. Instead, they aim to integrate your domain name and your hosting/email/server/etc. as simply as possible with their directory of DNS records/services.
They also have a really wide selection of TLDs.
Weaknesses
iwantmyname's main weakness is its lack of complementary products and higher pricing than direct competitors.
Learn more about how domain names work.
8. Bluehost
Many domain owners will also need either web hosting service or email hosting (or both!). Since a domain name and web hosting are two different things, you will likely want to purchase hosting from either your domain registrar or a hosting provider.
In this article, I've been looking at the "best" domain registrars…but sometimes the best domain registrar for you is your hosting company.
If you want to set up a website or a hosting email account, you can almost always get a domain name from your web host. Many hosting companies will offer you a free domain name for a year when you purchase a hosting package – better than any pricing at any domain registrar.
Many other web hosting companies offer a free domain name as well. I've found that Bluehost is a good fit for the first-time website owner who also wants to register a new domain.
Bluehost Pricing
The .com, .net, .org, .biz & .co domain extensions are free the first year you order web hosting.
Best For
Bluehost is ideal if you want to buy your domain through your hosting company. You benefit from the convenience of having a single account, not to mention the free first year.
Strengths
Buying a domain from a hosting company like Bluehost has a few advantages. First, you will likely get your domain free for the first year of your web hosting plan. Second, integrating your domain with your website will be seamless and convenient. Third, you only have to manage a single account – it's simpler.
Weaknesses
Buying a domain from Bluehost also comes with a few downsides. First, their renewal pricing is usually higher than a domain registrar. Second, their selection of TLDs is almost certainly narrower. And third, your services aren't as diversified, making it harder to move different services (like email, hosting, etc.) around to different providers.
9. Wix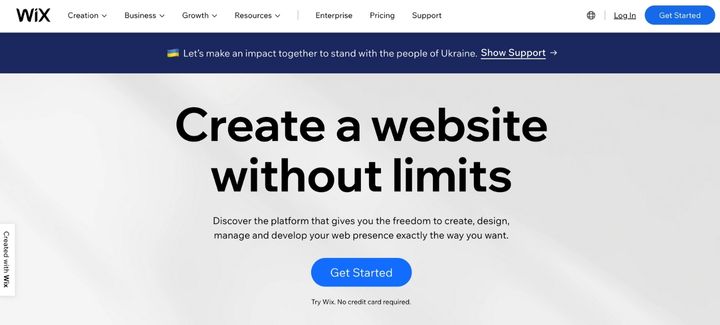 In a similar fashion to buying a domain from a hosting company, you can also register a domain name with any of the following website builders:
There are many other website builders as well.
Wix Pricing
You can get a free domain name with Wix with any Yearly Premium plan for the following domain name extensions: .com, .co, .uk, .net, .org, .art, .be, .biz, .club, .coach, .fit, .fitness, .info, .live, .nl, .online, .pictures, .rocks, .space, .shop, .store, .studio, .training, .xyz, .yoga, and .de (Germany only).
Unfortunately, Wix is not transparent in its pricing. Other than .com, pricing for the other domains is unknown, and could not find specific pricing.
Wix does not offer the ability to transfer in existing domains, and in my opinion, you are best to register and renew with a better registrar.
Best For
Buying a domain name from a website builder like Wix is ideal for anyone who needs a single domain and values convenience, pricing, or selection.
Strengths
Wix is already handling your hosting, website software, and extensions, so why not bundle the domain? They make it simple and straightforward – and sometimes free for the first year.
Weaknesses
The main weakness with Wix is that you can't go beyond a single domain or manage others. Most hosted website builders have poor renewal pricing and selection since they are likely just reselling domains from an ICANN-accredited domain wholesaler like eNom.
Choosing A Domain Registrar
A domain name registrar is any company that has a relationship with ICANN (the institution that governs Internet addresses) to reserve & manage domain names.
It sounds simple – like anyone and everyone could do it. But like any product, you make tradeoffs, choices & considerations to find the best domain name registrar for you. Here are the considerations that I look at.
Number of Domains: Are you going to be managing 100 domain names or 1? And even if you are starting with 1, do you plan on expanding? If so, you'll want & appreciate customer service and efficient management.
Length of Domain Ownership: Domain name registrars are trustees, in a way. Are you buying a domain name for a quick side project – or projects that you hope to last years into the future?
Domain Management: Some website owners log into their domain registrar exactly once, change a setting, and never log in again. Others need to change settings frequently for multiple domains, manage administrative contacts and add products to multiple domains – they'll value a clean, efficient domain management interface more.
Customer Support: Customer service costs money to do well. How much do you value it? Is live chat enough, or do you want phone support?
Company Reputation: Your domain provider is like a trustee for your name on the Internet. Do you trust them to protect it, secure it and generally not screw you over? Do the company's values say something about its internal culture? Does the company value privacy and security – or are they just trying to get the next upsell?
Pricing: The only required fee for domain registration is the ICANN fee. Everything else is up to the domain name provider's business model. Are you looking for rock-bottom discounts or overall value? What does the domain name's renewal price? Are you buying short-term or long-term? Do you want to pay separately for WHOIS privacy protection, or do you want it bundled?
Domain Transfers: How simple do you want the domain transfer process to be if you decide to leave? Is there special domain transfer pricing? Is there a straightforward process for the domain lock?
User-friendliness
There is often a tradeoff between design and features. Do you want raw features or a better design? How much do you value user-friendliness? Do clear buttons and a friendly tone matter to you – or do you prefer solid functionality? Do you also want complementary products like email, website builders, or WordPress hosting?
FAQs