| | |
| --- | --- |
| Best For | A Simple Website Builder |
| Strengths | GoDaddy's Other Services |
| Weaknesses | Limited Design Options |
| Promotion | Start For Free |
GoDaddy is a big brand in the website services industry. From their Super Bowl ads to TV ads to online advertising, they are by far the most well-known choice for domains, hosting, website builders, and productivity products for small businesses.
I have written about GoDaddy's web hosting and reviewed them, but I've never looked specifically at GoDaddy's website builder product (aka "Websites + Marketing") before this article.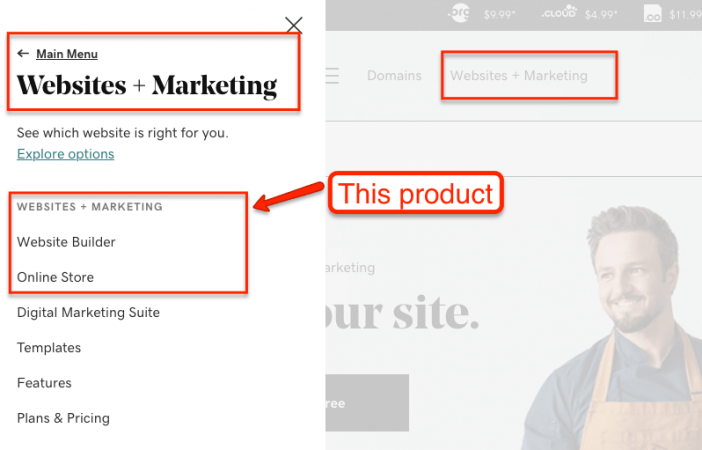 My experience with GoDaddy's website builder began back when I first started my web design business years and years ago. I didn't actually use GoDaddy's website builder for my projects until I came across it when a client of mine was using it and needed a few tasks done.
Since then, new competition has popped up from Wix, Squarespace, Weebly, Gator Website Builder, WordPress.com and other website builders. And GoDaddy has upgraded the website creation product I originally used. They've streamlined it to make it supposedly the "easiest way to get online."
So for a personal project of mine, I decided to try it out again and see who the product would really be a good fit for – and not just compared to other hosted website builders.
I also wanted to compare GoDaddy's website builder to other website solutions like hosting your own website or using a hosted eCommerce platform.
GoDaddy Website Builder Pricing
There are five tiers (including free) of GoDaddy Website plans.
| Plan | Basic | Standard | Premium | Commerce |
| --- | --- | --- | --- | --- |
| Price | $6.99/mo. | $10.49/mo. | $13.99/mo. | $17.49/mo. |
| Storage | unlimited | unlimited | unlimited | unlimited |
| Visitors/month | unmetered | unmetered | unmetered | unmetered |
| Email Accounts | unlimited | unlimited | unlimited | unlimited |
| Dedicated Domain | | | | |
| Free Domain Name | - | - | - | - |
| Free SSL | | | | |
| Display Ads | | | | |
| Analytics | | | | |
Free Plan
GoDaddy allows anyone to sign up for a free GoDaddy Website Builder plan. You get full access to the website builder tool including a GoDaddy template, SSL certificate, a few marketing tools, and a bundled hosting plan.
The primary limitations are –
you do not have unlimited storage or ecommerce tools
you are limited to a GoDaddy subdomain in the form of: username.godaddysites.com
Basic Plan
GoDaddy's Basic Plan is their cheapest premium plan. The plan includes editing on the GoDaddy app along with the ability to connect a custom domain name after domain registration. Hosting service is included, but eCommerce tools and every marketing feature except for linking to a social media account are excluded. Its primary market is for a personal website or "brochure" business website.
Standard Plan
GoDaddy's Standard Plan increases the number of digital marketing features available, such as the SEO Wizard.
Premium Plan
GoDaddy's Premium Plan increases the marketing features available. It also adds in appointment functionality.
Ecommerce Plan
GoDaddy's eCommerce Plan adds a suite of tools so that you can use the site builder as an eCommerce solution.
GoDaddy Website Builder Alternatives


Wix Review
Rating

9.0/10

Price

Free - $49+ per month

Promotion


Squarespace Review
Rating

8.5/10

Price

$12 - $40 per month

Promotion


WordPress.com Review
Rating

8.0/10

Price

FREE - $59 per month

Promotion
Pros of GoDaddy Website Builder
I've written a full explainer on website builders, but a website builder is simply a product that combines a few of the elements that you need to have a website.
The ingredients are –
Domain Name – which is the address of your website.
Website Hosting – which is where your website files "live."
Website Software – which allows you to design & make changes to your website without knowing HTML/CSS or using an FTP connection.
Since all these ingredients are bundled into one product, it makes some things much easier, but it also puts inherent limits on what you can do. Since GoDaddy's website builder is a hosted website builder, it's going to have some built-in advantages.
There are four pros or strong advantages that really stand out with the GoDaddy website builder.
Onboarding & Ease of Use
With any new technology, the most pressing and immediate question is usually "What do I do next?"
Onboarding is how a company or a product answers this question. It's how they move a brand new customer to an active, happy customer.
If GoDaddy's website builder does one thing well, it's onboarding and ease-of-use.
From the moment you sign up, it's like every question is preemptively answered, and you're guided through the setup exactly the way you would want.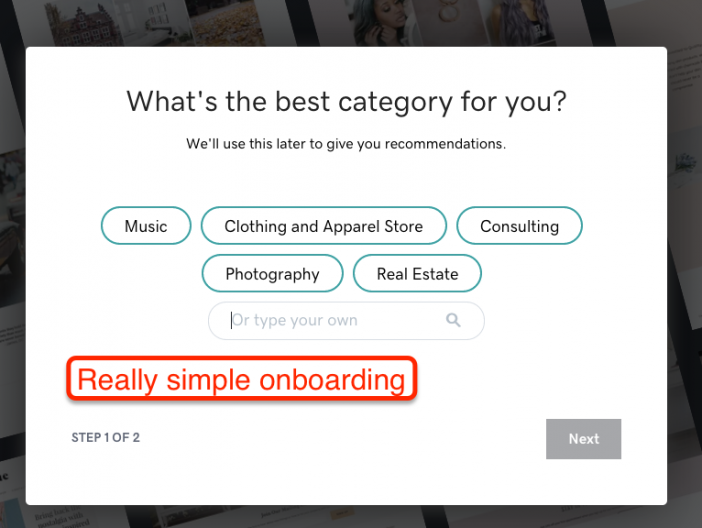 And you stay within the same screen the whole time with quick access to a full suite of customer support & help guides.
If they are trying to live up to their slogan of being the easiest way to get online, then they certainly do that.
In addition to categorizing its customers, GoDaddy allows you to choose your exact niche. And they don't just choose a typical design for you. They even match stock photography and other elements to a particular website design that will fit you better.
They have form fields and simple options to help you get started.
Within a few clicks, you really can have a very decent-looking website that's on your own domain.
In fact, it's just about as easy as signing up for Facebook or Pinterest. And for someone who preaches the value of having your own website, I'm all for it.
Design & Editing
Like I mentioned in onboarding, the GoDaddy website builder allows you to choose from a selected range of templates with pre-filled photography and design elements.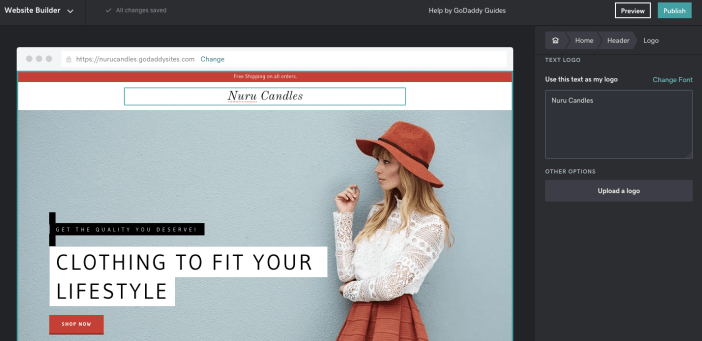 But it also allows you the option to change the design and edit your GoDaddy theme to your liking.
The editor does not have drag and drop functionality, but it does have very straightforward, limited customization options.
The whole setup is like painting by the numbers.
There are obvious drawbacks to this setup, which I will cover in the disadvantages, but it is a real advantage to having limited but accessible design options.
The site layout is mobile-friendly and maintains a great look/design no matter what you do to the design options.
Product Integration
GoDaddy is the largest domain registrar and a very large web host. They also provide other services such as email and productivity software.
Even if a business does not have a website already, they've probably already purchased something from GoDaddy.
This means that product integration with GoDaddy's products is very useful.
When you are setting up a website with GoDaddy site builder, you don't have to worry about pointing your DNS, or purchasing a third-party SSL certificate, or even pointing your mail servers – or integrating it with GoDaddy's other products like email marketing.
If your domain is with GoDaddy, you just select it from the GoDaddy website builder menu and you're live on that domain.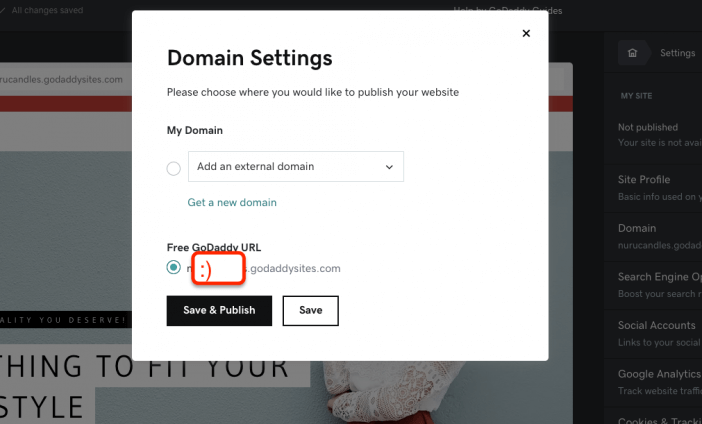 It's simple, convenient, and straightforward.
GoDaddy Customer Support
In my other GoDaddy reviews, such as a comparison with InMotion Hosting, and a comparison with Namecheap, I did not have high praise for their customer support.
However, a big part of effective customer support is whether the customer support team can directly help you solve any problem.
Since GoDaddy website builder is proprietary software running on GoDaddy's servers, their support team can and will solve any problem with the product.
The website builder product is under their control – unlike hosting, or even domains, where parts of the product are your responsibility that you have to communicate to the GoDaddy support team.
There are still issues with GoDaddy's support system, like how they invest in their products and integrate upsells. But, if you have a website on GoDaddy website builder, its support team will be able to solve the problem better than a self-hosted website where you have to lead the troubleshooting efforts.
Cons of GoDaddy Website Builder
As a hosted website builder, there are inherent disadvantages that GoDaddy shares with even direct competitors such as Wix and Weebly. To provide maximum convenience, most features are heavily limited. You also don't have access to your files on your server, along with other convenience and control trade-offs.
I'll cover these disadvantages as a group in the next Alternatives section.
Outside of those inherent limitations, here are a few specific disadvantages that I have found with GoDaddy's website builder.
Costs & Pricing
Comparing costs within the website services industry is maddening, but especially so in the website builder space. In best website builders, customers can sort of compare cost "apples to apples" by breaking out core and bonus features. But among website builders, there's no real way to directly compare competitor pricing.
GoDaddy's website builder prices start at $10/mo and go up to $20/mo. Then, with an eCommerce addition, pricing goes up to $25/mo.
On the face of it, GoDaddy's pricing is right in line with direct competitors. Their personal plan is slightly cheaper than Wix, Weebly or Squarespace's personal plans.
The Business and Business Plus are in the right tier depending on how much you value SSL or social media integration. And their eCommerce is right in line with other online store builders.
The one issue that I found is not what features they highlight, but with the features that they leave off because it's not even part of the software at all.
I'll cover these in the next section, but on a "good value for what you are paying" – GoDaddy is expensive. The primary "features" that they sell such as PayPal integration, Search Engine Optimization, and Social Media Integration are not even real features. For any public-facing website that you own – those are all things that are simply part of a website (that has not been handicapped by the platform).
GoDaddy's pricing is set up like a car company basing their pricing features around "steering wheel can turn", "windshield wipers can be replaced" and "will go faster than 25 mph."
But again – this is not to knock GoDaddy too much. They are mainly selling convenience – not features.
So, if you are trying to compare their pricing against other competitors, I would only look at their Standard plan ($15/mo) and/or their eCommerce Plan ($25/mo). Both of them are generally more expensive than direct competitors in the industry.
Either way, the discussion of features continues as a disadvantage on two other points.
Limited Feature Set – Design
With any technology product, there is almost always a trade-off between convenience and control.
And you can really see this trade-off with the GoDaddy website builder product. The convenience of their design setup is great. It's straightforward, fast, and not confusing at all. You can get website pages written, and a good-looking website set up quickly.
However, if you want to go anywhere beyond the basics of design, you are very limited with GoDaddy website builder.
For your theme, you can edit the color, the font, and the general 'feel' of the design.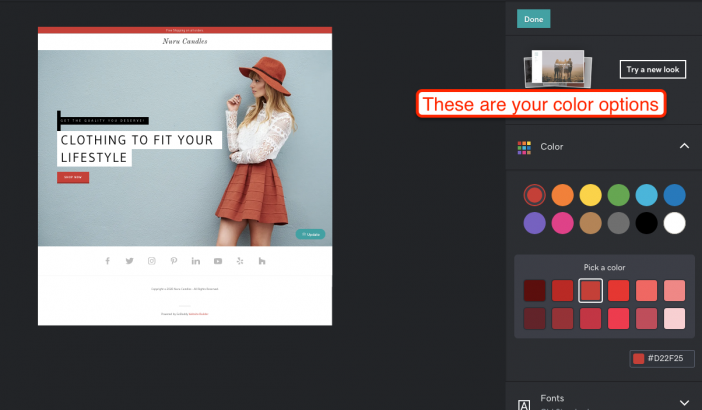 With pages, you can delete and add sections, but you cannot move them to where you want them.
You cannot change the layout. You cannot drag and drop. And you certainly cannot edit the HTML and CSS, much less add any other design element.
It's even difficult and near impossible to edit the menu without changing other design elements on the website.
The best way to describe it is a 'paint-by-numbers' setup. It's great to have the basics, but if you want to do anything extra or outside of bounds, then you're out of luck.
If your website is growing, or becoming a bigger part of your business, the design limitations can be crippling.
And unlike other website builders that attempt to solve this issue through apps, extensions, or access to the website code or HTML, there is no outlet for a GoDaddy website builder website.
Limited Feature Set – Technical
The limitations on design also bleed over into technical limitations.
Technical limitations are features that you don't know you want until you want them, and then you find out you can't have them.
These are things like integrations with Facebook, Pinterest, Twitter, Google Ads, social sharing options, blogging, and a whole host of every intermediate to advanced 3rd party marketing tool on the internet. Now – in GoDaddy's defense, they have added the ability to do limited connection with Facebook, Google Display, Google Analytics, and Pinterest…but it is still more limited than other website builder options.
Plus – GoDaddy's website builder renders…oddly. It's incredibly fast to connect (as should be expected from a proprietary product), but it then loads a *ton* of JavaScript files slowing the speed way down.

There's a lot of technical features like that. Features that should be there are there, but with a quirk that makes them unusable in a way.
This con is too much to list out individually here. But think of it like the difference between cooking in your own kitchen and building your own burrito at a fast-food restaurant.
With GoDaddy website builder, you can certainly choose the ingredients that go into your burrito, but your choice is really an illusion because you're limited to the ingredients that are offered by the restaurant.
Like the design, that can be a good thing if you need something simple, and will always need something simple. But if you ever need to upgrade or do something unique or custom, it can be very limiting.
Oversimplification
It's one thing to limit technical features to prioritize convenience, but that priority should be clearly communicated to the customer.
I don't think GoDaddy does that – instead, they provide wizards and complementary products to solve those limitations without educating their customers well. It keeps website building pretty basic.
This goes for all their features from design to social to content. But it's most obvious in the realm of SEO.
GoDaddy provides an SEO service that pairs with their website builder service.
The SEO service makes a lot of promises and feels simple and straightforward, which misleads customers into a false sense of success without providing any background or education.
While SEO is not complicated, it does require some background. Otherwise, most people will go in the wrong direction and do things that will hurt them in the long term.
I've spent most of my career in SEO, and have spent most of my time writing, teaching, and consulting with people who misunderstand many concepts in SEO.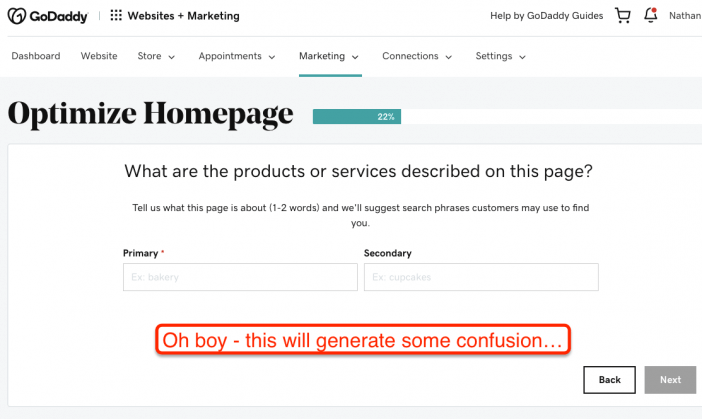 Many of these misconceptions come from services like GoDaddy. I don't think GoDaddy is trying to mislead anyone, but it's simply an effect from oversimplifying a concept that actually does require explanation and work.
For customers who are trying to set up a website to be more than just a sales brochure or a complement to their offline marketing efforts, GoDaddy website builder product does not help.
Future & Growth
Since GoDaddy is a hosted proprietary product, all your data is tied up with GoDaddy.
Even if you are just using GoDaddy website builder to get started well while planning out a more long-term website solution, you do have to consider that all your website data is tied up with GoDaddy. It cannot be exported the way data on your own server can be exported.
This factor has to tie into the limited technical features and limited design features when you're choosing the right balance between convenience and control.
Next Steps
If you are looking for a product that will get you a website quickly simply with no hassles, and your website is not critical to your long-term business growth, then GoDaddy website builder would be a good fit. You can go sign up with the discount here.
If you were looking for a website solution that allows more control and more versatility, I would recommend taking my online website builder quiz and or my online store builder quiz.
FAQs