Namecheap vs. GoDaddy? Where's the best domain registrar to buy your domain name? And once you buy your domain…who has the best hosting, email, and services?
I get asked those types of questions a lot. I'm a customer of both GoDaddy and Namecheap. So this review is based 100% on my experience with both companies as far as domains go.
Comparison Summary
Namecheap and GoDaddy's Services
GoDaddy & Namecheap both started life as domain name registrars, which allows them to sell & manage domain names. It is also the service that they are well-known for.
But they also offer a ton of complimentary services. I'll actually cover that below. But – it's important to remember that you can buy web services such as domains, hosting & email separately.
I've also specifically covered reviews of Namecheap's web hosting and GoDaddy's web hosting.
Still with me? Great! Let's dive into the full Namecheap vs. GoDaddy review! Because you're already the type of person, who knows that your domain name is your name on the Internet – and that it matters who provides it – I'll break the review down into 6 categories that actually matter – price, user experience, interface, extras, upsells, and principles based on my experience as a consultant & owner of (way too many) domains.
Don't Understand the Terms?
If you aren't quite sure of all of the terminologies, you can learn more about:
Pricing
Pricing is the most important aspect of domain registration. Since there are annual fees for each domain registered from ICANN, there's a floor to what a register can charge without losing money.
In many cases, domain registration is a loss leader in upselling other products.
Domain name providers are pretty notorious for having introduction pricing. Then raising the price for future renewals. So for me, the best way of judging apples to apples is to look at their 1-year renewal pricing for .com domain names.
Namecheap Domain Pricing
| Domain Ext. | Registration | Renewal | Transfer |
| --- | --- | --- | --- |
| .com | $5.98/yr. | $14.58/yr. | $9.78/yr. |
| .net | $11.18/yr. | $14.98/yr. | $11.18/yr. |
| .org | $7.48/yr. | $14.98/yr. | $10.98/yr. |
| .biz | $4.98/yr. | $18.98/yr. | $14.98/yr. |
| .co | $9.48/yr. | $28.98/yr. | $24.98/yr. |
GoDaddy Domain Pricing
| Domain Ext. | Registration | Renewal | Transfer |
| --- | --- | --- | --- |
| .com | $11.99/yr. | $19.99/yr. | $9.99/yr. |
| .net | $16.99/yr. | $22.99/yr. | $21.99/yr. |
| .org | $9.99/yr. | $20.99/yr. | $20.99/yr. |
| .biz | $11.99/yr. | $26.99/yr. | $26.99/yr. |
| .co | $11.99/yr. | $37.99/yr. | $37.99/yr. |
Ok…but suppose you really want to save money right now. In that case, GoDaddy usually wins with its deep discounting.
So – GoDaddy or Namecheap? Well, if you plan on running your website for over 2 years – Namecheap.
But, if you are trying to claim a name fast and don't mind transferring it later – then GoDaddy will save you a few bucks upfront.
Additionally, a reader recently pointed out the GoDaddy Domain Discount Club. It's currently $239.88 per year to join. But after you join, you get .com renewals at only $8.85 per year, plus the ability to bid on auctions.
If you own hundreds of domains – the program may very well pay for itself. But if you own less than a hundred domains or so, then Namecheap will still give you the lowest long-term price.
But, as you may have guessed – there's more to a domain name provider than just price.
Note – the pricing comparison only looks at domain names. They both do the whole range of email, hosting, etc. Those combinations get tricky, of course. Usually, Namecheap is cheaper when renewing (especially with built-in WHOISguard and Email hosting). While GoDaddy runs cheaper upfront pricing. I've reviewed Namecheap's hosting and have compared GoDaddy to Bluehost.
Service and Support
Here's the Namecheap Account Page: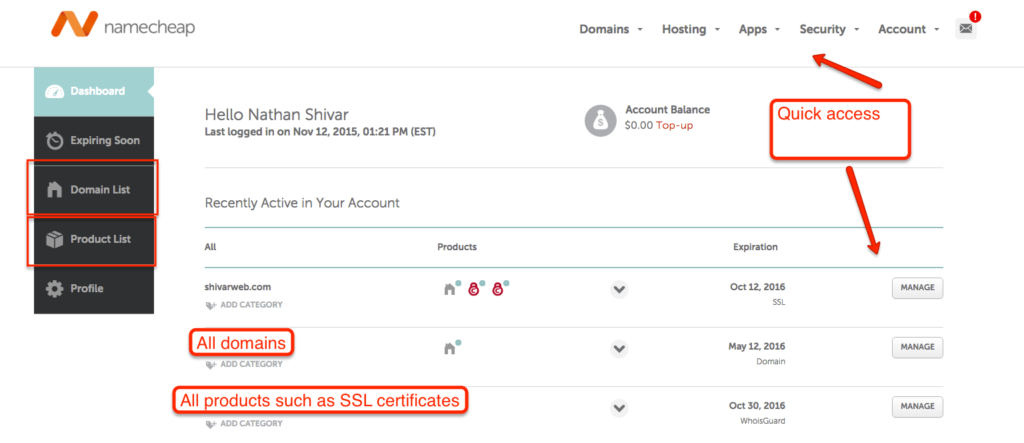 Compared to the GoDaddy Account Page: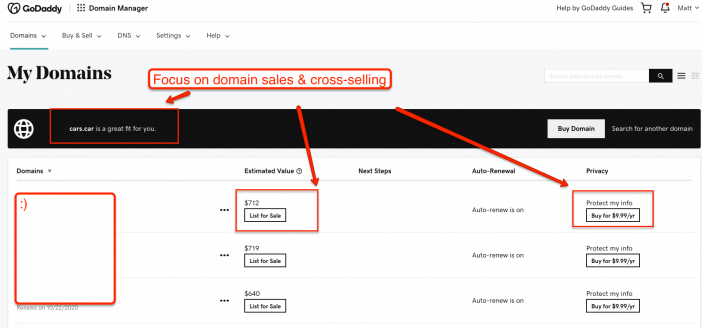 When choosing between Namecheap or GoDaddy (or any domain registry, really) – I always consider the overall experience of purchasing, using, and navigating the site. I'll dive into a couple of specifics, but I want to list out some things I like and don't like about both Namecheap and GoDaddy for domain registration.
Namecheap
Has trouble with auto-renewal on occasion (this seemed to be associated with their old reseller setup, so it is less of an issue now)
A very straightforward checkout process
Good suggestion engine w/ diverse TLD options and domain extension selection
A knowledge base is put together pretty well and well organized
Chat support is super-fast, but Namecheap lacks phone support
Others have had below-average customer support due to miscommunication (again, due to the nature of text-based support)
A minimalist design (for good and bad)
GoDaddy
Confusing checkout process

(upsells to other services)
Domain manager opens a separate window – and feels weird… like the domains are off-site
Suggestion engine that has a bias toward TLD rather than actual names
Clean color scheme – but cluttered with upsells
The knowledgebase is very extensive
Email and chat support are ok – GoDaddy has phone support exists and is fairly decent.
Overall – I have to give to Namecheap, which is partly pure subjectivity, but also partly from GoDaddy's constant upsells and cluttered layout. For some – upsells & cross-sells are just part of the game. They can be a good thing if you are in the market for those products. But for claiming a domain, I'm not a fan.
Namecheap is not short of issues for sure. They have been going through a business growth spurt, and I've had customers write in with support issues (usually related to their 2-factor login).
They've also added many complementary services, from WordPress hosting to a VPN.
However, I recently had to reorganize all my domains for accounting purposes and had a very contrasting experience with each.
The domain migration between Namecheap accounts was simple and quick. The migration between GoDaddy accounts was fine but involved too many clicks and confirmations for my preferences.
Sometimes I go in to buy a domain name from GoDaddy and feel like I'm not allowed to buy it unless I buy an email, photo, and accounting package. (Note – Namecheap includes forwarding for free).
Interface
Their domain management interface could be included in the overall experience – but I broke it out because it is a bit different and more specific, and more important than the overall experience.
The domain interface (also known as DNS Manager) is where you'll actually configure your domain name. A bad interface can lead to a frustrating experience, while an easy interface can mean a one-time easy setup…and a rare visit.
Here are pictures of my domain/DNS managers in Namecheap and GoDaddy.
GoDaddy DNS Backend: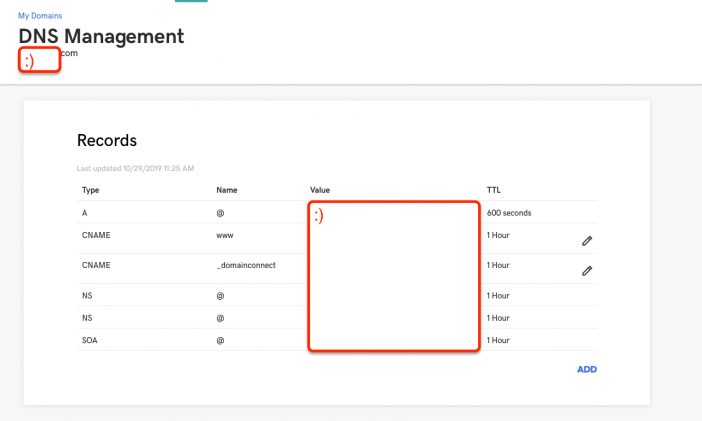 Namecheap Domain Manager: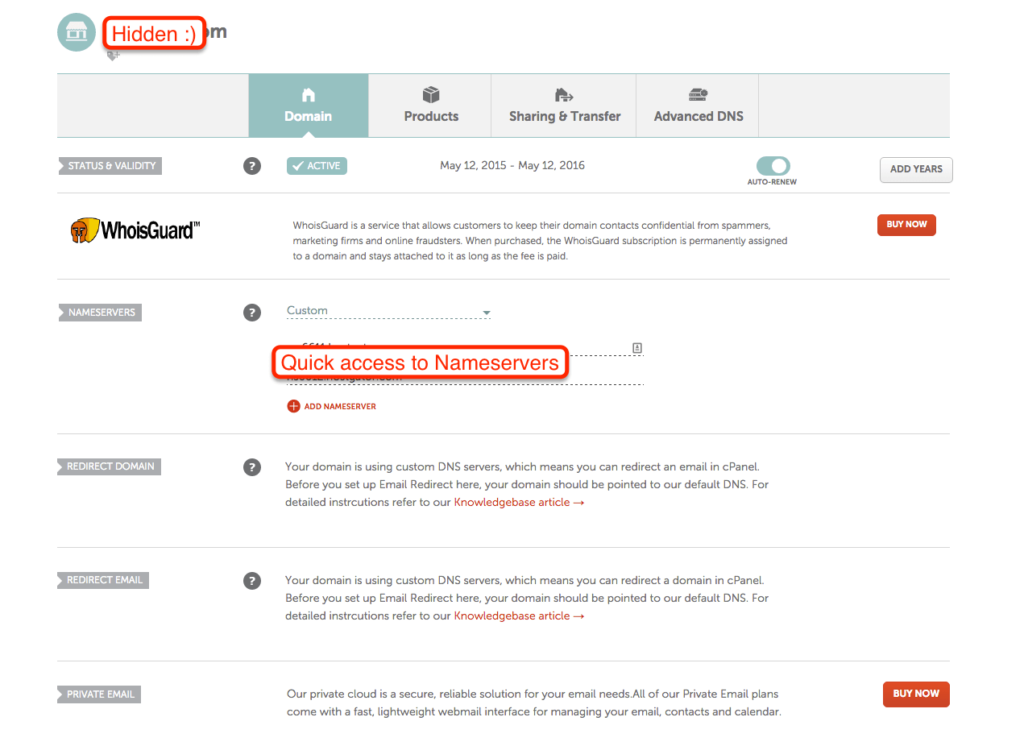 Just to explain – the domain manager page is what you'll use to actually configure your domain name (such as routing your DNS to your hosting company, setting up your email, setting up any subdomains, etc.). Hopefully, you'll be diving in here once or twice to reroute your DNS to your hosting company (which you should do, BTW) and maybe make an occasional edit.
Anyway, it's also a place where you don't want to make mistakes (which can take your site down, and changes take a while to fix), so you want it to be straightforward.
Namecheap has all your options laid out on the sidebar and no clutter or unnecessary settings in the actual DNS settings. Many of the extra settings in GoDaddy are actually because of how they upsell email/hosting/services – and want to make it hard to leave.
The only upside to GoDaddy's interface is that it's so widely used that you will be able to find support for it out on the Internet or in GoDaddy's knowledge base.
Namecheap's interface is one of the primary reasons I switched most (but not all) of my long-term domains from GoDaddy.
Namecheap vs. GoDaddy? If you can see anything from the screenshots above – it's obvious to me that the winner is Namecheap. GoDaddy is fine – and a lot better than other domain name providers, but it's really no match for Namecheap. GoDaddy requires so many clicks to get to where you need to go – and the main Dashboard is just ads for more domain products.
Domain Name Extras
When you purchase a domain name – you usually get a few extras thrown in.
These extras sometimes are expected (like security) and sometimes are quite valuable (like privacy settings). Here's how they are different.:
DNS – GoDaddy's DNS was hacked, and Namecheap's hasn't been. This is a huge deal. It was a concerted attack…but still.
Email – Namecheap's email forwarding is free, while GoDaddy pushes upsells for their own email product.
WHOIS Privacy – Namecheap bundles domain privacy feature for the first year forever while GoDaddy charges.
Hosting – Both have solid web hosting services with different hosting plan options. GoDaddy gives you a limited shared hosting plan for a year, along with photo storage space, while Namecheap offers a range of web hosting service options. Neither would be my first choice for a web host, but they both have a web hosting plan that I'd use at the right price. They have good uptime and unlimited bandwidth.
Website Builder – Both have a website builder bundled with a hosting package and a free SSL certificate. It's a great way to get started and save money compared to other options, even if their builders are limited in several ways.
Custom DNS – Namecheap gives free custom nameservers, while GoDaddy doesn't.
As you can tell – Namecheap tends to focus on more technical giveaways, while GoDaddy focuses on extras like photo storage and web builders.
I tend to prefer companies that take care of the basics over bells and whistles. Though GoDaddy still does a decent job on the technical front if they are more of a fit for you and your site. However, if extras determined whether you should go with Namecheap or GoDaddy – then Namecheap would still win.
Upsells
Upsells are when you are offered a complimentary product to whatever you are purchasing. It can be annoying, but it can also be really helpful. Since domain name registration is a commodity, it is really quite obvious.
Unless it's 1997 and you bought something like pizza.com or walmart.com – you aren't going to make money just buying domain names (though GoDaddy does run one of the larger domain auction platforms). You've got to have a website to go along with it, and so on and so forth.
I think it's a good idea to separate your domain name (your website's address) from your hosting (where it lives) – the jobs are very different, and for a multitude of reasons (probably a different article), a good idea to keep separate.
I recommend one of these web hosting providers:
Either way, both Namecheap and GoDaddy offer upsells to hosting and storage packages.
Namecheap offers a neat upsell for a One-pager website that would be useful if you are just trying to get something up quickly. They also offer an upsell for a discounted SSL certificate package. GoDaddy has similar upsells.
Overall they are a tie here. GoDaddy offers attractive pricing…but is more aggressive and almost annoying to me. Namecheap also offers some good deals (including for Namecheap shared hosting), but usually for products that I would want to buy elsewhere.
Conclusion
So which one do I recommend? Namecheap or GoDaddy?
As I said at the beginning – where you buy your domain name does matter. GoDaddy is a really good fit for many people – especially anyone who wants many cheap domains upfront and wants phone customer support. Most of my clients use them, and they are fine.
However, I think that if you are building a website for the long term – your best bet is to go grab a domain name from Namecheap. If my experience is correct, you won't regret it.
If you already have domains at another provider, Namecheap also makes it super easy to do a domain transfer as well. You can check out the Namecheap Transfer Domain Name here.
If you are also looking for web hosting, be sure to check out the following:
Or explore my Buzzfeed-style hosting quiz to find the right hosting company for your needs.
And lastly, you might also find my step-by-step guide to setting up a WordPress website useful as well.
I've also compared Namecheap to Google Domains for a related post.