Bluehost and GoDaddy are two of the biggest names in web hosting today, with each company powering millions of websites around the globe.
Bluehost and GoDaddy customers can expect competitive pricing, reliable performance, and additional features and services to help them build and run their websites.
But is one web hosting company better than the other?
In this article, I'm comparing Bluehost and GoDaddy head-to-head to help you decide which hosting provider is right for your website.
Comparison Summary
From my research and experience, I've found Bluehost to be the better fit for WordPress-based bloggers. Bluehost is intuitive and easy enough for a beginner, and the 1st year pricing on Bluehost plans is among the lowest you'll find anywhere.
But there are some situations where GoDaddy makes more sense, especially if you already use their other services and prefer a one-stop shop for your website needs.
I've used GoDaddy and Bluehost as a customer and a consultant since 2009. In fact, I reviewed them both for the first time in 2010 and have been tracking them closely for years.
In this Bluehost vs. GoDaddy comparison, I'll cover the key features of both platforms and let you know how these popular web hosts stack up against one another.
About Bluehost
Bluehost is one of the internet's largest and most popular web hosts, especially among WordPress bloggers. In fact, Bluehost is a WordPress-recommended host, and the two companies have partnered together since 2005.
In addition to web hosting, Bluehost offers complementary products such as domain names, email services, website-building tools, and web design services. In a nutshell, they are the go-to solution for WordPress-based websites. I've used this hosting provider for multiple projects of my own and recommend it to many clients.
You can read more about the company in my in-depth Bluehost review.
About GoDaddy
GoDaddy is one of the world's largest web services companies. Since its founding in 1997, GoDaddy has become the world's largest domain registrar.
Not only does it offer domain registration services, but GoDaddy is also a popular web host and offers website-building and even digital storage services.
Since WordPress became the world's most popular content management system (CM), GoDaddy has made a considerable effort to market its WordPress hosting product.
For the sake of this comparison, I'll focus on GoDaddy's web hosting plans when I pit it against Bluehost. However, check out my in-depth GoDaddy review to learn more about their other services.
Bluehost vs. GoDaddy Pricing
Bluehost and GoDaddy offer four different web hosting plans. As you can see from the price comparison below, GoDaddy is the more expensive in the first year:
Bluehost Plans
GoDaddy Plans
However, these prices include signup discounts, and the renewal pricing is much closer.
For example, the most popular Bluehost WordPress hosting plan is its Basic package. This plan is good for one website and includes a free domain for one year, an SSL certificate, and a free content delivery network (CDN).
After the initial one-year discount, this hosting plan costs $9.99 per month.
The comparable GoDaddy shared hosting plan is the Economy plan, which is also good for one website and includes a free domain for one year. After the initial one-year discounted term, you'll also pay $8.99 for this plan.
In the past, GoDaddy plans lacked some of the features bundled with Bluehost. For example, they didn't offer an SSL certificate; Bluehost included it for free. In addition, they didn't include daily backups. However, GoDaddy now includes SSL and daily backups in their web hosting plans.
That last point is worth noting.
Bluehost doesn't offer automated daily backups with their Basic Plan. Instead, according to Bluehost, they provide customers with an automated backup tool powered by CodeGuard, that they can use if they choose. Otherwise, Bluehost handles its own backups for recovery purposes. You must select the third-tier plan, Choice Plus, to get daily backups for the 1st year.
One difference, GoDaddy provides more storage on cheaper hosting plans than Bluehost but caps how many databases you can have. This shouldn't affect you unless you're trying to run multiple software installs or need to upload high-quality photos.
As for short-term pricing, I've found that Bluehost runs deeper discounts compared to GoDaddy.
Both web hosting services offer a 30-day money-back guarantee. So you can always get your money back if you decide a service or hosting plan isn't right for you.
However, if you decide to use another service, you'll need to consider whether you'll need a website migration service to help move your site from one web hosting service to another.
Due to the deeper discounts and bundled SSL, after making a price comparison, I've determined Bluehost's pricing on shared hosting plans has marginally better value than GoDaddy's.
Speed and Performance
Any web hosting server worth its salt will do more than host your website; it will let users access your site quickly.
Time To First Byte (TTFB) is the easiest metric to measure website speed. It tells you how quickly the server gets the request and sends the first byte of information back.
I recently conducted a speed test on one of my Bluehost websites, along with a GoDaddy site. The differences were negligible: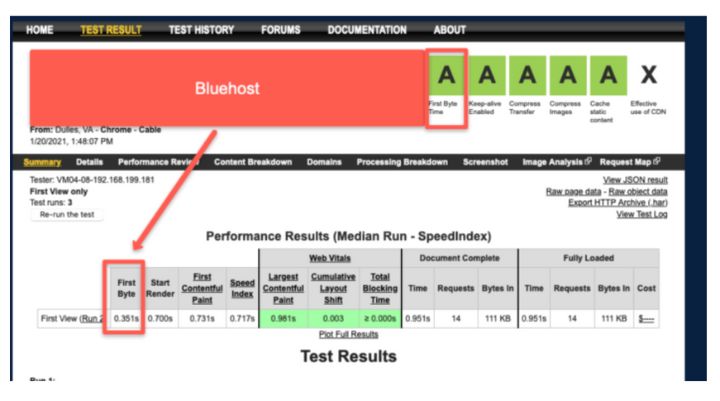 In the speed test, the Bluehost site's TTFB came in at 0.351 seconds, while the GoDaddy site's speed was 0.463 seconds. (As a side note, both speeds are slightly slower than I've seen with InMotion Hosting, an independent competitor.)
Bluehost and GoDaddy are both solid when it comes to speed. Both web hosting services get the job done and won't hold you back if you start optimizing for speed with caching, image compression, etc.
Web Hosting Features
When comparing web hosting plan features, check out the "3 Ds":
Domain names: How many can be assigned to a website on the account?
Databases: How many unique website installations can you have on your web hosting account?
Disk space: How much stuff can you put on your server?
If you're looking for a cheap WordPress hosting solution for one small website, you should consider GoDaddy's Economy package or Bluehost's Basic plan.
Both hosting plans limit you to one website and curb your storage (Bluehost) or databases (GoDaddy).
Otherwise, all of their core features are the same. They both include the cPanel control panel if you want to run non-WordPress apps. They both have similar email and free domain offerings and technical setups.
And they both provide "unlimited storage" and unlimited bandwidth (technically, "unmetered bandwidth" and unlimited website add-ons) for higher-tier hosting plans.
Bluehost's and GoDaddy's uptime is excellent, at 99.98% and 99.97%, respectively.
GoDaddy offers an uptime guarantee– if the web host fails to maintain at least 99.9% uptime, you can request credit worth 5% of your monthly web hosting fee. You can use that credit to purchase an additional product or service.
It's great that GoDaddy now offers free SSLs because it's an essential feature for any website now. In fact, every web browser will post a security warning if you don't have one.
Editor's Note: If your web host doesn't offer automated daily backups, you should budget for a dependable backup solution (such as the JetPack plugin).
WordPress Integration
When comparing web hosting services like GoDaddy and Bluehost, it's important to examine their WordPress integration capabilities.
After all, WordPress is the most popular content management system (CMS) in the world. Approximately 64 million websites– including this one– are powered by WordPress, and nearly 700 new WordPress sites go live every day.
Bluehost is renowned for its WordPress integration. WordPress itself has made Bluehost an officially recommended web host. (Other WordPress-recommended web hosts include DreamHost and SiteGround.)
Bluehost also works smoothly with popular WordPress e-commerce plugins like Shopify and WooCommerce. So if your WordPress site includes an online store, you're in good hands with Bluehost.
That said, GoDaddy has worked hard to "up" its WordPress game. For example, they have developed a selection of WordPress-exclusive premium themes.
But Bluehost has aligned itself so closely with WordPress that it's nearly a no-brainer. They offer so many WordPress features and functionalities you'd miss out on by not choosing Bluehost for your WordPress site.
Ease of Use
You don't get a website when you sign up for a shared hosting plan. Instead, you get a dashboard from which you can operate your web hosting account. Here, you can add domains, install files, manage databases, install WordPress, monitor bandwidth, etc.
The backends of many web hosting platforms are not that user-friendly.
Good web hosting companies strike a balance between convenience and control. Their backends and account dashboards are clean and straightforward.
Bluehost uses a backend control panel called cPanel for all accounts. cPanel is the industry standard. Typically, it comes with an unpolished but straightforward interface.
Bluehost has streamlined its backend compared to many other web hosts that use cPanel. The company has organized it with different tabs to reduce clutter. Bluehost has also added several educational options, in addition to a big blue Install WordPress button.
Years ago, GoDaddy had a proprietary backend that was sleeker and more straightforward than cPanel. But it became frustrating, limiting, and unwieldy if you ever tried to build out multiple sites on the account.
GoDaddy eventually switched over to the industry-standard cPanel. Like Bluehost, GoDaddy customized it a bit to make it more user-friendly. However, it's still a bit unpolished.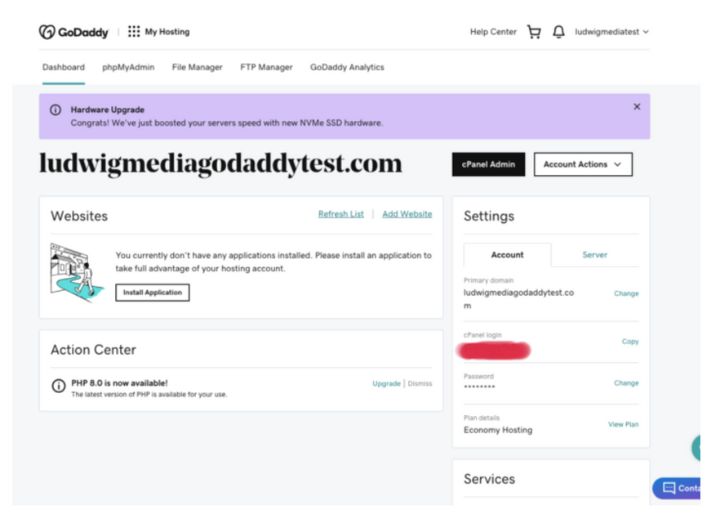 Bluehost completely redesigned its signup flow and hosting dashboard in 2019.
The new design is clean, minimalist, and straightforward (especially for WordPress sites.)
It's so sleek that I updated my Website Setup guide to use Bluehost's screenshots. That's not to say GoDaddy's usability is terrible. It's way better than it used to be.
The problem is that GoDaddy tries to do too much with one screen. Accounting, email, etc., is crowded into a single page and is less intuitive than Bluehost.
If you already deal with GoDaddy, it might not bother you. But in a head-to-head comparison, Bluehost is much better.
Website Migration
If you're currently using a different hosting provider, you may wonder how easy it is to switch to Bluehost or GoDaddy. After all, migrating a website to a new host can be a real headache if you don't know what you're doing.
Thankfully, website migration is relatively easy with Bluehost and GoDaddy, although in my experience, Bluehost's service is slightly better if you need assistance.
Bluehost's website migration team does all of the work for you for a one-time fee of $149.99. That includes migration for as many as five websites and 20 email accounts.
However, some websites qualify for free Bluehost WordPress migration.
GoDaddy doesn't offer a migration service that takes care of all the work for you. You'll have to migrate non-WordPress sites yourself. That includes downloading your files and then uploading them again using the GoDaddy control panel.
If you're transferring a WordPress website, GoDaddy makes it a bit easier. Its cPanel will walk you through the process.
Bluehost makes it easy. For sites that qualify, you can't beat a free migration service. And for a relatively low one-time fee, Bluehost will take care of everything for you.
Service and Support
Gauging customer support is tricky. You often need to rely on anecdotes, especially if you haven't dealt with the company previously.
In addition, every customer service representative is an individual, so your experiences will vary.
Based on my experience with Bluehost and GoDaddy and talking with people who have used both, I've found GoDaddy's support adequate.
I've never waited that long on the phone. I often have to explain a couple of times what my issue is. But overall, the support team has done the job and resolved my problems.
Bluehost, on the other hand, has always provided me with fast, solid support. I've spoken with the team via phone and email and had great experiences with them every time.
Bluehost has highly rated customer service (especially for non-technical issues like billing, etc.), which appears to be warranted.
However, as I mentioned, all of this is anecdotal. So let's look at the hard customer support facts.
Both web hosts have well-developed knowledge bases. GoDaddy seems to skew towards its products rather than general hosting knowledge.
Both offer support across a range of channels, including telephone and chat.
The main difference is that Bluehost allows for "self-triage." You pick your support issue before calling and then move to a ticketing system.
On the other hand, GoDaddy pushes everything to the main phone line to let account reps sort triage issues without a ticketing system.
I prefer Bluehost's approach. If you're calling about a WordPress issue, you won't be stuck in the same queue as people with billing questions. There are fewer transfers between reps, and I feel more in control because every issue has the same reference ticket.
I've had multiple people write to me about frustrations with GoDaddy. GoDaddy seems great if you can get your answer on the same call. However, anything that requires multiple calls falls apart.
Remember, it's challenging to rate customer support objectively. GoDaddy is fine, especially if you're already using its products (domains, hosting, email, etc.)
However, if you have web hosting-specific issues that require multiple interactions, Bluehost is better, in my opinion.
Which Is Better? Bluehost or GoDaddy?
Who wins in the contest of Bluehost vs. GoDaddy? Bluehost is the better choice and overall winner of my head-to-head comparison of shared web hosting services, including WordPress hosting.
However, if you're also looking for a domain registrar and other products like GoDaddy's drag-and-drop website builder, GoDaddy might be a better fit.
Keep in mind that both Bluehost and GoDaddy offer a 30-day money-back guarantee. So you can always try the product and get a refund if unsatisfied.
Alternatives
Check out InMotion Hosting if you're looking for an independent (i.e., not owned by a holding corporation) web hosting company focusing on technical service and high performance.
SiteGround is also good if you don't mind a custom backend.
Bluehost's sister brand, HostGator, offers cheaper hosting with unlimited features and better performance.
If you're working on your first WordPress website, I recommend you check my WordPress Website Setup Guide. And if you are more confused than ever, check out my best web hosting guide.
FAQs