| | |
| --- | --- |
| Support | Email, Live Chat, Forum, Video Tutorials & Knowledge Base |
| Uptime | Good (99.94% past 6 months) |
| Best For | Any Product-Based Online Store |
| Strengths | Many Features & Great Support |
| Weaknesses | Limited Blogging Tools |
| Promotion | Try For Free |
There are a lot of options for running an online store – Shopify is an all-in-one eCommerce solution that I've used to run several online stores & consult with clients since 2009. Here's my review of Shopify – with 11+ Shopify pros and cons for your online store.
But first, a bit of background.
There are a lot of options for running an online store, and your choice of the best eCommerce platform can have just as big of an effect on your business as choosing a building or location for a physical store. It's not the end-all of the business – but it certainly can make or break your business – and can either expand your opportunity or severely kneecap your business.
What Is Shopify?
Shopify is a hosted eCommerce platform that provides everything you need to create an online storefront.
To set up and start selling your products by creating an online catalog. See Shopify's plans. I've written a full post on what Shopify is and how Shopify works.
It's sort of like hiring a general contractor to build your house, over being the contractor and hiring sub-contractors yourself. You're still in control, but you let the general contractor use their expertise to make the project happen. My go-to analogy is with real estate.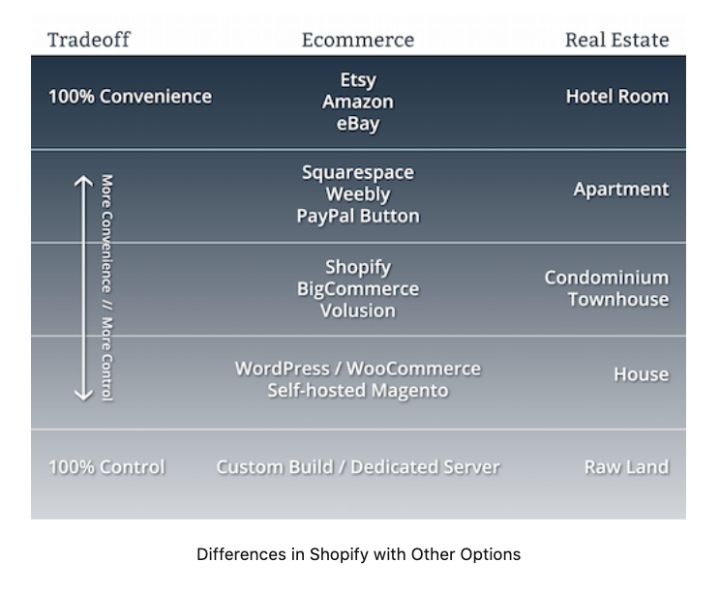 There are pros and cons to the approach – which is what we'll get into. But basically know that Shopify directly competes mainly with Volusion – all three of which provide turn-key eCommerce solutions, which in turn compete with non-turnkey solutions (like setting up your own store with WordPress + WooCommerce).
These hosted solutions compete with eCommerce "marketplaces" like Amazon, eBay, and Etsy. I wrote more about how Shopify can work with Etsy here and how Shopify competes with website builders like Wix.
Aside – Shopify also has a "Buy button" functionality that allows you to use Shopify as a Point of Sale (POS) / Inventory option – and let customers click to buy your products anywhere online (Pinterest, Facebook, WordPress blog, Tumblr, etc) and anywhere offline like Farmer's Markets, tradeshows, etc.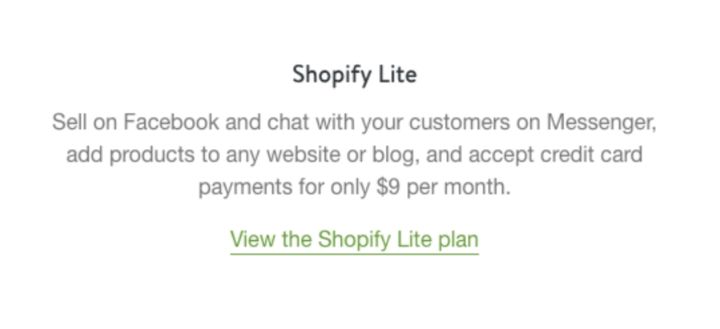 I'll be looking less at that – and more at Shopify's full online store package. You can get the Buy button only as part of the Lite Plan, but it really competes with PayPal & Square rather than full online store options.
Is Shopify Legit and Safe?
Yes, Shopify is a publicly-traded company with audited software and industry-leading security.
However, do be aware of any get-rich-quick schemes involving Shopify. With Shopify's ubiquity, it has attracted its share of scammers and fraudsters. The issue is primarily with shoppers dealing with dropshipping business and chargeback issues.
For legit Shopify store owners though, Shopify is software. It's an eCommerce solution – not a turn-key business. A successful Shopify store still needs to do the work to find a product and a market, and sell whatever you have to sell. Shopify is a safe and legit way to make the process easier.
Is Shopify Worth It?
It depends! That is a maddening answer, I know. But it's true. Shopify is a tool. It might not be for you. If you are selling a single digital product on your blog, then Shopify is probably not worth it.
A PayPal button or a WooCommerce plugin on your WordPress site would work. But if you need to run a multi-product eCommerce store with inventory, marketing tools, customer records, etc – then Shopify is absolutely worth it…if the pros and cons balance out for you based on your goals, resources, expertise, etc.
Shopify Pricing
There are only 4 Shopify plans. As with many online services, you can upgrade your account as your business grows. Be aware the Lite plan is really an intro to using Shopify and does not include a product catalog but rather a replacement of a service like Stripe or PayPal.
| Plan | Lite | Basic | Shopify | Advanced |
| --- | --- | --- | --- | --- |
| Price | $9/mo. | $29/mo. | $79/mo. | $299/mo. |
| Products | – | Unlimited | Unlimited | Unlimited |
| Staff Accounts | 1 | 2 | 5 | 15 |
| Inventory Locations | – | 4 | 5 | 8 |
| Reporting | – | – | Standard | Advanced |
| Online Credit Card Rates | 2.9% + $0.30 | 2.9% + $0.30 | 2.6% + $0.30 | 2.4% + $0.30 |
| In-Person Credit Card Rates | 2.7% | 2.7% | 2.5% | 2.4% |
| Non-Shopify Payment Fee | 2.0% | 2.0% | 1.0% | 0.5% |
| Country-Specific Domains | – | – | yes | yes |
Shopify Alternatives
There are many options besides Shopify if you want to create an online store. Shopify may be great for selling physical products, but if you looking to sell digital items there are better options like ThriveCart or SamCart.


Wix Review
Rating

9.0/10

Price

Free - $49+ per month

Promotion


Squarespace Review
Rating

8.5/10

Price

$12 - $40 per month

Promotion


Weebly Review
Rating

8.0/10

Price

Free - $26 per month

Promotion
Pros Of Shopify
There are a lot of Shopify reviews online – usually with user-generated reviews based on anecdotes and personal experience. That's fine but I take a different approach. I've worked with Shopify not only as a store owner but also as a consultant to stores running on Shopify – plus, consulting customers with stores running on platforms ranging from custom-built platforms to WooCommerce and dozens of others. There is no such thing as a "best" choice – only the right choice for your store based on your resources and objectives.
Fast Web Hosting & Security
Here are the results of a speed test for my local coffee shop that runs their store on Shopify: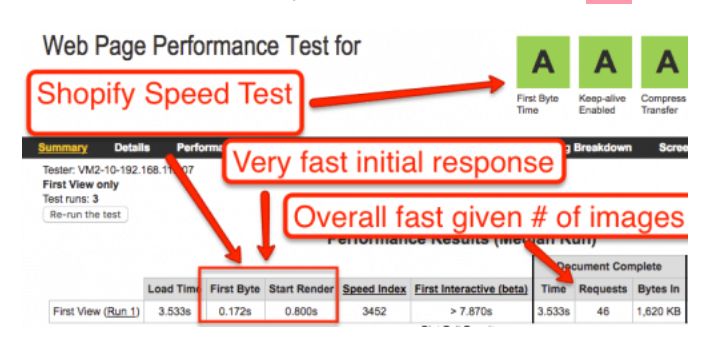 One of the challenges of running an online store is that you have dual needs from your hosting: you need it to be screaming fast and you need it to be super secure if you are processing credit cards.
For every extra tenth of a second that a customer waits for your page to load is a second that they might very well leave and go to your competition. In fact, most studies show that people will only wait up to 4 seconds for a site to load before leaving – and this gets even tighter for eCommerce sites.
On the flip side, you also need to route your customer's credit cards through extra layers of security to remain PCI compliant and process credit cards. Many stores outsource payments to a third-party vendor (such as PayPal or Google Wallet), but even that connection can be slowed if your store isn't set up correctly.
An all-in-one solution like Shopify allows you to turn that side of the business over to the pros and just let them worry about hackers, caching, compliance, and a whole range of issues that come with hosting an online store. Shopify can do things like pay bounties to security researchers to hack-proof their systems. Shopify is safe and legit. They are a publicly traded company with huge investments in software & security engineering.
There are a ton of factors that go into website speed, but, since Shopify can handle speed & security at a "global" platform level – they can do it especially well. They provide 100% SSL, keep their sites screaming fast, and integrate with payment providers well so that you can always get paid, and customers are never waiting for their page to load.
All The Necessary Features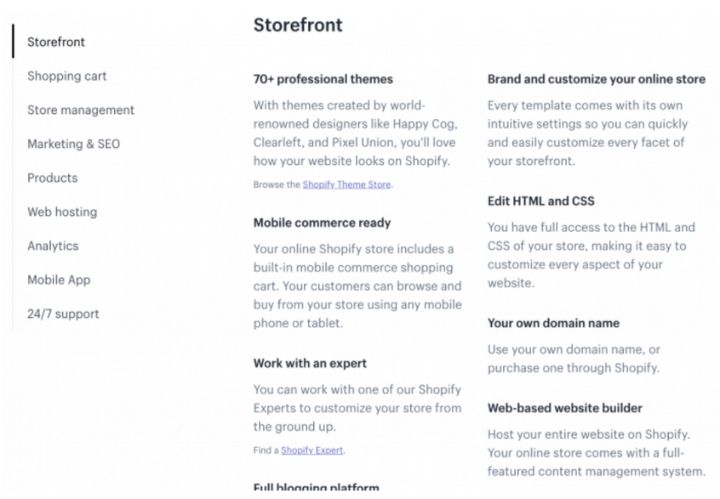 Whether you are building your own eCommerce solution or shopping for an all-in-one solution, getting all the pieces of an online store together can actually be a bit challenging.
Sure, you can strip the bare bones down to having a product up to buy, and allow someone to pay and give you their information – but to do it right – you're going to want other features on top.
You're going to want integrated payments; you're going to want an easy way to add and remove products; you're going to want to be able to customize the look of your store; and you're definitely going to want to have solid, easy to implement analytics to track everything (something that Volusion makes it tough to implement).
Whenever I have run stores for clients or myself in the past, Shopify had everything I needed to run an amazing online store – without being nickel and dimed in upgrades or left out to dry without a key feature.
Great Customer Support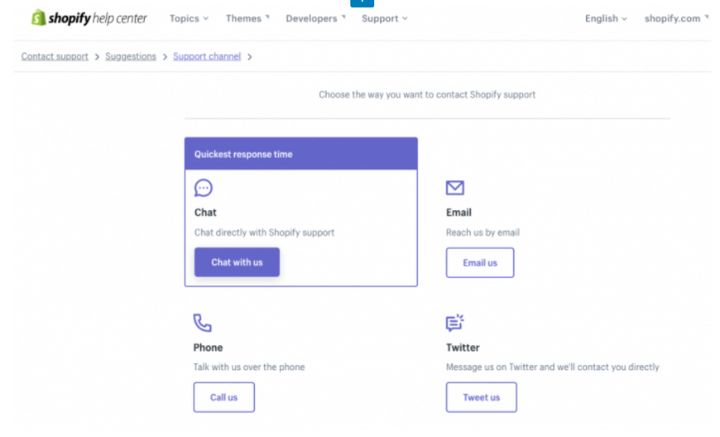 When I contrast my experiences between building an eCommerce store myself (with something like WordPress + WooCommerce) and running it with something like Shopify – customer support is one of my top reasons to go with something like Shopify.
When you are building it and running it yourself – you have no one to turn to, except $$$ developers and often unresponsive online forums. With Shopify – you get answers fast. And all my customer support experiences with Shopify have been really fast, correct, and helpful – from both a developer and storeowner perspective.
They have a huge database of FAQs, email/chat support…and phone support – with a real, knowledgeable rep on the other side.
When you are focused on running your online store – this safety net of always having someone at your back with answers is basically worth the Shopify subscription price alone. And on this point, Shopify especially shines.
Marketing
What good is an online store if you can't get anyone to show up? That's what marketing is for – and it's something that Shopify really excels at. Shopify doesn't offer the fanciest marketing tools on the planet (as part of the main package – they offer more in the App Marketplace) – but they do include the essentials – and they make sure they do the essentials really well. For example, SEO: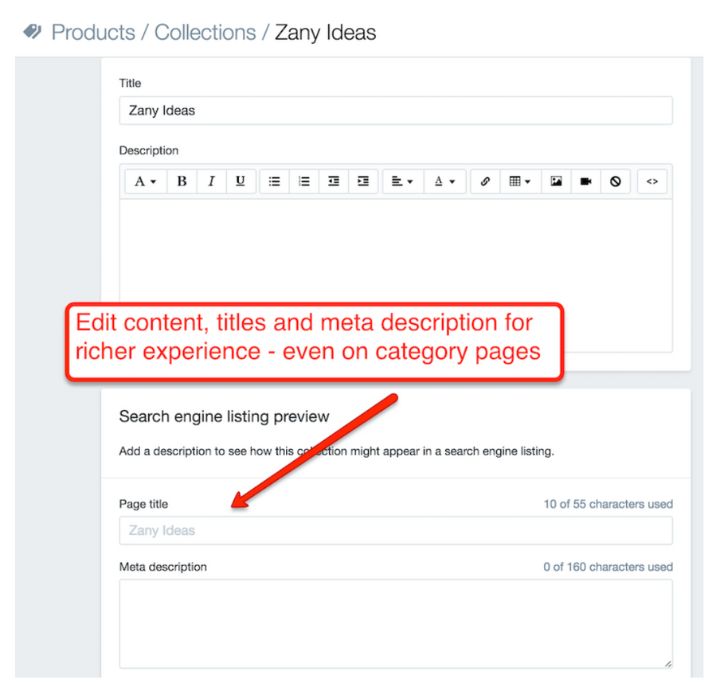 For marketing campaigns (such as email, Google Ads, Facebook Ads, etc), Shopify allows you to quickly and easily create landing pages, which is a key differentiating factor between other all-in-one platforms (and some DIY platforms).
And for SEO – Shopify creates 100% crawlable, clean code. They allow custom Title tags, and meta descriptions (see screenshot) – even on collections, in addition to other essentials like Search Console, sitemaps, and the prevention of the perennial bane of eCommerce SEO…duplicate content (for SEO geeks, they use canonicals properly).
Even though they don't allow "root" or FTP access, as an SEO consultant, I've always been able to implement even technical items via their front-end code editor. Or – they actually already have all the advanced technical items are done for me (e.g., Schema, SSL, Canonicals, Sitemaps, etc) so that I can focus on things like content strategy.
If you're looking for an all-in-one platform that does good marketing for SEO, Google Ads, and anything else up your sleeve – Shopify is a great choice in my experience.
Design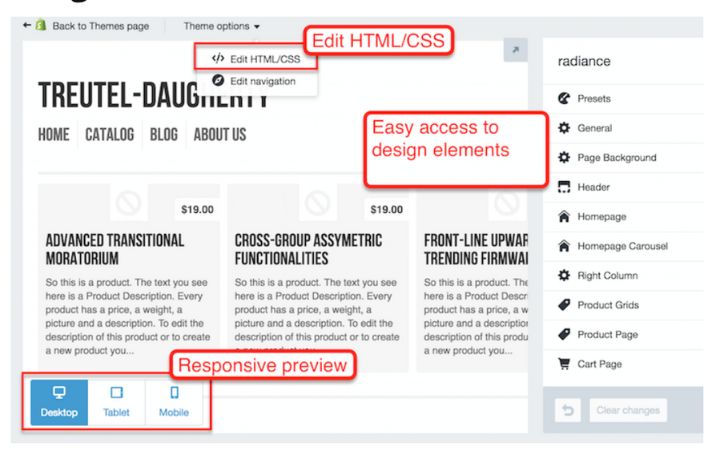 I think that good web platforms should always offer at least 2 levels of customization: first, it should look fine out of the box; second, it should be easily improvable without having to employ and professional graphic designer or developer.
WordPress is a good example of this – it looks great out of the box; it has tons of custom themes that you can buy and apply, but it also has the ability to be wielded by a professional designer to create a really high-end website.
Shopify has this ability as well, and I give a huge pro to Shopify for that. Shopify runs off a theme system. It has a default Shopify theme plus a few free Shopify themes bundled out of the box to choose from, and a wide variety of custom-built themes to purchase through their marketplace. In addition, as you can see in the screenshot above, Shopify makes its theme system available so that a designer or developer can customize it and create any type of shop you want – whether you are a tiny niche boutique or a multi-million dollar enterprise.
If you are just starting, you can make do just fine with a free theme and upgrade as you can justify/need it or you can use their drag & drop layout tool if you are more comfortable there.
Add-Ons / Plugins (Shopify App Store + Buy Button)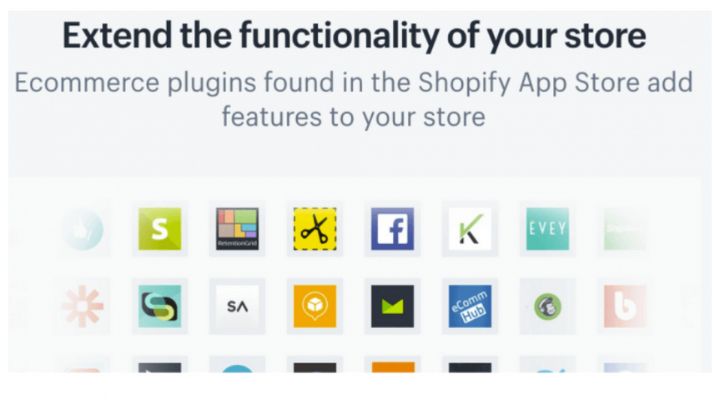 Shopify comes with a ton of features built-in. But no platform can possibly accommodate all the features needed by store owners. So, Shopify took a page from Facebook, Apple, and Android by starting an App Store.
Shopify provides the platform and all the core features, plus it allows third-party app developers to offer hyper-specialized products that plugin seamlessly to Shopify's platform. These options include free and paid theme options that go beyond the default Shopify template. The Shopify App Store includes apps for everything from dropshipping to sales features to payment gateway to social media integration to product review apps.
With this setup – you don't have to worry about finding a developer every time you want a certain feature because it's probably in the Shopify App Store…and will be a lot cheaper and will work exactly as advertised.
And over the past year, this has turned into one of Shopify's "killer features" that puts them ahead of much of their direct competition. So many companies integrate directly with Shopify that it's straightforward to purchase the right solution for whatever you need (ie, for email, retargeting, CRM, etc).*
*This also extends to hiring contractors. Shopify has a Shopify Expert and Shopify Partner program where a Shopify merchant can find curated help to work with everything from setting up a Shopify account to SEO to building a product page to designing an entire website.
Additionally, Shopify has really invested in its Buy button. On one hand, it's a bit confusing to sell any product separate from your website. On the other hand, it adds a lot of flexibility for brands that have a presence all around the web – or for merchants that just don't want to set up a full eCommerce website on a domain (available on the Shopify Lite Plan).
Not all platforms have the scale to pull this off correctly, but Shopify does – and they have a business development team that specifically works on developing new apps and bringing new developers to solve problems. The App Store is a huge pro for me with Shopify.
Company Structure & Size
Shopify is a publicly-traded company on the New York Stock Exchange (SHOP). They are rapidly growing with lots and lots of growth initiatives.
Now, Wall Street earnings pressure can create some downsides for customers (see Pricing section in Cons). But it also means that the company is mature with a focus on all things eCommerce and access to capital and resources.
Now that matters because of the giant elephant of eCommerce…Amazon.
Amazon can be a blessing and a curse for independent eCommerce sellers. They offer a huge market…but selling on Amazon is ultimately a feudal arrangement. It's much better to steal value from Amazon to build your own brand & online store.
That's where Shopify's eCommerce heft comes in. Shopify does not have a marketplace like Amazon (and that's a good thing – you are trying to build your own sales channels). But Shopify does have cutting-edge tools to help you compete with Amazon. In addition to Shopify's sales channels (which actually include an app to sync inventory with an Amazon seller account), they are constantly rolling out new tools and even giant initiatives like 3rd party fulfillment, POS systems, and business branding tools.
Cons Of Shopify
Not every platform is perfect though, and a Shopify review wouldn't be complete without covering the cons of using Shopify for an online store. Let's dive into the 6 cons of using Shopify for eCommerce.
Shopify's Pricing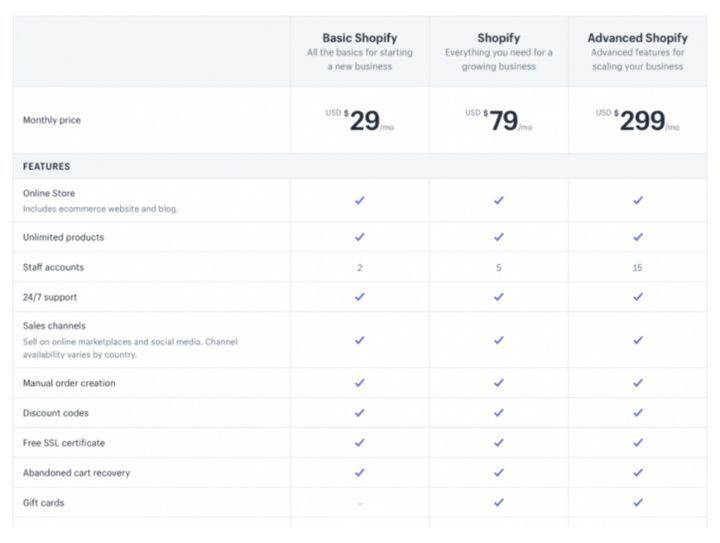 Ecommerce pricing can be extremely confusing. Between the fees here and subscriptions there – it can get frustrating fast.
Now, in many ways, Shopify does much better than competitors with pricing transparency and overall value. If you fully buy into the Shopify platform, you can get the best pricing in the industry….but there are a few caveats to consider. And it's those caveats that put Pricing into the cons / negative tradeoffs.
Here's a rundown of 4 elements of pricing you should consider.
First, your monthly price – the sticker price you pay every month for a certain level of features. Shopify's plans start with the Lite Plan at $9 USD per month and go up from there. But note that the Lite plan is only for Buy button sellers. Really, I'd say that Shopify starts at $29/mo for the Shopify Basic Plan and goes up. This price is the simplest to compare to other providers.
Second, your platform transaction fees – the additional fee you pay to a platform as a percent of sales. Shopify used to charge a transaction fee on all their plans, but no longer does…if you use Shopify as your payment processor.

You should pay attention to these when cross-comparing. If you already have a 3rd party processor like Authorize.net or Square – then Shopify may turn out to be more expensive than other options. But – if you use Shopify Payments, they may be cheaper. The point is to carefully compare.
Third, your credit card fees – these used to be pretty standardized – and for the most part still are. However, Shopify Payments runs its own POS & processing network so you don't have to go through a 3rd party processor. That means fees go to Shopify Pay rather than a processor like PayPal or Authorize.net. It can save you a bit of money and a **ton** of hassle.

It can be confusing to compare, and there are some lock-in issues to consider with Shopify. But Shopify Payments saves a lot of time in hassle if you don't already have a processor…and may add some costs if you already do.
Fourth, your add-on and plugin fees – these are 3rd party apps, plugins, or bits of software that you can purchase to make your store better. Usually, these are one-time purchases, but sometimes they run off transaction fees. Shopify has a huge app store. Many are free, but some are paid. Be sure to budget for these when planning your store.
Shopify's apps are almost always better than native features built into other platforms – but can easily increase costs compared to native features…especially for inventory management & wholesaler features. If you want more native features, read about Volusion, and WooCommerce as Shopify alternatives.
Pricing is a "con with a caveat" for Shopify. The built-in credit cards & no transaction fees are a big positive, but monthly price & add-on fees can add up. Shopify is slightly pricier than Volusion. As a general rule…unless you lock into Shopify Payments – at which point the scales can tip back. The price differences are close enough that you should be comparing based on features & service.
Shopify, like all hosted platforms, is going to be consistently more expensive month to month than a self-hosted store you run yourself. However, self-hosted stores (like WordPress + WooCommerce) tend to have really $$$ development needs occasionally – especially if you're running a bigger setup.
If you have some technical know-how and a smaller shop, Shopify pricing will be expensive. If you want to focus on running & marketing your store (and prefer known monthly costs), then Shopify's pricing will actually be an incredible value. You don't have to hire developers or a technically savvy SEO consultant to take care of things like Google Merchant Center or Schema.
Customization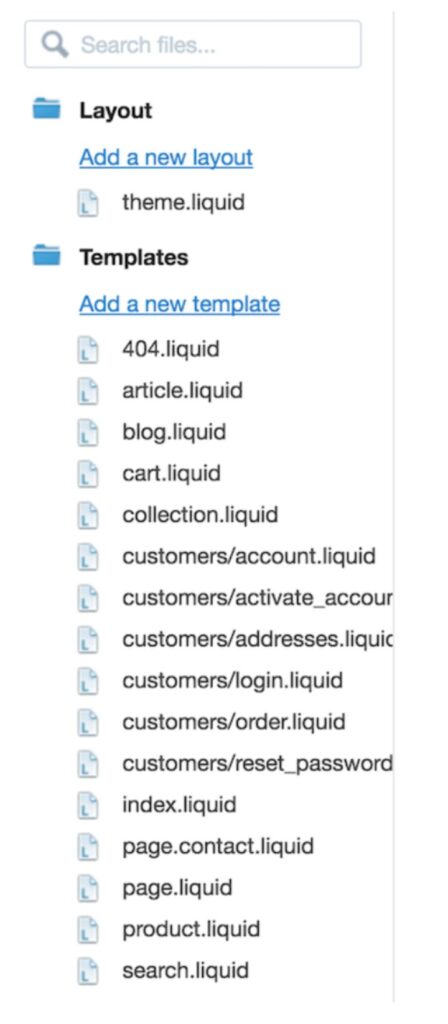 I made the point earlier that one Shopify pro is that it looks good out of the box, has great custom Shopify theme options available, and has the ability to be fully customized by a developer/designer.
Now to the con of their customization setup – they use a unique setup to customize their themes versus using something like PHP for their templates. It's a huge plus in some ways, but for someone who loves to tweak things without doing full-on customization, it can be annoying.
I'm used to tweaking WordPress templates because they are in PHP – which is a common language and thus has tons of forums and support, while the Shopify Liquid setup is a bit foreign to me and any other first-timers.
It is fairly straightforward to pick up, and they do offer amazing support in the Shopify forums, but I still consider it a bit of a con to have to become familiar with Liquid to tweak my store's theme.
Content Marketing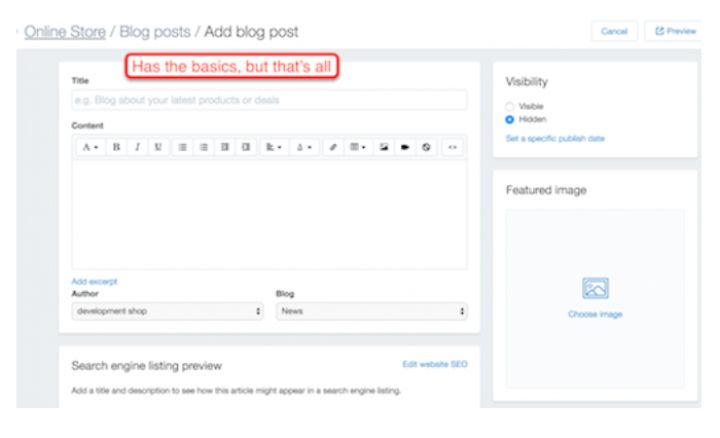 Content marketing is a huge marketing medium for eCommerce. You can boost your organic traffic, increase social shares, grow your brand, and educate your customers.
Shopify comes with built-in blogging software…but it's not the greatest – especially if you are spoiled for WordPress. It gets the job done, and it's better than their competitors' options, but is definitely something I'd love to see improved.
My rule of thumb is that if you run a blog that now has a store – then adding WooCommerce to WordPress makes sense. But – if you are primarily an online store with a blog as a marketing tool, then Shopify works well.
Shopify Jargon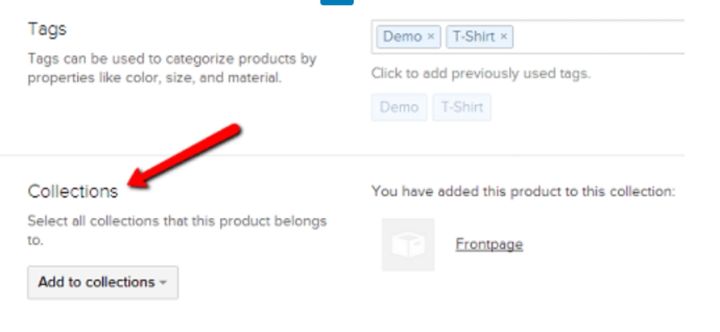 Every eCommerce platform is going to have a learning curve, but I found that Shopify has a slightly steeper curve just because the jargon they use is slightly off. Whether it's their Liquid theme set up, using "collections" over "categories", or various other small edits – I find their store set up not to be exactly how I'd set things up.
Once you figure out Collections, I think they work well – but I've had readers write in specifically mentioning Shopify's categorization as an issue, especially compared to Volusion which tends to focus more on inventory features.
The Shopify Dashboard is not super-intuitive until you realize that it's set up as an eCommerce business view – not as an online store view. Your store management is one level down as a channel (see video below).
It's not a huge con – but other solutions are a bit more straightforward with their "user experience." This con is much improved though with the release of Shopify 2 (as seen in the initial setup video below) – but is still there.
Vendor Lock-in

Lock-in is something I had to include in my Shopify review, even though it is a con for all-in-one eCommerce in general. Here's the deal – if you ever decide to move your store to a different platform – it's not going to be smooth. This makes choosing an eCommerce platform especially tricky because you have to plan for the future – and not just consider costs right now.
In my opinion, Shopify is an amazing platform to grow with. They have the scale, features, support, and pricing to cover you whether you are a brand new one-product shop – or if you want to be the next Amazon. There's no upsell to the next plan level – everything is transparent and clear.
However, if you were to ever want to leave, the best you could get would be a CSV export of your product information. Everything else – gone. It's the same with Volusion, and any "hosted eCommerce platform", but it's still a con to consider when looking for an online store platform.
Initial Setup
The last con of using Shopify for your online store is their initial setup process. With the release of Shopify 2 – Shopify has definitely made the initial setup of your online store much easier – but it still isn't a "just add water" step by step. It's easy in a sense, but I think they oversell it a bit. It requires a little bit of technical know-how (especially to get your domain name redirecting correctly).
For anyone who buys into Shopify expecting to be making money in 15 minutes is going to be disappointed. The reason it takes a bit longer and requires a bit of technical knowledge is that Shopify does do it right, and doesn't allow you to cut corners – and they don't make real decisions for you.
Shopify Video Review
Should You Use Shopify?
If you are looking for an all-in-one eCommerce solution for your online store, and you are looking to grow and add products – and your primary focus is marketing & growth, then Shopify will be a great fit for you.
Look at alternatives with my best eCommerce platforms.
If you are only looking to sell a few products (rather than building a whole online store), then check out this post for the best website builder for selling products.
If you are a brand looking for an enterprise solution, I wrote about my experience with Shopify Plus – Shopify's enterprise solution.
FAQs
Related Articles