Etsy is a marketplace for independent artists selling handmade and vintage products. Like eBay and Amazon, they are one of the most recognizable brands in ecommerce with a dedicated base of both buyers and sellers.
Unlike Amazon and eBay, they have a core focus on micro-businesses and aim to "re-imagine commerce."
And because of that, they are one of the easiest platforms to get started with your online store. They solve a lot of ecommerce problems – especially the "just getting started" part.
But like every option, Etsy may or may not be the best fit for you depending on your product and goals.
Here's a few reasons that you might want to start with Etsy (and continue with this guide) –
You want to get started for free.
You want to get started with maximum convenience.
You want to get a few initial sales before fully investing in product & inventory.
You want a platform with built-in visitors.
You are likely to have low volume of sales in the beginning.
Here's a few reasons that you might not want to start with Etsy –
You want to build your own store with your own custom domain & design.
You want to control your branding.
You product does not conform to Etsy's guidelines.
You want to cross-sell and upsell complementary products that do not conform to Etsy guidelines.
If Etsy does not seem like the best fit – then you'll be interested in my Shopify vs. Etsy post and/or my How To Set Up An Ecommerce Website with WordPress.
Otherwise, let's dive into the guide.
Choose Your Products & Brand Name
Etsy's sign up process requires a shop name and at least a single product to be listed when you first setup your account.
The process looks like – Shop Preferences –> Name Your Shop –> Stock Your Shop –> Payment Options –> Billing
Shop name & first product are not things that you want to figure out while signing up, so it pays to decide on them beforehand, especially since it's difficult to change it later.
Naming Your Shop
Etsy's Seller Handbook has an excellent primer on shop name considerations.
But there are a few things to keep in mind –
Your account name and shop name are two different things. In fact, an account can have multiple shops.
You can set up your account and click "Sell on Etsy" to go partially through the set up process to check name availability.
Be sure to Google your potential brand name to check for conflicts.
Go ahead and search on a domain registrar (like Namecheap or GoDaddy) and purchase a domain name for future use – even if it's not needed for your Etsy Shop.
Your shop description and logo are not necessary to get started – though it is good to work on before setup.
Selecting Your First Product
It costs $0.20 to list a product on Etsy. And if you are starting a shop, then you likely already have your first product in mind.
But to list your product, you'll need to decide on a few things beforehand.
It needs to meet Etsy's marketplace rules.
You'll need photos. Etsy says to:
Use high-quality JPG, PNG or GIF files that are at least 570px wide – but 1000px recommended.
Use photos with natural or diffused lighting – not flash lighting.
Your photos will be in thumbnails with the ability to zoom and view full-size.
Have your product description copy ready. Find a balance between clarity, conciseness, detail & descriptiveness. Here's my resources on copywriting.
Do the same with your product title – make sure it's descriptive, memorable but also readable.
List out categories for your product. Use this page to research product categories and descriptions. Etsy also has this resource on creating "tags" for your product.
Once you have your shop name and product chosen, you can start your shop setup. Everything else during setup will be easily changeable after setup.
Setting Up Your Store
Now let's actually setup your Etsy shop.
Etsy's Onboarding
Etsy's shop signup process is straightforward and simple.
Start with setting up a general account then click "Sell on Etsy."

You'll go through a setup process that starts with general preferences.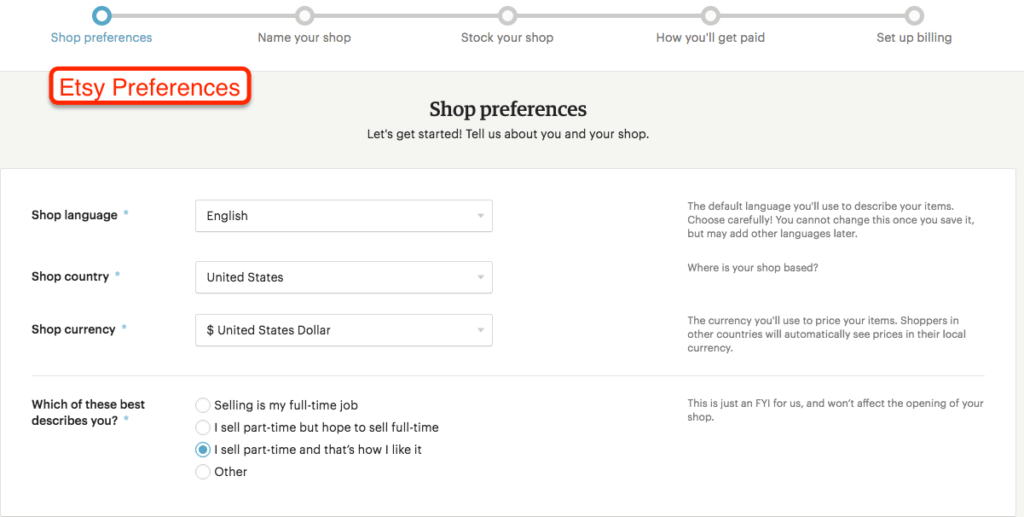 You'll then Name your shop. Pull from the list that you researched earlier.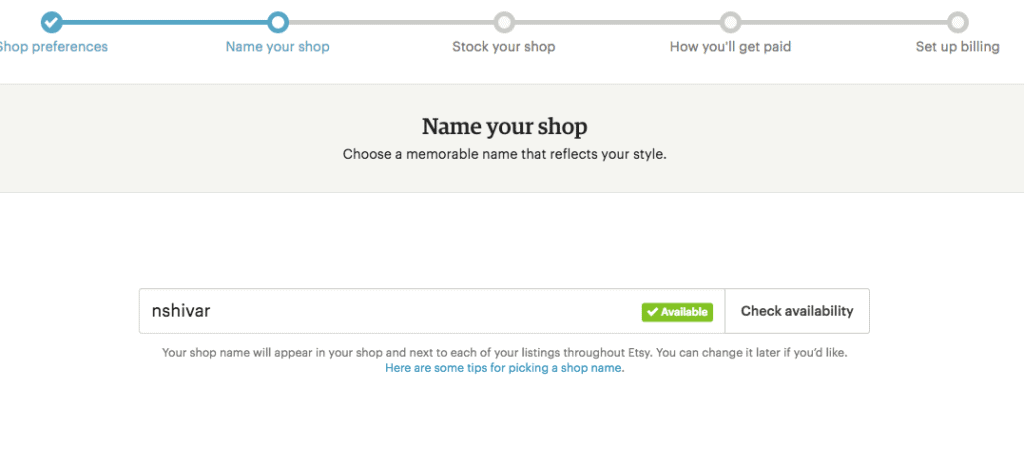 Next you'll need to put up at least one listing. Pull from the list that you put together earlier.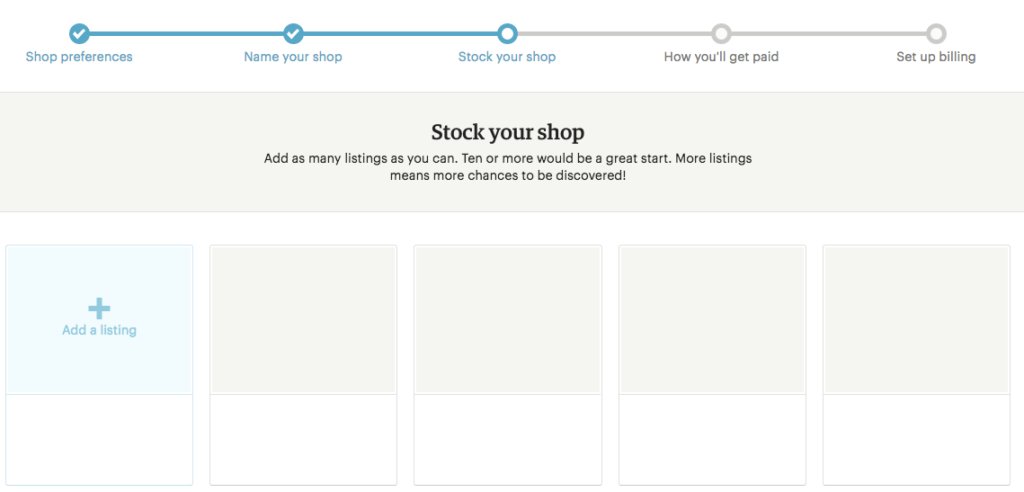 When you go into add a listing, you'll get moved to the listing screen. Fill out all the fields as best as you can. You can edit your listing later.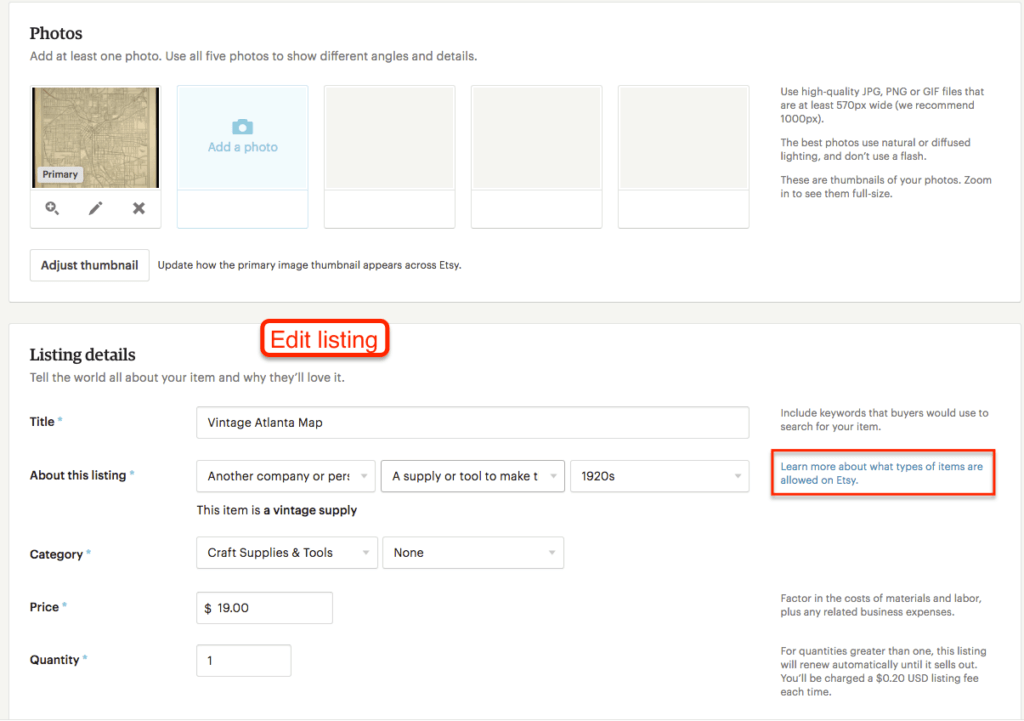 Then you'll enter search terms for your listing – see your earlier research.

After the main listing page, you'll enter in your shipping preferences.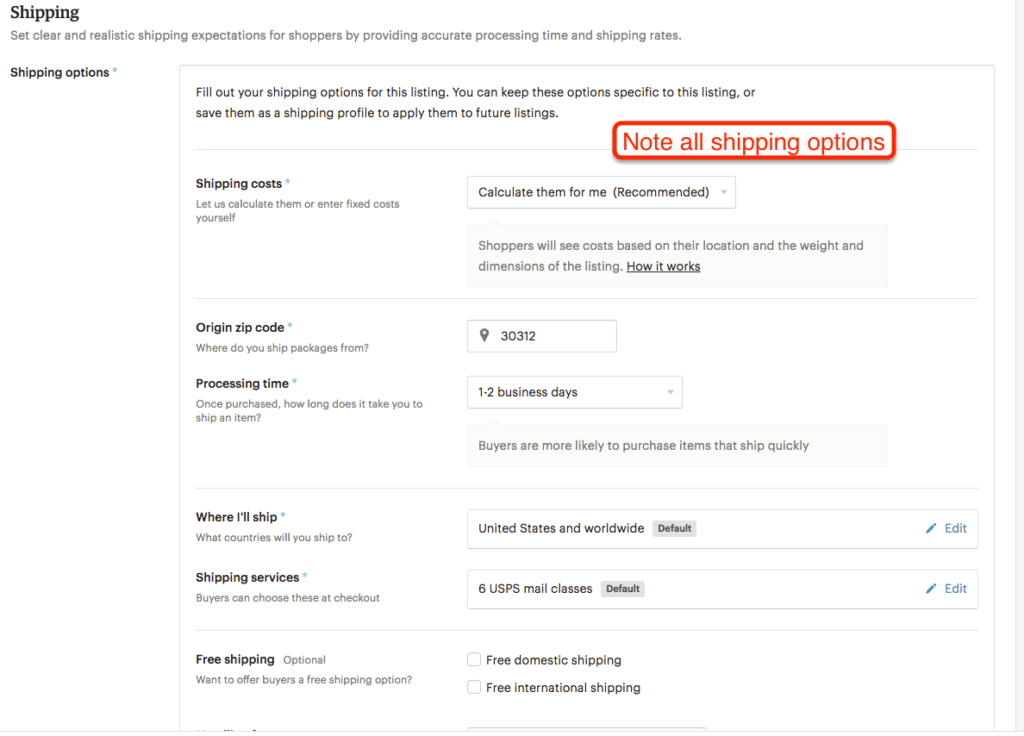 Lastly, you'll enter in your bank (for deposits) and credit card information (for listing payments) then you'll confirm your location and Open your shop!

Listing More Products
Once you've started your shop, you can navigate to your Listings Manager to add, renew and manage your listings.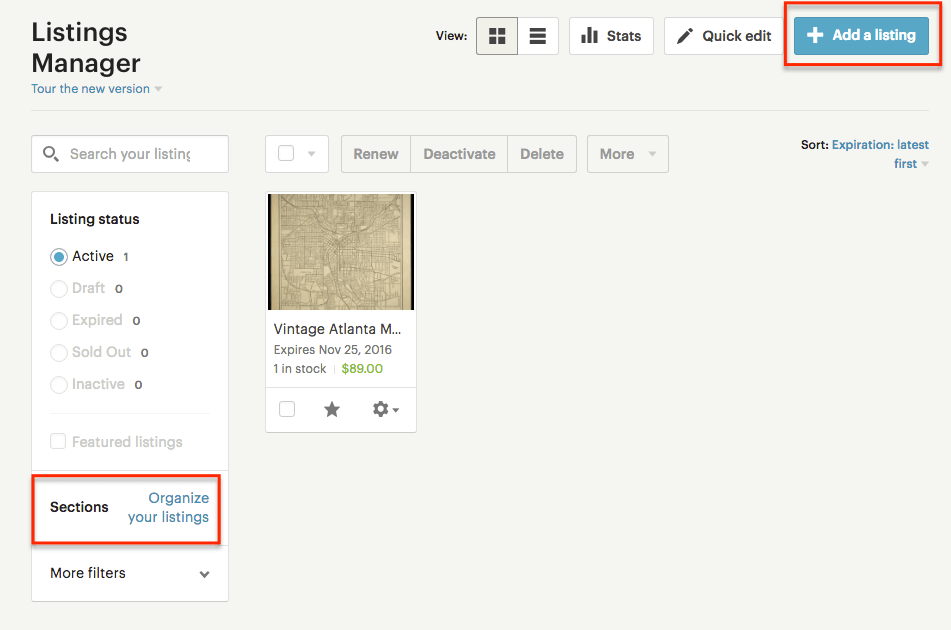 When you are managing your listings – be sure to use Quick Edit and Organize in Sections to save time and help customers sift and sort your products.
Here's Etsy's rules and fees for listings.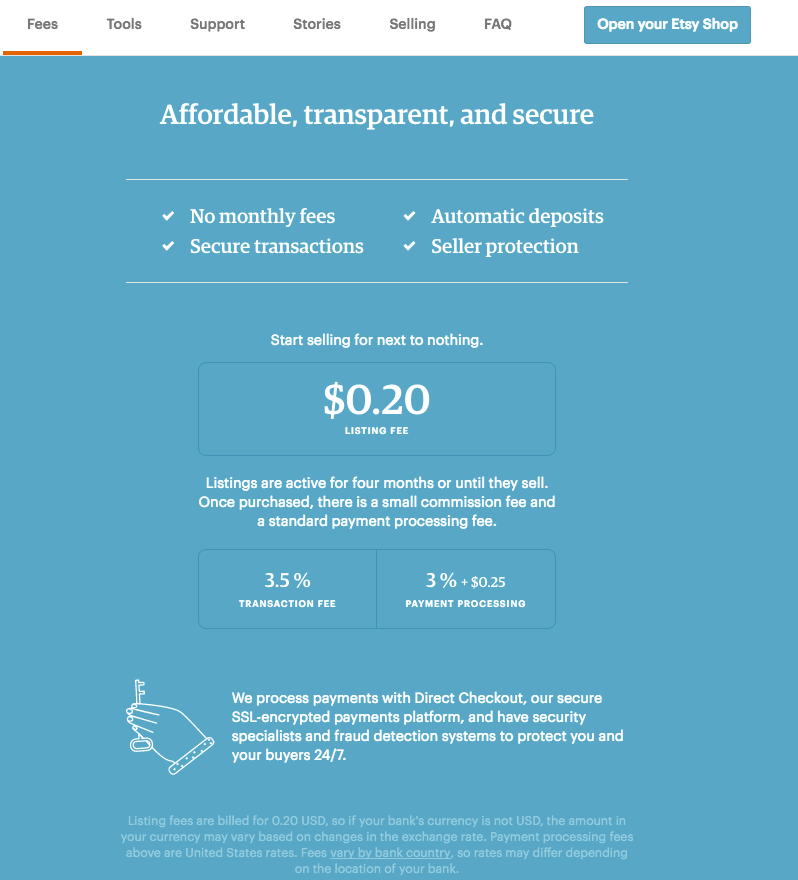 While any single listing is not expensive – dozens or hundreds together can add up since they expire after 4 months. Etsy's model encourages you to focus on your few top sellers with high margins. In the last section, this will be a consideration on whether & how to expand your store.
There's not a lot of room on Etsy for low-volume cross-sell items.
That said – Etsy's Listing Manager does allow you to quickly deactivate, renew or delete items as you decide on your merchandising.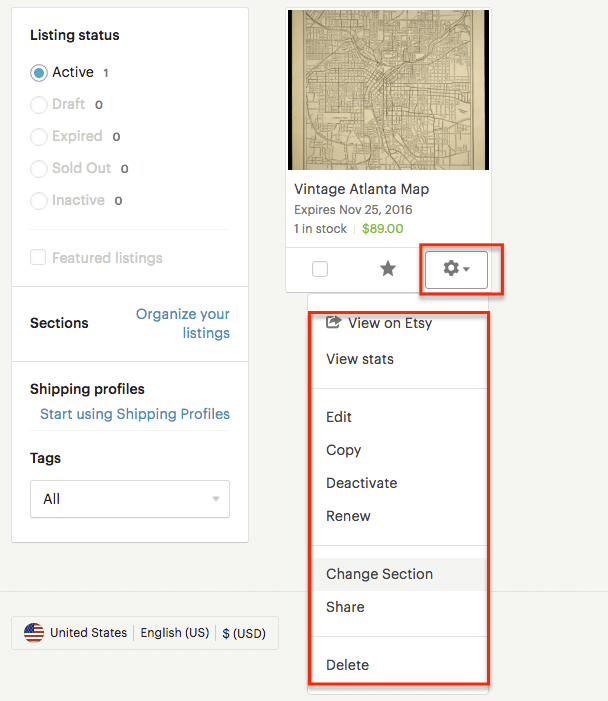 Changing Options & Settings
Compared to your own online store with something like Shopify or WordPress – your Etsy shop has limited options for customization. But that is the point.
Limited options means that you can focus on what matters on Etsy – your products and your service. You can leave the design and functionality to Etsy.
That said – you do have options on Etsy. And the options you do have are worth spending time on.
Start with your homepage –
cover photo – minimum 1200px x 300px
shop title – limited to 55 characters
shop logo – minimum 500px x 500px
featured listings
shop announcement
But don't forget that there are several other sections as you scroll down on your main edit page.
You can start with your main About page. Keep in mind that what you put here is not just to tell people about yourself – but also to increase trust and sell your product.
Keep in mind that many (if not most) shoppers will be scanning on mobile. Avoid low resolution imagery and "blocks of text." Keep videos concise. Add links to your other channels.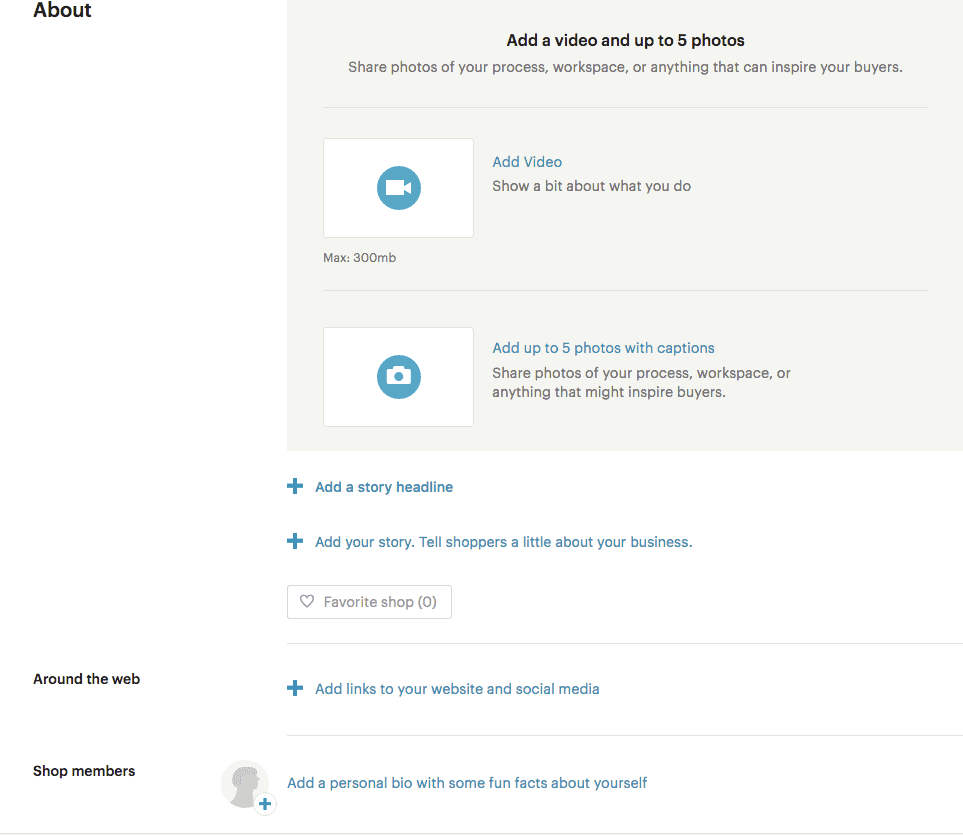 Next is Shop Policies. These are boring but essential for many buyers. Remember a few things when writing your store policies –
Although buyers trust Etsy, they do not know you, your product or your process.
A few extremely clear policies are better than many specific or conditional policies.
Try to look at your policies a new customer – not from your perspective or process.
Don't solve problems that do not exist yet.
Use policies to reassure buyers with a clear process from the moment the click the buy button until the product arrives at their door.
Also keep in mind that policies set expectations which in turn influence reviews. Simply having policies improves your placement in Etsy search, but having good reviews from good expectations helps even more. It all works together.

Lastly is a miscellaneous section for FAQs and European sellers.
With FAQs – remember that this is not a catch-all section. Ideally, you'll answer any product questions in your product listing and shop questions in the policies. Check out my post on FAQ best practices for ideas.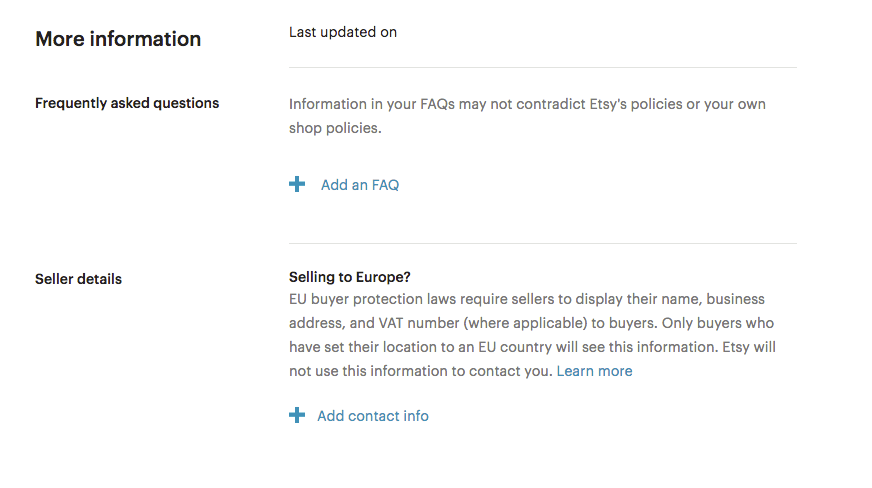 Etsy is always updating their features and tweaking their design. Be sure to occasionally check for new shop settings and options.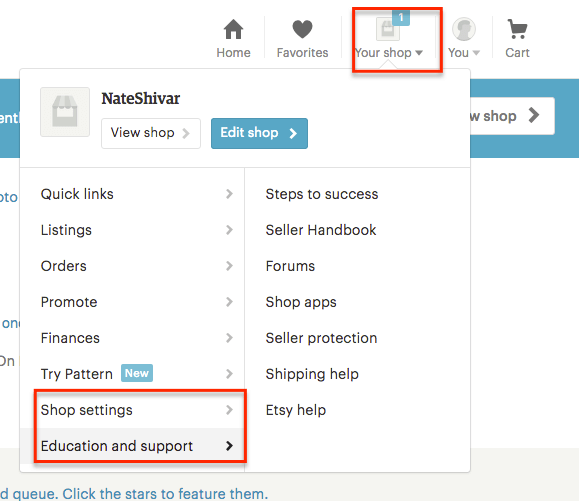 Using Etsy Shop Features
Your Etsy shop comes with more than just a shop. It also allows you to manage orders, view shop analytics, print labels, create coupons and more.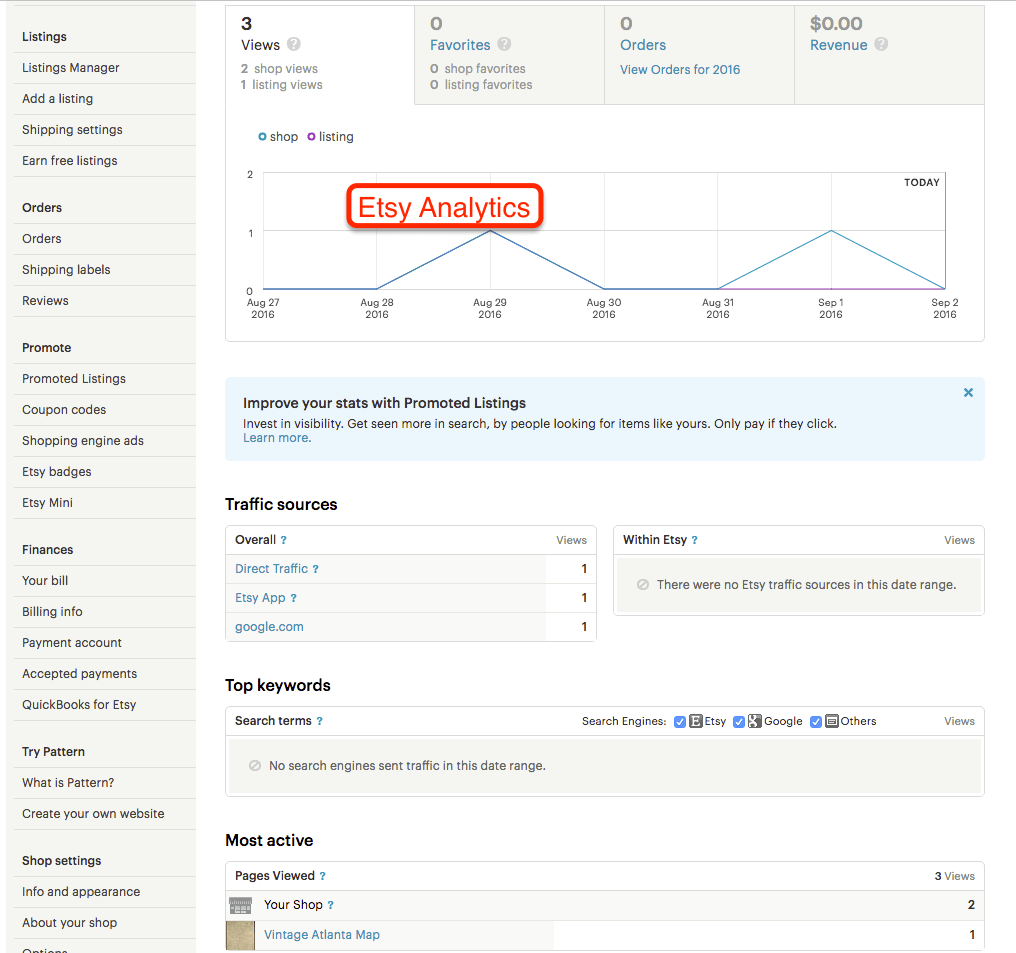 Explaining every feature is beyond this guide's scope – but simply keep in mind that Etsy has features that not every seller will (or should) use – but that doesn't mean they aren't there.
Like using any new tool, success means reading the owner's manual. Take a bit of time to simply click around and read the Seller's Handbook.
But definitely use Etsy Analytics. You'll use it not only for inventory decisions, but also marketing decisions.
And marketing is what we'll turn to next.
Marketing Your Store
Opening your Etsy shop does not guarantee sales. As of 2015 there were 1.4 million active sellers with thousands with more opening every day. And that doesn't even include your competition elsewhere on the Web.
And yet – you also have an instant global market (that is, if you ship internationally) within a click. Your job is to decide who exactly you are selling to and where you can market to get their attention – and the answers to those questions will drive your marketing direction/campaign.
On Etsy
The biggest benefit of Etsy is that they have their own audience of Etsy Shoppers.
In other words, there are more than 20 million customers already shopping Etsy – even if they do not know about your specific store.
It's a bit like getting a stall at a popular farmer's market – people are coming to the destination. You simply have to get their attention once they are there.
On Etsy, you have a few options.
Etsy Search
You can get visits from Etsy searches. Etsy's search engine is very different from general web search engines like Google or Bing. Etsy has their own algorithms and data – they've discussed how they approach search here.
But the rule of thumb is to have descriptive, memorable product titles with detailed, readable descriptions. It means creating listings that you would want to purchase if you were a customer.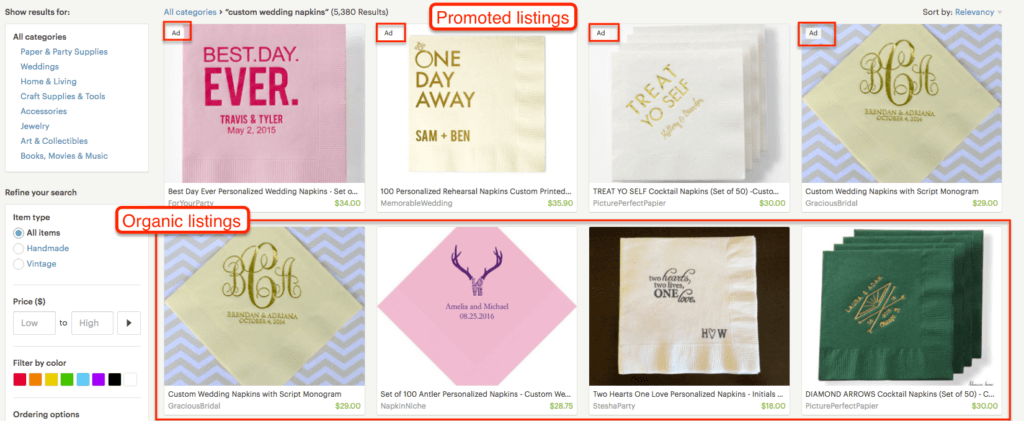 Etsy Promoted Listings
If you are new and/or have a good profit margin – you can always pay to appear in Etsy search results. Keep in mind that paid listings can have additional benefits from traffic & sales.
First, you get data and feedback from customers. In the beginning, this is invaluable. You can use it to improve your products, listings and overall marketing.
Second, you get reviews which can help in Etsy's search engine.
Etsy Affiliates
An affiliate program is a partnership that pays a fee or percentage to someone who drives a sale on your site. They are an excellent way to drive sales (since you only pay your affiliate partner a fee when you actually get a sale). But they can also be tough to set up & police for fraud.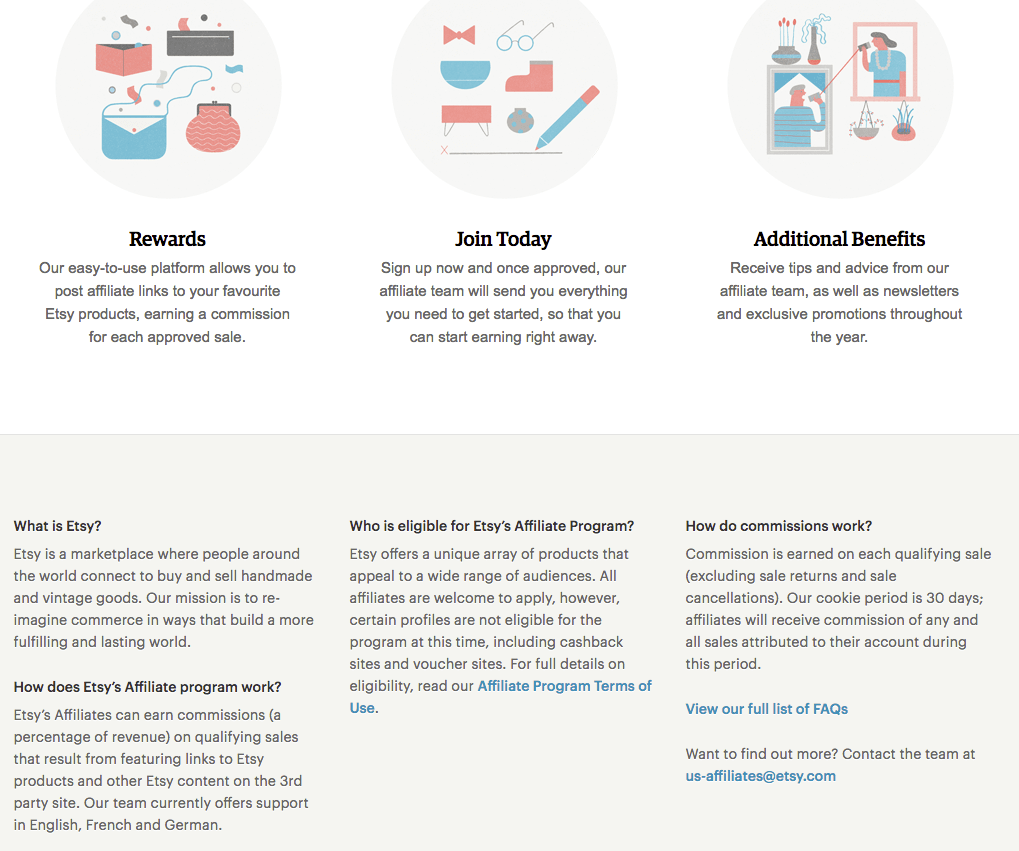 But Etsy has an internal affiliate program that you can opt into. Etsy handles the technical work and you can use the affiliate program to recruit partners – such as niche blogs, sponsorship opportunities, etc.
On Social Channels
Another benefit of using Etsy is that Etsy pages work very well on social platforms.
Pinterest
Pinterest and Etsy are a match made in marketing heaven. Every description you write and photo that you take should work well on Pinterest.
It's also a great place for marketing research and spending on promoted pins.
Here's a great resource on Pinterest marketing.
Facebook
Yes – Facebook is increasingly "pay to play" if you are a business. If you rely solely on your business page's organic likes for sales – you won't get much visibility.
But in a way, that's fine. Facebook offers incredible paid options. You can create extremely targeted audiences and test your ads on a very little budget. And since Etsy is a known brand, you are more likely to drive direct sales than via your website (though you won't be able to run retargeting ads with your Etsy page).
Twitter / Others
There are dozens of niche social networks to market your products. The key is to go where your audience is. And that goes back to deciding who exactly you are selling to.
It might be Wanelo, Polyvore or Instagram. It might be Twitter or Reddit. It all depends on your audience and product.
Other Channels
Once you go beyond Etsy & social networking – you'll need to start thinking about your domain & your long-term brand.
And once you start building your brand via organic search, paid media and PR – you want to make sure that you are building your brand and not Etsy's brand.
You'll want external links to go to your domain. You'll want ads to point to your domain with your own analytics & tags in place. You'll want your PR mention to send people to your website with your experience.
But you don't have to start right way – you can understand and keep these channels in mind while you start your shop and build from there.
I wrote a complete marketing plan for ecommerce here if you want to bookmark it for reference.
Organic Search / SEO
Your Etsy shop will be indexed by Google/Bing. You may get traffic from Google/Bing – but most of it will be "branded" traffic (ie, people searching for you rather than your products).
Because of Etsy's constraints and competition within Etsy, you're unlikely to rank in Google for product terms with volume (ie, "cloth napkins"). And niche terms that you could rank for are likely to have zero volume (ie, "handmade 17th century style napkins").
Either way, it's a large and profitable channel to plan for.
PPC / Paid Media
You can (and should) run small paid campaigns to your Etsy shop. But since you can't add your own analytics or conversion tags to your Etsy shop – you can't (and shouldn't) broaden these campaigns.
Since most ecommerce sales are "multi-touch" (ie, people leave and come back later to purchase) – you should be careful about spending too much on either direct response or awareness ads.
Either way – definitely run test campaigns to get started and plan for larger campaigns.
Referrals / PR
From my Etsy / ecommerce clients – I know that mentions on even small blogs & publications can drive a surprising number of sales. It's a great strategy to start on.
However, one of the biggest long-term benefits of PR mentions are the actual links. Those drive both visibility in Google/Bing and referral traffic long after the post goes live.
Never turn down a good link to your Etsy shop if that's all you have. But don't spend too much time investing in outreach – until you make sure websites can link to your custom domain rather than etsy.com/shop/[your store].
Growing Your Brand Beyond Etsy
Etsy is a great place to start your online store. But what about when you want to grow your own brand?
You may want to go beyond Etsy's marketplace limitations, implement a custom design or just get away from transaction fees.
I covered many of these considerations in my Shopify vs. Etsy post. But in short – here's the typical growth path.
Getting your own domain
Like I mentioned earlier, a custom domain is the foundation of your brand online. You can purchase one from Namecheap or GoDaddy for future use. In fact, you can even set up a "redirect" so that your custom domain can go directly to your Etsy shop in case you aren't ready to think about a full-blown website yet – but you don't want to lose your domain name.

Etsy has a service called Patterns that allows you to connect a custom domain and a more custom storefront. It's $15/mo – but still has limitations on what you can do with it.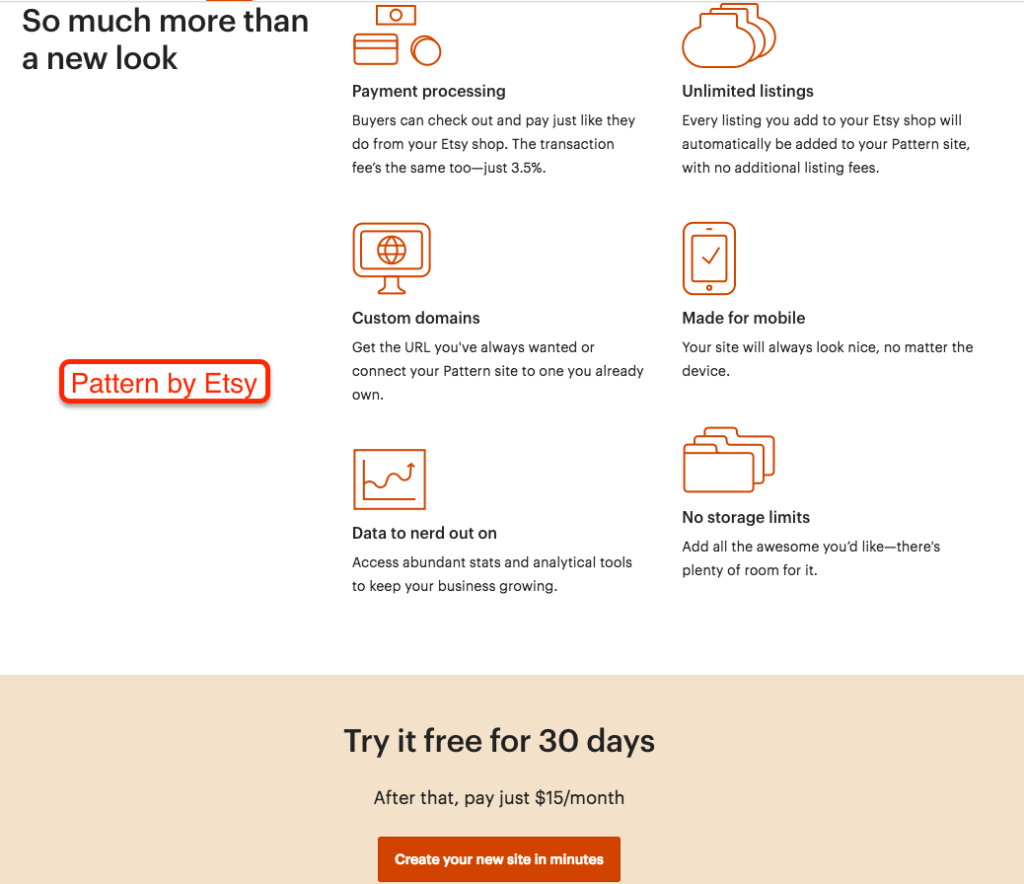 Building a full ecommerce store
Many Etsy sellers launch their own ecommerce store on their own custom domain. They'll keep their Etsy shop – but treat it as a marketing channel to sell to those buyers who are on Etsy.
There are a wide-range of solutions – all of which are out of the scope of this guide. Here are the resources that I've put together –
Expanding other marketing channels
Once you've built your ecommerce store with your own domain name, you'll have a wide-range of options to grow your store. Here are some of the resources that I've put together.
Next Steps
So that's a lot of information – but like any large project that you want to do well, you simply have to tackle it in small chunks.
Start with your brand name and first product.
Set up your Etsy store.
Maximize your Etsy settings.
Get initial sales & feedback.
Begin planning, improving and growing with an eye on your end goals.
Explore Related Etsy Posts