Etsy is an established global marketplace. And it's a great place for anyone to try out a small online business with zero risk and zero commitment.
But unfortunately, Etsy is also a place where many people fail, get discouraged, or never start in the first place.
Many of those problems come from not having the right, profitable Etsy shop idea. It's not enough to have a good idea. You have to have a good idea that other people are interested in.
Sure, many people on Etsy are looking for that certain, unique something.
But you are never going to sell them that certain, unique something unless you have a general idea of what people are looking for.
Problems with a List of Etsy Ideas
There are plenty of ideas for what to sell on Etsy. Even Etsy has a guide.
But they all have problems that make them unhelpful. They are all usually –
Vague – vague ideas are impossible to execute on.
Out-dated – Etsy thrives on trends taht change day to day.
Anecdotal – Anecdotes don't prove anything except the success of a single person.
Untrue – Rumor is a great way to get attention, even if it's untrue.
Not complete – The appearance of success is never quite right.
Copied to death – No one ever got ahead by copying competitors.
This guide to Etsy shop ideas will show you how to research your own list of Etsy shop ideas.
You'll pair your experience, skills, and abilities with real data that pops up around the Internet to find an Etsy shop idea that works for you.
Your goal is to find an idea that is pre-qualified by interest so that you know that success is possible if you get the execution right.
Generating Etsy Shop Ideas
Think of these data sources as gold mines. There will be a lot of dirt. There will be a lot of digging. It's pretty boring. You'll need to gather a lot of ore to get at the gold.
But if you comb every mine systematically, you will likely find a "seam" of gold that you can focus on. All you need is a single nugget.
Ideas from Etsy Search
This data source is simple. Actual, real-time customer searches power Etsy's autosuggest feature.
Use the suggestions to gather interesting ideas. Use these tips to systematically harvest ideas –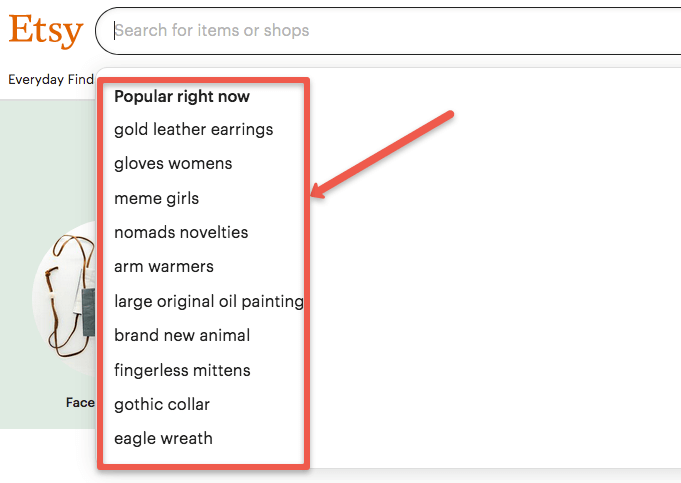 Go through the entire Alphabet. Type "a" and hit space.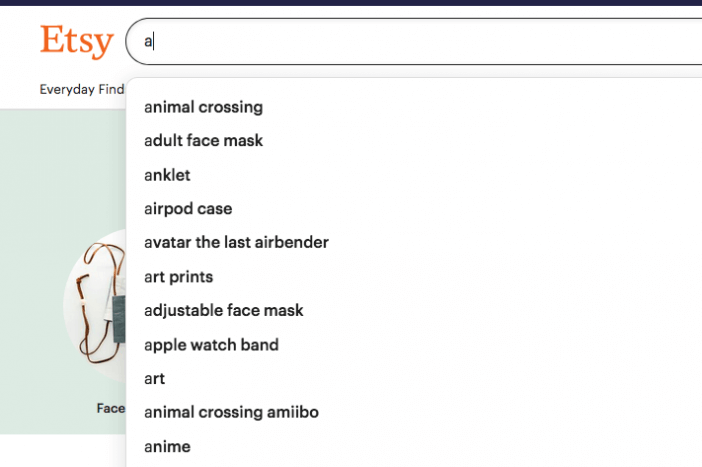 Take the "root" of an interesting idea. Type that in and hit space. If you see COVID masks – try taking just "masks" and seeing what else shows up.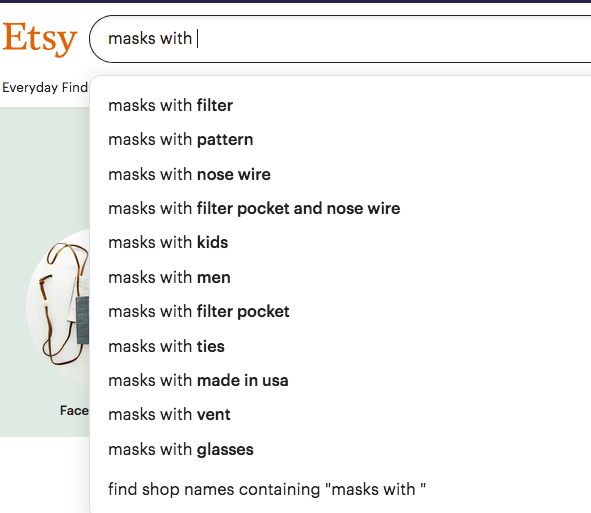 Try the space before and after your root.
Try a space in between a modifier and a root.
Take a common modifier, hit space, and look for interesting roots.
Keep exploring until you get a basket of good ideas.
Ideas from Etsy Categories
The goal here is to find interesting, underserved, or surprisingly popular Etsy categories. Then browse the categories looking for new ideas.
This data source requires a few tools to do right, but you can also do it manually and/or free to quickly check some ideas.
The first way is to browse Etsy's categories in Google's index.
Do a search for site:etsy.com/c/ – you'll get all the category pages that Google has indexed. They are generally listed in order of importance (though not really by popularity). You can also drill down to search subcategories.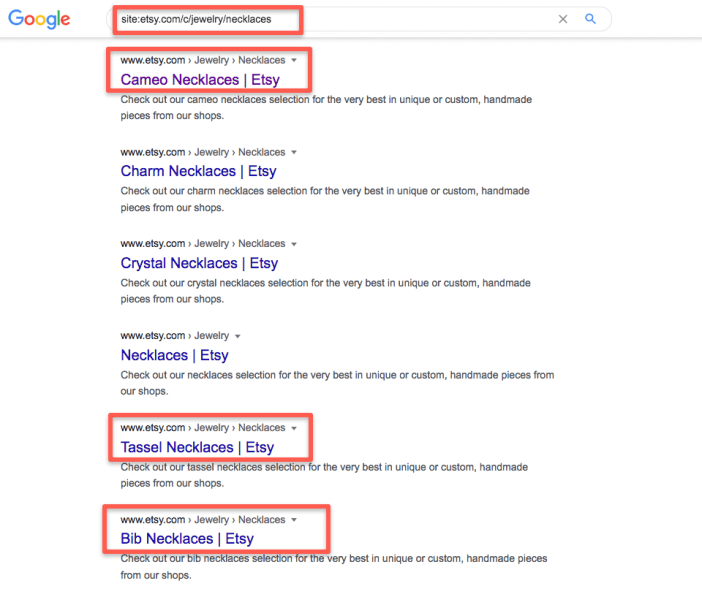 The second way is to look through Etsy's taxonomy sitemaps. Yes, it sounds daunting, but it's really just a much more efficient way of browsing their categories.
Head over to their taxonomy index. Open up, download, and copy all the listed "node" sitemaps. You'll find many buried categories that have interesting product ideas.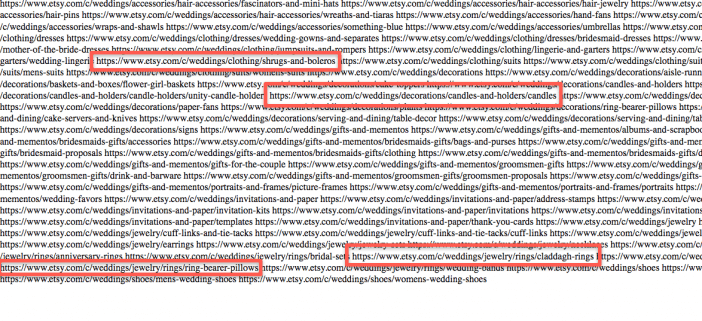 The third way is to use a tool like SEMRush or Mangools to view their top categories. They will show all of the relevant pages plus all the keywords that those pages rank for.
You will absolutely find an interesting idea in this dataset. SEMRush has a free 14 day trial, as does Mangools (which is cheaper long-term), so they'd be best for checking a quick idea. I'll use both for many examples.
Just drop etsy.com/c/ into the Site Explorer and look at the subfolder.

Then look at all the categories and what keywords they drive.
This data shows two things. First, it shows that people are generally interested in these product ideas. Second, it shows that Etsy itself attracts interested buyers directly to that category – so you will be well-placed to get customers if you can show up in that category.
Ideas from Etsy Shops
This source is very similar to Etsy categories…but with individual shops. You are trying to reverse engineer successful shops to see if you can get in on the action – maybe they are attracting customers, but aren't selling the right items.
Since there are so many shops, you will be forced to use SEMRush / Mangools for this tactic. You can absolutely browse their shop sitemap, or check out popular shops – but there's too many of them.
Instead, just drop etsy.com/shop/ into the subfolder search.
You'll see the top performing shops in Google Search (not Etsy search) plus what keywords they are getting traffic with.
Click over on the Shop's "Sold" page and see what they are doing right.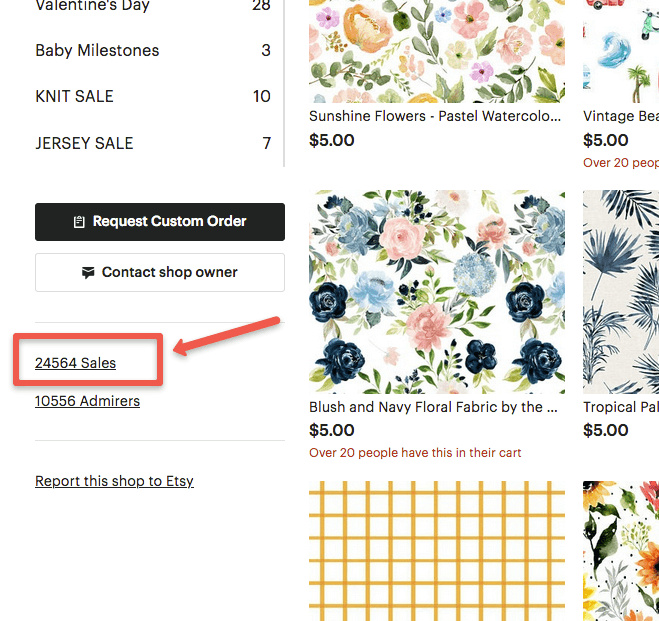 Take those ideas and add them to your collection.
Ideas from Google Autosuggest
Google Autosuggest is a go-to source for website keywords. But it can also work for your Etsy shop.
Remember, your goal is to find interest in a product or product line that you can create and work on. Google will have general interest, so you have to coach it with specific roots and modifiers.
Start the same way that you did with Etsy Search. But instead of doing the Alphabet first, start with broad modifiers so that you can find interesting roots.
The best place to start is with "etsy".
Start typing "etsy" and hit space. Redo it again, but hit space before "etsy".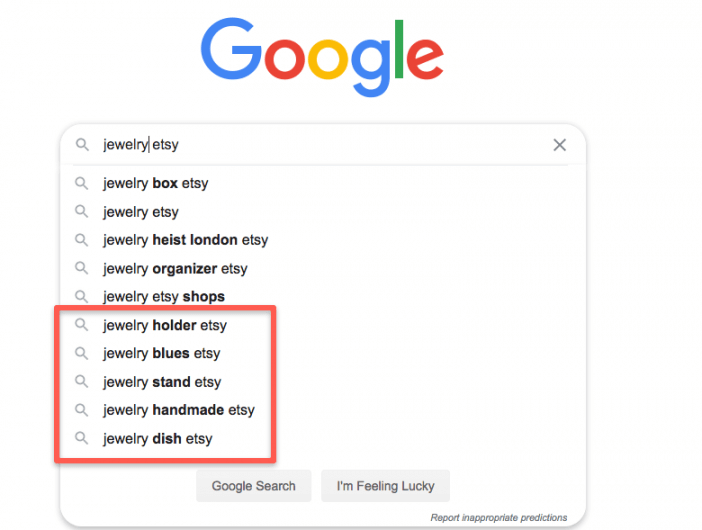 Then process with the Alphabet to find more.
You can then repeat this process with common Etsy modifiers like –
handmade
custom
vintage
supplies
for crafts
for home
unique
artisan
You'll likely find a whole range of ideas to store.
Ideas from Pinterest Search
Pinterest is one of the largest (if not the largest) source of traffic for Etsy shops. Many prospective customers will find you via Pinterest.
Think of Pinterest Search as a blend between Etsy Search and Google Search. It's more focused than Google, but has less "intent" than Etsy (ie, searchers aren't in buying mode).
You'll have to toy around with the roots and modifiers, but the process is the same. Use a series of "Etsy-likely" modifiers to find roots, and then drill down.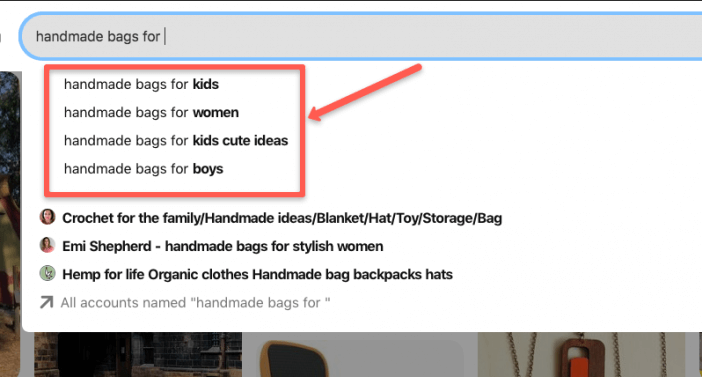 If you see "salt shakers etsy", then you know that the root is interesting. Then take the "salt shakers" root and look for different modifiers. You'll see options like "wood salt shakers", etc.
You can then assume that people would find "wood salt shakers" to be an interesting find on Etsy. Take those ideas and run with them.
Ideas from Pinterest Boards
Pinterest has thousands of public collaboration boards around topics. They are a great place to find unique ideas within a certain topic.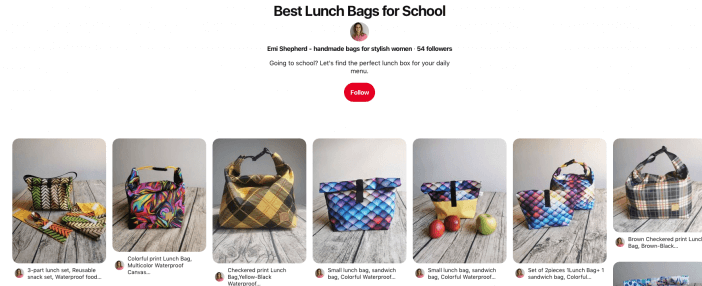 For example, suppose you know you want to make some lunch bags, but have no idea what pieces to make. Find a bunch of Pinterest boards dedicated to lunch bags. Browse for unique ideas that people have pinned, which shows direct interest.
Ideas from Social Shares
Take the general approach from Pinterest boards and apply it to social media. Explore Twitter and Facebook for ideas.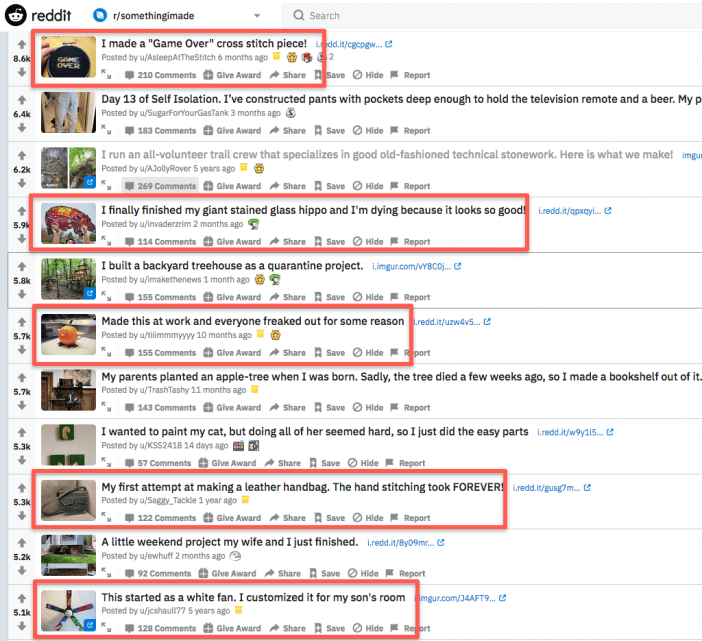 But also look at visual networks like Imgur and Reddit for interesting DIY items.
Ideas from Etsy Competitors
You can also simply go browsing Etsy shops for top selling items within a niche that you are interested in. Every shop has a link to shop top selling items.
Remember the rule of thumb that competition equals demand. If there is little competition, there is likely low demand. Lots of competition means there is a lot of demand. Browse top selling items, check reviews, and see if there is a unique angle that you can put on a top selling item.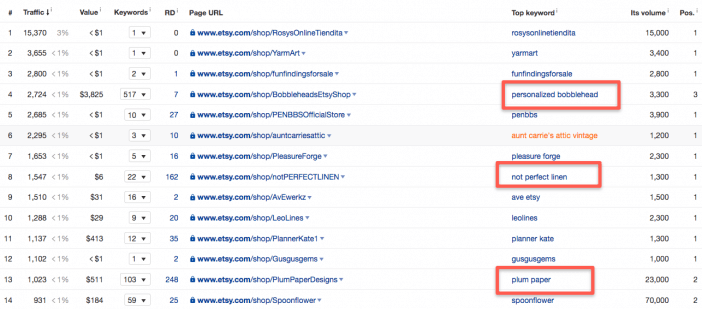 Additionally, you can use a marketing tool like SEMRush or Mangools (mentioned earlier) to see what Etsy shops get traffic from Google in addition to Etsy. Take their Etsy shop URL and drop it into this tool –
You'll be able to see what keywords are driving sales for them. It's safe to say that if they get traffic from Google, there is plenty of demand to support another Etsy shop with similar products.
What's Worth It To Sell on Etsy?
So you have a ton of Etsy shop ideas, but what's actually worth it to sell on Etsy?
Well – that's a very personal question that all depends on your goals, resources, expertise, time, and budget.
The short version is that it depends on what will make enough money to be worth your time & effort. But here are a few rules of thumb that I've gathered from my clients.
Etsy is not a volume retail marketplace. If you are trying to make money selling lots of units, then you are in a losing game.
Each product needs to "pay for itself." In other words, each unit needs to have enough margin to pay for its labor, materials, and profit. Use back-of-the-napkin math to estimate your own numbers.
The only way to "scale" Etsy is with product templates and bulk purchasing. Products that you can prep pre-orders and purchase materials in bulk will give you profit wiggle room.
Never try to beat direct competitors on price. Try to beat them on marketing and value.
Like most businesses, Etsy shops usually fail from a lack of attention. Be sure to build in enough profit margin to allow yourself to get more attention than your competitors. You will never lose on price if you have a customer's attention, and your cheap competition does not.
Products that you are familiar with and use regularly will give you an advantage that can make it worthwhile. In other words, don't sell dog collars if you don't own a bunch of dogs.
What's Easy To Sell on Etsy?
Any product that has paying, discerning customers with mediocre competition can be easy to sell on Etsy. There are plenty of predictable categories with high customer demand – masks, pillowcases, custom name tags, etc. But those also can be commodity items where there's no real difference between you and competition.
Your goal with an Etsy shop is to find a product line with enough competition to show interest. But where the competition is so poor that you can easily beat them with a better product and better marketing.
Next Steps
Starting an Etsy store can be daunting. Even setting Etsy up correctly can be confusing.
But it's also a growing marketplace running multi-million dollar TV ads bringing customers directly to your store. You just need to be positioned to capture those buyers. A lot of effective research before setting up can set you up for success.
Explore Related Etsy Posts