| | |
| --- | --- |
| Plans | Shared, WordPress, VPS & Cloud |
| Data Centers | US, Brazil, India, Lithuania, Netherlands, Singapore & United Kingdom |
| Support | Help Desk, Videos & Knowledge Base |
| Uptime | Excellent (99.99% past 6 months) |
| Guarantees | Uptime & 30-Day |
| Free Migration | |
| Best For | Cheap web hosting |
| Weaknesses | Limited Support & Uneven Performance |
| Promotion | Starting At $1.39/mo |
Who Is Hostinger?
Hostinger is an independent, European web hosting company that has grown rapidly in just over a decade. They are also the parent company of the 000Webhost, Niagahoster, and Weblink brands. In 2017, Hostinger reported 29 million users.
Like most hosting companies, Hostinger also provides email, a website builder, and various complementary services with 24-hour support and a 30-day money-back guarantee.
I've had several readers email to ask my opinion about Hostinger, so I decided to give them a shot for a small project.
Here's my Hostinger review — structured with pros & cons based on my experience as a customer.
Hostinger Plans
| Plan | Single | Premium | Business |
| --- | --- | --- | --- |
| Initial Price* | $1.39/mo. | $2.59/mo. | $3.99/mo. |
| Renewal Price | $2.99/mo. | $5.99/mo. | $8.99/mo. |
| Websites | 1 | 100 | 100 |
| Storage | 30 GB | 100 GB | 200 GB |
| Bandwidth/month | unmetered | unmetered | unmetered |
| Free Domain Name | | 1 year | 1 year |
| Free SSL | | | |
| CDN | | | |
| Dedicated IP | | | |
| Daily Backups | | | |
* Pricing per month for a 48-month subscription
Hostinger Alternatives
Out of the most well-known web hosts that I've used as a customer or consultant, here's how Hostinger compares directly to each.


Bluehost Review
Rating

9.5/10

Uptime Guarantee

No

Free Migration

Yes

Promotion


InMotion Hosting Review
Rating

9.0/10

Uptime Guarantee

No

Free Migration

No

Promotion


HostGator Review
Rating

9.0/10

Uptime Guarantee

Yes

Free Migration

Yes

Promotion
Hostinger vs. GoDaddy
GoDaddy is the industry brand name, even though they are primarily a domain registrar, not a hosting company. They're much improved as a web host since 2013, but their only real selling point is their deeply discounted introductory pricing. And on that point – Hostinger competes head-on with them – but GoDaddy provides more features. Between GoDaddy and Hostinger, I would choose GoDaddy.
Hostinger vs. Bluehost
Like HostGator, Bluehost is another larger competitor. They are one of the biggest brands in hosting. They used to (pre-2015) have a very similar pricing setup to Hostinger but with better support. However, Bluehost has changed up its plans and moved "upmarket." On raw pricing and basic features, Hostinger is a better choice.
Bluehost is good if you're looking for higher quality, better options, and better branding.
Hostinger vs. HostGator
Hostinger and HostGator have some key differences. HostGator is a much larger organization and operates out of Endurance's Houston and Utah data centers. They have very affordable upfront pricing, but Hostinger is cheaper.
But pricing aside, HostGator has more features and support channels. Most site owners would like HostGator better. I run most personal projects on HostGator.
Hostinger vs. Siteground
SiteGround is one of the fastest-growing independent hosting providers. They operate out of Bulgaria with regional data centers and have similar data center reach. If you want similar features at a very cheap price, Hostinger is for you.
If you can pay a bit more, SiteGround is a much, more established company with better performance and more support channels.
Hostinger vs. InMotion Hosting
InMotion Hosting is one of the largest and fastest-growing hosting providers. They offer the full spectrum of hosting services. This website uses a VPS server from InMotion Hosting. They're more expensive than Hostinger's pricing specials, but offer a much better product on every consideration.
InMotion also has a brand called Web Hosting Hub that offers entry-level shared hosting plans. They are more expensive than Hostinger but provide a much better product and more options inside their plans.
Pros Of Hostinger
There are a lot of Hostinger reviews online – usually with user-generated reviews based on anecdotes and personal experience. That's fine but I take a different approach. As I've said in other hosting reviews, there is no such thing as a "best" web host. The "best" is the right fit for your project based on your goals, budget, experience & expertise. Here are the pros (advantages) for considering Hostinger.
Excellent Onboarding
When you're using a piece of software, there's always that point where you wonder, "Okay… what's next?"
There's a certain amount of education needed, especially if you're a new user. This is known as onboarding – AKA the process of getting a new user set up and using the software they've just signed up for.
Hostinger has an amazing onboarding process. There was never a moment where we had to wonder what we were supposed to do next.
In fact, the entire process is laid out step-by-step.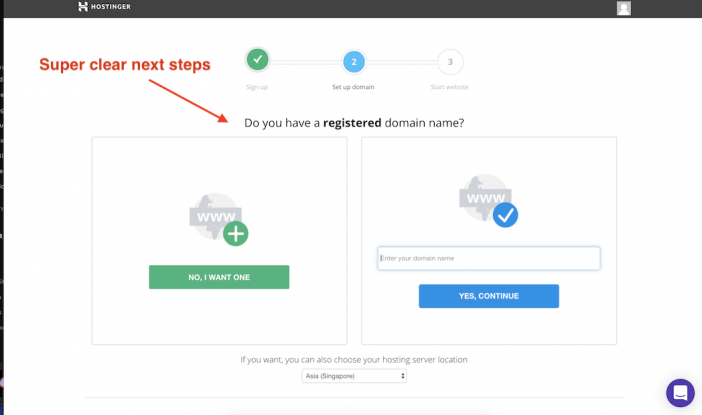 They even build in educational content for users who may be new to creating a website and are unsure of certain terms:

For website owners who are new to hosting, this step-by-step process and additional information is extremely helpful throughout the sign up. It's helpful without being overwhelming or "sales-y", and helps ensure you actually finish the set-up process.
Competitive Pricing
At first glance, Hostinger's pricing looks pretty hard to beat. Their pricing is their claim to fame in the hosting industry.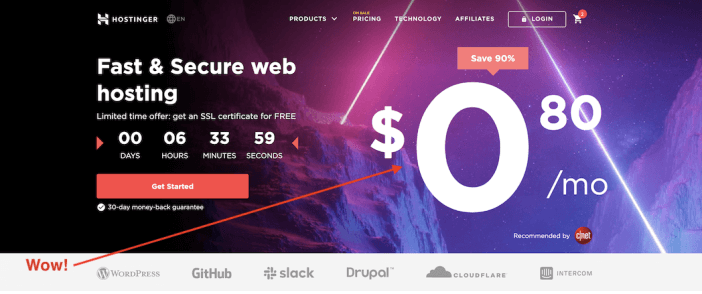 Granted, this super-cheap pricing comes with some strings attached. When you look at the full pricing structure, you actually on lock in their advertised rates if you commit to a 48-month plan (and renewals are almost double).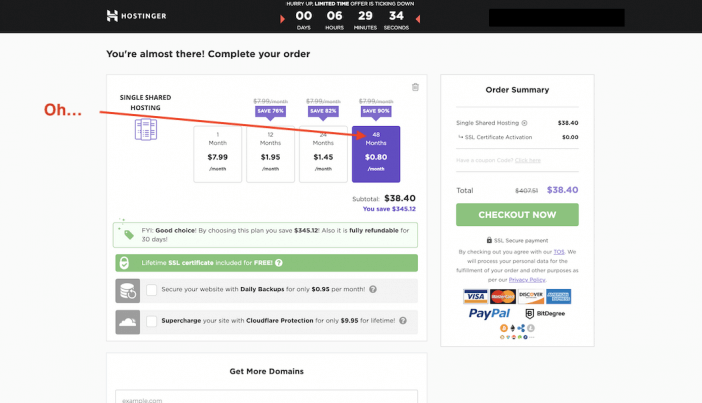 But still… less than $40 for two years of hosting is incredible. They also offer a full refund within your first 30-days, and there aren't any hidden fees or surprises (like set-up fees, etc.)*.
*There are some missing essential extras though that I'll cover in the cons.
While pricing definitely isn't the only factor to consider when choosing your hosting company, if you're looking for a company you can try out but ultimately want to commit to for the long-term, Hostinger isn't a bad option.
Multiple Data Centers
Another pro of Hostinger is that they offer multiple server locations, allowing website owners to choose the closest location to their customers, so their website can load faster.

Hostinger is on par with other brand names (like SiteGround) that maintain data centers in these regions. If you have customers in Europe or Asia, this is a huge pro. If you're just looking to serve those in the US, then it probably doesn't matter much to you.
Cons Of Hostinger
Like any web host, Hostinger has disadvantages. There are plenty of Hostinger complaints to be found online. Plenty is valid, and some are simply anecdotal. Here are the cons that I found while using Hostinger for hosting.
Inconsistent Performance
In addition to hosting your website files, a good hosting server will also deliver those files as quickly as possible every time a visitor goes to your domain name address.
There are a lot of variables that go into how fast your website is. You can have the fastest server in the world and still have an incredibly slow website due to issues on your end. But either way, you want to have a hosting server that is fast so that you can work on your side of the equation.
One of the best measurements for approximating performance is TTFB or Time to First Byte. Again, I know that network engineers throw a lot of asterisks here and if you know *exactly* what type of website you are running – you can absolutely ask for detailed allocated specs. My goal with my hosting reviews is to provide a narrative of tradeoffs so that you can make the call for your website.
But here's how their data center performed with my website when I first set it up on a clean WordPress install –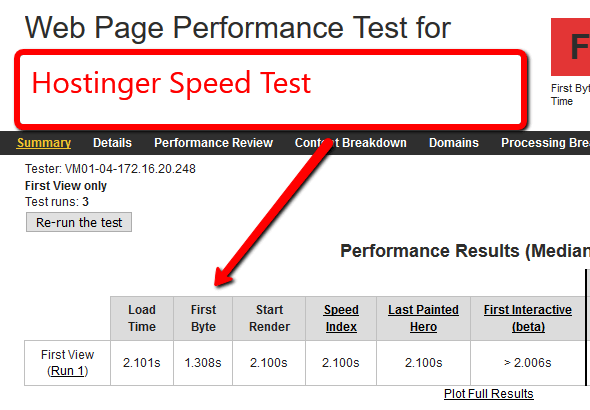 1.308s for TTFB isn't horrendous…but it's not good at all. In fact, I'd usually dismiss that score as a mis-test for a well-known hosting company.
But what I found was that more than anything, Hostinger's tests simply varied wildly. I double-checked my sites' number and got inconsistent results. And then I checked a reader's site in Australia and got this –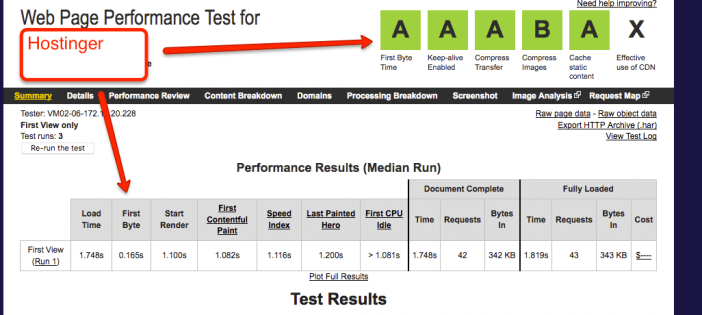 Their default memory allocations were great. And if you are going to be serving lots of images directly from your website, then their SSD drives are plus – but they seem to have quite a few configurations that are off for brand new users.
So Hostinger is not the best performer, but it's not the worst either. If anything, I found them to be inconsistent, which I'll list as a con – but is more of something to be aware of.
Limited Disk Space
Web hosting companies are all selling the same thing – a physical home for your website connected to the Internet – but they all have different plans with different caps, different bonuses, and different renewal prices.
For most, figuring out their true value requires a breakdown into different parts.
To compare "apples to apples" among hosting companies, I break things down into Core hosting features and Bonus hosting features.
Core hosting features are the "3 D's" – domains, databases and disk space. The core purpose of a hosting server is to serve website files when someone types in your domain name.
Domains are how many domain names you can point to your hosting account. If you want multiple websites, you'll want to have multiple domains allowed. You'll also need to look at email addresses per domain – sometimes those are capped as well.
Databases are how many pieces of website software you can run on your hosting server. A WordPress install requires one database. If you have any apps, Listservs, etc – you'll need more.
Disk space is how many files you can put on your server – images, text, PDFs, etc.
Other features could include anything from website builder software to advertising credits to backend software, etc.
One of Hostinger's cons is its plan limitations — specifically its caps across disk space.
With their Single Plan, you're limited to one website and domain and 10GB of disk space. If you have one small website, this isn't a huge problem. But if you want to scale (or if you are in an image-heavy category like beauty or travel), it can be limiting.
Hostinger also limits disk space on their mid-tier and higher-tier plan, too.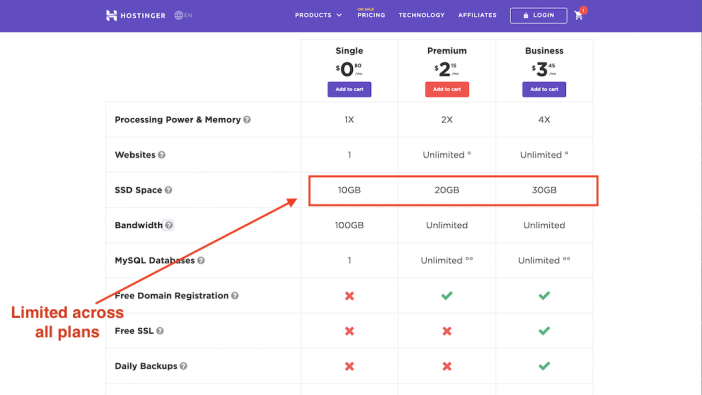 Again, if you're planning on creating a smaller site (AKA you won't have much need for disk space to store images, files, etc.), then this isn't a huge problem for you. But if you're looking to add advanced functionality to your site — like PDF downloads on an educational website — or store a ton of images (like a beauty website) you're going to want to make sure your hosting plan has the capacity to handle it.
Limited Customer Service
As I've mentioned in the best web hosting review article, declaring that a company provides amazing or horrible customer service to every single customer is impossible. It's hard to know as a single customer if you are dealing with the one amazing or the one horrible employee or if it's the general culture of a company.
I have limited experience with customer service at Hostinger, but here's what I do know: they are available 24/7/365, but only via chat.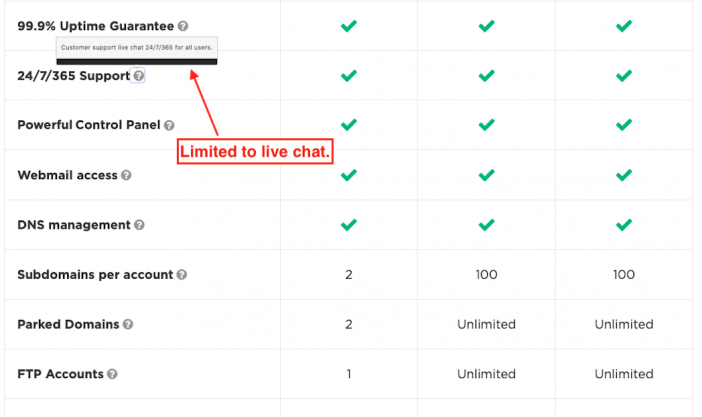 There's no email or phone support, and compared to competitors, those lack of channels hurt them. Even with their "Priority Support" add-on, you don't have the ability to hop on the phone with a REAL, LIVE person.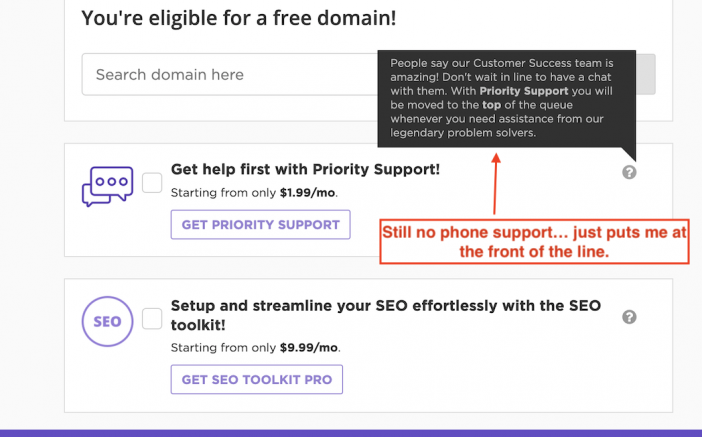 This is one of those things that doesn't matter until it does… and then it really matters (i.e. if your site were to go down and you needed immediate assistance). It's not a deal-breaker, but it is a pretty big con.
Limited Essential Extras
There are lots of extras in web hosting that while they are technically not necessary, are all but necessary to run a safe & secure website in a world of constant cyberattacks and automated hacking.
While most hosting companies are moving towards bundling basic security extras, Hostinger charges for them individually.
Backups are a paid feature and they oddly charge for a basic LetsEncrypt SSL that you can get for free on your own. The contrast is especially sharp against companies like InMotion Hosting that bundle brand-name Comodo SSLs and backups with plans.
As mentioned before, Hostinger charges for Priority Support. On its own, that's not odd. But what is odd is that you don't get any additional channels. And the price is 4x what you are paying for your actual hosting.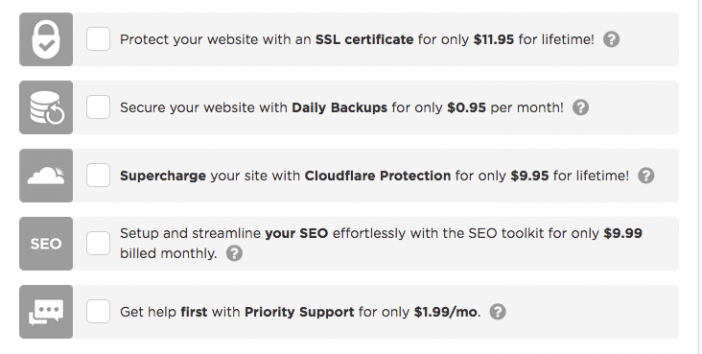 All in all, their upcharges are not a huge deal if you simply factor them in your your total price (which would still beat a lot of competitors). But it does remind me of those super-cheap budget airlines like RyanAir or Spirit Airlines who sell you a cheap ticket but then charge at the last minute for things like overhead bin space, tray tables, and other assumed basics.
Company Reputation
Every company has growing pains. And no company should be held to its past sins forever. Nobody hesitates to buy Tylenol or Ford cars. However, I do think that customers should be aware of past happenings to make an all-around decision.
While the Hostinger brand is pretty clean, the company Hostinger has quite a history of growth at any costs and corner-cutting. They had a massive customer hack in 2015.
That in and of itself isn't super-noteworthy. But for a hosting company, the shortcuts that came to light were pretty eye-brow raising.
Across customer forums, they have had some notoriety for inconsistent performance.
And on a purely personal note, their marketing team ignored my requests for more than 18 months for them to stop regularly bulk emailing me.
I understand fast growth and they do seem to have professionalized their approach recently. But if you have an important, long-term project to commit to an established hosting provider, then Hostinger does not fit that bill.
Conclusion
Overall, I found Hostinger hosting to be good for what they are. If you have a small website, they'll do just fine and they're inexpensive. And if you are ex-US, they'll be a solid option with data centers closer to your audience.
If pricing is your main consideration, and you don't mind the plan limitations, Hostinger is the right web host for you.
If you are looking for an affordable shared hosting company with almost as intro pricing, better long-term pricing, and a much better product, then go check out InMotion Hosting.
You can also check out HostGator if you want the option to pay monthly or iPage if you want extreme discounts.
If you are more confused than ever – then read my best WordPress hosting or best web hosting article.