| | |
| --- | --- |
| Support | Help Desk, Chat, Videos, Phone & Knowledge Base |
| Uptime | Excellent (100% past 6 months) |
| Guarantees | Uptime & 30-Day |
| Free Migration | |
| Best For | Small Business Owners |
| Strengths | Solid Pricing, Performance & Support |
| Weaknesses | Missing bonuses competing services offer |
| Promotion | 30% Off Select Plans |
HostPapa is a small, independent web hosting provider based in Toronto, Canada. They offer an array of hosting services, from shared hosting to VPS servers, with a focus on small business owners rather than bloggers or solopreneurs.
Many users appreciate its smaller size, but does that put HostPapa at a disadvantage when compared to larger web hosting providers, like Bluehost or HostGator?
In this HostPapa Review, I'll cover everything from pricing to key features to pros and cons and let you know whether HostPapa is worth considering for your small business website.
What Is HostPapa?
HostPapa is an independent provider of web hosting services, domain names, website builders, web design, and email services.
When it comes to hosting, HostPapa offers shared and VPS hosting, along with custom products such as WordPress and Reseller hosting.
Is HostPapa Legit?
Founded in 2006, HostPapa is a legit web hosting company. In fact, HostPapa prides itself in being one of the few growing, stable hosting companies not owned by a large web services holding company (i.e., GoDaddy or Newfold Digital) that also has the resources and expertise to power websites for businesses, organizations, and long-term projects.
Like most hosting companies, HostPapa also provides email, a website builder, and various complementary services with 24-hour support and a 30-day money-back guarantee.
What Is HostPapa Used for?
HostPapa has a specific marketing focus on small businesses. In fact, it's right in their website tagline: "Smart website solutions for small businesses."
However, as I've stated in all my hosting reviews, finding a good web hosting service is about finding the right fit based on your goals & resources.
Let's take a closer look at what HostPapa has to offer, starting with their pricing plans.
HostPapa Pricing
HostPapa has a wide spectrum of hosting plans. Here's a brief overview of each.
Web Hosting Plans
Web hosting, also known as shared hosting, is a cost-effective and reliable way to run most websites. Learn more about shared hosting in this guide. HostPapa's shared hosting plans are divided into the following three tiers.
Note that the pricing listed below is based on
| Plan | Start | Plus | Pro | Ultra |
| --- | --- | --- | --- | --- |
| Initial Price* | $8.95/mo. | $10.95/mo. | $10.95/mo. | $17.95/mo. |
| Renewal Price | $16.99/mo. | $22.99/mo. | $29.99/mo. | $45.99/mo. |
| Websites | 1 | 10 | unlimited | unlimited |
| Storage | 100 GB | 100 GB | unlimited | unlimited |
| Bandwidth/month | unmetered | unmetered | unmetered | unmetered |
| Free Domain Name | 1 year | 1 year | 1 year | 1 year |
| Free SSL | | | | |
| CDN | | | | |
| Dedicated IP | | | | |
| Daily Backups | | | | |
* Pricing per month for a 1-month subscription
WordPress Hosting Plan
Even though WordPress can run on shared hosting, many hosting companies have separate WordPress hosting plans due to customer demand and the hardware demands of WordPress. Many hosting companies' "WordPress hosting" is exactly the same as their shared hosting.
HostPapa is like this to a degree. Their WordPress plans are just shared web hosting plans with WordPress auto-installed, but the price is the same. No harm, no foul – and a decent deal. Many web hosts charge more for WordPress hosting, even when it's the same as their shared hosting.
If you are looking for a host that specializes in WordPress, you may want to check out my best WordPress hosting article.
VPS Hosting Plans
VPS hosting is a great way to get a specific allocation of server resources without having to lease an entire server. Even though your website lives on the same server as other sites, you have total control over a set amount of resources. Learn more about VPS hosting in this guide. HostPapa has several very competitively priced VPS plans that offer managed and unmanaged options.
Reseller Hosting Plan
Reseller hosting can be a shared, VPS, or dedicated server plan with 3rd party billing and management enabled. Reseller hosting allows anyone to basically start their own hosting company without actually starting a hosting company. It's a great way for agencies to get recurring revenue and provide extra value for clients, and HostPapa has a range of reseller hosting products. You can read more about Reseller hosting in this guide.
Email Hosting Plan
HostPapa has its own email hosting plan for businesses that don't want to use Google or Microsoft's productivity suite. It's a great way to save money while maintaining an @company domain email address. See their email plans here.
Website Builder Plan
HostPapa has its own template-driven website builder, which comes bundled with the purchase of a hosting plan. You get many of the same benefits of hosted website builders like Wix, Weebly, WordPress.com, or Jimdo, but on a server that you control. Learn more about HostPapa's website builder here.
HostPapa Alternatives


SiteGround Review
Rating

8.5/10

Uptime Guarantee

Yes

Free Migration

No

Promotion


Hostinger Review
Rating

8.0/10

Uptime Guarantee

Yes

Free Migration

Yes

Promotion


Bluehost Review
Rating

9.5/10

Uptime Guarantee

No

Free Migration

Yes

Promotion
Pros of HostPapa
There's a lot to like about HostPapa, but the web host has a frew drawbacks, too. What you'll need to decide is whether HostPapa's strengths align with your website goals. After all, there's no such thing as a "best" web host.
As I've said in my best web hosting article, the best web host is the one that fits your goals, budget, experience, and expertise. With that in mind, here is my list of HostPapa pros and cons.
Introductory Pricing & Transparency
HostPapa's primary advantage is its low introductory pricing and straightforward service plans.
Web hosting companies are all selling the same thing – a home for your website – but they all have different service plans with different caps, bonuses, and renewal prices.
HostPapa has four pricing tiers: Start, Plus, Pro, and Ultra.
If you commit to a three-year term, the monthly pricing is very low, ranging between $2.95 and $12.95 per month. While HostPapa's renewal prices are significantly higher, their introductory pricing is comparable to industry leaders like Bluehost.
Start limits you to 1 website and 100GB of storage – plenty if you are running a small site with only a few images. For unlimited websites and storage, you'll need to pony up for the Pro plan. At the time of this writing, HostPapa is offering Pro at the same price as Plus, at $5.95 per month, a fantastic value. Note that it is a limited-time offer.
Ultra, HostPapa's top-tier plan, includes the same features as Pro but adds free backups and domain privacy as long as you're on that plan. All plans include a free domain for a year and a free SSL certificate.
For both short-term and long-term pricing, all HostPapa's plans are comparable with other shared hosting providers. That's because every hosting company has similar business models with similar costs, infrastructure, etc.
HostPapa is fairly clear about the higher level of resources dedicated to their servers and the "higher-touch" level of service that they promise. To keep their end of the bargain – I'd expect prices to be right where they're at.
HostPapa's intro pricing is a strong selling point – especially when looking at overall value and short-term discounts.
Independence & Ownership
HostPapa is a privately-owned independent hosting company. That's a rarity in a world where a handful of large corporations own nearly all hosting brands.
Being private & independent is not necessarily a good thing, and being owned by a large corporation is not necessarily a bad thing.
Independent companies don't always have the capital to make long-term improvements. They might not have the expertise to run a world-class service. However, they are usually "closer to the customer" – and willing to make changes for the better of everyone rather than the bottom line.
Big corporations have the capital and expertise to run a world-class service, but they may also view departments (like customer service) as a cost and customers as an entry on a spreadsheet.
Some people prefer local, independent companies. I don't care either way most of the time.
However, the hosting industry is notoriously consolidated. Even on the enterprise end, it's basically Amazon and… maybe Google. On the shared/small business end, Newfold Digital and GoDaddy both own a shocking number of brands. Some are run well, and some are run poorly.
Either way, I think that diversity and competition are good things to have in the hosting industry. To that point, I like to see a growing, independent company like HostPapa.
I wouldn't choose them solely on their independence, but I do think it's a solid pro in their column.
In addition, I like how they include small touches of transparency, such as the Network Status page, where you can get 24/7 updates on their service.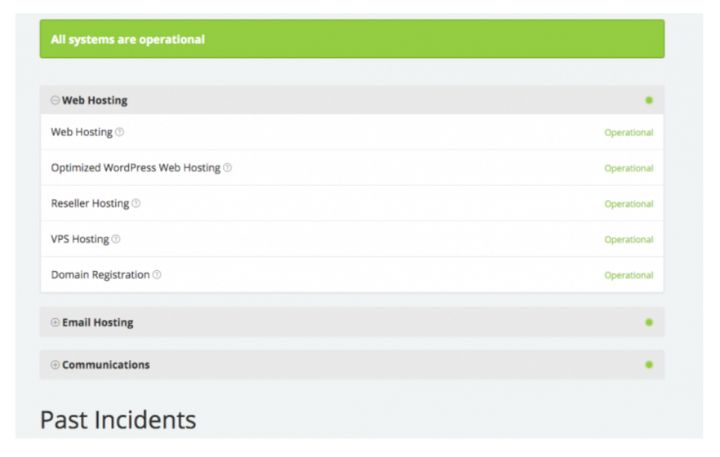 Customer Service
Customer support is notoriously hard to judge. It's hard to know what is really going on behind the scenes and whether a company will be helpful when *you* contact them.
Regardless of the industry, so many online reviews are either naively positive or over-the-top negative experiences. You never know if you are reading about a one-off or a true trend.
Instead of relying on reviews, I believe you should look for indicators of whether a company treats customer service as a cost or an investment. In other words, are they trying to keep costs down to maximize profit for the short term, or are they trying to develop happy, long-term customers?
The two best indicators I've found are the number of support channels and investment in DIY customer support.
HostPapa performs well on both accounts.
For availability, they offer phone, chat, email, and social support. My wait time with their chat support team was only a couple of minutes. HostPapa also does multilingual support, which is rare to see.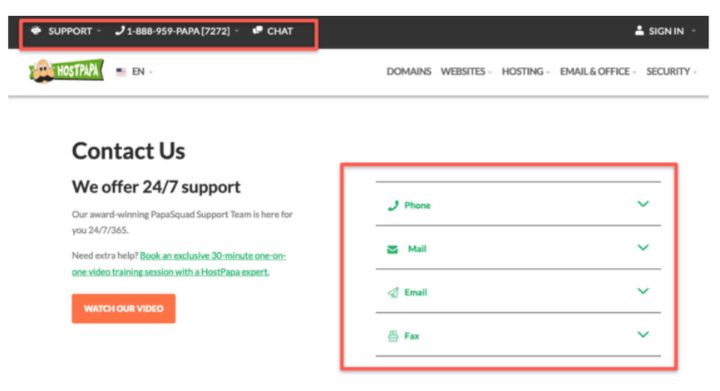 As far as DIY customer support resources, they have a good knowledge base and auto-translate features to serve different languages. Though you can do that with Google Translate, I think that indicates a level of investment and thought.
They also have a good selection of video tutorials, which show a level of investment in their customer support infrastructure.
HostPapa's customer support seems pretty good, especially compared to other entry-level providers.
Comprehensive Hosting Services & Extras
In addition to web hosting, HostPapa provides a suite of high-quality complimentary services. Most web hosts provide things like domains, email, design services, etc.
But HostPapa provides those services at a higher level, in my opinion.
For example, they don't just sell domains – they are a domain registrar (rather than reseller) – so they have a bigger selection of domain TLDs and better pricing than other hosting companies. They are a great place for domain registration.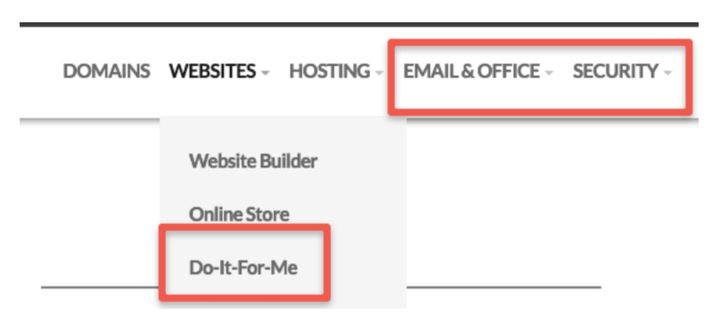 The same goes for email and design services – and specialized hosting services. HostPapa offers VPS hosting for any resource-hungry business website in addition to a better-than-most WordPress Hosting product.
Improved Onboarding & Usability
When I first launched my small project with HostPapa years ago, I had a ton of issues with their onboarding (i.e., going from signing up to using the service) process. It was really quite frustrating.
However, when I revisited the service a few months ago, they had improved the flow, transparency, and software for their checkout and setup process. It's the constant improvement that is always good to see at a hosting company.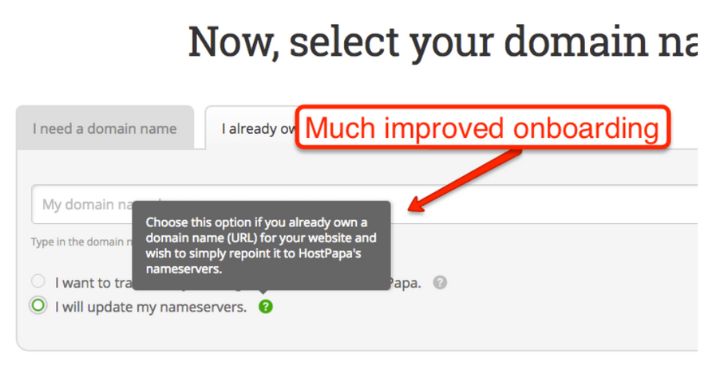 They have lots of small touches that make the signup and setup process much easier. While it's not the absolute best that I've seen (SiteGround or InMotion Hosting, or Bluehost share that title) – it's trending in the right direction. You can tell that they have resources dedicated to the project, which is great because they're able to implement the newest onboarding practices.
HostPapa is very focused on its target market (despite some of its claims). Small businesses are their wheelhouse – so things like email hosting and transfers are integrated right into the checkout and setup process.
Hosting Performance
I always point out that the core job of a web host is to serve website files when someone types in your domain name – but most agree that there's a missing adverb. It should be "to serve website files quickly."
While server speed is not the only factor in overall website speed, it is an important factor. After all, no matter how fast you compress or speed up your website, you can only go as fast as your server can respond.
Measuring server speed and response time is a complicated issue. Only the network engineers at HostPapa can definitively say what's going on with server speed. But anyone can get a general idea of server performance.
The measurement is called Time To First Byte (TTFB) – it shows how quickly a server delivers the first byte of information after it receives a request.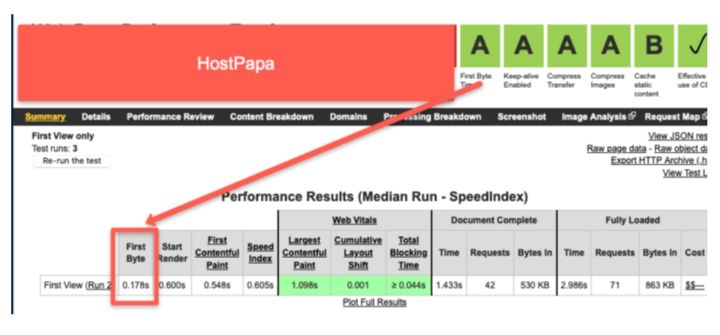 As you can see – not only is HostPapa doing fine – I can tell you that they've improved over the years. That's good to see, especially with solid growth over those same years.
Now, TTFB is best measured as a trend. That trend is good – but a ton depends on how you manage your website and how they continue to manage their servers & critical vendors.
HostPapa's uptime guarantee is solid, with high rates of uptime and few incidents, according to their Network Status page.
Every hosting company has issues with downtime. Even YouTube and Amazon have experienced outages in the past. HostPapa does well with infrastructure transparency and basic speed tests, so I'll put them in the "pro" column for performance.
Cons of HostPapa
Like any web host, HostPapa has drawbacks. You can find plenty of HostPapa complaints around the Internet. Some are valid, and some are simply anecdotal. Here are the main problems I encountered while using HostPapa for hosting.
Feature Pricing
As I mentioned in the pros section – HostPapa is competitive based on value pricing. But not everyone needs higher value for higher pricing. Sometimes, you need a website to fit within a budget. Or sometimes, you are looking for the best price for a certain set of features.
I've had clients in the former bucket – and I have projects in the latter bucket. For example – I have had several microsites that needed a shared hosting plan that has enough databases and domains to host them all while providing just enough memory to handle predictable, consistent traffic – for a low price.
If you are in those two buckets – HostPapa might not be for you. Their mid and low-tier plans are usually heavily discounted – but only for a 3-year commitment. At renewal, their shared hosting plans become very pricey.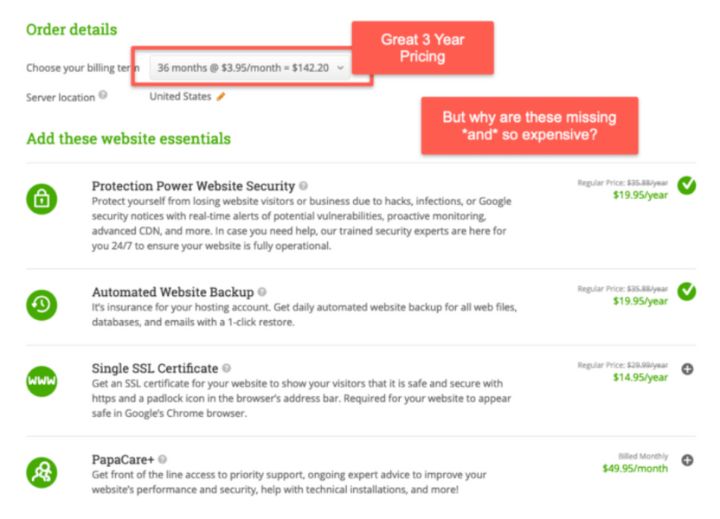 Also, features like SiteLock and Automated Backups are not bundled in the price, which adds to the cost per feature.
The same goes if you start to look at the number of websites, databases, etc., per price. HostPapa isn't super-expensive, but they also aren't the best deal out there. If you have a limited budget or are not sure about the length of your project, then they will likely be more than you want to pay.
Overstated Marketing & International Presence
The core goal of marketing is to take the thing you are good at, decide what audience it's good for, and then figure out a way to reach them. All three parts must come together for everyone to be happy – especially the "thing you are good at" part.
HostPapa has decidedly good hosting options for North American small businesses, but they do a lot of marketing to countries outside of North America. They also make a lot of overstated claims.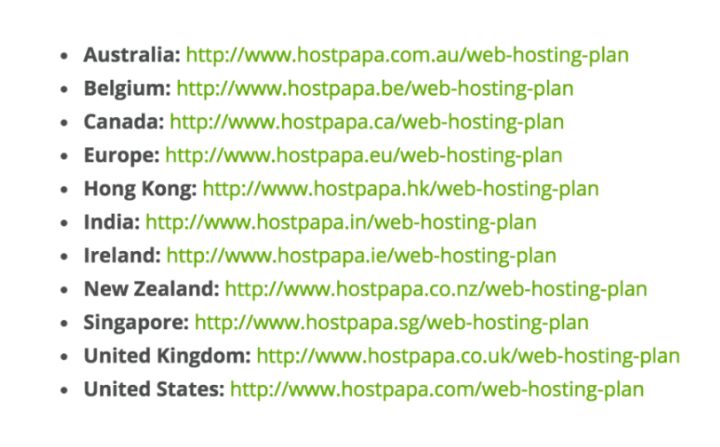 That's fine if they were truly the best fit for customers in those countries.
In some ways, they are. HostPapa does multilingual customer support. They accept payment in different currencies. They are a great fit for many international customers.
However, from everything that I can find (including running geolocation on Singapore websites), they still serve all customers out of their Toronto, Canada, data center.
I think it's misleading to advertise "best hosting for [country]" if your closest data center is 10,000 miles away from your target customers. Go right ahead and make claims – I do think they are great for global websites operated out of specific countries. Just make the caveat clear.
Compared to other providers like SiteGround, who offer data centers around the world, or hosts like InMotion, who at least provide bi-coastal data centers – I think it says something about HostPapa's internal culture that they are specifically targeting markets that they aren't a good fit for.
If someone from the UK, India, Australia, or elsewhere is looking for a web host, they might really like HostPapa, and the data center distance might be less of a factor than customer service (they might have a global audience or low traffic), but in that case, HostPapa is a competing hosting company, not a hosting company for [insert country].
This same fact goes with a lot of their marketing – they do fine providing transparency to clarify a lot of claims…but they still make the claims over and over.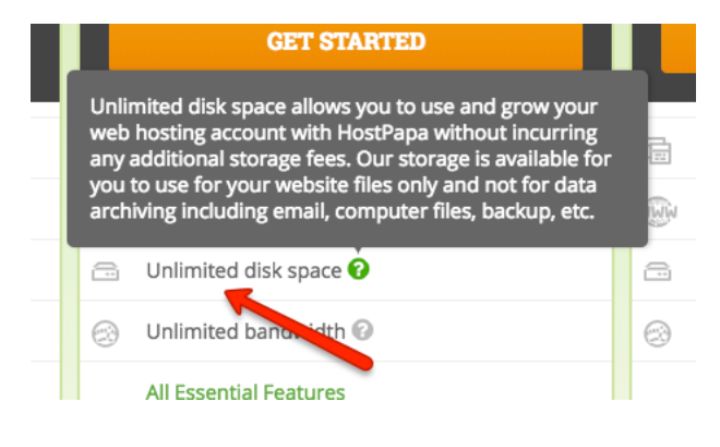 I see this as a disadvantage because, like customer service indicators, I think it says something about their internal culture. I would rather see them under-promise and over-deliver. I know that, as a marketer myself, that's not always possible. But from the customer's side – it's still important to know.
Missing Features
While HostPapa has a fairly complete feature set for each plan, they do exclude some bonus features.
First, their money-back guarantee is a bit short. HostPapa does 30 days. But competitors like HostGator do 45 days. And independent competitors like DreamHost, InMotion Hosting, and Web Hosting Hub all do at least 90-day money-back guarantees.
Second, they don't include any automated backups in the Start or Plus plans. It's a $29.99 per year upsell. Most hosting companies have some sort of automatic backup included – even if it's a setup like HostGator's, where they do automated weekly backups, and you pay for a restore.
No matter who you use, you should always do backups yourself. But it's good to have your hosting company do a backup of your backup, just in case. With HostPapa, paying more for backups is something else to add on and make sure you take care of.
Is HostPapa Worth It?
Overall, I found HostPapa to be a solid small business host. In an industry increasingly dominated by just a couple of mega-corporations, it's refreshing to find a great independent hosting company with a good product. You can check out HostPapa's current promo.

If you are looking for an independent shared hosting company with similar pricing, better performance, and customer support, and you have a bit more budget, then I recommend checking out InMotion Hosting.
If you are looking for a very affordable option with the option to pay monthly, check out HostGator.
If you are still unsure – then check out my article on the best web hosting services.
FAQs