| | |
| --- | --- |
| Support | Help Desk, Forum, Knowledge Base & Social Media |
| Uptime | Excellent (100% past 6 months) |
| Guarantees | Uptime & 97-Day |
| Free Migration | |
| Best For | Small Businesses & Web Designers |
| Strengths | Low Cost & Decent Performance |
| Weaknesses | Small Business Support |
| Promotion | Shared Web Hosting Starting At $2.59/mo |
What Is DreamHost?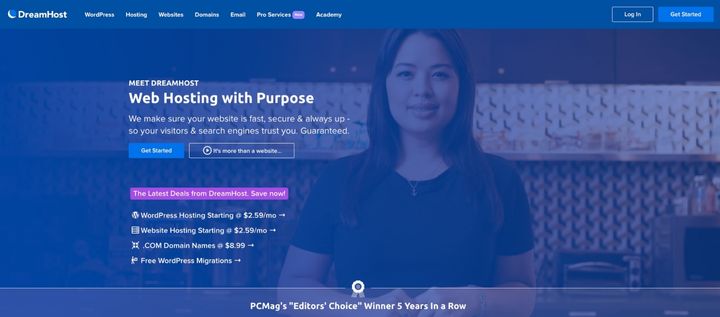 DreamHost is one of the largest and most established hosting companies online. They have been operating since 1997 (positively ancient by digital standards) and have grown to serve more than 1.5 million websites and 400,000 customers across the globe.
They are independent and employee-owned, not another Newfold Digital or GoDaddy brand. They are also one of the longest supporters of open source and community-built software, i.e., WordPress, etc.)
DreamHost offers a full spectrum of hosting solutions from Shared (most common) to VPS to Cloud – and even a specialized WordPress offering along with complementary services like email and domain management.
But being older and employee-owned doesn't mean they are the best fit for everyone. While moving one of my side projects off an old HostGator VPS, I decided to try DreamHost's shared hosting plan.
Based on that experience, here's my DreamHost Hosting review – structured with the pros, cons, and direct comparisons to competitors.
DreamHost Pricing
Shared Hosting Plans
| Plan | Shared Starter | Shared Unlimited |
| --- | --- | --- |
| Initial Price* | $2.59/mo. | $3.95/mo. |
| Renewal Price | $5.99/mo. | $10.99/mo. |
| Websites | 1 | unlimited |
| Storage | 50 GB | unlimited |
| Bandwidth/month | unmetered | unmetered |
| Free Domain Name | 1 year | 1 year |
| Free SSL | | |
| CDN | | |
| Dedicated IP | | |
| Daily Backups | | |
* Pricing per month for a 36-month subscription
Managed WordPress Plans
| Plan | DreamPress | DreamPress Plus | DreamPress Pro |
| --- | --- | --- | --- |
| Price* | $16.95/mo. | $24.95/mo. | $71.95/mo. |
| Websites | 1 | 1 | 1 |
| Storage | 30 GB | 60 GB | 120 GB |
| Visitors/month | 100,000 | 300,000 | 1,000,000 |
| Free Domain Name | 1 year | 1 year | 1 year |
| Free SSL | | | |
| CDN | | | |
| Dedicated IP | | | |
| Daily Backups | | | |
* Pricing per month for a 12-month subscription
Pros of DreamHost
As I always mention in hosting reviews, there is no such thing as a "best" web host. It's all about finding the best fit for your project based on your goals, budget, experience & expertise. With that in mind, here is my list of DreamHost pros.
Simple Pricing Structure
Dreamhost offers two plans at a clear price based on how many years you sign up for. There are no tiers or upgrades. One has only one website & no email included. The other has unlimited websites, and email included.
Their pricing is affordable and very competitive. There is also no deep discount bait and switch (for better or worse) where you get the first year for super cheap and renew at a very high price.
Dreamhost's unlimited plan offers unlimited databases, disk space, email accounts, and websites (*all subject to an abuse policy). You don't have to worry about migrating or facing sticker shock at renewal if you are in charge of multiple websites.
If you only have a single site and use Google Workspace for email, then the Starter variant saves you money while keeping access to all the same features.
Core & Developer Feature Set
DreamHost provides users unlimited access to the "core" feature set, which is on par with any good web host.
the ability to point your domain to a server
the storage of website files on a server
the installation of a database/software to manage your website
Unless you are running your email through a service like Google Apps or Outlook, hosting should also provide email functionality, and DreamHost provides the full core features set with no caps. DreamHost also provides a solid assortment of more advanced functionality – like full CGI access, raw server logs, cron jobs, and a subversion repository.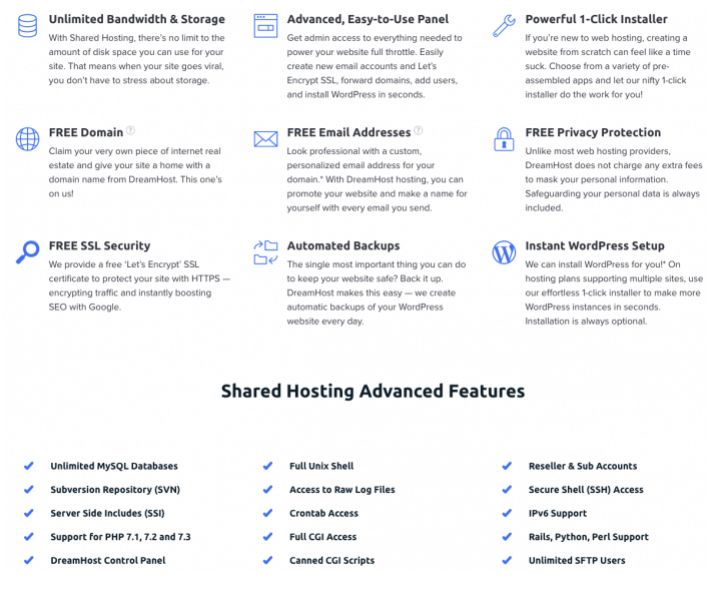 Dreamhost allocates a solid default memory allocation to your account, and all shared hosting servers are located on SSD hard drives instead of traditional spinning hard drives. These should, in theory, create better long-term performance.
Hosting Services Tailored to WordPress
DreamHost's Managed WordPress Hosting service includes WordPress-specific features, such as isolated databases on VPS servers and Varnish caching. Not all web hosts do.
Some hosting brands simply use the term "WordPress Hosting" to charge more for shared hosting, which is adequate for most all websites running on WordPress.
DreamHost, along with competitors like InMotion Hosting, SiteGround, and WP Engine provide managed hosting services tailored to WordPress.
In addition, DreamHost offers traditional upgrades to VPS and Dedicated servers (think upgrading to a townhome or a house from an apartment) for growing websites and cloud hosting for app developers.
Overall, DreamHost's feature set and spectrum of services are a big advantage for them.
Customer Support & Transparency
Every hosting company claims to provide stellar customer service. And every prospective customer wonders if they really do – or just say they do.
One way to gauge a company's service levels is by looking at how they handle public portions of their customer service and how much they invest in customer support infrastructure (i.e., user guides, onboarding, knowledgebases, etc.) Both can give you a decent idea of whether the company treats customer service as an investment or a cost.
Overall, I've been impressed with DreamHost's customer support.
Their onboarding process is plain but useful. They have a solid knowledge base, forums, and user guides.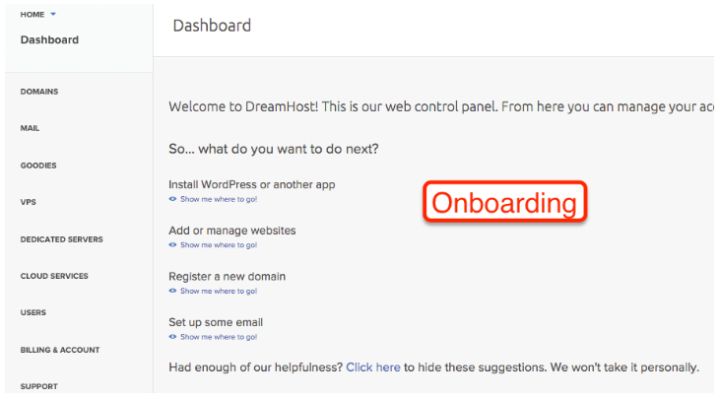 And even though they do not have phone support (see the cons section), their in-house team is available 24/7 via live chat, email, and Twitter.
DreamHost also has a separate DreamHost status website that keeps running updates on critical issues, downtime, and system updates. It allows DreamHost to be responsive and transparent with customers whenever something does happen.

Website Performance
In addition to hosting your website, you want a host to deliver your website files to whoever requests them as quickly as possible.
Like with customer support, website speed has many variables that affect performance. There are often dozens of ways to improve your website's performance. But your host will always be the primary variable in the equation.
To measure performance, I like to check the Time To First Byte (TTFB). It lets me know how quickly the server returns the first byte of information after it receives a request from a browser. In other words, it's server turnaround time.
It's not the only way to look at a web host's performance, but it's an easy way to get a ballpark estimate. A few years ago, my tests on DreamHost had decent performance. Here's a screenshot of the result: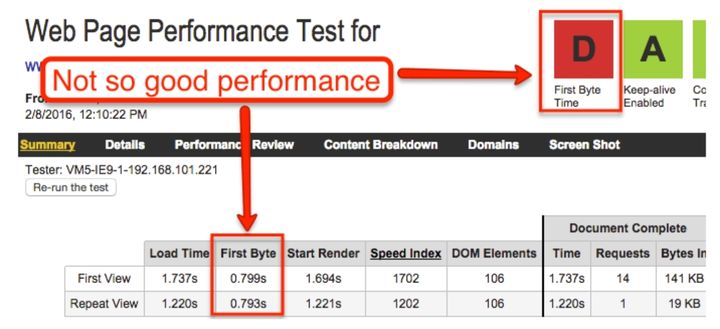 Their performance was better than cut-rate hosts like GoDaddy or iPage, but nowhere near hosts like InMotion Hosting or HostGator. The results were odd, given that DreamHost touts their new SSD servers.
After a couple of years, however, I ran my tests again on a selection of DreamHost websites. Here are the much-improved results: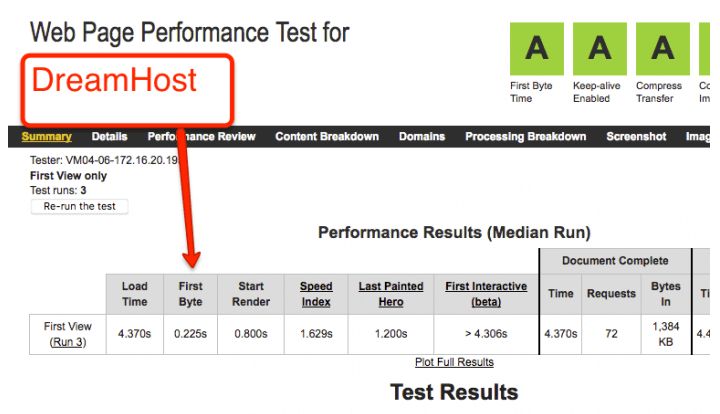 Most important, Dreamhost's numbers are continually moving in the right direction.
Independently Owned
Being independent is not always a good thing, but given DreamHost's stability and longevity, I think being independent and employee-owned is a solid advantage. Many brands owned by large corporations (i.e., iPage) are focused on cost-cutting. DreamHost has repeatedly reinvested in its team and customers.
Like their independent competitors such as InMotion Hosting and SiteGround, DreamHost seems to be a better company with a better product than many large corporate-owned hosting brands.
Cons of DreamHost
Like any web host, DreamHost has disadvantages. Here are the drawbacks I discovered while using DreamHost for hosting.
They Don't Offer Deep Discounts
DreamHost's shared hosting plan is simple and competitive, but it doesn't provide deep short-term discounts for new customers.
It means that despite offering simple, transparent pricing, DreamHost is more expensive than many of its competitors:
Not every website owner needs unlimited websites or unlimited databases. Tiered pricing allows customers to only pay for what they need. If you are trying to run a single site on a tight budget, paying more for unlimited everything is nice, but not necessary.
Additionally, the deep discounts at other hosting companies save website owners real money. If the bill for 1 year's hosting is $100, and you can save 30% – that's still $30 saved. And if you can renew at the same rate that DreamHost renews at – then you're even further ahead.
Although DreamHost's pricing is a pro overall, be sure to decide exactly what you need and look at pricing through your own budget & priorities.
Non-Standard Control Panel
Most hosting companies use cPanel as the server dashboard. For shared hosting. for all of its worts and all, cPanel is the industry standard.
cPanel is where you go to do anything with your hosting server – install any applications (ie, WordPress), set up your email addresses, get your FTP information to upload files, etc.
While cPanel can be confusing at times, it's like old shoes you wear all the time. It feels comfortable and familiar.
DreamHost does not use that setup. Instead, they use a proprietary control panel for both your account administration and your server administration. To me, it's a big miss.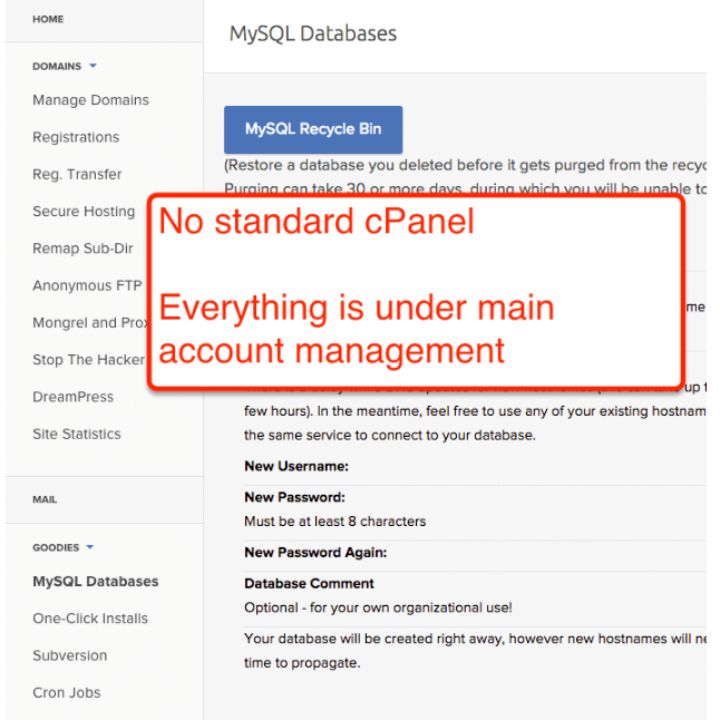 On one hand, it is simplified and allows DreamHost to provide a truly customized experience. On the other hand, the setup is confusing and feels limiting. Most of the core functionality is under "Goodies" – which groups everything from advanced features like Cron Jobs with bonuses like Google AdWords coupons.
From what I can tell, most of the options that you would otherwise get in cPanel are either in the DreamHost dashboard, or they are in a series of emails that they send. It's just that everything is buried somewhere instead of out in the open like cPanel.
In theory, DreamHost could use the proprietary control panel to create a better user experience, but I think they end up creating more work for their customer support system.
The only potential advantage of a non-cPanel dashboard is security. Since cPanel is so popular, hackers will try to attack cPanel servers. Because of its proprietary control panel, Dreamhost is unlikely to have this problem.
Lack Of Application Installs
There are hundreds, if not thousands, of software apps that you can use on your hosting server. The most famous example is WordPress, a "content management system" used to set up, run and edit a website. But there's other software, from Joomla to PrestaShop to Wiki applications.
All these applications can be installed manually; however, many web hosting companies like InMotion have free installer scripts (the most well-known are Softaculous and Fantastico). These installer scripts automatically install your software with a couple of clicks, so you can get right down to building whatever you are trying to build.
I show an installer script works on HostGator in my WordPress website setup guide.
DreamHost does not offer that.
They have a custom application that links to a few applications and will get them ready. But they don't install them for you.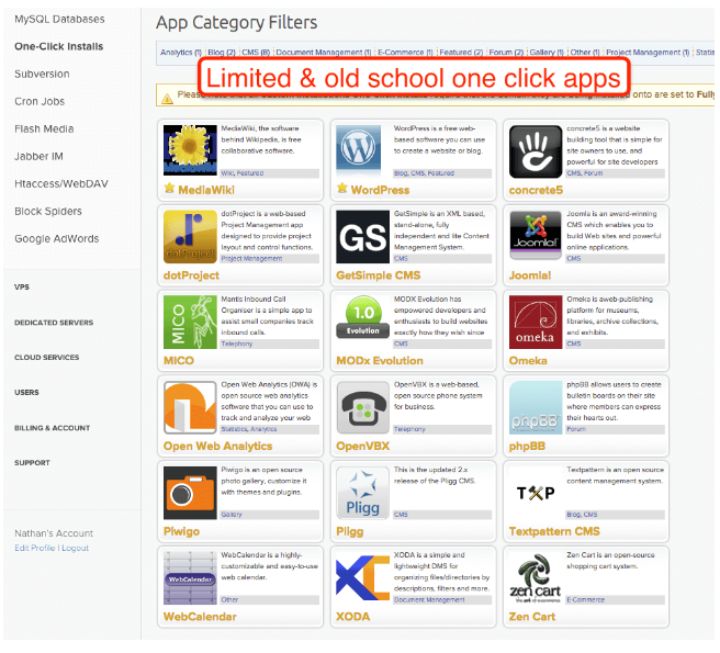 In the case of WordPress, it's not too big of a deal. The installation process just takes a couple of extra steps. But for other applications, you'll have to install them manually.
No Phone Support
I mentioned DreamHost's customer support in the pros section. They are available 24/7 across a wide range of channels….except phone. From my research, they will do call-backs after you first go through another channel.
Most customers are likely fine with that – and it may allow them to provide better service on other channels. But if you are the type of person who just wants to get a person on the phone – this point will be a big disadvantage for DreamHost.
DreamHost Alternatives
Out of the most well-known web hosts that I've used as a customer or consultant, here's how DreamHost compares directly to each.


Bluehost Review
Rating

9.5/10

Uptime Guarantee

No

Free Migration

Yes

Promotion


HostGator Review
Rating

9.0/10

Uptime Guarantee

Yes

Free Migration

Yes

Promotion


Hostinger Review
Rating

8.0/10

Uptime Guarantee

Yes

Free Migration

Yes

Promotion
DreamHost vs. HostGator
HostGator is one of the most well-known brands online. I have many of my small personal projects with them.
They beat DreamHost on pricing – especially if you only need a single website. They also beat DreamHost on performance based on my tests. HostGator also uses cPanel for a backend, though it has a few cluttering ads.
HostGator is also owned by Newfold Digital – a major hosting corporation and has average customer support. They're a bit of a toss-up based on what you prioritize. If you trust independent companies more, DreamHost is fine.
If you don't care, then you'll save some money with HostGator – see Hostgator plans here.
DreamHost vs. GoDaddy
GoDaddy is the big, Super Bowl advertising, everything brand in the domain/hosting industry. And though they have improved since 2013, they still aren't particularly great. For more information, check out my GoDaddy review and GoDaddy vs. Namecheap comparison.
They beat DreamHost on short-term pricing. But DreamHost gets better performance and a better overall experience. I'd open an account with DreamHost unless you are already familiar and fine with GoDaddy.
DreamHost vs. Bluehost
Bluehost is one of HostGator's sister brands owned by Newfold Digital. They were one of the best choices for affordable hosting for a very long time. They've recently restructured their plans and services to their own disadvantage.
BlueHost loses to DreamHost on overall pricing, though BlueHost is still the one with a better backend, phone support, and cheaper plan options for smaller websites. Click here to see Bluehost's plans.
DreamHost vs. SiteGround
SiteGround is one of the fastest-growing independent hosting companies.
They are based in Bulgaria but provide excellent service globally. They have better performance, better customer service (with more options), and have a more global presence with 4 data centers than DreamHost.
SiteGround is also much more expensive than DreamHost. So again, it depends on your priorities. Get more information on SiteGround's plans.
DreamHost vs. InMotion Hosting
InMotion Hosting is one of the most established independent, employee-owned hosting companies along with DreamHost.
In my experience, InMotion beats DreamHost on almost every aspect – except for pricing on unlimited everything plans, Dreamhost's 97-day guarantee vs InMotion's 90-day guarantee, and DreamHost's monthly pricing option.
InMotion provides capped, cheaper plans for smaller websites. They also have a sister brand, Web Hosting Hub, that has even more affordable plans for small websites. InMotion has more support channels and better performance.
I'd recommend InMotion over DreamHost. Check out InMotion's plans here.
Final Thoughts
Overall, DreamHost is an excellent hosting company with a few disadvantages. If you want a good hosting company and you are a fan of their brand, independence, and simplicity, then go ahead and sign up for DreamHost.
If you want an independent hosting company and don't need the monthly payment option, you'll get a better deal at InMotion Hosting.
If you are looking for an affordable shared hosting company with even better pricing, then go check out HostGator.
And if you are more confused than ever, check out my Best WordPress Hosting or my Best Web Hosting guide. 😉