| | |
| --- | --- |
| Support | Help Desk, Chat, Videos, Phone, Knowledge Base & Social Media |
| Uptime | Good (99.92% past 6 months) |
| Guarantees | Uptime & 30-Day |
| Free Migration | |
| Best For | Freelancers & Website Owners |
| Strengths | Great Value For The Price |
| Weaknesses | Confusing Control Panel & Upselling |
| Promotion | Get 65% Off |
What Is HostGator?
HostGator was founded (hatched as they like to call it) in 2002 by Brent Oxley. They have grown to host over 2.5 million websites and are based in Houston, Texas.
In 2012, HostGator was acquired by Endurance International (now known as Newfold Digital), making them a sister company to:
To name a few.
HostGator is one of the largest and most popular providers of web hosting services on the Internet. They were the first hosting company that I ever used back in 2010, and they offer the following hosting services:
Shared hosting

WordPress hosting

VPS hosting
Dedicated hosting
Reseller hosting
HostGator also has a line of complementary website products such as domain names, a website builder (see below about the Gator Website Builder), web design, and email services.
In this review, I'll focus primarily on HostGator's flagship service – web hosting (aka shared hosting). I'll let you know if they stand out in the vast sea of web hosting services.
HostGator Pricing
I've ranked HostGator as the Best Value Web Host in my best web hosting rankings.
HostGator offers web hosting services ranging from shared to VPS to dedicated and custom products such as WordPress and Reseller hosting.
HostGator has a wide spectrum of hosting plans. Here's a brief overview of each.
Shared Hosting
Shared hosting is the bread and butter of the website hosting world and is a cost-effective and reliable way to run most websites. It consists of individual accounts on a Linux server. It can run WordPress or any application on a LAMP Stack. You can read more about shared hosting in this guide.
HostGator has three main shared hosting plans.
| Plan | Hatchling | Baby | Business |
| --- | --- | --- | --- |
| Initial Price* | $2.75/mo. | $3.50/mo. | $5.25/mo. |
| Renewal Price | $11.95/mo. | $12.95/mo. | $17.95/mo. |
| Websites | 1 | unlimited | unlimited |
| Storage | unlimited | unlimited | unlimited |
| Bandwidth/month | unmetered | unmetered | unmetered |
| Free Domain Name | 1 year | 1 year | 1 year |
| Free SSL | | | |
| CDN | | | |
| Dedicated IP | | | |
| Daily Backups | | | |
* Pricing per month for a 36-month subscription
WordPress Hosting
WordPress can run on shared hosting, but many hosting companies have specialized WordPress plans due to customer demand and the hardware requirement of WordPress.
In most cases, WordPress hosting is set up exactly the same as shared hosting plans.
HostGator has Managed WordPress Hosting plans with custom features, plans, and resources for running a large or fast-growing WordPress-powered website. You are paying for performance rather than features. Their plans compete well with other WordPress Hosting plans.
| Plan | Starter | Standard | Business |
| --- | --- | --- | --- |
| Initial Price* | $5.95/mo. | $7.95/mo. | $9.95/mo. |
| Renewal Price | $14.95/mo. | $20.95/mo. | $27.95/mo. |
| Websites | 1 | 2 | 3 |
| Storage | unlimited | unlimited | unlimited |
| Visitors/month | 100,000 | 200,000 | 500,000 |
| Free Domain Name | 1 year | 1 year | 1 year |
| Free SSL | | | |
| CDN | | | |
| Dedicated IP | | | |
| Daily Backups | | | |
* Pricing per month for a 36-month subscription
VPS Hosting
Virtual private server (VPS) hosting is a great way to get a specific allocation of server resources without having to lease an entire server. Even though your website lives on the same server as other sites, you have total control over a set amount of resources. Learn more about VPS hosting in this guide.
HostGator has several competitively priced VPS plan options that offer managed and unmanaged hosting account options.
Reseller Hosting
HostGator reseller hosting is a shared, VPS, or dedicated server plan with 3rd party billing and management enabled. Reseller hosting allows anyone to start their own hosting company without actually starting a hosting company. Read more about Reseller hosting in this guide. It's a great way for agencies to get recurring revenue and provide extra value for clients. HostGator has a range of reseller hosting products.
Cloud Hosting
Cloud hosting differs from shared / VPS / dedicated hosting because no specific server resources are responsible for running your website or application. You just pay for the performance and resources.
It isn't very clear, but I explain how it works in this cloud hosting guide.
HostGator offers a cloud hosting plan that charges a monthly base amount for a certain equivalent amount of resources. HostGator Cloud is competitive, and even though it's more expensive and limited than shared hosting, it does offer several performance benefits (i.e., both response time and scalability). See HostGator's Cloud hosting plans.
Windows Hosting
Traditional hosting usually runs on a LAMP stack. The "L" stands for Linux, an open-source operating system. An alternative to Linux is the Microsoft Windows operating system. It's not as popular, but it is a necessary operating system for many websites, especially ones using ASP.NET.
Though if you are running something LAMP-based, like WordPress, you should stick to the cheaper and better-suited shared hosting plans instead. Windows hosting should only be used when you need to run Microsoft Windows-specific software.
HostGator is one of the few large, discount hosting companies that actively offer and support Windows Hosting with competitive plans.
Website Builder
Website Builders are a dime a dozen and range from drag-and-drop to template-driven design tools. Ultimately, they help people get online with websites that don't require knowledge (or the tediousness) of HTML/CSS or Javascript.
Plenty of "hosted" website builders provide only their proprietary hosting (i.e., Wix, Weebly, Squarespace, Jimdo, Strikingly, WordPress.com).
For more information, check out my detailed guide to website builders.
Hosted website builders like Wix have a vendor lock-in, but self-hosted website builders do not. If you want to move your Wix site to another host, you'd have to rebuild the entire thing from scratch – a huge drawback of hosted website builders.
HostGator provides a self-hosted website builder called the GATOR website builder.
It comes with the purchase of a hosting plan and has much of the ease of use and functionality of a hosted website builder. Check out GATOR website builder.
HostGator Web Hosting vs. HostGator WordPress Hosting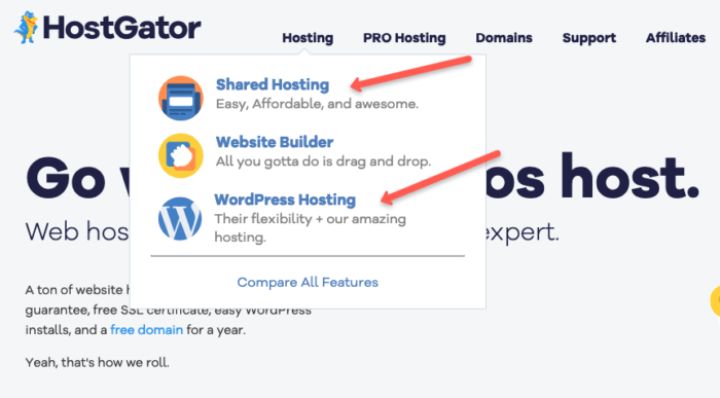 Here's the thing. The entire industry moving to "WordPress Hosting" services was a weird, confusing, maddening mess. I've written an entire post on Web Hosting vs. WordPress Hosting – but here's the short version.
WordPress software can run on any Linux server with PHP (aka "regular web hosting").
Again – WordPress can (and does) run fine on a shared hosting plan.
WordPress does use some server resources at an above-average rate and others at a lower rate.
WordPress also has very predictable problems & needs. It needs to be regularly updated. It is database driven – not static. It uses plugins to add functionality. That's great, but it can create temporary security vulnerabilities.
So – hosting companies saw an opportunity to create whole clusters of servers with only WordPress websites.
Since they were all together, they could also provide dedicated support and some specific WordPress add-on services at a cost-effective rate.
Hence, "WordPress Hosting" plans were created – which added a further opportunity for marketers & pricing specialists.
For some companies, WordPress Hosting plans became a way to increase revenue and decrease costs with little value added.
For other companies, WordPress Hosting plans became a way to create a huge value-add to differentiate from competitors and pass the cost savings to customers. For other companies – it was a mix. And in the end, it's been thoroughly confusing for everyone.
HostGator WordPress Hosting plans are different than their Web Hosting plans. The plans are limited to fewer websites, but the resources are actively managed on cloud servers.
But – the key takeaway is to identify your own needs & goals rather than going right for a company's WordPress Hosting plan.
Convenience is great – but it's important to understand what you are truly paying for.
HostGator Alternatives
HostGator certainly is not the only web host available. Here is a list of some of the more popular hosting services that similarly match HostGator's offerings.


Bluehost Review
Rating

9.5/10

Uptime Guarantee

No

Free Migration

Yes

Promotion


InMotion Hosting Review
Rating

9.0/10

Uptime Guarantee

No

Free Migration

No

Promotion


Hostinger Review
Rating

8.0/10

Uptime Guarantee

Yes

Free Migration

Yes

Promotion
Pros of HostGator
No hosting company is perfect. HostGator certainly has some positive things going for it and a few drawbacks. That said, here is my list of HostGator pros:
Low Pricing
If HostGator has a "killer" feature – it's pricing. They aren't the cheapest web hosting but offer great value for the money. Like most other web hosting services, you must sign up for a long-term to lock in low pricing.
I have yet to find a web hosting company that has:
Consistently low renewal pricing
Regular promotional pricing
Ability to "lock in" discounts for three years
Doesn't skimp out on support or reliability
Largely "unmetered" features on critical plan features

That last bullet point is especially notable. If you are a dabbler like myself and have several projects in mind – it's usually better to look at the price per month per website, storage, or database – i.e., total value pricing.
On that point – HostGator beats a lot of companies. It's why I still have my microsites & small traffic clients at HostGator instead of InMotion Hosting (where this site lives).
If you are looking for a good host on a tight budget, you can grab HostGator's current promo here.
Great Uptime
HostGator guarantees 99.9% uptime (8 hours of downtime per year). My testing account has achieved a much higher uptime than its guarantee.
Compare that to GoDaddy – they guarantee the same thing, yet I once documented 8 hours of downtime in 1 month (not to mention a DNS hack). Like every web host, however, HostGator has had issues (notably in August 2013).
Great Customer Service
HostGator promises 24/7 customer service – and they deliver. In one of my tests, I was transferring a development site from my HostGator to my client's host – and was having a technical problem (which turned out to be a misstep I had taken) at 2 AM.
I logged into their chat feature and got my questions answered right away. Fabulous.
As I emphasize in all my web hosting reviews – customer support is impossible to judge because it's anecdotal. You'll never know if you deal with their one rockstar or their one rookie having a bad day.
That said – given the number of support channels and the extent of HostGator's knowledge base, which I use as a "proxy" for investment in customer support, I give them a good score for overall customer support.
Transfer Service, Onboarding & QuickInstall
The most daunting period of setting up a website is the start.
HostGator has plenty of channels to get you off on the right foot. I've used their website transfer service and their QuickInstall scripts multiple times. It's all been good.
Additionally, they have a generous money-back guarantee (45 days). They also include useful freebies like a free SSL certificate, a free domain, and a dedicated IP on their top tier.
Unmetered Everything
HostGator's plans offer unmetered everything, except the Hatchling Plan, which offers unlimited everything, but caps the amounts of domain names you can host to just one.
This is a big deal. Unmetered databases mean you can have as many WordPress installs as you want.
Unmetered domain options (on HostGator Baby plan and Business plans) mean you can have unlimited websites on one plan (my websites cost cents, not dollars, to host because I have so many on one plan).
Unmetered bandwidth means that you can scale and not worry about # of visitors (although every shared host will crash if you get on the front page of CNN, and millions come at once).
Unmetered email accounts – if that's something you need.
And then there are unlimited subdomains and FTP accounts – so you can give secure access to any number of people.
Now – here's the thing. HostGator says "unmetered" because they are still working with finite resources on finite servers. You are sharing space on a server with other websites, so there's physically no such thing as truly unlimited disk space or unlimited bandwidth. But – the point is that they do not artificially limit your server resources before your shared server is used up.
The drawback is that their servers probably have more websites on them than other hosting companies. And that may impact their overall performance. But – for a use case like mine where I have several small projects that need to minimize costs – this setup is fine.
It's great because I don't even need to plan or think about how to allocate my databases and domains across my account. I just do it.
Uses cPanel
cPanel is the software that runs your server's backend. It's what you log in to when you want to install a website, etc.
Using cPanel is a huge pro – because it's open-source (no company owns it) and it's the industry standard, so there's tons of documentation, so you can get help anywhere on the Internet, not just through HostGator.
It's a big advantage over GoDaddy (and 1&1, and other hosts like FatCow) which have proprietary backends.
GoDaddy is a bit easier to use, but you depend on them for support – their limitations can be very frustrating. For example, until recently – you couldn't edit file permissions via FTP with GoDaddy – annoying and time-consuming if you are designing a website.
cPanel is a big plus – not to mention that the WordPress user manual often just assumes that you are running cPanel.
If you are curious – here's what the HostGator cPanel looks like. It has tons of options, but it places the most used ones front and center (e.g., note the giant WordPress icon at the top).
The added bonus is that HostGator loads up cPanel with many extra scripts and software options. It's straightforward to install everything from WordPress to Wikis to RSS Readers.
Cons of HostGator
Now that you know the positives, here are my HostGator complaints that make them unsuitable for some website owners.
Average Website Speed
Regarding site speed, HostGator has always performed well for the small sites on my HostGator server. They have always had plenty of bandwidth and resources to handle traffic surges.
However, I've never achieved the best TTFB times for them compared to other shared hosts.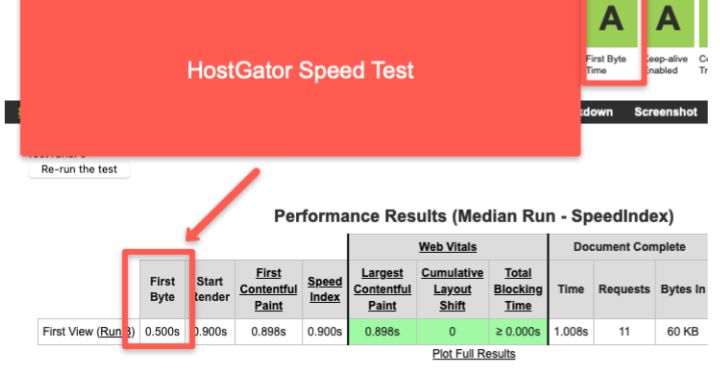 TTFB stands for Time To First Byte. It refers to how fast a server can start responding to a request.
Imagine needing a stack of books (a website) from a neighbor (the web host). TTFB is the time it takes for your neighbor to get to your door after you first knock on theirs.
HostGator is sometimes slow, mostly okay, and occasionally excellent. Again, part of that is not HostGator's fault – I could do things to speed up my website, but some of it is.
That's a problem with many shared hosts – and something HostGator should improve upon.
They're Constantly Upselling
This hasn't always been an issue with HostGator. The lack of upsells and plain jane software was once something I admired about HostGator, but that's changed.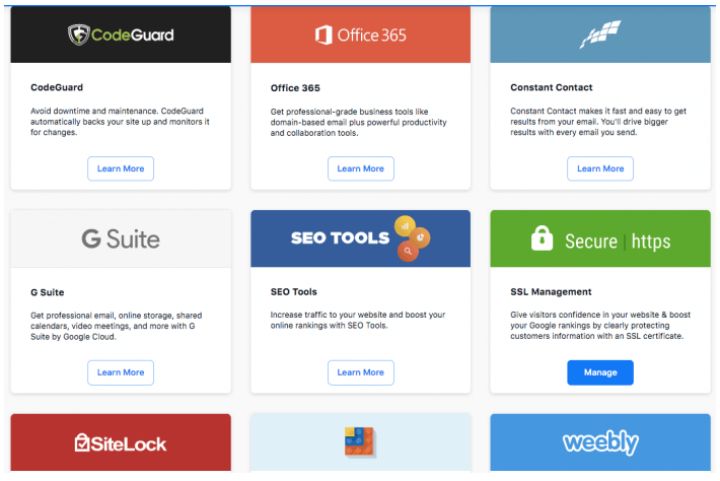 For starters, HostGator has several partnerships with companies like SiteLock (site security), CodeGuard (site backup), and MOJO Themes (premium WordPress themes and plugins) that all provide semi-useful but also semi-redundant services (i.e., HostGator provides backup & restore services).
HostGator pitches them throughout their signup process.
But the big thing that has changed is that HostGator's WordPress QuickInstall does not do a "clean" WordPress install – it comes with several plugins auto-installed, like MOJO Themes, W3 Total Cache, and others.
Not a huge deal – it's simple enough to deactivate them and add your own WordPress plugins. But it isn't very pleasant, nonetheless. I'm not a fan of companies customizing my software, even if they are helpful.
Pricey Domain Registration
Speaking of domain companies, HostGator sells domain names and even offers them directly through cPanel.
But they are pretty pricey – $17.99 per year for .com renewals.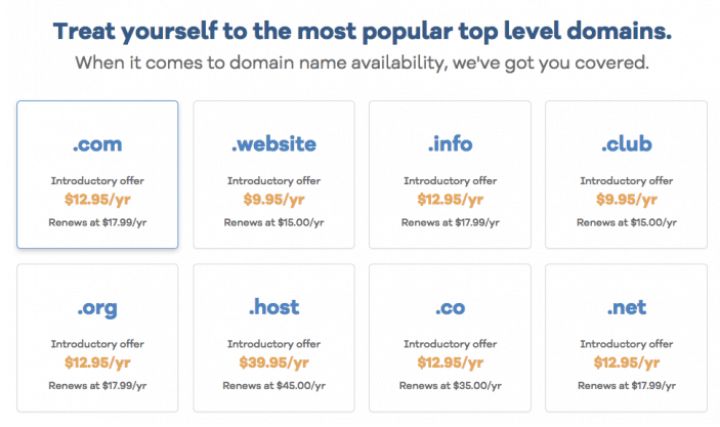 It's kind of annoying, but that's normal. HostGator is a web hosting company and not a domain registrar. Domain registration is something they just offer for free the first year, but it's certainly not their focus.
You're better off choosing a top-rated domain registrar, especially if you bulk purchase several domains.
Is HostGator Worth It?
If you are looking for a reliable, affordable, open hosting company for your WordPress site – you can't go wrong with HostGator. I have many sites hosted there, and they've served me well.
You can start now and set up your HostGator plan within minutes.
If you'd rather go with an independent company (i.e., not owned by Newfold Digital) with great support (though a bit more pricey), then I recommend InMotion Hosting.
And if you're still sorting through the various hosting options – check out my best web hosting services guide.
FAQs