| | |
| --- | --- |
| Support | Chat, Phone & Knowledge Base |
| Uptime | Excellent (99.99% past 6 months) |
| Guarantees | 30-Day |
| Free Migration | |
| Best For | Shared hosting |
| Strengths | Large organization behind company |
| Weaknesses | Better pricing at sister companies |
| Promotion | None |
What Is JustHost?
JustHost is a web hosting brand owned by Newfold Digital (formally Endurance International). They offer a standard selection of Linux-based web hosting solutions from shared hosting to VPS, though they focus on marketing their shared hosting solution (which is what most website owners need and want).
Their data center is located in Provo, Utah, within (what appears to be) the same facilities as their sister brand Bluehost (see my review of Bluehost here). Like most web hosting companies, JustHost also provides email and various complementary services to web hosting.
I've used Justhost on multiple for multiple projects. Below is my JustHost Hosting review – complete with pros and cons based on my experience as a customer (and consultant to a customer of JustHost).
JustHost Pricing
| Plan | Basic | Plus | Choice Plus | Go Pro |
| --- | --- | --- | --- | --- |
| Initial Price* | $3.95/mo. | $6.95/mo. | $6.95/mo. | $14.95/mo. |
| Renewal Price | $9.99/mo. | $17.99/mo. | $17.99/mo. | $33.99/mo. |
| Websites | 1 | unlimited | unlimited | unlimited |
| Storage | 50 GB | unlimited | unlimited | unlimited |
| Bandwidth/month | unmetered | unmetered | unmetered | unmetered |
| Free Domain Name | 1 year | 1 year | 1 year | 1 year |
| Free SSL | | | | |
| CDN | | | | |
| Dedicated IP | | | | |
| Daily Backups | | | | |
* Pricing per month for a 36-month subscription
Pros of JustHost
I don't think you can pick a single "best web host" because it comes down to the best fit for your project based on your goals, budget, experience & expertise. But every web host has its pros and cons. Here are what I consider to be JustHost's strengths.
Clean, Simple cPanel Backend
Setting up a website can be daunting if you've never done it before. You want things to be simple and straightforward. You want to be able to change settings and pay your bill and do what you need to do.
Even if you have experience running websites, you still want a straightforward way to do what you need to do.
JustHost uses cPanel as the backend of its hosting accounts. cPanel is industry-standard, so there's plenty of help and guides on the Internet. It's also very simple and straightforward.
JustHost also helps by integrating their billing and profile settings directly into cPanel – and not cluttering it up (too much) with upsells and ads. Here's what the backend looks like: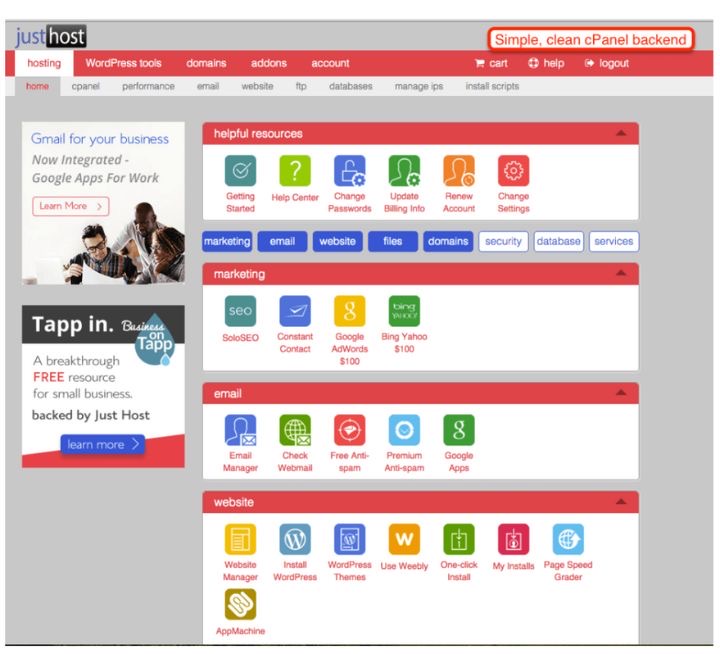 Their backend is the first thing you see after signing up, so you can dive right into your project without any intermediate screens. The most common options are front and center, with server information on the side.
Many providers use a proprietary backend, like DreamHost and GoDaddy, or clutter things up with ads and upsells (iPage) – so JustHost's simple backend is a big advantage.
Simple App Install
Related to JustHost's simple, clean backend is their app install process. They use MOJO marketplace – a theme and template provider owned by Endurance International.
The one-click WordPress install process has a few ads and upsells, but it's simple and useful.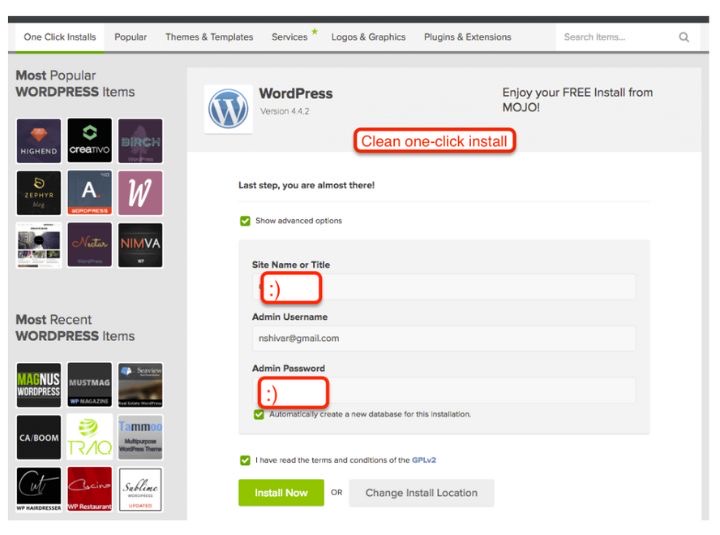 Since they use MOJO marketplace, JustHost has a solid selection of available apps and scripts Again, all with MOJO ads, but otherwise straightforward to use and install.
Not a huge advantage, but a solid pro anyway, compared to some other hosting providers.
Deep Discounting
JustHost's actual plans and pricing are a disadvantage (which I'll cover in the cons section). However, I will say that they do deep discounting for the first year across all their products.
If you getting started and want to save money in your first year, JustHost will often discount their Basic plan down to $3.95/mo and their Plus plan down to $6.95/mo.
Of course, what really matters is what you're actually getting, but if you are starting one small website for a year, big discounts are always nice.
Cons of JustHost
JustHost has several drawbacks, including one which may be a fatal flaw. But before I disclose what that is, here are some other JustHost weak points to consider before you sign up.
Value & Long-Term Pricing
Comparing pricing across different hosting providers is tricky. Most offer several plans with different caps, pricing, and bonus features, and JustHost is no different.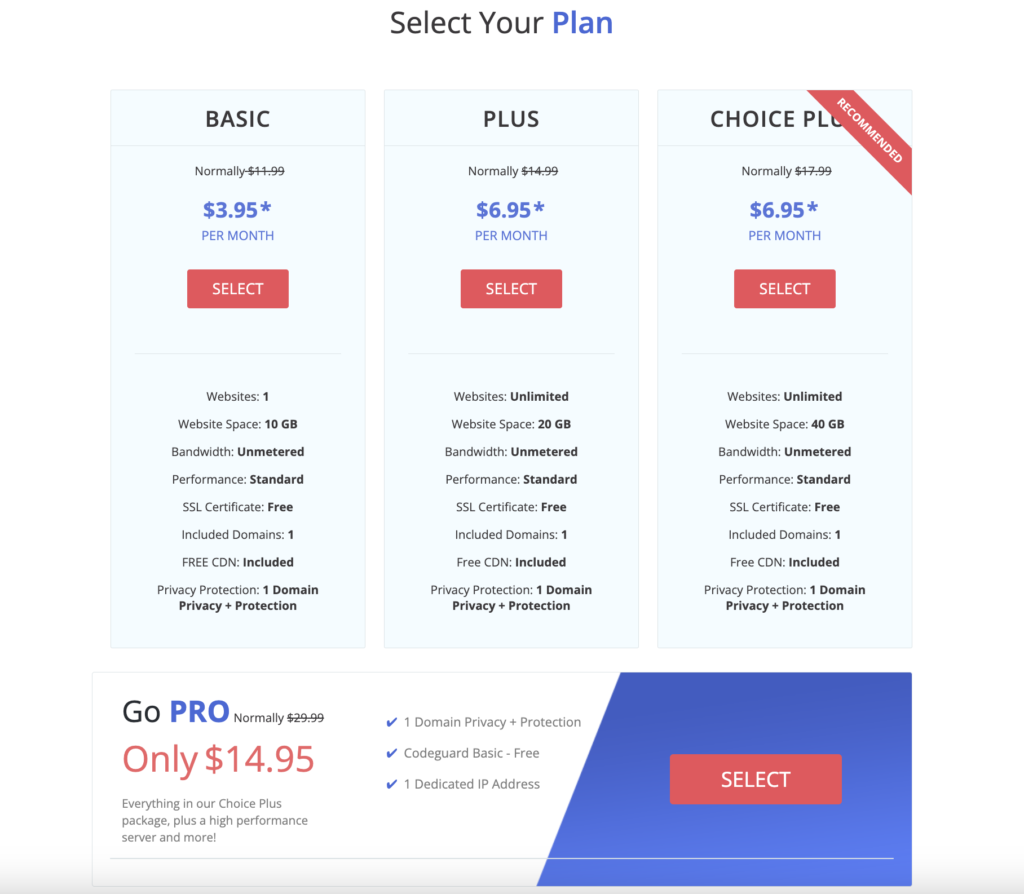 Unfortunately, JustHost has very low caps on core hosting features compared to its competitors, which hurts its value proposition.
That may be ok if you only need a single website with a few files. But even then, you'll find much better deals at competitors.
For example, their sister brand HostGator has more features at better prices across the board. They even have a single website plan that is much cheaper than JustHost at renewal rates. You can go check out HostGator's plans here. Even Bluehost has since updated their plans so they are a much better value.
And independent brands like Web Hosting Hub (review) that focus specifically on the starter and small website market provide more apps, better website builders, and better pricing than JustHost.
In short, you'll get better value for your money elsewhere.
Feels Like a Forgotten Brand
Nobody wants to buy the product that a big company has forgotten about or is not fully invested in – even if the product works.
Think about the apartment complex that the landlord ignores & doesn't do upkeep instead of remodeling or upgrading. Or that car that still runs, but the owner isn't putting money into upgrades.
JustHost feels like the brand that Newfold Digital is ignoring. Big sister brands like Bluehost and HostGator are getting splashy new designs and new services, while JustHost gets a design refresh and copy/paste plans from HostMonster & Bluehost.
To me, it's an indicator of how much the management and owners care about the company and provides a window into the culture.
Compared to Bluehost and independent competitors such as InMotion, A2 Hosting or SiteGround, JustHost's brand is a disadvantage.
Customer Knowledgebase & Support
As I've mentioned in other reviews, customer service can be difficult to measure. I like to look at how well a company has invested in its customer support infrastructure and how they handle public-facing support.
Though JustHost offers support across multiple channels, their investment in things like their Knowledgebase, forums, and onboarding process is lacking.
I won't say that their customer support is a huge disadvantage – most tickets are probably resolved just fine. However, compared to other providers that proactively help and invest in their customer support infrastructure, JustHost is behind.
Mediocre Performance
There are a lot of factors that go into how fast your website loads. Everything from what type of website you have to how many images you use to where your visitor lives factors into website speed.
That said, no one ever won a Formula One race with a Ford Escort. And no matter how well you optimize your website, you won't be winning any speed contests with a slow hosting service.
It's hard to measure server speed accurately without behind-the-scenes access; however, Time To First Byte (TTFB) can give you a general estimate of how well a hosting company's servers operate.
Time To First Byte indicates how quickly the server sends the first byte of information back to a browser after the browser asks for it.
When I tested JustHost with my new website – it did not do well.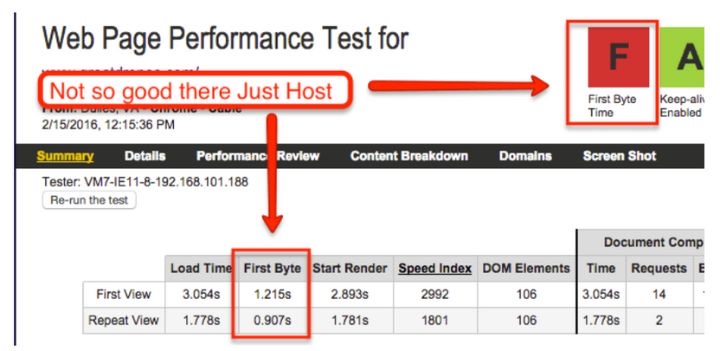 Granted, TTFB is best looked at as a trend. I've had good hosts have bad days, so I tested again the next day. You can see that the Repeat View improved some, but overall it's still not so good.
I retested sometime later (see below), but JustHost still did not perform well, even after several re-tests.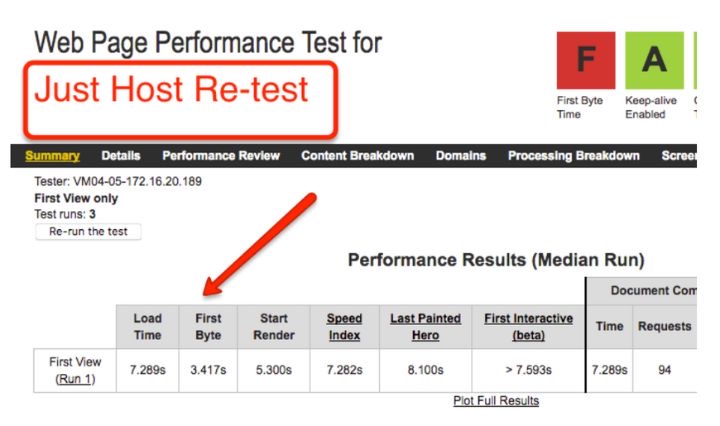 Although JustHost's performance would be fine for a very small site, they don't have strong web page performance compared to direct competitors.
JustHost Alternatives
Let's take a closer look at how JustHost compares with some other popular web hosts I've used. Note that the first two are JustHost sister brands, also owned by Newfold Digital.


Bluehost Review
Rating

9.5/10

Uptime Guarantee

No

Free Migration

Yes

Promotion


Hostinger Review
Rating

8.0/10

Uptime Guarantee

Yes

Free Migration

Yes

Promotion


HostGator Review
Rating

9.0/10

Uptime Guarantee

Yes

Free Migration

Yes

Promotion
JustHost vs. HostGator
Like Bluehost, HostGator (see HostGator review) is a very well-known brand in the hosting industry.
They are also owned by Newfold Digital, which makes them another sister brand to JustHost. However, unlike Bluehost, they have a different and much better plan value structure.
HostGator also uses different data centers in Houston, TX with a mirror in Utah.
I'd choose HostGator over JustHost based on performance and pricing considerations.
JustHost vs. iPage
JustHost's last sister brand that I'll mention is iPage.
In my review, they didn't fare too well. Like JustHost, they're fine, but also appear to be a brand that Newfold forgot about. They run out of their data center in Burlington, MA with mediocre performance.
However, if you want lots of core hosting features for super-cheap, iPage offers very deep discounts that you can lock in for up to 3 years. You can check out iPage, though I'd likely end up choosing JustHost between them.
JustHost vs. GoDaddy
GoDaddy is the brand name in the domain & hosting industry. Between their Super Bowl ads and massive offline campaigns, they're the brand many people recognize in the industry. Despite much improvement since 2013, GoDaddy still shares many of the same pros & cons of JustHost. If you already use and like GoDaddy, JustHost doesn't have a big offer to get you to use them over GoDaddy.
If you are choosing between the two – JustHost has a cleaner backend and a better overall experience.
JustHost vs. InMotion Hosting
InMotion Hosting is one of the largest and fastest-growing independent (ie, owned by employees, not a large corporate holding company) hosting companies. This site uses a VPS server with InMotion. While they don't offer super deep discounts or monthly payment options like JustHost, InMotion does offer a much better product with better performance and better pricing.
I'd recommend checking out InMotion Hosting.
The Bottom Line on JustHost
My biggest complaint with JustHost, and what I see as its fatal flaw, is that it's nothing more than a bad copy of its sister brand Bluehost.
Sure, the deep introductory discounts are nice to see. Their backend is not confusing, and their service is straightforward.
But Bluehost has so much more to offer.
Newfold Digital is actively investing in Bluehost's design and backend. They offer more service upgrade options – and simply have a more recognized brand in the industry. I would recommend Bluehost over JustHost every day of the week.
In addition to Bluehost, I recommend Web Hosting Hub as a shared hosting company with almost as good intro pricing, better long-term pricing, and a much better product.
Also, consider HostGator if you want cheap single website plans and the option to pay monthly. If you remain undecided, read my best web hosting guide.
FAQs