Website Creator (also called BoldGrid) is a stand-alone website builder product built & sold by InMotion Hosting, one of the largest independent web hosting companies in the world.
InMotion Hosting has been in the web hosting business since 2001. Unlike many hosting companies, they remain staunchly independent and focused primarily on website products for small businesses. They have an emphasis on customer support and raw performance.
While they still have a range of hosting products (my InMotion Hosting Review), they have also been quick to respond to changes in customer demand. Website Creator came out of that effort.
The big demand of the past 5 years has been for easy to use, bundled, drag and drop website builders. But popular website builders pose some risks for business owners investing in a long-term project.
Website Creator was created for small business owners who need to easily DIY their own website, but also are thinking seriously about how to best build their website for scalability, versatility, and long-term success.
Since I've been a user of InMotion Hosting's hosting products for quite some time, I recently decided to give their new website builder, Website Creator, a try for a small, quick project.
Before I dive into pros and cons, let's talk about some basics.
What Is Website Creator?
Imagine website builders on a spectrum of convenience and control.
On the maximum convenience end, you have Instagram. It's super-easy to use. But you have zero control over how your account design or function.
On the maximum control end, you have a server that you own and operate. You hand write all the HTML & CSS. It offers maximum control, but zero convenience. Most people lean towards the middle options.
Self-hosted WordPress is software that you install on your own hosting account. It has a learning curve, but offers a lot more convenience while still providing total control over your files & server.
Wix is a popular drag & drop builder that has much less of a learning curve & more convenience than self-hosted WordPress. But they also have to limit data exports & your server access.
Some small business owners don't like either tradeoff – and that's the slice that Website Creator is focused on. I'll get to this in the Pros & Cons, but Website Creator is actually built on top of WordPress on a hosting account that you own. So even though it has the drag & drop and streamlined website launch of a popular website builder, it's still creating actual files on an actual server that you can access and export should you ever need to grow or rework your website.
In other words, think about a single-family home, a condominium, and a townhome. Self-hosted WordPress is a single-family home where you own & are responsible for everything. Hosted website builders are like a condominium where you own everything within the walls but outsource the rest to the Condo Owner's Association.
Website Creator tries to be like a townhome. You have contracted landscapers, plumbers, and a Homeowners' Association, but when it comes down to it – you still own the land and the structure.
With all that said, here are some of the Pros & Cons of Website Creator as a general website solution.
Pros of Using Website Creator
Here's what I found to be the pros of using Website Creator, not just compared to Site123 and Gator, but as a website builder in general.
Convenience AND Control
Website Creator's biggest pro is the fact that it combines convenience and control — which is typically where business owners have to make a trade off when it comes to website builders (even the best ones).
Website Creator is actually a bundle that combines hosting (on InMotion Hosting), a website software or CMS (WordPress), and a drag & drop tool (BoldGrid). Which means when you sign up for Website Creator, you're actually getting a self-hosted WordPress website with an installed drag-and-drop website builder (and tons of base templates to use) that you fully own and that any developer or marketer can work with. You don't have to go piecing all the elements together or put off getting started until you have the "right" web designer.
You can just DIY and rest easy knowing that when the time comes, you can upgrade your content, design & marketing as your business needs.
Ownership
Again, Website Creator does a great job of giving users control — and that includes ownership.
Now, when it comes to website builders, I generally think of website ownership in 3 ways.
The first point is brand asset & copyright ownership. There is no website builder that would ever be able to "own" your website. Not even Instagram does that. If you author the text, images, video, logos, etc. then you own the copyright.
But when it comes to the other two points of ownership, not all website builders are created equally.
The second facet of ownership revolves around "website look and feel". Websites are simply files that a browser can render. The look and feel is inherently not only your content, but also the combination of actual files used to render your site. This is where ownership gets tricky. Some website builders do not give you access or copyright to the actual files that are generated with your content. Some give you copyright and limited access. Some give you full copyright and full access.
Why would you need full access? Well, let's say you want to sell or move your website to another provider. If you do not have access to the actual CSS files or actual JS files, then you cannot sell or transfer the site exactly as it currently is.
And the third point is practical ownership. So even if you own your entire website – JS, CSS, HTML, images, text, etc – if you cannot download it to your computer or transfer it to another server… do you truly own it? This gets tricky. It doesn't really matter, until it does.
If you have a 10 page website for your dental office, this point really doesn't matter. But if you are building a reference site for your organization that will eventually have thousands of pages… then it could matter a lot.
In Website Creator's case, your site's files live on an actual server that can be accessed and downloaded. Which means you have full ownership in all three facets — a great feature if you think you'll ever need to move or recreate your website elsewhere.
Simplicity
Another pro of Website Creator is that once you're set up, it's fairly easy to use. As I mentioned above, Website Creator uses BoldGrid, a website builder, to actually create your website.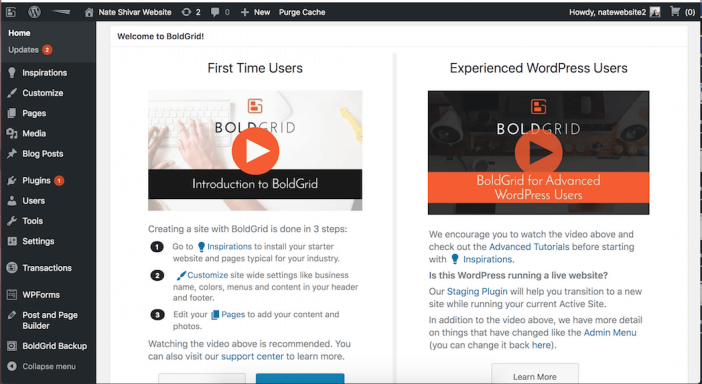 BoldGrid isn't technically drag-and-drop. You don't actually "drag" elements and drop them where you want them. Instead, BoldGrid uses Inspirations, which serve as your base template.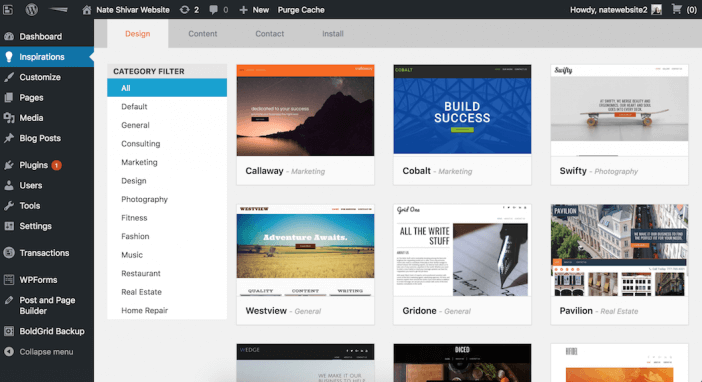 From there, you can add or remove pages, customize the branding (i.e. colors and fonts), or even go so far to add widgets on individual pages.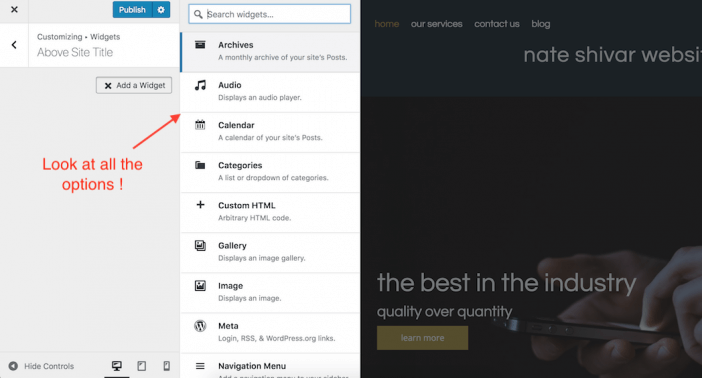 The range of customization here is extensive. Given that Website Creator uses WordPress, you can also install plugins (pieces of software that "plug in" to your website to add functionality), so you essentially create anything you want – that includes things like ecommerce, SEO, appointments, and flying unicorns.
But if you're trying to keep it simple, BoldGrid's Inspirations (and customization options within them) provide enough flexibility that you can create something that feels custom without having to totally build something from scratch.
Integrations
And speaking of customization… the ability to add integrations through plugins is a HUGE pro for using Website Creator. Given WordPress is the most popular CMS platform out there, the integrations are practically limitless.
Chances are, there's been a plugin created to do whatever you need your site to do. And if it hasn't been created yet, there's a developer out there who could probably get it done.
Additionally, since you have an actual hosting account running Website Creator, you can integrate with any business email service or analytics package that you need.
Sign Up + Customer Service
Depending on your needs, this could be a pro or a con. Signing up for Website Creator does take some time. They actively try to weed out spam users, which means they review accounts before granting access. Their sign up process says it should take a few minutes to get a confirmation email, but after about an hour, we had to reach out to support to get our account approved and up and running.
The pro here is that you're dealing with a company that takes its software seriously and actively tries to maintain the integrity of it. They don't let spammers in, and their customer service department is more than willing to expedite the process if you reach out and explain how you plan to use your site.
Flexibility
It's rare that you get so much flexibility in an all-inclusive website builder, but Website Creator certainly gives you more than any other. The best example of this?
Website Creator actually lets you use WordPress themes / custom themes outside of BoldGrid.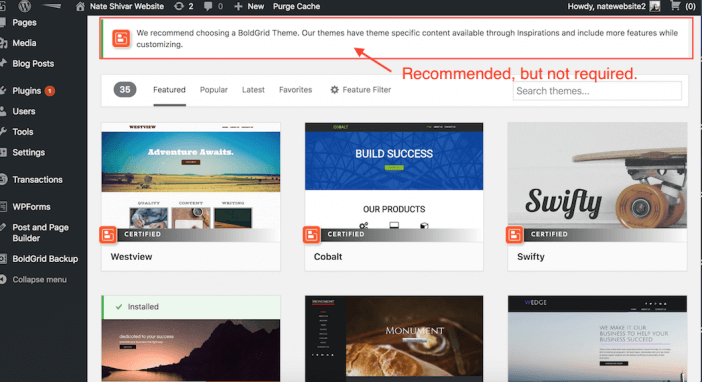 This essentially means that you have a totally customizable, self-hosted WordPress site with the *option* to use an all-inclusive website builder that has pre-built themes and easy-to-use customization options. It's a win-win.
Onboarding/Training
Using Website Creator does require a bit of a learning curve (more on that in a bit). However, InMotion Hosting's onboarding and training resources are amazing. With any piece of software, there's always a moment of "What comes next?"
With InMotion Hosting, they cover all the bases. From the moment your account gets approved, you're given instructions on how to finish your account set, start your website, and get up and running.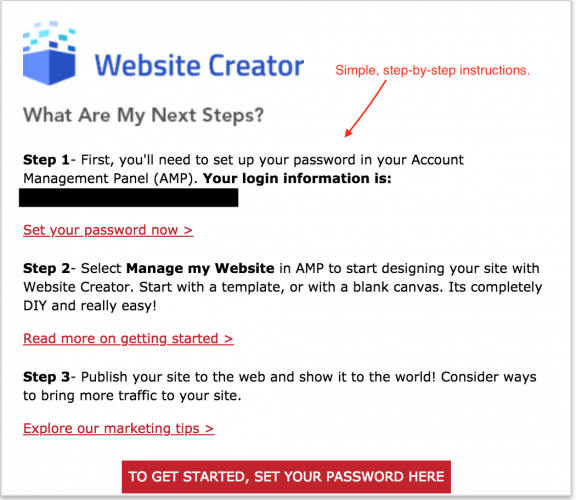 The account dashboard is refreshingly simple.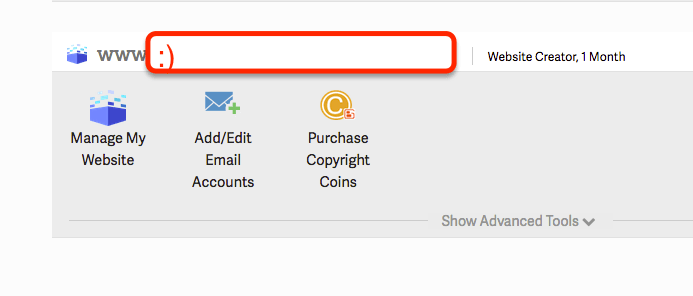 They also offer training inside WordPress, so you can learn how to use BoldGrid and customize various elements.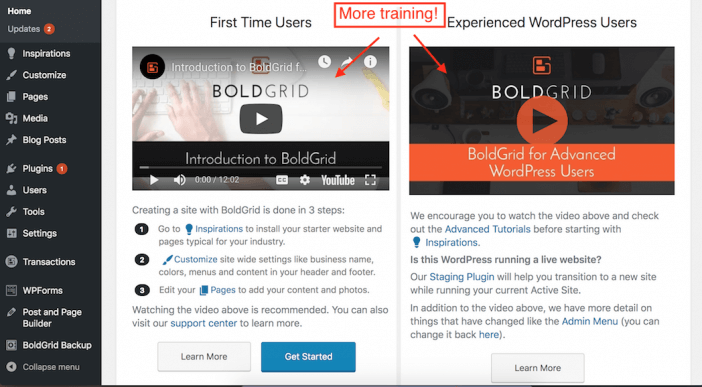 Cons of Using Website Creator
Like any piece of software, there are always trade-offs. So here are the cons of using Website Creator:
Slower Sign Up Process
Yep… it can be a con that Website Creator takes time to actively weed out spammers. Why? Because this means the sign up process is slower.
Cumulatively, it took about two hours for us to get our account up and running — which isn't great if you're looking for a quick and easy solution to get a website up ASAP.
Learning Curve
Once you get through the sign up and installation process, using BoldGrid is simple (plus InMotion Hosting offers a TON of resources to help you through the process). But that doesn't change the fact that getting up and running with Website Creator isn't very intuitive. The sign up process is more extensive than most all-inclusive website builders, as is the installation process.
For example, before even getting started, you must have a domain name. There's no option to use a free subdomain to get you up and running like you can with WordPress.com.
After that, you have to install BoldGrid, which then brings you into WordPress to edit.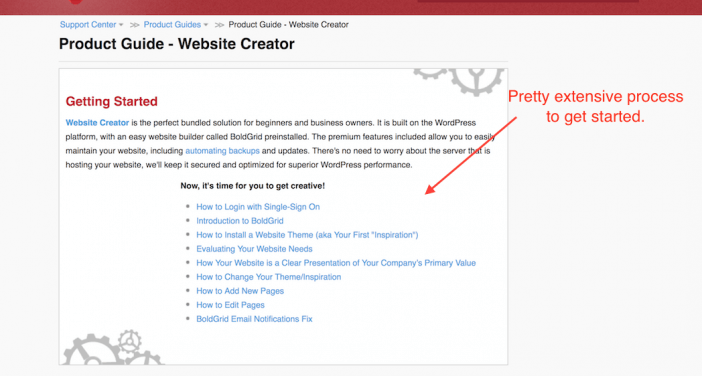 Again, the training provided by InMotion Hosting is stellar — but you do need to take the time to read it. Popular pure-play website builders like Wix, Weebly, Squarespace, Shopify – and even GoDaddy GoCentral all have in-screen on-boarding to show you how to do things while you build it.
If you're looking to just dive on in and figure it out without having any website building experience, Website Creator probably isn't the best solution for you.
BoldGrid Website Creator Review Conclusion
Website Creator does come with a learning curve, but it offers a ton of customization, flexibility, and ownership for users. Plus, it gives you the best of both worlds: a self-hosted WordPress website without the hassle of tracking down your hosting, website builder, and CMS.
However, there are trade-offs to consider here. If you're looking for a quick, easy, intuitive website builder that you can use to throw up a quick project, Website Creator probably isn't the best choice for you.
Instead, check out my quiz to find what the best website builder is for you based on your preferences.