Larry's Take
Surfer is a recent addition to my SEO tool chest. Surfer allows you to perform a technical SEO audit and compare your content to competing sites. You can compare things like the number of words, backlinks, and keywords and phrases used. Surfer saves hours of time that previously was a manual process. You can get answers in a matter of seconds, which makes it easily worth the cost.
Pros
— Surfer SEO performs over 500 ranking factors in their analysis.
— Uses LSI keyword analysis to tell you what related topics, keywords and content you should add to your existing article.
— Surfer SEO uses machine learning and AI to evaluate the most prominent words and phrases in content. Surfer uses Google's BERT methodology.
— Monthly plans provide a set number of query searches, so you only pay for the limit your team needs.
— Instead of performing a technical audit manually that would take hours to performs, Surfer saves you time within minutes have an audit result to get your content to rank.
— A Google Chrome extension which allows you to use Surfer in WordPress and Google Docs.
Let's be honest: the world of SEO tools is pretty saturated.
I'm sure as a blogger, you already have a large amount of free and paid tools at your disposal. Why would you need another tool? Ahrefs or Semrush does everything you need when doing SEO research… right?
In reality, Ahrefs or Semrush is only the first part of the equation.
Yes, you need to research and determine which keywords are worth going after, but how can you effectively rank for that topic after that's settled?
Surfer fills a gap in creating SEO content. After all, SEO is not about optimizing against Google but competing against other websites. SERP leaves clues on what Google is expecting in the search results.
Previously, technical SEO audits would take hours, if not days, to manually figure out the important search result metrics. Surfer can get you this info in a matter of seconds.
In this Surfer SEO review, I'll break down all of the features and functionality of the service. Also, what's great and not so great with this service and features you can take advantage of, pricing, and if this tool is ultimately right for you.
What Is Surfer SEO?
Surfer SEO is an on-page data-based search engine optimization tool. Surfer is currently used by more than 15,000 businesses in 140 countries. The company was founded in 2008 by agency owner Slawek Czajkowski in an effort to empower their SEO work with data and to save time. Surfer's operations are based in Wroclaw, Poland.
Screenshots
Features
Personally, I mostly use Surfer SEO for their SERP Analysis tool. It saves me a lot of time when creating new content or trying to improve the ranking of an existing blog post. That said, there are other parts of Surfer's service, which I'll also cover in this review.
Here are the five features I'm going to highlight:
SERP Analyzer
Content Editor
Keyword Research
Article & Page Audit
Content Planner
I should note that there are several other features to Surfer SEO and quite a bit of depth to the platform.
SERP Analyzer
If you're still manually reviewing SERP results to see what the top posts are doing to rank, you're wasting valuable time.
In a nutshell, Surfer's SERP Analyzer tool examines the top 48 Google search results for a specific keyword and finds commonalities between them. In fact, Surfer SEO considers over 500 ranking factors, such as:
Wordcount
Page speed scores
Keyword density
Referring to domains and URLs
Meta tags
Natural Language Processing (NLP), which essentially recognizes user intent, sentiment, and which words or phrases have the most meaning in content
Number of headings
Alt image text
Character count for title and meta descriptions
Structured data
There's a lot of data to break down. This can be overwhelming if you aren't familiar with how to use these metrics to improve your SEO.
However, right off the bat, you get a simple chart showing roughly how many words your post should have to compete with the top 10 SERP positions.
From there, you can dig into each specific search result title, URL, domain score, and content score. This is incredibly useful since you can gauge how strong the top SERP spots are and if there's an opportunity to outrank them.
Surfer SEO also provides LSI keyword opportunities to beef up content writing. Specifically, reports provide:
A list of general keywords that commonly appear in top SERP results.
Questions surrounding your main keyword.
Popular words and phrases that appear.
The keywords and question tabs are the most valuable and can help you develop relevant topics to include in a post.
There's also a lot of other granular data. You can see how much content is above the fold, structured data types, and how many images posts use.
Honestly, this data depth is probably more than you need. However, I'd argue it's better to have more data at your disposal and choose the metrics you focus on most for your on-page SEO efforts. Plus, the sheer amount of time you save by getting a snapshot of SERP results can't be overstated.
Content Editor
The SERP Analyzer helps improve existing content on your blog, whereas the content editor of Surfer is to help craft new content that will rank in Google.
This editor is certainly a step up from writing in a basic Word document or the WordPress backend. Surfer SEO actually creates a content score for your specific keyword and gives you tips to optimize your writing like:
Ideal word count.
How many headings and paragraphs to aim for
A list of LSI keywords and the frequency they should appear.
I'll admit the tool is sometimes buggy. It also includes some vanity metrics.
For example, see the screenshot above for "making money blogging."
I manually checked the top SERP positions for this keyword. Most content is in the 3,000 to 4,000 range, if that. Plus, 42 to 150 images clearly seem excessive.
However, this is still a useful tool if you apply some common sense because of the keyword-tracking functionality. If you hire a team of content writers, I'd experiment with having them write content using Surfer SEO's content editor to see if it yields better on-page SEO.
Plus, the Google Chrome Surfer SEO extension integrates the content editor of WordPress or Google Docs. This can be a timesaver in itself.
Keyword Research
Like most SEO tools, Surfer SEO has a built-in keyword research tool.
Admittedly, there's quite a bit of overlap between the keyword research tool and the SERP Analyzer. With this tool, you can:
Find search volume for single or multiple keywords simultaneously.
View a similar keyword volume to your main search term.
Filter to show question-based keywords
Get country-specific search volume and suggestions
Support for 20+ languages
This is pretty much like any keyword research tool you'd use.
However, one nice metric is a SERP similarity score which highlights LSI keywords that best match your main search term.
This isn't the main selling point for Surfer SEO, but it helps speed up keyword research slightly.
Competition scores are also missing but are planned for the future, but that's a major weakness for this tool currently.
Personally, I recommend using other tools to do your keyword research: Ahrefs, Semrush, or my new recent favorite tool KWFinder. Surfer SEO keyword research does appear to be functional, but I prefer other tools. The only reason to use this part of their service is you wish to save some money in monthly fees by using one tool. However, Surfer lacks some of the interlinkings and cross-referencing available with other tools.
Article & Page Audit
If you're curious about how optimized an existing piece of content is for a specific keyword, Surfer SEO's audit tool is going to interest you.
With this tool, you enter a keyword and URL to see how well an article or page is optimized for that keyword. Surfer SEO then performs a similar analysis to their SERP Analyzer report and breaks it down:
Common backlinks you're missing that competitors have.
LSI keywords you're missing.
Word count, heading word count, and bolded word count plus suggested ranges.
If you have enough headers and images.
Page load time and time to first byte.
Title and meta description length suggestions.
Again, it's a little buggy sometimes, and getting a suggested word count of 4,000 to 10,000 words or an image count of 45 to 75 isn't very useful.
However, I like this tool for checking existing articles that are already ranking. You can check if you're missing some easy backlinks, and LSI keywords, and find ways to optimize your content to improve rankings.
Content Planner
This new feature is currently in beta and aims to "streamline your content strategy by creating topic clusters related to your head keyword."
It's a neat premise. Essentially, you enter a content topic, like affiliate marketing. The tool then provides dozens of cluster ideas for your topic, like "affiliate network" or "influencers affiliate marketing."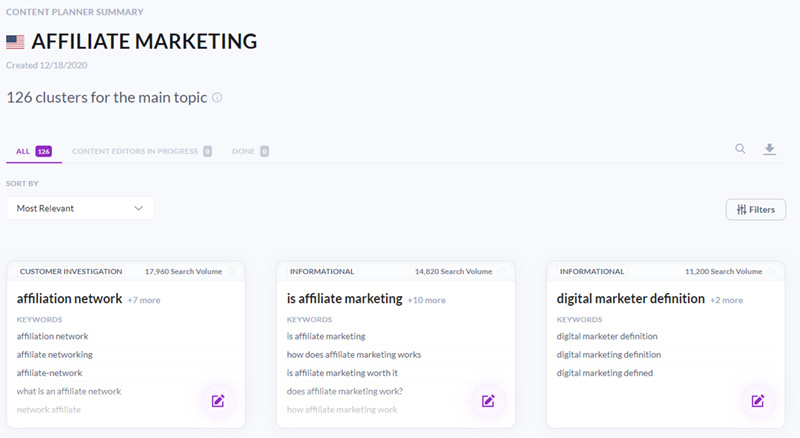 If you click a cluster, you get a detailed view of keyword volume per term. Surfer SEO states a difficulty score is also coming. Though this feature still feels like an afterthought and not the reason why you purchase Surfer.
Other Surfer SEO Features
User-Friendly Interface — Reports are complex, but using Surfer SEO to input keywords and dig into data is intuitive.
Keyword Surfer Extension — Research monthly keyword volume and related keyword ideas with this free Google Chrome extension.
Backlink & Visibility Analysis — These features are still in beta for the SERP Analyzer, but it's nice to see more backlink information is getting added.
Surfer SEO Pricing
SEO tools are typically quite pricey. Surfer SEO leans to the cheaper side, and there's also a variety of plans for hobby bloggers and agencies alike.
Each plan has a different number of daily queries you can call. I actually prefer this to completely unlimited tools because you know exactly what you pay for and how much use you're getting.
Feature
Essential
Advanced
Max
Enterprise
Keyword Research
100/day
100/day
100/day
Custom
Content Editor (monthly)
15
45
90
Custom
Audits (monthly)
$49 add-on

for 100/month
$49 add-on

for 100/month
100 included
Custom
Plagiarism Checker
$29 add-on

for 100/day
$29 add-on

for 100/day
100/day
Custom
Plagiarism Checker
Included
Included
Included
Included
Team Members
2
5
10
Unlimited
Price
$89
$179/mo
$299/mo
Custom
Surfer SEO Plans & Pricing
There are some other differences between plans. For example, the Audit and SERP Analyzer features are add-ons with the Essential and Advanced plans, but they're included with the Max and Enterprise plans.
Finding the right plan really boils down to your daily query limits. Again, it's simple, and you know what you're paying for.
Note that you get up to an 18% discount for paying annually, depending on your plan. you also have available a 7-day money-back guarantee.
Surfer SEO Alternatives
The SEO tools niche is a crowded space with many alternatives to Surfer. However, in reality, Surfer is somewhat unique in comparison to keyword research and link-tracking services.


Ahrefs Review
Rating

10.0/10

Price

$99 - $999 per month

Promotion

None


Semrush Review
Rating

9.0/10

Price

$119.95 - $449.95 per month

Promotion


KWFinder Review
Rating

9.0/10

Price

$49 - $129 per month

Promotion
Either way, Surfer is a must-have SEO tool that I use regularly.
My Recommendation
If you're brand new to using SEO tools, Surfer SEO's 500+ ranking factor analysis and in-depth audit tool will take some getting used to. You unlock a lot of data with this platform, which is a good thing in my eyes. Yes, some of it is excessive. However, when it comes to in-depth technical SEO analysis that also saves time, it's hard to beat Surfer SEO.
Though their content planner and editor aren't as impressive, I'd focus your attention on the SERP Analyzer, which is, in my opinion, the reason why you are purchasing their service.