| | |
| --- | --- |
| Support | Help Desk, Chat, Videos & Knowledge Base |
| Uptime | Excellent (99.99% past 6 months) |
| Free DNS | |
| Free Domain Privacy | |
| Best For | Domain Name Registration |
| Strengths | Great Domain Registrar |
| Weaknesses | No Phone Support |
| Promotion | Get A .COM For $5.98! |
Namecheap is an independent web services company founded in 2000. The company was founded as a domain registrar but has long since expanded to offer a full suite of web hosting and other services.
But how does Namecheap compare to other domain registrars, and how do its other services compare to its top competitors?
Namecheap also provides email hosting, a website builder, and SSL certificates, but it's their web hosting service that garners the most questions from readers. I'm often asked about it because it's so cheap – so cheap that it makes some people suspicious.
I usually keep my hosting and domain registration separate (domains with Namecheap, hosting elsewhere) I had a small project to launch, so I decided to host it through Namecheap to see how their service holds up.
In this Namecheap review, I'll cover everything you need to know, including pricing, hosting plans, onboarding, pros and cons, and more.
Namecheap Pricing
Namecheap has a wide range of hosting plans, and they are constantly running promotions of their services. Check out Namecheap's latest promotions and deals.
Here is an overview of their standard pricing.
Domain Registration
Namecheap supports just about every domain name extension available. You can register new domains or transfer existing ones to Namecheap as well.
To protect your WHOIS privacy, Namecheap offers this for free. While they aren't the cheapest domain registrar, they're my top overall pick as they offer the best mix of competitive pricing, features, and domain name options.
| Domain Ext. | Registration | Renewal | Transfer |
| --- | --- | --- | --- |
| .com | $5.98/yr. | $14.58/yr. | $9.78/yr. |
| .net | $11.18/yr. | $14.98/yr. | $11.18/yr. |
| .org | $7.48/yr. | $14.98/yr. | $10.98/yr. |
| .biz | $4.98/yr. | $18.98/yr. | $14.98/yr. |
| .co | $9.48/yr. | $28.98/yr. | $24.98/yr. |
Web Hosting Plans
Web hosting, also known as shared hosting, is the bread and butter of the website hosting world. With this type of hosting, many individual accounts share a single Linux server. You can run WordPress or any application on a LAMP Stack, and it's a cost-effective and reliable way for web hosting companies like Namecheap to handle large numbers of websites. You can find out more about Shared Hosting in this guide. Namecheap has three main shared hosting plans – each of which is a great hosting package.
| Plan | Stellar | Stellar Plus | Stellar Business |
| --- | --- | --- | --- |
| Initial Price* | $1.98/mo. | $2.98/mo. | $4.98/mo. |
| Renewal Price | $4.48/mo. | $6.48/mo. | $9.48/mo. |
| Websites | 3 | unlimited | unlimited |
| Storage | 20 GB | unlimited | unlimited |
| Bandwidth/month | unmetered | unmetered | unmetered |
| Free Domain Name | 1 year | 1 year | 1 year |
| Free SSL | | | |
| CDN | | | |
| Dedicated IP | | | |
| Daily Backups | | | |
* Pricing per month for a 12-month subscription
Managed WordPress Hosting
Even though you can run a WordPress website on a shared hosting plan, many hosting companies have dedicated WordPress hosting plans due to customer demand and the hardware demands of WordPress. And with most, their"WordPress hosting plans" are *exactly* the same as their shared hosting plans.
Namecheap's WordPress plans are actually different than their Web Hosting plans. They run on Namecheap's Cloud and come with resources customized for WordPress. The only downside is that every plan is limited to a single WordPress install – you can't run multiple websites – and you don't get the same bells and whistles that other WordPress hosts provide. But for a single WordPress site, it's a great value.
| Plan | EasyWP Starter | EasyWP Turbo | EasyWP Supersonic |
| --- | --- | --- | --- |
| Initial Price* | $6.88/mo. | $12.88/mo. | $19.88/mo. |
| Renewal Price | $6.88/mo. | $12.88/mo. | $19.88/mo. |
| Websites | 1 | 1 | 1 |
| Storage | 10 GB | 50 GB | 100 GB |
| Visitors/month | 50,000 | 200,000 | 500,000 |
| Free Domain Name | | | |
| Free SSL | | | |
| CDN | | | |
| Dedicated IP | | | |
| Daily Backups | | | |
* Pricing per month for a 1-month subscription
VPS Hosting Plans
VPS hosting is a great way to get a specific allocation of server resources without having to lease an entire server. Even though your website lives on the same server as other sites, you have total control over a set amount of resources. Learn more about VPS hosting in this guide. Namecheap has several competitively priced VPS plans that offer managed and unmanaged options.
Dedicated Hosting Plans
Dedicated hosting is where you lease an entire server and get support, bandwidth, and other perks along with it. It's the most cost-effective way to host a large website with predictable traffic (sites with unpredictable traffic usually go for cloud hosting). Namecheap has a range of dedicated server options depending on your resources & expertise.
Reseller Hosting Plans
Reseller hosting is a shared, VPS, or dedicated server plan with 3rd party billing and management enabled. Reseller hosting allows anyone to basically start their own hosting company without actually creating a hosting company. Read more about Reseller hosting in this guide. It's a great way for agencies to get recurring revenue and provide extra value for clients. Namecheap has a range of reseller hosting products.
Email Hosting Plans
Namecheap has a *very* interesting email hosting plan for businesses that don't want to do Google or Microsoft's productivity suite. It's a great way to save money while maintaining an @company domain email address. See their plans.
Website Builder
Namecheap built its own template-driven website builder. It comes bundled with the purchase of a hosting plan. The end result is that you get many of the benefits of an all-inclusive website builder (like Wix or Weebly), but on a server that you control. You can check out Namecheap's website builder here.
Namecheap's Web Hosting vs. WordPress Hosting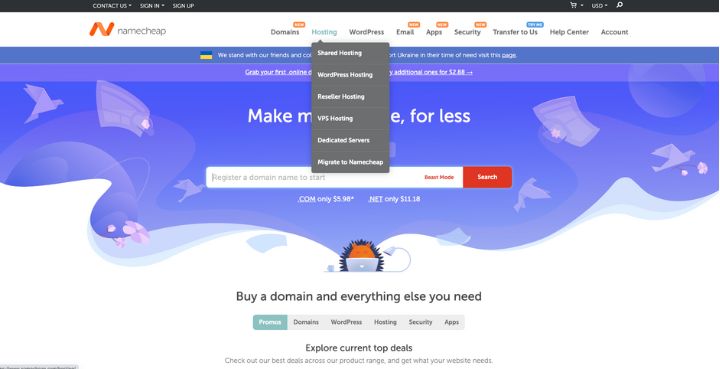 The industry's move to "WordPress Hosting" is a bit of a mess. I've written an entire post on Web Hosting vs. WordPress Hosting, Explained – but here's the short version.
WordPress software can run on any Linux server with PHP (aka "regular web hosting").
Again – WordPress can (and does) run fine on a shared hosting plan.
WordPress does use some server resources at an above-average rate and others at a lower rate.
WordPress also has some issues. It needs to be regularly updated. It is database driven – not static. It uses plugins to add functionality. That's great, but it can create temporary security vulnerabilities.
So – hosting companies saw an opportunity to create whole clusters of servers built exclusively for WordPress websites.
Since they were all together, they could also provide dedicated support and some specific WordPress add-on services at a cost-effective rate.
Hence, "WordPress Hosting" plans were created – which added a further opportunity for marketers & pricing specialists.
For some companies, WordPress Hosting plans became a way to increase revenue and decrease costs without adding much value.
For other companies, WordPress Hosting plans became a way to create a huge value-add to differentiate from competitors and pass the cost savings to customers. For other companies – it was a mix. And in the end, it's been thoroughly confusing for everyone.
Unlike most web hosts, Namecheap's WordPress Hosting plans differ from its regular web hosting plans. The plans are limited to a single website, but the resources are actively managed on cloud servers.
Regardless, before you sign up for a company's dedicated WordPress Hosting, take some time to identify your own needs and goals.
Convenience is great – but it's important to understand what you are paying for. For an inside look at Namecheap, let's take a close look at the pros and cons.
Pros of Namecheap
Here are some reasons why you should consider Namecheap.
Cheap Pricing
Namecheap's primary advantage is its pricing.
It's cheap – like, shockingly cheap.
But doesn't always equate to value. To figure that out, we need to examine how their hosting pricing is structured.
Web hosting companies are all selling the same thing – a home for your website – but they all have different plans with different caps, different bonuses, and different renewal prices. For most, figuring out their true value requires a breakdown into different parts.
To ensure I'm comparing apples to apples, I break things down into Core and Bonus hosting features.
Core hosting features are the "3 D's" – domains, databases, and disk space. The core purpose of a hosting server is to serve website files when someone types in your domain name.
Domains are how many domain names you can point to your hosting account. If you want multiple websites, you'll want to have multiple domains allowed. You'll also need to look at email addresses per domain – sometimes, those are capped.
Databases are how many pieces of website software you can run on your hosting server. A WordPress install requires one database. If you have any apps, Listservs, etc. – you'll need more.
Disk space is how many files you can put on your server – images, text, PDFs, etc.
Other features include anything from website builder software to cPanel management software to unmetered bandwidth to unlimited websites to SSD storage to a free SSL certificate to premium DNS.
When you break it down like this, you can at least make a fair comparison and get a sense of value based on what you need.
Namecheap has three pricing tiers. Stellar renews at $30.88/yr; Stellar Plus renews at $52.88/yr; Stellar Business renews at $98.88/yr.
All plans come with absurdly low intro pricing – as low as $2.88/yr for the Stellar plan.
The catch is that all the plans are capped on two of the three "D's" – in addition to other caps.
You can find more in the Cons section on plan limitations, but here's how the plans work out.
Stellar – Limited to 3 websites, 20GB in disk space, 50 databases, and 30 email accounts.
Stellar Plus – Unlimited domains, disk space, databases, and email accounts.
Stellar Business – Adds personal nameservers, priority support, and guaranteed 50GB in disk space.
Namecheap's plans have such tight limits on Stellar that it's really hard to compare them directly to other companies' low-priced hosting plans. However, their mid-tier is competitive with other offerings.
The bottom line is that if you can stay under the caps – Namecheap will almost always be cheaper than the competition.
If you can't, you will likely get more total value from a web hosting service with fewer individual caps, such as InMotion, Web Hosting Hub, HostGator, Bluehost – or even SiteGround.
Either way, Namecheap's pricing is their primary advantage.
Company Brand
Namecheap is a privately-owned independent hosting provider. That's a rarity in a world where a handful of corporations own nearly all hosting brands.
Being private and independent isn't always a good thing, and being owned by a large corporation is not necessarily a bad thing.
But where Namecheap excels as an independent company is how it defines its values and strives for transparency.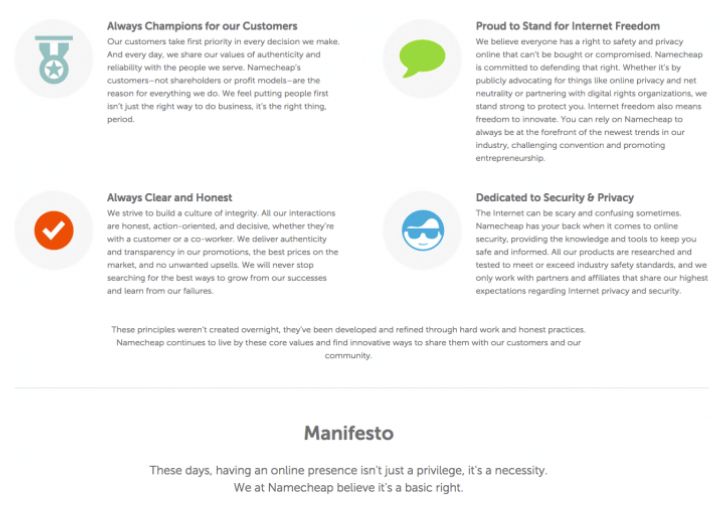 As mentioned in my Namecheap or GoDaddy domain registrar review – Namecheap has consistently donated money and resources to Internet freedom and security.
They are corporate partners with the Electronic Frontier Foundation and FightForTheFuture.org – both organizations fighting for the basic infrastructure of the Internet.
Namecheap is also transparent about all its services and pricing. I like how they have an expandable list of all their hosting features and how they prominently display renewal rates.
Overall, they are a company that I think is trustworthy with a solid culture. When choosing who to do business with, I think it counts for a lot.
Great Onboarding
Just like any new product – signing up for a new web host can be daunting, especially for beginners.
That's what makes the onboarding process so critical. After all, nothing will create buyer's remorse more quickly than a confusing onboarding process.
Namecheap gets it right. Immediately after getting your sign-in credentials, you can opt for a guided tutorial or log in directly to your new dashboard.
Namecheap sends out a welcome email where you can log in directly to your services or follow directions to the right help resources.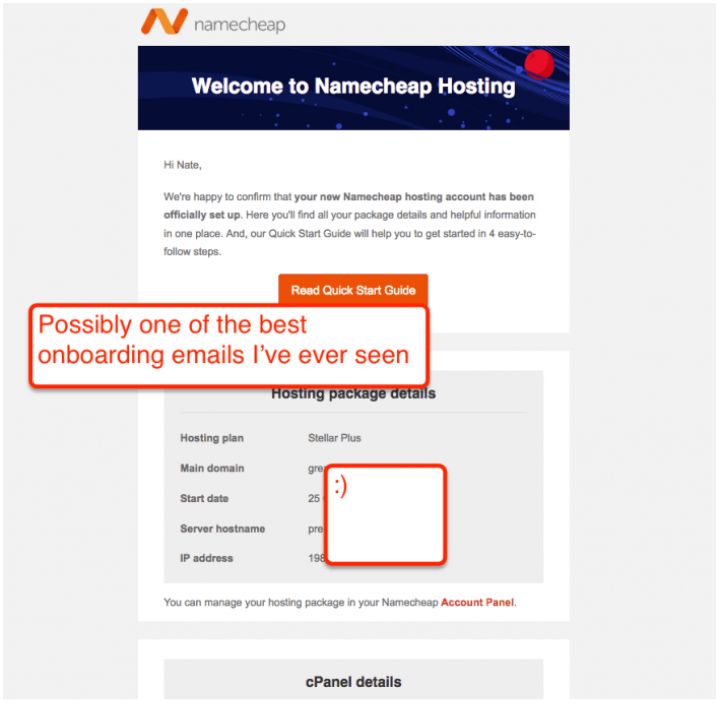 Their account backends are clean and minimalist. There are no flashing banners or hard upsells.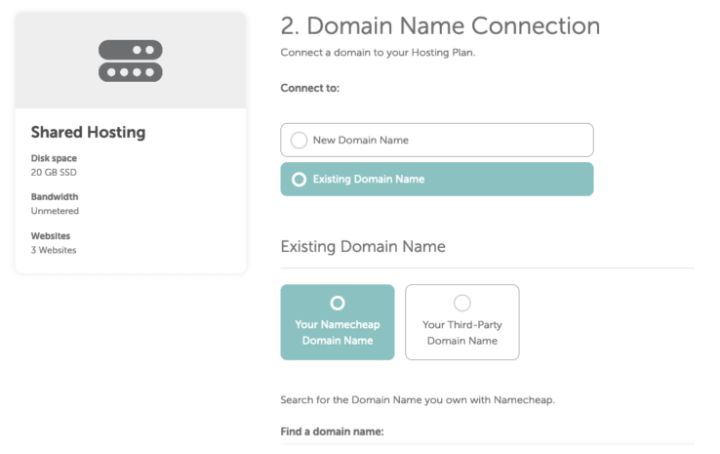 Their WordPress quick install software installs a clean version of WordPress with no additional plugins or themes.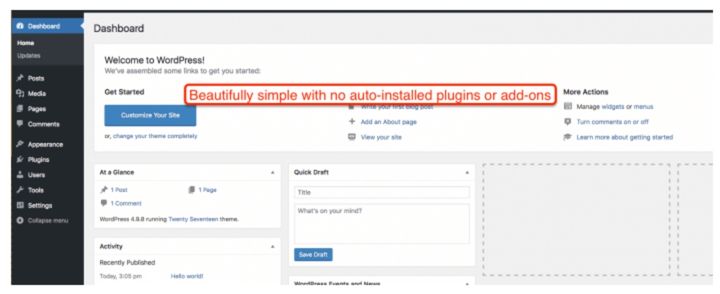 And a simple, minimalist backend.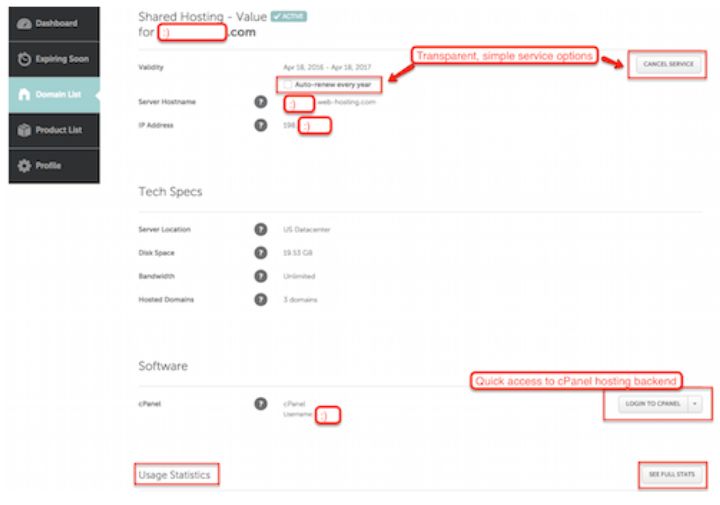 Namecheap's onboarding is perfect for DIYers or beginners looking for a super-cheap but straightforward web hosting company.
Datacenter Choices
At sign-up, they offer a choice between Namecheap's three data centers:
Phoenix, Arizona (USA)
Nottingham, England
Amsterdam
The Arizona data center does not cost extra, while the UK and Amsterdam data centers cost an additional $1 per month.
Having the choice of a European data center makes Namecheap a great choice for customers who are serving web visitors outside the US.
Backups
Namecheap also performs twice weekly backups of your hosting account. While you should do backups yourself, it's a great safety net to have. And backups are included for free with Namecheap. Usually, it's a paid or limited bonus feature at competitors like:
Cons of Namecheap
Like any web host, Namecheap has disadvantages. Here are the cons that I found while using Namecheap for hosting.
Hosting Plan Limitations
As mentioned in the Pricing section, Namecheap places caps across domains, disk space, databases, and email addresses.
If you are only running a couple of sites you know will stay small, Namecheap can be great. But for many website owners, the problem isn't in the caps themselves but in how they overlap.
Namecheap's new plan structure is much better than it used to be, but they still heavily cap the lowest tier. The middle and top tiers are competitive on paper but only for a certain segment of hosting customers. You have to look at allocations and features carefully to make sure that you are getting a solid value.
And ironically, if you pay for Namecheap's top plan, you're constrained by other limits. For example, they market their eCommerce hosting, even though the Stellar Plus plan is not technically PCI Compliant.
Either way – Namecheap's limitations are a disadvantage because there are so many of them that require additional planning when purchasing.
Poor Performance
While server speed is not the only factor in overall website speed, it is an important factor.
I use Time To First Byte (TTFB) to measure server performance. It shows how quickly a server delivers the first byte of information after it receives a request.
Here's how Namecheap performed the day I measured it with my website –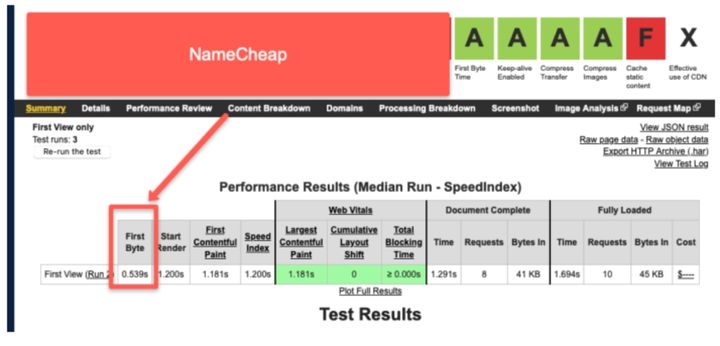 Here's how Web Hosting Hub (a direct competitor) performs –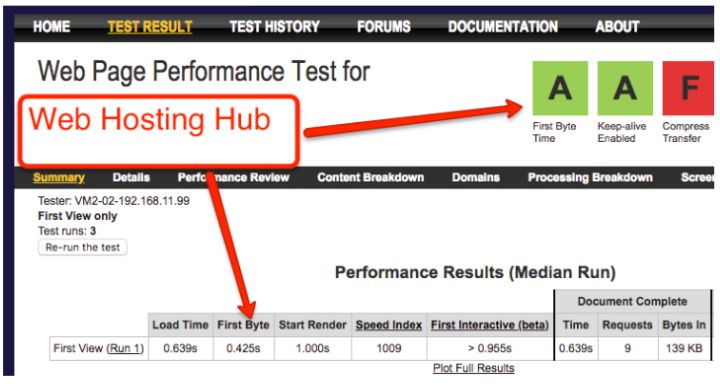 As you can see – Namecheap's performance was solid – in fact, they are basically tied with their direct competition. And they do better than many bigger brands. In fact, on other metrics, like uptime and bandwidth – they often do better.
Unfortunately, Namecheap's server information makes it look like they cap the servers the websites run on.
If you have a small site with few images, you'll likely never know the difference.
However, if you are planning on expanding your site or growing your site traffic, then you need to know what is under the hood. For Namecheap, it's pretty limited.
For example, for some reason, they install a (very) old version of PHP by default on even their newest packages.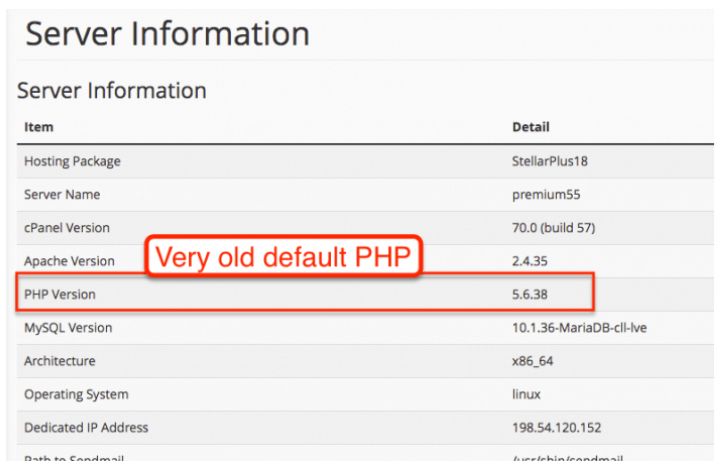 They also have low memory allocations to their new accounts (and note that this is a new Stellar Plus account).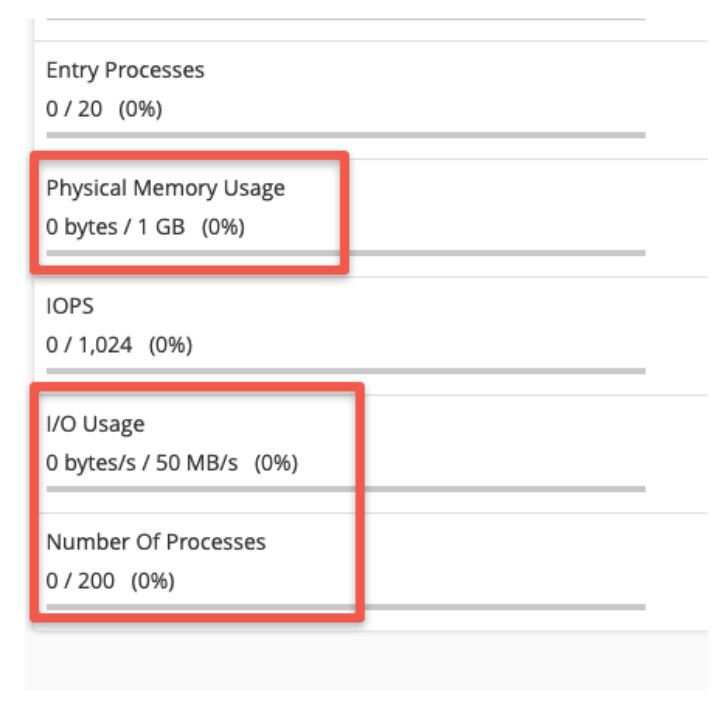 Here's how those allocations compare to InMotion Hosting's shared hosting account allocations: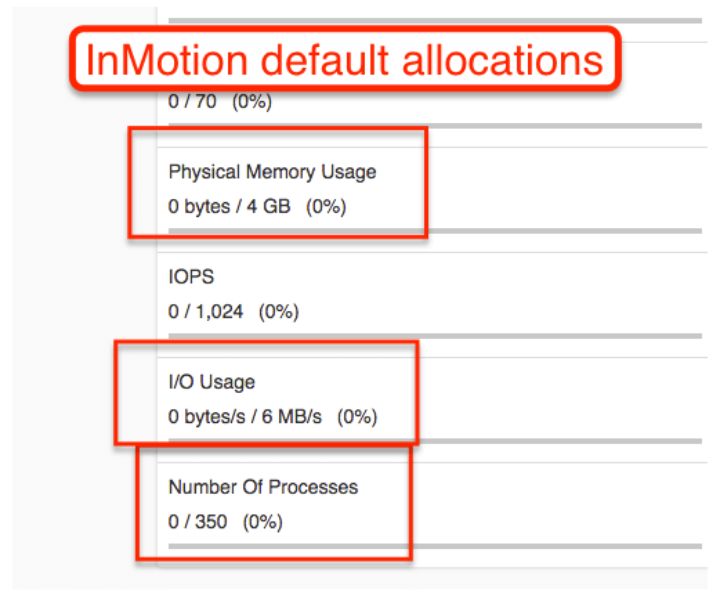 Low allocations are fine if you are trying to balance your network, but when limits are this low and this frequent, it indicates that they are probably loading up their shared servers with lots of accounts, which is one reason they can offer such low prices.
In fact, if you are planning on hosting only a few WordPress-powered websites, you can get around some of the plan caps with their EasyWP product. They limit storage but manage other resources, so you only worry about your visitors instead of your bandwidth/memory usage (similar to other managed WordPress hosts like WP Engine / Kinsta).
If you have a low-traffic website, it's great. However, I would not buy Namecheap hosting for its speed or performance.
Customer Service
Customer support is notoriously hard to judge. It's hard to know what is really going on behind the scenes and whether a company will be helpful when you contact them.
So many user-supplied online reviews (of any company) are either naively positive or exaggerated negative experiences. Besides, with anecdotes, you never know if you are reading about a one-off incident or a true trend.
Instead, I argue that you should look for indicators of whether a company treats customer service as a cost or an investment. In other words, are they trying to keep costs down and maximize profit for the short term, or are they trying to develop happy, long-term customers?
The two best indicators I've found are availability across a range of support channels and investment in DIY customer support.
In my opinion, Namecheap is mediocre on both counts.

For availability, they have live chat and helpdesk. My live chat wait time is usually pretty good, and the service is fine. But sometimes text-based support can get tedious when you have a complicated issue.
They do have website transfer assistance and setup help.
As far as DIY customer support resources, they have a decent knowledge base, though it's focused primarily on domains – not hosting.
This point segues into the next point about Namecheap's product focus.
Web Hosting Isn't Their Speciality
Namecheap is, first and foremost, a domain registrar. In fact, one of the reasons I use them for domain registration is that they make it so easy to purchase a domain and point it to hosting or email services elsewhere.
In the broader Internet services industry, domains and hosting are natural complements. But I've never really seen a company do both super well.
Hosting providers that offer domain registration usually over-price them and make domain management a pain. Domain companies usually don't have the expertise or resources to run a world-class hosting infrastructure.
That's not to say it can't be done or that some companies don't come close. However, it seems like hosting and domains are like coffee with breakfast.
They go well together, but it's usually not an ideal situation. Starbucks tries to do breakfast, but it doesn't measure up. McDonald's tries to make coffee, and well, you get my point.
Even if Namecheap's hosting were incredible – I'd still be hesitant to use them because it puts all my Internet components with one company.
To minimize risk, I prefer to keep my domains and hosting at different companies.
Namecheap Alternatives
Namecheap is certainly not the only option available to register your domain name. In fact, you can bundle your hosting with your domain name and often get it for free.
Get Your Domain For Free
You can get a free domain name (one-year term) when you get web hosting with the providers listed below. Here's a list of companies I recommend using:
It certainly will save you money compared to buying your domain name and hosting separately. To keep the domain name, you are usually required to stay with the web host for a specific period or pay a cancellation fee. Ultimately this is a better deal than buying separately.
If you are looking just to buy a domain name or want to buy in bulk, check out these Namecheap alternatives:

GoDaddy Review
Rating

7.5/10

Free DNS

Yes

Free Domain Privacy

No

Promotion

Dynadot Review
Rating

8.5/10

Free DNS

Yes

Free Domain Privacy

Yes

Promotion

Google Domains Review
Rating

8.5/10

Free DNS

Yes

Free Domain Privacy

Yes

Promotion

None
The Bottom Line on Namecheap
Overall, I found Namecheap Hosting to be a great budget hosting option. If you are starting a very small website, concerned more about price than plan limitations, Namecheap will work very well.
If you are looking for an independent web hosting provider with better performance, customer support, and plan options, I recommend InMotion Hosting.
If you still aren't sure – check out my list of the best web hosting providers and best domain registrars.
FAQs