Larry's Take
My mailing list provider of choice, ActiveCampaign has everything you want, from starter email marketing to advanced automation. My biggest complaint about this service is that you can get many features only by purchasing a higher-tier plan. Also, I do wish that, instead of a newsletter-style format, the email editor allowed you to send emails that looked like you personally sent them. ConvertKit offers this feature. However, if you want to automate anything, you can do it with ActiveCampaign.
Pros
Advanced Email Automations — It is perhaps the best email marketing automation service. Unlike Infusionsoft, which can be confusing to use, ActiveCampaign makes it easy to automate emails. There are more than 20 different ways to trigger automations.
Great Email Deliverability — According to EmailToolTester, ActiveCampaign ranks highest in email deliverability.
Free Migrations — ActiveCampaign will move your list from your old email provider for free.
Supports Emails Lists And Tags — It's one of the few email services that support both segmenting your audience into email lists and tagging your contacts.
870+ Integrations — If you can think of another service you want to use with ActiveCampaign, more than likely there's an integration for it. If not directly, then with ActiveCampaign's Zapier.
250+ Pre-made Automations — ActiveCampaign has more than 250 recipes you can use in your automation. Many are free, but some you can purchase as well.
Cons
Can Be Confusing to Use — ActiveCampaign offers a lot of functionality. Unfortunately, the menu structure makes it sometimes hard to find features.
Difficult to Make Personal-Looking Emails — From my experience, personal-looking emails get the best delivery and open rates. Unlike ConvertKit, which can send emails that look exactly like personal emails, it's a little difficult to make emails look personal in ActiveCampaign.
Poor Reporting — While there are a lot of reports available, their reporting could be much improved. Some of the newer reports seem like an afterthought and is the weakest part of the ActiveCampaign service.
API Does Not Include Email Sends — If you are looking for third-party reporting, ActiveCampaign does not email send data via its API. This makes it difficult to get open rates outside of ActiveCampaign's own reporting. However, most services don't offer this option.
Live Chat Conversations — In trying to compete with Intercom, ActiveCampaign offers a messaging platform. It's just not as good as Intercom's gold standard. Fortunately, it is available only as an add-on service.
Landing Pages — ActiveCampaign recently introduced a landing page service. I know it's been a popular request, but for me, the designs are just ok. I would much rather use a third-party service or WordPress plugin to do the job.
Custom Domains in Highest Plan — ActiveCampaign provides custom domains only for their Enterprise plan.
If you want to run a successful blog or online business, you need email marketing.
Building an engaged email list is one of the most powerful things you can do as an online business owner.
Search engine algorithms change. The popularity of social media channels wanes. Affiliate programs disappear.
But your email list is always there to support your traffic and revenue goals.
It's one of the few marketing channels you own.
However, if you're choosing an ESP (email service provider), it's critical to pick one that has enough functionality both to let you create highly targeted emails and to automate your workflow.
Thankfully, ActiveCampaign allows you to do exactly that.
If you want powerful automation features, more control, and ultimately to take your email marketing strategy to the next level, ActiveCampaign could be what you're looking for.
I should know; that I've used ActiveCampaign for over five years now for this blog and my previous business.
Let me break down everything you need to know in my ActiveCampaign review.
What Is ActiveCampaign?
ActiveCampaign is a cloud-based email marketing platform that caters to e-commerce, digital marketing, and bloggers. Automation is certainly the name of the game with ActiveCampaign, and this theme extends to the various features you unlock as an ActiveCampaign user.
CEO Jason VandeBoom founded ActiveCampaign in 2003. Originally, ActiveCampaign was a self-hosted solution. In 2013, ActiveCampaign changed to a software as a service (SaaS) model. Now ActiveCampaign has more than 500 employees and more than 130,000 customers worldwide.
ActiveCampaign Pricing
ActiveCampaign's pricing is tiered and a little more complicated than its competitors. The more email subscribers, the more you pay, but there are also higher-level plans that have more functionalities.
There are four tiers:
Lite — Includes everything you need for email automation, lead capturing, and third-party software integration and allows up to three users.
Plus — Adds landing pages, contact scoring, more CRM functionality, SMS prospect nurturing, and up to 25 users.
Professional — Includes website personalization, machine-learning-based predictive sending and content tips, in-app messaging, split automations, and up to 50 users.
Enterprise — Adds a custom mail server, domain, reporting, free design service, a dedicated account rep, and unlimited users.
There are a lot of features to unpack, but ActiveCampaign's tiers are clearly suited for different-sized operations.
For example, the Lite plan has everything an independent operation needs for basic email marketing, automation, and list building. The Plus plan is worth the upgrade if you begin paying for ads and want landing pages and leading scoring. Finally, larger organizations need more customization, and users can consider a Professional or Enterprise plan.
For 1,000 contacts, the Lite plan starts at a reasonable $29 per month. Each plan becomes more expensive as your list grows:
| Subscribers | 1,000 | 5,000 | 10,000 | 50,000 | 100,000 |
| --- | --- | --- | --- | --- | --- |
| Lite | $29/mo | $55/mo | $155/mo | $345/mo | $505/mo |
| Plus | $70/mo | $169/mo | $249/mo | custom | custom |
| Professional | $159/mo | $239/mo | $349/mo | custom | custom |
| Enterprise | $279/mo | $449/mo | $499/mo | custom | custom |
This doesn't represent every contact list but only the more popular entry points, from my experience. If you're looking for an exact pricing for your needs, please visit the ActiveCampaign website.
If you pay yearly, you can get a discount as well. Discounts vary but can be as much as 21% off the monthly fee.
Custom plans mean you must speak with a salesperson to get set up. Pricing and features are negotiable as well.
Overall, the Plus plan is the most cost-effective plan to unlock most of ActiveCampaign's notable features such as contact scoring.
It's also worth noting that ActiveCampaign offers free migration to its email service if you're currently looking for a new ESP.
However, one significant downside is that custom domain names are available only for Enterprise users. Keep this in mind when considering ActiveCampaign.
ActiveCampaign Alternatives

ConvertKit Review
Rating

9.0/10

Price

FREE - $2,599+ per month

Promotion


MailChimp Review
Rating

8.5/10

Price

FREE - $299 per month

Promotion

Rating

8.5/10

Price

FREE - $699 per month

Promotion
ActiveCampaign Features
ActiveCampaign is a comprehensive SaaS product that combines email marketing, sales automation, and customer relationship management (CRM). In this review, I'll cover the key features of ActiveCampaign that you absolutely need to know about.
Briefly, ActiveCampaign includes these functionalities:
Unlimited Emails — No limit to how many emails you can send per month with any plan.
Automations — Create complex email marketing funnels based on various triggers.
Forms — You don't need a third-party service like OptinMonster to get started with sign-up forms on your blog.
WordPress Plugin — Easily add your ActiveCampaign Forms, Landing Pages, Site Tracking, and Live Chat to your WordPress blog.
Email Segmentation — ActiveCampaign supports segmenting your email subscribers via tags and separate email lists.
Email Broadcasts — Create an email broadcast and optionally schedule when to send it out.
More Than 870 integrations — Many direct integrations are available with ActiveCampaign and the third-party service Zapier.
Powerful API — Custom-develop your own integration with the feature-rich application programming interface (API).
CRM With Deal Tracking — Track leads and share email and chat histories with other employees.
A/B Testing — Test different subject lines and emails to see which performs better. Available for email campaigns and automations.
Leading Scoring — Rate each email subscriber based on metrics of how they interact with your list.
Subscribe by SMS — Give options for subscribers to sign up and get alerts via their mobile phones.
Free Migrations — ActiveCampign will help move your existing setup from another ESP free of charge.
RSS Feed — ActiveCampaign allows you to automatically email your latest WordPress blog post to your audience.
Two-Factor Authentication — Log in securely with multi-factor authentication.
Facebook Custom Audiences — Connect email list to Facebook audiences (available in ActiveCampaign's higher-priced plans).
Landing Pages — ActiveCampaign's new landing page service is available with the Plus plan or higher.
Web Form Builder and Landing Pages
Out of the gate, ActiveCampaign's drag-and-drop email builder lets you easily craft eye-catching email blasts. If you've ever used an ESP like ConvertKit or MailerLite, this block-based email builder will feel familiar. Plus, there are more than 25 templates you can choose and edit, so you don't have to build multiple email templates from scratch.
ActiveCampaign has four form options for capturing contacts:
Inline
Floating bar
Floating box
Modal
As with most other ESPs, you can edit the form's design and color.
ActiveCampaign lets you qualify contacts from the start by adding a custom form field to collect information.
For example, you can ask new contacts what product they're most interested in — say, if they want a demo or if they'd like to schedule a call. You can also automatically segment new contacts, begin automation, or notify your sales team depending on the quality of lead your forms capture.
Although I prefer using a tool like OptinMonster, ActiveCampaign's option gets the job done.
The newest feature added to ActiveCampaign is the landing page builder. Although I can see this feature being useful to some users — there's no WordPress setup needed — I prefer using third-party tools. I always feel it's better to use services dedicated specifically to add-on functionalities like this. This is why I prefer to use OptimizePress for this instead.
ActiveCampaign Segments
The real benefit of using ActiveCampaign is the ability to segment your contacts. This drives your list automation.
ActiveCampaign allows you the flexibility to segment via three methods:
Lists — Distinct separation of email accounts into different segments.
Tags — Create attributes that you define in an email subscriber.
Custom Fields — Track unique information per email that can be used in your automations.
I've used all three methods in different combinations.
Lists make it very easy to track users and group prospects and customers. For example, you can send different emails to customers than to prospects.
ActiveCampaign's lists hark back to the old days of email lists when you set up each list with very distinct segmentation. You can create an unlimited number of lists, including multiple email lists, which is a plus for ActiveCampaign.
Tags are dynamic data points about customers — think number of page views or purchases. Tags can be used to create attributes that can then trigger automations in ActiveCampaign.
Finally, custom fields store unique contact data, such as quiz results or location or immutable characteristics like address, age, and sex. These custom fields can be inserted into emails via variables.
As you begin assigning tags and filling in custom fields for users, you can start leveraging automatic segmentation to group similar contacts.
Specifically, you can automatically segment contacts based on things like:
Customer lifetime value
Products purchased and time elapsed since last purchase
Industry and job role
Email openers and clickers
Quiz results
Users who contact you
Geographic location
ActiveCampaign has such in-depth segmenting because of its website tracking capabilities. ActiveCampaign collects data on how contacts interact with your website, so you can segment users based on their behavior and automate email follow-ups.
Ultimately, ActiveCampaign has everything you need to capture new contacts, automatically segment them using data, and create highly targeted email marketing flows to reach customers at the right time.
Lead Scoring
Lead scoring is an underutilized but very powerful feature within ActiveCampaign. This feature is a massive selling point for ActiveCampaign, especially if you run an e-commerce business.
ActiveCampaign lets you assign scores to different user actions, such as:
Visiting specific web pages
Downloading lead magnets
Starting a free trial
Abandoning carts
Completing an automation
Opening, clicking and replying to emails
You choose how many points to assign or subtract based on these actions. You can then begin automations depending on a user's score or notify your sales team of hot leads.
This feature is incredibly powerful when used correctly. Theoretically, your sales team can follow up directly with highly qualified leads to offer additional support, answer questions, and deliver white-glove service. If you're selling an expensive product, even a slight change in conversion rate because of automatic lead scoring could mean a significant lift for your business.
Automations
The primary reason to use ActiveCampaign automation is to have the software work for you 24/7. Unlike most email marketing providers that support just email campaigns, ActiveCampaign lets you design email drips and branches to your heart's content.
ActiveCampaign makes email automation easy and is one of the most advanced options, from my testing. ActiveCampaign is like Infusionsoft without the confusing aspects that come with its software.
Visual Flowchart
With ActiveCampaign, you have a visual flowchart that you can use to set up workflows. The workflows can get complex pretty quickly. I recommend you create discreet automations and link them together rather than setting up one big monolithic automation that covers all actions.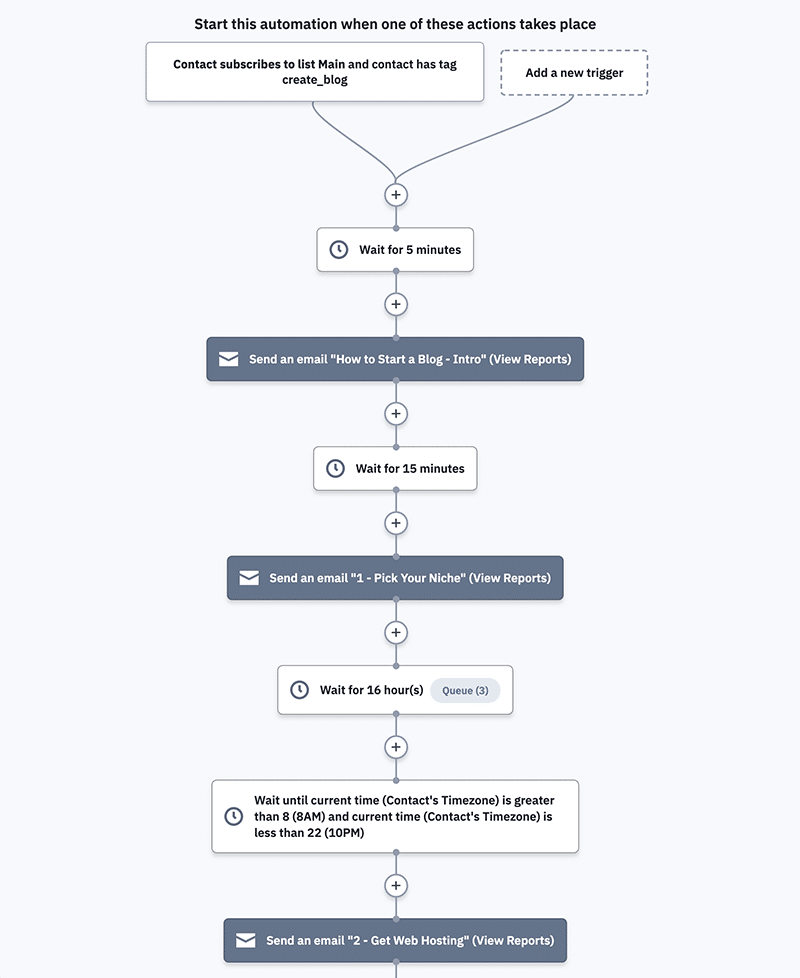 Triggers
ActiveCampaign's triggers allow you to automate pretty much anything. If you can think of an option to automate, ActiveCampaign can do it:
Starts without a trigger
Submits a form
Subscribes to a list
Unsubscribes to a list
Open/reads an email
Clicks a link in an email
Visits webpage
Event is recorded
Shares an email
Forwards an email
Replies to an email
Tag is added
Tag is removed
Field changes
Goal is achieved
Date based
RSS based
Enters a pipeline
Deal stage changes
Deal status changes
Note that with ConvertKit, there's currently no way to create automations without a trigger. A possible workaround would be to create a sign-up form that isn't used. However, a service like ThriveCart has the option to fire automations in ActiveCampaign.
Actions
After an event occurs, what actions can you perform? Here's a list of options available in ActiveCampaign:
Wait
If/else
Split
Go to
Goal
Start another automation
Exit this automation
End another automation
Webhook
Perform math
It should be noted that webhooks to external systems are available within ConvertKit but can be created only via the service's API. You cannot create webhooks via ConvertKit's dashboard at the moment.
Conditions
ActiveCampaign has many advanced options to test against your email subscriber such as:
Date created
Tag added
Tag removed
Has clicked on a link
Has opened an email
Geography based on IP address
Visited a webpage
Total site visits
Visitor's time zone
To a degree, this is good. But it can also be overwhelming for most ActiveCampaign customers.
Automation Templates
ActiveCampaign has more than 250 recipes that you can use. Most automation templates are free, but others must be purchased.
Automations include:
Re-engagement
Abandoned cart
Upsell after purchase
Webinar reminder
Welcome services
These are great templates to start out with for ideas. You can then extend them to your own needs.
Integrations
Most people realize integration is an important feature only after they purchase an email service provider.
All too often, your choice in SaaS determines what other software tools can you use.
Not with ActiveCampaign.
ActiveCampaign integrates with more than 860 different platforms. Of the many services I've used over the years, I've yet to find a service that didn't integrate with ActiveCampaign.
ActiveCampaign integrates with third-party services for:
Accounting — Includes FreshBooks, Harvest, QuickBooks, Xero, and Zoho.
Analytics — Includes Google Analytics, Dasheroo, and Sumo
CMS — Includes Asana, Dropbox, Drupal, Evernote, Joomla, and Magento.
CRM — Includes Google Calendar and Contacts, Insightly, Salesforce, and Zoho.
Databases and Developer Tools — Includes Airtable, Google Sheets, MySQL, CloudWork, and Zapier.
E-commerce — Includes BigCommerce, Gumroad, PayPal, Shopify, Square, Stripe, and WooCommerce
Event Management — Includes Calendly, Eventbrite, and Zoom.
Forms — Includes AgileForms, ClickFunnels, Formdesk, JotForm, and Leadpages
Lead Generation — Includes Bloom, ConvertFlow, Facebook Custom Audiences, and OptinMonster.
Sales and Social — Includes ClickSend SMS, Slack, and Zendesk
Furthermore, setting up API access with ActiveCampaign is fairly simple. Once you create an account, you can find your API key under the developer tools in your settings. ActiveCampaign also has a developer portal full of API documentation and a developer community board where you can ask questions.
And if ActiveCampaign doesn't directly integrate with a service, it's more than likely you can use Zapier to do the job.
Email Deliverability
Email deliverability is how effective an ESP is at making sure your emails actually reach your contacts. At its core, this is really the foundation for email marketing. After all, none of ActiveCampaign's features are remotely useful if emails never reach your list.
A variety of factors influence email deliverability. Things like email list quality, website reputation, spam identification, and your email content all play a role. Thankfully, according to a recent deliverability study, ActiveCampaign had a 97% deliverability rate — nearly 5% higher than second-place MailerLite.
Most ActiveCampaign users use a shared IP pool to send emails, which helps with deliverability. According to ActiveCampaign, "These IPs have excellent, longstanding reputations with all major inbox providers, and they are extremely warm."
If you have 100,000 or more contacts you regularly send emails to, you can qualify for a dedicated IP for $750. This gives you more control over your reputation and lets you send emails faster. However, it's up to you to keep the IP warm and in good standing.
Despite the deliverability rate, ActiveCampaign isn't bulletproof.
Base email templates still feel fairly unpersonalized, so you should spend time tweaking the design and writing compelling content to make your email blasts stand out. In addition, ActiveCampaign will swap your account from a "good" mail server to a "better" mail server, depending on how the quality of your mailing list. This can affect your deliverability rate.
Ultimately, your goal is to avoid spam folders as much as possible, so you get more eyes on your emails. With quality shared IP addresses and strong email content, you should find success with ActiveCampaign.
Email Analytics and Reporting
ActiveCampaign has many more reporting features than ConvertKit. Unfortunately, you can't extend the reporting functions that ConvertKit offers — even with third-party tools — because of the service's lackluster API features. I need the reporting, so this is a deal-breaker for me.
I use the Woopra analytics tool to track visitors. Not only does ActiveCampaign have direct integration with Woopra, but it can also report email opens, and link clicks to that tool.
On the other hand, ConvertKit doesn't integrate with Woopra, and it lacks the ability to send email opens and link clicks to any third-party service.
Summary
Even the cheaper ActiveCampaign plans come with a lot of functionality for the price.
What I like about ActiveCampaign is that it can grow with you as your needs change. No matter if you have a small mailing list of under 1,000 subscribers or a large customer base of over 100,000, ActiveCampaign has a feature for you.
There's no need to switch providers because ActiveCampaign has the functionalities you'll want.
Plus, if you're looking for an email service provider (ESP) that allows you to automate emails, ActiveCampaign is the best option available.
In today's market, there are many ESPs to choose from.
The reports about the death of email lists have been greatly exaggerated.
Email isn't going anywhere. If anything, thanks to mounting trust issues that users have with social media — not to mention crummy engagement rates — establishing an email list is more important than ever.
I've been an ActiveCampaign customer for over five years. I used it with my blog Investor Junkie, which I eventually sold, and today it's what I use on this blog. Plus I've also consulted with several clients on how to effectively use ActiveCampaign.
I don't want to send a weekly email blast to my list. I want to automate my sales funnel and also have the ability to manually send emails to my audience. So I use ActiveCampaign.
FAQs