| | |
| --- | --- |
| Support | Help Desk, Email, Live Chat, Forum, Phone & Knowledge Base |
| Free DNS | |
| Free Domain Privacy | |
| Best For | Domain Registration & Transfers |
| Strengths | Integration With Other Services |
| Weaknesses | Limited Complementary Services |
| Promotion | Get a .COM For Only $10.99! |
Dynadot is an ICANN-accredited domain registrar and web host headquartered in California. They were founded in 2002 by a software engineer and state their primary focus is engineering and design excellence.
They are one of the myriad smaller domain registrars that have a dedicated following compared to the big brands like GoDaddy. According to Domain Name Stat, Dynadot has over 3.1 million domain names under management. This puts them as the 16th largest domain registrar.
Dynadot's main pitch is to help customers "register domain names and create websites simply and affordably".
Do they hold up to their mission? Here's my Dynadot review with pros and cons.
Dynadot Pricing
| Domain Ext. | Registration | Renewal | Transfer |
| --- | --- | --- | --- |
| .com | $10.99/yr. | $10.99/yr. | $10.99/yr. |
| .net | $10.99/yr. | $10.99/yr. | $10.99/yr. |
| .org | $8.99/yr. | $10.99/yr. | $10.99/yr. |
| .biz | $5.99/yr. | $15.99/yr. | $15.99/yr. |
| .co | $10.99/yr. | $24.99/yr. | $24.99/yr. |
Dynadot Alternatives
Get Your Domain For Free
You can get a free domain name (one-year term) when you get web hosting with the providers listed below. Here's a list of companies I recommend using:
It certainly will save you money compared to buying your domain name and hosting separately. To keep the domain name, you are usually required to stay with the web host for a specific period or pay a cancellation fee. Ultimately this is a better deal than buying separately.


Namecheap Review
Rating

9.0/10

Free DNS

Yes

Free Domain Privacy

Yes

Promotion

GoDaddy Review
Rating

7.5/10

Free DNS

Yes

Free Domain Privacy

No

Promotion

Google Domains Review
Rating

8.5/10

Free DNS

Yes

Free Domain Privacy

Yes

Promotion

None
Pros of Dynadot
Straightforward Ordering
Dynadot makes good on its promise to simplify registering a domain. The interface is clean, easy to navigate, and straightforward. There aren't any bells and whistles, which for a domain registrar is just fine — we don't need them. What we needed is functionality and usability, and Dynadot's interface gives us both.
It's basic and directs you to where you need to go.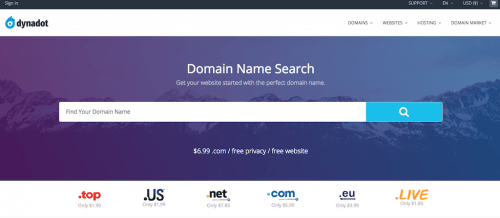 While Dynadot does offer complementary products (such as websites and hosting — more on that in a bit), the design has no upsells, cross-sells, or visual clutter. There is no distraction from the main action, which is to search and register for a domain, and the checkout process is quick and easy to complete.
Transparent Pricing
There's nothing more frustrating than going to a domain registrar and having to hunt for pricing information. Dynadot is 100% transparent with its pricing. From the moment you land on the homepage, you can see what .com domains and other popular top-level domains (TLDs) are selling for.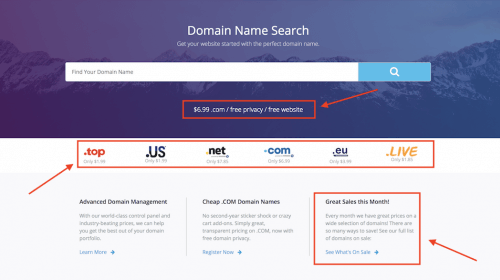 As far as the actual value goes, Dynadot tends toward the cheaper side for first-time purchases and renewals. They're not as cheap as Namecheap or GoDaddy (who offer first-time purchase promo codes) for a first time purchase of a .com domain, but their renewal rates are cheaper ($8.99 vs. $13.16 for Namecheap and $15.17 for GoDaddy), and their transfer rates are on par with the rest.
If you're planning on holding on to your domain for a while, it could be worth purchasing it elsewhere and then transferring and renewing with Dynadot to save money in the long run.
Variety of TLDs
Now that ICANN allows more TLDs outside of generic .com/.net/.org, website owners have to make sure their domain registrar has all of the variations they need (especially if you're buying in bulk). Dynadot offers a ton of TLD options that go beyond generic domains, from country-specific domains for international use to category-specific, like technology, real estate, etc. They have more than 495 TLDs as of 2023.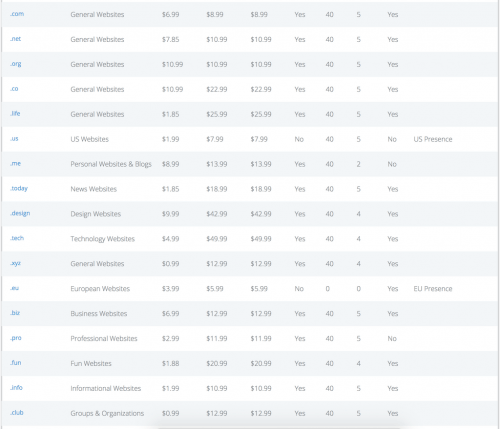 Upsells
Upsells aren't inherently annoying or bad. But so many domain registrars make the mistake of bombarding customers with direct sales tactics that they do become annoying.
Dynadot is not one of these domain registrars. While they do offer complementary products such as websites and hosting, they keep them in the background. You can add them from your account dashboard once you purchase a domain, or you can purchase them from the Dynadot homepage, but at no point are you bombarded with pop-ups or forced to navigate through upsells while trying to buy a domain.
Cons of Dynadot
Unclear Next Steps
Dynadot makes registering a domain incredibly simple… but once you register the domain, there aren't clear instructions as to what to do next. As soon as I was done checking out, I was given a referral code to share with friends and an order pending message with details. There weren't any instructions on what to do now that I have my domain.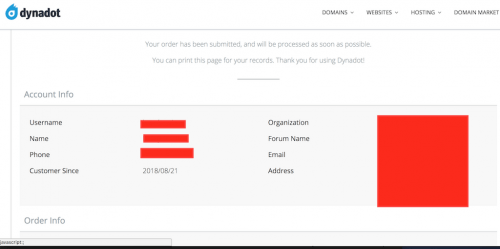 This is fine for those who are familiar with registering domains and building websites, but if you're new to the experience and looking for guidance, there's not much to go on.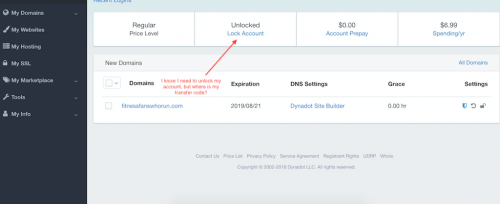 Even the follow-up email I received after my order had been processed was lacking detailed instructions. Again, if you're experienced in managing domains, this isn't necessarily a bad thing. But if you're a beginner and aren't sure how to set up your nameservers (or what those even are) or forwarding your email or connecting with email hosting, you're probably going to be confused.
I also found it difficult to actually manage my domain (even to setup a basic subdomain). For example, I couldn't find where I'd go about transferring my domain when I was logged into my account. I had to click around a good bit (and eventually consult the help forum) to get that information.
This experience relates to "onboarding" which is the jargon for moving a new customer to an active customer.
Complementary Products
It's important to remember that a domain is not a website. It's not email or any other service. It's merely your address online. It helps people locate where your property is by telling browsers/email/etc where to go to get whatever it wants (website files, emails, images, data, etc).
If you want to set up a website, you'll still need to get hosting or a website builder / eCommerce provider that provides hosting.
Typically, this would be a pro — while I personally prefer to separate my hosting and domains to provide an extra layer of control & reliability in addition to cost savings, many website owners prefer to have them bundled for convenience.
Dynadot's complementary products are actually a con due to serious limitations.
In most cases, if you're looking to bundle your website builder, email, and domain management, then you're looking for convenience.
Dynadot, for all their simplicity in the domain buying experience, doesn't prioritize convenience in their products and isn't competitively priced or optioned. For most cases, I recommend looking elsewhere.
Recommendations
If you:
Want a very simple domain purchasing process
Don't need guidance on how to set up and manage your domain
Want to save on domain renewals
Are looking for complementary products you can customize to your own needs
Dynadot would be a good choice for you.
However, if you're:
Less experienced getting online
Need detailed steps on how to set up / manage your domain
Want to keep your hosting / website separate from your domain
Want complementary products that require less technical expertise
Namecheap is a better option.
You can take my domain registrar quiz to help you narrow down which might be best for your needs.