Before we dive into the best WordPress theme providers, here's a quick reminder of what Themes are in WordPress.
Themes in WordPress control how your website looks and contributes some (but not all) toward the functionality of your website. For a more detailed description, check out how to change your WordPress Themes.
While technically, it is possible to build your own theme, the fastest and easiest way to create a stunning, beautiful, functional website is to get a pre-built theme. The longer route would mean building one with the assistance of a theme framework (like Genesis from StudioPress) or creating your own theme from scratch.
There are literally thousands of free WordPress themes – and thousands of paid, or "premium" themes on the Internet. Some of them are amazing…but most are, plainly speaking, horrible. (Is that too harsh?)
The fact is, a theme isn't just a WordPress template.
It can introduce security issues, and bugs, hurt you with SEO, or just create nuisances on your site (like a lack of updates or compatibility with other services).
In other words, not all WordPress themes are the same – and it certainly pays to find a quality theme to build your site around. So, here is a list of reputable, high-quality premium WordPress themes that qualify as the best, in my opinion.
Some have free themes; most have a selection of paid themes – but they all have coding, design & security standards that you won't find from any random theme provider.
Which WordPress Theme Is The Best?
WordPress is very flexible and can be used for a multitude of various website projects. Some WordPress themes are better than others, depending on what you plan on using WordPress for.
I summarize my recommended WordPress theme based on these categories:
StudioPress

Larry's Take
My recommended WordPress theme I use all on my blogs. While not the fastest WordPress Theme, it is very SEO friendly and has many pre-made child themes to use with your blog. While a version of it comes with WP Engine, the Genesis Pro version has all sorts of functionality including powerful Gutenberg blocks.
| | |
| --- | --- |
| Pre-Made Templates | 41 |
| WooCommerce Support | Yes |
| Free Version | Yes |
| Price | FREE - $360 per year |
Learn More
StudioPress themes are one of the highest quality WordPress themes on this list and my favorite theme. But it's much more than just a WordPress theme but is built upon the Genesis framework. This very website is a custom theme based on StudioPress Genesis. This is why I rank StudioPress as the best overall, and best WordPress framework to use.
Lastly, your choice of WordPress theme can dramatically affect SEO. Again this is why I recommend using StudioPress as your WordPress theme.
They have several premium and free themes to choose from – and all of them are updated regularly.
Though, unlike the other WordPress themes, the Genesis framework does not have a visual website editor.
Instead, Genesis relies on the built-in WordPress editor Gutenberg. If you are not a fan of Gutenberg, you will not be a fan of the Genesis framework. You may want to consider another theme. Genesis Pro amps up the Gutenberg editor allowing you to create content faster. Genesis Pro also gets you access to every StudioPress theme which can be cheaper in the long run than purchasing themes individually.
WP Engine purchased StudioPress 2018. The StudioPress themes are packaged for free with some of their hosting plans.
GeneratePress

Larry's Take
A lightweight WordPress theme that focuses on speed, stability, and accessibility. GeneratePress has a free version and a Premium version which adds a theme builder, a site builder of pre-defined designs.
| | |
| --- | --- |
| Pre-Made Templates | 83 |
| WooCommerce Support | Yes |
| Free Version | Yes |
| Price | FREE - $249 |
Learn More
GeneratePress is a popular free and premium WordPress theme.
GeneratePresss Premium adds a theme builder that uses the built-in Gutenberg visual editor that allows you to create professional-looking websites in no time.
With more than 80 WordPress templates to choose from, GeneratePress Premium has themes for businesses, blogs, and eCommerce websites.
I have a few clients who have used GeneratePress and liked the results.
Elegant

Larry's Take
Elegant Themes is a visual WordPress editor that includes the most popular Divi theme. It is a great option to build your WordPress website instead of using the built-in Gutenberg WordPress editor.
| | |
| --- | --- |
| Pre-Made Templates | 251 |
| WooCommerce Support | Yes |
| Free Version | No |
| Price | $89 - $249 per year |
Learn More
Elegant Themes' specialty is exactly what you'd guess – elegant designs. Their themes are beautiful and have lots of built-in functionality. They can be used for a great variety of websites and projects. See Elegant Themes.
One of the best options in the Elegant Theme selection is Divi. A lot of themes boast about their drag-and-drop editors, which are great, but Divi is really a step above. The WYSIWYG editor allows you to really create some master designs that are unique and spot-on. It's really worth checking out if you lean more toward the design side.
Elementor Pro

Larry's Take
If you hate WordPress Gutenberg editor and looking for an easier-to-use visual website builder, you may want to consider Elementor. They have a standalone WordPress theme and plugin option or the recently added end-to-end hosted solution. The downside with Eelementor is compatibility with Gutenberg-centric WordPress plugins.
There are currently 10 million WordPress websites using Elementor.
Elementor was one of the first makers to make a true drag-and-drop function for their themes, similar to other visual editors like InMotion's BoldGrid and Elegant Theme's Divi builder. They have many WordPress templates to choose from.
They have recently added a hosting option making them a possible website builder option as well.
Beaver Builder

Larry's Take
Similar to Elementor and Divi, Beaver Builder is a WYSIWYG visual WordPress editor that replaces the built-in Gutenberg editor. It lacks some of the advanced visual effects available in other WordPress builders.
| | |
| --- | --- |
| Pre-Made Templates | 0 |
| WooCommerce Support | No |
| Free Version | No |
| Price | $99 - $399/year |
Learn More
Beaver Builder is another visual drag-and-drop editor for WordPress. While it is easy to use I personally prefer the more popular options like Elementor and Elegant instead.
OptimizePress

Larry's Take
If you are looking for a WordPress landing page, this is the one I recommend. It has many integration options, and many premade professional-looking landing page designs. It is a much cheaper option than using a service like ClickFunnels.
| | |
| --- | --- |
| Pre-Made Templates | 40 |
| WooCommerce Support | Yes |
| Free Version | No |
| Price | $99 - $399 per year |
Learn More
If you are looking to create professional-looking sales pages for products then look no further than OptimizePress.
Instead of using a service like Unbounce, OptimizePress allows you to stay with WordPress hosting with the added benefit you can use WordPress plugins on your landing pages.
OptimizePress is the WordPress Theme I use myself when creating landing pages. It allows you to create sales funnels visually and much more flexibility than using the built-in Gutenberg editor.
They recently added OptimizeFunnels where you can create pages with their pre-made templates.
BuddyBoss

Larry's Take
A great WordPress theme for a membership area. Has all of the features to create an engaging private membership area. Works with the LMS LearnDash for courses and training. Has a native app branded to your blog so you can deploy for mobile device users.
| | |
| --- | --- |
| Pre-Made Templates | 5 |
| WooCommerce Support | Yes |
| Free Version | No |
| Price | $228 - $388 per year |
Learn More
If you are creating a membership area, you should own host it yourself instead of using third-party services like Teachable, ThriveCart, or even Facebook.
If you want to create a WordPress membership website, look no further BuddyBoss WordPress theme. BuddyBoss makes it easy to sell courses, create online communities, membership programs, or could be used for corporate training.
Astra

Larry's Take
A popular WordPress theme that I recommend for bloggers who are just starting out. The Pro edition adds many Gutenberg blocks to save you time creating a professional website. Their WordPress themes support WooCommerce which is a bonus if you want to sell products online.
| | |
| --- | --- |
| Pre-Made Templates | 231 |
| WooCommerce Support | Yes |
| Free Version | Yes |
| Price | FREE - $249 |
Learn More
With over 180 templates to choose from the Astra theme is a popular choice for many WordPress users. Their focus is on fast-loading webpages and they deliver on that promise.
Astra not only works with the built-in Gutenberg block editor but is one of the few WordPress themes that work with the visual editors Elementor, Beaver Builder, and Brizy.
The Pro edition adds many functions and pre-made blocks to save time and speed up creating a website.
Astra is the theme I recommend when starting a blog, and is automatically installed when you purchase Bluehost through my link.
Kadence WP

Larry's Take
A WordPress theme that not only supports Gutenberg but many other visual editors like Elementor and Beaver Builder. Kadence WP is a theme that includes 36 templates to create a website in no time. They have templates for any budding online business from personal blogs. WooCommerce support is built-in and has some advanced functionality that graphic designers would like to use.
| | |
| --- | --- |
| Pre-Made Templates | 36 |
| WooCommerce Support | Yes |
| Free Version | Yes |
| Price | FREE - $649 |
Learn More
Kadence WP not only includes their theme but Kadence Blocks for Gutenberg. If you are wanting to create a WooCommerce storefront, Kadence WP has eleven plugins to make your WooCommerce website pop.
TemplateMonster

TemplateMonster has an excellent selection of themes – whether you're looking for a multi-purpose design or something more specific. Their designers are quite experienced, so you know you'll land a great product. Plus, their customer service is pretty amazing.
MOJO Marketplace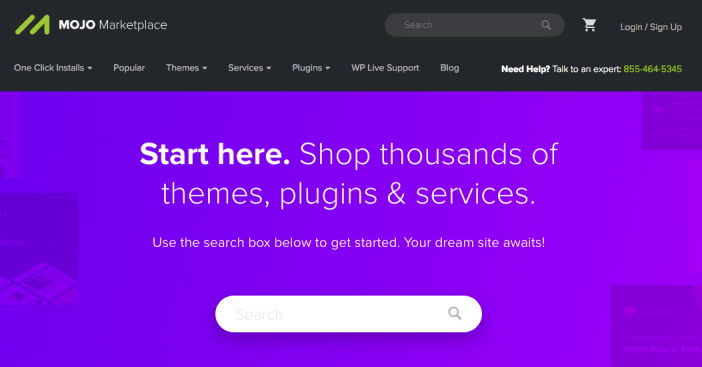 MOJO is a theme marketplace with design guidelines like Themeforest. They have tons and tons of great choices that work well for just about any site you can imagine.
Avada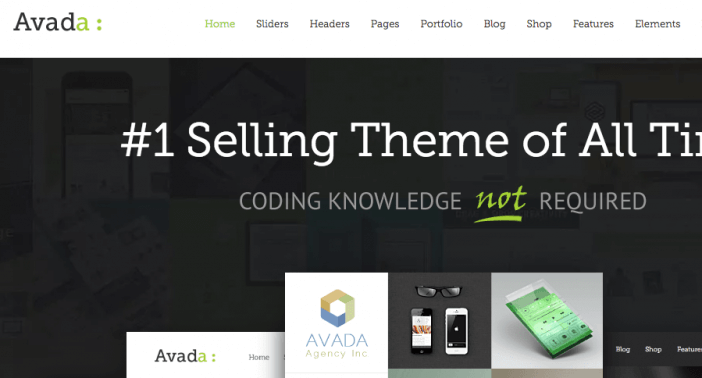 Avada is one of the top-selling themes of all time – and for good reason! It's beautiful and well-coded, plus its creators developed it as a multipurpose theme. That means that the theme with all the demos acts as a theme marketplace itself. You would be amazed at all of the options it has.
ProteusThemes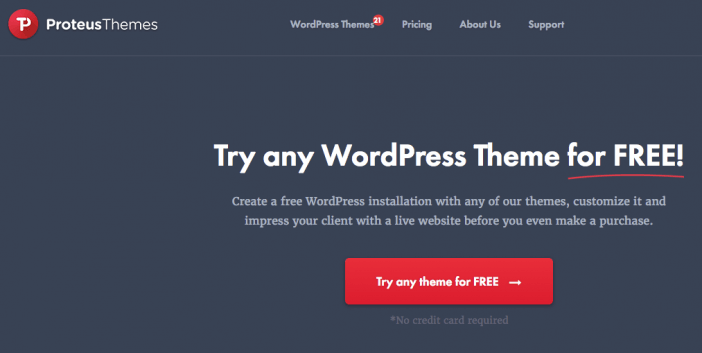 ProteusThemes is a rapidly growing theme maker. They maintain a selection of versatile, well-coded, compatible themes.
RocketTheme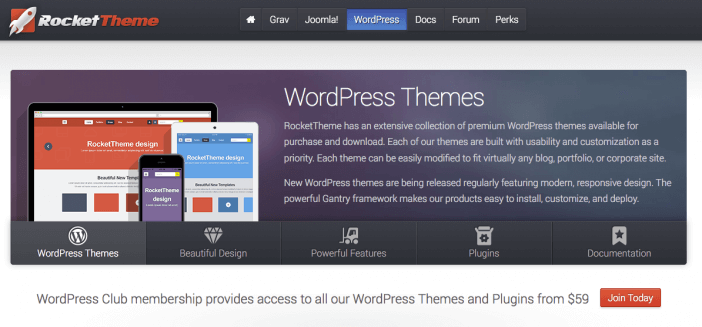 RocketTheme has been around for a long time – they were one of the first premium designers out there. They focus on exciting, detailed design rather than the minimalist look.
upThemes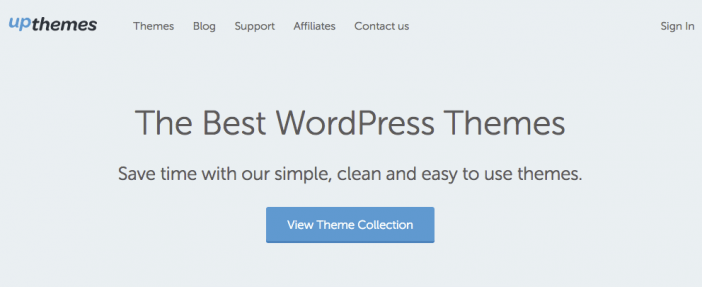 upThemes is a very easy group to work with. Almost all of their designs are responsive (they automatically adjust according to device type). Plus, they have exceptional pricing.
Theme Junkie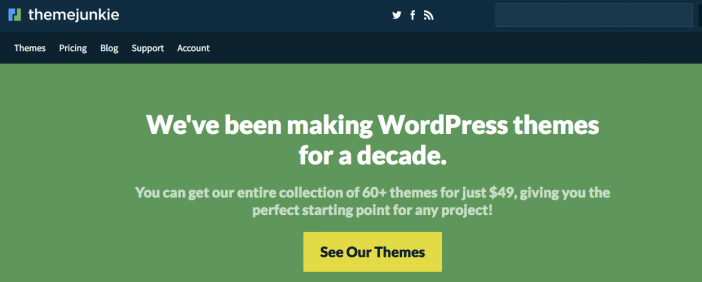 Theme Junkie has been around for quite a while. They have a diverse selection of themes and work really well for a publisher or a site that has a ton of content to display.

Theme Trust offers themes on 2 price tiers – Mega and Standard. So whether you want tons of options and control or you just want packaged themes, they can help you out.
ThemeFuse

ThemeFuse has a really diverse selection of themes and designs. Their primary focus is on services and product websites, but you can do so much with any of their designs.
iThemes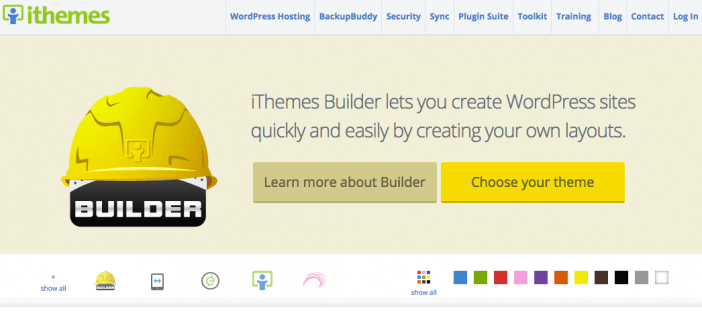 iThemes was also in the first wave of premium theme providers – and they provide everything from plugins to theme frameworks and more for WordPress. They have a great selection of pre-built themes that offer tons of functionality.
Graph Paper Press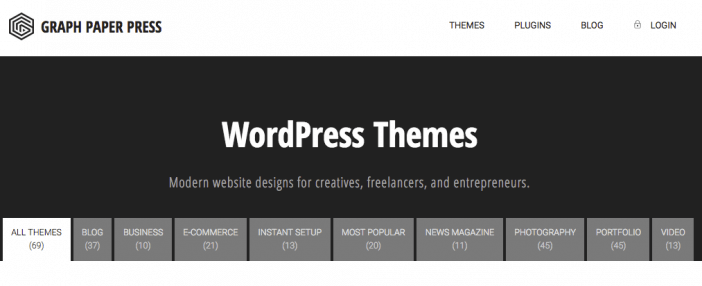 If you're looking for minimalist, creative and artistic designs, Graph Paper Press may be your best bet. They are a reputable company with great themes and designs.
Press75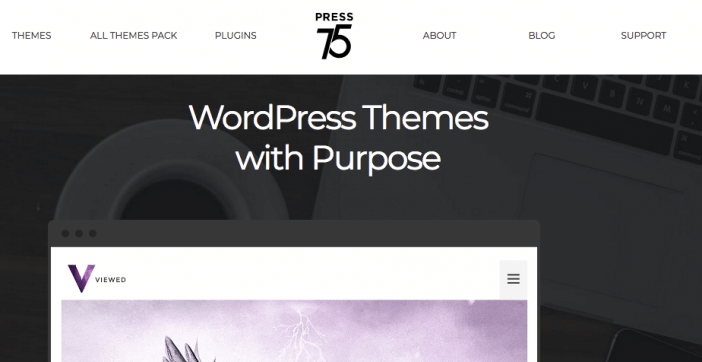 Press75 advertises their choices as "WordPress Themes with Purpose" – and they all certainly do allow you to do that with your space on the web. They are professional, clean & well-coded…overall a great choice!
WPzoom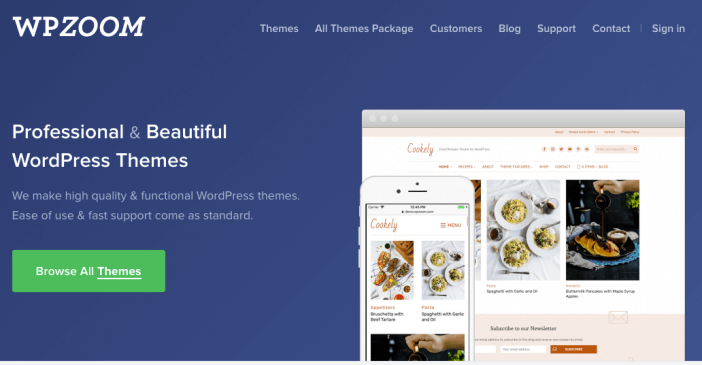 WPzoom has a lot of great options when it comes to themes, especially if you're looking for a business-related theme! Their pricing is pretty much unbeatable.
Organic Themes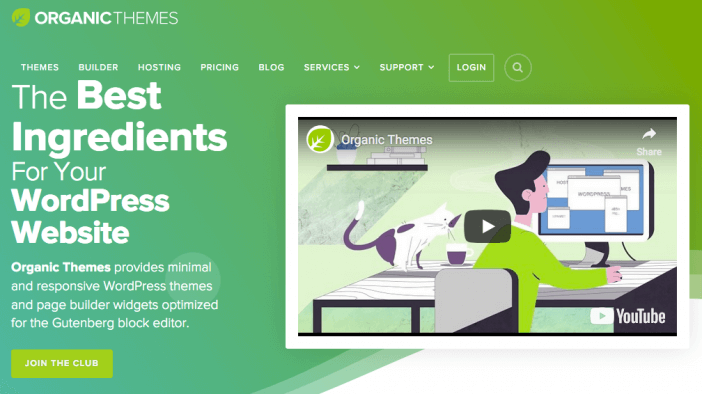 Organic Themes was established fairly recently – but they bring unique and fresh designs to the table. They are beautifully designed and easy to use (for you and your visitors).
WordPress.org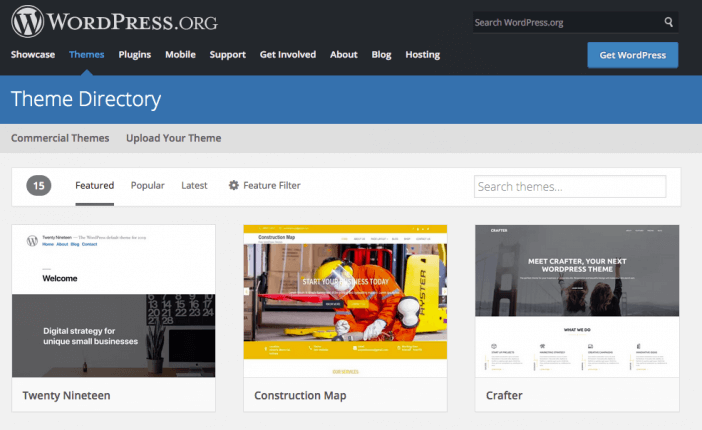 WordPress.org maintains a huge directory with secure, recommended themes. They are all free and scrutinized by the community for vulnerabilities. You can browse the directory – or you can search + download from inside your website by going to Appearance → Themes → Install Themes.
Next Steps
There you have it – with these theme providers, you should be well on your way to creating an amazing creating a WordPress site from scratch.
If you're trying to ensure maximum functionality on your site, here's a guide to the best plugins for WordPress.