I recently had a reader question sent via email:
Is there a way to try out WordPress for free before signing up to a hosting site? Maybe a 'try before you buy' arrangement, or something which you can download and try out on a laptop? Am just worried about signing up and then finding WordPress isn't for me.

– A Beginner Blogger
That is a great question. Unlike website builders like:
Or even eCommerce platforms like:
There's no real "WordPress free trial" option for self-hosted WordPress.
And no matter how many WordPress setup guides you read or WordPress tutorial videos you watch, there's nothing quite like messing around with software to see if it "makes sense" to you.
There are 4 ways to try WordPress for free:
WordPress.com
WordPress.com is the commercial arm of the WordPress software.
They offer free accounts with a subdomain (i.e., yourwebsite.wordpress.com) that you can sign up and use for free (no free trial period – just free forever). The only catch is that it's a limited version of WordPress software. You can't test out all WordPress plugins that you might want to try, etc. But the general feel and format are the same.
In fact, now that WordPress.com allows some 3rd-party plugins (including popular ones like Yoast SEO), you can get a solid sense of whether you like the WordPress experience or not with WordPress.com.
Also, you can even add some content to your WordPress site without worry since you can either sign up for a premium WordPress.com account or easily migrate your content to a self-hosted WordPress installation at a hosting provider when you're done.
5 Things To Try on WordPress.com
Explore the WordPress Dashboard.
Add a "post" and a "page".
Choose a new "WordPress Theme" under Appearances.
Add a Menu under Appearances.
I wrote a guide on the differences between WordPress.com vs. WordPress.org and reviewed WordPress.com as a long-term solution.
Flywheel
This is perhaps the best option if you want to kick the tires on a fully functional version of WordPress.
Signup for the 14-day trial on Flywheel. If you like, you can buy after the 14-day trial ends.
The only limitation with the trial is the site cannot be indexed by Google. This is to obviously prevent Google spam. Unlike other providers, Flywheel creates a cloud instance which on your site is run on. So it's super fast and dedicated to your site.
The option to create this trial is not publicly listed on the pricing page. You must follow these steps to create your account:
Create an account on Flywheel (it's free)
From the top menu, select SITES
Press the green button labeled CREATE A NEW SITE
Who will own this site? select "Me" and then press the CREATE A PLAN button
Select the "I only need WordPress Hosting"
On the very bottom of the page, select CREATE DEMO SITE (see image below)
On the final page, enter the info you want to access the WordPress site
Wait a few minutes and you'll have a fully functional WordPress blog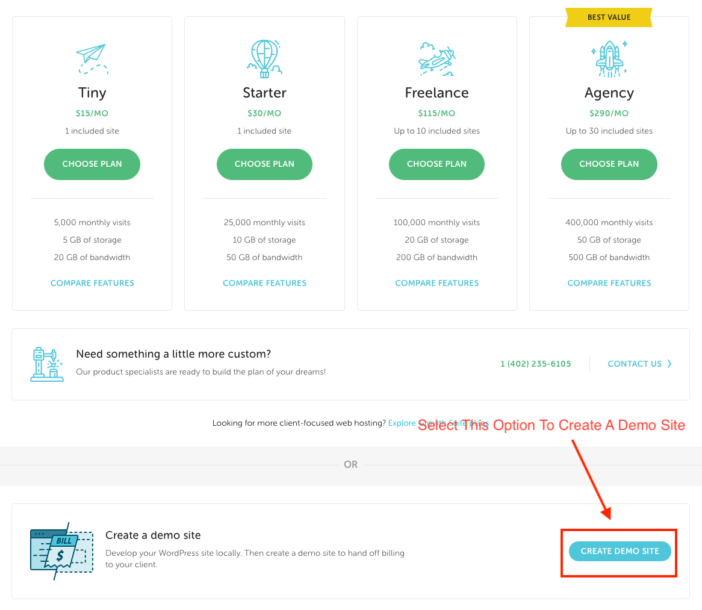 To try before you buy is an excellent way to kick the tires of WordPress. You just click to set up a test site that will expire in 2 weeks. You can see how to make posts, add plugins, etc – it's the same software that you'd install on your own host.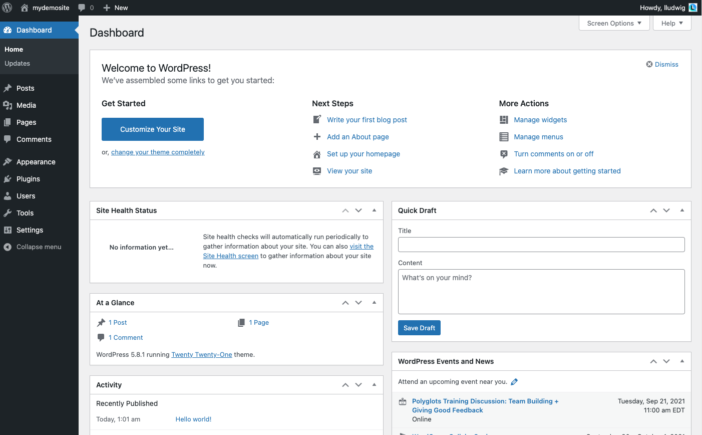 3 Things To Try on Your Demo Site
Make a "post" or a "page" and view your site.
Do a search for a WordPress Plugins and try installing one.
Under Appearances, choose a new "Theme" and see how your design changes.
Once you are done with your temporary install, you can always go to Tools –> Export and export your data. Then you can set up your own self-hosted WordPress website, click Tools –> Import and you'll have your test work ready to roll.
Setup On Your Local Computer
It's a bit more complicated, but just so you know it's out there – you can download a copy of WordPress on your own computer and install it with your computer set up as a server.
Here's how you do it on a Mac w/ MAMP.
Here's how you do it on a Windows w/ Easy PHP (or setup WAMP and then install WordPress).
Both these setups create a server with PHP/ MySQL (WordPress's database language). From there you'll install WordPress on your "server" and access it with your browser.
A better way to do it would be to install WAMP on Windows (ie, a local apache, MySQL, PHP server)…and then install WordPress. Here's a guide.
Desktop Server is also a really good freemium software that makes the process on both Mac & Windows super-easy.
Everything will work on your computer setup – plugins, themes, everything – since you'll have an actual server environment on your desktop.
To go live, you can either move your site manually or use a plugin like Duplicator. It's a bit complex, but that is something you can do to really explore the software before purchasing hosting.
If you plan on doing the process a lot, then something like Desktop Server starts to pay off.
Web Hosting With A Refund Period
Self-hosted WordPress does not have a ton of "try before you commit" options, but they are out there.
The last option I'd mention is that you can take advantage of some hosting company's generous refund policies:
Pick your web host, purchase, install free WordPress software, and build your WordPress site.
Unlike other platforms, WordPress does make it simple to export and move.
Be sure to check out my WordPress Set-Up Guide and my WordPress Beginner's Tutorials and, of course, the ShivarWeb Sandbox for WordPress.