| | |
| --- | --- |
| Support | Help Desk, Email, Chat, Forum, Videos, Phone & Knowledge Base |
| Uptime | Excellent (100% past 6 months) |
| Best For | All-In-One Solution |
| Weaknesses | Limited Add-Ons |
| Promotion | Get First Month Free |
There are a lot of options for running an online store – BigCommerce is an all-in-one eCommerce solution that I've worked on for several clients' online stores since 2012. Here's my BigCommerce review – with the pros and cons of using BigCommerce for your online store.
What Is BigCommerce?
There are a lot of considerations that go into choosing the best online store platform. There are also a ton of options, and your choice of platform can have just as big of an impact on your online business as choosing a physical location for your physical business.
It can greatly expand or hurt your business long-term and in the short term, it can certainly add/take away a lot of headaches.
That said, just like choosing a physical location, there is no such thing as an absolute "best" or "top" choice. There's only the right choice relative to your goals, experience, and circumstances.
There are a lot of BigCommerce reviews online – usually with user-generated reviews based on anecdotes and personal experience. That's fine but I take a different approach – looking at not only pros & cons but also it's place in the overall marketplace.
On the wide spectrum of eCommerce solutions, BigCommerce lives on the end that is all-inclusive and provides everything you need to get started and grow your online store. It stands in contrast to solutions where you buy, install, and manage all the "pieces" of your store separately.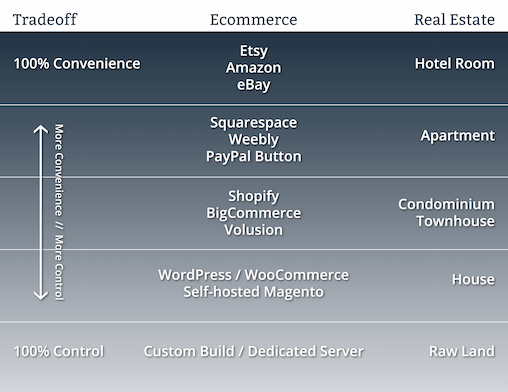 Using BigCommerce is sort of like leasing and customizing a storefront in a development instead of building your own store. You're still in control of design, merchandising, and everything business-wise – but you leave the store construction, plumbing, security, and infrastructure to the property owner.
Again, there are pros and cons to this, but know that BigCommerce competes as a "hosted platform" directly with Shopify (see their site here and my Shopify review here) and Volusion (see their site here and my Volusion review here) as all-inclusive options.
Those options as a group compete with non-turn-key options like WordPress + WooCommerce, Magento, and others.
Now, the last bit about BigCommerce to clarify is that they have two variants – Essentials and Enterprise.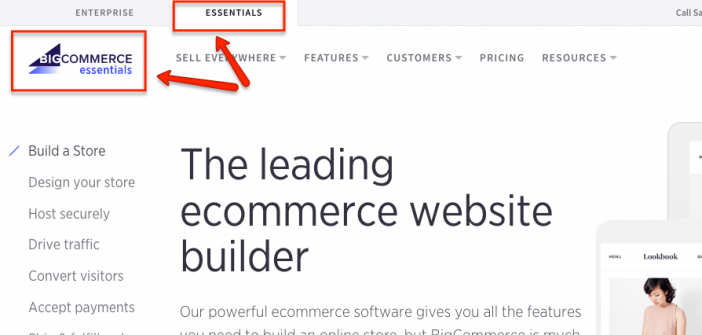 Enterprise competes with Shopify Plus and has a very different market. BigCommerce Essentials appeals to most of my readers, so we'll focus mainly on Essentials.
Make sense?
BigCommerce Alternatives


Shopify Review
Rating

9.5/10

Price

$9 - $299+ per month

Dunning

No

Affiliate System

No

Promotion


Wix Review
Rating

9.0/10

Price

Free - $49+ per month

Dunning

No

Affiliate System

No

Promotion


Weebly Review
Rating

8.0/10

Price

Free - $26 per month

Dunning

No

Affiliate System

No

Promotion
Pros of BigCommerce
Here's what I found to be the pros of BigCommerce – not just in comparison to Shopify and their competition, but also as an overall online store solution.
Integrated Education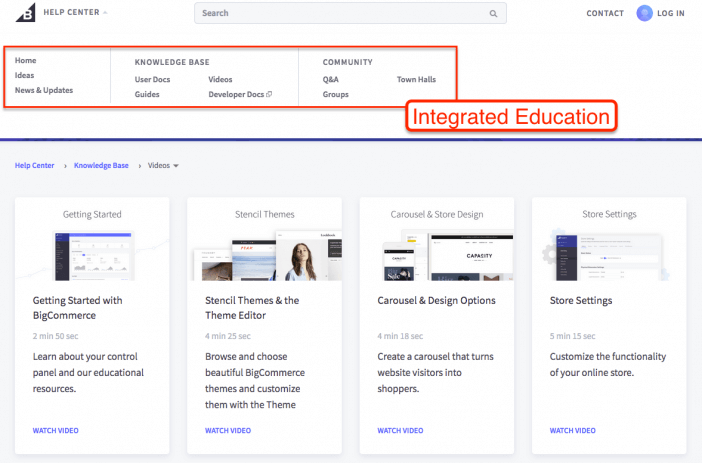 There's no shortage of how-tos, advice, and newsletters on the internet about running a successful eCommerce store. The main problem is curation (ie, sorting the 90% that's fluff or generally worthless) and relevance (ie, advice that might work for WordPress might not be relevant to BigCommerce).
BigCommerce puts a ton of focus on helping you learn how to build a successful online store. They have a BigCommerce University with very in-depth videos, how-to guides built right into your store's dashboard, a setup wizard, an autoresponder email series at signup, and a consultant who answers any questions right off the bat.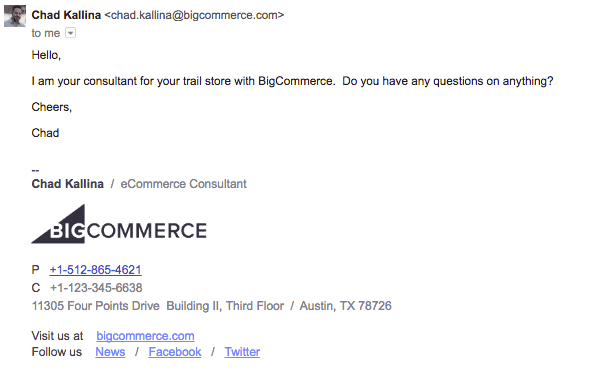 And best of all – it's all perfectly relevant to BigCommerce. So when you read something like "you should do A/B testing" or "there are huge returns with setting up a Google Merchant account," you don't have to hack around and Google solutions on implementation – instead, you just follow the step by step BigCommerce guide.
Knowledge is power (and money), and BigCommerce puts a huge focus on it.
No Hassle Speed & Security
One of the more difficult challenges of running your own eCommerce website is dealing with speed – as in how quickly your website loads. That's because speed matters.
Innumerable studies have shown that customers simply do not wait for pages to load. Generally, after 4 seconds, conversion rates start to plummet. Speed is so important that every major web company (such as Google, Facebook, Twitter, etc) has whole teams dedicated to reducing page load time.
The extra challenge for online stores is that you need rock-solid security. Giving a stranger your credit card may have become quite normal now, but if you're serving a new customer – they still have a strong bias to heading over to Amazon or a store they trust with their credit card information.
And all that security means more layers for your server to handle, or, if you outsource your credit card processing to PayPal or Google Wallet, more places to accidentally drop or slow your checkout. And all these layers and off-site links can, of course, slow down your site experience.
An all-in-one online store solution like BigCommerce allows you to turn all those hassles over to professionals. Instead of struggling with a caching plugin (or paying a developer $$$ / hour), you get to just not even worry about it (or call customer service for complaints). Plus, you get to hand off security, compliance, and a whole range of security issues (did you hear about Heartbleed a few years ago?) to professionals who handle it with no hassles.
Now, BigCommerce is not quite as fast as competitors like Shopify in my store's speed tests – but they are still blazingly fast & secure. Using an all-in-one like BigCommerce allows you to offload the technical issues (without having a huge dev budget) while easily accepting a range of payment providers & meeting your customers' expectation for a fast, easy shopping experience.
They are also very transparent about their technical stats and availability – which is encouraging to see in any company.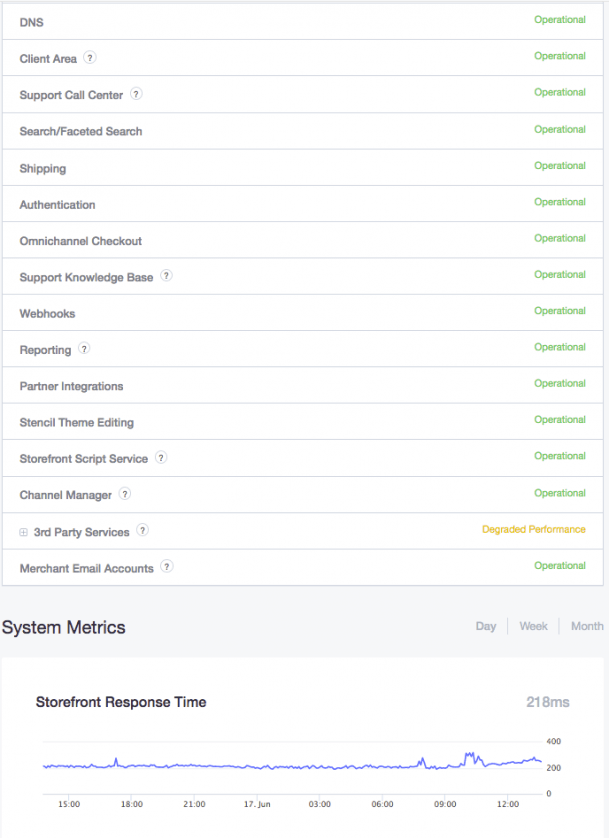 Intuitive Built-in Features
At its core, an online store is basically a website with shopping cart functionality and the ability to accept payments. It's kind of basic. But most store owners would agree that there is a lot more functionality that goes into building a successful online store.
You want reviews, an easy way to add & delete products, inventory management, integrated payments, analytics, order management, coupon code creation, discount functionality, easy shipping integration, etc, etc.
And one huge pro for using BigCommerce is that they have most everything you can think of already integrated into their software. It's all there and ready to go.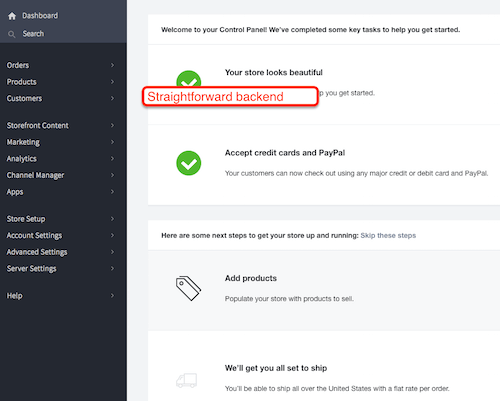 And not only are all the features built-in to BigCommerce, but they all simply work. From order management to the abandoned cart saver, BigCommerce has really thought of all the features you'd need and go above and beyond even their competitors with integrated features. In the screenshot below – you'll see that they integrate bulk 301 redirects into their platform (instead of via 3rd party app, plugin or extension).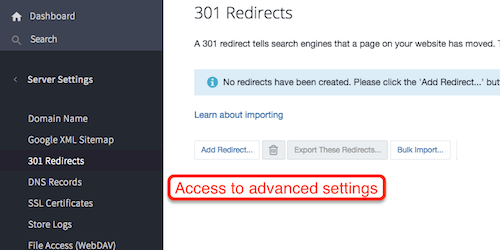 Built-in Marketing Features
But having features like importing product SKUs and tracking return requests aren't the only features that are important. Your online store also needs features to help you actually get customers.
And integrated marketing features are another huge pro for BigCommerce. Like their more technical features, they have an amazing built-in marketing toolset.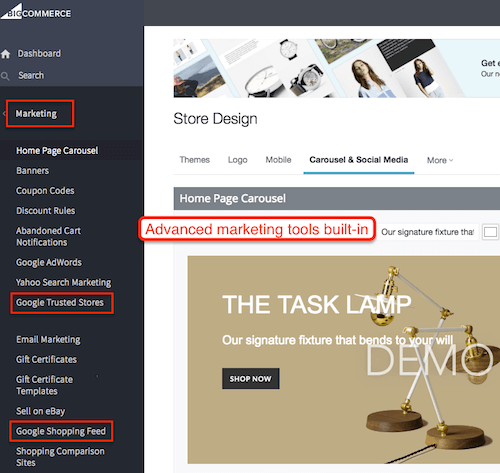 There's a bewildering number of options for marketing your online store, but there are several options (noted in the image above) that are particularly effective for anyone just starting out. And BigCommerce has them built-in.
I'm especially impressed by their Google Shopping integration (typically a royal pain for eCommerce developers across the Internet), their eBay store integration (easy wins for niche stores), Google Ads ad generator, and SEO friendly setup (notably, customizable category pages & canonical product pages).
Built-in marketing features are a huge pro for choosing BigCommerce, especially if you're just starting out selling online and not entirely sure where your marketing should even begin.
Helpful Customer Service
Immediately after signup for my most recent BigCommerce project, I was impressed by how quickly I was contacted by both email and by phone by my "eCommerce consultant" with BigCommerce.
I was also looped into an onboarding automated email sequence that timed perfectly with the free trial period. Now – that might sound a bit sales-y before signing up, but it wasn't. It all happened after I signed up, and all in a friendly tone reminding me that BigCommerce wanted to do everything possible to help this project succeed. And having customers worried about wasting time by calling customer service was not part of that formula.
Unlike many companies, BigCommerce seems doesn't seem to treat customer churn as just another part of the customer acquisition formula, they view it as an opportunity to improve for everyone involved. It results in a great customer service experience based my anecdotal experience.
BigCommerce not only assigns you a dedicated "consultant," they also have active forums, a huge learning knowledge-base, and support via Facebook, Twitter, chat, email, and phone.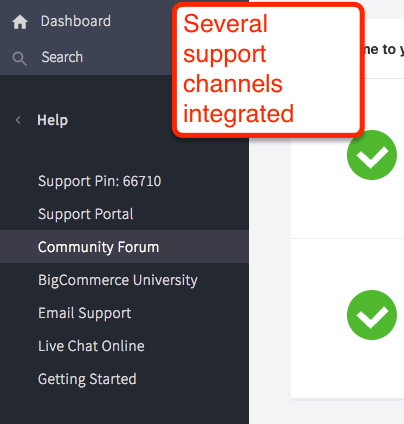 And this level of support is a huge pro for BigCommerce – especially in comparison to non-platform options or DIY options. If you go the build it yourself route (ie, building an eCommerce site with WordPress or Magento), you are going to be on your own to sort out any bugs or problems that come up. And this process usually involves lots of time navigating online forums or paying lots of $$$ to a developer.
If you want to spend 100% of your time actually running your online store instead of dealing with a checkout page error, then BigCommerce's customer support can alone pay the monthly fee.
Easy Design
In the physical world, we make a lot of judgments about a store based on appearance. Even though sleekness doesn't equate to security, service, or selection – an ugly or amateurish looking site usually doesn't inspire confidence among online buyers.
But like I noted in my Shopify review, online shopping platforms should always come in 3 levels of customization.
First, it should look good out of the box. Your default website should not look like it's "under construction" or sketchy at all. BigCommerce definitely excels at this.
Second, you should be able to upgrade the default look without having to hire a professional graphic designer – and usually, this means being able to purchase a professionally designed "theme." BigCommerce offers that ability and has a wide selection of responsive themes in their marketplace (for sale). Installing a theme is very straightforward, and if you know basic HTML or CSS, you can make easy edits. Here are some examples: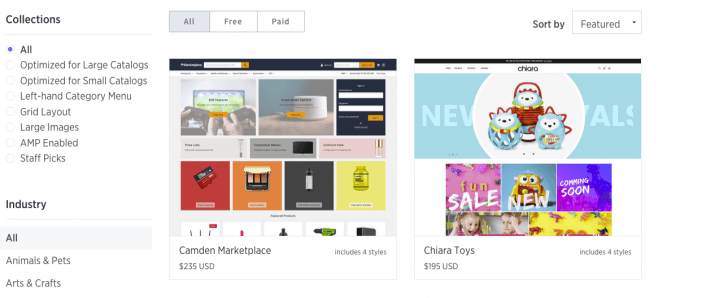 Third, BigCommerce builds its design off HTML & CSS with very straightforward templates. The templates are just designs (they aren't critical to the actual function of your store), so if you want a professional, custom design – you can also have that. BigCommerce doesn't create a ton of technical hurdles for most graphic designers or front-end developers to implement the exact look you may want to have.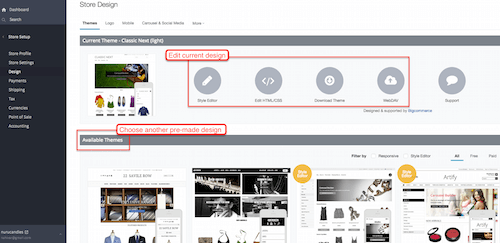 Whether you are just starting out with very little budget, or a million dollar eCommerce operation, BigCommerce's design setup is versatile enough and robust enough to give the you the design you want for your online store.
Cons of BigCommerce
But of course, no BigCommerce review would be complete without looking at the downsides of BigCommerce – because no eCommerce platform is going to be perfect. Let's look at 6 specific cons I've found with BigCommerce.
Pricing
Pricing is tough, especially when budgeting for an online store. It's usually difficult to get a "walking out the door price" like you might have offline. BigCommerce is transparent about pricing, but it's helpful to break down exactly what you are looking at as far as pricing goes (see BigCommerce's pricing chart here).
First, your monthly price – the sticker price you pay every month for a certain level of features. BigCommerce's plans start with the Standard Plan at $29.95 USD per month and go up from there.
Second, your platform transaction fees – the additional fee you pay to a platform as a percent of sales. Shopify used to charge these on all their plans, and BigCommerce also used to charge 2% transaction fee on their Silver Plan. These aren't huge (and most platforms are doing away with them), but they can add up. Shopify and BigCommerce have removed them – but it's something to keep in mind when comparing platforms.
Third, your credit card fees – these used to be pretty standardized, but now more platforms (like Shopify) are setting up their own credit card processing or partnering with 3rd parties (like BigCommerce & Stripe) to offer cheaper & more flexible payment solutions. And of course if you are building your own store without a platform, these are going to be a bigger and more expensive issue.
Fourth, your add-on fees – these are 3rd party apps, plugins or bits of software that you can purchase to make your store better. Usually these are one-time purchases, but sometimes they run off transaction fees.
So here's how BigCommerce stacks up with pricing vs. all-inclusive solutions (like Shopify or Volusion):
Monthly prices – BigCommerce is competitive, especially when you include the Standard plan ($29.95/mo) that they exclude from the main pricing page. At all tiers, they are a bit more expensive than direct competitors like Shopify and Volusion, though BigCommerce does include a few more value-add features at each tier (like more storage space). With Shopify specifically, they are right on if you are an online-only merchant.
Transaction fees – BigCommerce removed transaction fees in late 2015. This is something to consider when comparing them to competitors like Volusion.
Credit card fees – BigCommerce partners with Stripe for integrated payments. This means that accepting credit cards are easy, and built into the platform. However, the direct rate are not as low as Shopify or direct agreements with your own 3rd party processor. Though the fees aren't much, they can add up.
Add-on fees – this area is where BigCommerce makes a comeback with pricing. They truly excel on value. Sure, they do little things like unlimited disk space, but they also build-in a lot of useful features into the platform for free. This is especially a big factor when comparing to the cost of building your own store with WordPress + WooCommerce, PrestaShop, or Magento. All those platforms are going to charge for essential add-ons.
So for pricing, I'd say that BigCommerce is competitive enough for pure play online stores to make a decision based on value – not price. If you do offline sales; or have developer expertise to build your own store – then BigCommerce's recurring & credit card fees may add up. In that case, Shopify may be a better fit with their offline/online payment and inventory options.
Availability of Add-ons
One of the big pros of BigCommerce is that so many features are built directly into the platform. That said, very few stores are ever exactly alike. And once many stores get past the foundational stage and move into more advanced marketing for their customers – it'll often mean the need for specific store solutions.
Platforms like Shopify have a huge "app store" where you can find nearly anything you could ever need. Self-hosted solutions like WordPress or Magento have a huge community of developers and an open development setup where you can add on anything you can think of.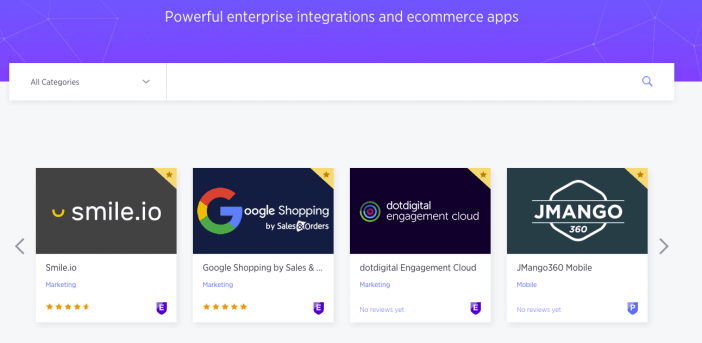 However, while BigCommerce has started a small (but growing) app marketplace, they still don't have the depth or breadth of other setups when it comes to very custom solutions. That can certainly be a con – or at least something to plan around.
Lock-in
Lock-in is something I have to include in this BigCommerce review, even though it's going to be a con of using any hosted eCommerce platform. If you ever decide to move to a self-hosted or different store platform – it's not going to be an easy, 2-click process. Your site's design, functionality, payments & content are all going to be sort of built into the BigCommerce platform. It's a cost that may or may not come – but it's something to be aware of when shopping around.
In my opinion, like Shopify, BigCommerce is a solid platform with the team, expertise, and processes to take you from a single-product store to the next Zappos.

However, if you were ever to want to leave for a self-hosted setup – or if BigCommerce ever re-did their product in a non-helpful way, you'd be facing pretty high switching costs. You'd be able to export your products into Excel – and scrape your content (see above). Otherwise, you'd be out of luck. It's the same with Shopify & Volusion. Something to be aware of.
Product & Inventory Management
To effectively run a store, you have to not only sell the products, but also provide & ship the products. That means managing inventory. While BigCommerce has a lot of product options, it's almost too much (which I'll get to in a moment) and ends up burying the inventory management options.

Inventory is accessed via each product screen instead of having its own dedicated area (like Shopify). It's not a huge con, but if you're working with a large range of products with a lot of turnover, then it might affect your efficiency.
Company History & Re-brandings
BigCommerce really started to grow around the same time as their close competitors Volusion and Shopify. I've been using their software off and on for years. In just the past 5 years, I think they've had 5+ redesigns / "pivots" that I can remember. Their logo has changed several times. And their homepage has changed so much that I had to stop including as many screenshots in this review.
They have been under immense pressure to not only compete but out-perform Shopify. The problem is that they lost that battle a long time ago. Their current redesign tries to focus on "Enterprise" and "Essential" customers rather than the "middle merchant" that Shopify basically owns. BigCommerce went through a phase chasing drop-shippers via an AliBaba partnership. Then they went through a headless ecommerce phase. Each phase has been fairly well done…but it's annoying for your online store software provider to still be finding itself.
That's fine and all. I'm all for a company that needs to re-focus on their core customers. That's totally normal in business. The weird thing is that a lot of their product is basically unchanged over the years. It's a great product…but it still has a lot of small details that have yet to be ironed out.
For example, small SEO issues like corrected robots.txt files and image canonicals are still not fixed.

My readers report little details and bugs that are more annoying that anything…but they never really get fixed compared to platforms like Shopify.
As a private company, they should have more room to quickly maneuver than a public company like Shopify. But I wish that they'd use that flexibility less and stay focused on a specific segment rather that jumping this way and that.
Conclusion
If you are looking for an all-in-one eCommerce solution, and you want something with tons of built in features and simply works with no technical know-how – then BigCommerce will be a good fit for you. They have some small issues, but they also have advantages of their own.
If you are looking for something with more versatility (apps and offline options), and don't mind (or prefer) a little bit more technical know-how, then I'd go with Shopify. You can check out Shopify's pricing & get a free trial here.
If you want to build your own self-hosted custom store – then you should check out my guide to building an online store with WordPress + WooCommerce here.
And lastly – if you are now more confused than ever- take my BuzzFeed-style eCommerce platform quiz to help you sort the choices.
FAQs