Shopify Plus is Shopify's enterprise eCommerce platform for large and growing online stores and brands. It's a hosted platform customized, staffed, and priced for big brands. This Shopify Plus review is based on my experience doing SEO consulting with marketing directors using the platform.
Most of my incredible audience are DIYers or small business owners just starting out or working to grow their websites. But I also have a lot of readers in charge of marketing or platform development at large organizations who are looking to apply innovative marketing strategies to their rapidly growing brands.
Both groups of readers have asked the same question: what do you do when your with eCommerce for large businesses? How do you keep the same agile marketing infrastructure when you're at the enterprise eCommerce level?
I've been able to consult with several enterprise-level eCommerce brands using platforms ranging from Adobe Magento Commerce, proprietary platforms, a .NET based eCommerce solution, and Shopify Plus.
Check out Shopify Plus' current features page.
This Shopify Plus review will look at my experience with Shopify Plus specifically and hosted (SaaS in the jargon) platforms more broadly for the advantages and disadvantages of enterprise eCommerce solutions and how Shopify Plus compares to Magento.
Hosted (SaaS) eCommerce Overview
If you don't already know, the main difference between a hosted and self-hosted eCommerce platform is the hosted part.
Most websites are run by software installed on a server that you own. Everything is built from the ground up. You are responsible for keeping the website up and running in addition to all the customer-facing parts of the website.
With a hosted (SaaS) platform, you are getting the platform as a service – the server and software are sold as a package. The server is customized to work perfectly with the software platform and the software is meant to be simple to use and integrate. The platform provider is responsible for keeping your website up and running. You are responsible for the design, marketing, and everything customer-facing.
The two main players* in the hosted eCommerce enterprise space are Shopify Plus, and Adobe Magento Enterprise.
*Aside – there are, of course, many more players such as Demandware, Hybris, and a whole universe of .NET providers in the enterprise space. But I look at those as competing mainly from an operational / IT side. In other words, they are competing for an organizational IT commitment to SAP, Salesforce, Oracle, etc – rather than as a scalable eCommerce solution.
Shopify Plus Advantages
So here are the advantages using Shopify Plus.
Development & Maintenance Costs
Operating an enterprise eCommerce store can be expensive in terms of time and resources. However, if your core competency is not web development, then your biggest expense is your opportunity cost taking away from product development and marketing.
I think the biggest advantage for Shopify Plus is that it removes a lot of that opportunity cost.
Servers, bugs, feature implementation, order management, bandwidth, file storage is all taken care of. It's part of a global platform that simply works.
One of my clients took advantage of this when they hired me. They were one of the world's largest seasonal brands and had just transitioned to Shopify Plus. They were 4 weeks out from Black Friday with poor organic visibility.
Instead of spending money load-testing servers and fixing checkout bugs, they were able to focus on marketing resources (like hiring me for an SEO consult). That meant that they were well-positioned to maximize getting traffic with the holiday surge instead of simply handling the traffic.
Due to recent trends, many web development features have become commoditized. Using a platform like Shopify Plus (or an alternative SaaS enterprise eCommerce platform) shifts the costs from developing & maintaining those basic features to product, experience and marketing innovation.
Predictable Pricing
On a related but different note, SaaS platforms – and Shopify Plus in particular – offer an advantage in predictable pricing.
Shopify Plus' pricing plans start around $2000 per month but go up based on a variety of specific needs (ie, expected traffic levels, customizations, etc). Pricing stays constant from the day you sign on.
That is a lot of money to budget, but for many enterprise-level companies, it makes sense. The pricing is cheaper than hosting + fees + web developer retainer. It's also more predictable and constant than hiring a developer for bug fixes, feature requests and change implementation. And if your store has big traffic fluctuations, it's more predictable than budgeting for bandwidth, servers or cloud hosting fees.
Technical Support & Account Management
The next advantage is also about predictability, but specifically the predictability of support. With Shopify Plus, you get a dedicated account manager.
It's a similar role to a project manager that you'd get at many web development firms except that they manage your full account – from development to features to technology to bug fixes and billing, not just coordinating developers.
Additionally, you're getting access to a specialized development team working on a single platform. That's in contrast to many web development firms who work across different platforms, languages, and clients. They are switching gears; they have a development queue, and support tickets are not typically a priority.
It's a big advantage when you are looking for fast bug fixes, feature clarification or account support.
Reliability at Scale
At the enterprise level, web infrastructure takes on new challenges. Making sure that hundreds or thousands of visitors running concurrent sessions are having a fast, secure, efficient experience is essential.
With the rise of cloud hosting, there are plenty of services, best practices and case studies on handling traffic at scale. But for stores or brands who do not have a core competency in server architecture or cloud hosting, it usually doesn't make a lot of sense to spend time there.
The key issue of scaling traffic should be marketing and inventory – not whether or not your servers are holding up. Are these visitors converting as predicted? What kind of conversion testing are we running? Do we have the inventory and selection available? What messaging makes sense on the homepage? Are there higher value questions than "can people access the site and check out?"
Letting a vendor with proven infrastructure deal with these issues is a big advantage for many enterprise level clients.
Agile Marketing Implementation
Agile marketing is the process of implementing & gathering feedback quickly and efficiently. It's how the most innovative and successful digital companies do marketing.
But agile marketing requires the right toolset. And for your eCommerce platform that means allowing for fast implementation without developer help.
And that's another big advantage of SaaS enterprise eCommerce platforms like Shopify Plus. They have all the tools companies need to quickly implement all aspects of good digital marketing.
One of the most painful experiences as an SEO consultant is to make recommendations and then see them sit in the development queue to die while still being held accountable for organic traffic growth.
On both proprietary and even open-source software (I'm looking at you, Magento) platforms, that scenario happens all too often.
And my Paid Media consultant and Conversion Rate Optimization friends will no doubt confirm this experience. Whether you need a product feed for Google Product Listing Ads or a script deployed for heatmap testing – getting marketing tools deployed on a platform not built for marketers is painful.
Aside – To be fair to developers, it's usually not fun for them either. They'd rather be working on more interesting projects than uploading thousands of rows of meta data.
Either way, even though Shopify Plus is a hosted platform, it's built with marketers in mind. It has all the standard tools that marketers look for. On my last Shopify Plus project, I was able to implement key recommendations within an hour of approval.
And unlike many hosted platforms where all changes are global (hence not available), Shopify has an internal development language called Liquid, which is straightforward and enables front-end changes at the store level. In my case, that meant I was able to deploy a set of rule-based canonicals on my own without developer help.
APIs, Integration & Extensions
Related to agile marketing tools are Shopify Plus' API, Integrations, and Extensions.
No platform can have every single tool built-in (that wouldn't be a good thing either). However, a platform can be extensible and add-on friendly.
Shopify not only has a robust API and plenty of built-in integrations with popular providers (e.g. NetSuite, SAP, etc) but they also have an App Store ecosystem with plenty of well-vetted extensions to choose from.
All the extensions are basically pre-packaged snippets of Liquid code that you can paste into your store to add integrations or build out features.
International Deployment
The last big advantage of using Shopify Plus that I saw was the ease of international deployment.
If you have a large or growing international brand, Shopify Plus has built-in tools to rapidly deploy international sites with all the geo-targeting, currency and language options.
So when one of my clients wanted to accelerate their launch into Ireland, we were able to move a lot more rapidly than a more traditional international rollout with a custom, built from scratch website.
Shopify Plus Disadvantages
If you had stopped reading after the pros, you'd probably think Shopify Plus was the best thing for eCommerce since Google Ad launched.
But it's not. Like pretty much anything, there's no such thing as a "best" choice. There is only what is the best fit for your company. And Shopify Plus does have several disadvantages.
CMS & Content Limitations
Shopify Plus is a full-fledged eCommerce platform. But if you are looking for a full-fledged feature-rich content management system, then you'll find yourself at a disadvantage.
Shopify Plus has blogging tools built-in. It has a Page management system. You can certainly build out a publishing or information-rich website that can compete in a content marketing world.
However, publishing is not Shopify Plus' forte. It's built for eCommerce, and you can definitely tell if you are coming from a publishing platform like WordPress.
In fact, many of the most well-known Shopify stores exist on a subdomain or have their blog on a subdomain for that reason. Here's examples from Wikipedia and Mozilla's old store using a subdomain.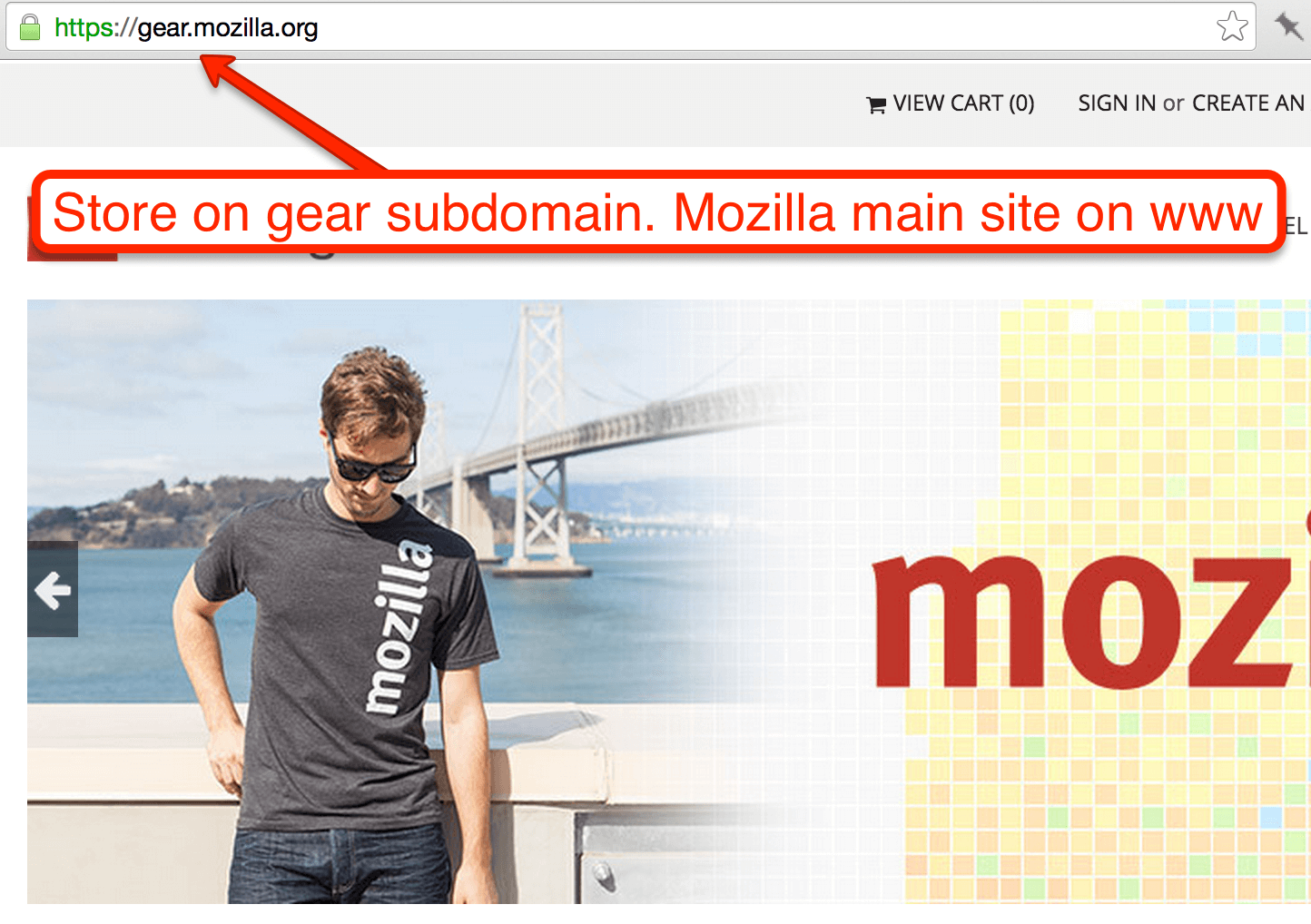 That setup has some SEO and Analytics implications. For SEO, despite lots of disagreement and historical context, the ideal setup is to have your entire website on a single subdomain (i.e. www). The additional subdomains also create additional considerations for analytics and advertising.
If you want your publishing or website to exist on the same subdomain as your eCommerce store, Shopify Plus' CMS limitations are a disadvantage to carefully weigh against other considerations.
API or Custom Backend Limitations
Related to Shopify Plus' content limitations are its inherent backend development limitations. Although Shopify Plus allows a lot of flexibility on the front end, any integration on the backend has to work with their API.
If you are using a specific inventory or fulfillment provider and their information doesn't integrate via Shopify's API, then someone is going to have to work to get it integrated.
A Shopify Plus Account Manager may be able to push to get it working, but either way, you are still limited by Shopify since they are a hosted platform.
As a hosted platform, you don't have FTP or database access. Everything has to go through the front end or via the API. For some brands and IT departments, that can present a risk and be an inherent disadvantage compared to owning and operating your own server.
Platform Lock-in
Additionally, platform lock-in is also an inherent disadvantage to using a hosted platform like Shopify Plus.
If you own or lease your own servers, you can backup and migrate to another company pretty easily. If you are running open-source software and your developer leaves, then you can hire someone else who knows that software.
However, if Shopify runs into financial trouble, you bear that vendor risk. If you want to close your store and migrate to a new platform, you can only get the data that Shopify exports for you.
Aside – They make all your data available for export, but that's not on the same level as having FTP and database access.
Either way, vendor risk and vendor lock-in is a disadvantage that has to be weighed with the advantages of the vendor.
Platform Expertise
Lastly, using Shopify Plus does require developing some in-house Shopify expertise. Shopify's API and front-end customization language, Liquid, does allow you to do things that you normally cannot do on a hosted platform.
However, those tools do have a learning curve. Once you start customizing your store and configuring it to match your company's needs, you can quickly create dependencies in-house for team members who "know Shopify."
That doesn't necessarily mean a developer, but it does mean that Shopify is not drag and drop – push and play. It requires some familiarity that will have to be factored into training and hiring if you want an agency to take on some responsibility.
For example, designing a Shopify theme requires templates to use Liquid for features that call on backend data. Implementing SEO recommendations requires understanding how collections and default canonicals are set.
Although Shopify is the largest and most well-known hosted eCommerce platform, it's not as well-known as WordPress or even Magento in some circles. The additional unique training represents somewhat of a disadvantage, especially if you are doing RFPs in addition to purchasing the Shopify Plus license.
Shopify Plus has an extensive network of vetted agencies that they can refer you to after the license purchase.
SaaS eCommerce Competitors
There are hundreds of Hosted (SaaS) eCommerce platforms, but very few offer well-regarded enterprise-level service. Here are two of Shopify Plus' competitors.
While I have experience with Magento, I don't have experience with their enterprise level versions. But here is their information for reference.
Shopify Plus vs. Magento Enterprise
Magento is one of the oldest and most well-known eCommerce platforms. Their main product is self-hosted open-source software that is popular among developers and a range of eCommerce stores.
Magento also offers Magento Enterprise, which is basically the Magento software deployed on a custom hosting solution with account support all bundled together. It has gone through some changes (and likely many more) ever since Adobe purchased them.
It's priced out at $18,000 and up per year, which is right in line with Shopify Plus' pricing.
You can check out Magento Enterprise and get a demo here.
Shopify Plus vs. Shopify
Ironically, one of the main competitors for Shopify Plus is Shopify's main plan structure. Shopify's plans offer plenty of flexibility and scale, so there are plenty of eCommerce stores that are on the cusp of "enterprise" – but are not sure if it's worth it.
In response to a reader email, here's how I summarized the four core differences between Shopify and Shopify Plus –
Fully branded checkout on your own domain (Shopify's regular checkout is on your domain, but pretty structured).
Dedicated account manager for support. They'll know the history of your account and sync with your end goals. They can also help stores make store customizations that aren't available on the usual platform. This is really the primary "feature" of the Shopify Plus platform – someone who can get things fixed & customized when you are at very high levels of traffic.
Customized integration with inventory and management platforms (SAP, NetSuite, etc).
Ability to roll out "store clones" to target different countries.
And honestly, if you are on a Pro or Unlimited plan and start hitting enterprise traffic levels (ie, millions of visitors) – you'll be contacted & pitched regardless.
Next Steps
If a hosted eCommerce platform sounds like it could be a good fit – go to Shopify Plus & get a free demo
If you found this review useful, I'd deeply appreciate it if you could submit me as your referral. Fill out your name (the prospect) and Shopify will connect you to a demo team.
Note your team's resources and core competencies and ask specific questions about all the disadvantages of moving to a hosted eCommerce platform.
If you have questions, comments or additional information from your experience, please contact me.
Aside – I also have reviews of Shopify, Volusion and Woocommerce for startups to small/mid-sized businesses.
Explore Related Shopify Posts