Even since it was founded in 2006, Shopify has grown from an online store toolset to a multi-faceted ecommerce platform. Shopify is big enough to have an entire "ecosystem" of vendors, suppliers, customers, and more making money with Shopify in tech jargon.
There are three broad ways to make money with Shopify –
With a Shopify Store – the most obvious and typical way to make money.
With Shopify Merchants – the fastest growing and most lucrative way to make money.
With Shopify's Platform – the most accessible and supported way to make money.
Within each of those is a specific, well-trodden path to make money both passively and actively. I've been working with Shopify since 2010 and have either done or consulted on every path.
Let's get into it.
Make Money With a Shopify Store
Like I've outlined in my Shopify Review, Shopify's main product bundles all the essential software that you need to run an independent online store into a single, recurring subscription.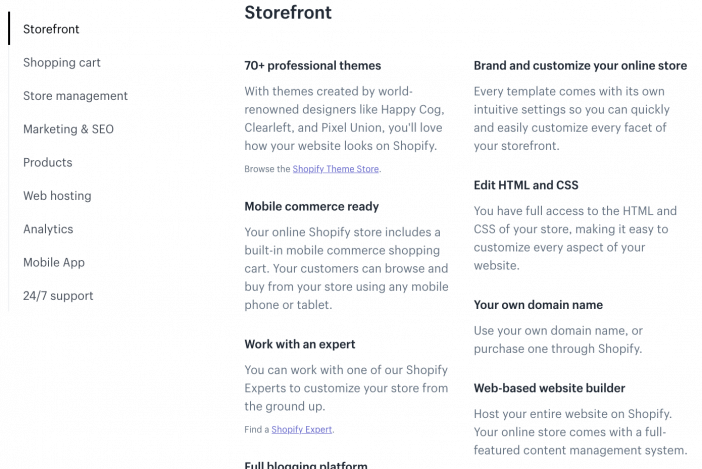 Before Shopify, simply creating and operating an online storefront was a daunting headache, and that was before acquiring products and customers.
That was one reason for the massive growth of marketplaces in the late 2000s, like eBay, Amazon, and Etsy. Marketplaces have some advantages, but they do crush profit margins and prevent brand-building that you can do with an independent store. That's where Shopify comes in.
Shopify has an accessible and affordable range of plans with bundled themes & plugins where you can open a fully functional online store right now.
This way of making money with Shopify is simple and straightforward – sell products & services to customers for less than it costs to acquire those goods and services. It's pure retail. It's the core of Shopify's platform and ecosystem.
Build & Operate a Traditional Online Store
The traditional online store business model is simple. Buy wholesale inventory and resell individual units at a higher price to make a profit.
You'll need to –
Advantages – The business model is clear and straightforward. It is a very well-trodden path with low barriers to entry. The Shopify platform has a massive range of resources to help you succeed.
Disadvantages – You can have fierce competition due to the low barrier to entry. It can be hard to get initial visitors to your website. You have to keep an eye on your cash flow and the cost of goods sold. Without startup capital, it can take a while to get a critical mass of customers.
Initial Steps – Carefully evaluate product idea and strategy. Decide on your site architecture and target market. Carefully map out a low-cost promotion strategy. Purchase a plan and get your Shopify store live.
Build & Operate a Multichannel Retail Brand
A multichannel retail brand is superficially similar to a traditional retail store. You are still trying to buy low and sell high directly to customers, just across different platforms instead of a single store.
However, it is a very different business because of where the value is. With an online store, the value comes from pricing, curation, and customer support. With a retail brand, the value comes from the brand and the entire experience.
Lots of retail brands use Shopify as their inventory, payments & order management hub. Products are listed on an online store and found offline and elsewhere on the Internet (Amazon, eBay, Instagram, etc.).
Parks Project is a great Shopify example. They aren't simply an online clothing store. Instead, they are a clothing brand that sells its products through different retail channels.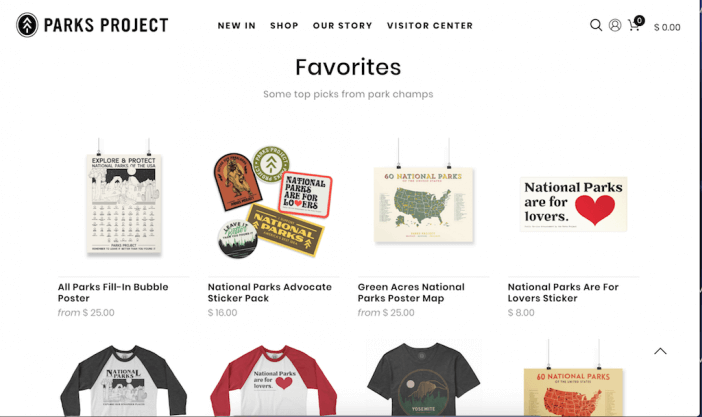 Shopify is a great platform to make money with this route since their inventory & order management tools are robust. They directly integrate with lots of other retail platforms (including offline). Shopify payments and Shopify POS system make selling offline simple.
Advantages – Your profit margins are much better. This path is well-trodden and open to more creativity and potentially needs less capital. You can work directly with manufacturers, and you can have a direct say in product development.
Disadvantages – The business model is more complex and much more demanding. You have to balance audience needs vs. business needs. You have to streamline logistics among different distribution channels.
Initial Steps – Start building an audience first, even if it's as simple as an email list, Instagram profile, or YouTube channel. Start thinking carefully about the brand and brand style. Setup a Shopify account (even if it's a Shopify Lite account) to manage all initial orders & inventory and start setting up distribution channels.
Build & Operate a Dropshipping Retail Brand
The dropshipping business model is one of the most popular ways to make money on Shopify. In fact, Shopify owns Oberlo, a dropshipping app that integrates directly with Shopify. Shopify dropshipping is similar to running a traditional online business model on Shopify, except that you don't touch or own any inventory.
With drop shipping, you are in charge of bringing in the customers and sending the orders to your wholesaler, who fulfills the order directly from their inventory. You pay the drop shipper an agreed-upon price per unit. The difference between what the customer pays you and what you pay the drop shipper is your profit.
Advantages – There are zero barriers to entry with no capital costs. You can get started right now and don't have to worry too much about cash flow or the cost of goods sold. You can focus exclusively on marketing & brand-building.
Disadvantages – You will have to be strategic about pricing and acquiring customers to avoid having no profit margin. You'll have to be creative with customer support and returns since you won't control the product or fulfillment.
Initial Steps – Carefully think through your marketing plan and how you'll get customers. Sign up for a Shopify account and with a dropshipper (usually through Oberlo). Plan your pricing and order fulfillment flow carefully.
Make Money With Shopify Merchants
There's a business anecdote that during a gold rush, it's never the gold miners who make money. Instead, it's the people who sell equipment and services to the gold miners who make money.
In this analogy, gold miners are online store owners. There are plenty who will strike it rich. But the people who will make the most consistent revenue will be those who sell services & products to the online store owners.
In some ways, selling products and services to Shopify store owners is not any different than selling products & services to website owners. However, the standardization that Shopify brings to online storeowners does mean that service providers and store owners can strike deals on the specific scope of work that doesn't work for general websites.
In other words, doing SEO for a Shopify website isn't any different in principle than SEO for any other website. However, since Shopify has a standardized setup, store owners and SEO marketers have an easier time creating a dedicated Shopify SEO strategy.
Build & Sell Turn-Key Online Stores
Even though Shopify makes building an online store simple and straightforward, actually putting it together is still the most daunting part. Getting logos just right, writing product pages, organizing menus and collections, etc. – it's all daunting and tedious for store owners who want to sell. It's like IKEA furniture. Just because anyone can put one together doesn't mean everyone wants to do it.
Building & selling a turn-key store is a huge opportunity to make money with Shopify. This path is so well-trodden that Shopify has a dedicated Exchange Marketplace where you can sell to a massive pool of buyers.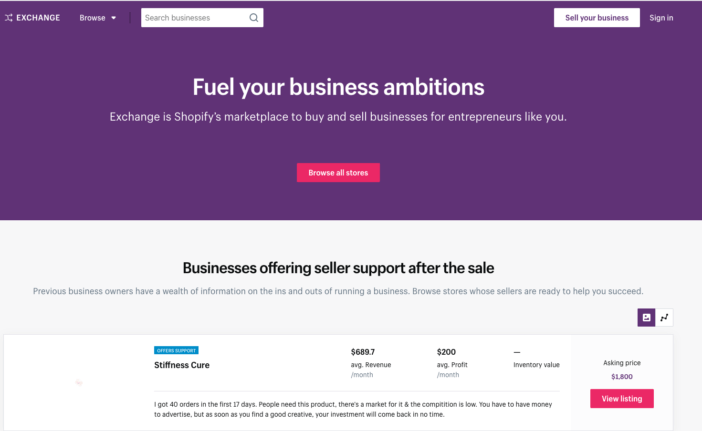 Advantages – There is a massive upside for selling a turn-key website, especially one that has made some sales. You also have the opportunity to systematize your business.
Disadvantages – There are risks and a potentially long sales cycle. You need to know what you are doing *and* have a clear idea of what potential buyers want.
Initial Steps – Browse the Exchange Marketplace to understand what is selling. Get a basic Shopify plan and start building!
Offer Custom Services for Shopify Merchants
There is a near-infinite number of services that you can offer to Shopify merchants. I got my start doing search engine optimization (SEO) for enterprise Shopify stores. Potential services can range from marketing to design to copywriting to development to inventory to fulfillment and more. Most of the roles are no different than ecommerce services, but you can standardize your service *for* Shopify.
Advantages – There are a near-infinite number of services & complements for Shopify stores with millions of potential customers. There is a lot of opportunity to add value and increase your prices. Since you are working with a single platform, you can standardize your services to have no scope creep or miscommunication w/ clients.
Disadvantages – There's a lot of competition with other service providers. Some services are increasingly automated with Shopify extensions & plugins.
Initial Steps – Sign up as a Shopify partner to get access to a development store. Make sure your services are up to par and start pitching storeowners. You can use software like BuiltWith or NerdyData.
Build & Sell Custom Resources for Shopify Merchants
There is also a large market for Shopify-specific resources and content. Whether it's a dropship directory, fulfillment guides, Liquid tutorial, inventory calculator, etc – there's an opportunity to help Shopify store owners improve their store with premium resources.
Advantages – You can "scale" – i.e., create once and sell infinite copies. There are tons of opportunities and a constantly changing landscape (i.e., integrating with TikTok or Depop, anyone?).
Disadvantages – It can be hard to market, and the constant change can be challenging to keep up with.
Initial Steps – Pick a problem that a Shopify merchant might have and set about solving it. Monitor the Shopify forums, Quora threads, along with Twitter and Reddit threads to find problems. You can sell with something as simple as PayPal or Gumroad (or Shopify!).
Make Money With the Shopify Platform
Shopify has a Shopify Partners program that gives vetted access to their platform for agencies, developers, and content creators. The program is a great way to make money within the Shopify platform without building a store (or selling clients directly like the previous section).
Build & Sell Shopify Apps, Themes & Extensions
The Shopify app store and Shopify theme store are possibly the highest leverage way to make money on the Shopify platform. With a Shopify app / theme, you have a built-in B2B audience with a budget to pay for an digital product that makes money for them. It's a crowded space but also nowhere near as competitive as other app stores.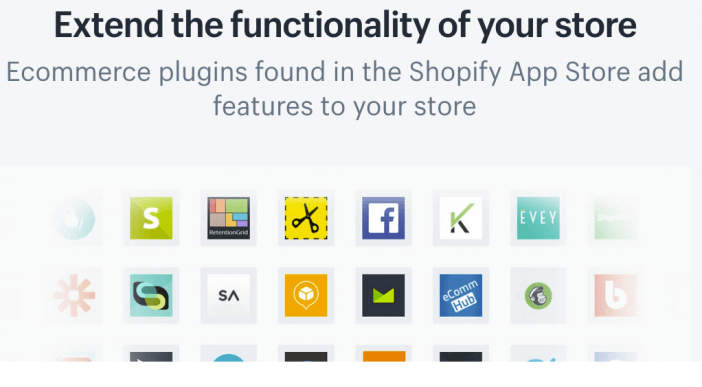 Advantages – Your ecommerce business owner audience has a budget for apps along with a deep need for Shopify merchant solutions. Shopify has a very well documented API with lots of developer support (they make money off apps and see apps as a competitive advantage). It's a great way to build a stable revenue stream.
Disadvantages – You don't have an infinite pool of customers, and apps for the most common problems are well-established.
Initial Steps – Head over to Shopify Partners to learn more about the Shopify Developer platform and how to get started.
Build & Migrate Shopify Stores
With a Shopify Partner account, you can build websites for clients and continue to make money even after you've transferred the store to your client. It's a referral structure that highly incentivizes web design agencies to register as a Shopify Partner and steer ecommerce clients to Shopify. It's a great way to make both active and passive income with Shopify.
Advantages – You can get steady referral income from Shopify and develop a platform that clients will recognize and love.
Disadvantages – Your web design business is somewhat locked into the Shopify platform.
Initial Steps – Head over to Shopify Partners, sign up, and explore their developer store setup.
Solve Technical Problems for Shopify Stores
Shopify maintains a Shopify Expert directory who can help merchants will specific problems. It's a great place to build a solid freelance business and make supplemental income.
Advantages – You are vetted by Shopify and get clients with predictable, solvable issues.
Disadvantages – The leads can be irregular and lower-quality than Shopify leads that you can get outside of the directory.
Initial Steps – Sign up as a Shopify Partner and follow the prompts to join the Experts directory.
Promote & Explain with the Shopify Affiliate Program
Shopify will pay a fee for any customers that you refer to them. It's a great way to monetize content, courses, and tutorials. They have a dedicated affiliate team and resources to help you grow. It's a great way to increase both passive and active income without directly working with the platform.
Advantages – Affiliate marketing requires no technical background or skills. Success only hinges on your creativity and promotional ability. Shopify is a solid product with a massive potential customer base, so there are many opportunities.
Disadvantages – It's hard to make money as a Shopify affiliate without an existing audience. The fee structure can also vary and depend on what type of storeowners you are referring to.
Initial Steps – Become very familiar with the Shopify platform. Sign up with the Shopify Partner Program and apply to become an affiliate.
Next Steps
There are many ways to make money with Shopify, even if you aren't running a traditional eCommerce store. The most critical first step is to outline your concrete goals and what problems you plan to solve for other people. Shopify is an incredible platform and excellent toolset, but it's not magic or a silver bullet. Decide what you want and can accomplish and go from there.
Note – technically, you can also make money with Shopify as an investor. They are a publicly-traded company (SHOP) that has received *a lot* of attention from the financial press. However, as of 2021, they do not pay (or plan to pay) dividends. They also are not returning earnings via buybacks. Shopify stock returns have been above expectations so far but are based exclusively on expectations for future growth. I wanted to keep this post limited to the use of Shopify as a platform.