| | |
| --- | --- |
| Support | Help Desk, Email, Live Chat, Forum, Phone & Knowledge Base |
| Uptime | Adequate (99.89% past 6 months) |
| Guarantees | 90-Day |
| Free Migration | |
| Best For | Small businesses & agencies |
| Strengths | Great customer service & high performance servers |
| Weaknesses | Few tools for beginners |
| Promotion | Starting At $2.29/mo. |
When starting a website, one of the first decisions you'll be forced to make is choosing a web hosting service. But with so many options, it's a tough choice to make. You need to weigh your priorities, including price, performance, technical requirements, ease of use, customer support options, etc.
To help you decide, I've created a wealth of web hosting resources, including a list of the best web hosting providers and in-depth reviews of each.
In this InMotion Hosting review, I'll let you know what you can expect from this longstanding web hosting company. I'll cover their various features, strengths, and weaknesses and let you know who I think they are best suited for.
InMotion Hosting Summary
InMotion Hosting is one of the world's largest independent web hosting companies. They've been around since 2001 and have developed a brand around being a transparent, reliable web hosting service for businesses and organizations.
Key Features
Low entry-level pricing
Free domain
Free SSL Certificate
WordPress auto-Installed
Daily backups
Support staff available 24/7
Live chat support
Includes BoldGrid drag-and-drop WordPress site builder
InMotion Hosting Plans
InMotion's web hosting services range from shared to VPS to dedicated, and they support custom products such as WordPress and Reseller hosting, as well as hosted private cloud.
Shared Hosting
Shared hosting (aka web hosting) is the bread and butter of the website hosting world. They manage individual accounts on a Linux server. They can run WordPress or pretty much anything you want. It's a cost-effective and great way to run most websites.
InMotion Hosting has four web hosting plans.
| Plan | Core | Launch | Power | Pro |
| --- | --- | --- | --- | --- |
| Initial Price* | $2.29/mo. | $4.99/mo. | $4.99/mo. | $12.99/mo. |
| Renewal Price | $8.99/mo. | $11.99/mo. | $15.99/mo. | $22.99/mo. |
| Websites | 2 | unlimited | unlimited | unlimited |
| Storage | 100 GB | unlimited | unlimited | unlimited |
| Bandwidth/month | unmetered | unmetered | unmetered | unmetered |
| Free Domain Name | | 1 year | 1 year | 1 year |
| Free SSL | | | | |
| CDN | | | | |
| Dedicated IP | | | | |
| Daily Backups | | | | |
* Pricing per month for a 36-month subscription
Managed WordPress Hosting
Even though WordPress can run on regular shared hosting, many hosting companies separate WordPress hosting due to customer demand and the hardware demands of WordPress. Learn more about WordPress hosting in this guide.
Many hosting companies offer WordPress hosting that is exactly the same as their shared hosting plans.
That's not the case with InMotion Hosting.
They use a different architecture and are actively managed, among other changes. InMotion Hosting has several WordPress hosting plans depending on your needs.
| Plan | WP Core | WP Launch | WP Power | WP Pro |
| --- | --- | --- | --- | --- |
| Initial Price* | $3.49/mo. | $6.99/mo. | $6.99/mo. | $14.99/mo. |
| Renewal Price | $10.99/mo. | $14.99/mo. | $19.99/mo. | $28.99/mo. |
| Websites | 1 | 2 | 3 | 6 |
| Storage | 50 GB | 100 GB | 150 GB | 200 GB |
| Visitors/month | unmetered | unmetered | unmetered | unmetered |
| Free Domain Name | 1 year | 1 year | 1 year | 1 year |
| Free SSL | | | | |
| CDN | | | | |
| Dedicated IP | | | | |
| Daily Backups | | | | |
* Pricing per month for a 36-month subscription
1. VPS Hosting
VPS hosting is a great way to get a specific allocation of server resources without having to lease an entire server. Even though your website lives on the same server as other sites, you have more control over the allocated server resources than shared hosting.
Learn more about VPS hosting in this guide.
InMotion Hosting has several very competitively priced VPS plans that offer managed and unmanaged options.
2. Dedicated Hosting
Dedicated hosting lets you lease an entire server and get support, bandwidth, and other perks. It's the most cost-effective way to host a large site with predictable traffic (sites with unpredictable traffic usually go for cloud hosting). InMotion Hosting has a range of dedicated server options depending on your resources & expertise.
3. Reseller Hosting
Reseller hosting is a shared, VPS, or dedicated server plan with 3rd party billing and management enabled. Reseller hosting allows anyone to start their own hosting company without actually starting a hosting company. Read more about Reseller hosting in this guide.
It's a great way for agencies to get recurring revenue and provide extra value for clients. InMotion Hosting has a range of reseller hosting products.
4. Private Cloud
InMotion Hosting's Private Cloud product is for businesses and organizations who need the benefits of cloud hosting for their internal IT use without the complexity of using Amazon, Google, Microsoft, etc., or the costs of setting up their own architecture. Read more about cloud hosting in this guide. InMotion Hosting has a range of IT and cloud solutions here.
Website Builder
In addition to it's web hosting platforms, InMotion Hosting built the BoldGrid drag-and-drop builder for WordPress. Even though BoldGrid is now its own company, InMotion Hosting bundles BoldGrid when you sign up for WordPress web hosting.
This gives users many benefits of a hosted website builder (like Wix, WordPress.com, or Jimdo) but on a server you control. For more details, read my BoldGrid Review or check it out on the InMotion website using my exclusive link.
Other Products
InMotion Hosting also offers a range of complementary products for businesses & freelancers, including domains, email hosting, design services, and more.
InMotion Hosting Alternatives


Bluehost Review
Rating

9.5/10

Uptime Guarantee

No

Free Migration

Yes

Promotion


SiteGround Review
Rating

8.5/10

Uptime Guarantee

Yes

Free Migration

No

Promotion


A2 Hosting Review
Rating

8.5/10

Uptime Guarantee

No

Free Migration

Yes

Promotion
What Is InMotion Hosting?
InMotion Hosting is an independent provider of web hosting services and complimentary website products such as hosted private cloud, domain names, website builders, web design, and email services.
Is InMotion Hosting Legit?
InMotion Hosting is one of the world's largest independent web hosting companies. They've been around since 2001 and have developed a brand around being a transparent, reliable web hosting service for businesses and organizations.
InMotion Hosting positions itself as one of the few large hosting companies not owned by one of the three large web services holding companies – GoDaddy, Endurance, and Web.com. InMotion has the breadth, resources, and expertise to serve websites for businesses, organizations, and long-term projects.
In short, InMotion Hosting is a legit hosting option. They aren't a fly-by-night web hosting provider.
What Is InMotion Hosting Used for?
InMotion Hosting hosts websites and web applications. Their target market is businesses, organizations, and growing websites. They offer a full suite of website products ranging from domain names to hosting to email to even web design.
InMotion hosts this website, and many of my other web properties have lived on InMotion Hosting's reliable servers since 2015.
However, as I've stated in all my hosting reviews, finding a good hosting company is about finding the right fit based on your goals & resources.
Pros of InMotion Hosting
No hosting company is perfect. And I've always maintained that there is no such thing as a "best" hosting company – it all depends on your goals and preferences.
My list of the best web hosting providers can help you help match your needs with the right hosting company.
With that in mind, here are six key advantages of InMotion Hosting.
Customer Service
InMotion Hosting puts its customer service front and center in its marketing. They boast a 24/7/365 U.S.-based tech support team via phone, chat, email, and a ticket system.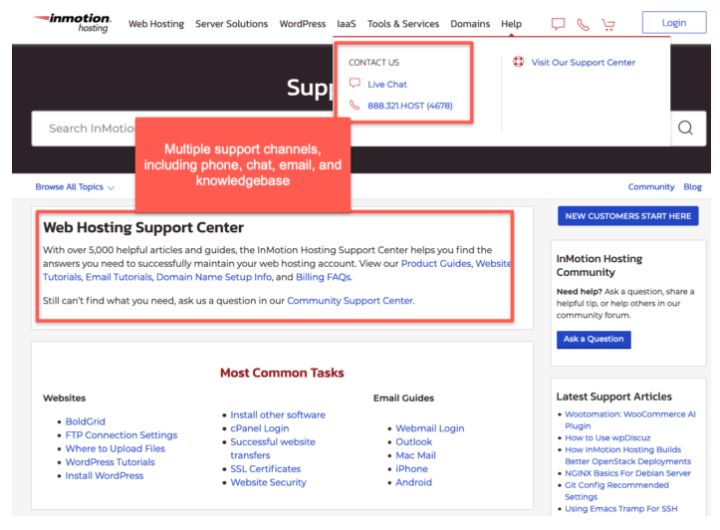 Anyone who has ever run a website understands that customer support is often overlooked, but you will always need support at some point, and when you need it…you really need it.
The tricky thing with customer service is that it's hard to tell if a negative experience is an isolated incident or indicative of a company's culture (i.e., does the company view customer service as a cost or an investment).
For example, back in 2013, my very first chat with an InMotion Hosting rep was not encouraging…

My experiences since then have been outstanding, and the main reason I switched to InMotion Hosting for my VPS server (which encounters more technical issues than a shared server and what most companies need).

The point is that these anecdotes are just that – anecdotes. In my best web hosting review guide, I tried to identify what InMotion's internal service culture was like by looking at external indicators.
Two good indicators: Do they invest in tools & content, and are there multiple ways to get help depending on the situation and expertise required?
InMotion Hosting performs very well on both accounts.
First, InMotion Hosting has a ton of resources in its knowledge base. This isn't uncommon among hosting companies, but what I like about InMotion's approach is how they use knowledgebase articles to initiate conversations with their customer base. Users can post their related problems, and InMotion Hosting reps respond within the thread. It makes self-directed troubleshooting a lot easier.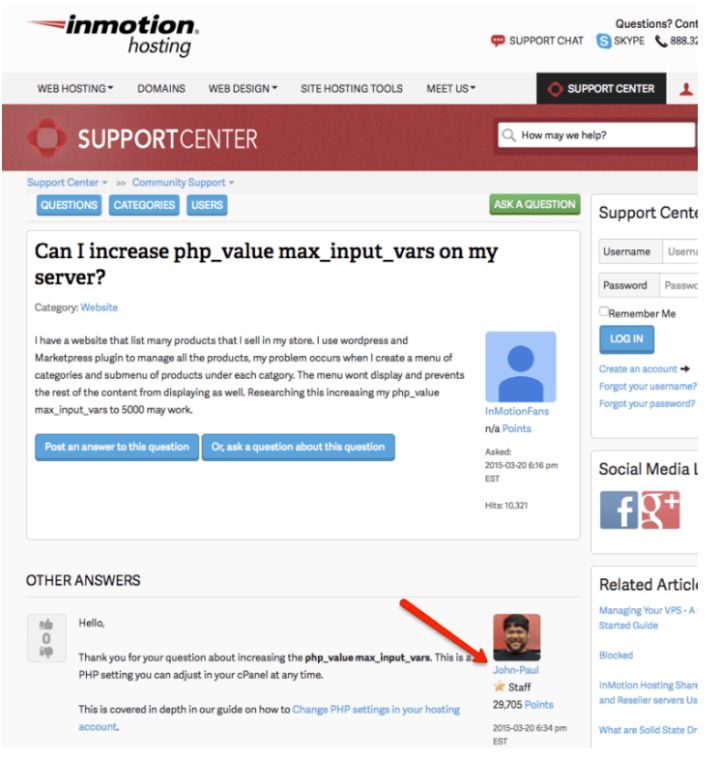 Second, they have a wide range of responsive support channels. They place their phone number, chat and email front and center throughout their site.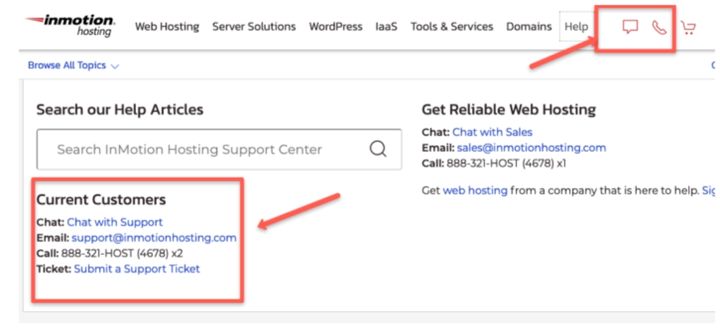 For some companies, you have to call because email isn't quick. Or chat will be down, so you have no choice but to send an email, etc. InMotion Hosting's support channels function well and serve the right purpose. I've sent email support tickets that have been solved quickly and had phone calls returned quickly.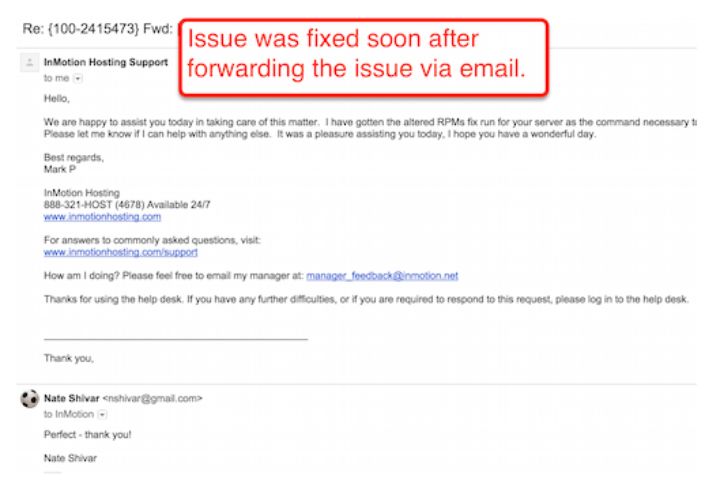 Additionally, the InMotion reps I've dealt with have a level of expertise – they aren't just following a troubleshooting script.
I've had readers write in to let me know that InMotion Hosting was the only hosting company to get to the root problem of their issue (in one particular case, a conflict with their WordPress theme & their running version of PHP).
I once had to upgrade a couple of accounts to PHP7 – the fastest/current version at the time. Even though the front-line rep couldn't do the installation, he could tell me that the change would require a prerequisite upgrade to my Apache version – which would require a server reboot.
So to make sure the process happened smoothly, he sent my ticket up the chain to a server admin – who scheduled the upgrade for 3 am – adeptly handling a potentially tricky situation.
But customer support, though important, is not why you use a web host.
Fast Web Hosting
A web hosting company's main job is to securely store your website files on a server and serve up those files as quickly as possible to every one of your visitors whenever they ask for them.
InMotion Hosting is faster than most of the web hosts I've worked with.
Of course, there are many ways to measure hosting performance and plenty of variables that go into website speed.
Here's how InMotion fares in the areas that matter to me.
Time to First Byte (TTFB) Performance
One of the best metrics to measure for (cheaper-end) hosting is Time to First Byte – or TTFB – in other words, how long it takes the server to respond after receiving a visitor request. I look at this because everything else afterward is highly influenced by how your particular website is configured.
I've been running a version of this test for years on all the hosts that I review. InMotion Hosting almost always trends above average for hosts, which is what you want. You can work with all the other website speed factors if you have a host that delivers consistent, above-average TTFB speeds.
Here are my most recent TTFB tests with InMotion Hosting on an "out of the box" WordPress install on a shared hosting plan with basic caching or a few plugins.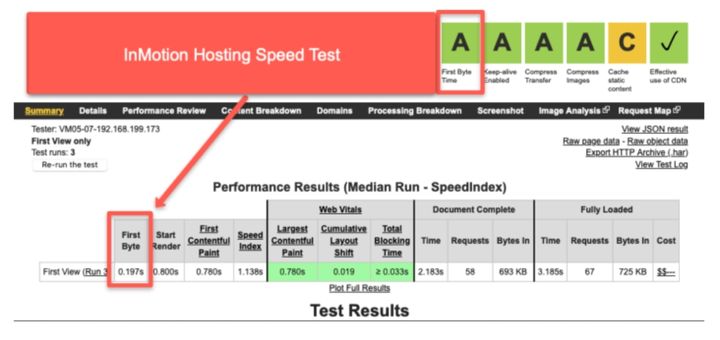 Again, for shared hosting accounts, this number will bounce around some. TTFB is best viewed as a trend – and is only a starting point regarding speed.
InMotion Hosting is faster than many of the web hosts I've worked with.
Some of this performance is because they use SSD drives for all their servers instead of the spinning-tape hard drives, a bonus for shared/business hosting companies.
How Do they Handle Traffic Spikes?
According to their sales material, they also don't overbook their shared servers with websites like other shared hosting companies.
Some hosting companies will fill servers with websites at more than 100% capacity and just hope none of them simultaneously have a traffic spike. InMotion Hosting says that they don't do that, so even shared servers with some caching will be able to handle traffic spikes if necessary.
Regarding reliability, they've maintained a reputation for hitting their 99.9% uptime guarantee. They maintain a status page at status.inmotionhosting.com that reports their real-time network and server status.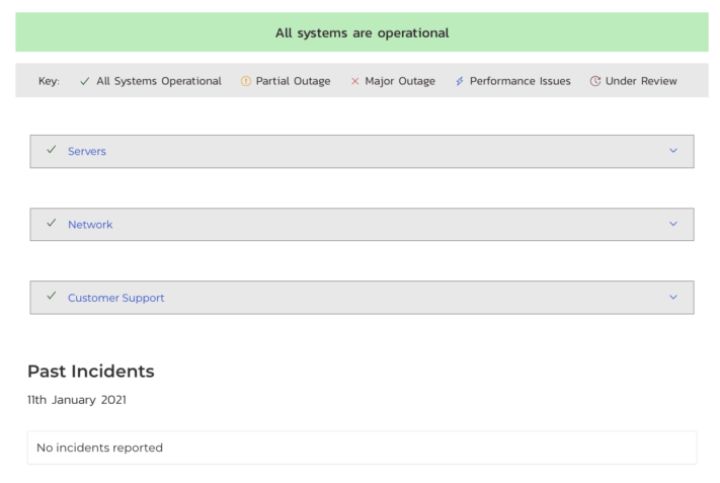 InMotion Hosting has had downtime incidents (as all hosts do, including Amazon and Google) and will likely have some in the future.
And with every host, the issue is not when they will go down but how will they respond.
Compared to my experiences with GoDaddy's outages, InMotion Hosting has been solid and transparent.
Ease-Of-Use
For hosting companies, there's a fine line between creating a backend that isn't daunting to first-time users and offering a flexible setup once your customers have gotten their bearings and want to tweak things.
The best solution is to use cPanel as a backend and Softaculous with a one-click install. It's common; it's open-source (so there are tutorials everywhere), and it's pretty basic – but in a good way.
The one thing that InMotion Hosting does differently, though – and this is a recent change – is that they put cPanel access directly on your account management dashboard. This means you don't have a separate login for billing/domains and your cPanel. They also place the one-click installer within your account dashboard.
You have a single login on InMotionHosting.com where you can just click over for cPanel.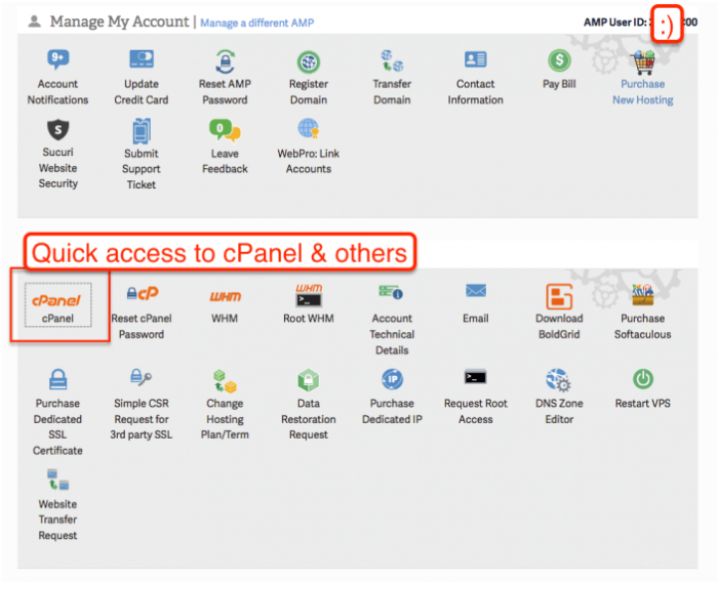 They also run the most recent version of cPanel, which is not only cleaner and more accessible but also has a free integrated Comodo SSL certificate (i.e., a brand name, free SSL).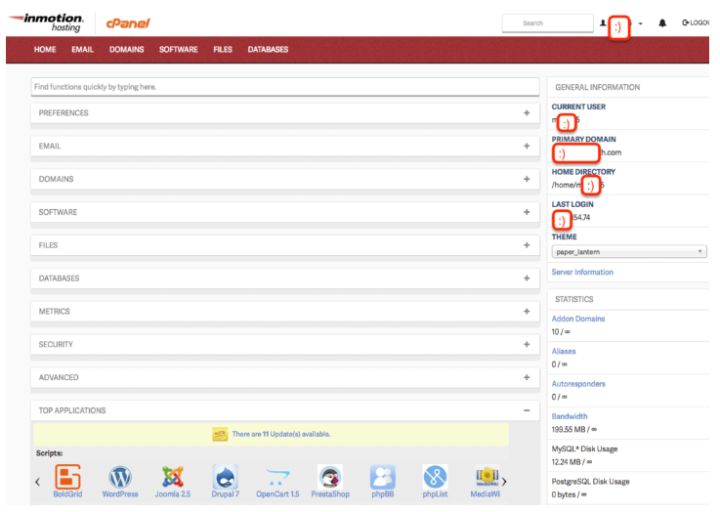 The single Account Management Panel possesses a lot of in-house upgrade options. If your site ever gets big enough that you need a developer-oriented solution like Managed Hosting, Virtual Private Server, or even a Dedicated Server – InMotion Hosting has all those options in-house, so you can upgrade fairly seamlessly.
Value-Based Pricing
While InMotion Hosting has a higher standard pricing than some hosting companies, their plans provide great value for the price compared to direct competitors.
In an industry where you often "get what you pay for," InMotion Hosting strikes a solid balance between affordable pricing and quality products. They also bundle guarantees and freebies with every plan, something their competitors usually upsell.
InMotion Hosting has an industry-leading 90-day money-back guarantee. The industry standard is a 30 or maybe 45-day money-back guarantee. The guarantee is especially reassuring if you pre-pay for an entire year to get better pricing.
InMotion Hosting has rolled out a free brand-name Comodo SSL certificate. They are fully integrated into their cPanel setup and make switching to HTTPS much more accessible.
And when it comes to freebies, all but the most basic business web hosting plans get free Domain registration/transfer, Google Ads credits, Google Apps Integration, & BoldGrid Website Builder.
All this is in addition to unlimited bandwidth, data backups, high disk space on an SSD drive (though not unlimited disk space), and high limits on MySQL databases.
WordPress hosting plans get JetPack (which I'll touch on in a minute) and custom caching. VPS plans get scheduled snapshots and resource monitoring, and cPanel licenses.
Their packages are also structured to make the most of your monthly pricing.
For example, their second cheapest tier, which rivals many companies' intro option, allows for two websites rather than the typical 1, so a new blogger or business website can run a primary website plus a complementary microsite on the same plan.
Independent Company
I don't think a company's size predetermines the level of quality the company produces. Oftentimes, a large company has resources that a small company cannot have. Conversely, a large company can create an unneeded distance from its actual customers.
The open secret in the hosting industry is that Newfold Digital and GoDaddy own nearly every brand you'll come across. InMotion Hosting is one of the few remaining large, independent companies in the hosting industry.
Additionally, InMotion Hosting is one of the few independent companies with significant size (the other being SiteGround).
With this position, InMotion Hosting has the resources to deliver competitive features, like their custom-built drag-and-drop builder, while still aligning their company according to their mission and values rather than Wall Street's (or venture capitals) demands for growth.
As a for-profit, I know that InMotion Hosting prioritizes good service with profit in mind – but I think that what a company does with its sponsorship money can say a lot about its internal culture.
For example, I've mentioned separately how GoDaddy's advertising and historical company culture is problematic. But it's also true on the flip side – a company that supports excellent industry and community initiatives can indicate a positive internal culture.
InMotion Hosting is a large sponsor of WordCamps and open-source software core development. They sponsor Joomla camps. They also do environmental initiatives. All of these are indicative of both smart marketing and meaningful company culture.
Many customers are shopping for a non-big big brand-owned hosting company. InMotion Hosting is independent while still being big enough to provide competitive features.
Cons of InMotion Hosting
No hosting company is perfect – you'll find plenty of InMotion Hosting complaints (and raves) around the web.
Some are justified (i.e., see price point) others are not (i.e., they are hiccups that you'll find at every host). But here are some drawbacks I've discovered in my time as an InMotion Hosting customer.
Not Specialized Enough
InMotion Hosting strives to be everything to everyone.
They maintain expertise & server compatibility across a wide range of code languages and server specs.
They do WordPress hosting well, but they aren't a strict "WordPress-focused" host. Same with Joomla. Same with Drupal. Same with Ruby and every other website option from VPS to Cloud.
They recently rolled out a new unmanaged VPS hosting product for sysadmins and developers, they offer robust unlimited email hosting along with a drag-and-drop website creator…while also selling Hosted Private Cloud and Kubernetes Container products.
All these products are great. However, their broad product focus means they appeal to a wide range of customers rather than settling on a single audience. This is problematic for a couple of reasons.
First, InMotion Hosting is usually an early adopter rather than a first adopter.
InMotion Hosting took quite a while to come out with a WordPress hosting plan, even though when they did, it turned out well. Same with their Reseller Hosting revamp and a theme marketplace that they are just now rolling out.
When they roll them out, they roll out the changes right, but they're rarely first out of the gate.
Second, InMotion struggles to compete with specialists in each category.
They make an inherent tradeoff to be a solid web hosting company which means they cannot also be a boutique/specialist hosting company.
For example, Since InMotion Hosting isn't a WordPress specialist host, it is hard to compete directly with Kinsta or WP Engine. Since they aren't a developer-focused host, it's hard to compete with Liquid Web.
And their developer-focused plans can scare away a lot of general website owners who gravitate towards Bluehost, HostGator, or GoDaddy.
Confusing Pricing
InMotion Hosting has several affordable plans, but they have limitations. For unlimited plans, their price point is a bit higher than other shared hosting providers.
They are affordable but more expensive based on an equal comparison of account features than competitors to call their pricing out as a con.
They have a brand called Web Hosting Hub that focuses on "unlimited plans" at a slightly cheaper rate. They have promotions but not as many as their competitors.
The other pricing "con" is that you have to sign up for a full year – and the discount is only available for up to a 2-year lock-in.
Again, they do a money-back guarantee, but if you're unsure how long your project will be in place, InMotion Hosting can be pricey for new websites.
Beyond the 90-day money-back guarantee, there is no pro-rated refund. Pre-paying for a full year is not a bad thing or out of the norm. But if you are unsure about your project length, monthly plans such as those offered by HostGator can be worthwhile.
Not the Best for Beginners
InMotion Hosting has excellent onboarding but not if you're a beginner. It can be daunting compared to hosts like Bluehost, who specialize in onboarding everyone into a WordPress website.
I like how InMotion Hosting bundles a JetPack subscription in their WordPress Hosting plans and provides auto-install and basic perks. But overall, I've found that beginners and bloggers have better success with other hosts who do focus on that market.
Is InMotion Hosting Worth It?
InMotion Hosting is a solid, well-respected web hosting company. I've switched to them for this specific website and love it.
I think they are the best fit for someone who is only looking to host a couple of websites on their account and is willing to pay a bit of a premium for great support and performance. You can check out InMotion Hosting here.

If InMotion Hosting doesn't seem like the right fit (i.e., you prioritize pricing or you're looking to do several small projects), check out my list of the 11 best web hosting services. It factors in your goals and preferences and provides alternatives & ideas for other companies that might fit.
FAQs
Related Articles