| | |
| --- | --- |
| Support | Help Desk, Live Chat, Video Tutorials, Phone & Knowledge Base |
| Uptime | Excellent (100% past 6 months) |
| Best For | Growing Websites |
| Strengths | Great Tech Support |
| Weaknesses | Costly Pricing |
| Promotion | 50% Off 3 Months |
Liquid Web is one of the largest hosting companies in the world. They were founded in 1997 and have data centers in Michigan, Arizona, and The Netherlands.
They have traditionally focused on dedicated, VPS, and cloud hosting. However, in their recent growth push, they have expanded to offer a wide variety of products, including Managed WordPress Hosting.
What is Liquid Web Hosting?
Liquid Web is a large, privately-owned hosting company. They grew with a focus on enterprise and dedicated hosting. They have traditionally offered a wide range of specialized hosting products for agencies, mid-size, and growing businesses.
In 2019, they acquired Nexcess Hosting, which expanded their hosting products to include more affordable, consumer-grade plans, including Managed WordPress Hosting.
Additionally, they acquired iThemes, a WordPress theme & plugin maker, in 2018. They offer shared WordPress hosting under the iThemes brand.
Before looking at Liquid Web's pros & cons, let's look at a bit of background so that we can compare apples to oranges to limes.
To begin, I've written about how WordPress Hosting is different than Web Hosting here.
The short version is that WordPress is simply software that can run on any Linux-powered web hosting server (aka shared hosting). But many companies have customized web hosting servers to optimize for WordPress' typical resource usage.
They call these "WordPress Hosting Plans" – even though one company's WordPress Hosting plan can be wildly different than another company's.
At one end of the industry are specialist WordPress Hosting companies like WP Engine and Kinsta. They *only* do hosting for WordPress with costs to affordability and versatility. On the other end are shared hosting companies that tweak their shared servers for WordPress, but still, focus on affordability and versatility.
Liquid Web's tries to split the difference with their Managed WordPress Hosting product. They want to be more affordable & versatile than specialist WordPress hosts, while also providing unique & more robust products than many shared hosting companies offer.
If most shared hosting companies are selling Toyotas, Honda & Fords; and specialist companies are selling Porsches or Teslas, then Liquid Web is trying to sell a Mercedes or BMW.
Make sense?
Ok, let's outline how that plays out with pros, cons & use cases.
Pros of Using Liquid Web for WordPress
There are many Liquid Web Hosting reviews online – usually with user-generated reviews based on anecdotes and personal experience.
That's fine, but I take a different approach. Like I mention in all my hosting reviews, there is no such thing as a "best" WordPress host. It's all about the right fit for your project based on your goals, budget, experience & expertise. Here are the pros (advantages) for considering Liquid Web Hosting.
Performance & Speed
The number one job of any web host is to safely & securely store your website, and quickly deliver those files to any visitor who requests them.
There is a lot that goes into website speed. Using Liquid Web will not instantly make your website fast, but they take care of everything in their control.
Liquid Web's Managed WordPress Hosting plans are built & managed with WordPress in mind. They aren't just re-hashed web hosting plans.
While they do have some limits (see cons section), within those limits, Liquid Web runs WordPress well. Here's an example speed test that I ran with no optimization or caching installed.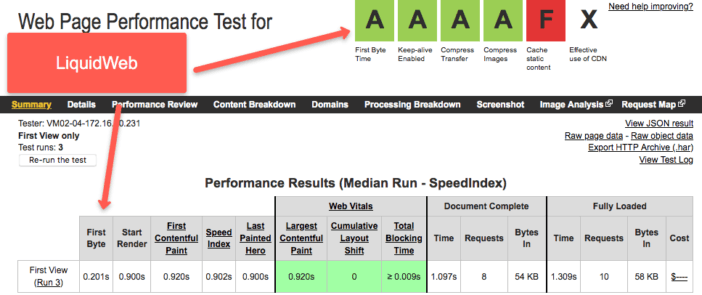 Note the Time to First Byte (TTFB). While it's best measured as a trend, it is the most straightforward & most accessible metric that you can use to measure a hosting company. Liquid Web excels on that measurement.
Additionally, Liquid Web seems to excel with large, memory-hungry plugins like WooCommerce. They allocate the right resources and provided servers that are configured & prepared for high-use eCommerce stores.
Support & Onboarding
Liquid Web's customer support & customer onboarding is reliable. For a large company, they have still maintained a "human" approach to marketing.
Their Net Promoter Score (a standard measurement of customer satisfaction) has been consistently high for years.
Additionally, they consistently invest across multiple support channels, including phone, chat, ticket, knowledgebase, and support forum. This investment level is my usual "proxy" for judging a company's commitment to customer service.
Additionally, Liquid Web has a great onboarding sequence for moving new signup to a consistent customer.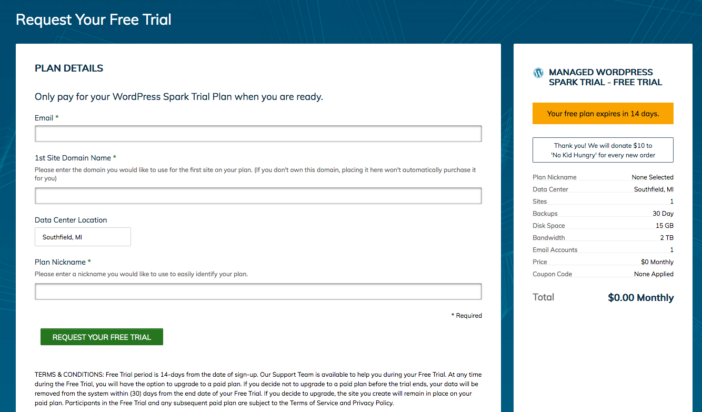 When I started my account, I had no issues and no confusion about what to expect or what to do next.
Hosting Features & Extras
Liquid Web's Managed WordPress Hosting has excellent features plus extras that they don't really promote.
Their resource allocation is solid, with no visitor caps. They have multiple data centers across the US & Europe.
They compete well with both shared hosting companies and specialist companies on raw features and allocations. But they add in a few different features as well.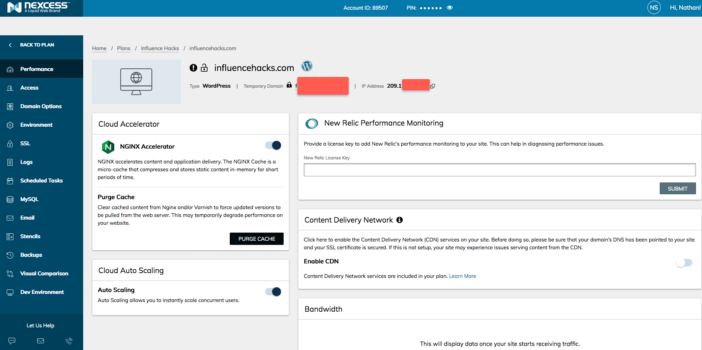 They have a clean, accessible backend with both staging & development environments.

They also provide an interesting "Visual Comparison" tool that allows you to quickly preview any WordPress plugin / theme changes without rolling it out to the staging or live server.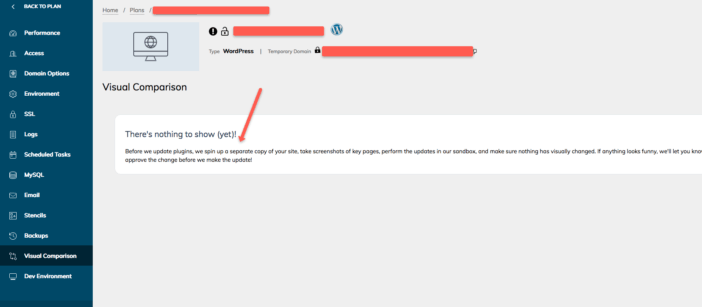 They also have a unique cloud autoscaling feature so that your WordPress site will never crash under user pressure.
This feature is especially useful for high memory usage plugins like WooCommerce, BuddyPress, and bbPress that can come under high concurrent user pressure (i.e., lots of people trying to refresh their cart / feed / thread at the same time).
Comprehensive Hosting Products
Liquid Web has been a leader in the enterprise & dedicated hosting industry for quite some time. This history means that they have a whole suite of specialist hosting products for rapidly growing or unique sites.
No matter how your business changes, you can almost certainly stay with Liquid Web to solve your hosting needs. This point is especially important for web design firms or freelancers looking to find a long-term hosting partner.
My podcast co-host recently switched his marketing agency to Liquid Web for this very reason. Liquid Web's support removed the agency's dev maintenance workload so that they could focus on client work, while still getting the same performance as self-managed cloud hosting.
WordPress-specific Product Bundles
In addition to their Nexcess Hosting acquisition, Liquid Web also acquired iThemes – a popular WordPress plugin & theme provider.
With the iThemes brand, Liquid Web can bundle several "must-have" WordPress plugins. iThemes has always made high-quality plugins. Using Liquid Web allows WordPress users to get those otherwise paid plugins for free.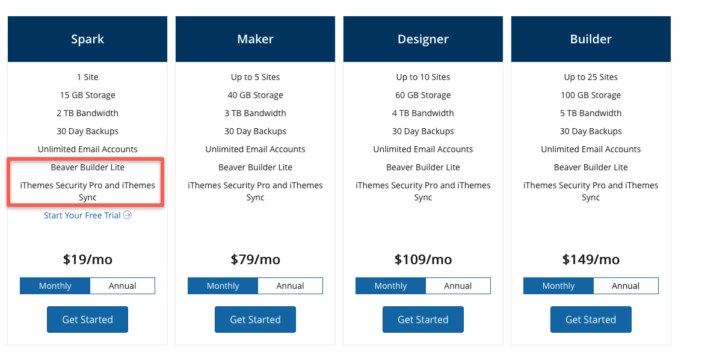 It's a nice upside that enables customers to compare "apples to apples" with other companies such as WP Engine, InMotion, WPMU Dev, and Bluehost, who have all bundled similar premium plugins with their WordPress hosting product.
Cons / Disadvantages of Using Liquid Web for WordPress
Like any web host, Liquid Web has disadvantages. There are plenty of Liquid Web complaints online. But remember, that like the pros, these are all in the context of your goals & priorities. With that said, here are the cons that I found while using Liquid Web Hosting.
Liquid Web Pricing
Liquid Web's pricing hits that classic "middle choice" problem.
On one hand, their pricing is great. It's a great value. On the other hand, it's neither affordable enough nor valuable enough.
Let's go back to thinking about my car analogy. Imagine you just need a solid, reliable car to commute around your city. Do you need a Mercedes, or would a Honda do just fine?
Imagine you have the budget & needs for a luxury car. Do you really want a Mercedes, or would you prefer a Porsche or even a Bentley instead?
For solid, customized WordPress Hosting, there are companies with solid service, solid specs, and higher limits that are much cheaper than Liquid Web (e.g., this site uses InMotion Hosting's WordPress Hosting).
There are WordPress services that WP Engine and Kinsta offer that Liquid Web is unlikely to roll out – because WordPress is not their main focus.
Liquid Web also limits some of their plans, especially on bandwidth, in a way that reduces their overall value.
Custom Backend
Liquid Web provides its own custom backend to manage your server instead of the standard cPanel.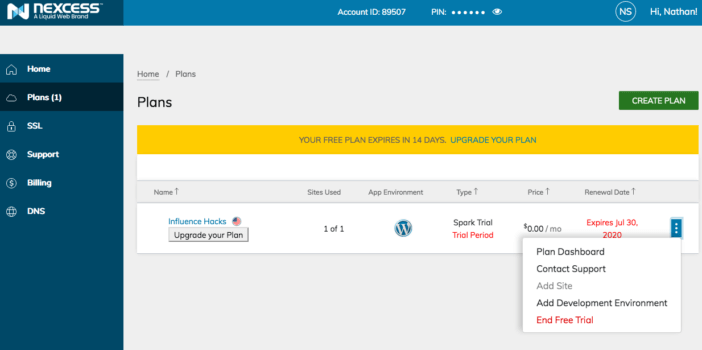 It does provide some upsides like other companies with a custom backend (SiteGround, DreamHost, and GoDaddy Hosting). It saves cPanel licensing fees, streamlines some tasks, and allows for a more uniform product.
However, a custom backend also creates additional problems for anyone who has developed a cPanel-based workflow, multisite management, or likes to search to solve server management issues.
In other words, Liquid Web's backend issues are unique to Liquid Web and require Liquid Web's support and expertise. There are no quick Googling fixes. And if you are managing multiple client sites, you'll have to use Liquid Web's tools rather than industry-standard cPanel tools.
Limited Downgrades
Liquid Web's WordPress plans start at $19/mo for a single site. They don't have anything cheaper. Even iTheme's old $4/mo beginner tier no longer exists.
$19/mo is well and fine for a growing site that needs solid resources and support. But what happens if you need to downgrade due to a loss in traffic? There's no cheap tier to downgrade to.
The lower tier is a customer segment that Liquid Web does not work with. That's great, but also something to consider if you are shopping around.
For example, I manage several smaller sites that I have high hopes for, but are also young & fragile. I've had to upgrade but also downgrade those sites to stay within budget. Liquid Web's plans would not allow the downgrade option.
Technical Language
Liquid Web does a good job "humanizing" their support & onboarding channels. Their product & support language is friendly & welcoming. But it's also decidedly focused on people who understand hosting jargon.
Some of their best hosting features are undersold because they are explained with hosting jargon. Part of this comes from their positioning & price point.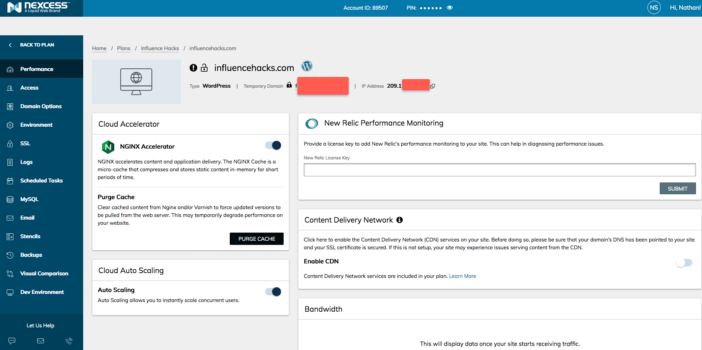 They are best for agencies or website owners who know what they are looking for in website hosting. However, it's something to keep in mind if you are looking at moving from a hosting company that you're familiar with – or are just starting.
Bundled WordPress Products
Liquid Web's iThemes plugin / theme bundle is a solid pro, but it's also a bit of a downside if you prefer other premium plugins.
iThemes comes as a suite of tools that work best together, especially their backup & security plugins. They are fine, but they aren't what I prefer (I use JetPack and WPMU Dev).
If you choose to use a different suite of plugins / themes, you aren't going to get as much value out of your plan as you normally would. It's not a huge deal, but it's something to keep in mind when comparison shopping.
Liquid Web Use Cases
Liquid Web is a solid host, but they work particularly well for certain customer segments. Here are a few cases where they are the best / better choice over competitors.
Profitable, Growing Website
If you have a profitable, rapidly growing WordPress website with lots of resource usage and dependable support needs, then Liquid Web would be a good choice. Their plans have more immediate value than specialist hosts while also providing more resources than shared hosting companies. Be sure to consider the downgrade downside, and look at other WordPress hosting companies.
Web Design & Development Agency
If you have a web design/development agency, the Liquid Web would be a solid choice to consider. They have consistent hosting with helpful performance for you & your clients. You can maintain a profitable maintenance retainer by shifting support needs from your development team to Liquid Web. Be sure to consider the cPanel downside, and what hosting price you are trying to pass along to your clients.
WooCommerce Store Owner
If you are running an eCommerce store on WooCommerce, then Liquid Web would be an excellent choice. They brought in a lot of eCommerce expertise with the Nexcess acquisition (both for Magento and WooCommerce). Their plans & support team has familiarity with WooCommerce's needs since they have such a large base of WooCommerce customers.
Is Liquid Web Managed WordPress Hosting Good?
Liquid Web is a solid hosting company with an excellent managed WordPress hosting plan. They aren't the right choice for every customer.
But if you value support, performance, and a solid price point for managing WordPress hosting, they are a good choice.
For other Liquid Web alternatives, explore my Best WordPress Hosting post.