| | |
| --- | --- |
| Support | Help Desk, Live Chat & Knowledge Base |
| Uptime | Excellent (100% past 6 months) |
| Best For | Managed WordPress Hosting |
| Strengths | High Performing Web Servers |
| Weaknesses | High Prices & No Phone Support |
| Promotion | None |
WPMU Dev is a long-time member of the premium WordPress software community. While they are best known for their plugins, they recently launched a new WordPress hosting product.
I'm currently a WPMU Dev member and had free access to the new hosting product. The WordPress & web hosting world is constantly evolving with new & interesting products.
Given that I use & love some of their plugins, I tried out the hosting product as well. Here are the pros, cons, use cases & alternatives for WPMU Dev hosting.
What is WPMU Dev Hosting?
WPMU Dev launched its first major plugin years ago. They became best-known for their multisite & network plugins.
A couple of years ago, they open-sourced most of their smaller, outdated plugins and doubled-down on a suite of premium plugins focused on agencies, web consultants, designers & developers.
The suite includes security, backup, SEO, and form plugins. They all work well and integrate together. I personally use the Video Tutorials plugin and their Forminator Pro plugin.
Their hosting product is just another part of that product suite. In the flight to platforms, hosting is WPMU Dev's flight to be the platform of choice for premium WordPress developers and site owners.
Background on WPMU Dev Hosting
Like most WordPress plugins & theme makers, WPMU Dev has been constantly reworking its business model to keep up not only with the Internet but also with software and open-source trends.
Years ago, they sold premium plugins a la carte for a support subscription.
Then they moved to a library subscription model. Then they made all their small plugins free and switched to a subscription for plugin services model.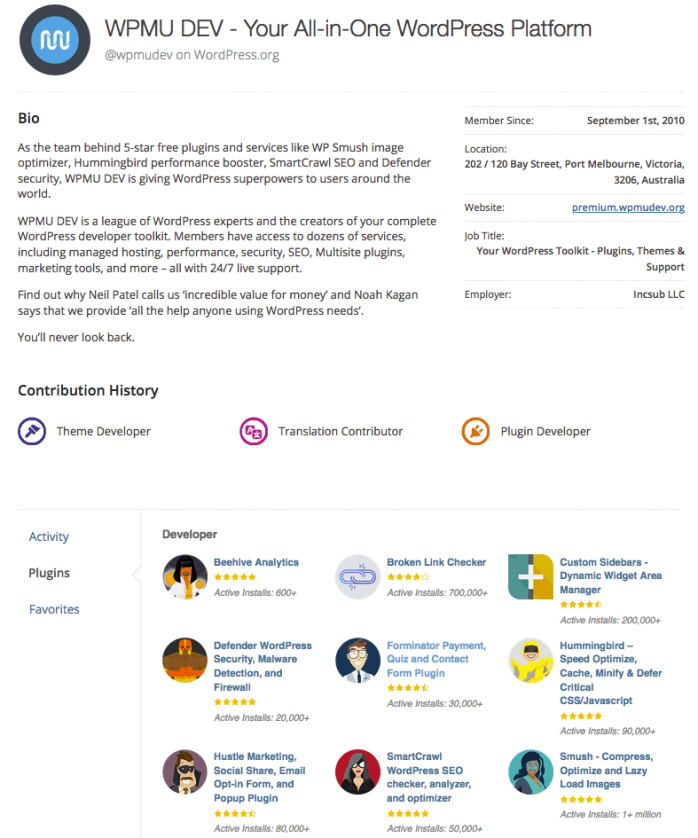 As hosting companies moved in on plugin & theme makers' territory, WPMU has moved into hosting companies' territory by bundling hosting with their plugins.
Whatever the business model, WPMU Dev has always focused on super-high quality code & support. They have always focused exclusively on the WordPress world. I use their plugins for critical parts of my website, and lean on their support for, especially tricky code questions.
How WPMU Dev Hosting Works
WPMU Dev hosting, though, is a bit of a hosting hybrid. It's hard to compare the product to anything else on the market.
When you sign up for WPMU Dev, you get 3 hosting accounts bundled with unlimited access to their plugins. A WPMU Dev subscription is $49/mo.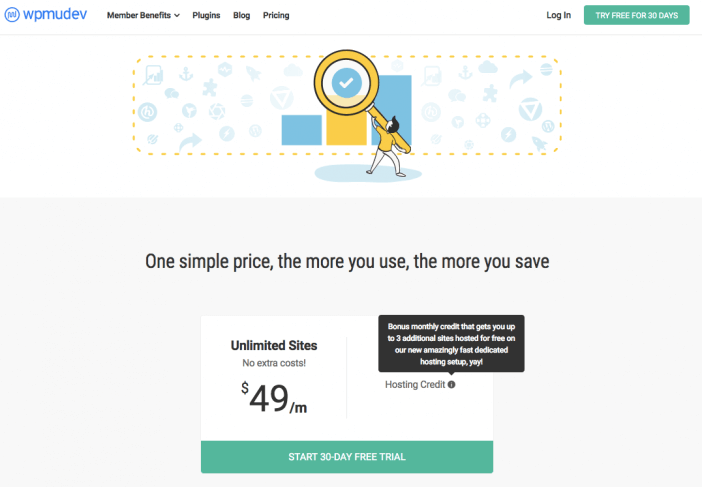 Their hosting product is neither true cloud hosting, nor true WordPress hosting, nor true web hosting. I'll get into all these in the pros & cons, but here's the short version.
They use Digital Ocean's cloud to actually run your website. But it's not true cloud hosting….because, well, it's a flat rate and you don't run the containers.
They have it pre-configured for WordPress. But it's not true WordPress hosting…because, well, there's no real definition for WordPress hosting. It's one way to host some WordPress websites for sure…but the point of WordPress is that it can run fine in a variety of environments depending on your needs & resources.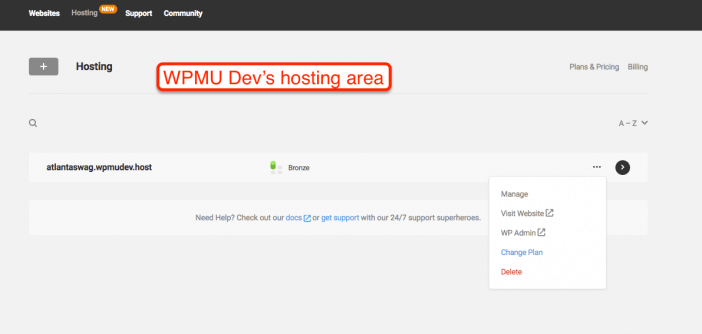 And they have it marketed as web hosting. But it's not true web hosting…because, well, it's managed cloud hosting with all the limitations that come with it.
But it does have some upsides & use cases, especially in a world of platforms. So let's look at the pros.
Here's who I think WPMU Dev is a good fit for.
WPMU Dev Fans & Multisite Owners
WPMU Dev makes some super-useful and high-quality plugins. I use & love the Forminator Pro plugin on multiple websites. If you are already planning on using (and paying) for their plugins, their hosting product makes sense – if only because it's already bundled.
Just be aware of the limitations and tradeoffs.
WordPress Website Designers
If you run a WordPress shop and want a fast, standard, quality all-in-one package to present to clients, WPMU Dev's hosting makes a ton of sense.
You can pay the single membership fee for your shop, but then sell a recurring all-in-one website hosting / maintenance / security package to your clients.
If you stick with WPMU Dev's plugins, you could easily have a single client "pay" for the membership fee every month, while pocketing additional client retainers. You could manage all the sites from a single dashboard with auto-updates.
Now, for everyone else, I think there are a few other options that would give you all the benefits of WPMU Dev without the downsides.
Managed WordPress Hosting w/ Bundled Plugins
If WPMU Dev is a plugin maker that offers hosting, this alternative is to find a hosting company that offers bundled plugins. This setup is actually quite common, especially among hosting companies that offer "true" WordPress hosting, rather than just web hosting with WordPress-trained support.
The upside is that you get all the managed parts of hosting, high-quality plugins, all bundled into a better price point.
WPMU Dev Hosting Alternatives


InMotion Hosting Review
Rating

9.0/10

Uptime Guarantee

No

Free Migration

No

Promotion

WP Engine Review
Rating

8.5/10

Uptime Guarantee

No

Free Migration

No

Promotion


Bluehost Review
Rating

9.5/10

Uptime Guarantee

No

Free Migration

Yes

Promotion
The best alternatives here are:
InMotion Hosting – They offer managed WordPress hosting with built-in staging, CDN, NGINX, and more – just like WPMU Dev. They also bundle the JetPack suite of plugins (what I use for security & more). Their interface also offers a WebPro linking feature so that agencies & designers can resell white label hosting options. All this ends up at a much better price point than WPMU Dev.

See InMotion Hosting's WordPress plans.

WP Engine – They offer highly managed WordPress hosting with built-in staging, CDN, NGINX, and more. They also specialize in highly technical support. While they don't bundle any plugins, they do bundle the super-high quality StudioPress themes (which I use on this site). They also have unique tools for designers and white-label options. All this ends up being right around WPMU Dev's price point but with arguably more value and less lock-in.

See WP Engine's plans.

WordPress.com – Technically, this isn't a hosting company. WordPress.com is a website builder platform that uses self-hosted WordPress software. This means that they have all the benefits of a full-platform with much of the versatility of WordPress software. Their Business Plan allows 3rd party plugins but also comes with a huge range of built-in functionality. They operate at a lower price point that WPMU Dev.

See WordPress.com's plans – though do note that this option is not "apples to oranges".
Pros of WPMU Dev Hosting
WPMU Dev hosting has a lot going for it. They are a bit of a hidden gem. They aren't the biggest brand on the Internet, and not even a big brand in the WordPress world. But their size & focus creates a lot of advantages.
Platform Quality & Performance
WPMU Dev is already known for their high-quality plugins. They are also known for their high-quality WordPress support.
Their hosting product actually lives on Digital Ocean's cloud infrastructure. Digital Ocean is one of the "name-brands" of cloud hosting along with Amazon, Google, and Microsoft.
Between WPMU's WordPress expertise and Digital Ocean's performance, you really don't have to worry about your website install. Here's a speed test from the first, unoptimized install.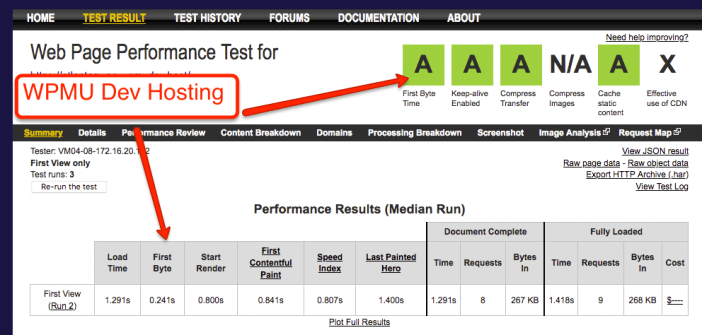 Here's a screenshot of the backend. It's clean and fast.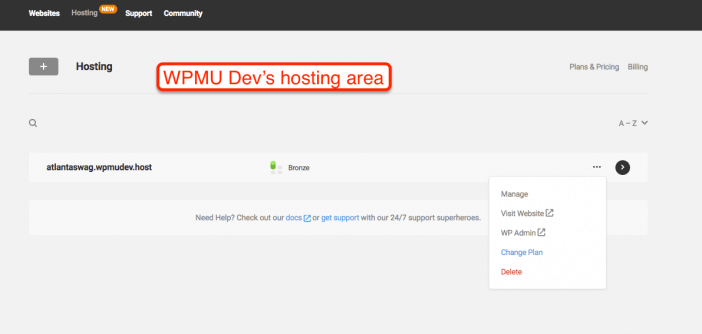 Overall, the quality & performance of the product itself is right on.
Total Platform Pricing & Value
WPMU Dev structures its pricing with hosting credits. To be a WPMU Dev member, you pay $49/mo. You get access to full versions of all their plugins, plus support, plus 3 credits per month for hosting.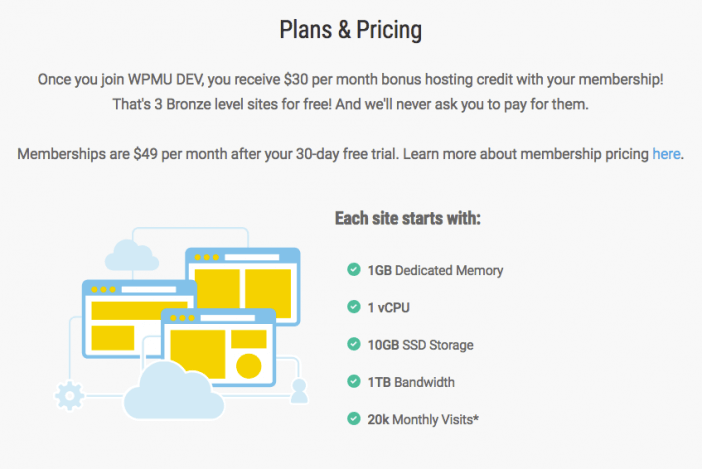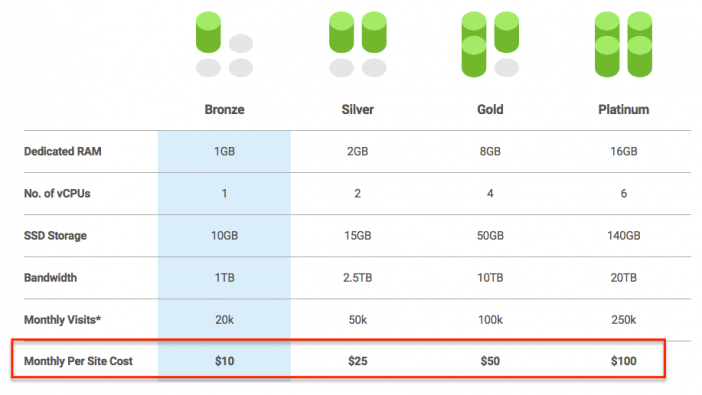 Now, $49/month for just a single managed hosting account is super-expensive. $49/month for 3 managed hosting accounts is super-expensive. In fact, I'll get to this part in the disadvantages. But WPMU Dev isn't selling hosting. They are selling hosting as part of a platform.

So, looking at the whole platform, $49/month for 3 managed hosting accounts plus full versions of all their premium plugins plus support plus all the built-in services that come with their premium plugins brings the total value well past $49/mo.
For example, a subscription to a security plugin, backup plugin, and form plugin can all run ~$20/month. Competitive managed WordPress hosting can run ~$20/month – even more for 3+ sites. Add in a CDN, backup storage, etc – and you'll likely end up well over $49/month.
Now, you might see where I'm going with this, and I will address the pricing assumptions in the disadvantages. But, for now, the hosting product makes WPMU Dev's platform an excellent value.
Integrations & Simplicity
WPMU Dev has all the must-have plugins for WordPress taken care of. One of the biggest obstacles for running a self-hosted WordPress website is simply making everything work well together.
If you buy into WPMU Dev's platform, all the plugins work together, which all work well on their hosting configuration.
You won't have to worry about your SEO plugin conflicting with your backup plugin and both of them burning through your server limits.
Data Centers & Features
WPMU Dev has a whole suite of "sweet" hosting features. By using Digital Ocean, you get a choice of data center location for each website. That's a huge appeal for anyone & everyone ex-US or with a global readership.
They have plenty of advanced developer-friendly features like staging. migration tools, free SSLs, etc.
If you build WordPress websites for clients, they are a very appealing option. All their features are a value-add for the client but don't add to your workload at all.
Customer Support
Even though they do not have phone support…and their knowledge base is still getting built out. They do have stellar chat & forum support.
Every interaction that I've had over the years has resulted in above & beyond support. All the support agents specialize in WordPress and have the actual developers who build the plugins on call.
Like I've said in other best WordPress hosting reviews, support is a bit anecdotal. Usually, I try to look for a "proxy" for good customer support. Here though, I've been a customer of WPMU's plugins for so long that I feel like I can say that their support is solidly top notch.
Cons of WPMU Dev Hosting
Every product is going to have complaints online. Every product will have tradeoffs. Sometimes complaints & tradeoffs come from a poorly designed or executed product. But often it's because the product does not fit the customers' needs, goals & resources.
That's especially true with WPMU Dev's hosting product. The product is well-designed & well-executed. But…it has quite a few disadvantages when it comes to customer fit. Let's dive in.
Use Cases & Pricing
Like I said in the pros section, WPMU Dev's pricing is expensive for hosting. But their pitch is that they are more than hosting. They make plugins, have add-on services, and have amazing general WordPress support.
But all of that assumes that you'll actually be using their plugins and add-on services.
I'm a long-time customer, but I don't use many of their plugins & services…because I don't like some of them.
Their SEO plugin is solidly fine….but anyone serious about SEO will be using RankMath or Yoast at the very least.
Their Hummingbird / CDN plugin is solidly fine…but I find it to be clunky and not comprehensive. I pair WP Fastest Cache with MaxCDN / Stackpath.
I use JetPack for security & backups instead of WPMU Dev…because I use it anyway because they have a WordPress Android app in addition to Related Posts and more.
And I still don't use their hosting, even though it's technically "free" for me, because I just don't like the limits or workflows…and I don't want to get locked into a platform anyway.
Platforms are great…but the big reason I use self-hosted WordPress instead of a website builder or even WordPress.com is because I don't want to be locked into a platform.
Once you start to add up WPMU Dev's pricing with other services…it doesn't make a lot of sense.
And even for stand-alone pricing, it's expensive. Hosts like InMotion have true, managed WordPress hosting with staging, developer features and everything else (including a JetPack subscription) for half the price of WPMU Dev's member price.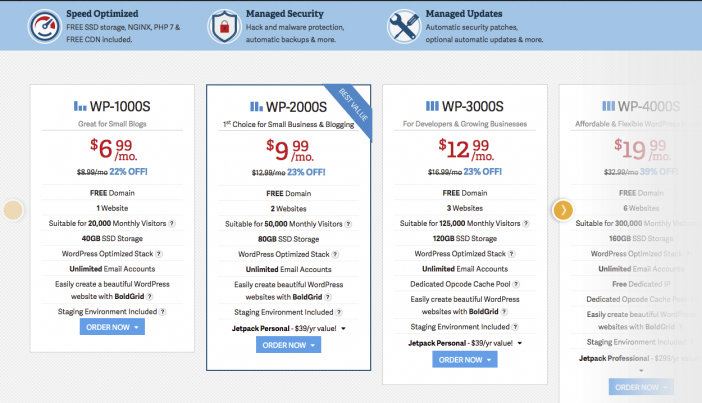 There's only one use case where WPMU Dev's pricing makes sense – and that's for a consultant, agency, designer (or solo site operator) who has several sites (ie, for clients) and wants to dramatically simplify site management.
In fact, if I was still doing pure-play WordPress web design for clients, I would likely just run the whole thing on WPMU Dev. They would allow me to white-label and bill out everything under my name, and it would reduce my workload.

That use case makes a lot of sense…but I don't think that use case is too common.
But outside of that use case, the whole single price for a single membership to get bundled hosting is just not a good value.
Upgrades & Pricing
All that said, their hosting upgrades & pricing are still expensive regardless of use case.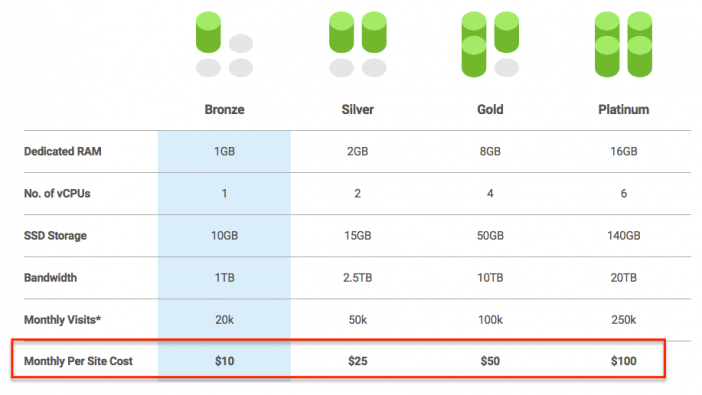 You can get fully-featured managed WordPress hosting elsewhere for a much better price…or at least more flexible.
The sites that fit their hosting specs are pretty specific. For example, If you run a media-heavy blog, you'll have to pay extra attention to your WordPress settings to keep your install in line….which leads to the next disadvantage.
Jargon & User-friendliness
To be "easy" and common website software, WordPress has a lot of jargon. Most hosts lean into removing that jargon and making it user-friendly.
WPMU Dev's hosting product is clean and well-thought-out…but it still puts a lot of trust in their average user's knowledge. I even had to look up terms when working with my install.
Additionally, since it's hosted with Digital Ocean…and they don't operate their own DNS…there's an extra layer of setup to connect the domain to the DNS to the actual website.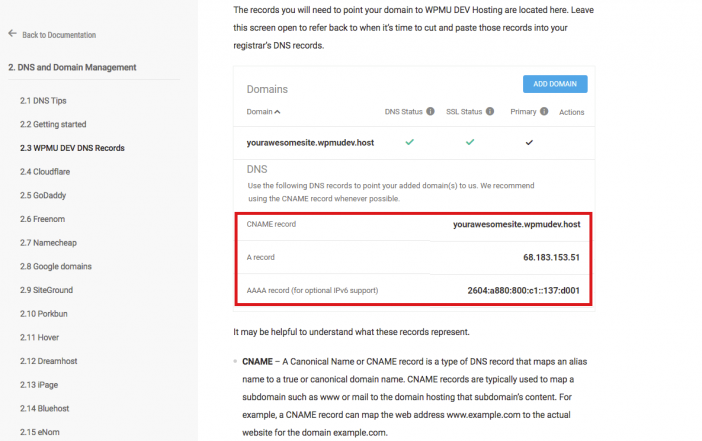 Many of the features that could make operating a site for a non-developer or non-advanced WordPress use (like site staging) still come with prompts that assume knowledge or direct to a concise, but not quite comprehensive knowledge base.
Like the value pricing, the product is user-friendly….for a certain type of user. For a broad market appeal, it has a bit too much jargon to truly be user-friendly.
Versatility & Usefulness
Since WPMU Dev's hosting product is part of their platform and not a stand-alone product…it does not have the versatility or usefulness that a Linux web hosting account or even a stand-alone WordPress hosting account would have.
Since the entire product is built around the primary use case that I mentioned earlier, they prioritize the non-sharing of resources as the main priority. That's fine and all, but it leads to tradeoffs that not everyone may realize. For example, here's what they say in regards to the low storage limits.
It's also important to understand that the speed, security and stability of WPMU DEV hosting relies heavily on a highly-structured server environment in which each member's files exist in a dedicated virtual private server. When we refer to "your files" we're not talking simply about your content, but also your WordPress core files, backups, staging sites, plugins, integrations and themes—all of which are protected in their own virtual world with zero shared resources.
Again, that's fine. And it's a pretty typical setup for VPS plans. But their plans are very low considering the price point that they are operating at ($49/mo)…that it's hard to decide how much it's truly worth paying.
Stand-alone hosting products have known limits that you can cross-compare. You can factor in offloading email to Google or running local scripts elsewhere…but since WPMU's product is so focused and so specific, it's hard to really judge versatility and usefulness with costs.
Product Novelty & Company Structure
While WPMU Dev has been around as a plugin and theme maker for years, their hosting product is very new. They launched it in 2019, and still seem to be making changes to the product based on customer feedback.
In fact, their system of hosting credits is even more recent than the product itself. Since the company is originally a plugin maker, not a hosting company, I would expect a continued learning curve as they understand the market better.
Additionally, WPMU Dev as a company has been continually moving upmarket and up the pricing ladder in the past few years. My pricing has been grandfathered in thanks to a Black Friday deal several years ago (I pay $19/mo for my plugins). Hosting seems to have been paired with a push to the $49/month pricing tier.
Again, I think the value is still there for many use cases but I am curious just how much further they will try to push the membership fee. Price increases and constant business model changes are part of any Internet business. But for a product like hosting where I just want it to work – and work for a long-time, it's a bit disconcerting.
Bundled Plugin Maker w/ choice of hosting
This option is what WPMU Dev used to be (and technically still is). Here, you'd commit to a maker of a suite of plugins such as:
To keep your costs consistent and then pair it with a WordPress host that fits your budget.
Your costs will be your costs – they might be higher than WPMU Dev with hosting, but they will likely be lower and you'll have the versatility to move & switch as needed.
A la Carte Everything based on Needs / Budget
If reading this has made you budget-conscious and worried about the costs of running your website, don't worry. The beauty of WordPress is that the software is free. All you need is a good host that fits your budget, a domain name, and the wherewithal to build your site and purchase premium products as needed. There are more than enough free themes & plugins out there to run a solid website.
And if you are a budding developer or designer, note that you can give Digital Ocean a run on their own – or through a cloud hosting manager like Cloudways.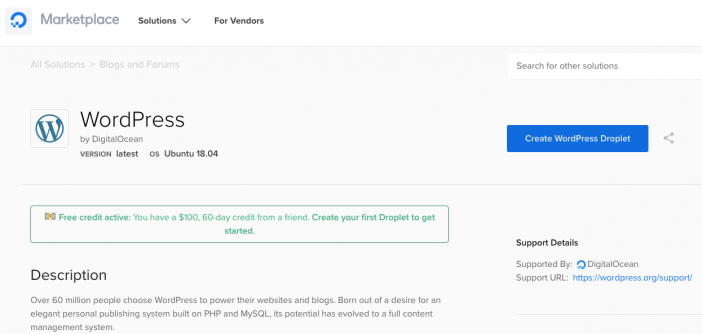 Recommendation
WPMU Dev hosting is an interesting & welcome addition to the web hosting world. If you fit in the right use cases, it's an incredible product. But if you aren't in their target market, you will likely find more affordable and more versatile options elsewhere.
Check out other WordPress hosting options and other WordPress plugins.