Namecheap and Google Domains are two of the most well-known domain name registrars on the Internet. I've written about both Google Domains and compared Namecheap to GoDaddy (their other big competitor). But how do they compare to each other?
Domain Registrars are a unique industry. Since ICANN issues all domain names, leaving Registrars mainly as bookkeepers, there is not a ton of scope to offer completely different products. At the end of the day, you simply need a domain name that you can associate with a server where your data lives.
And yet, not all domain registrars are the same (which is why you are reading this post, I'm guessing). I've tried dozens and have had every problem imaginable. Namecheap and Google are actually good examples of very different approaches to domain registration.
I was day one customer of Google Domains back at their launch, and I've been a customer of Namecheap coming up on 10 years.
Comparison Summary
Company Structure
For long-term projects, company structure matters really more than anything else. An investor-funded startup will have very different incentives than a publicly-traded company. And a product that directly makes a profit will be treated differently than a product that complements a company's main profit center.
Google and Namecheap are very well-known brands but they are very different companies in regards to domains.
Namecheap is a privately-held company that answers to their own private investors & founders. They are exclusively focused on web services and were actually founded as a domain name registrar (Namecheap – as in "cheap domain names). They have expanded their product offerings to everything from hosting to logo makers to SSLs, but they have kept domain names as their core product offering.
Namecheap wants you to buy a domain, because they know that once you buy, then you'll buy other stuff and probably stick around. They have traditionally stood for customer service and the values of the Open Web, leading fights against surveillance, domain monopolies, and other privacy initiatives.
Google is an advertising company. They make their money selling extremely targeted ads based on data that no one else has. Domains are absolutely not their "thing". However, Google does want and need your loyalty and your data more than anything in the world. They also need websites to be on the open Web.
The biggest loss for Google is for you to run your business off Facebook and Instagram while never logging into Google. Now, recently Google has started making money off Enterprise & Business Services via their Cloud and G Suite services. But that's a compliment to their data need.
Google wants you to buy a domain so that you are, at minimum, logged into Google with an independent website that they can index and that you'll probably run ads to. Additionally, if you buy a domain from Google, you might buy G Suite for your business.
The Upside: You can get a good deal from both these companies. Namecheap will run crazy discounts just to get you to buy. They have maintained incredible permanent pricing for decades. Google wants everything to be simple and easy.
The Downside: Namecheap needs to make a profit and wants to you stick around and get more products from them. And Google isn't really sure if they want to do domains. In fact, Google Domains went through 5 Years of "beta". In other words, it's only just become a "full product" that Google still might shut down any day without advance notice (a habit of theirs).

The Alternatives: If you read those and thought "hmm, well I wish I had other options" – well, you might want to check out either: Hover, Porkbun, GoDaddy, or Bluehost.
Hover is another private company with a focus on privacy – similar to Namecheap. Porkbun is an independent company focused on clean design and customers support. GoDaddy is the big domain provider focused on cheap short term discounts and bulk domain purchasing. Bluehost offers a wide selection of domains for free when you purchase hosting.
If you really like the upsides of Google & Namecheap, then let's look at how they play out across other factors.
Domain Pricing
Namecheap
Namecheap not only offers cheaper long-term pricing, but they also run seasonal and short-term discounts (especially for non-.com's).
| Domain Ext. | Registration | Renewal | Transfer |
| --- | --- | --- | --- |
| .com | $5.98/yr. | $14.58/yr. | $9.78/yr. |
| .net | $11.18/yr. | $14.98/yr. | $11.18/yr. |
| .org | $7.48/yr. | $14.98/yr. | $10.98/yr. |
| .biz | $4.98/yr. | $18.98/yr. | $14.98/yr. |
| .co | $9.48/yr. | $28.98/yr. | $24.98/yr. |
Namecheap has a range of complementary products to offer that help cover the at-cost sales of domain names (ie, they are often loss-leaders). The upside for customers is that you can get a cheap domain name both at purchase and at renewal.
For pricing, Namecheap "wins" on both short and long-term pricing. However, Google's flat rate pricing is not too far off Namecheap's renewal pricing. In fact, for .com's, Google is $0.90 cheaper per year at renewal. In other words, not enough to worry about compared to other factors if you are only buying one or two domains.
Google Domains
Google Domains has a flat rate for domains with no discounts or promos. Their renewal (and upfront) purchase price is slightly higher than some domain registrars, but also not too far out of line to be an issue. Pricing is simple and transparent.
| Domain Ext. | Registration | Renewal | Transfer |
| --- | --- | --- | --- |
| .com | $12.00/yr. | $12.00/yr. | $12.00/yr. |
| .net | $12.00/yr. | $12.00/yr. | $12.00/yr. |
| .org | $12.00/yr. | $12.00/yr. | $12.00/yr. |
| .biz | $15.00/yr. | $15.00/yr. | $20.00/yr. |
| .co | $30.00/yr. | $30.00/yr. | $30.00/yr. |
Domain Selection
Ever since the great ICANN domain name / domain extension gold rush, vanity TLDs (top level domain ) have become more and more common. No TLD will ever displace .com and .org but if domain names for your industry are crowded, then a niche TLD might be worth it.
But you can't buy one from every registrar.
Fortunately, both Namecheap and Google have fairly expansive lists for common TLDs. However, for sheer selection, Google cannot come near Namecheap. Here's Google –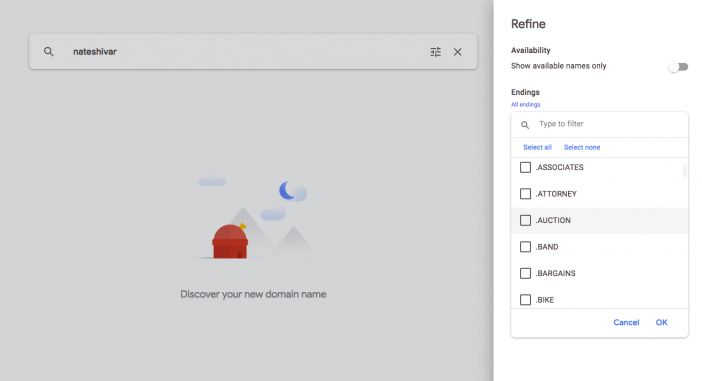 Here's Namecheap –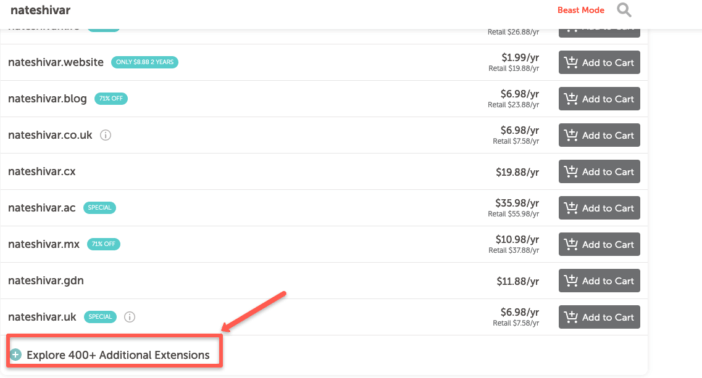 As of 2021, Namecheap has more than 489 TLDs to choose from compared to Google's 332.
This is not a huge issue (since you can just check each), but if you are planning on buying additional vanity or brand domains, the selection is something to keep in mind.
Usability
You probably won't be actively managing domains day in and day out. So on one hand, domain name management is not a huge factor. However, when you do have to manage your domains…you *really* need to manage them. So on the other hand, domain name management is pretty critical.
Settings should be clear. Interfaces should have good design.
On this point, Google Domains shines…almost to a fault.
Google Domains has nothing to upsell or resell or push, so the interface is minimalist. The product has Google's Material Design aesthetic with clear settings and straightforward interfaces.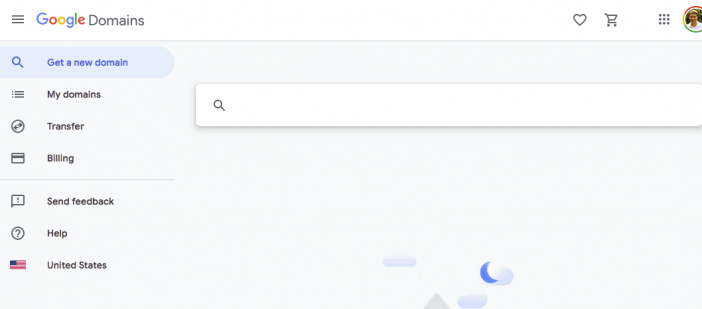 Namecheap in contrast does solidly fine. They have a relatively clean domain management interface with lots of classy ads and upsells. Their dashboard hasn't really changed in 5+ years, but has always been fine. I can manage multiple domain settings (ie, DNS settings) quickly from their Dashboard and they've never put up any barriers to a domain transfer.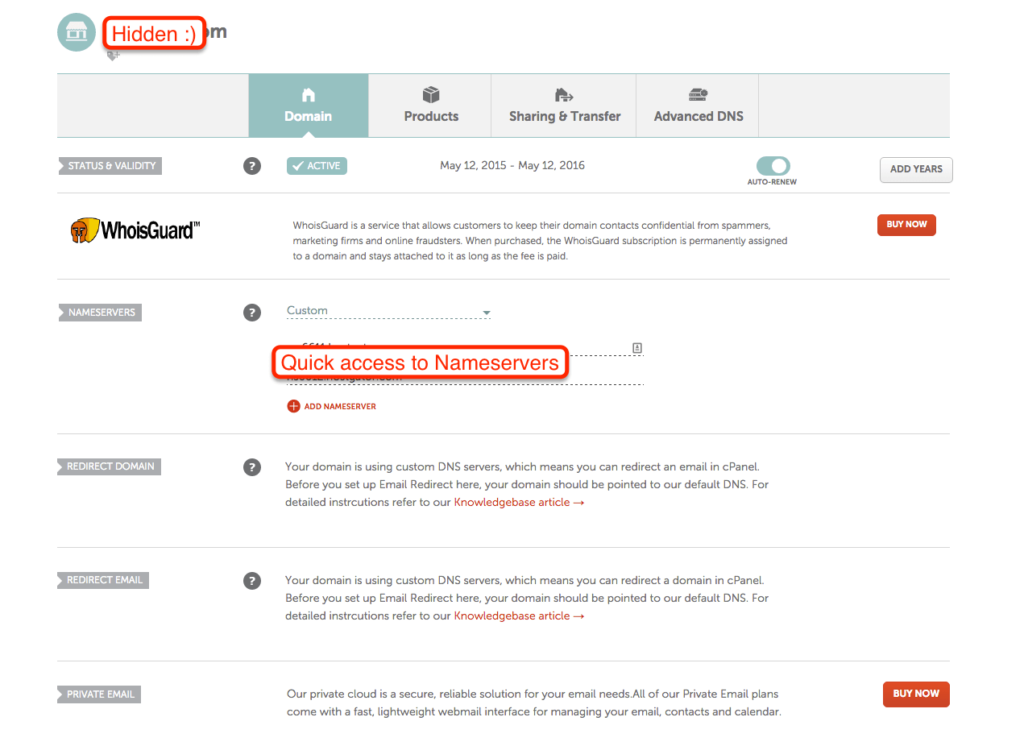 But if you are actively managing lots domains and hate upsells and clutter – you should go with Google Domains on this point.
Customer Support
Customer support for domains. It's one of those factors that you don't really need until you **really** need it.
Google Domains does provide some support in English, Spanish, French, and Japanese. They offer phone, chat, and email 24 hours a day. It's pretty standard support.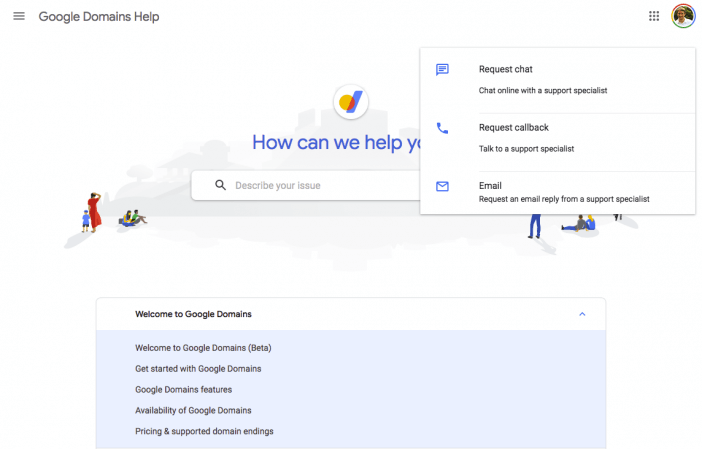 Namecheap has a repuatation for solid customer service, though they have limited customer support channels. They have no phone support, but have an extensive knowledgebase along with fast chat & email support. I prefer that route, but lots of customers prefer phone support.
Like all customer support, it's a bit anecdotal but my experience with Namecheap has been fine with the expected chat / email annoyances. Google has also been fine, but they definitely still seem to be building their team. Even as recently as a year ago, they only offered support for business hours in English. If phone and high-touch customer service is a priority for you, I'd check out Porkbun.
Complementary Products
Domains are not stand-alone products. By themselves, domains can do very little other than point somewhere.
Both Namecheap and Google provide the domain registrar "basics" – WHOIS domain privacy, DNS records, and domain forwarding. But there is a difference when it comes to additional service options like web hosting service, SSL certificate options, etc.
I am a fan of buying domains from a domain registrar and purchasing complementary products elsewhere (e.g. web hosting plan, email, site builder, storage, etc). I do it to save a bit of money and build diversity into my setups (ie, if company X has issues, it's easier to move if company Y is still fine).
However, that setup is also a bit of a pain. I don't wholeheartedly recommend it. And for those who want a convenient setup with one good company handling hosting, email, domains, etc – it's important to have one that has all those complementary products.
Like customer support, Google Domains does not really have a ton of complementary Google product options. Google Domains will directly integrate with Google Sites (Google's free website builder), Blogger (Google's free blog service), and G Suite (Google's business email & storage product).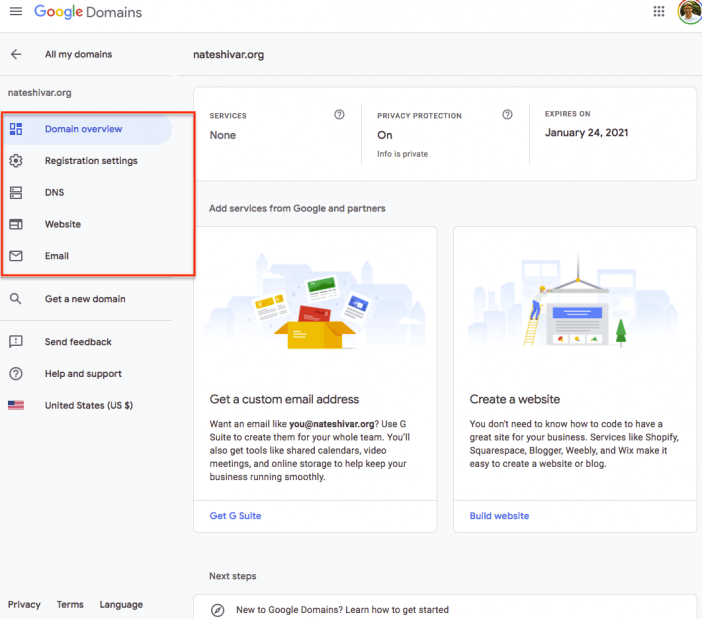 However, Google does not provide traditional hosting and its website builders are lacking.
Namecheap's complementary products are their new "focus" – they have lots of options for Namecheap Hosting (see plans) to email hosting to logo makers to website builders and payment processing.
If you are looking for a company to have everything with for convenience, then Namecheap "wins" hands down.
If you are looking for a company that has integration with email but will integrate your domain with 3rd parties, then Google Domains is solid.
Next Steps
Like I've said in all my reviews and comparisons, there is no such thing as a "best" anything. There is only the best for you based on your preferences, needs, and resources.
If you want a simple place to register your new domain (or transfer an existing domain) and integrate with Google Workspace, then Google Domains is a fit for you.
If you want a registrar with discounts and lots of complementary products (like shared hosting or WordPress hosting), then Namecheap is a fit for you.
And if you still aren't sure, then read my top domain registrars.