| | |
| --- | --- |
| Support | Email, Chat, Phone & Knowledge Base |
| Free DNS | |
| Free Domain Privacy | |
| Best For | Straightforward Pricing & Service |
| Strengths | Excellent Domain Management |
| Weaknesses | Lacks Deep Discounts for New Users |
| Promotion | Visit Website For Latest Promotions |
What Is Porkbun?
Porkbun is an ICANN-accredited domain registrar based out of Portland, Oregon. Porkbun sells domain names along with complementary products like SSL certificates and hosting products. Their primary pitch is to make the domain registration process easy, enjoyable, and affordable.
Porkbun is one of many smaller domain registrars that have a dedicated, almost cult-like following, unlike big brands like Namecheap or GoDaddy.
But does Porkbun hold up to its mission of being an "amazingly awesome" domain provider? We recently tried them out. Here's our full PorkBun review with pros, cons, and alternatives.
Porkbun Pricing
| Domain Ext. | Registration | Renewal | Transfer |
| --- | --- | --- | --- |
| .com | $9.73/yr. | $9.73/yr. | $9.73/yr. |
| .net | $11.48/yr. | $11.48/yr. | $11.48/yr. |
| .org | $8.15/yr. | $10.72/yr. | $10.72/yr. |
| .biz | $4.10/yr. | $14.40/yr. | $14.40/yr. |
| .co | $8.55/yr. | $22.97/yr. | $22.97/yr. |
Pros of Porkbun
Here are some of the advantages that I found using Porkbun vs. its direct competitors in the domain registration industry.
Easy Domain Search Process
Porkbun makes good on its promise of a satisfying experience, especially when it comes to its domain search tool.
Their interface is clean, easy to navigate, and straightforward. Even though they toss in some brand flair (like the Oink! in the search bar), it doesn't compromise the function and usability.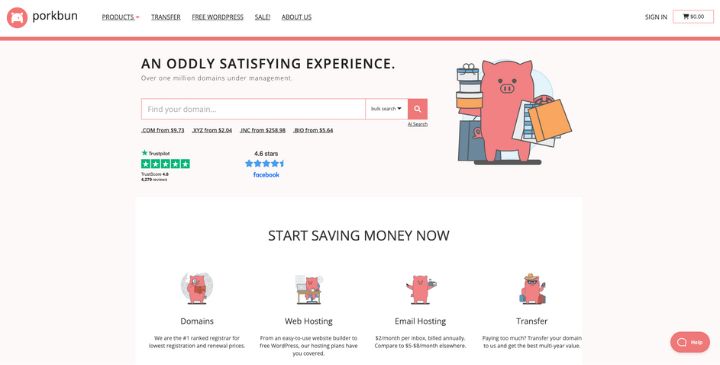 Prokbun also makes it easy to search for domains in bulk, which is helpful if you're looking for multiple domains at once. You can search for up to 1000 domains at a time and automatically add the available ones to your cart.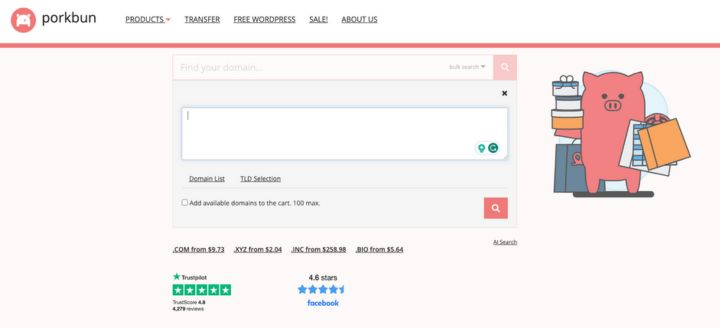 While Porkbun does offer complementary products (such as website builder and web hosting – more on that in a bit), they avoid annoying upsells, cross-sells, or visual clutter. They don't distract you from your main goal, which is to search and register for a domain, and the checkout process is quick and easy to complete.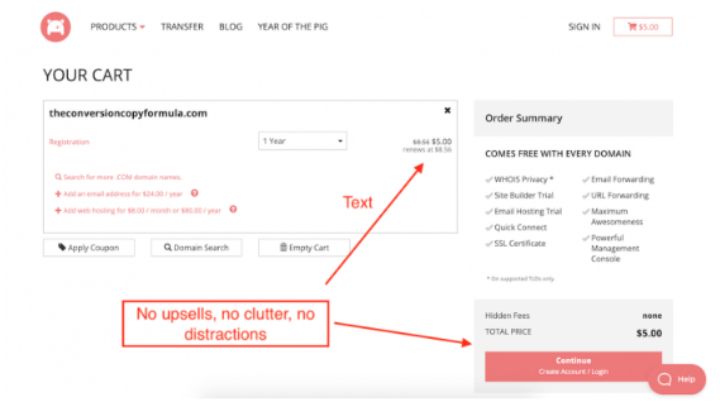 Value Pricing
There's nothing more frustrating than going to a domain registrar and having to hunt for pricing information. Porkbun is 100% transparent when it comes to pricing. Its domain page has an extensive list of pricing for all of its available top-level domains (TLDs), breaking it out into registration, renewal, and transfer pricing.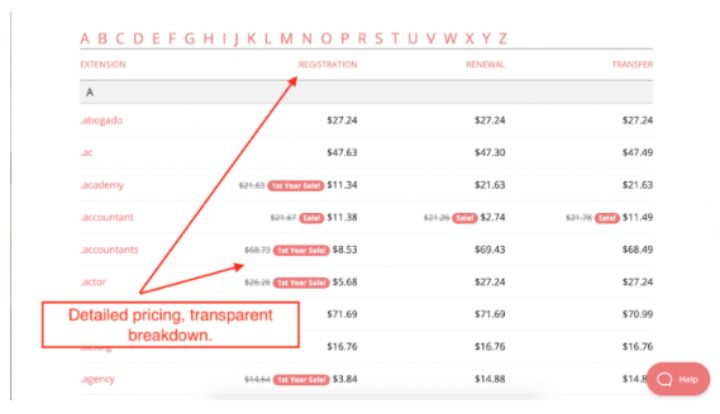 There are no hidden fees, unexpected add-ons, or any surprises. In an industry where pricing can be less straightforward than website owners may want, Porkbun's clarity and transparency are refreshing.
They bundle free WHOIS privacy protection with all domains. They also provide a free SSL certificate by Let's Encrypt for all domains as well.
Porkbun also competes well with other registrars in terms of value. Their domains are on the cheaper end across most TLDs, and their renewals also tend to be less expensive than most providers.
Number of Top Level Domains (TLDs)
Now that ICANN allows more TLDs outside of generic .com/.net/.org, website owners have to make sure their domain registrar has all of the variations they need (especially if you're buying in bulk).
Porkbun offers a ton of TLD and domain extension options that go beyond generic domains, from country-specific domains for international use to category-specific, like technology, real estate, etc. As of 2020, they have more than 440 available, so you can find that unique domain that you've imagined.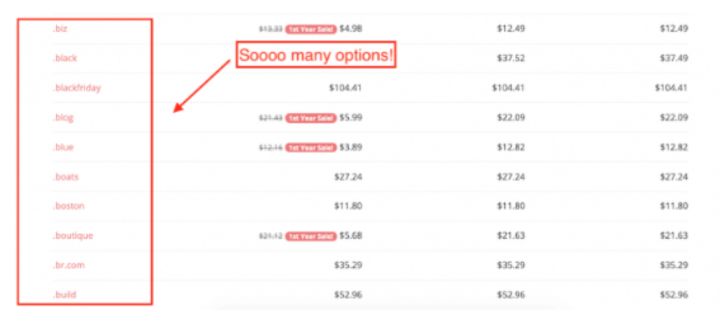 Upsells
Upsells aren't inherently a bad thing. But so many domain registrars make the mistake of bombarding customers with direct sales tactics that they become annoying.
Porkbun is not one of these domain registrars. They position themselves as a small team who cares about making the domain purchasing experience enjoyable – and they deliver.
While they do offer complementary products such as a website builder and web host service, they keep them in the background.
You can add them from the main navigation (which is accessible from the homepage and from your account), but at no point are you bombarded with pop-ups or forced to navigate through upsells while trying to buy a domain.
Easy Domain Management
Another Porkbun advantage is how easy it is to manage your domain once it's registered. The following screenshot illustrates just how simple their domain management interface is.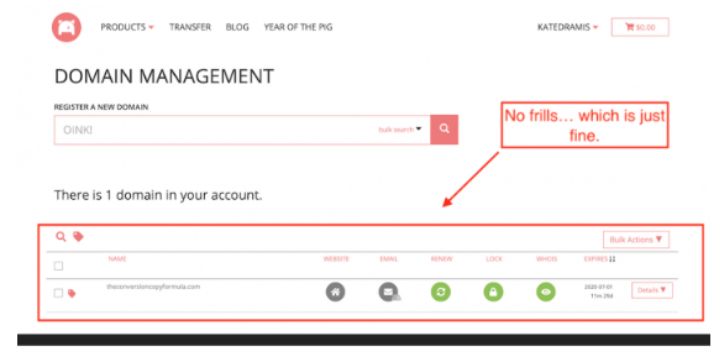 The control panel doesn't have any bells or whistles… and that's fine. They're not needed. The interface is easy to navigate, even if you have no domain management experience.
It breaks down everything you need in one place and gives you the opportunity to add complementary products from a convenient place. If you want to add simple email forwarding or URL forwarding, you can do that quickly. If you want to renew your domain, you can do that quickly too. Everything is together.
Complementary Products
It's important to remember that a domain is not a website. It's not email or any other service. It's merely your address online. It helps people locate where your property is by telling browsers/email/etc. where to find what it needs (website files, emails, images, data, etc.).
If you want to set up a website, you'll still need to get a hosting plan or a website builder or ecommerce platform that provides hosting.
Porkbun provides an all-in-one approach with complementary products. You can bundle your domain, website builder, hosting, and email and do it all from their platform.
And while I prefer to separate my hosting and domains to provide an extra layer of control & reliability in addition to cost savings, many website owners like having them bundled for convenience.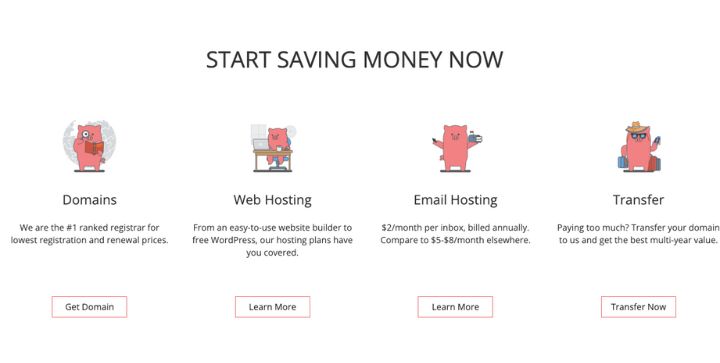 Cons of Porkbun
Everyone has different needs and goals. Regardless of the product you're buying, your goal as a customer is to find a company that matches your goals. With that in mind, here are some of Porkbun's downsides.
Lack of Onboarding
Porkbun is a solid domain registrar with a great domain transfer service, and it was hard to find a negative. But one thing stood out to me as something that could be improved – their onboarding experience.
With all software, there comes a point where you need a little guidance. Porkbun is lacking in providing that direction.
While the domain registration and management interface is simple, if you have no experience setting up your domain, Porkbun doesn't exactly give you the next steps on how to do it.
They do have an extensive knowledge base that covers domain connections. They also have great customer support with live chat and phone support. But you have to seek out the information yourself.
If you have domain management experience, this probably doesn't matter to you. But if you need a step-by-step process to follow, Porkbun leaves something to be desired. In other words, you still need to know how email forwarding, URL forwarding, email hosting, web hosting, and other aspects of domains work.
No Deep Discounts for New Users
While Porkbun offers solid value, they don't offer deep discounts to new customers, like GoDaddy or other large registrars. For those who like to bulk purchase domains or grab "just in case" 99c domains, Porkbun won't make a lot of sense.
Also, since domain registration is their primary focus, they struggle to match the convenience of hosting companies and website builders, who will often bundle a free domain with a purchase of a subscription.
Since a domain name doesn't do a whole lot on its own, Porkbun does have to make an extra case as to why you should keep your domain separate from your web host. I prefer to keep my domains separate because I own several, but that approach doesn't make a whole lot of sense for a single domain owner who prefers the convenience and simplicity of using a free domain from a good hosting company or website builder.
Porkbun Alternatives
There are several alternatives to Porkbun, such as Namecheap and GoDaddy. Porkbun focuses more on domain names, while Namecheap offers additional features. However, both services are primarily known as domain registrars.
In addition to Namecheap or GoDaddy, Google Domains is an alternative to Porkbun.


Namecheap Review
Rating

9.0/10

Free DNS

Yes

Free Domain Privacy

Yes

Promotion

GoDaddy Review
Rating

7.5/10

Free DNS

Yes

Free Domain Privacy

No

Promotion

Google Domains Review
Rating

8.5/10

Free DNS

Yes

Free Domain Privacy

Yes

Promotion

None
FAQs
Final Thoughts on Porkbun
Porkbun is worth considering as a domain registrar if you are looking for a simple domain purchasing process and don't need a ton of guidance on how to get started or manage your domain.
You'll also benefit if you want to save money on domain registration renewals and are looking for complementary products that you can customize to your needs.

However, if you have little to no experience setting up your own domains or websites and you need detailed instructions on how to set up and manage your domain, then there are better options. Namecheap is the platform I would recommend for dedicated domain hosting.
You can also browse my list of the best domain registrars to find one that's perfect for your needs.