The reports of email's death have been greatly exaggerated.
Email isn't going anywhere. If anything, with the recent issues on the social media platforms, it's become more important to establish an email list. It's one of the few mediums you still have control over your audience.
I've tested and used most of the leading email service providers (ESP) which includes: ActiveCampaign, ConvertKit, MailChimp, AWeber, Constant Contact, Drip, and Keap (was Infusionsoft). For me, I want much more functionality than just a weekly email blast to my audience. I want to automate my sales funnel then have to manually communicate with my audience.
Not all of the ESPs have the functionality I want.
Out of these mailing list providers for a blogger, I consider ActiveCampaign and ConvertKit very similar. Though ConvertKit targets more the blogger audience and ActiveCampaign targets eCommerce.
Let's battle it out in a full out comparison putting both to the test.
About ConvertKit

ConvertKit's target market is for bloggers, especially personal brands. Where ConvertKit can work with eCommerce, it's really not best suited for that audience.
ConvertKit is a relative newcomer to the ESP market. It was founded in 2015 by Nathan Barry. CoinvertKit has about 40 employees and over 14,000 customers.
About ActiveCampaign

ActiveCampaign was founded by Jason VandeBoom in 2003. It originally started as software you purchased and installed locally. In 2013, they changed to be a SaaS. ActiveCampaign has over 500 employees and over 80,000 customers.
Features
At the high-level let's discuss the features in each.
How are ConvertKit and ActiveCampaign the Same?
Both services have a lot of similar features. Let's discuss the similarities first.
Automations — Both allow you to create complex email marketing funnels and trigger them based upon various triggers.
Web Forms — You don't need a third-party service like Optinmonster, to get started with signup forms on your blog.
Tagging — Both allow you to tag your email subscribers.
Schedule Broadcasts — Create your broadcast and schedule the time you like it sent out.
Segmentation — ConvertKit and ActiveCampaign allow you to segment your audience based upon the tags and other metrics.
RSS Feed — They both allow you to automatically pull in the latest WordPress blog post to email out to your audience. Though, ActiveCampaign's setup allows for more customization.
WordPress Plugin — Both have WordPress plugins to integrate their web forms into your blog.
Two-factor Authentication — Both allow for two-factor logins for added security.
Facebook Custom Audiences — Recently introduced by ConvertKit, both now offer this functionality.
Free Migrations — If you are moving from an existing ESP, both services will help move your existing setup to them free of charge.
How are ConvertKit and ActiveCampaign Different?
On the surface, both ConvertKit and ActiveCampaign seem similar. Let's see how are they different.
API Functionality — ConvertKit's API at the time of writing seems so far half-baked. It lacks two important features in my opinion needed. It lacks tracking of email opens and email clicks. You can get this data within ConvertKit. If you are linking a third-party tool (like I do), then these options are not available with ConvertKit's API. It is possible to create workarounds for these two features but is a pain to develop.
Integrations —Out of the box, ConvertKit has fewer options for integration. Though both work with Zapier and should resolve this issue. You should be able to connect to most third-part services.
How is ConvertKit Unique?
Landing Pages — ConvertKit allows you to create landing pages as part of their service. This means you won't have to purchase a third-party service like ClickFunnels. Landing Pages are a critical part of a sales funnel and not sure why ActiveCampaign doesn't have this feature yet. Though if you are really serious about your landing pages, ConvertKit's functionality is limited.
Link Redirect

(New)

— If you already sent out an email campaign, but screwed up the link? ConvertKit will allow you to redirect the link to the correct URL. Can be used for expired affiliate promotions in old emails as well.
How is ActiveCampaign Unique?
Custom Email Links — Your email links can include a subdomain (ie. click.larryludwig.com). Historically links that are from the sender's domain are more likely to be opened.
SMS Messaging — ActiveCampaign allows your users to signup to your mailing list via SMS. You can also SMS your subscribers. This is useful for events like Webinars which is an effective use of SMS.
Multiple Email Lists — ActiveCampaign supports creating separate lists. While you can recreate this with ConvertKit's tags, ActiveCampaign does allow you to define your audiences in more clear-cut ways.
Lead Scoring — Since ActiveCampaign targets more eCommerce, it has the ability to score subscribers based upon the actions they perform. This allows you to send emails to contacts who are 'hot' to convert. ConvertKit currently has no option.
Google Chrome Plugin — Further integrating into your email as a CRM, ActiveCampaign has a Google Chrome plugin to works with your contacts.
Live Chat and Automated Messaging — ActiveCampaign on their higher-level plans offers the feature Conversations. It allows for more unified communication with your audience. Instead of having separate email, SMS and live chat services, with ActiveCampaign you can have it unified into one system.
Email Automations
The primary reason to use one of these services over other email service providers is because of their automations. Let's discuss this in detail.
Visual Flowchart
Both have beautiful flowchart representations of your email automation. ConvertKit's visualization and editing are slightly more intuitive then ActiveCampaign. Overall, ActiveCampaign is more complex to manage.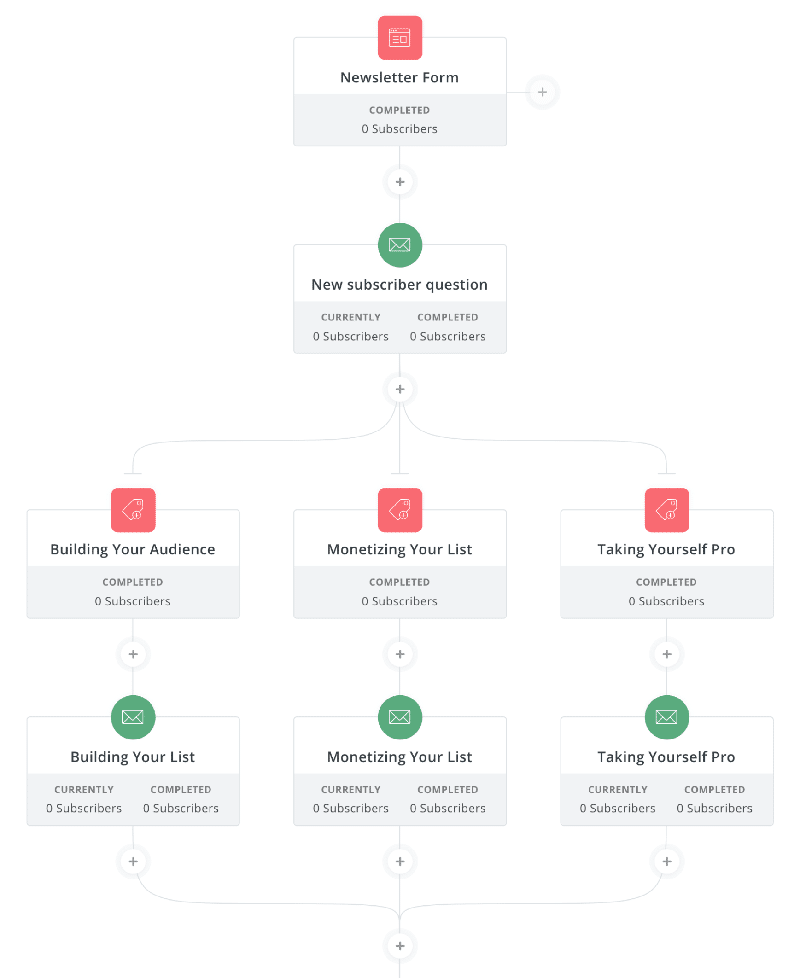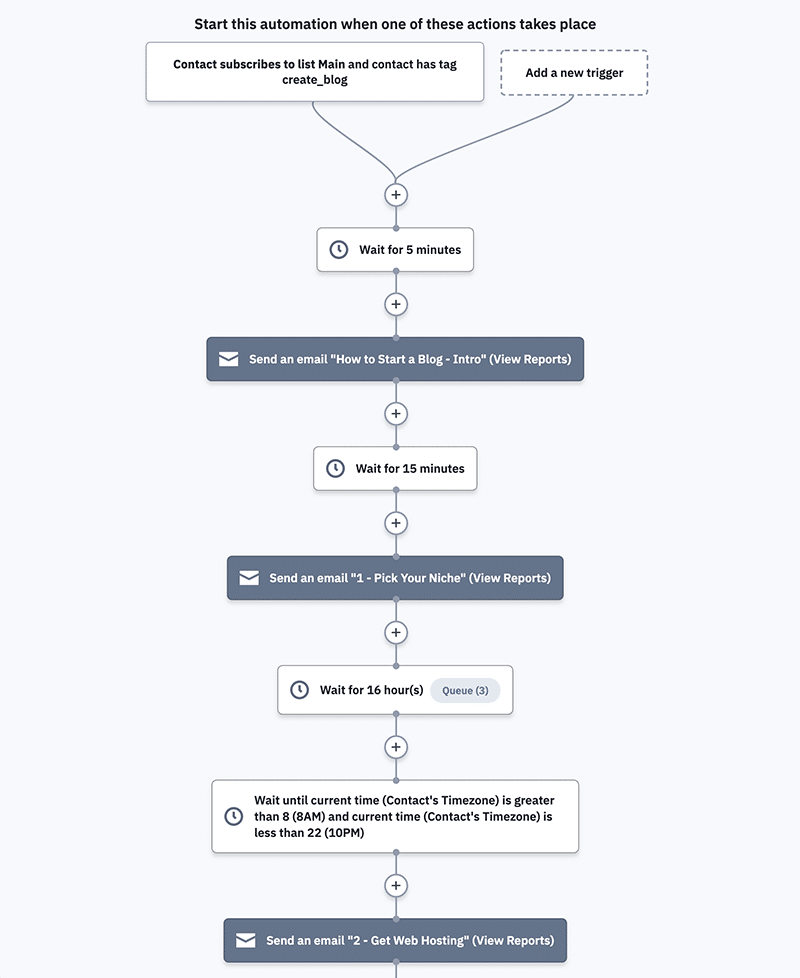 Triggers
The basis of automations is a email subscriber triggers an event which the ESPs can respond to. What matters then is what options do ConvertKit and ActiveCampaign offer? Based upon the list it is clear ActiveCampaign has more options available.
ConvertKit
ActiveCampaign

Submits a Form
Tag is Added
Field Changes

Start without Trigger
Submits a Form
Subscribes to a list
Unsubscribes to a list
Open/reads an email
Clicks a link in an email
Visits web page
Event is recorded
Shares an email
Forwards an email
Replies to an email
Tag is Added
Tag is Removed
Field Changes
Goal is achieved
Date based
RSS based
Enters a pipline
Deal stage changes
Deal status changes
Note that ConvertKit there's currently no way to create automations without a trigger. A service like ThriveCart has an option to fire automations in ActiveCampaign. So this is a useful feature currently missing from ConvertKit. The possible workaround is creating a signup form that isn't used.
Actions
After an event occurs, what actions can you perform? This is where ConvertKit and ActiveCampaign have similar functionality.
ConvertKit
ActiveCampaign

Add to Email Sequence
Wait
Set custom field
Add tag
Remove tag
Start another automation
Exit this automation
End another automation

Wait
If/Else
Split
Go to
Goal
Start another automation
Exit this automation
End another automation
Webhook
Perform math
It should be noted that Webhooks to external systems are available within ConvertKit but can only be created via their API. You cannot create Webhooks via ConvertKit's dashboard at the moment.
Conditions
ActiveCampaign has much more advanced options for conditions of adding someone to an automation. Which is good to a degree but can be overwhelming to most users. ConvertKit on the other hand has much simpler conditions.
At the time of reviewing, ConvertKit has only these possible conditions:
ActiveCampaign allows testing all sorts of conditions for your visitor such as:
Date Created
Tag Added
Tag Removed
Has Clicked on a link
Has opened an email
Geography based upon IP address
Visited a web page
Total site visits
Visitor's timezone
Automation Templates
ActiveCampaign and ConvertKit have builtin templates to help aid in creating your automations.
ActiveCampaign has more prebuilt templates from themselves and third-parties. ConvertKit's pre-built templates revolve around bloggers. For example, ConvertKit doesn't have an abandoned cart sequence, whereas ActiveCampaign has multiple available.
WINNER: ActiveCampaign
Integrations
ActiveCampaign — 270+
ConvertKit — 70
Obviously ActiveCampaign integrates directly with more services. Though that's not as important as previously. Both have API options and integrate well with the service Zapier.
It should be said ConverKit's API lacks some functionality. Currently, ConvertKit does not support API information for email opens and email link clicks. Which makes their API much more limited. Webhooks are available with ConvertKit but are only available via their API. Currently, you cannot create webhooks in the dashboard.
WINNER: ActiveCampaign
Email Deliverability
All of these wiz-bang features don't matter if your subscribers never get your email.
Which service has better email deliverability? Both services use third-party services to deliver emails. Though what matters is how well they manage their customer base. How many spammers do they allow into their network.
For the past few years, ActiveCampaign has ruled as the best provider for email delivery.
Though anecdotally, I believe ConvertKit's emails have a more personal feel, which will do better with personal brands like myself. ConvertKit's emails are almost indistinguishable from personal emails. Whereas ActiveCampaign this is almost impossible to create emails that don't look like they are coming from a mailing list.
Plus, ConvertKit allows you to customize your email footer. With mass-emails you are required by law (ie. CAN-SPAM) to include an unsubscribe. Unlike ActiveCampaign, (until you reach their highest plan) you are stuck with their standard footer.
From experience with Google, an ESPs standard email footer pushes your emails into the Promotional or Updates tabs. From my testing, open rates decrease 10% if you are moved from the inbox to the Gmail tabs. You should try to strive for Google's Gmail inbox. With ActiveCampaign this is impossible unless you go for their highest plan.
WINNER: (TIE) ConvertKit and ActiveCampaign
Pricing
ConvertKit's pricing strategy is simple. You want more subscribers, you pay more. ActiveCampaign's pricing, on the other hand, is two-tiered. Yes with more subscribers, you pay more but has more functionality plans.
| Subscribers | 1,000 | 5,000 | 10,000 | 50,000 | 100,000 |
| --- | --- | --- | --- | --- | --- |
| ActiveCampaign | $29/mo | $89/mo | $139/mo | $299/mo | $459/mo |
| ConvertKit | $29/mo | $79/mo | $119/mo | $379/mo | $679/mo |
The pricing comparison above is with ActiveCampain's 'Lite' plan.
Overall, ConvertKit is cheaper than ActiveCampaign's Lite Plan when under 25,000 subscribers. For 50,000 or more subscribers, ActiveCampaign is a better option. Keep in mind with some of the ActiveCampaign features, you must get the Plus, Profession or Enterprise plans.
Personally I'm on the 'Plus' plan with ActiveCampaign.
Both services offer a discount if paid annually. The links above go directly to their pricing pages if you want to figure this out for your specific case.
With ActiveCampaign, I'm assuming the lowest-priced service available. Much of the higher-level functionality is not available with the 'Lite' plan. So your real cost for the functionality you want may be higher. ActiveCampaign's higher-priced plans, combined with more subscribers, you'll have to contact ActiveCampaign to get your pricing. For higher-priced plans, ActiveCampaign goes the route of a sale person.
WINNER: ConvertKit
Email Analytics and Reporting
ActiveCampaign has much more functionality with reporting then ConvertKit. Unfortunately, ConvertKit's API lacks some critical features that would allow you to extend that reporting – either by your own development or third-party tools. For me, this is a deal-breaker with the type of reporting I need.
For example, I use the analytics tool Woopra to track visitors. ActiveCampaign not only has direct integration with Woopra but also can report email opens and link clicks into Woopra.
Not only does ConvertKit not integrate with Woopra, but lacks the ability to send email opens and link clicks to Woopra, or any other third-party service.
WINNER: ActiveCampaign
ConvertKit vs ActiveCampaign Feature Comparision
| Feature | ConvertKit | ActiveCampaign |
| --- | --- | --- |
| Monthly Emails | Unlimited | Unimited |
| Automations | | |
| Web Forms | | |
| Landing Pages | | |
| WordPress Plugin | | |
| Tags | | |
| Lists | | |
| Reporting | | |
| Intergrations | 70 | 270 |
| API | | |
| CRM | | |
| A/B Testing | | |
| Lead Scoring | | |
| Subscribe by SMS | | |
| Refund Policy | 30 Day | |
| Trial Period | 14 Days | 14 Days |
| | | |
Which is Better: ConvertKit or ActiveCampaign?
Best Overall: ActiveCampaign
I personally prefer ActiveCampaign and is what I used with my previous blog Investor Junkie. It is also what I currently use on this site. You are getting the best "bang for your buck" with ActiveCampaign. ActiveCampaign while it can be more expensive, does have more options for you to grow into.
Though ConvertKit has it's purpose. If you want an easy-to-use interface and emails that look like they were personally written by you, then ConvertKit is your best option.