| | |
| --- | --- |
| Support | Help Desk, Forum, Videos & Knowledge Base |
| Best For | Designers with limited tech skills |
| Strengths | Beautiful Pre-Made Templates |
| Weaknesses | Limited marketing tools |
| Promotion | 20% Off Promo Code APRIL20WB |
What Is Squarespace?
Squarespace is one of the best-known brands in the website building space. They do a ton of advertising with everything from podcasts to the Super Bowl and have a beautiful product with a long trusted history. I recently had a project that was a fit for a bundled site builder software. I gave Squarespace a try, along with several other brands. Here is my detailed and full Squarespace review.
But first, a bit of an overview. There are a lot of considerations that go into choosing a website builder.
There are also a ton of options, tons of pricing – and really a thousand ways to get what you want in the end (aka for someone to type in a website address and see your information in their browser). Whether you are building a simple personal website or running a business, the way you build your site has a lot of consequences.
In the long-term, it affects your versatility, functionality, and, of course, your brand. In the short term, it can certainly add/take away a lot of headaches. That said, just like choosing a physical house or office, there is no such thing as an absolute "best" or "top" choice. There's only the right choice relative to your goals, experience, and circumstances.
On the wide spectrum of website building solutions, Squarespace lives on the end that is all-inclusive and provides everything you need to get started and grow your website. It contrasts with solutions where you buy, install, and manage all the "pieces" of your website separately.
Using Squarespace is sort of like leasing and customizing an apartment in a really classy development instead of buying and owning your own house. You're still in control of decor, cleaning, and everything living-wise – but you leave the construction, plumbing, security, and infrastructure to the property owner. That point is key because there's usually a direct tradeoff between convenience and control.
Everything may fit together just right with a website builder like Squarespace, but that may or may not be what you're looking for.
As far as competition, Squarespace competes directly with all-inclusive website builders such as:
Compared to their direct competition, they try to allow for more customization and code access. Squarespace tries to appeal to the non-developer customer AND the developer community. It's a tough pitch to sell – but they try it.
Those options as a group compete with options like self-hosted WordPress (which provides the free software to build a website that you own & control – see my WordPress setup guide here) all the way to options like typing actual HTML code into a text file. Make sense? Awesome, let's dive into the Squarespace review.
Squarespace Alternatives


Wix Review
Rating

9.0/10

Price

Free - $49+ per month

Promotion


Weebly Review
Rating

8.0/10

Price

Free - $26 per month

Promotion


WordPress.com Review
Rating

8.0/10

Price

FREE - $59 per month

Promotion
Squarespace Pricing
| Plan | Personal | Business | Basic Commerce | Advanced Commerce |
| --- | --- | --- | --- | --- |
| Price | $23.00/mo. | $33.00/mo. | $36.00/mo. | $65.00/mo. |
| Yearly Price (discount) | $16.00/mo. | $23.00/mo. | $27.00/mo. | $49.00/mo. |
| Storage | unlimited | unlimited | unlimited | unlimited |
| Visitors/month | unmetered | unmetered | unmetered | unmetered |
| Email Accounts | - | - | - | - |
| Dedicated Domain | | | | |
| Free Domain Name | 1 year | 1 year | 1 year | 1 year |
| Free SSL | | | | |
| Display Ads | | | | |
| Analytics | | | | |
Pros Of Squarespace
Here's what I found to be the pros of Squarespace – not just in comparison to Weebly and their competition, but also as an overall online website solution.
Template Design
Squarespace's tagline is "Build It Beautiful." They live up to it with their design templates. When you set up an account, you have to choose a Squarespace template to start your design.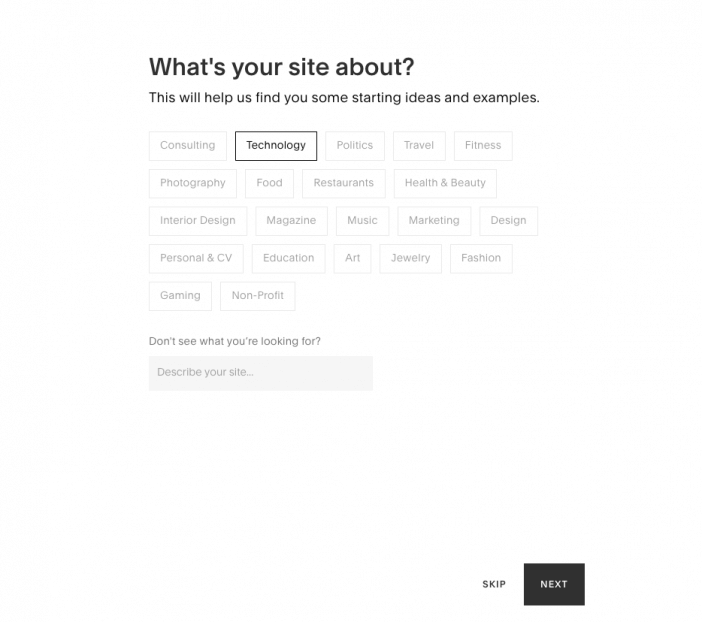 You can upload your own design. But most of Squarespace's appeal lies in the fact that they have a huge selection of specifically Squarespace design templates that are truly professional and beautiful.

Their designs also rely heavily on photography. That means that you can make your template uniquely yours by swapping in your own photographs. The typography, color schemes, responsiveness all stay aligned to provide a professional touch.
Providing a single, curated hub of beautiful design is a huge plus for building a Squarespace site.*
*One note is that nearly all Squarespace's templates require high-resolution, professional imagery. They look great in a template form, but you'll need to make sure that you have the right imagery to make the site your own.
Backend Design
Their Build It Beautiful tagline extends beyond their design templates to the backend experience for their customers.
Do you know the feeling you get when you open a new Apple product or handle a beautifully designed physical product? Ok, you get that same feeling navigating your Squarespace account.

They build a beautiful brand in their ads and extend it to the user experience. Simply clicking around the admin section makes you think that Squarespace is really cool software.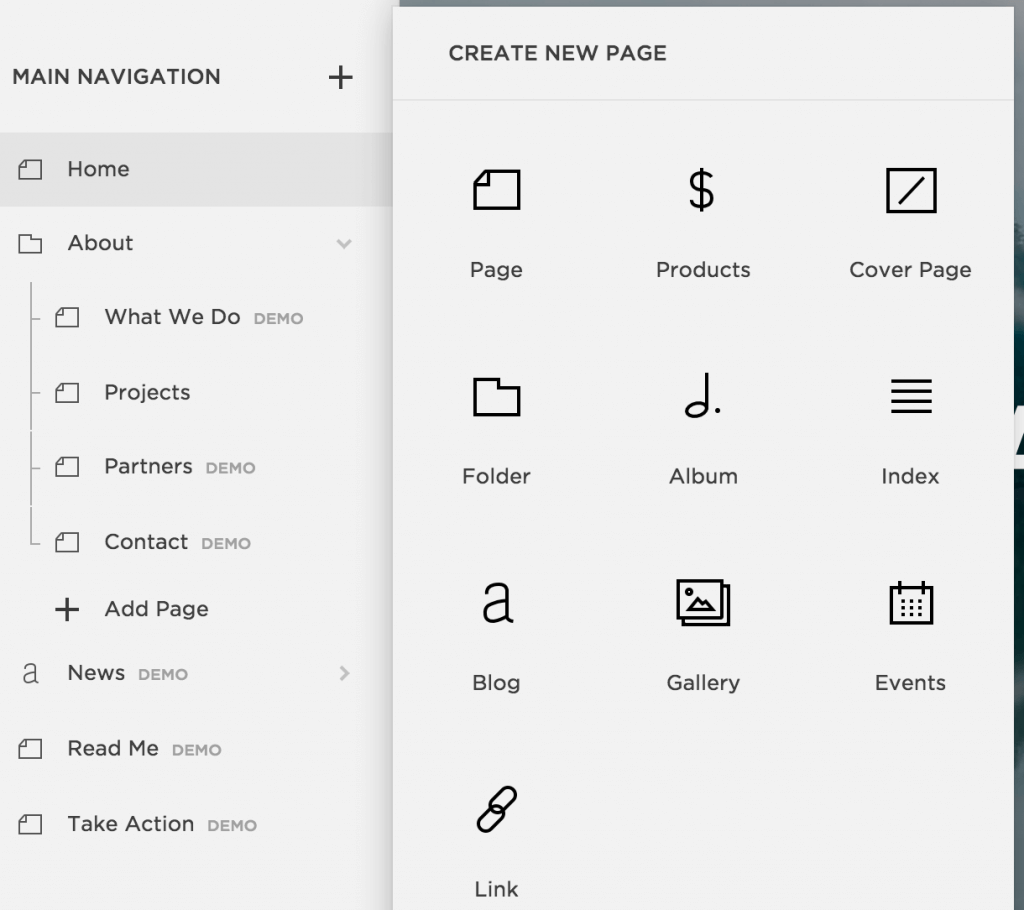 If you've ever used purely functional but ugly software, it's a breath of fresh air. It makes building the website interesting.
Apps & Extensions
For a very long time, Squarespace was a single all-in-one platform with no Squarespace extensions, or the ability to add a 3rd-party plugin or app.
That approach ensured that everything just works. However, like Apple, Shopify, and Wix, there's now a regulated ecosystem for quality Squarespace extensions and apps.
It's not as large as other website builder options, but it's growing and fairly easy to integrate into their platform.
Speed, Security & Data Export
On the same theme as the all-in-one platform, but on a different note is speed and security. Squarespace hosts the websites built with their software, and the cost of hosting is included in the monthly price.
This bundled approach not only ensures that your web hosting is compatible & optimized, but also that Squarespace handles all the technical needs of hosting. They take care of website speed.
They take care of website security. Anyone trying to hack your website is Squarespace's responsibility, not yours. You don't have to buy and configure security software. They bundle & provide a free SSL certificate.
They also maintain backups and redundancy. If a data center somewhere burns down, you don't have to worry about your site disappearing.
But not only does Squarespace provide hosting in a bundle – they still provide some benefits of self-hosting.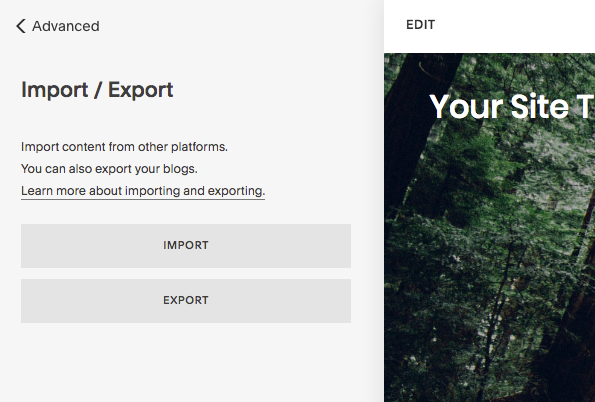 Customer Support & Improved Onboarding
Squarespace offers 24/7 customer support. They do support via live chat and email tickets.
Additionally, they have a thorough knowledge base with video walkthroughs and guides. They also maintain a pretty high-quality customer forum.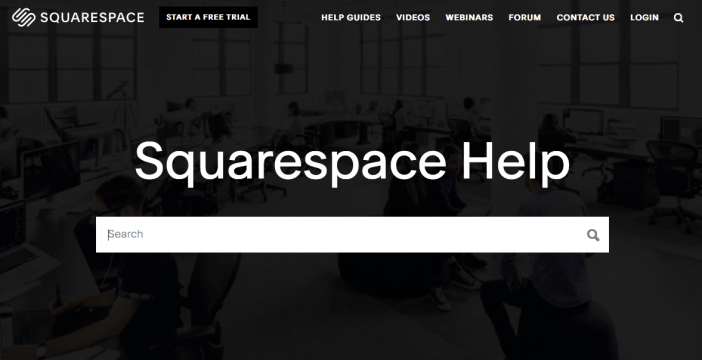 The only thing lacking is phone support, but given the chat/email efficiency and direct competitor's support options, Squarespace's customer support is a strong pro for using the platform.*
I have had readers mention that the lag time between customer support responses can create miscommunication and unnecessarily prolong an issue.
But there's more to customer support than just answering questions – you want to prevent questions before they even happen. And many of the questions happen during onboarding.
Onboarding is the process of getting a brand new user setup and rolling. It's when you have a chance to convert a customer that is excited but nervous to a customer who is confident with no buyer's remorse.
For me, even as someone with a lot of experience in different platforms, Squarespace's onboarding was lacking when I first tried it in 2015. The backend was beautiful…but it took way too long to figure out how to edit and publish my homepage. And that's not even to mention figuring out design edits or setting up analytics.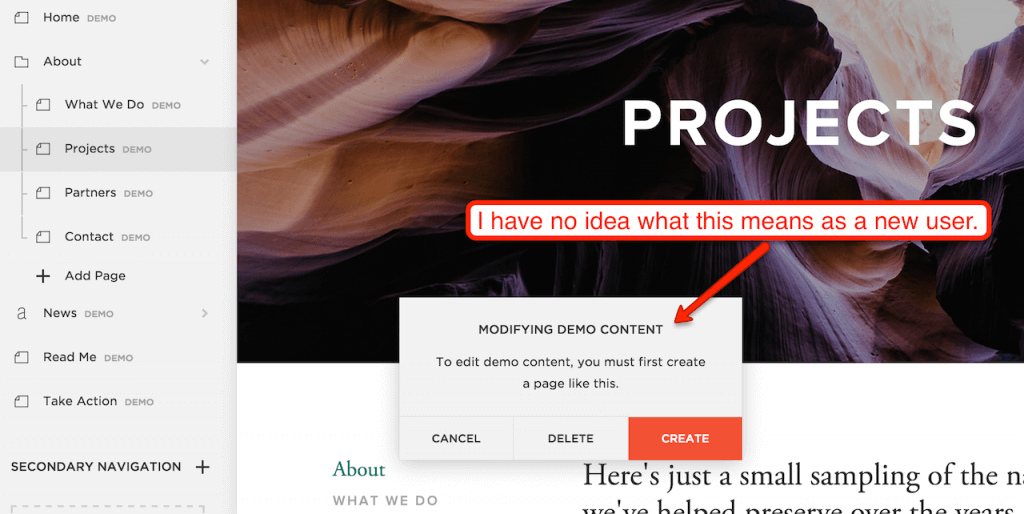 In 2016, Squarespace rolled out a new customer onboarding email sequence. It's well-done and straightforward.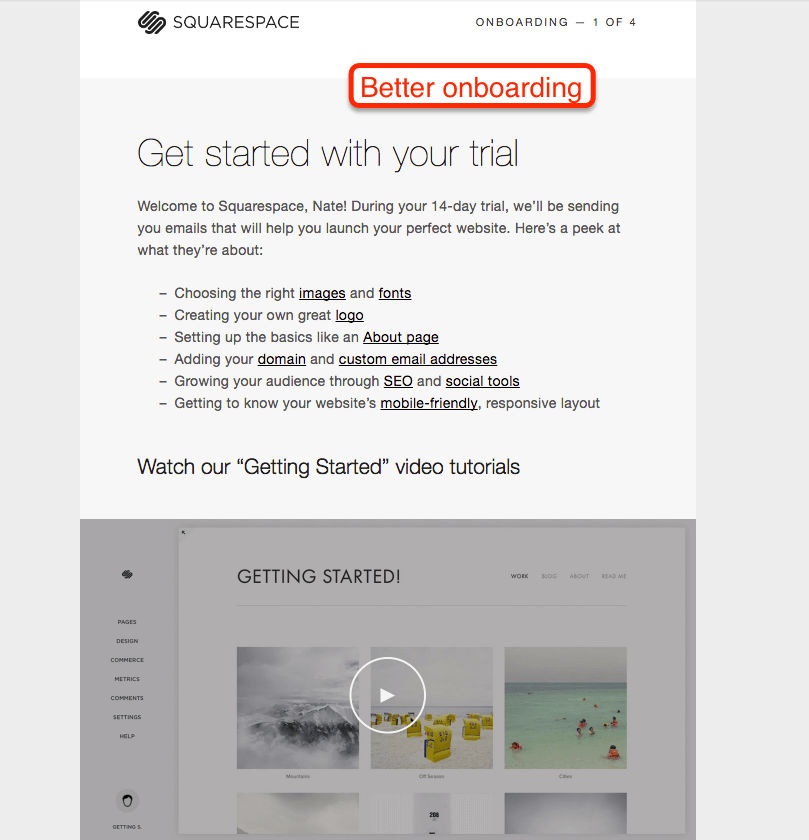 Plus – their walkthroughs in Support are well-done. Compared to my last experience with Squarespace – onboarding has moved from a disadvantage to a strong pro.
Cons Of Squarespace
But of course, no Squarespace review would be complete without looking at the downsides of Squarespace. There are plenty of Squarespace complaints online. Many are anecdotal to a specific situation where Squarespace was simply not a good fit. Let's look at 5 specific disadvantages I found.
Squarespace Pricing
One of the toughest parts of shopping for a website solution is looking at the price based on value. Everything is relative to your goals, budget, and specific feature set.
That said, if you compare any Squarespace plan to their direct competitors, they come out more expensive. If you compare Squarespace to setting up your own site with WordPress, it's even more expensive.
The main issue for Squarespace's pricing versus non-all-inclusive solutions is their caps. Their plans are limited to a single website. Their lower tier plans cap the number of pages and products.
The main issue for Squarespace's pricing versus their direct competitors is that they are simply more expensive. Weebly's plans are cheaper for the same value (excluding eCommerce options). And Wix has very competitive plans with a free option too.
Even though their pricing is competitive on overall value, I'd say Squarespace's pricing is a disadvantage, especially since their differentiating features don't kick in until the Business plan.
Advanced Marketing Tools
If you build a website, people will not necessarily just show up. You have to actively market your work. There are thousands of marketing & advertising channels. Some are better than others. But all give an advantage to websites with the right tools for that channel.
Squarespace has all the basics (aka, social media buttons), and a few advanced ones (aka URL redirect options and landing page builder). Overall though, there are lots of marketing features that either aren't there or require some workarounds.
For example, Squarespace SEO options are sort of present but require workarounds to get the right metadata in place. That said – with the right guide, you can get even the most advanced SEO tactics implemented. Their support for Twitter Cards and Facebook Open Graph is touch and go. A/B Testing is not integrated.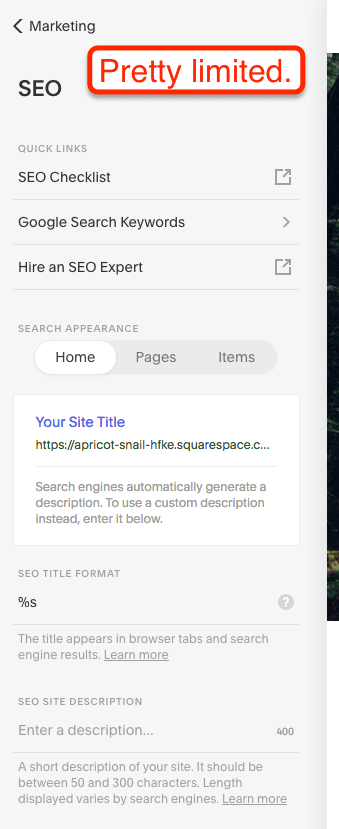 Integration for Google Analytics, Google Search Console, Facebook retargeting, and other options are buried in Advanced Settings. They have to be added and tested through the Code Injector tool.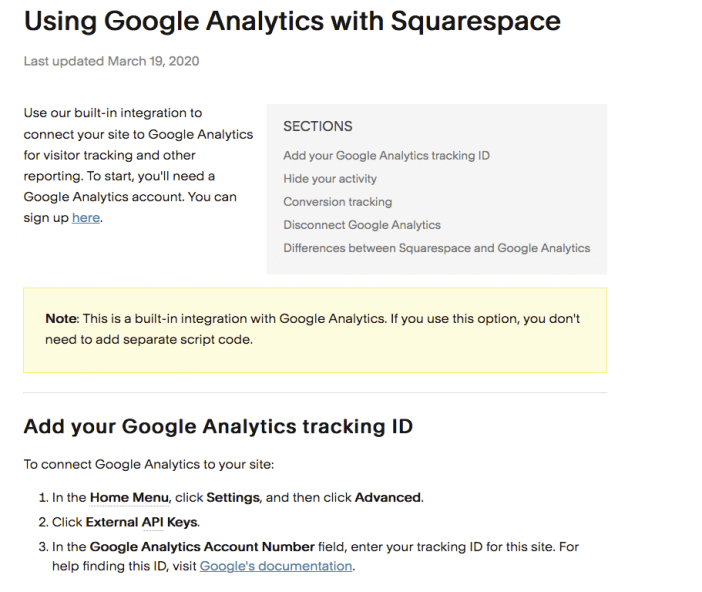 You can get all the right marketing tools in place, but the platform certainly has a bias towards design over functionality and marketing. I'd say that marketing is a disadvantage for Squarespace.
Backend User Functionality
For a website builder that is advertised as simple, straightforward, and easy, Squarespace's backend functionality is not a breeze to use.
I'm talking about things like editing and adding content, opening new pages, adding blog post functionality, editing the design template, moving elements around, etc.
You never have to touch or edit HTML or CSS code, but the actual mechanics of building a website with the Squarespace website builder are not smooth at all. Compared to web builders like Weebly, finding the right touch elements can be frustrating.
And it's really odd in a way because the setup is uniform, beautiful, and apparently easy…until it's not.
In fact, it's like Squarespace is the IKEA furniture of website building. It's all beautiful and well-designed. It has good instructions, and it all fits together. But when you are actually building it, there's this sneaking feeling that this is harder than it really should be. Either that, or it's easy to get something turned around that throws off the whole setup (in my case it was adding pages to the navigation which didn't actually exist with any content).
In other words, if you have zero experience even attempting to build a website – you will find a learning curve with Squarespace. It's not as steep as other solutions – but it's a curve nonetheless.
I'd say user functionality is a disadvantage for Squarespace. Not because it's bad, but the whole point of choosing Squarespace instead of building your own website on your own hosting is to have a fluid, easy setup experience.
Squarespace eCommerce Addendum
A big advertising point for Squarespace is its eCommerce functionality. You can sell products from your Squarespace website without switching platforms or any special development.
eCommerce is a nice bit of functionality, but I'd hate to call what Squarespace offers the full-fledged eCommerce store capabilities that online store platforms such as Shopify have. Squarespace has lots of great eCommerce features, especially on its advanced commerce plan. They now allow unlimited products – even on their basic commerce plan. But feature to feature, Squarespace eCommerce pricing just doesn't line up with major eCommerce competitors.
It's great for websites that are primarily lead-generation, informational, etc but also want to sell a few products. Think of a restaurant that wants to sell t-shirts and mugs.
It's not so great for websites that are eCommerce-first. The functionality is there. It's great.
But I would not choose Squarespace for the eCommerce functionality. I'd either build an online store you own with WordPress + WooCommerce or go with a specialty eCommerce platform like Shopify (review).
Conclusion
Squarespace is a solid all-inclusive website builder. They live up to their tagline of "Build It Beautiful" with a few caveats – and a focus on developer tools.
There are a lot of tradeoffs for using an all-inclusive website builder. If that route fits your goals, then I'd evaluate Squarespace, Weebly, and Wix to see what fits your goals best (design price, functionality, etc), especially if you are building a business website or blogging platform.
I wrote a comparison of Squarespace vs Weebly.
If you are more confused than ever – I created a BuzzFeed style quiz to help you choose the best website builder.
If you think building your own website on your own hosting is a better route, be sure to check out my step-by-step guide to setting a website with WordPress from scratch here.
FAQs
Related Articles