Squarespace vs Wix – are two of the most well-known website builders. I've written an individual Squarespace review and a Wix review. But how do they compare to each other?
First, a bit of background. Over just the past few years, website costs have plummeted and the technology to get a website from idea to reality has blossomed. Whether you are using a text editor and uploading to the Amazon cloud; hosting your own site powered by WordPress or using a drag and drop website builder, there's never been an easier time to create a website.
All-inclusive website builders have been particularly interesting. Companies like Squarespace and Wix have brought websites to everyone regardless of coding knowledge or skills.
On the wide spectrum of website building tool options, they live on the end that is all-inclusive and provides everything you need to get started and grow your website. This is in contrast to solutions where you buy, install and manage all the "pieces" of your website separately. That's not a good or bad thing. But it is something to be aware of when you're choosing one of them as a solution…since it affects your website both long and short term.
| Takeaways | Squarespace | Wix |
| --- | --- | --- |
| Key Strength | Design & Templates | Built-in Features |
| Key Complaint | Pricing for Value | Data Export & Versatility |
| Best for… | Portfolios & Creatives | DIYers & Business Sites |
| Current Promotion | Get Current Promo | Get Started For Free |
In the long-term, it affects your versatility, functionality, and, of course, your brand. In the short term, it can certainly add/take away a lot of headaches. That said, just like choosing a physical house or office, there is no such thing as an absolute "best" or "top" choice. There's only the right choice relative to your goals, experience, and circumstances.
Using a site builder is sort of like leasing and customizing an apartment in a really classy development instead of buying and owning your own house. You're still in control of decor, cleaning, and everything living-wise – but you leave the construction, plumbing, security, and infrastructure to the property owner. That point is key because there's usually a direct tradeoff between convenience and control.
Squarespace and Wix as a group compete with options like WordPress (which provides the free software to build a website that you own & control – see my WordPress website setup guide here) all the way down to options like typing actual HTML code into a text file. Make sense? Awesome, let's dive into the comparison.
Pricing
Comparing pricing between Squarespace and Wix can be tough because their tiers are completely different. Squarespace has tiers based on advanced features, users, and eCommerce. Wix has several tiers based on a wide range of factors. And Wix has a free plan option that includes Wix ads and a subdomain.
Squarespace Pricing
Squarespace has limited email and advanced features with its personal plan. It adds transaction fee free to Basic Commerce, and then adds more eCommerce tools to Advanced Commerce for an online store.
| Plan | Personal | Business | Basic Commerce | Advanced Commerce |
| --- | --- | --- | --- | --- |
| Price | $16.00/mo. | $26.00/mo. | $35.00/mo. | $54.00/mo. |
| Yearly Price (discount) | $12.00/mo. | $18.00/mo. | $26.00/mo. | $40.00/mo. |
| Storage | unlimited | unlimited | unlimited | unlimited |
| Visitors/month | unmetered | unmetered | unmetered | unmetered |
| Email Accounts | - | - | - | - |
| Dedicated Domain | | | | |
| Free Domain Name | 1 year | 1 year | 1 year | 1 year |
| Free SSL | | | | |
| Display Ads | | | | |
| Analytics | | | | |
Wix Plans
Wix has very customizable pricing tiers – and has some limits on every tier, even up to VIP.
Wix's pricing is very different due to its tier structure & bonuses. They are competitive – but be sure to note your exact needs and features, especially with storage needs.
| Plan | Combo | Unlimited | Pro | VIP |
| --- | --- | --- | --- | --- |
| Price | $14.00/mo. | $18.00/mo. | $23.00/mo. | $39.00/mo. |
| Storage | 3 GB | 10 GB | 20 GB | 35 GB |
| Bandwidth/month | 2 GB | unmetered | unmetered | unmetered |
| Email Accounts | - | - | - | - |
| Dedicated Domain | | | | |
| Free Domain Name | 1 year | 1 year | 1 year | 1 year |
| Free SSL | | | | |
| Display Ads | | | | |
| Analytics | | | | |
Squarespace offers solid value on each tier and is particularly competitive with their eCommerce plan options and personal plan.
Squarespace pricing generally does better on upfront value for most sites. However, the most important thing here is for you to write down your needs & goals – evaluate each tier based on that – rather than looking at features that you may never use.
*Reminder – these costs are all very different than if you are looking at building a website with WordPress or something else. Part of the point of website builders is the bundled pricing where hosting and software costs are added together – and are priced per site. It's possible to get many custom websites with unlimited functionality for much cheaper if you build it yourself using separate hosting & software.
Onboarding & User Experience
No matter how intuitive and simple a piece of technology is, there's always that moment of "what am I looking at and what do I do now?"
Onboarding is the process of guiding you past that point. In theory, a huge selling point of website builders is that they have a near-zero learning curve. They have a straightforward process from website concept to website reality.
On this point, Wix does very well – and Squarespace lagging a bit due to their attempts to please both a web developer / web designer audience and DIYers.
Squarespace sort of drops you into their interface after choosing a design. The interface is fairly intuitive, but it takes some clicking to figure out where everything is, how stuff works, and what to do next.
Squarespace has greatly improved its onboarding email sequence though – so props to that.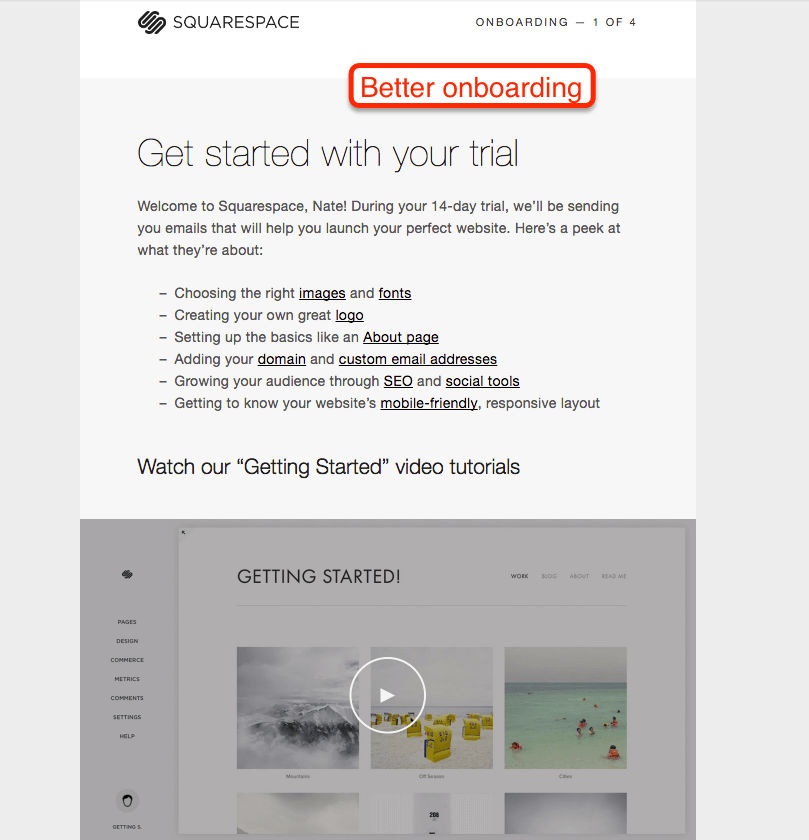 Wix is solid for onboarding. They have an email sequence, which is mainly focused on hard selling their premium plans over helping. Their backend is straightforward, but requires some clicking and strategizing to decide what to do next. They have a *ton* of features directly in their builder. Once you locate everything, it's great. But at first, it can be overwhelming.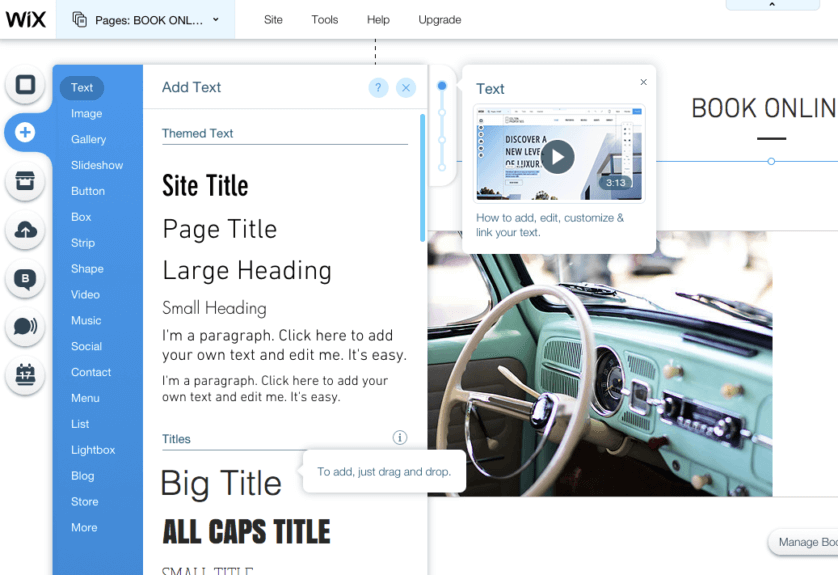 Wix also has excellent "templating" and even a "design AI" (called Wix ADI) that will take care of a lot of the busywork of designing for you. Whether that works in practice or not all depends on your goals. I explored this tradeoff in-depth in my Wix Review. If you are a DIYer who doesn't want to work with code at all – then it's amazing. If you want control over details, then it's not ideal.
Design Features
Part of the overall value of website builders is design.
Web Design is hard. And it matters – a lot. A lot of people can spot a good looking website but have a harder time figuring out how to get there. Using a template for a foundation and then customizing it is a good way to get the site you want without paying for a custom design.
On this point, Squarespace does well. Their platform is all about design (their tagline is "Build It Beautiful) and you can tell. The front and backends look and feel beautiful. They use a more structured editor compared to Wix's templates + drag and drop editor.

Squarespace has a diverse set of templates that are built so that they do become unique with some photography and color scheming. They have plenty of customization options.
One quick aside with using a Squarespace template is available imagery. If you do not have high resolution, professional imagery to replace the template imagery…you're site will not look as good. Squarespace's templates are only as good as your photography.
Wix's designs are solid and trendy. They've improved a lot over the last few years. Whether you want a moving image or a parallax feel – Wix has plenty of pre-built "fancy" templates to choose from. However, the Wix editor doesn't allow any CSS customization. They also don't allow you to switch back and forth between templates, so you're really stuck with whatever templates they have – and whichever one you commit to. I did dig up a bunch of actual Wix website examples out in the wilds of the Internet.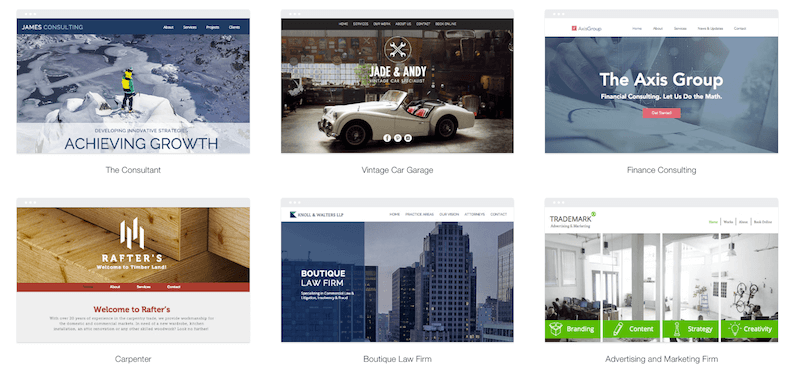 Squarespace wins on design…if you have the imagery to fill their templates. If you want more trendy designs, then you'll like Wix.
Technical Features
Technical features are all the web development best practices that don't really matter…until they matter a lot (especially if you decide at some point to work with a professional). I'm talking about generating clean URLs, editable metadata, allowing page-level redirects, etc. I'd also include a blogging tool, content management system, and ecommerce features in this group.
On this point, Squarespace is good. They could do better – and neither is as good as a self-hosted site.
Squarespace offers more access to advanced tools, especially via their developer platform.
The laggard is Wix. Not to keep jumping on Wix, but they build and serve their pages in a way that is not ideal from a professional developer perspective. The system is a lot better than their old Flash technology but is still clunky to look at from a technical perspective. Wix websites get a URL structure that works but is not ideal. It runs more like a game application than a website. Their blogging tool and content management system is fine for most websites, but gets clunky past 50 or so pages. And this isn't just my opinion – browse any thread on HackerNews about Wix, and you'll get the same feedback. I covered this in my Wix Review here. This is a non-issue if you are DIY – but something to be aware if you are looking to hire an SEO for example.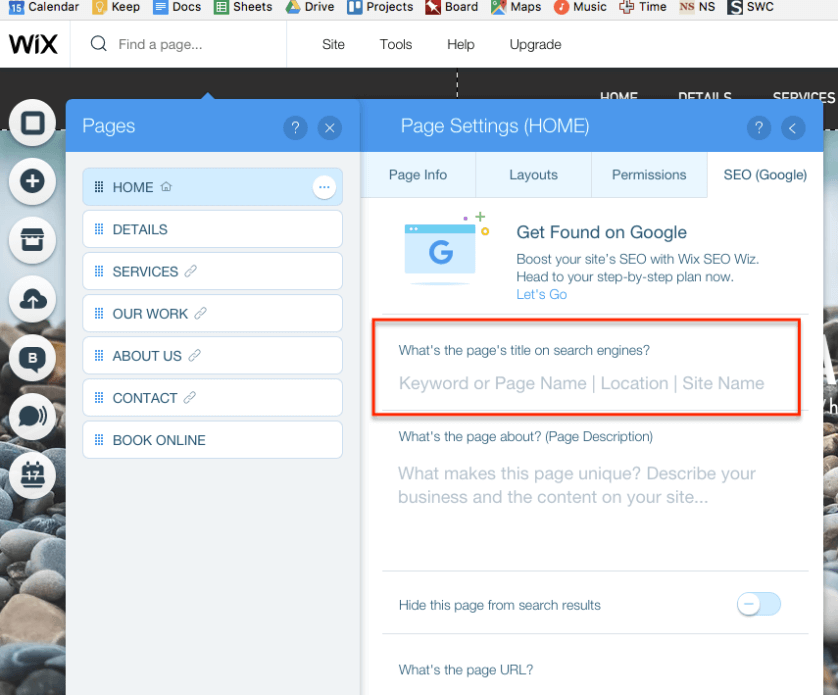 Website builders are limited on technical features by nature, but Squarespace and Wix are fine as far as the most important items go with Squarespace doing a bit of a better job.
Marketing Features
In Field of Dreams, Kevin Costner's character famously says "if you build it, they will come." Sadly, that is not true about websites. Just like any business, you have to actively promote and market your website for anyone to show up.
Marketing features like custom metadata, open graph information, Schema markups, email signups, share buttons, landing pages, social media etc all make marketing your site a lot easier.
For overall marketing tool options, Squarespace does well. Squarespace requires some workarounds for custom metadata and can be hit or miss with Open Graph information. But overall both have the tools to do the job.
Additionally, Squarespace allow you to place custom Javascript anywhere, which opens a lot of opportunities for custom tools (like OptinMonster) to retargeting and conversion rate codes.
Here Wix is rapidly improving compared to their old setup. They provide many more native apps compared to Squarespace. So if you are willing to commit fully to the Wix "ecosystem" and the Wix App Market then you'll have plenty of choices. If you want to work with 3rd party apps or templates, then Squarespace has a better setup.
This point transfers as well to Search Engine Optimization (SEO) – which is my wheelhouse. Both allow you to execute on fundamentals like keyword usage, crawlability, etc. However, if my client had a heavy emphasis on organic traffic, I would encourage Squarespace based primarily on versatility – not on the idea that one is "better for SEO" than another.
Support & Service
Both have knowledgebases and customer support. Wix does phone during business hours, in addition to email tickets and customer forums. Squarespace does not have phone support, but they do have 24/7 live chat and email.
If phone support is important to you, then I'd rule out Squarespace. If not, Squarespace does offer solid hours and quick response via chat / email.
Company Structure & Future
I've been actively observing the website building & technology industry for more than 8 years now. The most underrated factor in choosing a vendor for your own business is the structure & incentives of the actual company. Marketing departments can say whatever they want in the short-term, but for a long-term (more than a year) partnership, you need a company whose structure matches your own business goals.
Yes – that is vague and conceptual. But here's how it applies to these three companies.
Squarespace is a private company funded by venture capital that is going public soon. This type of company is usually pursuing marketshare & user growth above all else. Anything that grows user base is good. The upside is that there are usually no limits to investment. You can expect lots of tools and love and support. The downside is that they still don't know exactly what will make money or drive growth for their investors. After going public, many companies have a much shorter runway to profitability. Some are able to get profits without hurting customers, but others are.
Wix is a publicly-traded company. You can actually go buy a share and become a part-owner if you want. This type of company is pursuing both growth & profitability like every other traded company. Anything that drives those things gets attention. The upside is that Wix actually makes its money with its website builder. That's their thing. So their product gets total focus. The downside is that they are a publicly-traded company governed by Net Promoter Scores and Earnings Estimates – and all the good & bad that that could entail (just like Squarespace soon).
Squarespace vs. Wix Conclusion
If you decide that using an all-inclusive website platform is right for you, then I would get out of the mindset of finding "the best" – and instead think through what you need now – and what you hope to do in the future.
Wix focuses on the 100% DIYer or the business owner who is willing to trade some technical features for more convenience along with useful native tools & good templates for a business website. Get a free trial for Wix here.
Squarespace focuses mainly on design, developer tools, and branding – but relies on user-generated photography for full benefits. Sign Up for Squarespace here.