| | |
| --- | --- |
| Support | Help Desk, Chat, Phone & Knowledge Base |
| Uptime | Excellent (100% past 6 months) |
| Guarantees | 30-Day |
| Free Migration | |
| Best For | Small Businesses & Hobbists |
| Strengths | Discounts, Features & Support |
| Weaknesses | Upsells & Confusing Signup |
| Promotion | Up To 72% Off |
What Is A2 Hosting?
A2 Hosting is an independent web hosting company founded in 2003. They are based in Ann Arbor, Michigan but serve hosting markets globally.
A2 Hosting hosts websites and web applications such as WordPress. They have a specific marketing focus on businesses, organizations, and rapidly growing sites. They offer a full suite of website products, from domain names to shared hosting plans to managed VPS hosting and web design.
A2 Hosting makes some serious claims about the speed of their Turbo platforms, suggesting that they can deliver up to 20X faster web hosting. But are they as fast as they claim to be?
I'll share my findings in this A2 Hosting review, including the pros & cons and the types of customers I think it's services are best suited for.
A2 Hosting Pricing
A2 Hosting offers several types of web hosting services, including shared, VPS, dedicated, and custom products such as WordPress and Reseller hosting.
Web Hosting Plans
Web (i.e., Shared) hosting is the bread and butter of the website hosting world. A shared hosting plan consists of individual accounts on a Linux server. They can run WordPress or any application on a LAMP Stack. It's a cost-effective and reliable way to run most websites. Learn more about Shared Hosting in this guide. A2 Hosting has three main shared hosting plans.
| Plan | Startup | Drive | Turbo Boost | Turbo Max |
| --- | --- | --- | --- | --- |
| Initial Price* | $2.99/mo. | $5.99/mo. | $6.99/mo. | $14.99/mo. |
| Renewal Price | $10.99/mo. | $12.99/mo. | $20.99/mo. | $25.99/mo. |
| Websites | 1 | unlimited | unlimited | unlimited |
| Storage | 100 GB | unlimited | unlimited | unlimited |
| Bandwidth/month | unmetered | unmetered | unmetered | unmetered |
| Free Domain Name | | | | |
| Free SSL | | | | |
| CDN | | | | |
| Dedicated IP | | | | |
| Daily Backups | | | | |
| Web Server | Apache | Apache | LiteSpeed | LiteSpeed |
* Pricing per month for a 12-month subscription
WordPress Hosting Plans
Even though WordPress can run on shared hosting, many hosting companies have dedicated WordPress hosting plans due to customer demand and the hardware demands of WordPress. In many cases, a company's WordPress hosting is exactly the same as its shared hosting plans.
A2 Hosting is like this to a degree. Their WordPress plans are just Web hosting plans with WordPress auto-installed, but they also have a Managed WordPress Hosting plan on the menu. The WordPress plans are more expensive, but they have features specifically for WordPress websites.
VPS Hosting Plans
VPS hosting is a great way to get a specific allocation of server resources without having to lease an entire server. Even though your website lives on the same server as other sites, you have total control over a set amount of resources. Learn more about VPS hosting in this guide. A2 Hosting has several very competitively priced VPS hosting plans that offer managed and unmanaged options.
Reseller Hosting
Reseller hosting can be a shared, VPS, or dedicated server plan with 3rd party billing and management enabled. Reseller hosting allows anyone to start their own hosting company without actually starting a hosting company. Read more about Reseller hosting in this guide. It's a great way for agencies to get recurring revenue and provide extra value for clients. A2 has a range of reseller hosting products.
Dedicated Hosting
Dedicated hosting involves leasing an entire server with management and support bundled. It's an affordable way to get dependable pricing for a very large site.
Pros of A2 Hosting
There is no shortage of A2 Hosting reviews online – they usually include user reviews based on anecdotes and personal experience. That's fine, but I take a different approach. As I mention in most of my hosting reviews, there is no such thing as a "best" web host. It's all about finding the right fit for your project based on your goals, budget, experience & expertise. Here are my reasons for considering A2 Hosting.
Support Access
Gauging a company's customer support is tricky. Like any local restaurant on Yelp, the most positive and negative reviews are generally worthless.
You never know when issues are customer-caused or when someone encountered that one excellent (or terrible) employee.
I've had a good experience with A2 Hosting. But that's very anecdotal. So, I also like to look for other indicators of solid customer support.
First – A2 Hosting provides several channels for customer support.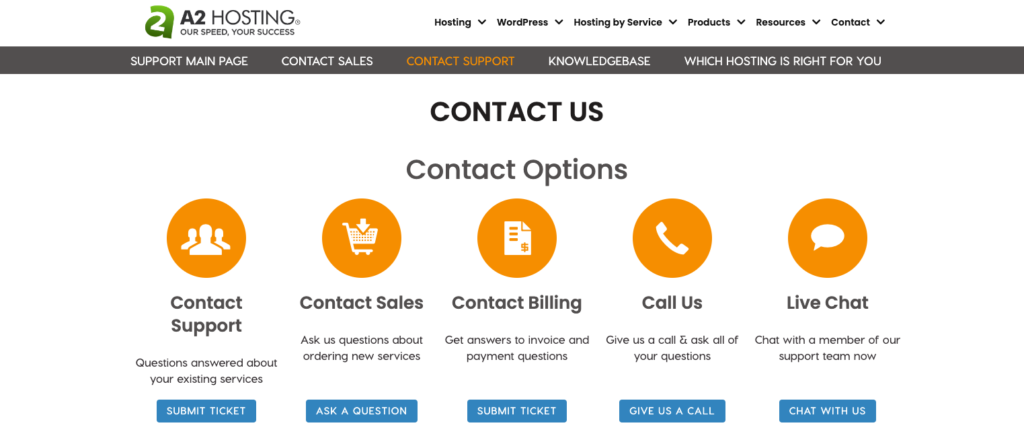 They have a phone number front and center. They have an extensive knowledge base and live chat. They do well with triaging requests via social media.
Second, A2 Hosting's reps are very "hands-on" – they offer custom installs, and their reps will often go in and fix the issue themselves rather than talking you through the process. While some customers may or may not like that option, it does signal that they see customer support as an investment rather than a cost. That's what I look for – because it's a strong indicator of a customer-focused culture.
A2 Hosting's customer support is a major pro in choosing them over a big brand hosting company (like GoDaddy) that may or may not prioritize support in the same way.
Transparency
First, I don't think a company is "good" or "bad" simply due to its size. It comes down to tradeoffs.
There are a lot of advantages to dealing with a big company. They have the resources to provide big comprehensive solutions. They have lower unit costs that can be passed to the customer. They are also usually more stable than small, upstart companies.
That said, smaller companies are usually more agile, closer & more responsive to the customer, and less likely to view customers solely through a Net Promoter Score.
In the world of hosting, it depends on your goals & preferences. There is no right answer.
The fact that A2 Hosting is a founder-owned, independent company is somewhat rare in 2023. Most hosting companies are subsidiaries of Endurance International, GoDaddy, or the Web.com group.
And not only is A2 Hosting independent, but they also use it to promote transparency and accessibility that a big brand can't match. To illustrate, here's an email I once received from Bryan Muthig, A2 Hosting's co-founder and CEO: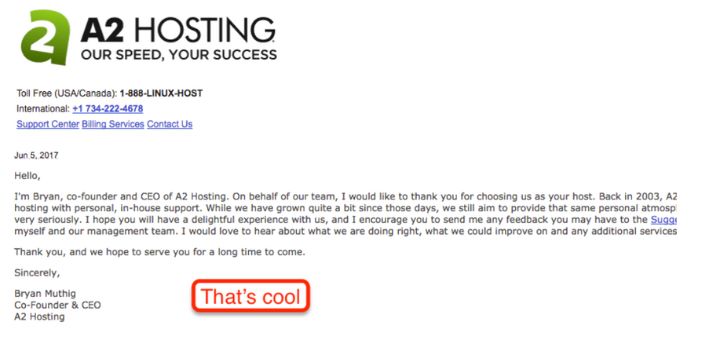 If you are looking for a hosting company rather than a hosting brand – A2 Hosting will tick that box. If not, you can ignore this section and focus on your priorities.
Global Data Centers
On a related but different note than speed & performance, A2 Hosting scores well as a globally focused host that can efficiently serve websites worldwide.
While there are many factors in website speed (like TTFB), the physical location of your server matters a lot. Requests for information travel over physical wires to a physical server. Distance matters, especially if your visitors need to load up many different files.
If you and your audience are on the same side of the globe, hosting your files near you and your audience is good. But what if your audience is spread out?
Until recently, most cutting-edge hosting companies were based & focused on the US market. If you were in Asia or Europe – then you might be stuck with lackluster local hosting and/or slow connection times.
A2 Hosting has four global data centers, two in the US, one in Europe, and another in Asia.
Michigan – USA
Arizona – USA
Amsterdam – Europe
Singapore – Asia
You can select your data center among the two that operate in the US, Europe, or Asia. If you are ex-US or are trying to serve an audience exclusively there – A2 Hosting's data center options are a compelling advantage.
Hosting Features
Another A2 Hosting advantage is its range of hosting features and customizations. In addition to being a full-spectrum hosting company with products tailored for nearly every need, they deliver the exact features you get with your plans.
They have web hosting solutions from Windows to shared Linux to WordPress to VPS to Cloud hosting. All their plans come with up-to-date software versions (i.e., PHP7, new cPanel, etc.)
A2 Hosting provides a free SSL certificate for each domain, unlimited storage, and unlimited websites on mid-tier hosting plans.
Now – I think some of their "features" are misleading marketing-speak. But, like their speed claims, they provide the hosting your project will need.
Cons of A2 Hosting
Like any web host, A2 Hosting has disadvantages. Here are the drawbacks I found while using A2's hosting service.
Speed, Performance & Uptime
The core function of a hosting server is to serve your website files whenever someone requests them. But – the implied adverb there is to serve those files quickly.
Speed matters more than ever in an age of global audiences and multi-device connections. While there are a lot of variables in play, it's primarily your hosting server's job to send the requested files to the visitor's browser as quickly and efficiently as possible.
A2 Hosting makes a lot of claims about its speed, but some of those claims are misleading. In short, A2 Hosting does fine but doesn't live up to the hype.
One of the main site speed factors is Time To First Byte (TTFB) – how quickly the server sends the first byte of the first file in response to a request. Here's how an A2 Hosting website tested with zero speed improvements.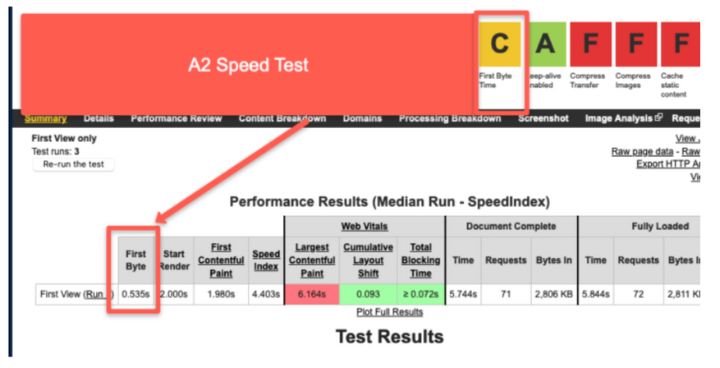 Overall, A2 Hosting does okay with speed, and you can have a fast site by making some improvements.
They do offer features like SSD Storage, Turbo Server, and free Cloudflare CDN that can help with your TTFB and speed. However, they are still starting from a place slightly behind their direct competition.
The same goes for uptime. A2 Hosting has not had downtime incidents outside of industry-standard expectations. However, they also don't make industry-standard promises on uptime either. So if they do have downtime, you won't necessarily get compensated.
Renewal Pricing
A2 Hosting has four main tiers for shared Linux hosting – the Startup ($10.99/mo at renewal), Drive ($12.99/mo at renewal), Turbo Boost ($20.99/mo at renewal), and Turbo Max ($25.99/mo at renewal).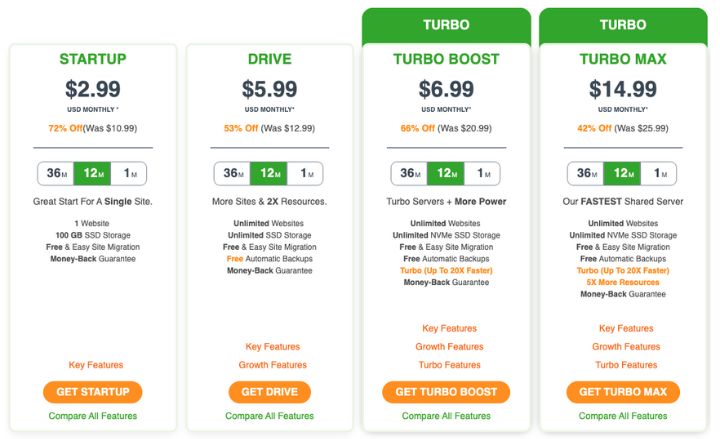 With heavy discounting, A2 Hosting's plans are not too bad compared to competitors and discount brands. That said – they are pricier than most hosting companies that I've looked at, for a few reasons.
First, their best renewal pricing is only valid for 2-year plans. If you want to pay annually – their renewal pricing is higher.
Second, their Startup plan is pretty heavily capped. It's only suitable for one website with no additional use cases.
Third, they don't include some key "bonus" features that their competitors do. I'll touch on those later, but things like backups, dedicated IP addresses, "performance," "priority support," and spam filtering all get bucketed as upsells rather than pre-packaged features.
Now – to be clear, price is not a particularly good metric. Every customer should look at the overall value for their needs. But either way, A2 Hosting works at a higher price point than other hosts, and I'm not sure their raw features meet the price point.
The one big caveat to A2 Hosting pricing is their global payment options. Not many hosting companies work with different currencies, but A2 Hosting does.
If international currencies are important to you – then by all means, mark that in A2 Hosting's pricing advantage.
Technical Marketing Speak
I believe in good marketing, but marketing is a tool. And I do not like it when companies use "marketing-speak" to misrepresent products and services. It's OK to simplify, but tell it like it is. And it's fine to re-frame or re-position, but not at the cost of hiding other facts.
A2 Hosting does this a lot. They have a sleek website and good copy. But they consistently invent features or position facts outside of context, so they seem great, but don't make any sense.
Here's an example.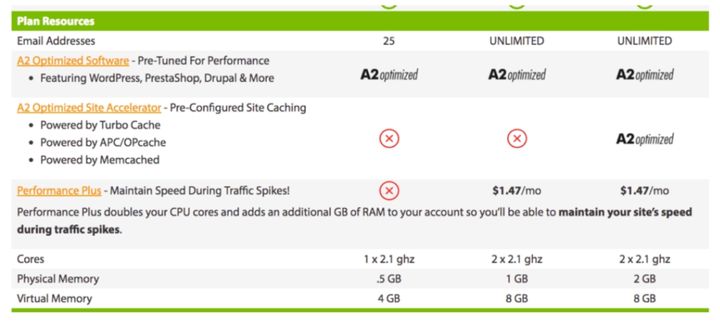 The chart looks great. It's a marketing asset that makes you nod and move to the buy button. Everyone does it to an extent, but a couple of things bother me here.
First, the Performance Plus pitch simplifies what it takes to "maintain your site's speed during traffic spikes." That all depends on your caching, the size of your site and your "traffic spike" (i.e., is it hundreds, thousands, or millions of requests?), and dozens of other variables. It plays on fear rather than a more accurate upside like "smoothly handle a resource-intensive site.
Second, the Cores, Physical and Virtual Memory allocations are missing context. They are presented to persuade you to buy a more expensive plan – not to provide useful comparative information.
In fairness to A2 Hosting, I know that providing concise, helpful information is challenging on a sales page. That said, combined with the next disadvantage, their marketing-speak is a disadvantage for any customer trying to make an informed choice of hosting company.
Weak Onboarding
Onboarding involves moving a new customer to an active, happy customer. It's a critical process for any company, especially hosting companies selling an inherently technical product.
While A2 Hosting has many common ingredients for good onboarding (i.e., email confirmations, intuitive client area, and standard cPanel), everything about setting up my account was slightly off. It was a bit frustrating – enough to make it a disadvantage.
Confusing Upsells
Upsells are not inherently a "bad" thing. If presented well, they can be helpful. But upsells need to be presented well. While not as bad as some big brand competitors, A2 Hosting doesn't handle upsells well.
Here's what you see on checkout – a wall of "configurable options," – aka, upsells.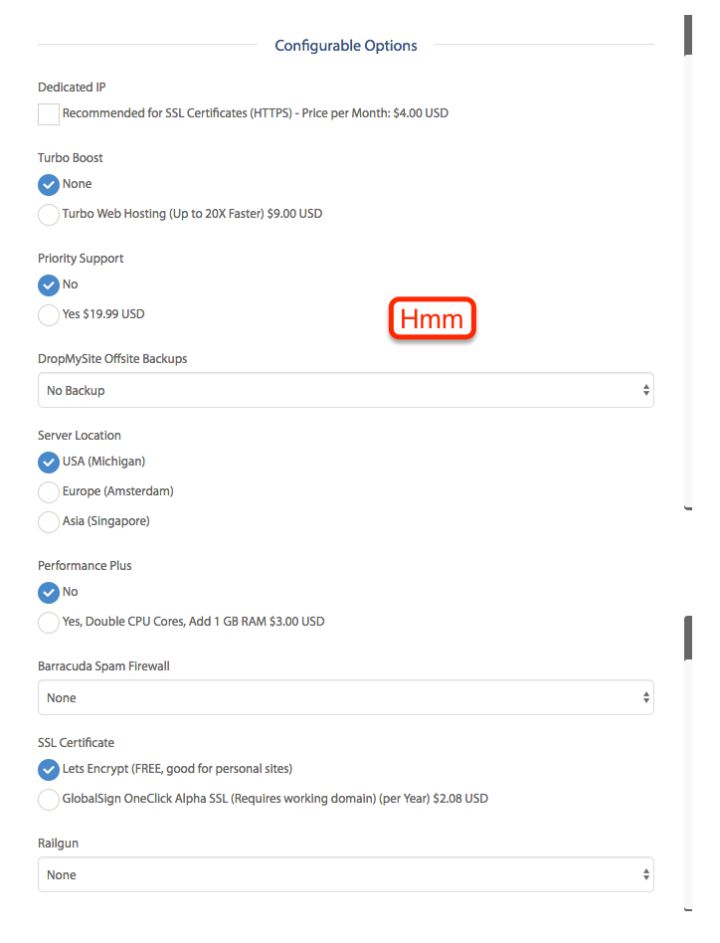 While not garish or overwhelming, those configurable options create a lot of questions.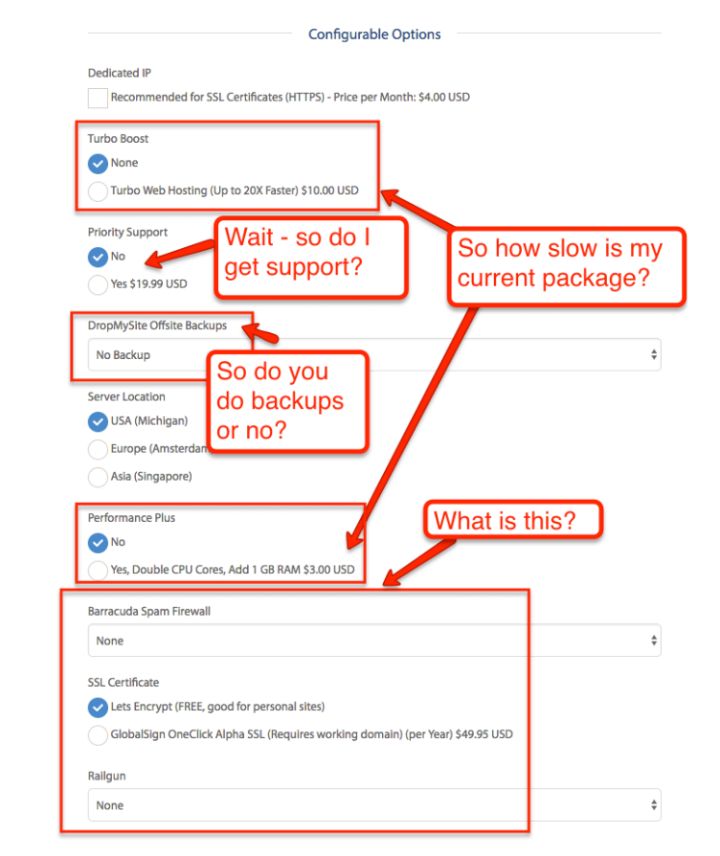 Every single option (apart from Server Location) creates confusion in the customer's mind. Additionally, since they are all presented out of context, I have no idea what they are, why they are helpful, or how they apply to my purchase.
Now – from a day-to-day use perspective – none of this matters. You can ignore the upsells, skip the offers and remove the bundled plugins. But as far as choosing a company based on trust & values, I see it as a disadvantage to A2 Hosting.
Guarantees, Backups & Bonuses
Guarantees and backup services are "bonus" features in the grand scheme of hosting. But they can end up saving you money.
A2 Hosting's money-back guarantee is fine but is not impressive compared to direct competitors.
They only provide free "server rewind backups" with your standard plan. If you want true regular backups, you'll need to subscribe to a 3rd party service.
It's something to consider while comparing price & value among competitors.
Lastly, their actual bonuses/freebies are pretty thin on the ground. Three of their four freebies are ad placements to benefit A2 Hosting. Nothing outside the norm, but something to factor in if you already know some of the services you're looking for.
Overall, A2 Hosting's guarantees, backups, and freebies are lacking compared to the rest of the industry.
A2 Hosting Alternatives
There are many A2 Hosting competitors. Here are some alternative web hosting services.


Bluehost Review
Rating

9.5/10

Uptime Guarantee

No

Free Migration

Yes

Promotion


InMotion Hosting Review
Rating

9.0/10

Uptime Guarantee

No

Free Migration

No

Promotion


Hostinger Review
Rating

8.0/10

Uptime Guarantee

Yes

Free Migration

Yes

Promotion
Is A2 Hosting Worth It?
There's a reason A2 Hosting is one of the fastest-growing independent hosting companies. They have a solid product and great support.
It is well worth the money if you are looking for a full-service hosting company with solid support, good performance, and global data center options (and you don't mind a few upsells).
You can sign up for an A2 Hosting plan using my exclusive link.

If you are looking for a hosting company with all the benefits of A2 Hosting but with better pricing and guarantees, check out InMotion Hosting.
If you are still undecided – check out my best web hosting services or use my website setup guide here!
FAQs