So you're exploring starting a website. You've considered why WordPress is the best option for you. To put it simply, it powers more than 25% of the Internet. It's famous for its versatility and ease of use.
But for anyone unfamiliar with the WordPress world – there's a point of confusion. WordPress.com vs. WordPress.org – which should you use? What's the difference? What's the best fit for your website?
Here's a concise overview of what you should think about before getting started.
Basic Concepts
WordPress is the name of a piece of software that can "power" your website on a server. So instead of uploading files to a server to create a website, you can use WordPress to create a "backend" where you can log in to your website to create, edit and manage web pages, blog posts, images – any sort of content.
It's a "content management system" in web development jargon. WordPress is also "open-source" – which means that a community maintains it. A for-profit corporation does not own it.
The software & open-source community live & function at WordPress.org – where anyone can grab a copy of the software. It's also known as "self-hosted WordPress" because you have to provide the server for the software to live on. You have to host with either a WordPress hosting provider that specializes in WordPress or a web hosting company that offers WordPress.
And then there's WordPress.com. It is a for-profit company owned by Automattic and founded by Matt Mullenweg – one of the original developers of WordPress.
WordPress.com is a service (not just the actual software & community) that offers websites powered by their installation of WordPress. They bundle hosting, support, services, and software into a single subscription.
The renting vs. buying in real estate works well as an analogy.
WordPress.com = Renting a building for your living space (aka your website). You can pay for upgrades, but ultimately everything is up to your landlord (WordPress.com). That said – your landlord also has to pay to keep everything in working order.
WordPress.org = Owning a building for your living space. You own everything on your own hosting space. You do whatever you want. That said – you are responsible for everything.
So what does this difference between WordPress.com and WordPress.org mean for your project?
Pricing
Many people researching WordPress see the "free website at WordPress.com" – and think that's the end of the issue.
But here's the catch – it's "free" for a WordPress.com subdomain (e.g., yourdomain.wordpress.com) with no upgrades and with WordPress.com's rights to run ads on your work.
WordPress.com operates on a system of bundled subscription plans that offer different features as you pay more.

Larry's Take
If you want WordPress but don't want the complexities that come with it, WordPress.com is a great option. WordPress.com makes WordPress like any other website builder. The limitations of WordPress.com are how much you can customize with themes or plugins. Unlike other website builders, which you are locked into their service, you can move to WordPress hosting with ease.
In contrast, you can get a self-hosted WordPress website set up from scratch for less than $100/year – that's with domain, quality hosting, and unlimited options – including potentially multiple websites (rather than the one with each WordPress.com plan).
A very popular WordPress host is Bluehost.

Larry's Take
If you're starting out and looking for a low-cost, no-frills web hosting provider, Bluehost is your best option. They give you a free domain name for the first year and have a one-click WordPress install. You'll be up and running with your blog in no time.
But getting nitty-gritty about pricing is not the point. The point on pricing is about what your goals are and what you value. If you want to publish, could care less about a specific functionality, and have the budget – WordPress.com is amazing. It's fast, sleek, and well-run.
If you want to build out a website where publishing is only part of your goals (ie, you want to run ads, customize your design, etc), then WordPress hosting makes a lot more sense.
Pricing & goals aside, here are a couple of considerations that I tell people to look at.
WordPress Themes
If you are running your own copy of WordPress on your own server, you can do anything you want with your design.
WordPress(.org) still runs off "Themes" – so you can use free themes from WordPress.org, premium, or use one of the many WordPress themes available.
Either way, you can always directly access your theme and edit it in any way you want.
With WordPress.com – you do not have direct access to your site or your theme. Instead, you have to choose among the choice of themes that WordPress.com provides (currently at 373 themes and 182 premium themes).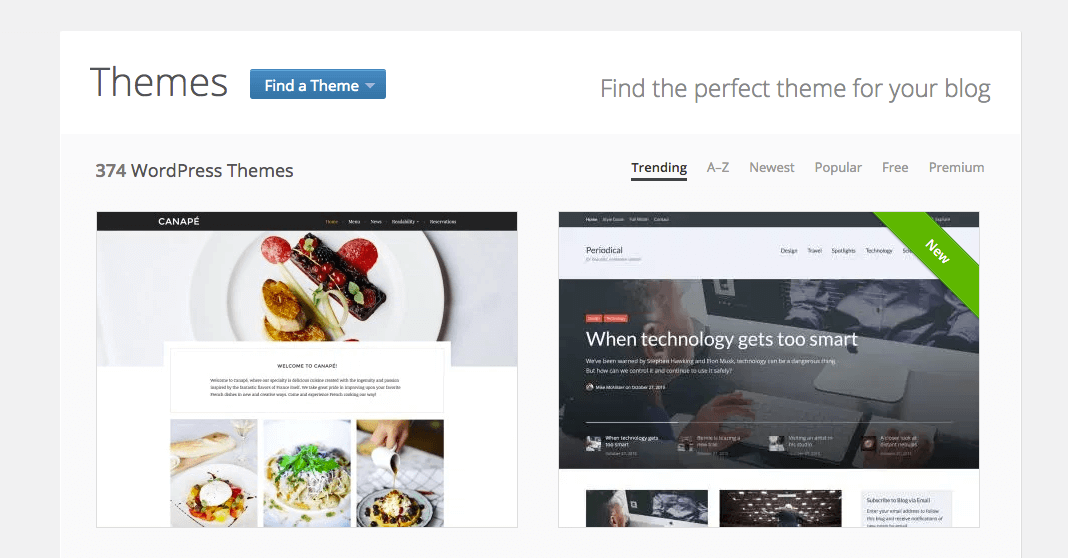 WordPress.com provides some customization, but it's limited to what you can do through their customizer tool. If you upgrade, you have full CSS editing, but you can't add elements to your design.**
**If you pay for a Business Plan at WordPress.com, you not only get free access to all premium themes, you get a lot more customization options AND you can install all the 3rd party themes that you an on self-hosted WordPress.
WordPress Plugins
Plugins are a large part of the reason self-hosted WordPress is as popular.
WordPress plugins allow you to add additional functionality to your websites like full eCommerce functionality, social networking capabilities, and membership roles.
Plugins also allow you to customize your site exactly to your liking. You can get deep in the weeds of SEO with Yoast SEO; you can customize your analytics with Google Analytics plugins. You can run better advertisements – or Unicornify your website.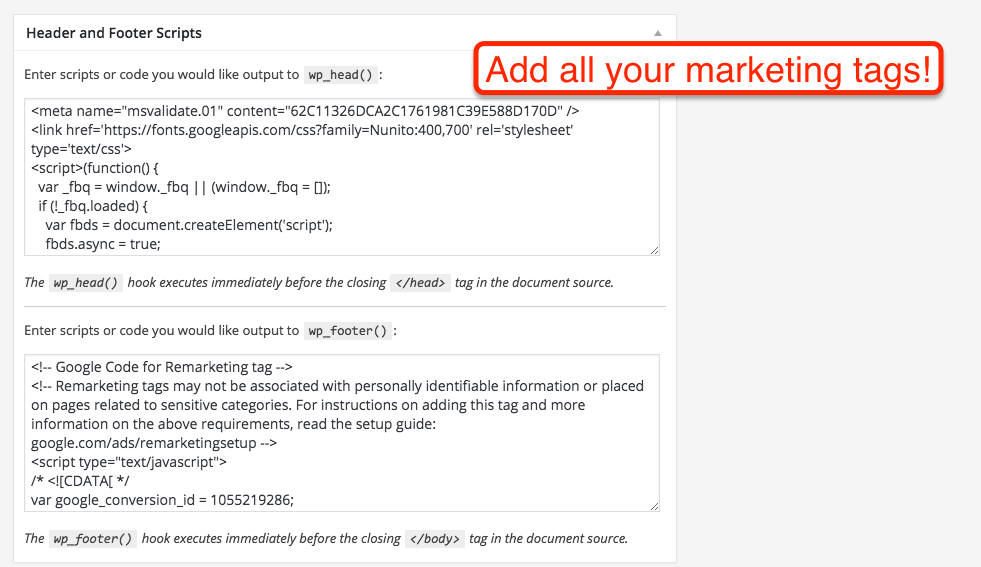 With a self-hosted site, you have access to a much wider selection of WordPress plugins.
You can add custom Javascript to your WordPress, which for many businesses is critical to modern digital marketing.
WordPress.com does not allow Google Analytics scripts, Facebook remarketing tags or any sort of social sharing outside of WordPress.com's built-in services and their Business Plan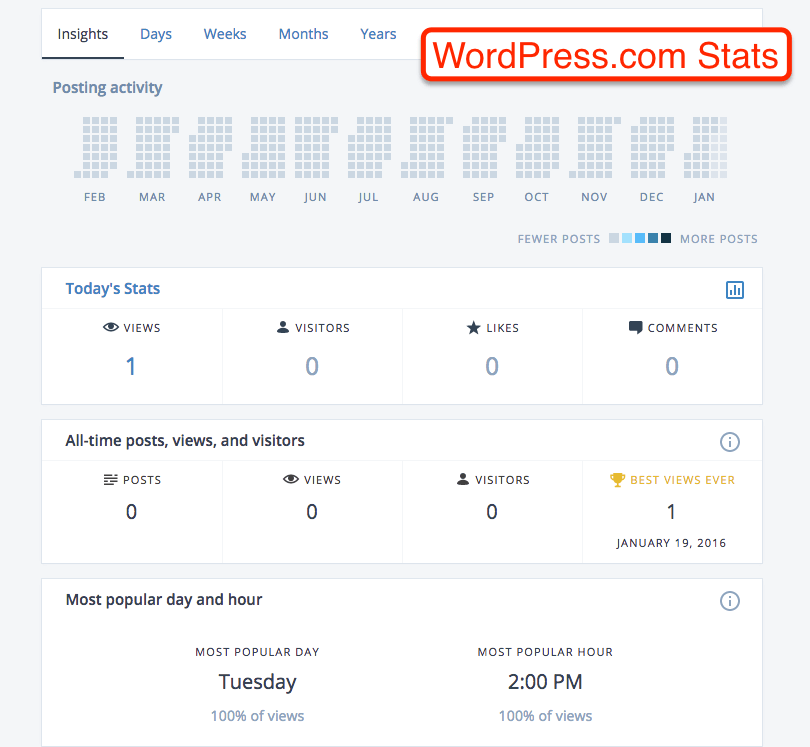 On the flip-side, WordPress.com users also don't have to worry about security or speed plugins. You don't have to worry about keeping plugins updated – or with hackers targeting your installation.**
**With their Business Plan, you can install some vetted 3rd party plans, which provides some of the advantages of self-hosted WordPress.
Other Notes & Considerations
One great thing about self-hosted WordPress and WordPress.com is that they are both WordPress-based.
That means that you can migrate content much more easily than you can come from Blogger, Weebly, Wix, or any of the other hosted website builder services. If you have no money but lots of ideas, starting with a free WordPress.com account is not a bad choice at all.
If you take that route, just keep your long-term goals close at hand. If you want to build something that you own – you need a domain registrar first and foremost. Any links, shares, etc – or "brand equity" that you get for a youraccountname.wordpress.com goes to WordPress.com – not you.
When you do migrate your content, make sure that you keep the same URLs or implement redirects to help Googlebot find and re-index your content.
On the flip side – if you are on WordPress.org but find yourself jealous of WordPress.com's services and community, you can look into installing the JetPack plugin.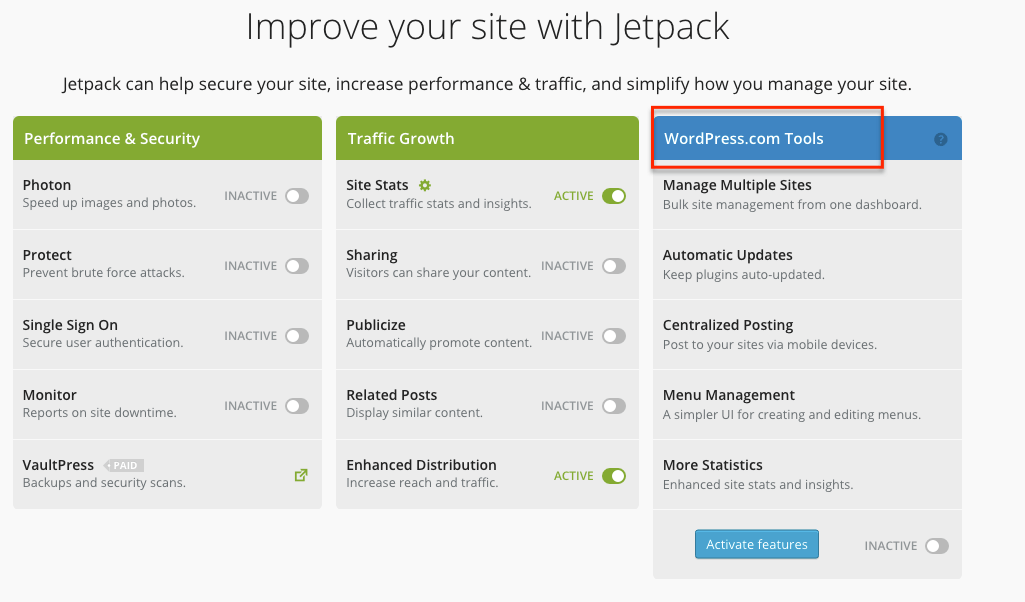 JetPack is a free plugin for self-hosted WordPress websites that pulls in lots of features normally meant exclusively for WordPress.com users. It's a great way to get the best of both worlds.
WordPress.org Hosting
If you are using the WordPress.org version of WordPress then you need to find a possible WordPress Hosting provider. WordPress hosting can be different than web hosting. There are many web hosts who are dedicated to WordPress only. Here is a list of web host that focuses on hosting WordPress.
Next Steps
If you are deeply investing in a project (both with money and time learning), then you should just set up your own self-hosted website with WordPress. You'll get more flexibility at lower costs (even if you pay a bit more for backups and security checks). I wrote a guide to set up WordPress from scratch.
If you are focused solely on publishing or want the versatility of WordPress. Plus you want everything technical else handled for you – then go with WordPress.com.
Either way – be sure to pay for a custom domain or get the Business Plan.
If you are running a hobby or small personal project with zero budget, then, by all means, get started with WordPress.com. Look into adding a custom domain and migrating to a self-hosted site as it grows.