| | |
| --- | --- |
| Support | Live Chat, Phone & Knowledge Base |
| Uptime | Good (99.98% past 6 months) |
| Guarantees | Uptime |
| Free Migration | |
| Best For | No-Nonsense Web Hosting |
| Strengths | Lots Of Storage |
| Weaknesses | Costly Compared to Other Hosts |
| Promotion | None |
What Is Web.com?
Web.com is a web hosting & website builder brand owned by Newfold Digital. They are one of the largest and oldest brands in the industry. Newfold Digital also owns brands like:
Along with Bluehost and GoDaddy, they have some of the highest brand recognition in the general public due to their huge investment in TV, radio, billboard, and traditional advertising. In Atlanta, I'm pretty sure they've bought a significant portion of the bus stop ads. They also sponsor the 2nd tier, professional golf league, in America.
That kind of offline advertising plays to their core marketing message as the one place to get your website, online marketing, and everything to go with it. Though technically speaking, Web.com offers only entry-level hosting & a DIY website builder application with upselling marketing services.
Due to my skepticism from their offline ads, I've never previously tried Web.com. But after a friend asked about them, I decided to give them a try with a small trial website.
Here's my Web.com Hosting review – structured with pros & cons based on my recent experience as a customer.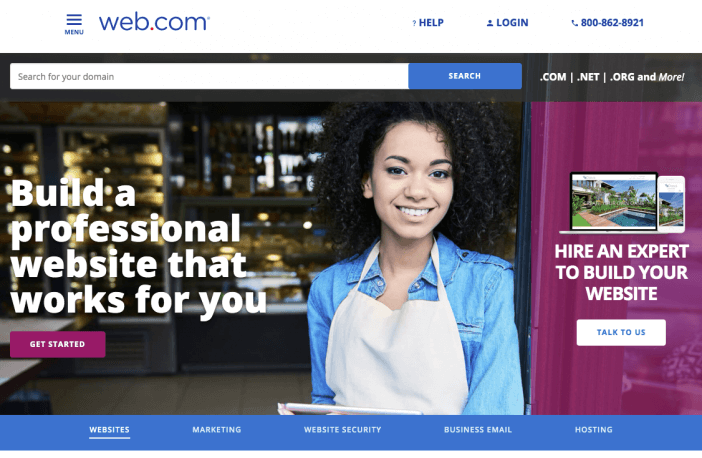 Web.com Pricing
| Plan | Essential Hosting | Professional Hosting | Premium Hosting |
| --- | --- | --- | --- |
| Price* | $5.95/mo. | $7.95/mo. | $9.95/mo. |
| Websites | 1 | 1 | 1 |
| Storage | 300 GB | 500 GB | unlimited |
| Bandwidth/month | unmetered | unmetered | unmetered |
| Free Domain Name | 1 year | 1 year | 1 year |
| Free SSL | | | |
| CDN | | | |
| Dedicated IP | | | |
| Daily Backups | | | |
* Pricing per month for a 1-month subscription
Web.com Alternatives


WordPress.com Review
Rating

8.0/10

Price

FREE - $59 per month

Promotion


Wix Review
Rating

9.0/10

Price

Free - $49+ per month

Promotion


Squarespace Review
Rating

8.5/10

Price

$12 - $40 per month

Promotion
Pros of Web.com
There are a lot of Web.com reviews online – usually with user-generated reviews based on anecdotes and personal experience. That's fine but I take a different approach. Like I've said in other hosting reviews, there is no such thing as a "best" web host. The "best" is the right fit for your project based on your goals, budget, experience & expertise. Just because one company is not a good fit for you does not mean it's not a good fit for someone else.
Web.com is different.
Web.com's only pro is that it works alright for someone who wants a very basic drag and drop type website even though they have the money for something better.
The best analogy for Web.com is a Burger King that charges hipster all-organic burger restaurant prices. On one hand, they are technically providing something that works, but you would never use it if they didn't advertise everywhere playing on very specific marketing messages.
Even for "meh" companies, I try to pull out some reasons to choose them over others. But I really could not find a single reason to use Web.com.
Every potential advantage turned out to be an illusion.
For example, they appear to have solid discount pricing, but it auto-renews at very high rates. Their speed & performance appeared to be great, but they have very low memory limits and resources (so performance is only good on very small sites).
They have phone support – but have awful DIY customer support (and their phone reps focused more on upselling than answering my basic questions).
If you are curious about the details, I'll cover more in the cons section below. Or you can skip to the conclusion and next steps for alternatives.
Cons of Web.com
More than many web hosting services, Web.com has disadvantages. Here are the cons that I found while using Web.com for hosting.
Pricing
Web.com markets itself as a one-stop-shop to get your website online. They offer free website help and a free website builder – you only have to pay a single low monthly rate.
Their one-month introductory rate (for the website builder product) looks attractive at $1.95/mo – but it has a major asterisk.
It escalates to $22/mo after the first month and rapidly gets even more expensive with add-on after add-on. That $22/mo is more expensive than even the most expensive website builder plans out there – where you would at least get a better-hosted website builder – like Wix or Weebly.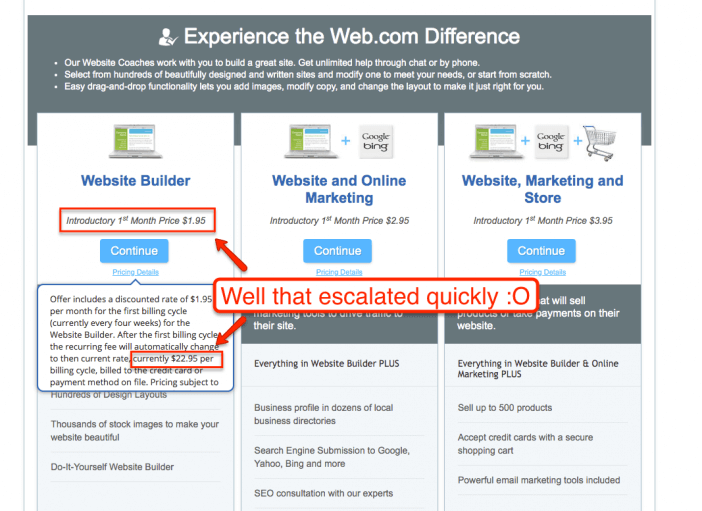 If you dig through their website offers and try to sign up *only* for hosting to install WordPress or some piece of website software, you'll get pricing that is somewhat more competitive. However, it is still more expensive than the most expensive brand name hosting, and much more than affordable starter hosts.
Aside – even their domain names are absurdly overpriced. They sell a "free" domain name with purchase, but that same domain name will renew at $37/year….compared to $14.99 yr w/ GoDaddy and/or a typical web host or $10/yr with Namecheap.
Plan Structure
When you buy any product that helps you create a website, a core part of the plan is hosting (ie, a place for your website files to "live").
Most hosting companies either sell the hosting with complimentary website building tools or they will sell everything as a package.
Web.com takes both approaches. They charge different prices depending on what approach you choose, even though you are getting the same thing in the end (hosting with built-in website builder tools).
For example, Web.com sells a DIY Website Package. It includes hosting and a website builder. It's $1.95/mo and goes up to $22/mo. They also have Hosting plans under Other Products. These plans also include the Website Builder tool, but start at $5.95/mo and renew at $12.95. In other words – the same product, different names, and different pricing.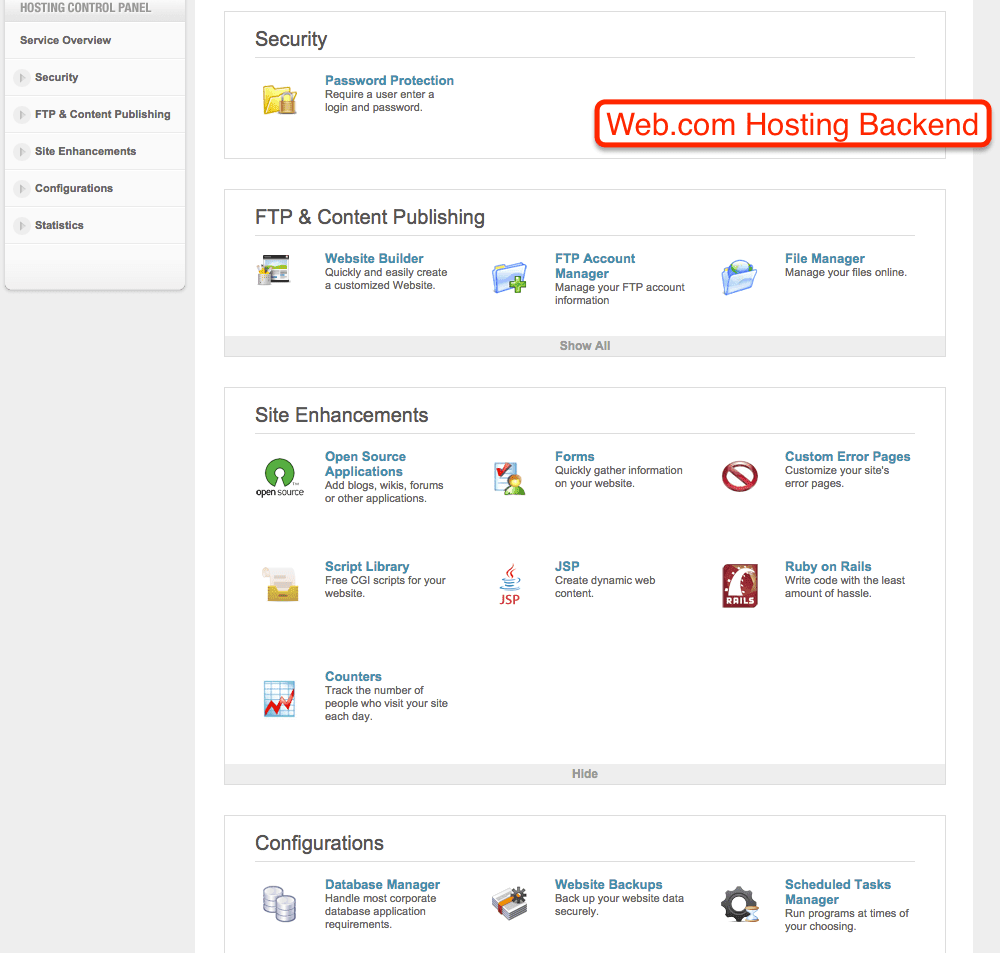 Note that in the 2nd image – I have access to the website builder even though I bought a regular hosting package…not the "website builder package."
I called customer service about this discrepancy (I was thoroughly confused about what I had signed up for) – and she confirmed. They have different prices and different packages depending on the "customer's feature focus."
Either way, their hosting plans have low caps for databases, disk space and domains, and email addresses on every tier – including the Premium Hosting level. These caps mean that you are limited to on how you can expand your site – or add new microsites.
User-friendliness
To be fair to Web.com – there might be some value in offering packages that sell simplicity or hosting plans with low caps. Not everyone wants to compare different plans or look for more features when basic features will do fine.
However, if you are selling simplicity, your process should actually be simple. Web.com's sign-up process, their backend and their tools are only "user-friendly" in a 2006 sort of way.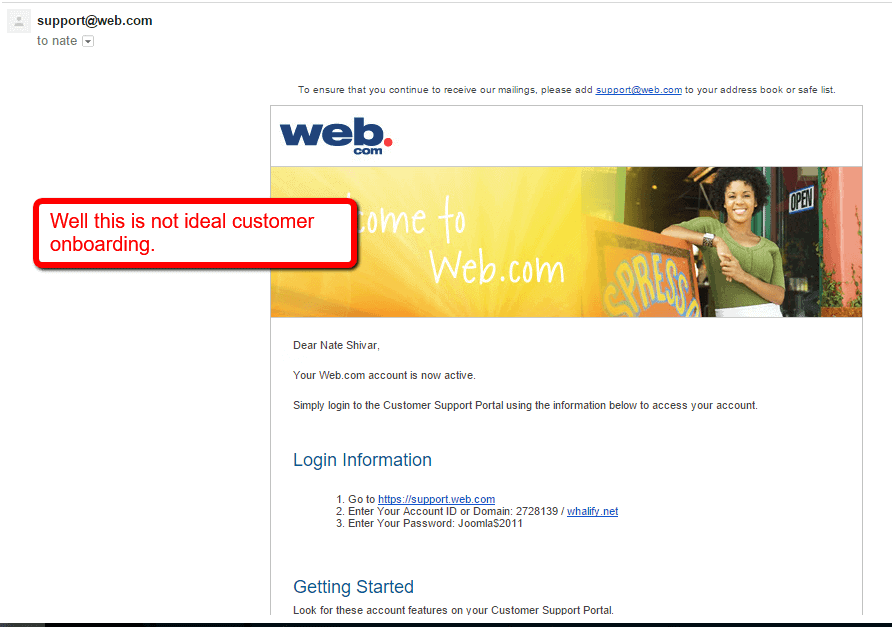 In fact, many parts of their sign up process and website setup process seemed so user-unfriendly that it forces customers to call customer service…who then upsell whatever else Web.com offers.
Here's what their backend looks like –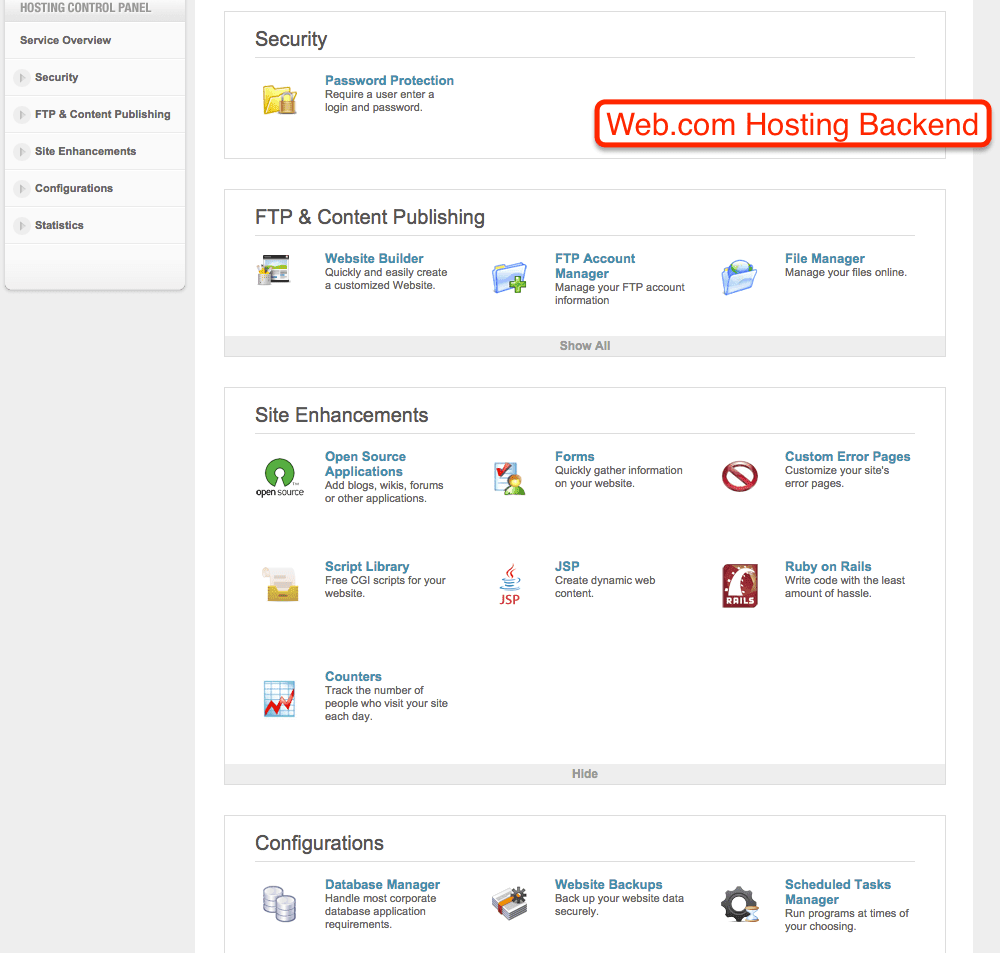 Everything about their backend is proprietary to Web.com (unlike an industry-standard backend like cPanel) – so you are stuck looking through their help documentation or calling customer service again.
Additionally, their user-unfriendliness even goes to their cancellation process. When I needed to cancel an account – I couldn't do it. The system forced me to call customer service where I had to discuss my reasons with a rep while listening to several sales pitches.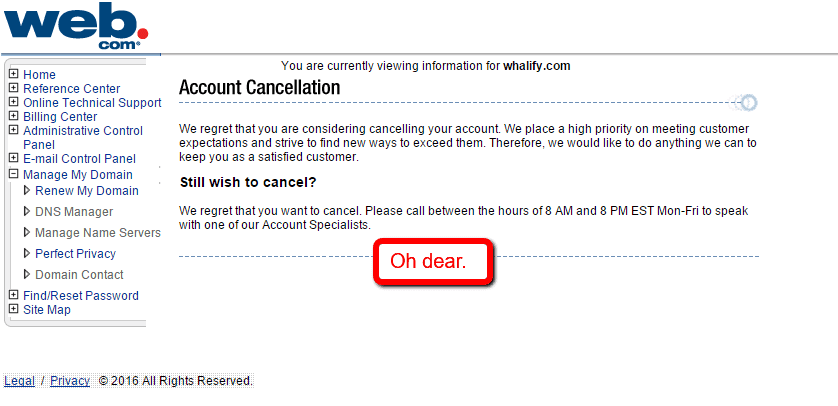 Lastly, not only is their sign up process and backend user-unfriendly (and ugly), it also hides a lot of features that some DIY customers want access to – which leads to the next major disadvantage of Web.com.
Backend Features
Although Web.com claims that they offer a full spectrum of support for programming languages and website software (like WordPress) – I found the actual backend features to have a few problems.
First, the backend hides basic server information. If your domain is registered somewhere like GoDaddy or Namecheap, you need to point the DNS nameservers to Web.com. This process tells visitors' browsers who type in your domain name to go to Web.com's server (where your website lives). Web.com's DNS information is available only via customer support.
And that's just the start – little things like MX records (you'll need those to set up Gmail) and software versions were maddening to find.
Second, once you find the software, it may or may not work or provide the options that you need. For example, Web.com advertises a "one-click WordPress install" like other hosts. They have it, however, it failed the first two times that I tried to run it. Additionally, you cannot install the software in the "root" folder of your account – which means that you can only install WordPress in a subfolder of your website (ie yourwebsite.com/blog instead or yourwebsite.com).
This means that, in practice, that if you want WordPress to power your entire website, including your homepage, you have to do a manual install of WordPress. Their auto-install only works on subfolders.
Aside – I tried to do a manual 5-minute install of WordPress but gave up after the Web.com database creator kept dying on me.
Another example is tracking scripts for their website builder product. The only script that you can place is Google Analytics. Google Ads conversion tracking, Facebook retargeting, Google Search Console tags, Pinterest tags, etc – none are readily available the way it is with most website software.
Third, Web.com dedicates precious few resources to the applications that you can install on the backend. I would not be able to run a feature-heavy website on Web.com. For example, if you wanted to add a small eCommerce store with lots of imagery to your WordPress website, you would struggle with performance. The same issue would hold for installing a Listserv or any kind of app. Here's a screenshot of a speed test of a very small site –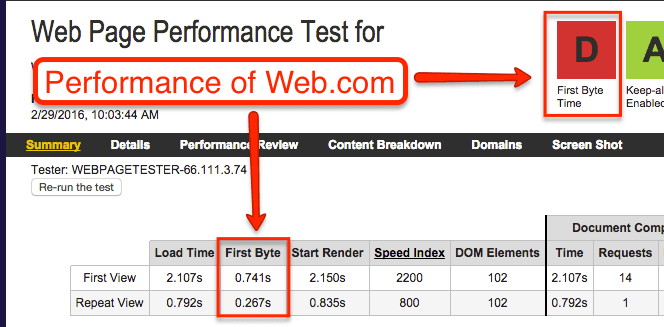 Customer Support
Like I mentioned in other hosting reviews, calling customer support / service as a pro or con is tough. Only people inside the organization know if customer service is seen as a cost or an investment.
Outside of the company, customer service reviews usually devolve into "they are horrible because I had one bad experience" or "they are wonderful because I had one great experience" – neither of which is very helpful.
Instead, I like to look at customer support's availability and how the company invests in customer support infrastructure.
Even though my customer service conversations were pleasant, Web.com seriously fails on both measures. Their customer service works only a little outside US business hours. They route almost everything via phone, though they do have a ticket submission option in their backend.
There is very little DIY customer support. There's no forum section, chat, knowledgebase or help center at all. It looks like any investments that Web.com has made have gone to their phone support…which is heavy on the upsells once they solve your problem, which leads to the last disadvantage.
Upsells & Messaging
Upsells are not inherently bad or annoying. They provide options for customers that want them, and keep prices low for everyone who doesn't want them.
However, Web.com does two things wrong with upsells. First, they appear at nearly every opportunity instead of only when I'm looking (say at checkout or in an upgrade section).
Second, their messaging for many upsells is oversimplified. It is possible to oversimplify to the point that you are lying at worst or misleading at best. Web.com comes awfully close with their upsells.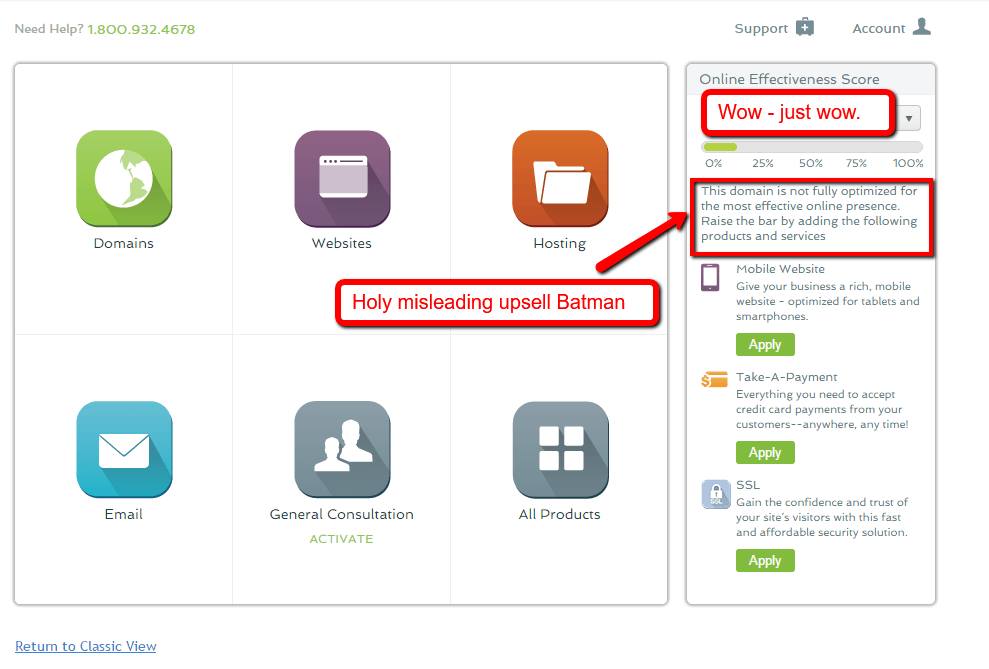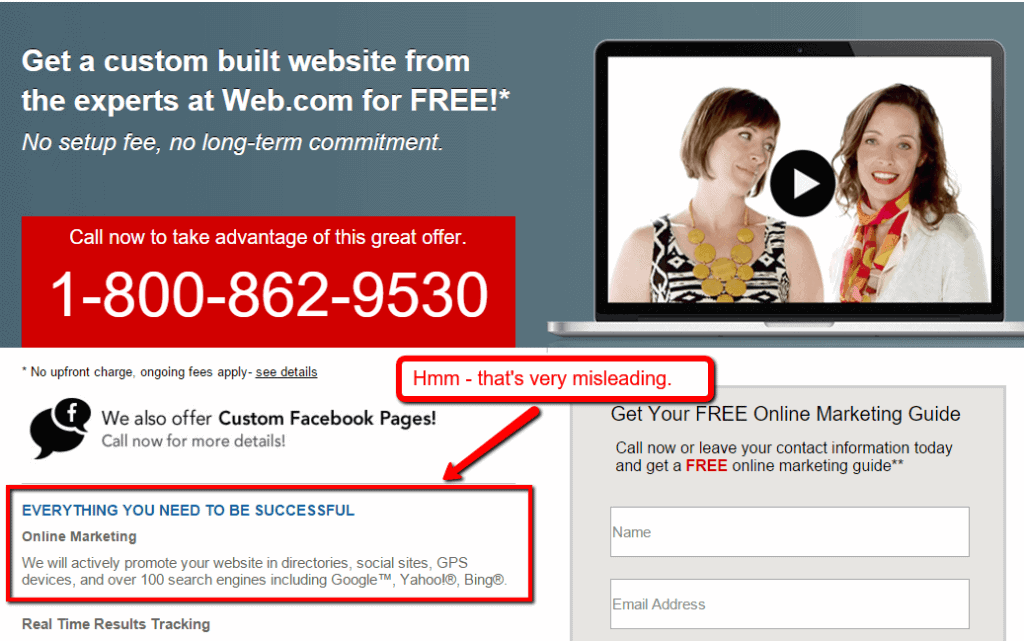 Their SEO upsells preach features that haven't mattered since 2002 (you do not need to "submit your site to Google" and directories are not a silver bullet). Their SSL upsells do not provide any context. Their security and backup upsell makes me wonder what is part of their actual plans.
The combination of oversimplified, overpriced upsells pitched at every random opportunity is both annoying and causes me to question who they are really looking out for.
Conclusion & Next Steps
Overall, I was thrown at just how bad Web.com was. I figured that any company that spends so much money on offline advertising must have a different business model than most competitors, but Web.com really sets a new standard for an expensive low-value product.
If you are still sold on Web.com, go check them out.
If you are looking for an entry-level hosting company with excellent pricing, product, and service, then I'd recommend checking out Web Hosting Hub. You can also check out HostGator if you want cheaper plans and the option to pay monthly. Learn how to set up a website with them here.
If you are looking for an all in one drag and drop website builder, then I'd recommend checking out Wix (review) or taking my website builder quiz here.
If you are looking for an all-in-one eCommerce platform, then I'd recommend checking out Shopify (review) or taking my eCommerce platform quiz here.