| | |
| --- | --- |
| Support | Help Desk, Live Chat, Knowledge Base & Social Media |
| Uptime | Good (99.98% past 6 months) |
| Best For | Personal & Organizational Websites |
| Strengths | Low Cost & Great Onboarding |
| Weaknesses | Lack Of Advanced Marketing Tools |
| Promotion | Get Started For Free |
There are seemingly thousands of different ways to build a website now. Wix is one of the best-known brands in the website builder world.
They've been around for quite a while (circa 2006). Until 2018, they built their brand on word of mouth and ease of use.
Post-2018, they've accelerated that growth with Super Bowl ads, sports sponsorships, and more. I recently had a small project, and a reason to try out many different drag-and-drop website builders. I gave Wix a try to see how they fit. Here are my pros, cons, use cases, alternatives, and full Wix review.
But first, a bit of an overview of general website builder considerations. There really are more than a thousand ways to get what you want in the end (aka someone to type in a website address and see your information in their browser). Technically to create a website, you just need a text editor to hand-code an HTML file.
But most people choose a solution on a spectrum based on their skill, time, and goals. The spectrum ranges from all-inclusive (ie, "we do everything for you, but also control everything) to 100% DIY (ie, "you do everything, but it's quite complicated").
Whether you are building a simple personal website or running a business, the way you build your site has a lot of consequences now & in the future.
In the long-term, it affects your versatility, functionality, and, of course, your brand. In the short term, it can certainly add or take away a lot of headaches.
That said, just like choosing a physical house or office, there is no such thing as an absolute "best" or "top" choice. There's only the right choice relative to your goals, experience, and circumstances.
What Is Wix?
On the wide spectrum of website building solutions, Wix lives on the website builder end that is more all-inclusive. You build your site on their software with their tools. Your website lives on its servers. You access your site via the Wix admin panel, not via FTP or a server dashboard. It's in contrast to solutions where you buy, install, and manage all the "pieces" such as hosting, software, plugins, and templates of your website separately.
Like other popular website builders, using Wix is sort of like leasing and customizing an apartment in a gated development instead of buying and owning your own house. You are in control of decor, cleaning, and everything living-wise – but you leave the construction, plumbing, security, and infrastructure to the property owner. That point is key because there's usually a direct tradeoff between convenience and control.
As far as direct competitors, Wix competes directly with all-inclusive website builders like:
Those all-inclusive options as a group compete with options like self-hosted WordPress (which provides the free software to build a website that you own & control on your own hosting – see my WordPress setup guide) to self-hosted builders like GATOR and Website Creator to options like typing actual HTML code into a text file and uploading it directly to a server.
Is Wix Safe?
Yes – Wix is safe to use. Wix is a publicly traded company that operates globally with well-established legal, privacy, payments, and product standards. There are plenty of fly-by-night or amateur-run website builders. But Wix is not one of them. They have downsides & tradeoffs, but a solid upside is their safety & reputation.
Is Wix Free?
Wix has a free plan, but only if you use a Wix subdomain (e.g., yourwebsite.wix.com). You also have to display Wix ads and have limited functionality.
To use a custom domain and have full functionality, you have to pay for a premium plan. It's great for a short-term or temporary project…or to simply try Wix out before upgrading.
If you are looking for a free website builder option, you could also explore these WordPress hosting options. This review will explore Wix's full product suite with a focus on anyone building a full, public-facing website.
Make sense? Awesome, let's dive into the Wix review.
Wix Pricing
Wix offers a free plan if you don't mind having your site address structured http://yourwebsite.wix.com/yourwebsite. Their only caps are around file storage and features – not around pages or page types. Their paid plans aren't outstanding on pricing (they are actually a disadvantage listed here shortly), but they are competitive enough for many businesses who care more about the done-for-you part over counting a dollar here and there. Read my full explainer on Wix's pricing and plans.
| Plan | Combo | Unlimited | Pro | VIP |
| --- | --- | --- | --- | --- |
| Price | $14.00/mo. | $18.00/mo. | $23.00/mo. | $39.00/mo. |
| Storage | 3 GB | 10 GB | 20 GB | 35 GB |
| Bandwidth/month | 2 GB | unmetered | unmetered | unmetered |
| Email Accounts | - | - | - | - |
| Dedicated Domain | | | | |
| Free Domain Name | 1 year | 1 year | 1 year | 1 year |
| Free SSL | | | | |
| Display Ads | | | | |
| Analytics | | | | |
Their plans allow you to get a site up quickly with no technical fuss and everything bundled and provided for you.
Their tiers are reasonable – though it is worth paying close attention to the caps and whether you actually need the bonus features (ie, more Video Hours vs using YouTube or Wistia).
All plans have tiered discounts for the longer that you sign up.
Helpfully, they give you the "true" price upfront and show the discount after you select the plan.
There are four tiers of Wix website plans.
Free Plan
Wix allows anyone to sign up for a free Wix plan. You get full access to the Wix Website Builder including the Wix Editor, Wix App Market, a free Wix template, Wix support, and 500MB of storage.
The primary limitations are –
you are capped at 1GB of bandwidth per month (instead of unlimited bandwidth)
you are limited to a domain in the form of: username.wixsite.com/siteaddress
you must display a Wix ad on throughout your Wix site
Combo Plan
Wix's Combo Plan has 2 GB bandwidth and no ads on your website. It provides the full benefits of the Wix platform with 3GB of storage. It also comes with a free custom domain for a year, so that you can get a yourwebsite.com address.
Unlimited Plan
Wix's Unlimited Plan increases storage space compared to the Combo Plan, but also adds on a few premium Wix apps and $300 in ad vouchers. I'd recommend looking carefully at whether you'd actually use these benefits. I think it mainly comes down to storage space.
Pro Plan
Wix's Pro Plan increases storage space compared to the Unlimited Plan, but also adds on a few more premium Wix apps. It also includes automated logo creation. I'd recommend looking carefully at whether you'd actually use these benefits. I think it mainly comes down to storage space.
VIP Plan
Wix's VIP Plan increases storage space compared to the Pro Plan, but also adds on priority customer service. I'd recommend looking carefully at whether you'd actually use these benefits. I think it mainly comes down to storage space.
Business Basic
Wix's Business Basic plan has all the features for a, well, basic eCommerce site. It does not include Subscriptions or multiple currencies.
Business Unlimited
Wix's Business Unlimited plan adds subscriptions, more storage, advanced shipping, and the ability to collect user reviews.
Business VIP
Wix's Business VIP plan adds the ability to sell on marketplaces, along with custom reports and a significant jump in USPS discounts and automated sales taxes.
Wix Alternatives


Squarespace Review
Rating

8.5/10

Price

$12 - $40 per month

Promotion


Weebly Review
Rating

8.0/10

Price

Free - $26 per month

Promotion


WordPress.com Review
Rating

8.0/10

Price

FREE - $59 per month

Promotion
Pros of Wix
Here's what I found to be the pros of Wix – not just in comparison to Weebly and Squarespace, Wix vs. Squarespace, or Wix vs. WordPress, but also as an overall online website solution.
Wix has historically been disliked by professionals while remaining the go-to "simple" solution for DIY website owners. In the mid-2000s, they led the way with an easy, intuitive drag and drop builder that was also built with Flash – a technology loathed by everyone from Steve Jobs to every professional marketer that I know.
They have since moved off Flash and significantly invested in their platform with a focus on built-in marketing tools and the specific needs of DIY small business owners.
As we'll see in the cons section, professional marketers will still have significant reservations about Wix.
However – in some ways that miss the main pro about Wix – they are investing in being simple and easy for the DIY website owner who just needs something that works.
If Wix were a meal – they would not be a $30 brick oven pizza with custom ingredients at a sit-down restaurant. They would be a made-to-order delivery pizza. That's not a good or bad thing. But it is something to know when figuring the best fit for you and your business.
Site Configuration & Onboarding
Wix's backend and overall design are functional at the core. But they've also cleaned up many of the edges to make it "prettier" while retaining a wealth of functions on a single screen.
But – it is simple and fairly intuitive. When they talk about drag and drop, they literally mean you drag and drop elements wherever you want them. They have tools, templates, and guidelines to help you design a site that you not only build but also literally see come together as you imagine it to look. Here's a bunch of Wix website examples to explore.
Figuring out design, pages, navigation – all the basic elements of a website are straightforward to configure. If you're going the website builder route, that's exactly what you're looking for.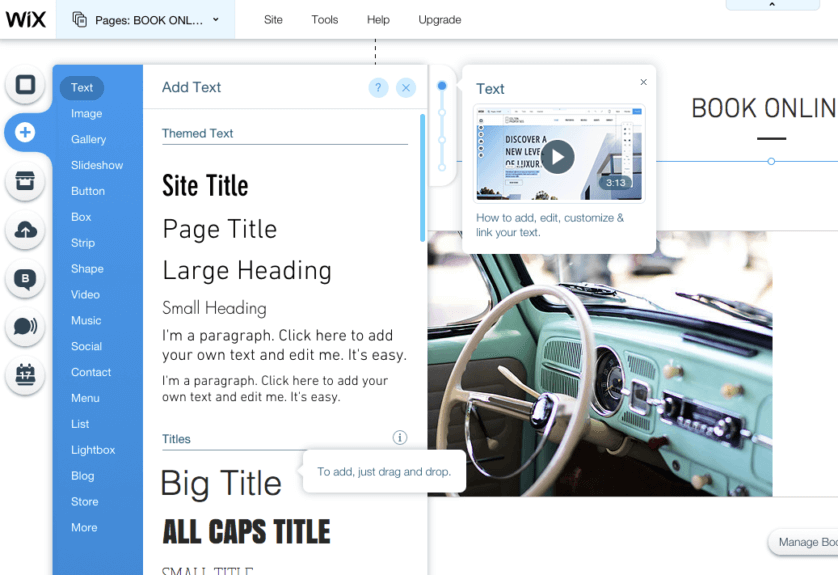 Now – as you can see, it has an element of overwhelm due to all the options. However, they do a fairly good job getting you started from a good place, rather than from scratch.
That's because Wix's onboarding is also pretty solid. They immediately start your account on an email training sequence and guide you through design choices.

Additionally, Wix has a solid mobile experience, so that you can actually get your design started on a mobile device and worry about doing the finishing touches later.
Wix's Design Templates
In the past year, Wix has done a good job upgrading its designs & theme selection. When I tried them last year, their themes were fine but very 2010-ish.
While not quite up to Squarespace's designs, Wix has a solid selection of modern themes. And unlike Squarespace, most do not require giant, professional photos to look good out of the box.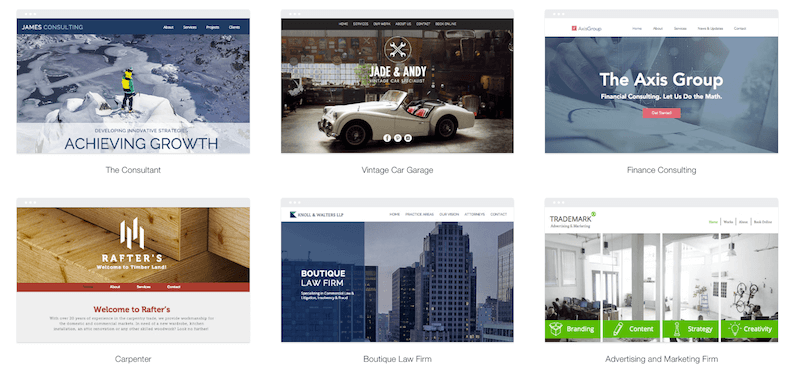 In the last year, Wix has introduced a new "Artificial Design Intelligence" that handles a lot of the manual work of designing a site with an algorithm. It makes designing a site even faster. Here's the product pitch.
Wix's design approach is a major advantage to its platform.
Additionally, their designs take care of both responsiveness (ie, they adapt to the device) AND accessibility (ie, they adapt to the user's browser – especially if the user has a disability). These two features are important since most DIY website owners don't have the time or knowledge to test & patiently edit site designs. Wix takes care of it for them.
Speed & Security
All Wix websites are hosted on Wix's servers. That means a few things. It means, of course, that the servers are optimized for Wix websites. Professionals at Wix are in charge of making sure your site stays fast. It also means that professionals are in charge of securing your site. Here's my speed test: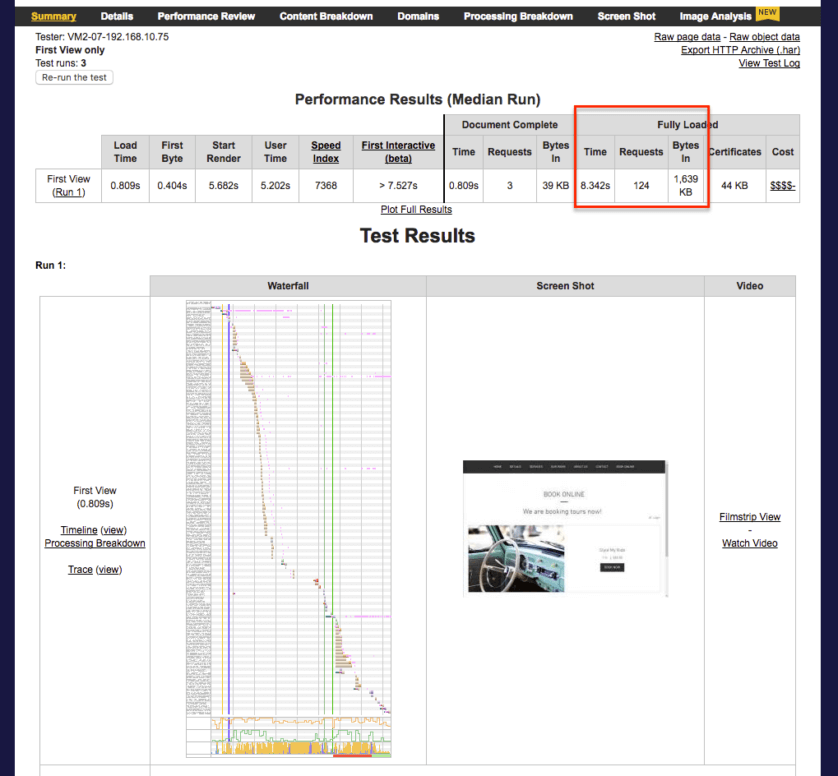 Wix's sites run off lots of Javascript. So their speed tests are a bit different than others. Their sites respond very quickly, but also take a while to fully load. Many professional developers are not fans of the approach, but for an average user, the sites appear fast. And in many ways – that is what counts.
And most importantly, the sites stay secure and they rarely, if ever, "go down." You don't have to worry about caching, CDNs, salts, or patches – which is really the core speed & security offering. Running a fast website can be straightforward, but if you are a contractor or business person, sometimes you just need something to work so that you can move to more important business matters.
Customer Support & Knowledgebase*
Like speed & security, Wix websites have the advantage of being an all-in-one solution. If there's a problem, it's on Wix to fix it. There's no tracking down the root problem or figuring out who or what is at fault.
When something is wrong, or when you want to edit something, you can get in touch with customer support. Wix does support via Knowledge Base, Phone, and Email Tickets. Since they run a proprietary platform, they can actually solve any problem you have.
*Aside – the "fine print" here is that Wix can solve any issue that is within their control to solve. I have received many emails about how Wix couldn't help them…but it was usually due to the fact that they had an edge case where Wix simply couldn't offer a solution. Here's an example from my project –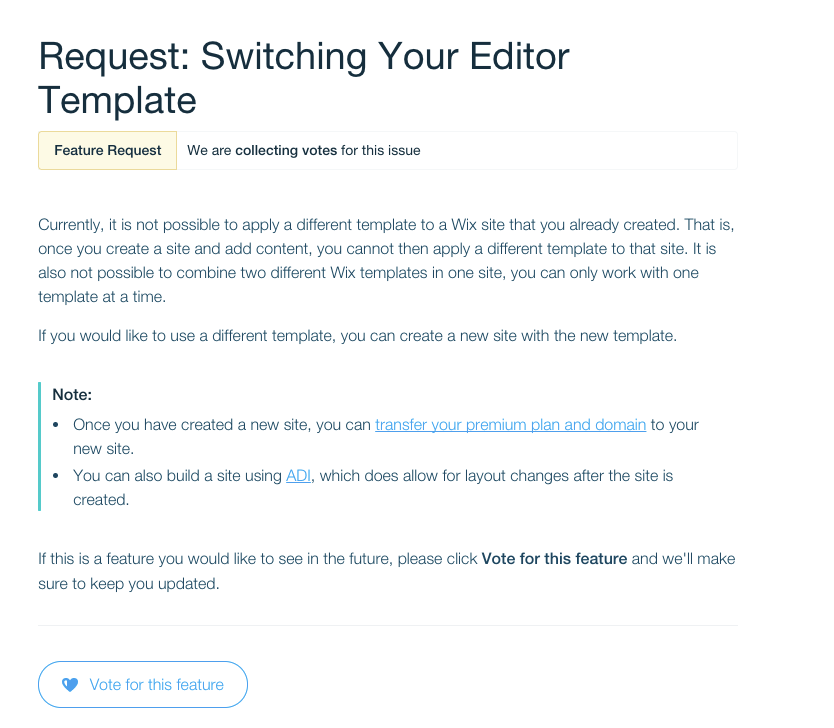 Wix was fast solving service issues like my domain connection issues. They also pre-empted many issues with built-in features like one-click SSL (which is much easier than self-installed SSL).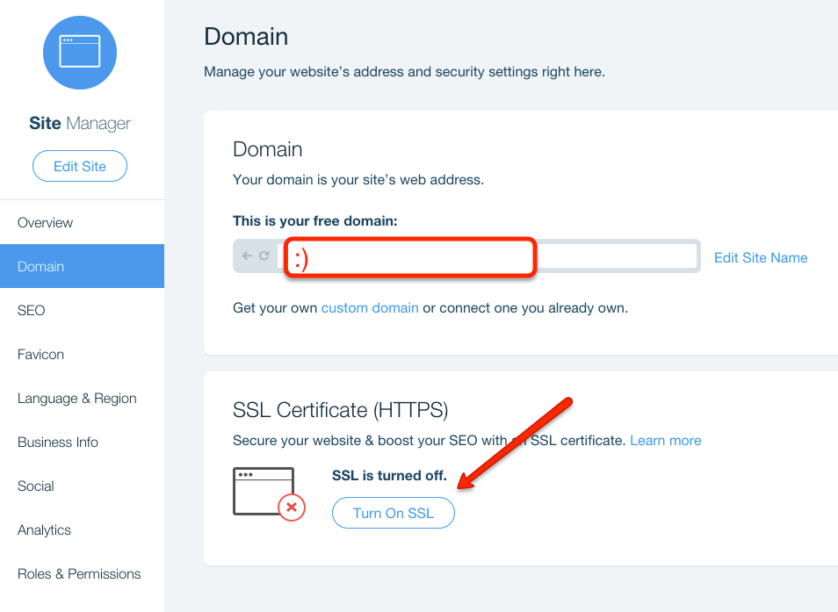 But when I reached an edge case for their platform (swapping a template directly from an already published site) – I was simply out of luck.
The point, though, is that their service is a pro – but you have to keep their inherent limitations in mind.
Business Customization
Wix is specific about its target markets and typical customers. They've done an excellent job "triaging" customers based on their business and building out custom templates and features for each market.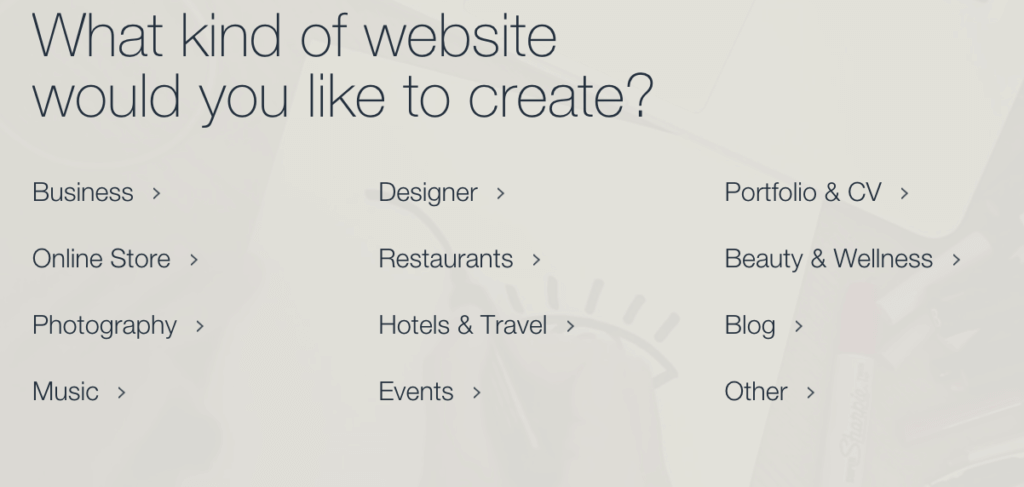 When you sign up for Wix, you have to choose whether you are a restaurant, band, real estate, etc. After your choice, your settings are preset along with featured templates. It makes a fast sign-up process even faster.
Product Investment
As I'll outline in the next section, Wix has some downsides. But, one thing that is different about Wix compared to many website builders is that they are a 100% independent, publicly-traded company exclusively devoted to website builders.
This means that they have every incentive to keep improving the product and make money as a website builder.
That point is important because, for many companies, their website builder is part of a product suite. So the website builder is only as important to the company as it is to the product suite – and has a risk of stagnating.
Blogger and Google Sites are premier examples of this situation. Both are excellent products that Google simply does not care about. Square (a payments company) recently purchased Weebly, so there's a risk there as well for turning Weebly into support for Square.
In my other reviews, I point out that it's important to understand how & why your service provider makes money so that you don't make a long-term decision around someone who doesn't care about you (ie, Facebook Pages!). Wix's independence and business model are a solid pro here.
Cons of Wix
But of course, no Wix review would be complete without looking at the disadvantages. Wix has come a long way since the days of their Flash-powered websites, but they still have some disadvantages – especially if you are working with a professional marketer or developer.
There are plenty of Wix complaints and lots of individual bad Wix reviews around the Internet. Some are justified and some aren't – but all are anecdotal. Keep in mind that the big picture tradeoff for Wix is their convenience is lack of total control and advanced features. That's not necessarily a Wix thing as much as it is a website builder thing. But within that context – here's some individual considerations I'd look at when deciding if Wix is a good fit for you.
Here's a summary from a HackerNews thread –
Everyone here is disgusted by it because, it is in fact disgusting from the perspective of a developer.

I spent a few hours with Wix earlier this year while needing to help a family quickly get a funeral site up they could hopefully have some chance of maintaining themselves. Getting started is actually pretty slick. The designer software is easy to use and gets a basic decent looking site up extremely fast.

Towards the end of the few hours I was hitting roadblocks left and right. Artificial limitations, edge cases not supported, things that could have been fixed on a real site trivially.

Still, what they've built, what it in turn allows pretty nontechnical people to build quickly, is impressive. I think it may have been possible to do better on performance and flexibility without compromising for other users. My guess is it's not mostly because they are just not obsessing on that part much.
With that summary – here's the specific disadvantages that I found**.
Note that this is all from the default setup – Wix has a new product called "Wix Code" – my take on that product is beyond the scope of this review. My disadvantages listed below are from the perspective of a small business owner who is looking to use Wix and might also one day call someone like me or a developer / designer friend to help with website marketing or development.
Long-Term Wix Pricing
Wix's plans start at 100% totally free, but it includes ads on your site, along with lots of limitations.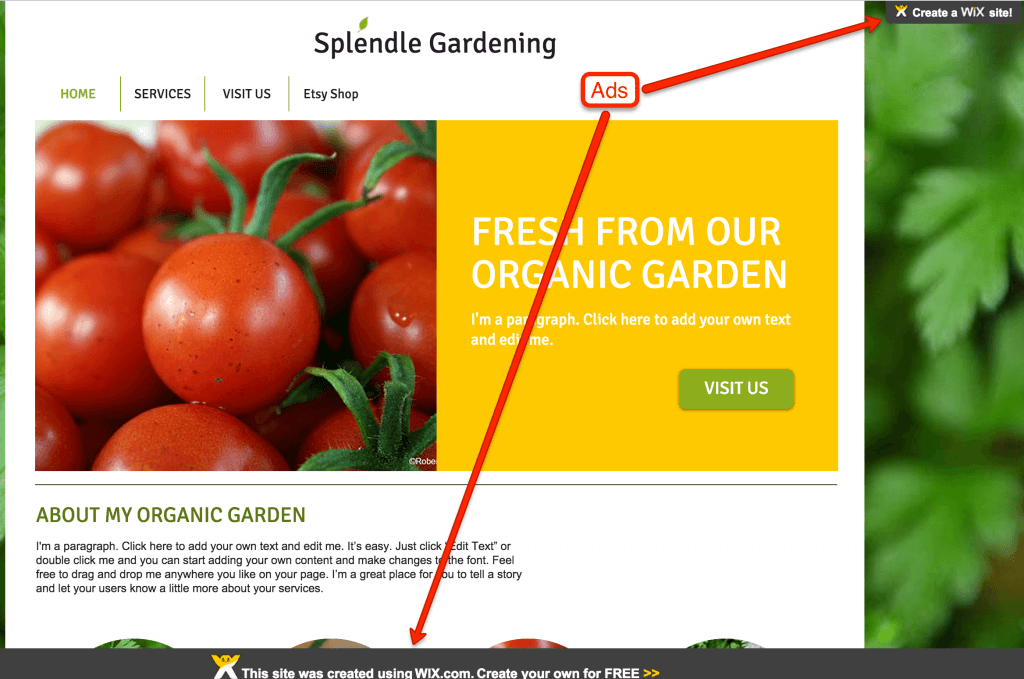 Their first paid plan starts at $13/mo, which is actually cheaper than you'd think since it includes a free domain for a year ($9/yr).
However, as their plans go up, they all remain more expensive than their main competitors:
They remain much more expensive than setting up your own website with WordPress on your own hosting. At each stage, Wix doesn't even allow unlimited bandwidth or file storage.
If you are using Wix for more than a few months, they are going to be a much pricier option than other site builders or buying your own shared hosting somewhere like Bluehost or Web Hosting Hub (which has a drag and drop tool for WordPress called BoldGrid) or HostGator's drag & drop builder tool.
Wix Editor & Design Functionality
The editing and page layout process also has a few intangibles missing. You can drag and drop anywhere…literally. This can be good from a control standpoint, but it can also be frustrating based on expectations.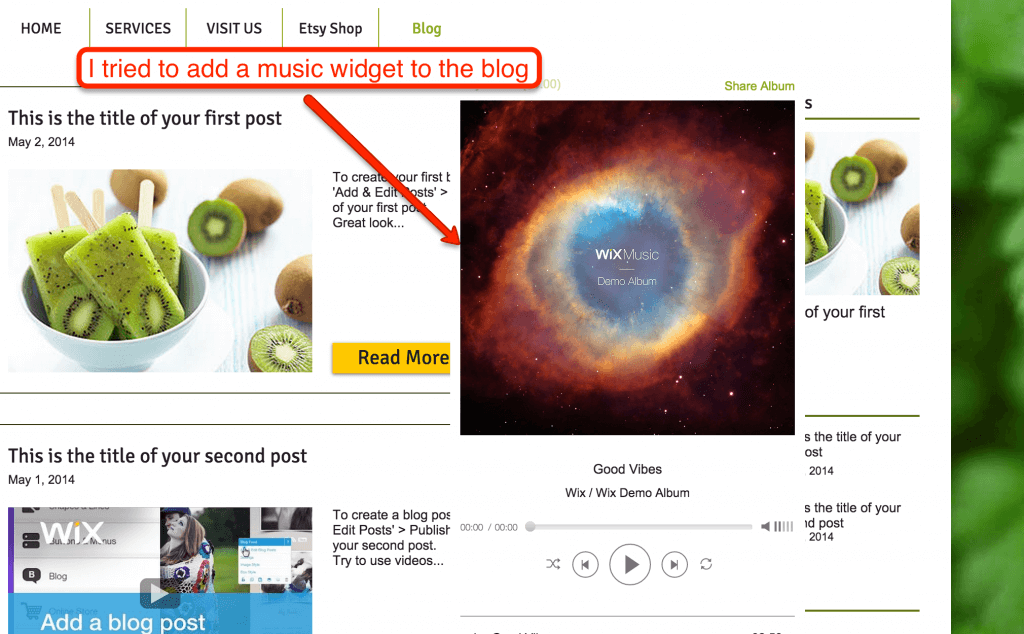 There are parameters, rulers, etc to keep you on track with your website design to a degree. But building a site still takes a bit of work and thought. They have plenty of templates available that go a long ways towards solving this pain point – and Wix has done a good job in the past year investing in their site builder.
In fact, they have invested a lot of money in the past few years in their Wix ADI (Artificial Design Intelligence). Wix ADI is a tool to help Wix users build a beautiful web design automatically based on inputs.
However, compared to their marketing material, I think some customers (like me) will be disappointed to see how much time and effort remains to get a project to be presentable.
Wix App Market & Extensions
Like other platform solutions, there are only so many features they can add natively to the platform. One solution to give customers the features they want is to open an App Store (aka Apple, Android, or Shopify).
Wix has opened a Wix App Market to provide access to compatible 3rd party apps for Wix storeowners. It's fine, but I found the apps to not be true apps. Instead, most of them were just iframes that were added to a new Wix page.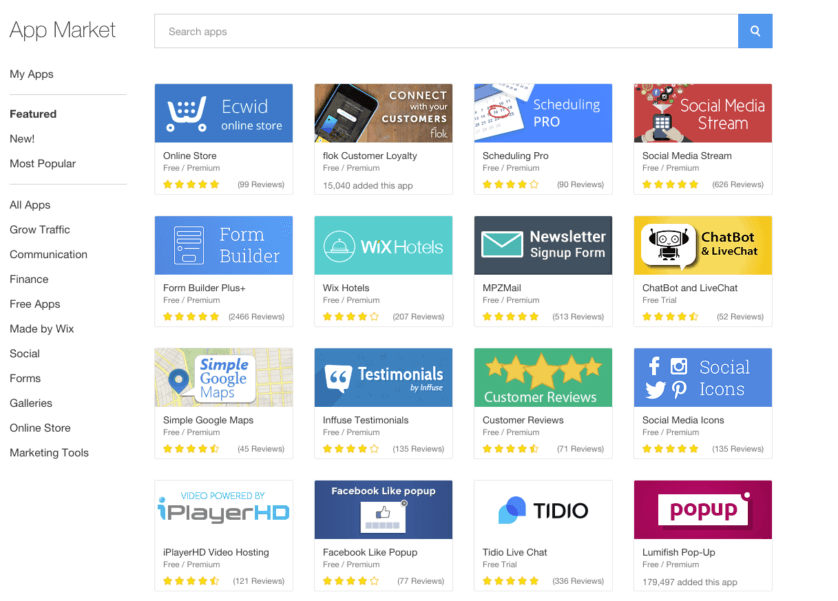 Over the past couple of years, Wix has expanded its selection of apps – which is great. For example, they have a Wix Booking app that makes reservations a breeze for appointment-based businesses. They even have a native forum app that is unique to them among direct website builder competitors.
But they still are not quite as seamless as I'd hoped.
For example, adding the Etsy app doesn't actually add Etsy functionality to your website. Instead, it adds an iframe (ie, a window) for people to navigate your Etsy store while staying "on your website".
Technically, it works. And technically, it is "easy" – you don't have to grab an embed code from Etsy and paste it in. You don't have to really do much to make the installation happen. However, Wix's solution is still not ideal. Ideally, you'd have an app that was easy to install and fully integrated into your site. You'd have apps that don't mess with your website analytics and don't present accessibility issues as they do via Wix's iFrame solution.
Technical SEO for Growing Sites
Wix has always been disdained a bit in the professional SEO community. Most of that has to do with their technical implementation years and years ago. Their sites used to use Flash, which was a complete bane of every SEO consultant's existence.
And even as recently as last year, this site heavily criticized Wix SEO for its crawlability and overpromises.
Over the past couple of years, though, a few things have changed.
First, Googlebot is *much* better at crawling and indexing websites.
Second, Wix has substantially improved its platform for search bot visibility. Here's an example of how they've reworked and clarified redirects.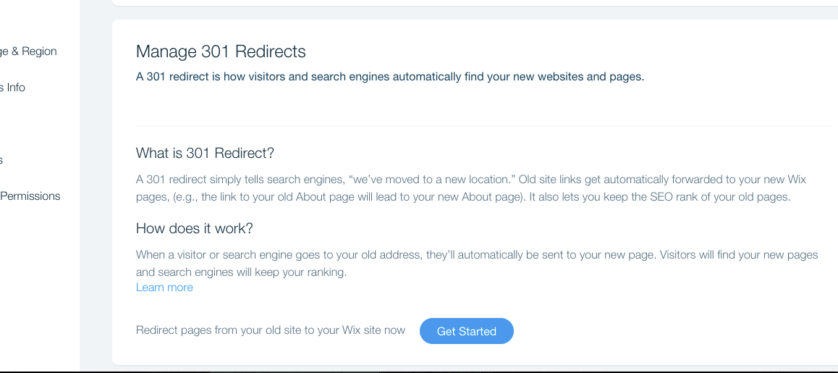 Third, the market needs for SEO have dramatically diverged.
And it's this third point that leads to a lot of confusion.
The SEO needs for a 5000+ product online store with international shipping are *very* different than the SEO needs for a flower shop in a small city.
This point was emphasized by John Mueller of Google in a Google Webmaster Help Thread. He says that "Wix websites work fine in search" and website owners should "look at the bigger picture."
Most website owners only need the essential (which Wix does provide), and really need more design help than anything (which Wix does provide).
From a professional standpoint, I would not use Wix for any of my clients because of a range of reasons too nerdy for this post. My clients usually work with either huge libraries of content (10,000+ pages) or huge product selection (10,000+ products). I'm looking at internal linking, crawl budget, testing HTML elements at scale, etc – stuff that's simply not relevant to most sites.
So from a DIY user's standpoint, Wix is great to get started with.
A local deli near me uses it – and they do great in their search results.
Why?
Because for them, the most important SEO factors they need to worry about are updated content (ie, their selection & menu) and their Google My Business connection. Wix makes that happen and that's all that matters.
The same goes for a small non-profit, or regional florist, or even a small university.
Again – SEO is not the end-all of any platform. But – Wix does have a serious disadvantage here for growing sites that depend on non-branded organic search.
If you generate new leads via word of mouth, referrals, social media, offline ads, etc – then Wix will be fine. People will be able to "find you with Google."
But if SEO is essential to your long-term marketing strategy or you are working with an SEO professional, then Wix will be an impediment.
Technical Limitations & Advanced Marketing Tools
Related to their technical SEO issues, but separate is Wix's technical limitations and advanced marketing tools.
Since again – Wix provides total convenience in return for total control over the platform, this disadvantage is built-in but worth calling out.
Wix has many built-in tools for small business owners – everything from CRM software to contact forms to appointment software to eCommerce and much, much more.
However, if you want anything that they don't have – adding any additional code to the site is difficult. There are advanced marketing features like Schema for events, music, business info, and reviews that they are adding at some point – but have not yet. Adding pixels, retargeting tools, custom share buttons, and custom email collection tools – all are either difficult or unavailable.
While Wix's tools are easy and useful for most customers – keep in mind that any advanced tools may be out of reach if you grow into them.
Data Export
Related to growing is what happens if you do need to move platforms. What happens to your data, designs, and content?
With Wix – there is no way to export your data. It's a bit like having all your furniture bolted to your house. If you move – you can't bring anything with you.
In the worst-case scenario, you'd have to scrape and/or manually copy-paste your data to your new site. But either way, Wix does not make it easy to leave. It is a feature that they are working on – but is not currently available.
The interim solution for any site owner is to simply have your data & intellectual property backed up (ie, content on Google Docs). That's a best practice anyway for whatever platform you use.
Wix eCommerce Addendum
Wix has business tiers (Business Basic, Business Unlimited & Business VIP), they offer Wix store functionality. An eCommerce store is nice to have if you are already on Wix and want to start selling, but I'd hate to call it full-fledged eCommerce compared to a brand like Shopify. It's more like Wix has a shopping cart and payment functionality than a full eCommerce plan.
It's great for websites that are primarily lead-generation, informational, etc but also want to sell a few products – think restaurant owner who wants to sell a few shirts or mugs.
It's not so great for websites that are eCommerce-first. The functionality is there. It's fine. But I would not choose Wix to start an online store. I'd either build an online store on your own with WordPress + WooCommerce or go with a specialty eCommerce platform like Shopify. I wrote a direct comparison of Shopify vs. Wix here. And actually, Square's purchase of Weebly has helped them develop better "small store" site builder capabilities. I'd consider them for eCommerce too.
Wix Video Review
Is Wix a Good Option for Websites?
So is Wix good for small businesses and other website projects? Well, Wix has a well-known brand in the website building space. In 2006, it was one of the first to offer end-to-end website building with no coding skills.
There are a lot of Wix reviews online, but the bottom line is that Wix promises 100% convenience with built-in tools for DIY website owners (and they meet that promise) – but they have a few drawbacks for professional developers & intermediate DIYers.
If they sound like a good fit for you – check out Wix's plans.

If you are trying to figure out good Wix alternatives, you can find the best website builder for you.
FAQs
Related Articles