Shopify vs. Wix Ecommerce – they are two of the most well-known online store builders in the eCommerce world.
I've written a Shopify review and a Wix review as well. But how do they compare directly to each other?
First, a bit of background. Over the past few years, online store costs have plummeted, and the technology to get a website from idea to reality has blossomed.
Whether you're using a text editor and uploading to the Amazon cloud, hosting your own site powered by WordPress + WooCommerce, or using a drag and drop online store builder, there's never been an easier time to create an online store.
All-inclusive eCommerce builders have been particularly interesting. Companies like:
On the wide spectrum of eCommerce store building solutions, they all live on the end that is all-inclusive and provides everything you need to get started and grow your website.
That is in contrast to solutions where you buy, install, and manage all the "pieces" of your website separately. That's not a good or bad thing. But it is something to be aware of when you're choosing one of them as a solution since it affects your website both long and short term.
In the long-term, it affects your versatility, functionality, and, of course, your brand. In the short term, it can certainly add/take away a lot of headaches. That said, just like choosing a physical house or office, there is no such thing as an absolute "best" or "top" choice. There's only the right choice relative to your goals, experience, and circumstances.
Using an online store builder is like leasing and customizing an apartment in a really classy development instead of buying and owning your own house. You're still in control of decor, cleaning, and everything living-wise – but you leave the construction, plumbing, security, and infrastructure to the property owner. That point is key because there's usually a direct tradeoff between convenience and control.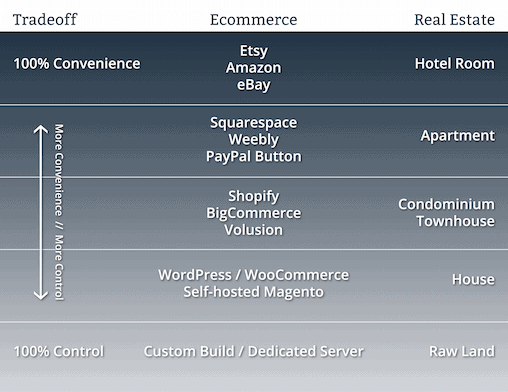 Shopify, Wix Ecommerce, and other options like Weebly compete with options like WordPress (which provides the free software to build a website that you own & control – see my WordPress setup guide here) all the way to options like typing actual HTML code into a text file.
The last preface I'll mention is that Wix is an all-around website builder with eCommerce capability. Shopify, in contrast, is strictly an eCommerce platform.
his focus puts Wix behind as an advanced tool and Shopify behind as a super-easy-to-use tool. With their respective free trials, you can quickly see the differences.
Make sense? Awesome – let's dive into the comparison.
Side note – if you want this comparison in a BuzzFeed-style quiz, you can take my online store builder quiz here…
You can also look at my posts on:
Otherwise, we'll look specifically at pricing, onboarding/user experience, design features, technical features, eCommerce features, marketing features, and customer support.
Pricing
Comparing pricing between Shopify and Wix is tough because they have two very different offers. This comes from the fact that Shopify focuses on *only* online store owners whereas Wix markets to everyone.
The short version is that Shopify is more expensive. Shopify's cheapest online store plan ($29/mo) is slightly more expensive than Wix's middle tier plan ($27/mo).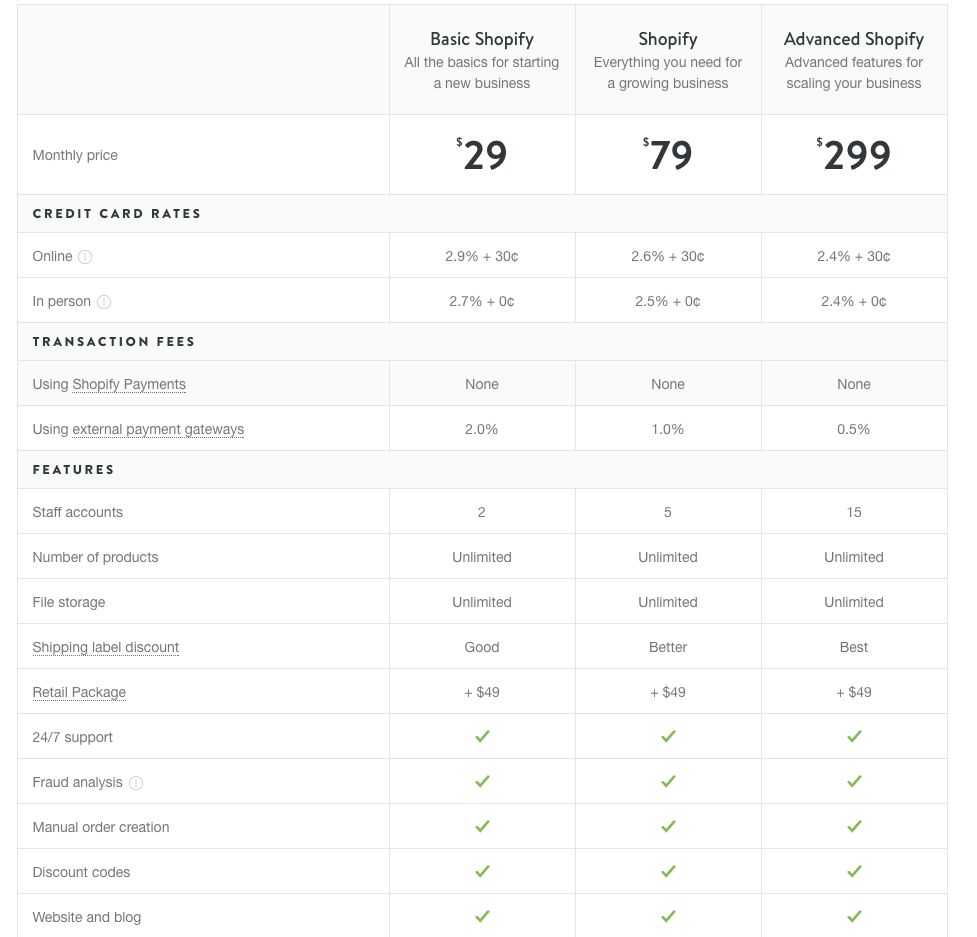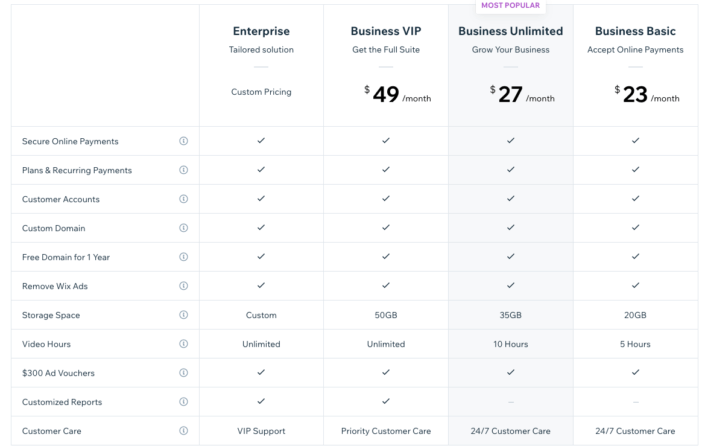 That said – Shopify offers many more features on their cheapest plan than Wix does on their most expensive.
Pricing is really apples and oranges – or rather like comparing the pricing of a motorcycle vs. an SUV.
Sure, the motorcycle is much cheaper and it gets you from A to B…but it's a totally different thing altogether.
It all really comes down to what you need for your project – two wheels that will get you where you need to go or a vehicle that has plenty of room along with lots of features. So let's look at other differences.
Aside – if you're curious, Shopify's $9/mo Lite plan isn't applicable since it's more of an inventory/payments software than an online store builder software.
You can upload products, manage them, and accept payments, but you can only sell them via other platforms such as a Facebook plugin or a button on an existing website.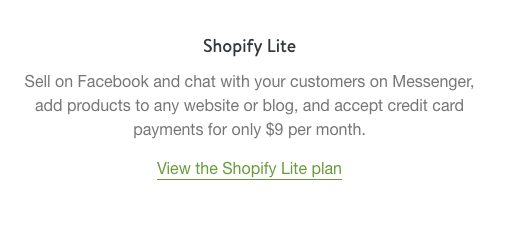 Onboarding & User Experience
No matter how intuitive and simple a piece of technology is, there's always that moment of "what am I looking at and what do I do now?"
Onboarding is the process of guiding you past that point. In theory, a huge selling point of online website / store builders is that they have a near-zero learning curve. They have a straightforward process from website concept to website reality.
On this point, Wix and Shopify both do alright but in different ways.
Shopify has a quick path from free trial signup to site launch. They have guided tours and a very straightforward setup. They also have customer support outreach focused on getting you up and running quickly.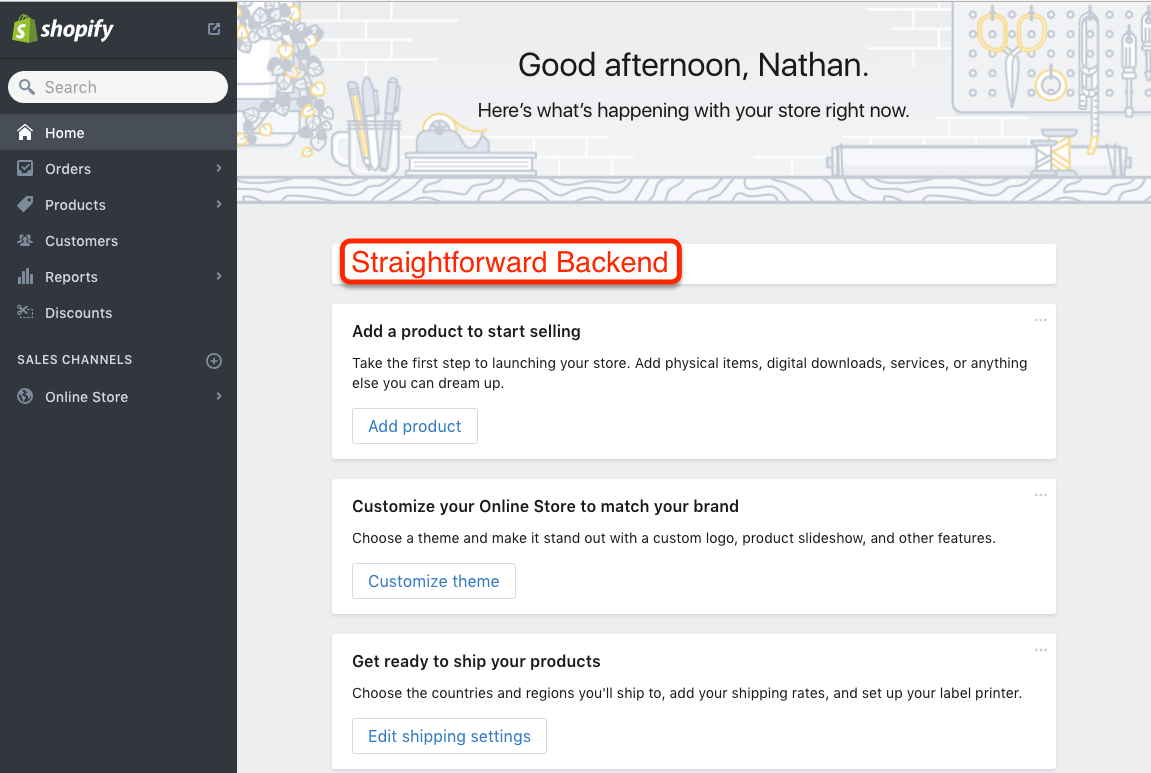 However, Shopify also has many more features, apps, and technical options available that can present a challenge. The most daunting hurdle is linking your domain name to your store.
It's not difficult but is daunting at the mention of "setting your CNAME" (in fairness, you don't have to direct your domain if you purchase via Shopify for a bit more per year than via a 3rd party domain registrar).
Since Shopify functions as a platform for payments, offline inventory and more – their website store setup is actually on the second menu of their main dashboard rather than front and center.
Wix has a ridiculously fast sign up to live site process. Their backend is fairly intuitive for basic websites. However, if you want anything more advanced or have a clear vision – it can be difficult to go through their learning curve.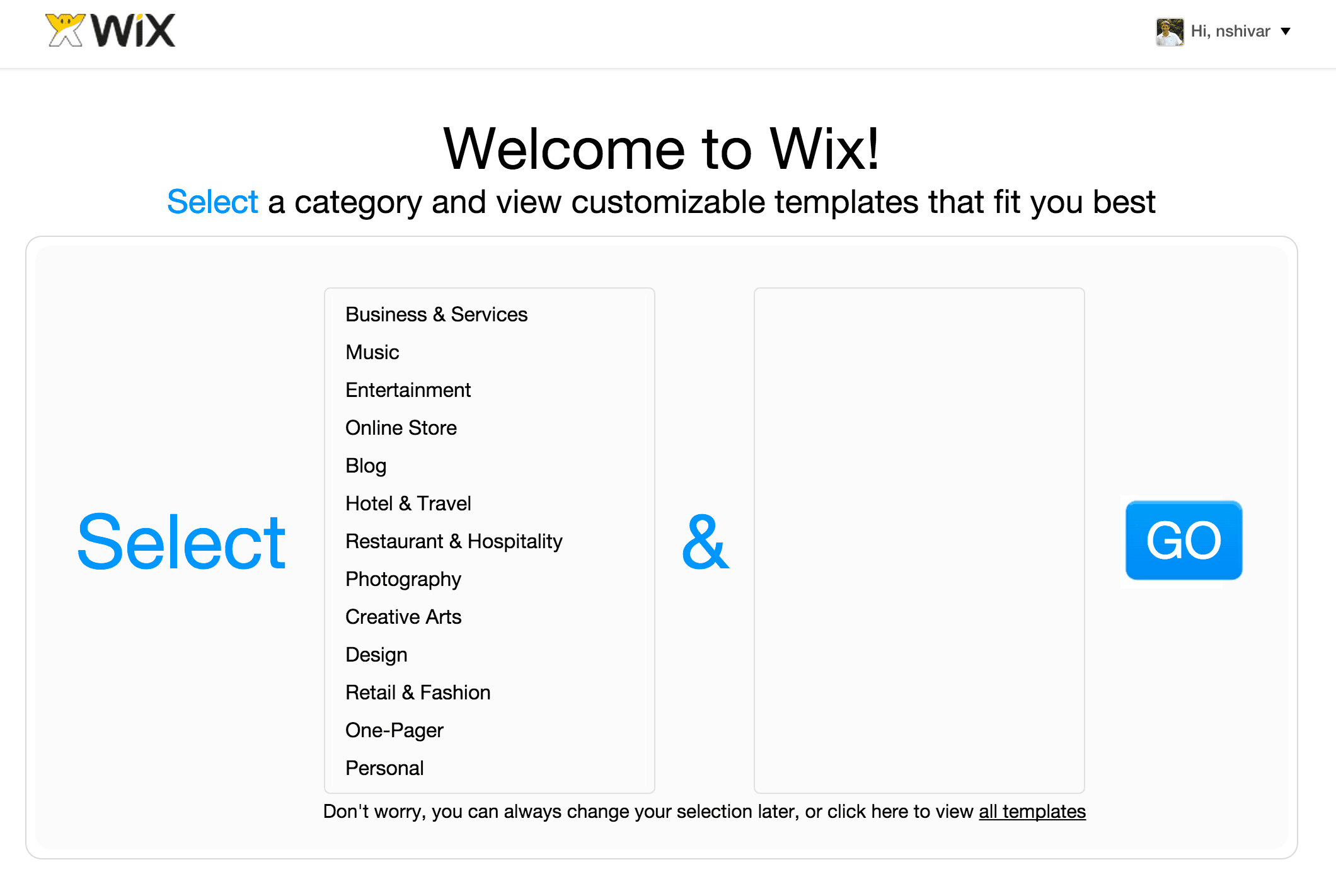 Their support emails and tours are honestly focused more on upgrades than helping you get the exact features you want.
Since their software is made for all types of websites, the eCommerce features are a bit buried (and limited) from the perspective of an online store owner. For example, it's harder to find knowledgebase answers about eCommerce such as inventory, taxes, shipping, etc whereas those questions are front and center for Shopify.
I would not rule either provider out on onboarding / user experience. But their differences are sort of like a restaurant with a waiter (Shopify) vs. a fast-casual restaurant with a menu above the cashier (Wix).
If you want more help and more customization, then Shopify is your choice. If you want to quickly see and order from the features, then Wix is less daunting.
Design Features
Part of the overall value of website builders is simple, straightforward design – no web designers necessary.
But good design is hard. And it matters – a lot. A lot of people can spot a good-looking website but have a harder time figuring out how to get there. Using a template for a foundation and then customizing it is a good way to get the site you want without paying for a custom design.
Both Shopify and Wix use templates (aka "themes") for design. But they are very different in customization options.
Wix has a famous drag and drop design feature. You can create any element you'd like and drag it into place. You can click and edit any portion of any web page – including both content and design. They really pioneered this feature in the website builder industry.
However, Wix does not allow for writing actual HTML / CSS. So if you want exact customization, then you're out of luck.
Shopify does not combine design and content. Your page template has to be edited via CSS or their proprietary Liquid HTML editing tool.
However, since you can edit HTML/CSS with Shopify, you can build any design possible. There are few, if any, limits to any design that you see on the Internet. Additionally, Shopify has a drag and drop template editor.

Using themes & pre-packaged theme files allows anyone to choose and use a beautiful web design that can be edited if you are comfortable with HTML/CSS.
If you want to see what is possible with each editor, I rounded up some Wix Website Examples and Shopify Website Examples.
In short, Wix goes for ease of use & convenience with design features. Shopify goes for full customization options while maintaining some ease of use.
ECommerce Features
The absolute core features of an eCommerce store are:
product database
shopping cart
checkout page
payment processor
order database
That is it.
But, there is a *lot* more than can (and should) go into an eCommerce store. There's everything from selling via Facebook Messenger to syncing with Amazon FBA to integrating with eBay – not to mention features for executing on marketing fundamentals.
Even for advertising products, there's selling via Pinterest Buyable Pins, Google Merchant, Twitter cards, and more.
There are remarketing and coupon codes. There's A/B testing. There's inventory synchronization with vendors like AliExpress and dropshipping apps. And there's order synchronization with shippers like UPS and USPS.
And that's all a drop in the bucket of advertising possibilities.
Obviously, not every store needs every feature. If you are trying to sell a couple of T-shirts or a couple of specialty products – you certainly don't need them all. But if you want to grow and expand, you'll need your options open.
For eCommerce features, Shopify wins hands down, though Wix does make it simple to sell your product.
Wix has a few advanced features, but it's nothing like Shopify.
Wix only recently added integrations for the big shipping apps like ShipStation, but they still have issues with moving products from sold to shipping status across all apps as Shopify does.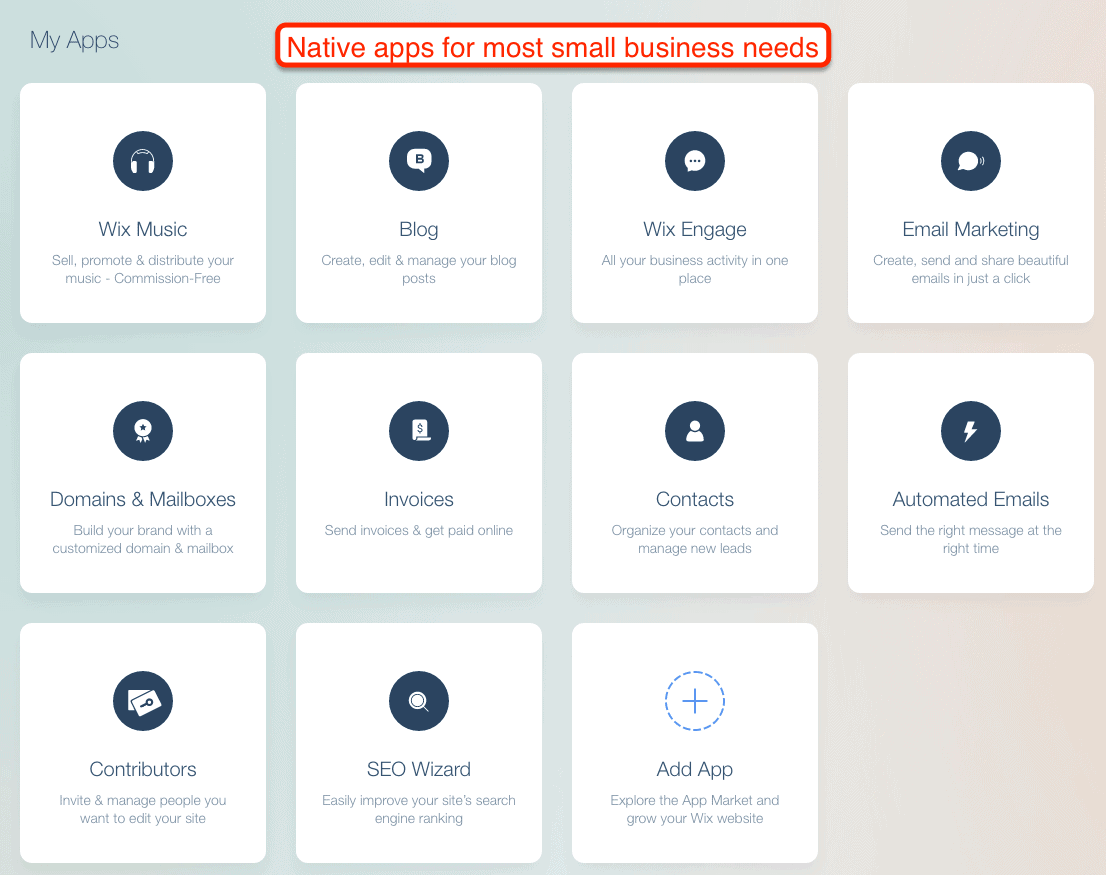 Shopify not only has more features directly integrated into their platform, but they also have a well-established app store that includes free and paid apps to extend your store with every feature you could possibly need.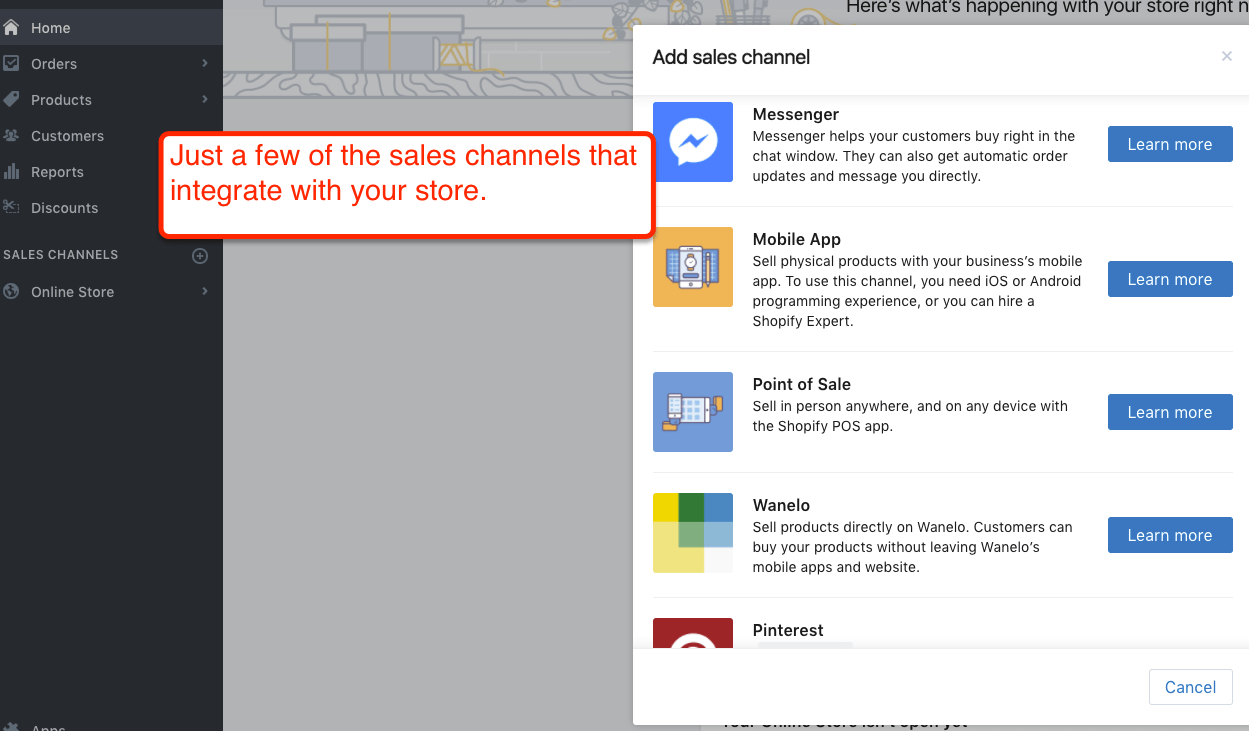 That said, this section is a bit unfair to Wix, because, again, they are a general website builder that includes eCommerce. Shopify is strictly an eCommerce platform.
But it does show in the details. Again, just for an example, consider automated sales tax collection. For Wix, they exclude that feature from their low tier and limit it for their upper tiers. Shopify has it standard for all stores.
If Shopify didn't "win" on eCommerce features it would be a surprise.
Technically, Wix competes more with the likes of Weebly and Squarespace who are also website builders that provide core eCommerce features.
In short – if you need core eCommerce features integrated in a simple, straightforward way, then Wix is great. If you actually need a full suite of eCommerce features to grow, then Shopify is hands-down better.
Technical Features
Technical features are all the web development best practices that don't really "matter"…until they matter a lot. I'm talking about generating clean URLs, editable metadata, allowing page-level redirects, etc.
On this point, Shopify does very well – and not just compared to Wix, but compared to any hosted platform.
Traditionally, hosted platforms presented a risk for web designers, developers, and marketers who wanted to work on the technical aspects of the site.
What really sells Shopify to many skeptics of hosted platforms is that they actually take care of the technical features well. You still don't have FTP access to your server, but you do have access to change things via their Liquid editor.
But Shopify doesn't just have a solid technical foundation, they also do a lot to stay on the cutting edge. They pay a bounty for bugs and security exploits. They can roll out changes like global SSL to all stores quickly.
Lastly, Shopify has an open & actively maintained API that Wix is still building out. APIs are a very advanced feature that are usually ignored by typical store owners. But the availability of an API has big implications – think of it as a common language that allows any piece of software to "talk" to any other software.
It means that if you start growing and want custom features – you can do that. A developer can build a custom application to link any software to your Shopify store.
Moving to how pages are technically generated, Wix is still not as good as Shopify. Not to keep jumping on Wix, but they use an HTML5 / AJAX engine to build and serve their pages.
The system is a lot better than their old Flash technology but is still clunky to use from a developer/designer/marketer perspective. It generates pages that are not rendered as well by crawlers, bots or software as plain HTML.
Wix websites get a URL structure that works but is not ideal. It runs more like a game application than a website. I covered many of these issues in my Wix review.
Many of these issues are not deal breakers (especially for DIYers looking to sell only a few products); in fact, they come from the fact that Wix is optimizing for convenience and ease of use. But that doesn't mean that they aren't still issues that can become big problems for a growing eCommerce website.
Both Wix Ecommerce and Shopify have inherent limitations as hosted platforms, but Shopify does a lot more to eliminate the weaknesses and capitalize on strengths as a hosted platform.
Marketing Features
In Field of Dreams, Kevin Costner's character says "if you build it, they will come." Sadly, that is not true about websites. Like any business, you have to actively promote and market your online store for anyone to show up.
Marketing features like custom metadata, open graph information, Schema markups, email signups, share buttons, landing pages, etc all make marketing your site a lot easier.
For marketing features, both Shopify and Wix Ecommerce both have many integrated features plus app stores to provide marketing extensions.
But like design & eCommerce features, there's really no comparison. For an eCommerce store owner, Shopify has many more (and higher quality) built-in features plus a better, more developed app store.
Wix has core marketing features built-in, but they are still trying to roll out advanced marketing features that Shopify has had for years (Schema markup is a specific example).
Support & Service
Customer support and service are difficult to judge. Like I've said in most of my reviews, a single customer can never really know if they happened upon a disgruntled rookie or if the company is really that bad.
That said, there are ways to look at a company's investment in both customer services and support.
For Shopify vs. Wix, I think the clear "winner" is Shopify.
Shopify not only provides more channels for customer service (phone, chat, email, forums, social media, etc), they also have an incredibly extensive help center.
The help center not only tackles technical issues, it also tackles customer success issues (aka problems with making money).
Wix has phone support and other support channels, but you do have to pay extra for "priority" support. Their knowledge base does not have the attention or the depth that Shopify has.
Shopify vs. Wix Ecommerce Conclusion
So Shopify vs. Wix – which one is a better fit for your online store?
If you plan on running a growing eCommerce store and want all the features possible, then you should go try Shopify. There's really no comparison.
If you want a simple store with drag and drop features, then Wix would be a good fit for you. It's simpler and a bit cheaper. It would be good for someone looking to build a website with a store rather than a pure-play online store.
Also – bookmark my post on creating an eCommerce marketing strategy.
Good luck!
Related Articles