When you are exploring how to advertise online – Google Ads and Facebook Ads are the two primary options. They have the biggest marketshare, the biggest audiences and the best self-service ad platforms.
In fact, the two together control 59% of online advertising.
But one way to keep improving your online advertising campaigns is to keep finding new advertising networks with different formats, different audiences and different pricing structures.
There are tons of reasons to at least try out new networks – but also a few drawbacks. So before we look at different ad networks – let's briefly look at the advantages and disadvantages of using ad networks that aren't Google/Facebook.
Advantages of Using Alternative Ad Networks
New Audiences
Google and Facebook may control most of digital advertising, but there are a lot of people that they do not reach. And even if they do reach them, they might not reach them when they are in the market for your products, services or content.
Less Competition & Costs
Given that Facebook and Google Ads are popular advertising platforms, hundreds of other companies are competing for the same keywords, clicks, and eyeballs. Naturally, this causes your CPC or CPM fees to increase, since other advertisers (with higher budgets) drive them up — so much so that costs have rose 40% in two years from 2012 to 2014 and have risen even further to 2019.
Less popular networks mean less competition and potential lower costs. It's the proverbial "blue ocean" rather than fighting over the hyper-competitive "red ocean."
Diversity
There's inherent advantage to not having all your eggs in a single basket – or traffic source in this case.
New Data & Combinations
When you pay for visitors, you also get a lot of data. When you run ads on different networks, you not only get more data – you get different data. You can use the data to improve your campaigns on your other channels. You can also use it to combine ads in creative ways (e.g., retargeting).
Disadvantages of Using Alternative Ad Networks
Learning Curve
Google and Facebook have highly developed self-service platforms. They have a plethora of options, tons of documentation, and a lot of traffic to work on. There are PPC experts who specialize in particular aspects of Facebook & Google – and still don't know all the potential of the networks.
When you try to run ads on another network, you will come in as a beginner. You can find best practices (example), but you still won't know what works for you until you spend your own money and time.
Low Quality Assurance & Traffic
Google and Facebook have entire teams & dedicated budgets on preventing spam, while alternative ad networks don't. Many smaller ad networks will not have the expertise, manpower or budget to fight spam. You'll be stuck with lower quality traffic and bad data.
Opportunity Costs
$1 spent on another network is not the same as $1 spent on Facebook. That dollar can can buy you more in terms of value and traffic type on a more established ad network.
Loss of Focus
The best way to consistently improve your online ad campaigns is to regularly optimize them with new ads, new landing pages and new bids. If you are running ads across several different networks – it's easy to lose focus and not get every bit of return out of the campaigns you are already running.
Alternative Ad Networks
Now that you know the pros and cons, let's dive into the networks themselves. Alternative ad networks can be broken into four network types: second tier, mobile-centric, niche, and what I like to call "truly alternative". I'll dive into each in a little more detail.
Second Tier Ad Networks
These are the search engines/networks right behind Google and Facebook. Think Reddit, Pinterest, Twitter, etc.
Each of these networks have their own advertising platform you can utilize instead of Google Ads. The traffic quality can be lower than the tier one ad networks, but the cost can be worth it. Just make sure you do some testing to see which second tier networks fit your business best.
Bing / Yahoo
Bing & Yahoo! are a distant second to Google in search and display advertising. However, ~30% of search and display is an enormous market. It's also fairly straightforward to copy your AdWords campaigns over to Bing/Yahoo.
Twitter
Twitter is a distant competitor to Facebook in social network advertising. However, like Bing/Yahoo!, Twitter still has an enormous audience. They also have unique targeting capabilities.
I used them in my giveaway experiment.
LinkedIn
LinkedIn generates most of their revenue from subscriptions, but they have a very large ad business. LinkedIn ads are famously expensive given their network-size and and targeting options.
That said – LinkedIn also has access to very lucrative demographics when they are looking for B2B solutions.
Pinterest
If you run an ecommerce or consumer-oriented business, Pinterest is likely the most attractive 2nd tier network. They have a straightforward self-service platform that puts your ads in front of an audience looking to actually buy stuff.
Reddit
Reddit has a reputation as anti-advertiser. But it's really not if you do things right. It does take time in addition to money, but offers an interactive, taste-making audience with at fairly cheap rates.
I wrote a guide to Reddit advertising here.
YouTube
YouTube is technically part of Google Ads – but businesses usually treat it differently because of their ad formats. While YouTube offers display ads, the most lucrative ads are video format.
YouTube has a ton of inventory and potentially low competition due to the barrier to entry. I wrote a guide to YouTube Analytics and Advertising.
Instagram
Instagram is technically part of Facebook Ads. But like YouTube, businesses usually treat it differently due to formats, audience and intent.
Instagram ads are rapidly changing with very new with few case studies and best practices. I wrote a guide to Instagram ads here.
Quora
Quora has been around for quite a while, but only recently focused on their ad business. It offers hyper-targeted options that are great for advertisers with a high cost of acquisition.
I wrote a guide to Quora Ads here.
DuckDuckGo
DuckDuckGo is a small but rapidly growing search engine focused on user privacy. They have a relatively small but still large and dedicated audience.
They don't have their own network, but you can advertise there via Bing. I wrote a guide to DuckDuckGo advertising here.
Yelp
Yelp is the big player in local search. They have a large audience and bring in millions of other users via search engines and referrals. And every one of those users is looking for something.
I wrote a guide to Yelp ads here.
TripAdvisor
TripAdvisor is the big player in travel. Like Yelp, they have a large audience and bring in millions of other users via search engines and referrals. And every one of those users are looking for something travel related.
Amazon
Amazon is the world's largest online retailer. And anyone can sell anything on their website. You can pay for sponsored listings within Amazon search or Amazon categories.
If you have a bit of budget (ie, $25,000+), you can also run ads for your site on Amazon's website.
Check out this guide to Amazon PPC Ads.
Snapchat
Snapchat is a hugely popular mobile app. They focus on a unique suite of ad products, all of which have very high engagement…but no clickthroughs to your website.
Zillow
Zillow is the largest real estate website on the Internet. If you are in the real estate or home services industry, then you'll want to look at Zillow.
I wrote a guide to Zillow ads here.
Pandora
Pandora is one of the most popular music streaming services. They have a large free business which relies on ads. Think of Pandora as radio ads for the 21st century.
I wrote a guide to Pandora Ads here.
Spotify
Spotify is the largest music streaming service in the world. They have a huge free ad-supported tier.
NextDoor
NextDoor is the world's largest neighborhood social network. They have high engagement and unique geographic data. They have a new & rapidly changing ad business, but are worth experimenting with.
I wrote a guide to NextDoor ads here.
Check out NextDoor Ad Program .
eBay
eBay is an Internet institution. They have tried advertising on and off for years with different opportunities for different advertisers.
I wrote a guide to eBay Ads here.
Mobile-Centric Ad Networks
There's no denying mobile is huge — consumers spend 51% of their online time on mobile devices (and rising consistently). In terms of search & social advertising – both Google and Facebook own the largest ad networks. But there is an incredibly confusing and wide-ranging list of alternatives to reach mobile users.
InMobi
InMobi is an ad network focused on remarketing and "appographic" targeting. They build profiles of users based on the apps they use – and allow you to run ads based on the profile.
MoPub
MoPub is one of the largest mobile ad servers – that is not owned by Google or Facebook. It turns out that MoPub is owned by Twitter, though.
Either way, it has reach in mobile including remarketing and real time buying (RTB) inventory.
Apple Search Ads
You can advertise on the App Store via Apple's search ads. It's one way to promote your app and gain visibility in a crowded marketplace.
Read more about Apple Ads here.
Niche Ad Networks
Niche advertising networks provide curated audiences for your content, giving you quick access to unique audiences who are pursuing niche publications. Think of it like content curation but in reverse. Instead of the audience choosing the content, the content chooses the applicable audience.
OutBrain
You know those "Recommended on the Web" links below many publishers' content?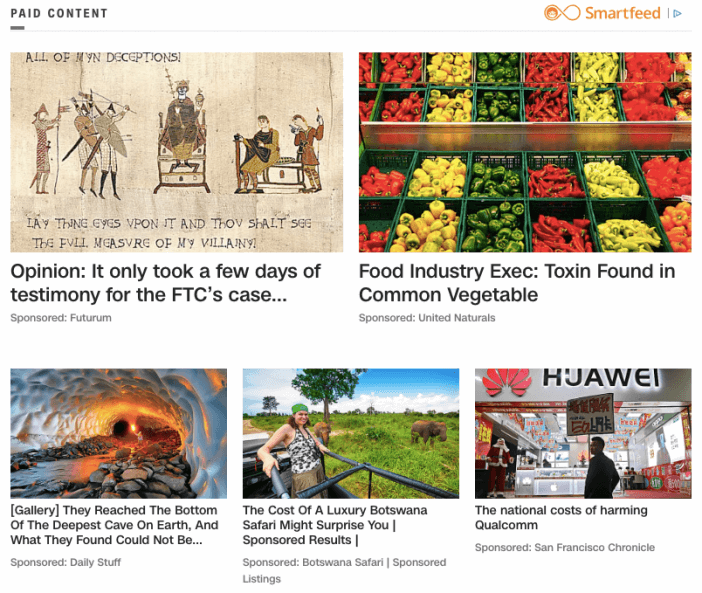 Those are ads served by companies like OutBrain. You can only promote content – no products or services. But if your business model supports paid content promotion – OutBrain is how you do it.
I wrote a guide to OutBrain advertising here. Check out OutBrain here.
Taboola
Taboola is OutBrain's main competitor. They anecdotally have a higher-quality network (with pricier rates), but are worth a test if you are doing content promotion.
Disqus
Disqus powers one of the largest comment systems on the Internet. They also serve content ads similar to OutBrain/Taboola.
revContent
revContent is OutBrain/Taboola's upstart competitor. They also so content promotion / recommendation ads.
Media.net
Media.net is one of the Internet's largest contextual ad networks. In other words, they generate ad placements based on the content of the page viewed – not on the user. It's unique and truly and alternative to AdSense.
Carbon Ads
Carbon Ads is a "classy" ad network. The only accept high-quality companies for very high quality placements.
SiteScout
SiteScout calls themselves the "leading self-serve demand side platform (DSP)." Umm – ok?
In normal language, SiteScout sells ad inventory on websites that hasn't already sold. They are like the clearance section of ads.
And that's a really cool opportunity for advertisers – you can get placement on premium websites for very little money. Their platform also pairs well with a retargeting strategy.
Oath Ads / Yahoo! Geminin
Oath (formerly Yahoo!) runs their search ads with Bing, but have recently launched the Oath ad network. It offers further inventory with a wide variety of options.
MidRoll
If you want to advertise on podcasts without working out a direct buy on a specific podcast – MidRoll is where you go. They are the largest podcast advertiser network.
That said – podcasts are still a nascent world for advertisers. Often, it'll still be better to work with an independent network (like Relay FM) or directly with show hosts.
AdRoll
There are a lot of retargeting options – with Google and Facebook being the largest. It can be a pain to use all the retargeting platforms individually. AdRoll is like a network of retargeting advertising.
You are still advertising to your website visitors, but AdRoll consolidates everything into a single dashboard so that you run one campaign across all the different networks.
Perfect Audience / Retargeter
Perfect Audience & Retargeter are AdRoll's competitors. They have an fairly straightforward setup with the same focus on retargeting across multiple networks.
Check out Perfect Audience and Retargeter and this guide to running retargeting ads on Perfect Audience.
BuySellAds
BuySellAds is an independent ad marketplace that aims to connect high-quality content creators directly with advertisers.
If you are looking to place a classy ad on a classy site – then you'll likely find the opportunity on BuySellAds.
Propel Media
Formerly TrafficVance, Propel does CPV (cost per view) ads via contextual links and overlays. If you've played a casual online game with an overlay ad – then you've likely seen one.
AdBlade
AdBlade is a competitor with OutBrain and Taboola – but also serves ads via contextual links.
Kontextua
Kontextua sells ads via contextual links and display – but focuses on Spanish language sites.
Country-specific Search Engines
Google and Bing might be the largest search engines worldwide, but they aren't #1 in some specific countries.
Baidu is #1 in China. Yandex is #1 in Russia. And Yahoo! is huge in Japan.
And that's just the start. This list is very U.S.-centric. And depending on where you are and who your audience is, there may be an alternative ad network within your country.
Truly Alternative Ad Networks
These are the ad networks you really need to research before you dive into them. They could work for you, but they also could be a big miss, so use them at your own risk.
These are the sites like 4chan, an image-based bulletin board where anyone can share images/comments (background info). Yeah – don't advertise there. You are just supporting the toxic side of the Internet.
Adult sites usually offer self-service buys in addition to networks like TrafficJunky. You can learn about running advertising on these with this case study (possibly NSFW).
Even More Options
Keep in mind these are just a few of the hundreds of options out there for online advertising. There are several other methods of advertising online aside from these four categories, including the following:
Direct Ad Buys
A direct buy happens when you purchase impressions in bulk for a certain website. So for example, say you want to advertise on CNN's website. You would contact their team and negotiate a price to let you place your ad on their site (hosted on your ad server though). You're buying some of their impressions with the hopes that your audience sees your ad and clicks on it.
The good thing about this approach is it takes care of the "quality" issue you run into with alternative ad networks. You know what type of audience visits the site, because you choose the site. However, the downside can be the cost. It can get pricey to buy directly from the big leagues.
Go beta
Getting into the beta stage of a cutting edge network can work wonders for your marketing strategy.
Take Snapchat for example. This social media channel just asked for $7 million from NFL channels who want season-long deals. If you were in the beta phase of this, you'd be striking gold right now, as customers are about to come running. So do some research on hot new apps/networks your customers are using and see how you can make an impact. It was the same with Pinterest Beta and Instagram Beta. You'll have to have budget and be on top of trends.
Next Steps
While there are plenty of ad networks out there to utilize, there is no magic traffic source that will solve all your online advertising problems at once. It takes research, analysis, and practice to really nail down which networks work best for you and how.
If you found this post useful – check out my Best of ShivarWeb email series (sign up below).
You'll also want to check out –