Astute marketers are constantly looking for new platforms to connect with their audience in useful and meaningful ways, and Nextdoor is one of the most promising social platforms for local business marketing to look towards as we approach 2021.
As a platform designed to connect neighborhoods and the people who live there, Nextdoor seems to have that special sauce that's so appealing to marketers of all sizes. Over 75% of neighborhoods in the United States are already part of the platform, the user base is constantly growing, and it provides neighbors with the tools they need to connect on a local level to the businesses in their area.
As with any new social network, there's a learning curve associated with it. If you're wondering how to advertise on Nextdoor or simply fit NextDoor into your digital marketing, and you're hoping you'll be able to jump right in, you'll need to cool your jets, unfortunately. But, this helpful guide will provide you with everything you need to know about this exciting new local social network and how you can leverage it to the advantage of your business.
Nextdoor: The What and Why
Nextdoor has been a rapidly growing social network that's designed to connect neighborhoods and the people that live there. Whereas other networks, like Facebook, for example, are designed to help you stay in touch with your friends both near and far, Nextdoor seeks to connect neighbors with each other and to foster a greater sense of community while allowing for helpful discourse and local recommendations.
Nextdoor is still a relatively small platform, and is just now closing in on 100 million users. However, it's among the fastest growing social media platforms in the world. It has a fast, useful NextDoor app, and an easy, secure signup process.
Nextdoor recently garnered lots of positive press in the aftermath of Hurricane Harvey and other natural disasters for the critical role it was able to play connecting neighbors with each other in the wake of the storm.
Nextdoor's founder, Nirav Tolia is a first-generation American, born to Indian parents. His parents relocated his family from their native India to Odessa, Texas. Yes, the same Odessa, Texas from Friday Night Lights.
Tolia noted that there just wasn't a whole heck of a lot to do in Odessa. There's no notable scenery, no ocean, lake, or mountains nearby. It's a humble, working-class town through and through. But, what stood out to Tolia was the tight-knit community, and the sense of family he felt in his neighborhood. Years later, that feeling of community would inspire him to launch Nextdoor.
Since its launch in 2010, Nextdoor has grown to serve well over 150,000 neighborhoods throughout the United States, England, and the Netherlands. The company plans to expand its reach in the countries we just mentioned, while also expanding into new markets throughout Europe, such as Germany and France.
For someone to join the neighborhood, they'll need to use their real name and address, which helps ensure that the neighborhood is populated with actual neighbors, instead of random internet trolls.
It's this hyperlocal sense of community that makes Nextdoor so useful, and so promising for those looking to advertise on the platform. Another major feather in the Nextdoor cap is their ability to target ads by physical address, which is something that no other platform can boast. Geographically speaking, no other platform can compete with Nextdoor's targeting ability.
Beyond advertising, Nextdoor also has plenty of organic value for businesses of all sizes. An estimated one in four of the conversations happening on Nextdoor are about local business recommendations. This creates an amazing opportunity for businesses of all sizes to grow their reach by using Nextdoor.
Plus, considering that people are far more likely to place their trust in businesses recommended by their neighbors compared to a stranger on a website like Facebook or Yelp, it's easy to see how recommendations on Nextdoor can translate to more business from your community.
Who Advertises on Nextdoor
Here's where things get a bit dicey. If you've spent any time snooping around your own neighborhood page on Nextdoor, you've probably noticed a trend when it comes to advertisers. You see ads from the big box home improvement stores, national alarm companies like Slomins or ADT, and in the real estate section, you'll be likely to see sponsored content from a local realtor.
But where are the local businesses?
Unfortunately, Nextdoor has yet to roll out a self-service advertising program designed for all small and mid-sized businesses.
Nextdoor is relatively new to the online advertising space, and they're still focusing on their Enterprise program, which is why you may see ads for national giants like Lowe's, or ADT, but not ads for the local pizza place or auto body shop.
Nextdoor expects to roll out a much more robust advertising program, which will allow small and mid-sized businesses to begin advertising on the platform in the coming months.
But right now local businesses are limited to local listings and a local deal feature…but the feed is reserved for real estate and enterprise brands.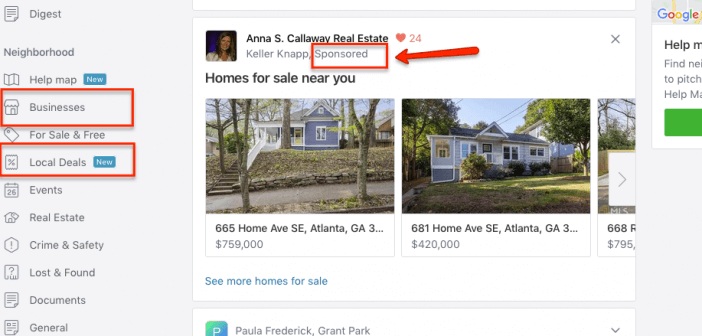 But, that doesn't mean that Nextdoor is not yet useful for smaller businesses. There are plenty of ways to leverage Nextdoor's user base to grow your local business right now, and we're going to cover them in just a few moments.
Before we get there, we'll take a closer look at what ads currently look like on Nextdoor, and show you how you can begin advertising right now on Nextdoor if you're in the real estate business, or if you're a larger company.
How to Advertise on Nextdoor – Real Estate
One of the most useful features on Nextdoor is the real estate section. Here, residents of the neighborhood can search for new homes or apartments in the area or list their home or apartment for sale or rent.
If you're in the real estate business, Nextdoor will allow you to become a neighborhood sponsor. This sponsorship can prove to be extremely lucrative, considering that every member of a neighborhood is a confirmed local resident, and 72% of those members own homes.
Here's an example of what a Real Estate sponsorship looks like on Nextdoor: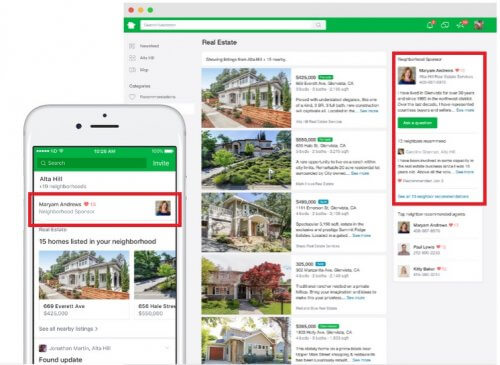 Here, real estate agent Maryam Andrews has sponsored the real estate listings. On a mobile device, a banner is displayed across the top of the page which links to Ms. Andrews agency, and the properties she has listed. On a computer, there's a bit more information, including contact info, a short bio, recommendations from other neighbors and a contact button.
Depending on the terms of your sponsorship, and the number of other agents in your area also use Nextdoor to sponsor real estate listings, this sponsorship can rotate in and out between different agents.
This type of advertising can be particularly valuable for realtors. Not only is it affordable (at the moment) but it provides realtors with exactly the type of exposure they're looking for: real people in the neighborhood who are looking to buy a new home, or list their home for sale.
Creating a Sponsorship Order
The first thing you'll need to do (if you haven't already) is create a page for your brokerage on Nextdoor. This process is super easy – just follow along with the screenshots below.

From your Nextdoor homepage, click the tab at the right for recommendations. Then, click the link that says "claim my business" on the right side of the page.
From there, you'll just fill out some brief information about yourself and your business. Once you've completed the forms, your business page is ready to go, and you can begin sponsoring real estate listings in your area.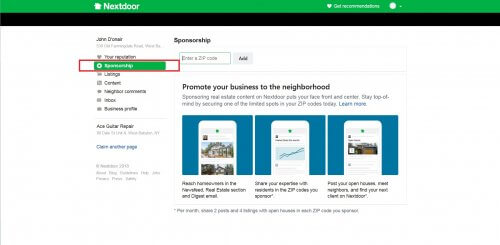 From your business page, you'll want to click the Sponsorship button on the left of your business page. Then, you'll enter the first zip code you'd like to sponsor.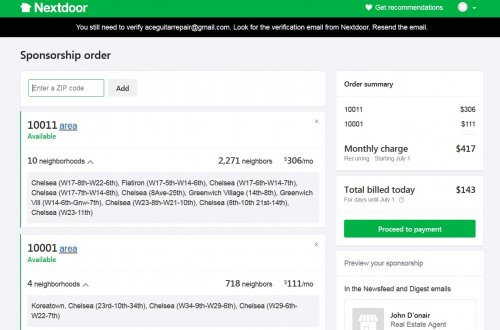 You can enter as many neighborhoods as you like. Depending on the number of neighbors who are currently using Nextdoor, you'll be charged a set monthly fee that varies depending on how active the real estate listings are, how many other sponsors are in the area, and how many neighbors are currently using Nextdoor.
You'll also be charged a prorated rate for the current month that covers the remainder of the current month. That amount is shown next to "total billed today."
The way this program is set up can be especially helpful to smaller realtors, or anyone who's skeptical about the return they'll receive on their Nextdoor investment. Since you're able to pick and choose the neighborhoods your ad appears in, you're able to get started at little cost. If your advertising on Nextdoor is driving leads, you'll be able to expand your reach and sponsor more neighborhoods.
After you've defined the area you'd like to sponsor, just input your payment information, and shortly after that, you'll be sponsoring the real estate section on Nextdoor in the neighborhoods you've chosen.
Considering that there's limited competition on the platform at this point and that real estate listings are one of the areas of strength for Nextdoor, advertising now may be a great way to achieve maximum exposure at a low price.
As Nextdoor continues to grow, and more realtors take advantage of the platform, you can expect that the cost of sponsoring neighborhoods will become increasingly more expensive.
How to Advertise on Nextdoor – Mid-sized and Large Businesses
For larger businesses, Nextdoor will set you up with an account manager who will meet with your team to assess your needs and goals and create an advertising plan that is aligned with your objectives.
To learn more about advertising on Nextdoor, check out this page. From there, you'll fill out a brief form with your contact information and projected advertising budget. After that, a representative from Nextdoor's sales team will contact you to discuss advertising.
Smaller businesses interested in advertising on Nextdoor should also fill out the advertising contact form, as someone from Nextdoor will reach out to you as soon as advertising opportunities for your business become available.
Presently, the advertising opportunities available for larger businesses are limited to sponsored content posts, video, and email digest ads. There's no way to target the posts. A single sponsored post will appear in the feed of each neighbor, and each neighbor will see the same sponsored post. This is far from ideal from a targeting perspective, but keep in mind that this is still part of a pilot program and additional functionality will be rolled out soon.
Presently, this type of advertising makes a lot of sense for home improvement stores and products, which is why brands like Nest, Ring, Lowe's and Slomin's have become early adopters of the platform.
Even if your business is large enough to enter Nextdoor's pilot program, it may be best to proceed with caution. Considering how limited the targeting potential currently is, it can be difficult to track the return you're receiving from your ads, and since Nextdoor is only working with companies with a sizable advertising budget, it's an easy way to burn through your ad dollars.
If You're Dead Set on Advertising Now
There may still be a workaround for you if you're passionate about getting in on the ground floor with regards to Nextdoor advertising. Some ad agencies are working with multiple local businesses to advertise on Nextdoor.
The premise works like this: an ad agency pools together ad dollars from multiple businesses and then places a single ad order with Nextdoor. The agency then sets up multiple different ads with that single ad buy to provide advertising on Nextdoor for all of the businesses involved in the buy.
If this sounds a bit strange and complicated, that's because it is. It's probably best for your business to wait on advertising until Nextdoor rolls out their ad program to more businesses of all sizes. With that said, there's still plenty of opportunity for businesses on the platform.
There Are Still Opportunities to Grow Your Business with Nextdoor
We've covered how you can advertise as a real estate professional, and if you're a larger business. While small and mid-sized businesses are presently left out in the cold, that doesn't mean that Nextdoor can't still be useful for your business.
We're going to cover some tips and best practices that are going to help you leverage this exciting local social network to grow your business. The first thing you'll need to do is set up or claim your business page on Nextdoor.
Setting Up Your Page
When you're ready to set up your page, navigate to the business set up page on Nextdoor.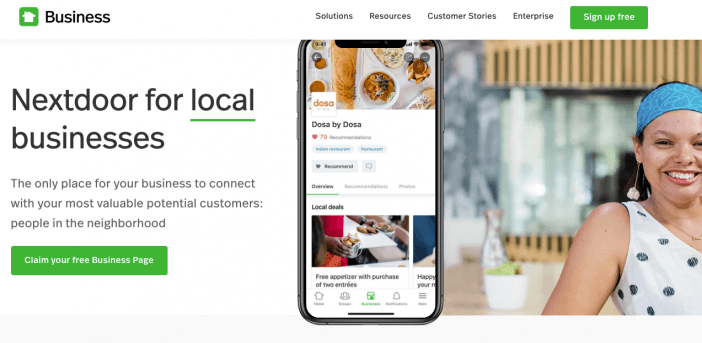 You'll need first to decide which type of business you are. Click business if you're operating under a business name, or individual if you're a one-person show that provides services using your own name.
Business Set Up

Assuming you're operating under a business name, you'll need to search for it to see if your page has already been created, thanks to recommendations from other users. If your page already exists, you'll be able to claim the page and begin updating it. If not, you'll create the page from scratch.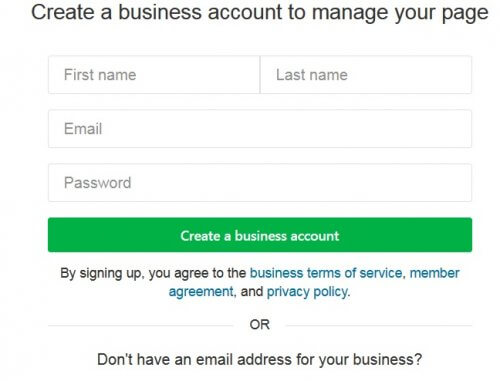 If your page doesn't exist yet, you can either sign in to your personal Nextdoor account, or you can create a new business account to manage the page from. This is a matter of personal preference. Some people prefer to keep their business and personal profiles separate, while others like the simplicity of being able to manage both business and personal from a single account.
Individual Set Up
Setting up a business page for a business where you're the only employee is just as easy. The only difference is instead of selecting "business" when you're on the business page set up screen; you'll select "individual."
Then, you'll either login to your personal Nextdoor account to manage your new business page, or you'll create a new account specifically to manage your business page. The process of setting up your page as an individual is virtually identical to setting up a page as a business.
Once you've selected the page that's going to manage your business page, you'll see this screen below: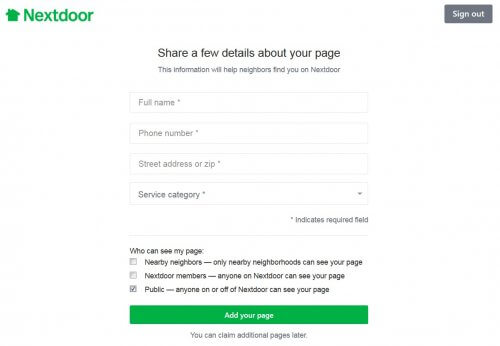 When filling out this form, you'll want to check the box for "public" as it will provide you with maximum reach for your new business page. Once you click the "add your page" button, you'll be transported to your new profile page. There, you'll add content to make your page helpful and inviting for the people in your area.
Adding to Your Profile
From here, setting up your page will probably feel very familiar to you, since it's just like setting up a page on any other social network. There are just a few steps you'll need to take to complete your business page:
Upload your photo or logo
Add a greeting for neighbors who come to your page
Add your contact information
Select relevant categories for your business
The first thing you'll want to do is upload your photo. A logo is usually most appropriate. But, if you're working under your own name, you may prefer to include a photo of yourself instead of a logo. If possible, use a high-resolution square-shaped logo or photo. This will ensure that your logo displays properly on the site.
Next, you'll want to add a greeting for the people viewing your business page. This is the first thing that your neighbors will see when they come to your page, so it's important to make a solid first impression. Try to avoid being salesy or pushy with your opening greeting.
Instead, create a short, welcoming greeting. Consider mentioning anything that makes your business unique. For example, let's say that you're the owner of Town Pizza in Virginia Beach. An appropriate greeting may be something like "Welcome neighbors! This is the official Nextdoor page of Town Pizza – home of the best pizza in Virginia Beach!"
Once that's complete, you'll want to add your contact information and hours of operation for your business.
The final step to completing your page is arguably the most important. You'll want to add any relevant categories for your business. This is particularly important because other neighbors can search businesses by category when making their recommendations.
To use our pizzeria example from earlier, if Town Pizza forgets to include themselves in categories like "pizza place" and "Italian restaurant" they're not going to come up as an option when one of the neighbors in the area is looking to recommend them to others.
Once the basics of your page are all complete, you're ready to begin receiving recommendations from the Nextdoor community.
Growing Your Reach
Once your business page is up and running, you'll notice that there isn't very much going on there.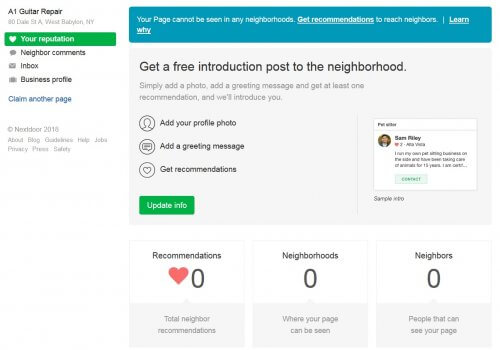 To increase your reach, allowing your page to be seen by more and more of the people in the neighborhood, you'll need to garner some recommendations. This is a unique feature in that it limits to reach of businesses based on their reputation. This eliminates fly-by-night businesses from taking advantage of the platform, and it helps to keep the focus on the neighborhood.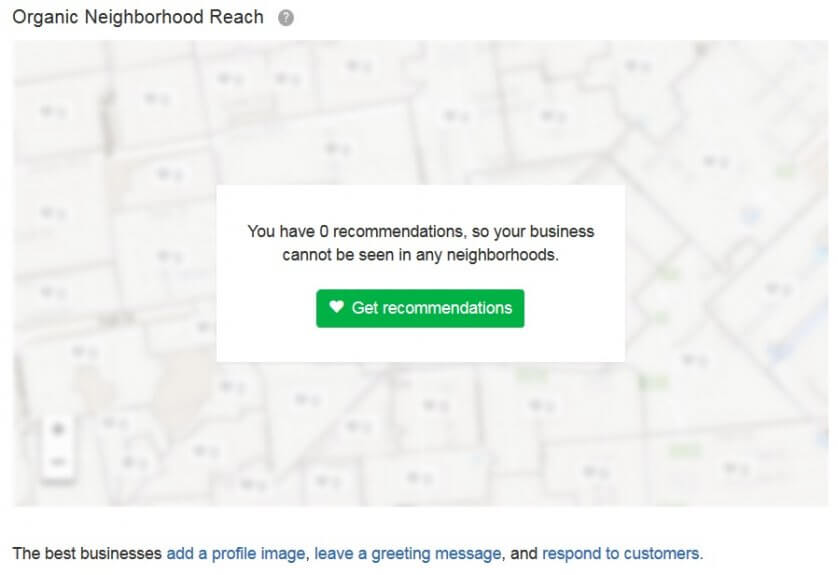 To grow your reach, you'll need members of the neighborhood to recommend your business. You can click the "get recommendations" button and Nextdoor will provide you with a pre-written email, Facebook post, or tweet that you can share with your followers on other social networks.
All it takes to increase your reach is a single recommendation. As you garner more recommendations from people in your neighborhood, your reach will increase, allowing more and more people to see your business' page.
Best Practices for Business Pages
To maximize your success on Nextdoor, there are a few best practices you may want to follow. These tips will help you positively engage with your community, while also ensuring that you receive maximum exposure for your business.
Add Your Business Affiliation to Your Personal Profile
Since businesses are limited in what they're able to do on Nextdoor, especially now while the advertising program isn't an option for most businesses, putting your business affiliation in your personal profile is a simple way to improve your business' visibility on Nextdoor.
Use Your Personal Page to Recommend Your Business to Others
If someone in your neighborhood is looking for a business that specializes in the goods or services that your business offers, feel free to take the opportunity to recommend your business to them. Keep in mind that transparency is key in these situations. If you're recommending your own business or a business you work for, be sure to disclose that to your neighbors.
Add Your Events to the Calendar
If your business hosts classes, shows, or if you're planning a special event for a grand opening, anniversary, or something similar, feel free to add it to the calendar. When you create your event, you'll want to be sure to uncheck the box that's marked "announce to neighbors" to ensure that your announcement is in line with Nextdoor's policies. That way, the event will be added to the neighborhood calendar without spamming the main newsfeed.
Keep in mind that this only applies to actual events that are going to benefit the community. Adding your yoga studio's class schedule, or announcing a customer appreciation party at your business are examples of event ideas you'll want to add to the calendar.
Try to make your event invitation as inviting as possible by adding all the relevant information your neighbors will need to know, and by choosing a relevant photograph for the invite. Banner style photographs with dimensions around 700×240 work best for this purpose.
Don't Make Unsolicited Posts to the Newsfeed
From a business perspective, one of the most enticing things to do would be to use your personal page to make announcements about your business. Unfortunately, this is frowned upon by Nextdoor, and it should be avoided.
Instead of engaging in shameless self-promotion, use the other tips we've provided here to subtly use Nextdoor to recommend your business and increase awareness.
Host a Fundraiser
Local fundraisers are a great way to increase your relevance and reach on Nextdoor while also doing good in your neighborhood. All kinds of local fundraisers are permitted on Nextdoor, except fundraisers for political candidates, or to cover your own expenses.
By hosting a fundraiser at your business for a local organization (such as an animal rescue, youth organization, boy/girl scouts, etc.), you'll be able to insert your business into the local conversation on Nextdoor, while also creating a great PR opportunity for your business.
This is a win-win scenario because it's a great way to ingratiate yourself within your community, while also providing a fun activity for your neighbors to engage in. Plus, you'll be able to make a charitable donation to a worthy organization in your town.
Since you'll be meeting people from Nextdoor at your charity event, it can be a perfect time to request a recommendation on Nextdoor to further increase the reach of your business page.
Use Your Personal Page to Engage with Your Neighbors
Take time to truly become part of your neighborhood on Nextdoor. Engage with your neighbors, chime in on local business discussions if you have a great recommendation, and make use of Nextdoor in the same way that all of your neighbors are using it.
This will help you to establish yourself as a member of your community. By extension, it can also help to establish your business as a part of the community as well.
Engage as Much as Possible from Your Business Page
Nextdoor has made it crystal clear that their focus is on creating an engaging space for neighbors to interact with each other. This severely hamstrings the marketing efforts of businesses because frankly, there just isn't very much opportunity for businesses to engage with individuals.
That said, there's still plenty of opportunities for individuals to engage with businesses. As a business owner, this is your time to shine. Whenever someone takes the time to write a recommendation of your business, be sure to respond to their recommendation thanking them for their patronage and for taking the time to review your business. You can even ham it up a bit in this section, and let them know that it's customers like them that allow your business to thrive.
By being proactive and responding to recommendations, you're showing other people in the community that you're engaged with your neighbors, and you're thankful for their support.
Next Steps
In the coming months, you can expect Nextdoor to begin rolling out more advertising products designed to suit the needs of different businesses both large and small. Founder Nirav Tolia expects the company to bring in a billion dollars a year from advertising by 2020. To accomplish that lofty goal, they'll need ad products to sell to the different businesses interested in advertising on the platform.
According to Tolia, Nextdoor is receiving over 1,000 requests for more information on advertising each month. If that's true, it's easy to see why he expects Nextdoor to become social media's next advertising giant.
In the meantime, there's still plenty of potential to grow your business locally by using Nextdoor. Make use of the best practices for organic digital marketing that we've discussed above. Not only will this help to increase your organic reach on the platform today, but it will provide you with a framework of content and neighborhood recommendations to build off of when Nextdoor finally rolls out advertising products for more businesses.
When setting up your business profile, be mindful of the fact that this social network exists to serve the needs of your neighborhood first. Make sure that anything you post falls within the guidelines set forth by Nextdoor, and do your best to position your business as an established pillar of the community.
So, while the question of how to advertise on Nextdoor may not have an easy answer as of yet, there's still tons of potential for the platform. Take some time to set up your profile today so you can reap the rewards of this powerful social network tomorrow.
Read my post on how to advertise your website online for other ideas!