For much of the 20th century, radio was a dominant advertising platform. Every operation from the nation's largest companies to small and mid-sized local businesses allocated much of their advertising budgets towards advertising on the radio each year.
Radio has always provided effective opportunities to build a brand or drive awareness about a product or service. Compared to print or television ads, they're also more affordable.
Plus, the radio remains the only advertising medium that's inherently portable. Through radio, you can reach people at home, and while they're away. Other avenues, such as print, digital, or television, require that the user is paying attention, either to a screen or what's on a page.
Of course, radio ads weren't without their flaws. They were expensive, they were virtually impossible to track or determine an ROI on, and people would often switch stations to avoid hearing ads in the first place.
As new advertising products become available, traditional radio advertising grows continually less popular. For many businesses, radio advertising isn't a strong fit for their advertising needs anymore.
While the popularity of traditional radio has declined, a new way to listen to the radio has breathed new life into the industry and restored radio's usefulness as an advertising medium.
Internet radio solves many of the problems that were inherent in traditional radio advertising. It's affordable, it's highly targeted, and it's easier to track, and it may make a useful addition to your advertising portfolio. Of the internet radio providers, Pandora is by far the largest, and most compelling for advertisers of all sizes.
Whether you're a national brand, a mid-sized company, or a local business that's looking to reach a specific type of customer in your area, Pandora has ad products that are geared to your needs and may work well for your business.
This raises the question of how to advertise on Pandora. Today, we'll cover the ins and outs of how you can advertise on this popular platform, and the different products Pandora offers.
What is Pandora?
Pandora began as the brainchild of its three founders, Will Glaser, Jon Kraft and Tim Westergren. The trio had a vision of launching a new form of individualized radio, which provides a custom radio station for each of its listeners.
With two million dollars in initial funding, the three founders and a team of around 50 employees got to work on developing what would become Pandora. Within a year, the initial funding had evaporated, and Pandora was in serious trouble. But, from management on down, everyone realized they were working on something special, and the employees worked for a staggering two years without pay to work towards their goal of launching Pandora.
Pandora launched officially in 2004, originally as a paid service. The company continued to iterate to find it's fit in the market, and they quickly shed the paid model in favor of an advertising-based model, which is how we know Pandora today.
In 2011, Pandora became a publicly traded company and cemented its status as the undisputed leader in internet radio. Today, they employ over 2,000 people throughout 26 offices and have revenue of well over a billion dollars per year. With over 81 million active users each month, Pandora has also become a compelling place for advertisers both large and small.
How Does Pandora Work?
Pandora works just like a regular radio station, but with a personalized twist. Listeners start their own stations based on a particular song, artist or genre, and Pandora will play songs that it has classified similarly.
Pandora broadcasts over the internet and is available on desktop and mobile devices. There's also a Pandora app for smartphones. Wherever you're listening to Pandora, you'll notice their patented thumbs up and thumbs down buttons on the interface.
Users can give a song a thumbs up, which indicates they like what they're listening to and want to hear more songs like it. They can also give the song a thumbs down, which skips the song and lets Pandora know to avoid songs like it. This helps Pandora learn what each user likes and provides a much more personalized station for the user.
As a free service, users are shown ads about three times for each hour they listen. In certain markets, advertising may be more prevalent. Pandora users have the option of subscribing to Pandora for $4.99 a month, which eliminates ads entirely. But, most users seem to prefer the free version that's funded by ads.
Why Advertise on Pandora?
Advertising on Pandora provides a few distinct benefits over terrestrial radio advertising. The most compelling of which is the targeting capability of Pandora.
Pandora users provide a few key data points when they sign up for the service: their age, gender, and zip code. These are three important demographics that terrestrial radio advertisers don't have access to. With Pandora advertising, you can be sure that you're reaching the type of listener that's most beneficial for your business.
Beyond the data that's inherent to Pandora, the company has also partnered with Krux, a data-management company, to provide far more actionable demographic data than the few key points of data that Pandora already has in-house.
These demographics include points like interests, shopping habits, education level, profession, income, lifestyle, and many more. While terrestrial radio can often provide information like this based on an average user persona, Pandora can provide it for each order.
Pandora also offers a broader range of ad products compared to terrestrial radio advertising. Since there's also a visual element with Pandora that doesn't exist with regular radio, advertisers have the option to advertise in print, audio, or video formats. Each of these three formats offers a unique suite of ad products.
Across desktop, mobile and the Pandora app, there are nearly 90 million active monthly users, making Pandora the clear leader in internet radio. In fact, in 86 different markets in the United States, Pandora is the #1 radio provider, so it's also larger than all but the biggest terrestrial radio stations.
Pandora is available in over 190 different vehicles, and on 2,000 different connected devices. Pandora listeners use Pandora for nearly 21 hours of continuous listening each month, which is greater than Facebook, YouTube, and Spotify.
With over 2,000 different audience segments, Pandora makes a compelling case as the most popular and highly targeted option when it comes to radio advertising.
Then, there's the question of whether or not terrestrial radio listeners even hear advertisements in the first place. Most radio stations play large blocks of songs, followed by ten or more commercials in a row. This leads to unhappy consumers.
Research group Edison estimates that the average drive time radio listener switches stations an alarming 22 times on their commute to work. The main reason for all that switching, of course, is commercial breaks. Other contributing factors include an obnoxious radio DJ or a string of songs that the listener just isn't connecting with.
Meanwhile, Pandora's advertising model is completely different. Instead of sandwiching large blocks of ads together, Pandora users hear just a few ads per hour. Plus, unlike traditional radio, there's no way to change the station to escape the ad.
Combine that with the fact that Pandora stations are personalized to the listener's taste, and there's no DJ to get in between the listener and the music, and you create a climate where listeners are far more receptive to the advertising they're hearing.
How to Advertise on Pandora: Choosing an Ad
Pandora offers visual, audio, or video advertising on their platform. Under each of these umbrellas, there are several different ads you can run. Depending on the needs of your business and the goals of your campaign, you'll be able to narrow down which ad units will deliver your message most effectively on Pandora.
Display Ads
Pandora offers several different visual ads that allow you to reach listeners through traditional banner and web style ads. These ads are the most affordable option on Pandora, with a CPM that ranges from about $5-7.
One advantage of Pandora's display advertising is that these ads are served to listeners who are engaging with the Pandora interface. This helps to ensure that the ads they're delivering for you are actually being seen by users.
Of course, there's no way to know if the user has just put their phone down or left the room seconds before the ad started, but still, you're generally getting good reach if you discount such scenarios.
Web Skins
Web skins are one of the most compelling and well-integrated ad units available on Pandora for listeners who are on their computer. These ads are ideal when your goal is to raise product or brand awareness. There are three different types of web skins available:

Basic Web Skin
A basic web skin will display your ad in the box it usually uses to display album art. There's also a second ad unit that can either appear as a billboard or a vertical ad, as seen in the photo above.
Enhanced Web Skin
The enhanced skin integrates into the user experience more seamlessly than the basic skin does. With an enhanced skin, you're able to place a large ad unit along the side of the player. The listener is still able to access the different player buttons and album artwork.
Custom Web Skin
With a custom skin, you can fully integrate your brand into the user's listening experience. The example above shows an ad for a coffee company, and as you can see, there are two different ad units, as well as a custom background for the ad.
Mobile Ads
For users listening to Pandora through either their mobile site or app, there are a few different mobile display ad options available.
Non-responsive Ads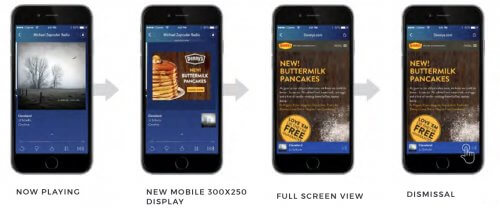 This ad unit replaces the 300×250 album art window with your display ad. Users who are interested in engaging with your ad can click the ad to open up your full-screen landing page. These units are also a good way to drive product or brand awareness.
To dismiss the ad, the user can either swipe the ad off the screen or tap the mini player at the bottom of the page. This helps reduce the number of misclicks on the ad, which leads to truer engagement statistics when you're tracking the success of your campaign.
Responsive Ads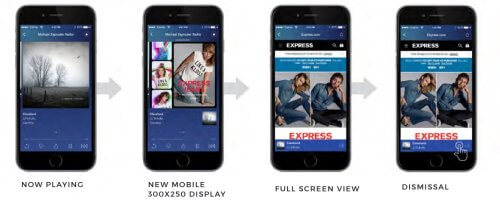 Responsive mobile ads provide similar functionality to their non-responsive counterparts. However, they provide room for interaction between the user and the ad, which non-responsive ads do not.
The example above from Express provides a completely different experience when the ad is opened to full screen, and there are different points of interaction the user can have with the ad before they dismiss it. These types of ads allow one click to an external landing page. So, they can serve your advertising goals beyond just product or brand awareness.
Audio Ads
Pandora is inherently an audio platform; their audio ad options represent some of the best ways to reach Pandora users through the radio.
The primary advantage of audio advertising is that it practically guarantees that the user will hear your message since the user doesn't have to be tethered to a screen to see or hear your message. Audio ads on Pandora are a bit more expensive, with CPMs ranging from $8-12, but they're still more affordable than video advertising.
Audio Everywhere
Pandora's Audio Everywhere ad product delivers 15 or 30-second audio ads to Pandora users, and supplements the audio ads with display advertising as well.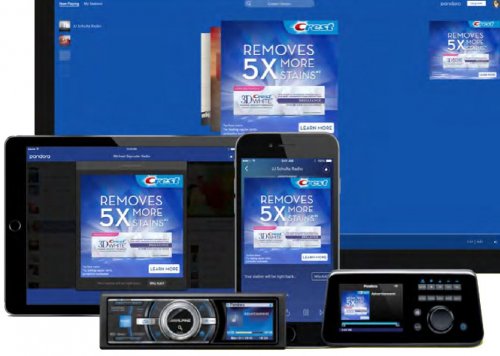 The photo above shows the display components of audio advertising. In addition to the 0:15 or 0:30 audio spots, display ads take the place of album artwork, and there are also secondary display ads available in certain formats, such as on a desktop computer.
The display component is available across most formats. However, they are not available on all of them. In connected cars, there's no album art tile or banner ad. With connected home products, there's no album art tile displayed.
The display advertising that's inherent with audio ads is one feature that completely differentiates Pandora audio ads from terrestrial radio advertising. Users who are particularly engaged with the ad they're hearing can seamlessly click the display ad on their screen to learn more about the product or service.
Depending on the needs of the advertiser, audio ads can be restricted to certain formats, or broadcast throughout all available formats.
Video Ads
Pandora's newest ad product, video ads, allow advertisers to broadcast their message to Pandora users through the most engaging format of all, video. As you'd imagine, video ads are the most expensive ad product from Pandora, and the CPM ranges broadly from about $12-25.
Pandora has video ad programs that you can restrict to a specific platform, as well as ads that will play across every platform. As you'd imagine, video ads are not available in Connected Cars.
Pandora serves video ads to users at high points of engagement. So, a user is likely to see a video ad after skipping a song, or switching stations. This way, there is a greater chance that the user is presently engaged with the screen.
When video ads end, a display ad unit is served to further increase the opportunities for engagement and to reinforce your message.
Within Pandora's platform specific video ad program, advertisers also have the opportunity to run muted ads, which allow the user to continue to listen to their music while the ad plays. This allows the user to enjoy a personalized soundtrack while they're consuming your advertising. This product gives users the option to unmute the video to engage with it more fully.

The photo above shows how all of the different Pandora video ad products are displayed, including their new muted mobile video product.
How to Advertise on Pandora: Managing Creative
Once you've decided upon the best way for your company to broadcast your message to Pandora listeners, you'll have to drill down the creative for your ads.
If you're creating new content specifically for your Pandora ads, familiarize yourself with their ad specs to ensure that your new content is in line with Pandora's requirements. You'll still need to check their specs if you're repurposing existing content so you can make any necessary changes to fit what Pandora requires.
All of the ad specs for Pandora's various products can be found here.
How to Advertise on Pandora: Tracking Your Ad's Effectiveness
If you're already familiar with radio advertising, you know that their tracking and reporting capabilities are rather archaic. Once you've negotiated your terms and submitted your creative, you're pretty much on your own when it comes to reporting.
Short of offering a promotion or a discount code that's unique to your radio ads, tracking engagement or ROI has been practically impossible. Fortunately, Pandora makes it much easier for brands to extrapolate meaningful data from their Pandora ad campaigns.
Within the Pandora dashboard for advertisers, you'll have access to several key data points. For web ads, you'll see the following:
Impressions
Clicks
CTR
Completion rate
Quartile rate
In addition to these metrics, there are some additional data points you'll have access to for mobile-only ads.
Time spent with ad
Time spent on landing page
Social shares
Un-mute rate (only shown for muted video ads)
With these metrics, you'll have a much better understanding of the effectiveness of your ads, and whether or not Pandora advertising is producing measurable value for your business.
Other Advertising Options
Beyond display, audio and video ads, there are also other promotional opportunities available from Pandora. These options are best suited towards larger brands with extensive ad budgets since these programs are often expensive.
Sponsorships
Pandora allows advertisers to sponsor a particular station, or sponsor an uninterrupted listening block for users.
With a sponsored station, advertisers typically have complete control over the ads being displayed to a particular target that's listening to that genre station at the time. These ads typically feature a custom display skin, as well as video and audio advertising throughout the length of the sponsorship.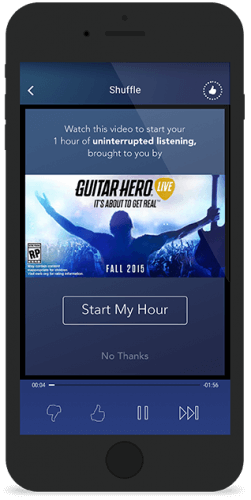 Listening sponsorships present listeners with the option to listen to or watch an ad to unlock ad-free listening for an hour. For the listener, this is usually a no-brainer. Who wouldn't want an hour of uninterrupted radio? Meanwhile, advertisers curry favor with the listener for providing them with uninterrupted listening while practically guaranteeing that they'll be paying attention to your ad.
Branded Stations
For businesses who are looking to align themselves more closely with their target, a branded station may be a viable option. Branded stations allow companies to curate playlists and create a station for listeners while reinforcing their brand.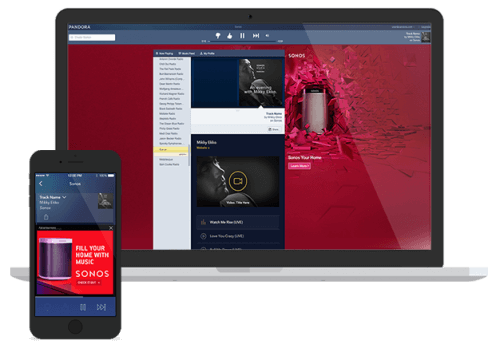 This type of advertising is relatively new, and it's growing steadily among brands who are hoping to reach a millennial audience. However, it remains to be seen if these young consumers are connecting with this type of advertising or not.
Experiential Advertising
This type of promotion falls in line with marketing efforts like the branded stations we just discussed. Experiential events you to facilitate a connection with pop culture for your band through Pandora and their audience.
Pandora has different concert series and other events and experiences that you may wish to discuss being a part of if you're looking to appeal to young, connected consumers.
Making the Most Out of Pandora Advertising
Whether you're placing $50 ads in the town paper, or you're managing a massive budget for a national corporation, it's important that you maximize every ad dollar you spend. These tips can be particularly helpful for getting the most out of your advertising with Pandora.
For Local Businesses
With the internet has come a myriad of new ways to reach a local audience. Many local businesses have found success advertising in places like Facebook, Yelp or Google. Typically, local businesses don't often consider radio as a viable place to spend their ad dollars.
Thanks to Pandora's targeting, that's no longer the case. The first thing you'll want to do is target your ads to people in your surrounding zip codes to ensure that those seeing your ads are actually relevant to your business.
From there, you can use Pandora's other data points to target your ads by gender and age. Thanks to Pandora's partnership with the data management company Krux, you can even apply more filters to ensure that your ads are getting to the right ears and eyes.
Maximize Mobile
If you haven't carved out a mobile strategy by now, your business is at a serious disadvantage, and there's a good chance that your competitors are already taking advantage of the power and effectiveness of mobile advertising.
Whether you've been in the mobile space for years, or you're just now coming around to advertising on mobile devices, Pandora presents a compelling option. Since they have mobile-specific ads available across display, audio and video ads, Pandora makes a strong case as a platform for your mobile advertising.
Consider an Audio Only Strategy
Pandora makes a compelling case for the usefulness of their display and video ad products. But, the fact of the matter is that Pandora is inherently audio-based. Pandora's audio advertising is the most effective way to engage with their audience because you're meeting the listener on their terms.
Sure, Pandora has systems in place that serve display or video ads to users when they're at their most engaged with their screen, but even so, there are no guarantees that the user is looking at your ad, or internalizing your message.
Audio ads remain the most effective way to deliver ads that you know are going to reach your intended audience. If you're unsure where to start, or how you can make the most out of your Pandora ad spend, audio ads may be the way to go.
Deliver a Catchy Ad
This holds true for display and video advertising, but it's especially applicable to audio advertising. The fact of the matter is nobody really wants to listen to your ad. It's up to you to win the attention of the listener, and you only have a few seconds to do it.
Consider different ways you can create an ad that's instantly memorable and sucks users in. A jingle is always a great tool to consider when it comes to radio advertising. However you decide to advertise on Pandora, make sure your ad is good enough to win a person's attention.
At the same time, your ad doesn't need to be catchy in a traditional sense, either. If you've done your homework targeting-wise, you should have a clear idea of exactly who you're speaking to in your ads. With that in mind, consider creating ads that speak directly to your target in a conversational tone. Sometimes, getting right to the point is the most effective strategy, especially when you only have 15-30 seconds to make an impression.
Know When to Negotiate
Radio advertising has always been a highly negotiable medium. When it comes to radio, there's rarely ever a shortage of advertising inventory. Sometimes, there's a shortage of advertisers. You can exploit this fact to your advantage when negotiating your advertising packages with Spotify and other radio providers.
We've provided estimated CPM costs for each of Pandora's advertising products, but these rates are constantly changing, and there may be opportunities for you to secure a great deal by playing a bit of hardball with your account rep.
In the future, it may be even easier for astute marketers to score a deal advertising on Pandora. This winter, Pandora announced a pilot program for their audio ads that will allow advertisers to bid on ad space in real time.
Until that marketplace is rolled out for all of Pandora's advertisers, you should always press your account rep to try and secure the best possible price on advertising.
Use Landing Pages to Track Engagement
The data points Pandora makes available in your advertiser dashboard can be extremely helpful when tracking the success of your campaign, but you can certainly expand upon the data you have available by creating unique landing pages and tracking them through Google Analytics.
Create a unique landing page for your Pandora ads, add a Google Analytics tag, and you'll be able to track the success of your campaigns with much greater detail, while also gathering even more demographic information about the user who clicked your ad.
Another way to supercharge your landing page is to provide a special offer or coupon in exchange for the users' opt-in on email marketing. That way, you'll be able to continue to reach engaged users from your Pandora campaigns, without ever having to pay to reach them again.
Test and Iterate
Chances are, you aren't going to hit a grand slam on your first swing. One of the keys to advertising successfully on Pandora (and on any other platform for that matter) is to constantly optimize your ads. By optimizing your ads, you'll be putting yourself in a better position to succeed. Over time, you'll have a much better idea of what your audience responds to, and you'll be able to use that knowledge to create winning advertisements that drive results.
Next Steps
You can certainly make a compelling case against advertising on terrestrial radio these days. But, it would be foolish to ignore the potential that internet radio providers like Pandora have for your business.
Whether you're a local business looking to drive awareness about your store, products, or a sale you're having, an eCommerce brand looking to reinforce your position in the market, or somewhere in between, Pandora's suite of ad products has something for everyone.
Thanks to robust targeting ability, a strong listener base that's about as large as ¼ of the entire United States population, and tracking and reporting that greatly exceeds what terrestrial radio has been able to deliver to advertisers, Pandora is certainly a platform to consider when planning your advertising budget.
If you're wondering how to advertise on Pandora, the next step for you is to contact them here. An account rep with Pandora will contact you so you can discuss the different options that are available for your business and create a plan around your advertising goals.
Read my post on how to advertise your website online for other ideas!