Most marketers and website owners agree that you should make decisions based on data.
But too often, marketers and website owners think of data as something that you can go acquire on demand. Some data is available on demand. But there is some data that once it's gone – it is gone forever.
If you aren't recording and storing it, you can never access it to create reports, run analysis, make decisions or launch a campaign.
In other words, some data is like a lake. It's a body of water that you can access simply because it's there. But some marketing data is more like a pipeline. If you aren't filling it up on one end and channeling it as it flows – you'll never get to use it.
I've gone to optimize websites and kicked off client engagements only to realize "Oh, actually I have no data to base recommendations on" – so here's my list of 14+ website marketing data that you need to track now or lose forever.
Side on best practices. There are plenty of best practices that may hurt you short-term or create lost potential if you don't implement them. However, ultimately, you can recover from them. This is not that list. This list is anything that you can never get back if you aren't capturing it right now.
Analytics
You need Analytics data to set benchmarks and make historical comparisons. Although you may have server logs, only an Analytics package can record data in a meaningful way.
Unfiltered Google Analytics
You need to have a Google Analytics tracking script on every URL of your site at launch. You must have one completely unfiltered view (ie, it includes all visits, including your own).
There is no way to add historical data to Google Analytics unless it records the data live. There is also no way to edit data that is recorded in Google Analytics. Every day that Google Analytics is not on a page (or incorrectly installed) is a day that you will never have data again.
You can use tools like Screaming Frog or GA Checker to audit your Analytics installation.
Conversion Actions
Even if you haven't decided what counts as a Goal Completion in Google Analytics, you need to make sure Google Analytics can track potential conversion actions. Every conversion action should create some sort of "footprint" – a redirect page, an event, etc.
If you have a contact form – a successful completion should redirect to a Thank You page.
If you running an online store – a successful purchase should redirect to an Order Success page.
If you are selling downloads – a successful action should redirect to a Download Success page.
If a conversion action is not triggering a something trackable (ie, your contact form does nothing after submission or a PayPal checkout redirects to the Order page) – you need to fix that.
Ideally, you will go ahead and start tracking these conversions as Goals in Google Analytics. But if you can't – at least the unique redirect pages will show up under the Content → All Pages report and you can look at Unique Pageviews.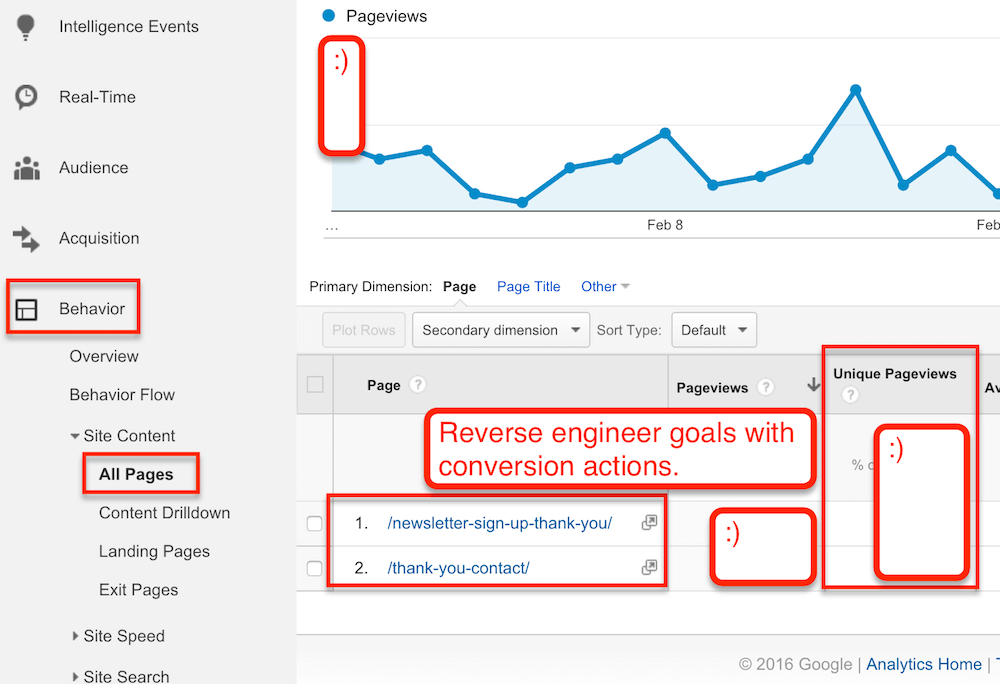 For Ecommerce owners – getting eCommerce data into Analytics is another related priority. Google Analytics can track a lot of useful eCommerce data, but the functionality is useless unless you have it set up.
Event Tracking
Google Analytics can also track "Events" or user-actions on your site. These may or may not be conversions. However, Google Analytics does not track them by default.
If you want to look at external click-outs, social shares, video plays or any user action, you have to have event tracking in place.
Side Note – if you are on WordPress, the Google Analytics plugin by Yoast will automatically add Event Tracking throughout your site.*
But not right-clicks…to handle those read my guide on hacking Google Tag Manager.
URL Tagging & Conventions
Google Analytics tags most incoming traffic correctly based on HTTP header. The traffic categorized as Organic or Referral is mostly correct.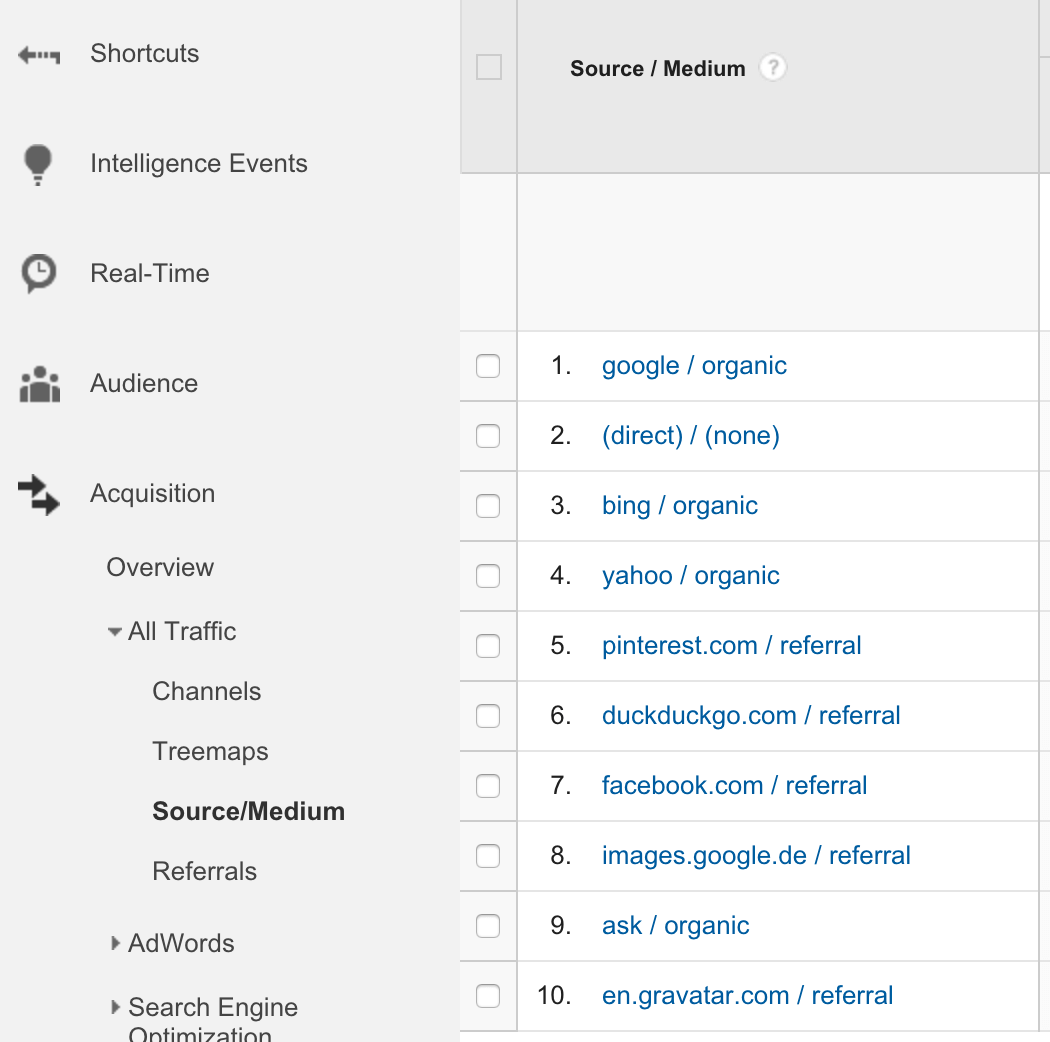 However, any traffic that comes from other sources such as ads, offline sources, email or social might not be tagged automatically.
If you are running untagged traffic sources – you can't "re-tag" or edit that traffic in the future. You'll need to not only use Google's URL Builder to create tagged links, but you'll also need to create standard conventions & formats for creating links.
For example, if you run an email newsletter, you'll need to tag all your links and decide on a format that you can use – all lower caps lettering, underscores for spacing, etc. Same with Facebook ads, vanity URLs (ie, easy to remember domains that redirect to a landing page).
If you are running on ads on AdWords, you can turn on automatic tagging so that Google will take care of the work.
But either way, if you don't tag your URLs, you'll lose the ability to compare a lot of traffic in the future.
Side note – never tag internal links and read this definitive guide to URL tagging.
Advertising
Even if you aren't running paid ads right now, you'll likely reach a point where you want to try it. And when the time comes, you need to have data already coming down the pipeline. Here's what you need to have in place.
Facebook Custom Audiences
One of Facebook's most powerful ad features is Custom Audiences. You get to show ads to people that have already visited your website. You can even segment and focus on certain website visitors.
But you can't build a Custom Audience unless you have installed Facebook's pixel on your website. Every website visitor that lands on your site before you install Facebook's pixel will be lost forever.
Every time someone visits your website, they can be in a Custom Audience for 180 days before Facebook removes them. So even if you aren't going to run Facebook ads right now, you can go ahead and start building the audience.
As a bonus – Facebook does allow you to retroactively segment your audience. So even if you simply create an "All Website Visitors" Audience, you'll be good to go.
Learn more about your Facebook pixel here…
Twitter Tailored Audiences
Twitter's Tailored Audiences is Twitter's version of Facebook Custom Audiences. The same reasoning holds here – even if you don't plan on running Twitter ads, you might as well have a Tailored Audience ready for when you are ready.
Learn more about your Twitter Tailored audience here and this case study here.
Google Remarketing Audiences
Like Facebook and Twitter, Google also allows you to run ads to people who have already visited your website.
You can set this tag up via Google Analytics –> Admin –> Remarketing (under Property). The only catch is that you have to define your audiences. At the very least, create an All Visitors audience with maximum cookie length.
Then create a couple page-based audiences – especially an audience that can be a negative or exclusion audience such as people who landed on a Thank You page. If you are an eCommerce business, you can create an audience for abandoned cart users.
If you are a lead-based business, you can create an audience around your service pages. Either way, have it in place for when you need it.
LinkedIn Tailored Audiences
LinkedIn rolled out a much-anticipated custom audience program. It's completely integrated into their ad program.
Now – I personally don't use it because it is by far the most aggressive audience collection cookie out there. It loads a *ton* of scripts and cookies on your users' browser, so be careful, be cool and weigh this option carefully. It's not a "must have" the way others are.
Pinterest Tailored Audiences
Like LinkedIn and Twitter, Pinterest allows you to run ads to a group of people on their platform. It's extremely effective and worth collecting data on. I wrote a guide to Pinterest Analytics here.
Organic
On my podcast, we like to refer to Search Engine Optimization as a grand experiment in reverse engineering. And most everything in SEO is about researching, editing, revising and optimizing based on current data. However, there are a couple data sources that need to be in place to get both current and historical data.
Search Console & Bing Webmaster Tools
Google Search Console and Bing Webmaster Tools are where the world's top search engines provide SEO-related data about your website.
But you can't access it until your website is associated with each. Additionally, they do not provide historical data. Every day that you do not have Search Console and Webmaster Tools linked is a day that you do not have data about your website.
Learn how to set them up here and learn how to use Search Console here…
Search Console Keyword Data
One of the most valuable areas of Search Console is the Search Analytics section. It provides keyword data from Google based on page, device, and geography. The keyword data includes the actual search query that brought someone to your website plus what search queries you show up for and your average ranking in those search results.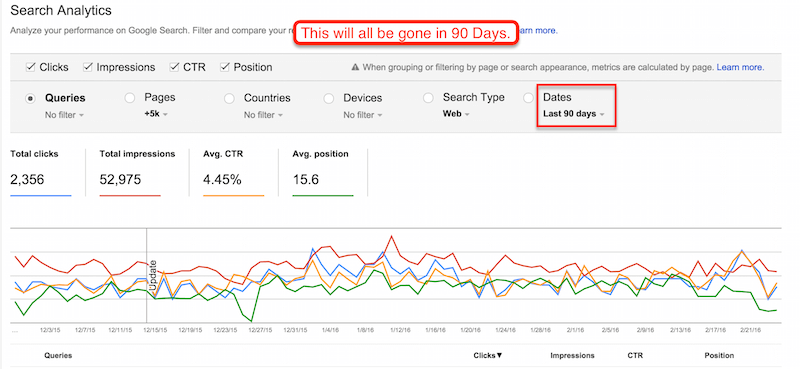 All incredibly valuable data.
It also all disappears on a rolling 90-day basis. Once it's gone, it's gone forever. If you want to do Quarterly or Annual analysis on search queries or positions – you have to record and download the data yourself.
You can hire someone on oDesk to tap into the Search Console API to automate the downloads. Or, just set a reminder every 90 days to click the Download button in Search Analytics.

Other
These last two aren't part of any specific bucket, but they are critical to have in place for when you need them later.
Email Capture
Retargeting via Google, Facebook Custom Audience or Twitter Tailored Audiences is great until compared to email. Someone's email address rules all other forms of marketing.
You don't have to have an offer or even an email marketing plan to capture email. You just need to have it available. Something is always better than nothing.
OptinMonster will allow you to send it to a CSV file until you get a plan set up. MailChimp allows you to set up a free plan – and will even take care of the double opt-in process for you.
Like retargeting cookies, every day that you don't have it available is a day that you cannot build an email list for later. If you're skeptical – read this case study and this case study.
Complete Website Backup
Your website will get hacked. It will crash. It might be a while, but it will happen.
And when it happens, you'll need a copy of your website. You won't be able to create one after the fact. It's something that has to be done now before something bad happens. If you are using WordPress, a plugin like VaultPress or BackWPup will work.
Google Analytics Intelligence Alerts
This is not exactly data to track – but data to use to help you never miss any problem with your website.
Google Analytics has the ability to send you alerts to your email (or SMS via something like IFTTT) when something happens with your site.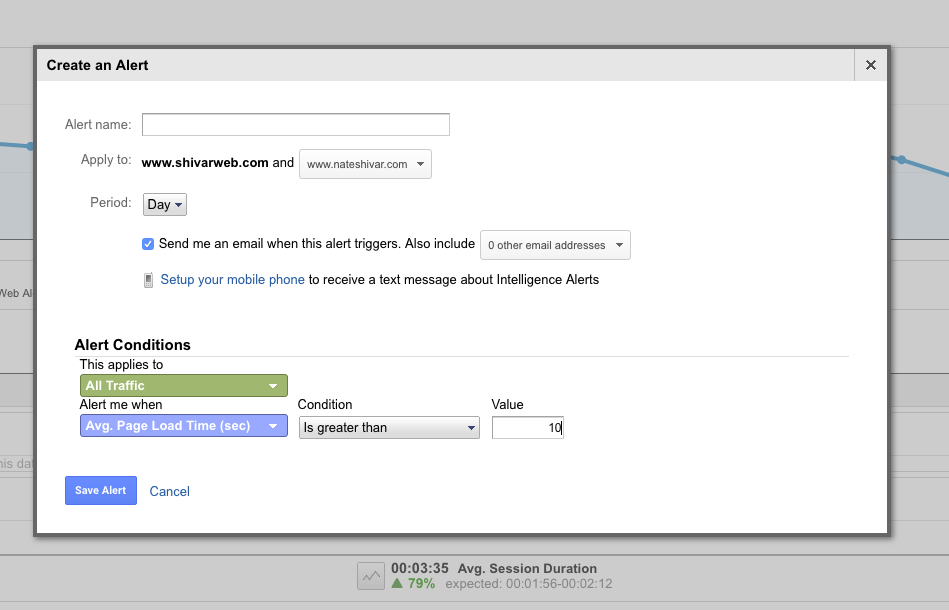 Whether it's your server going down or a slow checkout or an engagement issue – you should take the time to set up at least 6 types of custom alerts as outline by this Google Analytics post.
Explore More Related Analytics Posts!