| | |
| --- | --- |
| Support | Email, Live Chat, Phone & Knowledge Base |
| Best For | small websites |
| Strengths | Good short-term pricing |
| Weaknesses | Limited advanced tools |
| Promotion | 60% Off With Free Domain |
Sitebuilder is one of the faster-growing brands in the rapidly evolving website builder space. Sitebuilder focuses on core features, a clean interface, and simple templates.
Based on feedback from my Weebly, Wix, and Squarespace reviews – I gave Sitebuilder a try. Here are my 5 pros and 5 cons and full SiteBuilder review.
But before we look at SiteBuilder specifically – there is a bigger concept to keep in mind. Whether you go drag and drop site builder; an installed Content Management System (CMS), or hand-coded HTML files, there are a lot of considerations that go into building a website.
In the end, you really want someone to type in a website address and see your information, presented well with the right functionality in their browser. Whether you are building a simple project website or running an online business, the way you build your site determines a lot of what you can do both long-term and short-term.
In the long term, the tools you use to set up your website affect your versatility, functionality, and, of course, your brand. In the short term, it can certainly add/take away a lot of headaches. That said, just like choosing a physical house or office, there is no such thing as an absolute "best" or "top" choice. There's only the right choice relative to your goals, experience, and circumstances.
What Is Sitebuilder?
Website building tools exist on a spectrum with a core tradeoff between control & convenience. Usually, the more convenient a tool is, the less control you have – and vice versa.
Sitebuilder lives on the spectrum that more all-inclusive and convenient to get started and grow your website. It stands in contrast to solutions where you buy, install, and manage all the "pieces" of your website separately on your own server.
Like other "hosted website builders" like Weebly or Wix, SiteBuilder is sort of like leasing and customizing an apartment in a nice development instead of buying and owning your own house. You're still in control of decor, cleaning, and everything living-wise – but you leave the construction, plumbing, security, and infrastructure to the property owner. That point is key because, again, there's usually a direct tradeoff between convenience and control.
All the functionality and design that are included with SiteBuilder work seamlessly together as a platform. That's what allows them to have drag and drop website design, layout, and content.
As far as competition, SiteBuilder competes directly with all-inclusive website builders like Weebly, Wix, Squarespace, and WordPress.com. I'll write about a few direct comparisons right before the conclusion.
Website builders as a group compete with options like WordPress.org (which provides the free software to build a website that you own & control – see my WordPress setup guide here) all the way to options like typing actual HTML code into a text file. Make sense? Awesome, let's continue with the SiteBuilder review.
Sitebuilder Alternatives
Sitebuilder competes in a very crowded industry. Here's how they directly compare to a few of the most popular website builders that I've worked with.


WordPress.com Review
Rating

8.0/10

Price

FREE - $59 per month

Promotion


Squarespace Review
Rating

8.5/10

Price

$12 - $40 per month

Promotion


Wix Review
Rating

9.0/10

Price

Free - $49+ per month

Promotion
Sitebuilder vs. Wix
SiteBuilder is a bit cheaper and simpler…but only because they have nowhere near the templates and features as Wix. If you want a drag and drop builder, then Wix will be a better option.
Sitebuilder vs. WordPress
If you just want to start a blog, then WordPress.com offers compelling basic plans while providing better support and more future-proofing. The same applies to higher-end business plans. While they don't have drag and drop, I'd still go with WordPress.com, especially since you'd be able to move to a self-hosted WordPress website if & when you feel like tackling the learning curve.
Sitebuilder vs. Weebly
Like Wix, SiteBuilder is a bit cheaper but does not offer as many options or templates as Weebly. Additionally, due to Weebly's association with Square, they have more eCommerce options for small stores. Check out Weebly's current plans & pricing here.
Sitebuilder vs. GoDaddy Website Builder
As simple as SiteBuilder is…GoDaddy's builder is simpler. But also possibly too simple. GoDaddy offers no drag and drop – only customizing a very rigid layout. However, GoDaddy is also very cheap and integrates well with their domain services. I wrote a full GoDaddy Website Builder review here. But either option would be worthwhile depending on your goals.
Sitebuilder vs. Gator Website Builder
This option requires a bit of background. So Newfold Digital is one of the largest holding companies in the website service industry. They own a bunch of brands including Sitebuilder.
HostGator is one of their premier web hosting brands. In the past year, HostGator has rolled out a drag and drop website builder called Gator that lives as a product on HostGator. I reviewed Gator as well.
Gator and Sitebuilder both have strengths and they both focus on simplicity. However, unless you are using Sitebuilder as a free site, Gator is definitely receiving more attention and investment. For a long-term project, I'd use Gator over Sitebuilder. Check out Gator.
Pros of Sitebuilder
Here's what I found to be the pros of SiteBuilder – not just in comparison to other website builders, but also as an overall online website solution.
Speed, Security & Convenience
Sitebuilder provides hosting for all their websites. In other words, they provide a place for your website files to live in addition to the builder too. That can be good or bad – but in SiteBuilder's case, it's generally an advantage.
There are big convenience points for having to have very little concern for hosting, speed and security. SiteBuilder appears to run its software on Amazon and Google servers, which will very rarely go down.
SiteBuilder does not have the fastest load speeds, but that's ok, especially since you, as the site owner, dont have to do anything out of the box.

As with any website, there are security risks. But they provide security and backups as part of their pricing package. SiteBuilder is much more protected than having to deal with WordPress security.
SiteBuilder Short-Term Pricing
SiteBuilder's pricing plan is right in line with their direct competition – and even a bit cheaper for specific features. They have removed their free pricing tier recently but also consolidated their total tiers.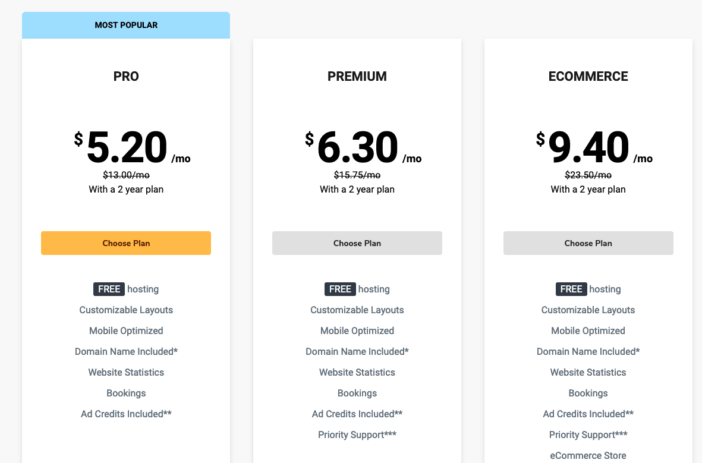 Since Sitebuilder does have some fairly hard caps and structures on each plan, you almost have to go with the Pro plan or more. We'll cover more on that later.
But since everything (software, hosting, security, tools, etc) is all bundled, they have competitive pricing for anyone who simply wants to start a website.
Even their eCommerce pricing, while more expensive than doing the same thing on your own hosting, is much cheaper than comparable plans with direct competitors.
Simplicity & Core Features
For any product, there's a fine line for new features. At some point, new features no longer make the product better – they make it worse.
Like I've seen in all my website builder reviews – companies have the issue of being everything for everyone. They add so many features that their "simple" website builder is really quite complicated.
SiteBuilder focuses on the core features that every basic website needs.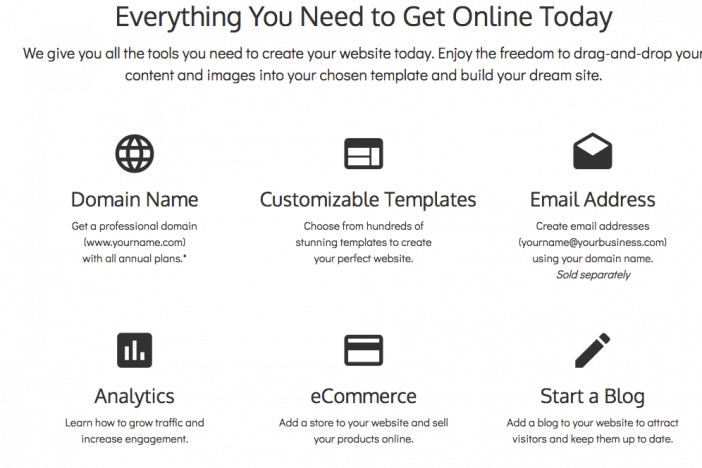 You can grab a custom domain name, go right into choosing a SiteBuilder template, add an email address, add Analytics to track website data, sell products with an ecommerce website or start blogging.
It's not for everyone (as I'll mention in the cons), but if you really do only need a simple, quick, basic website – SiteBuilder's setup is simple and straightforward.
Site Building Process
On the same theme as their focus on core features is the simplicity of the actual site building process.
No matter what plan you end up wanting, everyone gets started with the same setup process.
If you want – you can publish a live website in 3 clicks. There's no purchasing beforehand or passing credit card information.
You click Get Started, choose your password, choose a base SiteBuilder template, and you're in the Editor where you can Publish your site.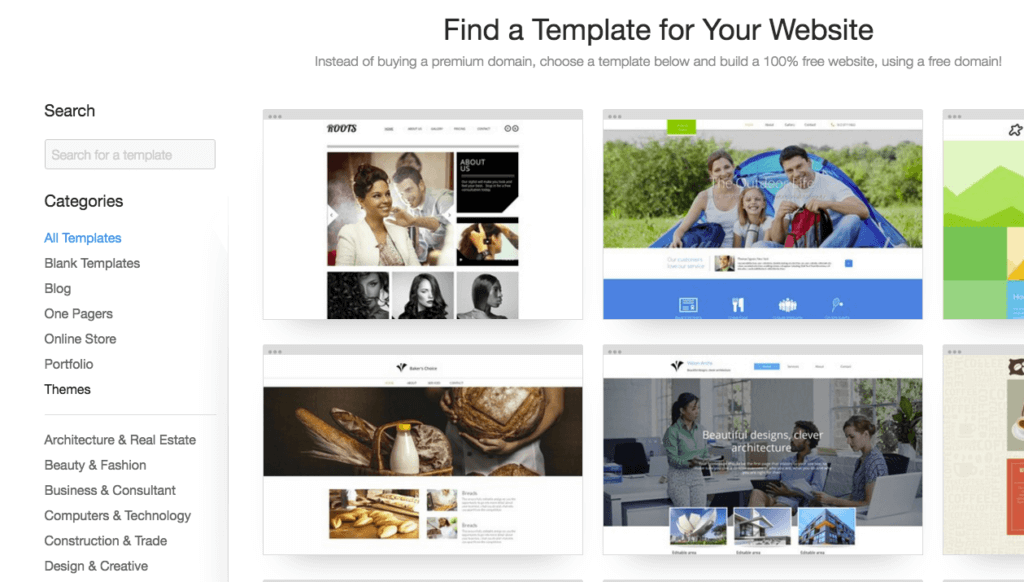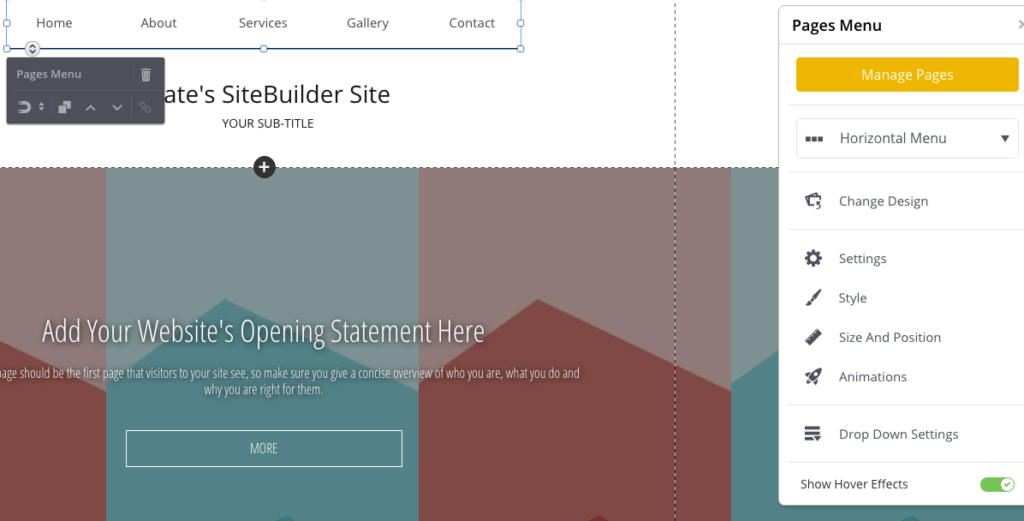 The Editor also acts as a site dashboard where you can upgrade your account to the plan you want.
The process & editor are intuitive and well-designed which is a solid pro.
Drag & Drop Editor
One advertised advantage of using an all-inclusive website builder is that you won't have to write HTML or CSS code. You can just drag and drop elements. What you see in the builder is what you get on the website.
However, it is not always that simple. There's a lot of nuances to "drag and drop." Most of us actually mean "I want to click and drag this element and move it to a general area where it will look good – you know, automatically centered, etc."
In other words, it's like playing tee-ball instead of baseball…or bowling with gutter guards up. You want to do the thing, but also have a bit of help.
For the most part, SiteBuilder pulls this off. Their drag and drop actually works the way you would expect it to.
You also have a plethora of design options and templates. The parameters and rulers are all adjustable. The look & feel is straightforward and uncluttered.

Cons of SiteBuilder
But of course, no Sitebuilder review would be complete without looking at the downsides. Let's look at specific cons I found.
SEO & Marketing Tools
SiteBuilder does basic SEO & marketing tools better than some competitors. They build in redirects and HTML tag functionality.

But that's about all they provide. There's no Schema or Sitemaps. You can do little to fully customize your site visitor's experience. And you are limited on where you can/cannot add content.
They don't even get duplicate content right (ie, you'll have duplicate websites on yourdomain.com and yourdomain.myfreesites.net)

SiteBuilder gets some broad strokes right, but it's important to remember that it's a basic website solution. If you hire a professional to help build your site out, they're likely going to recommend that you move to a more versatile platform.
This con is partly because Sitebuilder focuses more towards convenience over control. And without 100% control over your site & server – it can be difficult and/or impossible to add advanced marketing tools such as an EV SSL, custom email collection tools, custom analytics packages, custom social shares, specific Schemas, and A/B testing software.
Long-term Pricing
SiteBuilder does a good job with introductory pricing, but overall, they are not an extraordinarily good value. Other best website builders (ie, Weebly) provide a better value on features and renewal pricing.

And that's not even comparing SiteBuilder against building your site on your own server using website builder software like WordPress (or even drag and drop software like Website Creator).
With Sitebuilder, you pay the monthly fee per website. If you are on your own hosting server, any additional site is basically free, so it's that much more value.
Access To HTML / CSS
Although hosted website builders cannot provide server access, many try to provide access to the "source code" (ie, HTML/CSS) of the website that you are building.
It can be handy not only for someone fluent in HTML/CSS but also for anyone trying to get something on the page *just* right.
SiteBuilder provides a plethora of options in their builder and template editor (animations are particularly plentiful).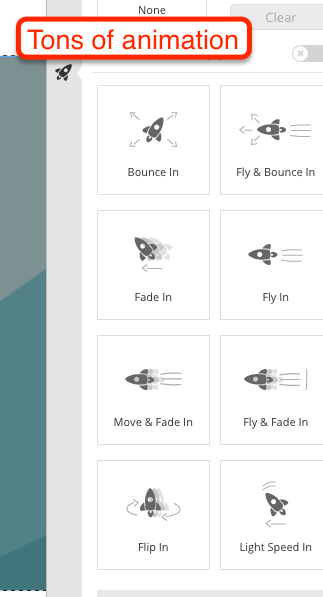 But it has no way to access the HTML/CSS of the page. The sole exception is the header & footer where you can add verification tags for Search Console, Pinterest, Facebook, Twitter, etc.
This limited access is not uncommon in the website builder world, but it does put SiteBuilder at a disadvantage compared to competitors like Weebly and Wix.
Customer Support & Onboarding
Like I've mentioned in other reviews, customer support is a tough issue to evaluate in any industry. Instead of looking at whether or not customer support is "good" – I try to see what their priority is with customer support as a company.
Do they actively invest in resources and channels? Do they try to upsell? Do they look to cut costs?
With SiteBuilder, it's a bit hard to say since they run a fully hosted platform where they can prevent many customer service issues.
Nevertheless, they do have a small knowledgebase. Technical support is via email – and billing support has a phone number.

But all of their "onboarding" emails (ie, the process of getting a new customer started) revolve around upsells.

Relative to other website builder companies, I put their customer support & onboarding as a disadvantage.
Growth Path & Platform Lock-in
Like I said in the advantages, SiteBuilder excels as a simple website builder. That said, if you have a new website that you want to grow and evolve, that's also a disadvantage.
Competitors like Wix, Weebly, and SquareSpace (and eCommerce competitors like Shopify) offer "app stores" or "extensions" that you can add to your account as you grow. They take care of all the advanced features that you will need down the road. SiteBuilder does not have that.
The features that you have are the features you get. If you are planning on growing, then you'll need to consider that point.
Additionally, migrating from SiteBuilder to a new platform is not a straightforward process. They do not have a data export option (that I could find). And their software does not have an RSS feed that could sync your content with something like WordPress.com.
If you ever want to migrate, you'll have to factor in migration costs and effort. Any design or content that you invest in SiteBuilder will need to be manually moved.
Ecommerce Addendum
A bonus for SiteBuilder is its eCommerce functionality. You can sell products from your SiteBuilder website without switching platforms or any special developments.
Ecommerce is a nice bit of functionality, but keep in mind that it's not a full-fledged eCommerce that online store platforms such as Shopify offer. SiteBuilder has a shopping cart, basic inventory management, and payment acceptance.
It's great for websites that are primarily lead-generation, informational, etc but also want to sell a few products. It's also a good fit for anyone testing out products before moving to a long-term platform. It's not a long-term fit for websites that are eCommerce-first. For those, an online store you own with WordPress + WooCommerce or a specialty eCommerce platform like Shopify (review) would be a better fit.
Is SiteBuilder Legit?
SiteBuilder is a great choice for a simple, quick, no-fuss website. They have competitive pricing, good functionality, and a good user experience.
There are a lot of tradeoffs for using an all-inclusive website builder, but if that route fits your goals – then I'd check out SiteBuilder's Plans here.
But if you're unsure if SiteBuilder sounds like a good fit – I created a BuzzFeed style quiz to help you decide what is the best website builder for you based on your preferences here.
If you think building your own website on your own hosting is a better route, be sure to check out my step by step guide to setting a website with WordPress from scratch here.
FAQs