Shopify and BigCommerce are two of the fastest-growing and most well-known hosted eCommerce platforms.
I've reviewed Shopify and BigCommerce already. I've used both as a customer and as a consultant to customers of both.
Ecommerce options exist on a spectrum of convenience and control. Both Shopify and BigCommerce are right in the middle of the spectrum because they bundle all the technical parts of an online store – hosting, speed, security, inventory, shopping cart, and payment processing – and bundle it into a single monthly price. This contrasts with solutions like WordPress + Woocommerce where you buy, operate, and maintain each piece of the store but also have true 100% control over your website.
But like a self-hosted eCommerce website, Shopify and BigCommerce also bundle as part of your website on your domain where you have full control of the product, pricing, and customer experience. So unlike running a store on Etsy, eBay or Amazon – you control the build, design, and content of your store.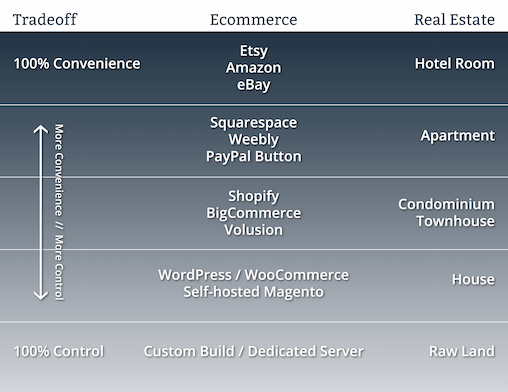 Even though this part of the spectrum has plenty of tradeoffs – services like Shopify and BigCommerce are an excellent option for many store owners. So the question becomes – Shopify vs. BigCommerce?
They are both excellent companies with an excellent product. And like all my other eCommerce and hosting reviews, there is no such thing as an absolute "best" – there's only the best option for you based on your situation, goals, and resources.
Here's how Shopify compares to BigCommerce across 6 different variables that most customers look at – and what you should consider with Shopify vs. BigCommerce.
Price
Ahh – price. It's both the simplest and most complex way to compare two products.
The short story on price is that both Shopify and BigCommerce operate on a monthly price structure with a ~2-week free trial. They also have a very similar "sticker" price with tiers at ~$29/mo and ~$79/mo and up.
See Shopify' Current Plans & Pricing
See BigCommerce's Current Plans & Pricing
That said, their plan structure is just different enough to make a direct comparison a bit difficult.
Quick Aside – I'm specifically looking at Shopify's main plans and BigCommerce "Essentials". They both have Enterprise plans for large eCommerce brands. Shopify has a $14/mo "lite" plan that only includes inventory & order management for an embeddable widget.
If you are just starting out with a basic store, you'll likely save a little bit of money with BigCommerce because (as we'll see later) – they include a lot of features directly in their setup. They have apps and themes – but both tend to be either free or expensive.
However, once you start factoring in apps, themes, credit card rates, and mid-tier features such as HTTPS and cart recovery – then Shopify is a better total value price for most stores. Shopify has a more diverse set of apps & themes across a range of price points and has some advanced features that are "global" – such as HTTPS everywhere.
One caveat for each, though, is payment processing. If you already have a payments processor (ie, for your offline sales, etc) then you'll see no fees for using BigCommerce. You can use their partnership with PayPal for a solid payments price or bring your own processor.
However, if you bring a 3rd party processor to Shopify, you'll see an additional 1.0% transaction fee. However, if you use Shopify Payments…you'll actually get a better deal on processing fees AND have the 3rd party processing fee waived. Shopify Payments also works well for offline and marketplace transactions.
If you are fine with committing to Shopify's whole "ecosystem" – then you'll save a bit on monthly fees. If you are committed to your current processor, then you'll need to take a hard look at Shopify's transaction fees and BigCommerce's integration options.
Either way – price is not the deciding factor for Shopify vs. BigCommerce. Instead, I'd look at other factors.
Customer Support
Customer support is one of the most underestimated benefits of using a hosted eCommerce platform.
The total control of a self-hosted eCommerce site is wonderful until it gets hacked and you are paying $$$ to a developer or you find yourself in the WordPress forums hoping someone points you in the right direction.
Both BigCommerce and Shopify have customer support built into their monthly price. You get access to all sorts of channels on both – everything from phone to chat to forums to email tickets.
All customer support is customized since both of them run on proprietary platforms.
At sign up – they both have an "onboarding" sequence and a consultant to help with any issues.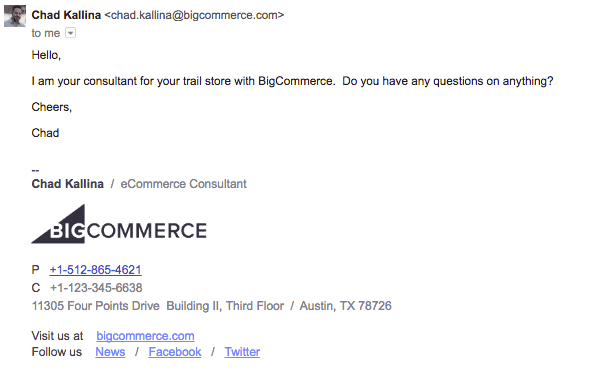 I've had good experiences with both and there are a couple of differences that I've noticed –
BigCommerce has more thorough and instructive DIY education. They have videos and screenshots for even small changes on the Dashboard whereas Shopify will have text instructions.
BigCommerce comes across as more beginner-friendly due to Shopify's sheer number of options & jargon.
Shopify has more thorough and instructive content on running your overall business. They invest a lot of time and resources in case studies, long-form guides, tutorials, and helping your business succeed beyond just implementing a new feature. They help you see the entire spectrum of eCommerce opportunities.
Shopify also has a more well-developed network of 3rd party developers and marketers who specialize in Shopify. They're otherwise known as "Shopify Experts." It's not without problems, but it is a better starting point for advanced help than a Google or UpWork search.
Overall, I'd say that beginners will likely find BigCommerce's support system to be less daunting. But a growing store will likely find Shopify's support system to be more versatile as you grow and look for more advanced integrations.
Customer Focus
Shopify and BigCommerce both serve businesses that range from very small retailers selling niche products to multi-million dollar brands. Both have enterprise plans (I wrote about Shopify Plus here) and they both have customer support teams trained to help absolute beginners.
That said – there is a significant difference between the companies in terms of resources and mission. Shopify did an Initial Public Offering in 2015 to become a very well-funded public company. Their platform is built to serve all retail businesses both on and offline.
Shopify runs their own payment processing service and even has their own Point-of-Sale (POS) system so that small offline retailers can sell offline and online from within the same system. They were the first to roll out "buyable buttons" on Pinterest and Facebook so that merchants could sell inventory directly anywhere online – not just from customers who checked out via the merchant's website.
Shopify's backend (which I'll cover in the next section) reflects this focus. The products/orders/customers/inventory area is separate from the "website" area. The idea is that your website is only one of many sales channels. You can definitely run your website as your only sales channel in Shopify – but the options to sell elsewhere are already built-in.
BigCommerce's focus seems to be 100% on online-only storeowners. That's not a bad or a good thing – it's just a choice. Their backend and terminology are all focused on the store owner who has an eCommerce website…and that's the focus (or at least, for their "Essentials" customers). BigCommerce has plenty of integrations with eBay, Facebook, etc – but they are still treated as an extension of the website.
BigCommerce's big business development deal was with Alibaba. It's focused specifically on helping eCommerce owners and drop shippers build out inventory to sell online more effectively.
Both BigCommerce and Shopify are excellent platforms for beginners to enterprises. However, Shopify's focus is on helping everyone sell everywhere. BigCommerce's focus is helping online store owners sell better.
User-friendliness & Onboarding
Related to Customer Focus are the issues of user-friendliness and "onboarding" (ie, getting a new customer to an active storeowner).
Both BigCommerce and Shopify have excellent onboarding processes and user-friendly management areas. Here's a video tour of each backend. These were recorded back in 2016 – but the core structure of each backend has not changed since. BigCommerce has a new logo though. Here's BigCommerce.
Here's Shopify.
The main difference is how each backend is structured. BigCommerce has a single Dashboard where you manage everything – your products, inventory, website pages, settings, billing, etc.
Shopify breaks out products/customers/orders and your website into separate areas. Additionally, Shopify has their own lingo.
For example, instead of "product categories" – Shopify has "Collections." Instead of a "website" – Shopify has "Online Store" that is one of your "Sales Channels."
For an absolute beginner, it takes a few more minutes to figure out Shopify's lingo and structure compared to BigCommerce. That said, once Shopify's lingo clicks, it does provide a bit more versatility for day to day operations. Shopify's inventory setup, their product filtering, and template editor are all faster and more versatile – once you figure them out.
If you have never run a website before and only have a small to mid-size product collection, then BigCommerce will likely make more sense than Shopify.
If you want more long-term versatility, you'll likely appreciate Shopify's system more once you tackle the learning curve.
Approach to Features
Both Shopify and BigCommerce have almost all the tools (marketing, SEO, inventory, order, etc) an online store would need to be successful. They differ in how they each approach adding new features.
Shopify takes the "platform" approach. They have essential features that all store owners will need built-in. But for features that not all store owners need – they focus on making sure store owners can add feature extensions to their store as needed. They have a large and active App Store that not only has well-known extensions but also plenty of indie apps for every situation (ie, apps for international tax and shipping features).
Shopify's template editing language, Liquid, also allows developers to add features directly to a store if necessary.
BigCommerce has an App Store for extensions as well. However, BigCommerce has a bigger focus on building lots of features directly into their software so that there is no need to add an extension.
For example, take selling on eBay or importing your eBay listings to your store. Both Shopify and BigCommerce can make these features happen.
BigCommerce builds the feature into their backend. If you don't need the feature, it adds some clutter and technically makes you "pay" for something you aren't using. But if you need it, it's already there and it simply works.
Shopify does not have it built-in. However, they do have an app extension (made by Shopify, available for free) that you can add to your store if you're an eBay seller.
Another example is bulk 301 Redirects. Both Shopify and BigCommerce have 301 redirect functionality built-in – and it's great for most store owners.
However, some will need to upload a spreadsheet's worth of 1000s of redirects. BigCommerce has bulk upload built-in while Shopify users have to install an app to take care of it.
That said – the flip side of the platform/built-in tradeoff is that if BigCommerce does not have a feature built-in – they are unlikely to have an app to provide the functionality at all.
For example, if you are implementing those bulk 301 redirects and want to monitor 404 errors to see if you missed any URLs – Shopify's app will take care of that but you won't be able to do it at all in BigCommerce.
It's the same situation for drag and drop editing, membership shopping, and many other advanced features. Most store owners do not need/want them. But if you do, you are more likely to get it in some form or fashion in Shopify than BigCommerce.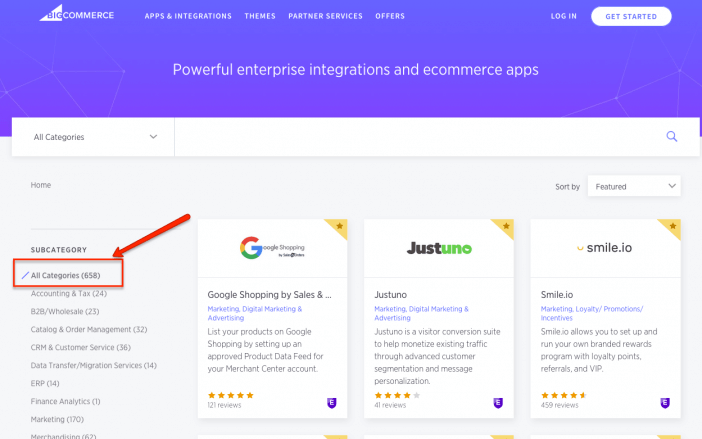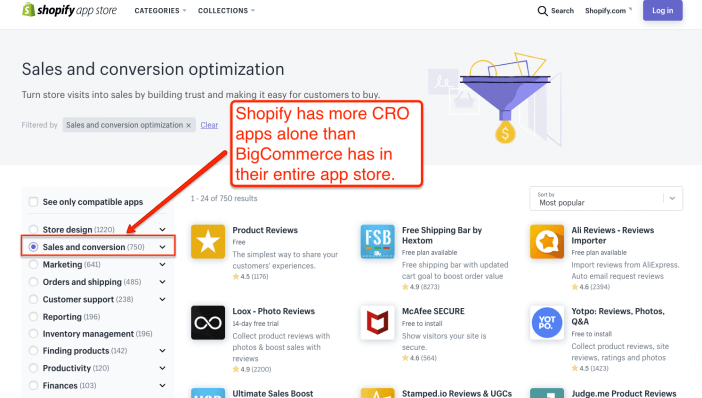 Overall, if you have fairly core eCommerce needs and simply want everything to be there and to work – then BigCommerce will likely work better.
If you want more versatility (without going the self-hosting route), then you'll have more access to features with Shopify.
Aside – this is why I recommend doing a 2-week free trial with both BigCommerce and Shopify just to click around and see for yourself.
Approach to Design
Both Shopify and BigCommerce use a system of themes/templates for the design. You select a base theme and then edit it to look as you like.
While the end result is the same, they do take a slightly different approach.
Shopify has a well-developed "Theme Store" which, like their App Store, has a wide selection of free and premium themes made by companies, individuals, and Shopify.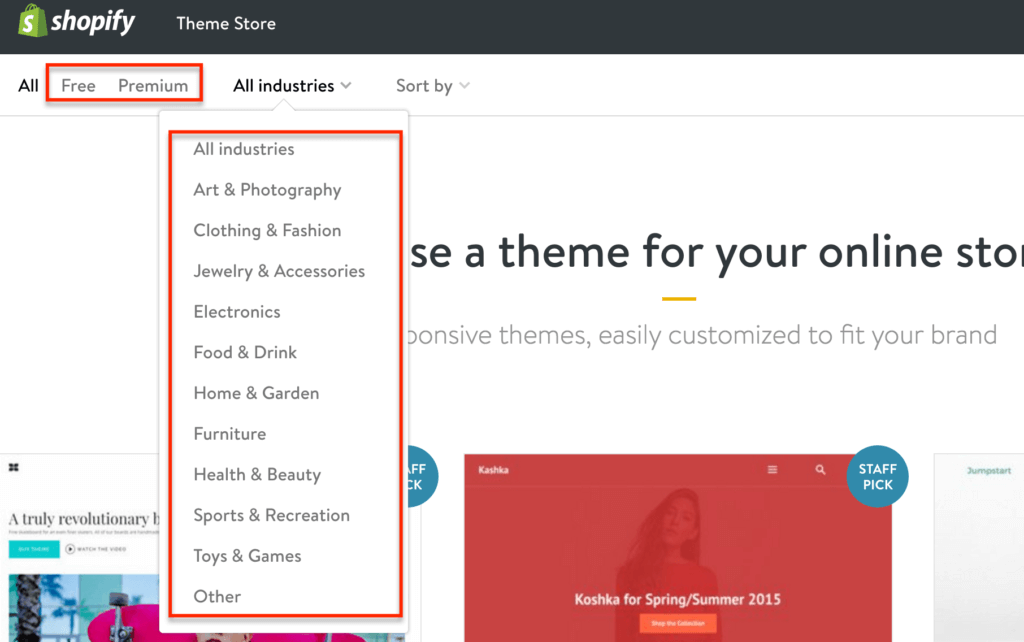 Shopify's backend allows you to make changes to the theme. Most themes have a hybrid approach to editing. Small customizations (colors, logos, etc) require just a click. Medium changes can leverage Shopify's drag and drop wizard. Specific changes (layout, widgets, etc) require editing Shopify's custom Liquid language. If you know some HTML/CSS, then it's not ideal since you have to learn an additional way of making changes.
BigCommerce has a Theme Store that is rapidly growing. They've just added a new batch of new themes. However, it still lacks the diversity of Shopify. Their price points for premium themes are usually higher as well. That said, BigCommerce theme editing options include both selecting small customizations and editing the HTML/CSS. It's a more straightforward editor than you'll get with Shopify (except that they don't have any drag and drop).
Overall, I think most store owners will find more flexibility with Shopify's approach to design. However, if you want to edit HTML/CSS directly without learning a new language and/or want to download template designs (rather than working in a development store) – then you'll like BigCommerce better.
Shopify vs. BigCommerce Conclusion & Next Steps
So Shopify or BigCommerce – who is a better fit for who? If you have time – I'd actually recommend doing a free trial (no credit card required) with both and just clicking around.
Get a free 15-day free trial with BigCommerce.
Get a free 14-day free trial with Shopify.
I personally like the versatility and options of Shopify. They are likely a better fit for most online store owners. Check out Shopify & my Shopify review.
However, if you are an online-only retailer and want a simpler experience, you'll do well with BigCommerce. Check out BigCommerce & my BigCommerce Review.
If you are undecided – then take my eCommerce Platform Quiz here. It will take your preferences and tell you who is the best choice for your online store.
Explore Related Posts