If you are building an online store, Shopify and Etsy are two of the biggest brands that you'll encounter. But a frequent question that I get is – Shopify or Etsy? What's the difference and how do I choose what to start with?
The core difference is fairly straightforward.
Etsy is an online marketplace for handmade good and vintage / artisanal products (here's my guide to setting up Etsy). An Etsy store lets you sell products on the Etsy marketplace.
Shopify is a hosted eCommerce platform. A Shopify store allows you to set up and run an online store on your own domain on the open Web while they take care of the technical parts & customer support (here's my Shopify review).
In other words, Etsy is a marketplace where you can have an account with Etsy listings. Shopify is software that sets up an eCommerce store for you.
| Takeaways | Shopify | Etsy |
| --- | --- | --- |
| Key Strength | Tools to build a retail brand | Customers on marketplace |
| Key Complaint | Getting customers | Limits growth ability |
| Best For | DIYers with a marketing plan | DIYers who just want to sell today |
| Current Promotion | Try Shopify Free For 14 Days | None |
If they had physical world equivalents, an Etsy store would be a booth at a local farmer's market (ie, the Etsy marketplace).
Shopify would be a shopping center owner letting you build out your own store at your own address while handling the utilities, etc.
But that still doesn't tackle the question behind the question (i.e., "what's should I use?") – so let's look at the biggest differences & considerations so you can decide between Shopify or Etsy (or both!).
These differences will highlight Shopify vs Etsy specifically – but they can also be applied to any alternative to Shopify, whether it's WooCommerce, or others.
Keep in mind that these are all differences/considerations – they are not pros & cons. Everything has a tradeoff that might be a good or bad thing for you depending on your goals, resources, and priorities.
Shopify vs Etsy – Key Differences
Domain & Setup
As much as the Internet has changed in the past 25 years, the URL (aka domain name) remains the foundation. No matter where your products are – they have a URL.
If you are on Shopify, you get a temporary URL at signup formatted as – yoursite.myshopify.com
However, it's meant to be temporary. Shopify makes it possible to set up your own custom domain and URL structure (from wherever you bought it from). You can not only have yourstore.com but you also determine whether you have yourstore.com/shoes/wonder-shoe or yourstore.com/footwear/wonder-shoe.
With Shopify, you also have to actually set up your store. They have default settings, but you can customize everything.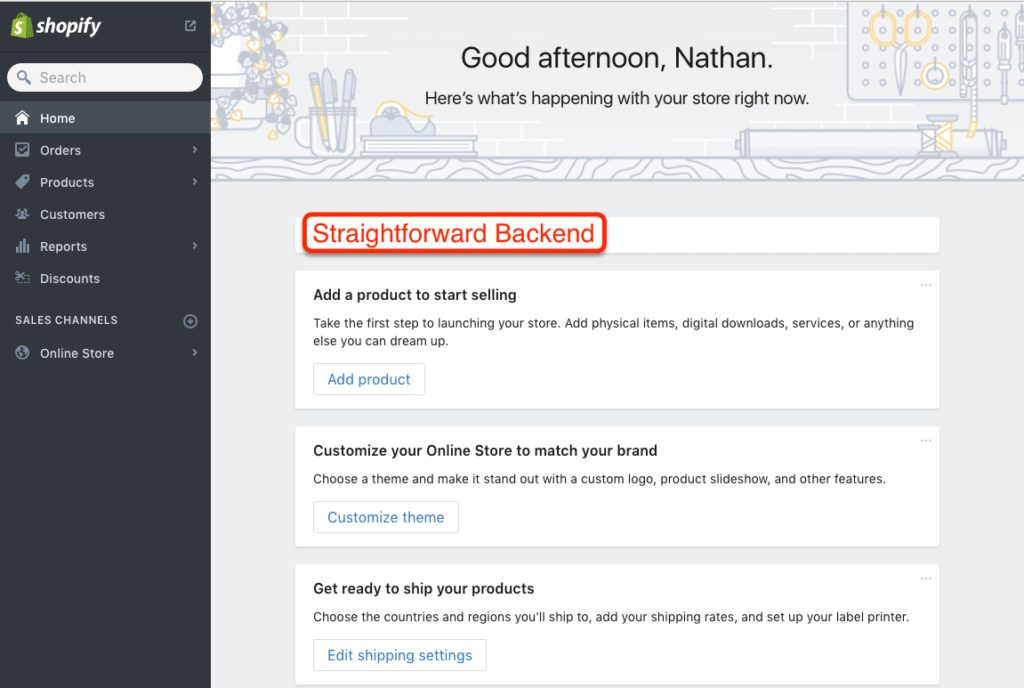 With Etsy's main service, you get an etsy.com/shop/YourStore domain. You don't have your own domain or URL structure. It's decidedly an Etsy Shop.
In other words, customers see the difference as "this is Larry's Etsy shop" vs. "this is Larry's website."
Etsy does have a premium service called Patterns that allows you to connect a custom domain. However, there are still the URL structure and setup limitations – which actually segues directly into the next big difference.
Branding & Design
On Shopify, you are responsible for setting up your own design. Shopify has a large collection of free and premium "themes" that you can select and install with a click. If you want a custom design – you can do that do. A Shopify theme generates HTML/CSS so you can have any design you can dream up.
There is really no such thing as a "Shopify site" since Shopify allows you to implement any design rather than a standardized design.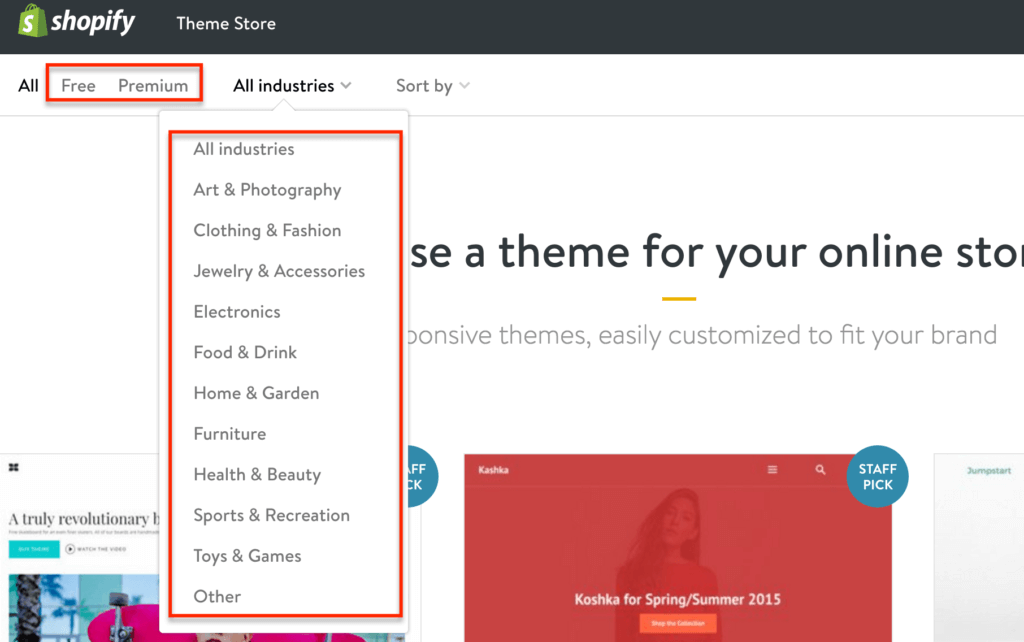 On Etsy, you have a global Etsy shop design. You can choose your colors and sort products to a degree, but all customization is within Etsy's parameters. There is some room to develop your own branding with the logo, layout, etc – but again, all within Etsy's tight parameters. This goes with the Patterns product as well. You can customize – within boundaries.
If someone is browsing Etsy and they land on your shop, it will be obvious that they are still on Etsy – not a separate website.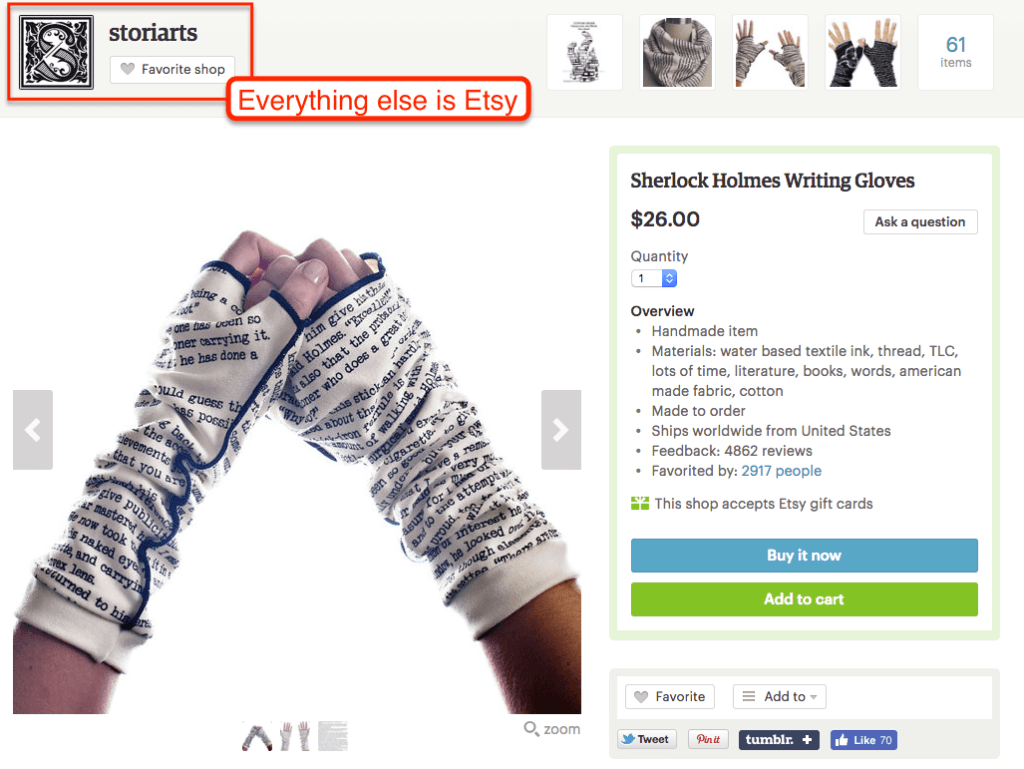 To reiterate – this difference is not a pro or con for either. There are a lot of advantages to customizing a defined page on Etsy. A potential customer will be familiar with the design and don't have to "learn" your website. Etsy can afford to study how people browse and buy – and implement those changes globally so that you get more sales.
On the flip side, you can also get "stuck" building someone else's brand (aka Etsy's) rather than your own. You don't get the long-term benefits of independence.
Later, we'll look at using Etsy with Shopify, but let's continue looking at differences to consider when you're starting out.
Fees & Pricing
With Shopify, you pay a monthly fee starting at $29/mo. Shopify fees includes hosting and support. The plans are tiered out based on additional features for advanced stores.
You do not pay transaction fees or a listing fee to Shopify outside of a credit card payment processing fee (which can be mitigated by using the Shopify Payment gateway).
With Etsy, an account & storefront are free. There is no monthly fee. Etsy fees include $0.20 listing fee and pay a 3.5% transaction fee per sale plus credit card fees. Adding a Patterns site w/ a custom domain adds a $15/mo fee.
Check out Shopify's Pricing Page here.
Check out Etsy's Sign Up page here.
If you are just getting started – Etsy's free tag makes a lot of sense. But as you increase sales, the transaction fees can cut into profitability. In fact, depending on your plan & profit margins, Shopify can actually be cheaper than Etsy.
Either way, Etsy is structured like a marketplace whereas Shopify is structured like a product that you are paying for every month.
Traffic Sources
With Shopify, you are responsible for driving visitors to your site. You have to develop an effective eCommerce marketing plan and execute on it. Shopify provides a wide range of features, plus access to the Shopify App Store that makes execution easier than some platforms. Shopify has a wealth of marketing tools like a very SEO-friendly structure, social media integrations, email marketing apps, etc. But Shopify does not actively pull in visitors to a marketplace and send them you to your products.
With Etsy, they advertise and bring in customers to the marketplace in addition to any visitors that you bring directly to your Etsy shop. In fact, many customers start their search on Etsy for an Etsy shop. They are pre-sold on buying from an Etsy shop – you simply have to have what they want.
Going back to the physical world analogy – an Etsy shop is like a stall at a farmer's market. Sure, some customers might be coming to visit your stall. But most customers come to the farmer's market because they already know and trust the farmers market as a great place – and browse your stall as a result.
Whereas with a stand-alone store, you have to go out and market your store and bring people to your store to shop. The landlord may have taken care of the parking lot, plumbing, electricity, security, and outdoor signage – but they also aren't spending their money marketing your store.
Rules & Limitations
With Shopify, you can sell basically whatever you want, subject to your local laws and Shopify's terms of service (ie, no illegal substances, content or objects). You can sell your own stuff and also list complementary manufactured products. It's your store that you can run based on your business goals.
With Etsy, you are subject to their marketplace rules, which currently limit products to handmade good, along with vintage and artisanal goods. If you want to cross-sell or up-sell complementary manufactured products – you're out of luck.

And like the design limitations, you are limited to how you list and present your products. Etsy has a specific process for listing products. There's no changing or opting out.
Inventory & Payment Processing
With Shopify, you have a full inventory management system that syncs with your customers and orders. Shopify also has their own payment processor and point-of-sale service, so you can sync your offline sales with your inventory on Shopify. It's an on and offline ecommerce solution.
Etsy, again, is a marketplace, not a platform. You list products for sale (and pay per listing) but you have to maintain inventory records elsewhere. There are 3rd party apps that can tie Etsy sales to inventory but the management will be with the 3rd party app – not integrated into Etsy.
As far as day to day management, there is both a Shopify app and an Etsy app to run your store. Shopify also has a Shopify POS that you can use for offline sales.
Shopify vs Etsy – Using Together
If you have a few products to sell and want to simply get your online business started for free – Etsy is usually a great start. But as you can tell from the differences/considerations, most shops will have to plan to change as they grow.
But here's the thing – it doesn't have to be an either/or choice between Shopify and Etsy. In fact, a common growth path for stores will go like this –
List a couple products on Etsy
As sales increase, create an online store on the Shopify platform
Maintain inventory and drive repeat customers on Shopify
Maintain Etsy as a marketing channel with only top selling products listed
If you look at it this way – Etsy is simply a sales channel that can make sales from Etsy's marketplace rather than a channel that drives sales to your website. It's in the same class as Amazon , eBay and others. You can use Etsy to get Etsy customers and your Shopify site as your digital marketing hub to generate sales elsewhere.
So in the end, Shopify vs Etsy isn't a choice to make. Rather, it's a way to think about your priority depending on what phase your business is in.
Next Steps
If you have a few products and just need to get a few sales to test the waters – then start with Etsy.
If you want to start your ecommerce business with a site that you own and control then checkout a Shopify plan & free trial here.
But keep in mind that it's not really either/or – it's about your priorities as a business owner.
Explore Related Shopify Posts
Explore Related Etsy Posts