Shopify is a fully-featured eCommerce platform that allows retailers to sell via an online store, offline store, or an online marketplace. I've written a full and detailed Shopify review, but this post focuses specifically on Shopify Pricing & Plans.
For a bit of background, if you think about eCommerce software as real estate, Shopify is analogous to a condominium or townhome. Your store is your property and under your control, but you pay someone else (Shopify) to take care of the structure, common areas, security, maintenance, etc.
But just like purchasing a condo/townhome, it can be challenging to unbundle all the fees and services from the costs to see exactly what kind of value you are getting. It's hard to figure out whether the stated pricing and plans meet your needs and goals.
With that in mind, here's my take on Shopify's plans, along with an overview of how much Shopify costs once you factor in all your upfront and ongoing costs.

Larry's Take
Shopify can pretty much do everything you want with their hosted eCommerce platform. It's perfect when selling physical products. You can manage your storefront, and create SEO-friendly content so your products can be found. The downside with Shopify is vendor lock-in for your storefront and can get pricey as your business grows. Shopify's weakest part is its blogging platform.
| | |
| --- | --- |
| Platform | Cloud |
| Dunning | No |
| Affiliate System | No |
| Price | $9 - $299+ per month |
| Annual Discount | No |
| Promotion | Try For Free |
Learn More
Shopify Pricing
How much is Shopify? Their plans are pretty straightforward. They all come with a free 14-day trial. And the differences among the three, mainly revolve around the number of staff, credit card transaction fees, and the ability to build reports.
There are no limitations on pages, products, design, or even functionality.
In general, if you aren't sure which plan you need, it's pretty easy to start with a Shopify Lite Plan and then upgrade if and when the time comes. In some ways, it's easier to assume that you need the Basic Shopify plan unless there's a reason to go with a larger plan. Here's the breakdown of the Shopify fees.
| Plan | Lite | Basic | Shopify | Advanced |
| --- | --- | --- | --- | --- |
| Price | $9/mo. | $29/mo. | $79/mo. | $299/mo. |
| Products | – | Unlimited | Unlimited | Unlimited |
| Staff Accounts | 1 | 2 | 5 | 15 |
| Inventory Locations | – | 4 | 5 | 8 |
| Reporting | – | – | Standard | Advanced |
| Online Credit Card Rates | 2.9% + $0.30 | 2.9% + $0.30 | 2.6% + $0.30 | 2.4% + $0.30 |
| In-Person Credit Card Rates | 2.7% | 2.7% | 2.5% | 2.4% |
| Non-Shopify Payment Fee | 2.0% | 2.0% | 1.0% | 0.5% |
| Country-Specific Domains | – | – | yes | yes |
Shopify Basic Plan
The Basic Shopify plan starts at $29 per month. It includes all the functionality you need to create an online store, including adding sales channels to eBay, Amazon, Pinterest, etc.
With the Basic Shopify plan, you need to consider that –
You can only have two staff accounts.
You can only allocate inventory to two locations (and that includes pop-up shops and fulfillment centers).
You cannot build reports for stakeholders or yourself. However, you can still create reports with Analytics and Excel.
You don't get as high of a shipping discount.
Your credit card fees are slightly more slightly more than higher priced plans if you use Shopify Pay.
If you use a third-party credit card payment gatewat, you have a 2% Shopify transaction fee.
You are limited with your international options, especially with pricing and new domain names.
Shopify Plan
The Shopify Plan charges $79 per month and is the most common plan for Shopify users.
With the Shopify Plan, you have to consider that –
You can have up to five staff accounts.
You can have up to five locations with designated inventory.
You can build a standard Shopify report but without some advanced filtering functionality.
You're shipping discount can be up to 88% off.
Your credit card fees with Shopify payments are slightly less than basic Shopify but still somewhat more than advanced Shopify. It's calculated based on your average order value and how many orders you anticipate in a month.
If you use a third-party credit card, you have to pay a 1% transaction fee.
The Shopify plan makes it a little bit easier to sell internationally because you can easily set an international domain (which is excellent for SEO). You can set country-specific pricing.
Shopify Advanced Plan
The Advanced Shopify Plan charges $299 per month and is popular among established retailers migrating to the Shopify platform.
With the advanced Shopify plan, you have to consider that –
You are limited to 15 staff accounts.
You're limited to up to eight locations.
You have a lot more flexibility with shipping rates and shipping discounts.
Your credit card rate will be significantly lower, even compared to established credit card payment provider companies. There's a huge incentive to use Shopify payments.
You have all Shopify's international tools to sell all around the world and customize your product price per location.
You are still locked into Shopify's platform, so you have to judge what your current inventory software can and can't do.
For large stores coming from Magento or SAP commerce, you may have to look at a Shopify Plus plan.
Shopify Plus Plan
Shopify Plus is Shopify's enterprise e-commerce solution. Pricing is highly variable depending on a retailer's exact means, but entry-level pricing is usually around $2,000 per month.
The most significant difference with Shopify Plus is that you have a dedicated account manager who can assign Shopify resources such as developers and designers to help you integrate your existing inventory and ordering systems into the Shopify platform. It's highly customizable.
Since the pricing is highly variable, the best thing you can do is check out my Shopify Plus Review and get in touch with a Shopify Plus representative.
Shopify Lite Plan
The Shopify Lite plan charges $9 per month and is popular with retailers who either do not need an online store or would rather have a checkout button on an existing website.
Shopify Lite allows website owners to access Shopify's inventory, ordering, and customer fulfillment features, but without committing to building an eCommerce store on the platform.
Shopify Lite is pretty straightforward. It competes with other digital payment brands like Gumroad, and Stripe. It's an excellent option if you plan on developing a Shopify store in the future, but want to stick with an existing website or offline operation for now.
How Much Does Shopify Cost?
Like so many things in the world, the answer to "how much does Shopify cost?" is…it depends.
Shopify is different than many other e-commerce platforms in that there are no hidden fees and no transaction fees if you use their Shopify payment system.
Your Shopify fee is a general, known cost. But running a retail operation on Shopify will have a much higher total cost than what your Shopify sticker price is. Let's look at how you can calculate your total cost.
Upfront Costs
Upfront costs are what I tell readers to budget for when you are first setting up your store. Most of these costs are one-time. I recommend smoothing them out over the course of 12 months so that you can get a sense of your actual monthly cost.
Domain Name
A custom domain name is the foundation of an online brand. The default domain name for a Shopify store is yourstore.myshopify.com.
So while you absolutely can run your store with the myshopify.com subdomain. It's just part of the standard cost to buy your custom domain name.
You have two options when setting up your store. You can either purchase a domain name from Shopify for $14 a year or buy it from an excellent third-party domain registrar (like Namecheap or GoDaddy) and point the domain name to your store.
Either way, a domain is something that you'll have to budget for and purchase, even if it is cheap compared to other upfront costs.
Design
Every Shopify website has the option to use a free off-the-shelf Shopify theme. Shopify has a decent collection of good-looking plug-and-play Shopify themes. It's easy enough to add your logo, swap out some colors, and even use their drag and drop editor to edit the layout, but the design will still be very similar to other startup Shopify stores.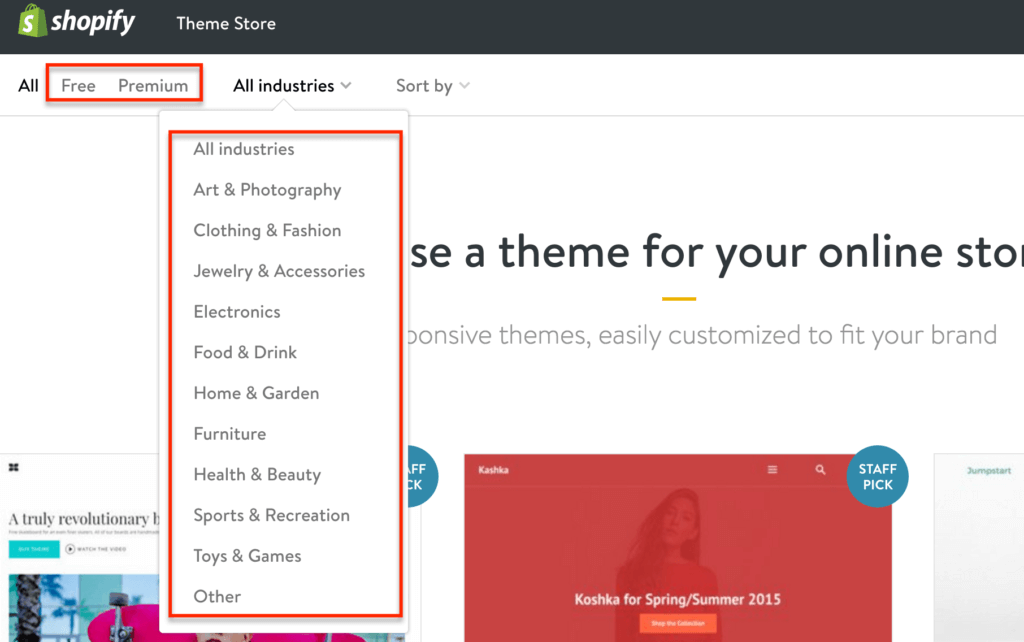 To get the look and the design that you want, you will either need to buy a premium Shopify theme, or you'll need to customize off-the-shelf Shopify themes using Shopify's liquid editing code in the Shopify admin.
Like all web design, the price can wildly vary depending on your time, budget, scope, and who you hire for web design.
Budgeting for a web designer is a little bit out of the scope of this article, but for a range, you should start with the price of a Shopify premium theme or get some quotes for web design from agencies or freelancers on a place like Fiverr.
Development & Hardware
Shopify comes with lots of features, and most starting Shopify merchants do not need custom web development. However, you need to factor into your budget any help with integrating existing software into your store or even basic help setting up your store and getting things like the SEO and Shopify extensions installed correctly. Shopify even has a Shopify Expert directory where you can get basic, qualified quotes.
Additionally, if you have an offline retail location, you'll need to budget to purchase Shopify POS hardware.
Recurring Costs
Recurring costs are costs that happened every month and will be part of simply running your store.
Shopify Subscription
Your Shopify subscription is the most direct recurring cost. Your Shopify pricing plan can pay annually and receive a discount, but you should still convert it into a monthly cost so that you can compare apples to apples.
Credit Card Transaction Fees
Credit card fees are an essential recurring cost for every retailer in the 21st century.
If you are using Shopify as a payment gateway, it is relatively straightforward to budget for your credit card cost based on your revenue and how many orders you expect to receive.

If you are using a third party for credit card processing, be sure to add Shopify's third-party transaction fee on top of your other transaction fees.
Shopify & 3rd Party Apps
Shopify has a lot of extensions and apps that are free. These extensions do everything from syncing your inventory with other channels, such as eBay and Amazon, to managing reviews.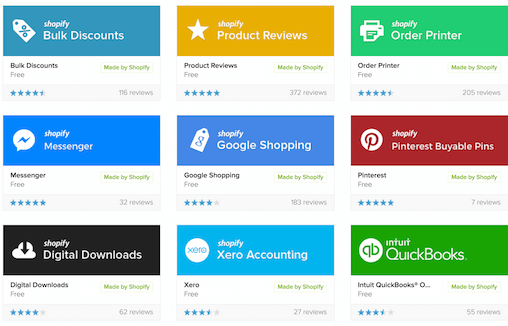 One of the strengths of Shopify is that they also have a Shopify App Store with third-party apps and extensions that allow you to add features to your store with a click of a button instead of hiring a custom web developer.
A lot of these apps and extensions are worth the money. However, they do have costs—some charge an upfront one-time fee, but some charge based on transactions. Even if you aren't planning on purchasing any initially, it's worthwhile to browse the Shopify App Store to get a sense of how expensive some of the apps you may be interested in can be.
Email Hosting & Miscellaneous Fees
Other fees and costs come with running a business on the internet that is not necessarily included in Shopify's prices, even though you will inevitably need them.
The first and most obvious cost is email hosting. Even though you can buy a custom domain from Shopify, Shopify does not provide email hosting. Instead, you will have to set your MX records to a third-party solution like G Suite or Outlook.
Other needs include accounting / bookkeeping software and drive storage, etc. Some of these costs are not expensive, but it's worth it to go ahead and add them all up.
Shopify Pricing Calculator
Here's a Shopify Pricing calculator to help you estimate your total monthly fee / budget (ie, your Shopify price).
Next Steps
Shopify's pricing is straightforward and provides excellent value for an eCommerce website compared to a lot of their other direct competitors. However, it's essential to look at their pricing in the context of what you need and your goals for your eCommerce business.
Explore Related Shopify Posts